Modern business is unforgiven to slow and unresponsive software. Customers need to be able to quickly pay for their services without being held back by external factors, and small businesses must adapt to their demands if they don't want to fall behind.
The Ambur POS is a food-business POS service, based on Apple systems, which allows business owners and the staff to be as organized as possible, while also keeping tabs of all the purchases and sales made inside the establishment.
The software permits owners to properly track and organize sales, breaking down each table individually for a better understanding of what's happening in real time. It does come with a few downsides, but most of them are not related to the software itself but rather to the company's customer service.
Ambur POS Review – Brief Overview

Generally speaking, the Ambur POS offers great features when it comes to the day-to-day life of a food enterprise. The main issues that arise with this app are related to the poor customer support offered by the company. The app itself can be handled by any Apple device, which helps save a lot of hardware costs in the long run.
Ambur is an ideal tool to be used by small businesses. Bigger companies might want to try different and more complex POS software, but Ambur does an amazing job at creating a friendly environment to work with by both clients and employees alike.
Ambur POS for Restaurants
The app was developed mainly to be used by small restaurants and food businesses aiming to serve food on the spot. Delivery services are not where this app truly excels, but traditional restaurants and cafes can easily enhance their customer's experience with this service.
Ambur POS for Food Trucks
The ease of use of the Ambur system makes it an ideal POS to be used by staff in the ever-growing business of food trucks. Even if you're not going to take advantage of the table-booking features offered by the service, orders can be tracked and organized well, even in the stressful environment of a busy food truck venue.
Ambur POS for Bars
The average size of a bar makes Ambur an ideal point of sale for these sorts of businesses. Customers can simply walk to the bartender and pay directly, or waiters can serve them using their iPhones.
Ambur POS for Large Businesses
Although this POS works best when used in small food venues, it also offers a plan which allows businesses to operate with more than 4 devices at the same time. The plans offered by the company can be upgraded and downgraded as needed, so we'd recommend trying it out for a month or two before purchasing the annual subscription.
Ambur POS Benefits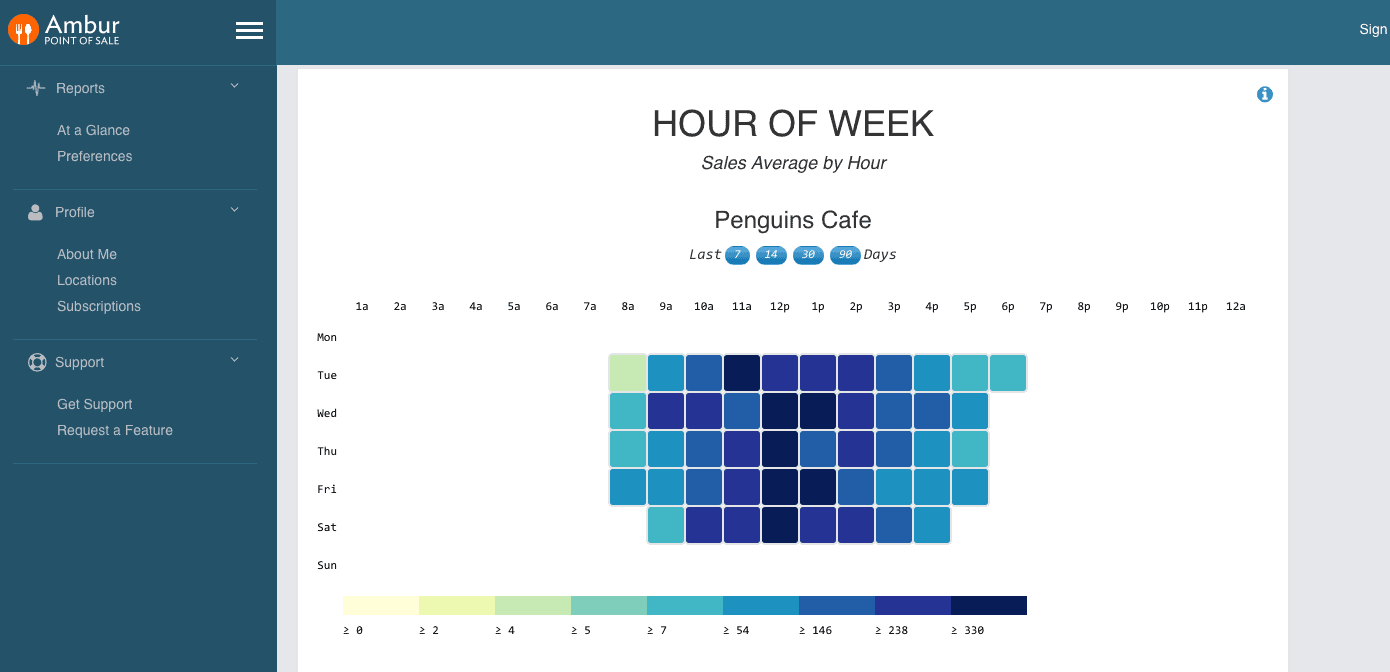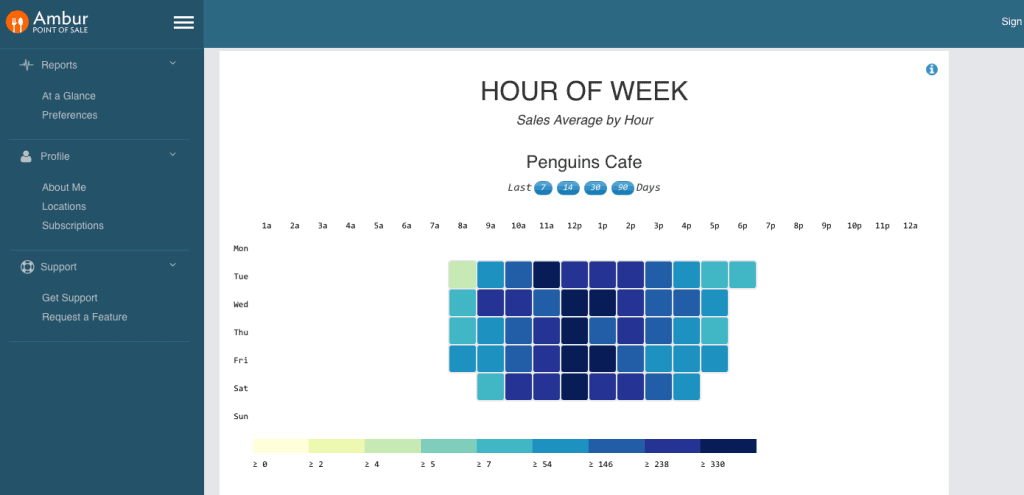 With Ambur, it's possible to easily pay where the user is served, but transactions can be handled remotely and wirelessly with ease. Orders can be placed by the waiter via iPad as soon as the customer issues it with no delay. All you need for the app to work is a device with a iOS, such as an iPad or an iPhone.
The overall layout of the app makes it very simple to understand, and it simplifies tasks that could prove to be quite daunting with other types of software.
Reports
Ambur provides business owners with complete reports of sales and also allows the use of card readers, cash drawers and prints receipts for the customer. It comes with a complete system to track and manage businesses' employees, which also tracks and manages employee's wages. All the information is stored in the Cloud to keep it from getting lost.
Plans & Pricing


The versatility offered by pricing plans gives business owners the ability to choose exactly what they want from the app. The devices connected with the Ambur app can also be used when there's no Internet service.
You will get the full advantages of the software regardless of which plan you choose to purchase. Keep in mind that the price you'll want to pay for the app should be directly correlated to the number of devices you want your business to use. We'll go into pricing options later on.
Ambur POS Drawbacks
The Ambur software has earned its reputation as one of the easiest-to-use apps in the market, but there are still some flaws that come with it that should not be overlooked. We've gathered a list of the most relevant features included with this app.
For starters, it does not work in other operating systems – it's exclusively made to be used in iOS(unlike Aldelo POS). The company provides below average customer service for business owners, and the app doesn't offer metrics or in-depth sales history.
Which Ambur Service is Best Suited for Your Business?
Ambur comes with three different business plans. Each of them offers different benefits, with the main difference relying on the amount of devices that can be used per business. Regardless, the only variation of each plan is the pricing – the services offered are the same, apart from the number of devices you'll be able to manage and the total price you'll pay.
Ambur POS Pricing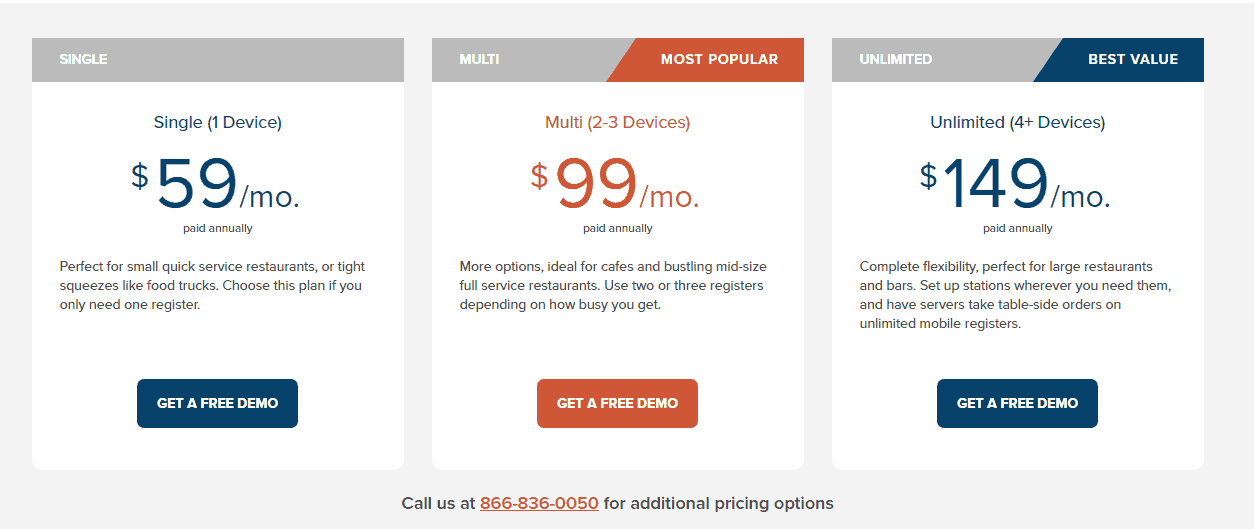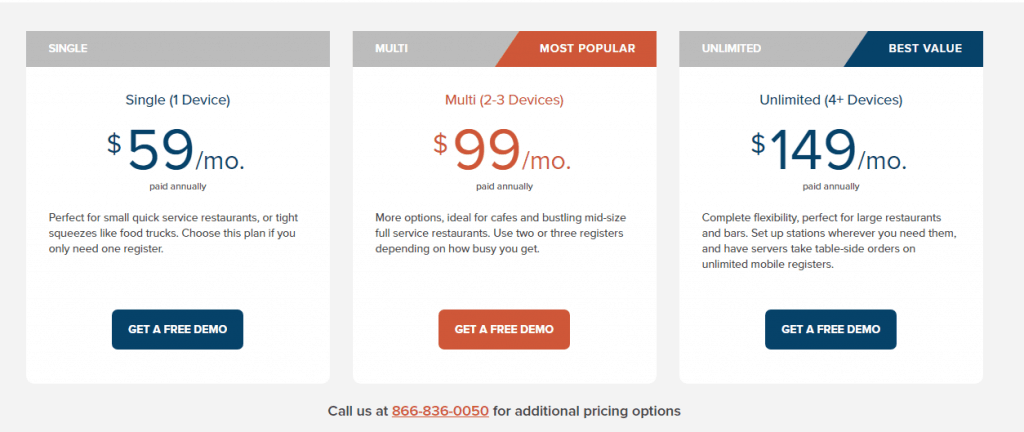 There are three different subscription plans offered by Ambur. Each of them can be paid in monthly installments or in a single yearly fee (which usually ends up reducing 20% of the cost you'd pay if you chose the monthly installments).
One of the main features that makes Ambur a small-business friendly app is their affordable pricing. None of the plans cost more than $199 per month – even if you choose the most expensive plan and select the regular monthly payments instead of the yearly fee.
The Single plan can be purchased with a yearly fee equaling just $59 per month, and grants you access to the app on one device inside your business.
The Multi plan can be purchased by a similar price of $99 per month when paid in a single fee but allows you to use up to 3 devices. The Unlimited plan grants you access to all the device you need, but you'll need to pay up to $199 per month for the service.
Choose whichever amount of devices your business needs. Remember that every plan offers the same features!
Ambur POS Features
Offline Functionalities and Overall Storage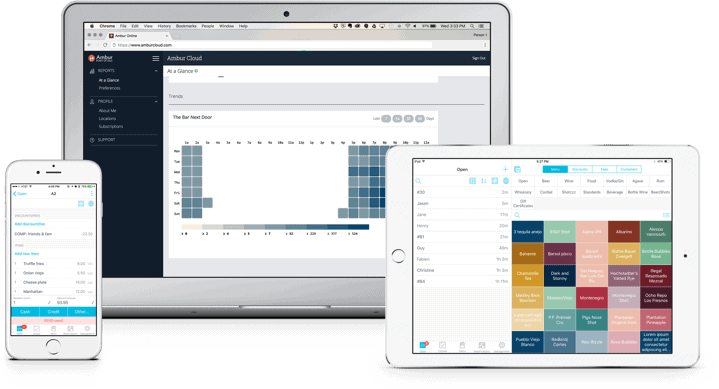 This POS is mainly made to be used in environments capable of connecting to the Internet. Nevertheless, businesses could suffer outages from time to time, which could cause their services and sale to plummet if their POS doesn't work in a local area network.
Ambur can store all business data in a Dropbox folder, which is provided for free after purchasing any plan. Thankfully, the POS works quite well when there's no internet access, barring any processing which requires global connection (such as credit card transactions, for example).
Placing Orders
The process of creating orders in this POS is extremely simple. The layout plays an important part in this system, as the waiter or manager can place an order using various functionalities shown in the app. You could, for example, select a table and directly assign an order to it, or you could browse the menu and manually add the order yourself.
The Order Manager can be used to combine two or more orders together, creating a slick and cleaner look in the app.
Employee Profiles
One of the most important features of Ambur is the employee-managing features. Each employee can be assigned with a personal profile (which can be easily modified in the app), and each profile can be given a specific role inside the restaurant. You could have different groups, noting the chores that have to be performed by each individual separately.
The app can be accessed remotely, and employers can use it to check their wages, shifts and hours worked in the business. When they get to the restaurant, they can select an option to start billing hours there, and the time will be added to the payroll of each employee. This helps the owner manage costs and understand the breakdown of payments with ease.
Full Log Control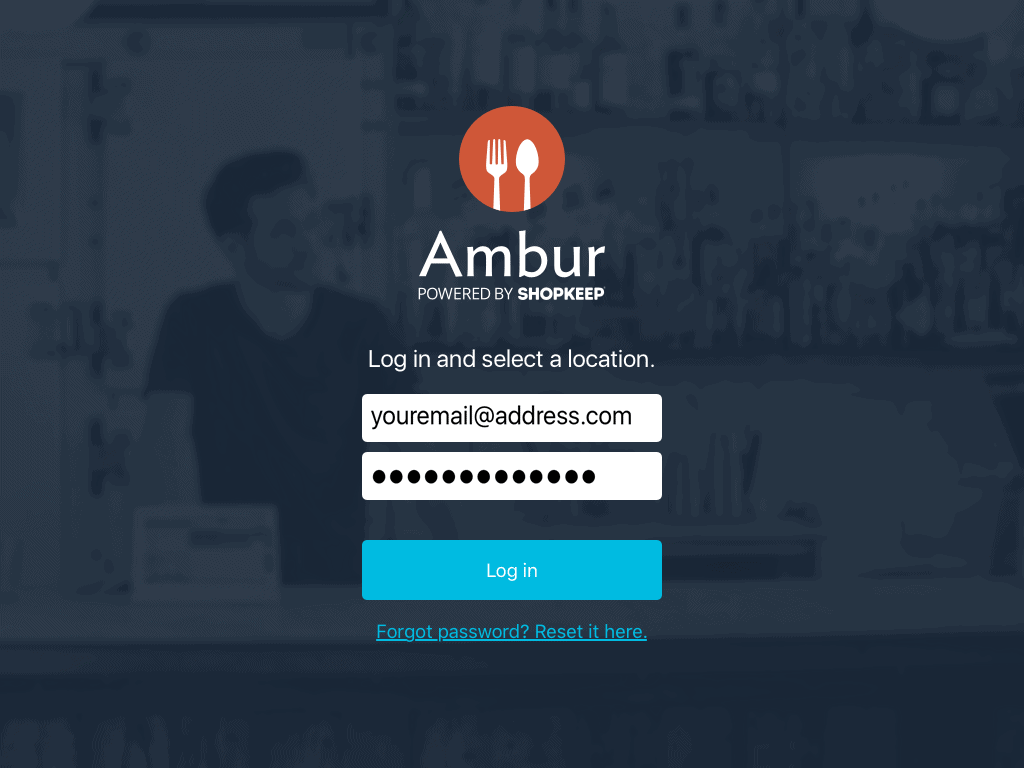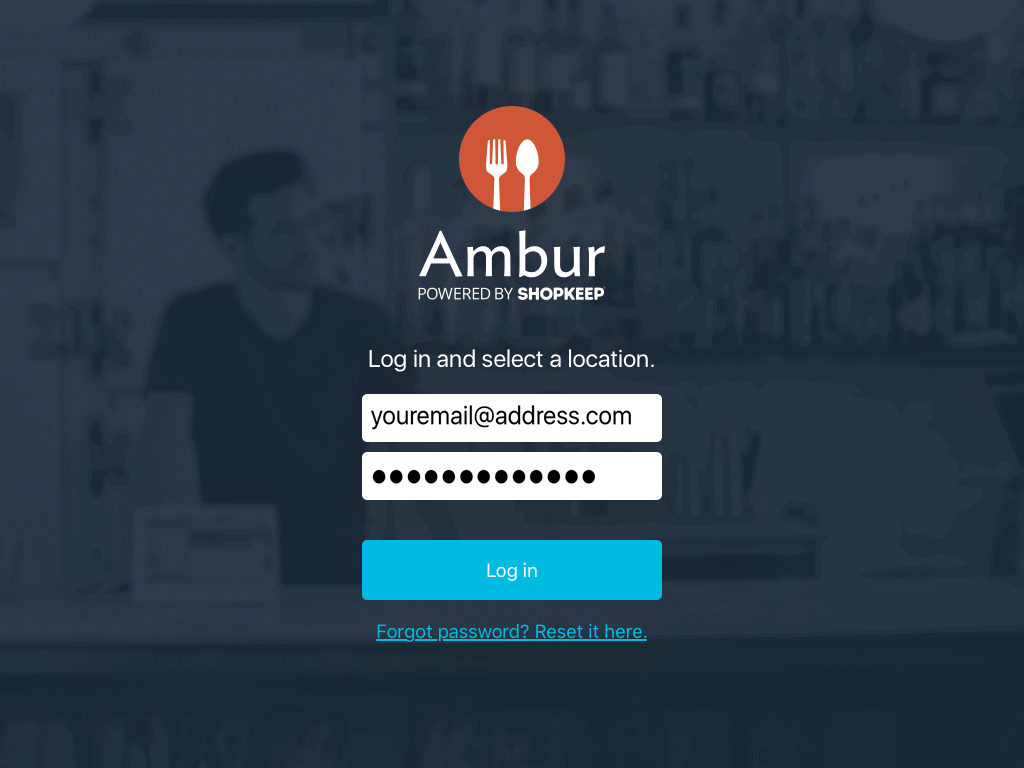 The app manager can access a log which grants information about every single transaction made inside the business. This is well complemented by the employee profiles, as the log indicates which employee registered each payment or any other action they took. Everything will be logged into the system, and the manager will be able to corroborate any information using the logs.
These logs last for up to 30 days in the app's cloud storage, but they can be sent remotely if the manager or owner wishes to keep them. This is a great way to study employee performance and correct any mistakes made by the personnel without having to concur in awkward confrontations between managers and staff.
Customer Layout
It's possible to customize the number of tables and customer-serving locations in a venue by creating graphics within the app. Managers can add and remove tables as they see fit.
Each table has its own numbers and logs as well – it's possible to keep the check of each table updated as more and more orders are made. The app works in real time with no problems thanks to its ease of use.
ShopKeep Compatibility
ShopKeep is a POS software developed to work specifically with Apple devices. Some restaurants and major businesses use it to print receipts or track inventory, and Ambur is compatible with its systems. It also uses some of its features to process payment options.
Plan Versatility
If you're paying for your Ambur plan on monthly installments, you can upgrade it or downgrade it depending on the needs of your business. If you feel like the app isn't working well for your restaurant, you can even choose to cancel it at any given time, with no extra charges added to your account.
Cloud Storage
Since the app offers Cloud Storage, you can rest assured most of your data will remain in a safe environment as long as you have internet access in your restaurant.
You will not lose access to any reports or logs, even if some of the reports you've recorded in the app were done at times where you had no Internet access. The app stores all the information and uploads it once it gains access to a network.
Order Prioritizing
Orders placed by clients can be given priority, depending on what the restaurant is looking to achieve. For example, certain orders could be prioritized if they are to be sent on delivery, while others might be moved down the list to make the kitchen staff know that they can wait.
This functionality is very easy to access. Every order placed can be easily modified by accessing the app's menu and tapping the orders you'd like to modify.
Complete Information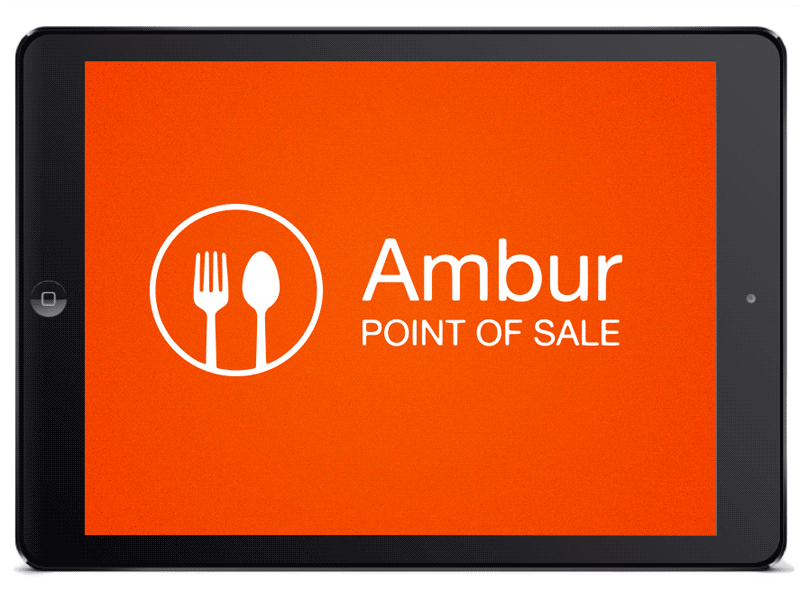 The app grants the business manager access to all the information needed to determine which periods of time are better for the restaurant. For example, if Sundays are great for business, this data can be easily tracked using the Office functionality of the app.
It comes with a complete menu detailing the hours in which the business makes more sales, as well as the days of the week where more money is made.
There are other POS apps which give more detailed information on this regard, but Ambur breaks down the basic income of your business and presents all the information in a very complete and clean manner.
Our Final Review
If you own a small food business, Ambur is definitely the way to go if you're looking for a cheap and reliable POS. It'll get the job done while also providing useful insight into your business, allowing you to make better decisions going forward with the aim of increasing your overall profits.
With Ambur, you'll be able to determine the most economically-productive periods of your business and you'll have enough data to understand how to approach sales going forward. Customer service for the app is pretty bad, though, so keep that in mind!
Larger businesses might want to opt for other POS, as Ambur isn't well suited to handle a large influx of customers nor does it work very well with restaurants that have over 20 employees. Similar to Brink POS, this system is still a very reliable option and one of the best small business-focused POS apps on the market.