When it comes to modern competition within the foodservice space, what really separates the wheat from the chaff is the type of technology you employ in your restaurant. If your establishment isn't already equipped with the best there is in point of sales systems, you may already be at a disadvantage. When conducting research, it's important to review all options. Today, we are reviewing Appetize and how it can shine a new light on the foodservice industry in modern commerce.
Appetize POS System Review  – Company Overview

Since 2011, Appetize POS has been rising to the top as the leading enterprise cloud point of sale system and management platform for the restaurant industry. The brand's mission is to enhance the guest ordering experience while streamlining operations and creating more efficient productivity.
Appetize is a technology hub for commerce. They are pioneers in ordering technologies which include:
POS terminals
Self-service kiosks
Handheld devices
Mobile and online ordering
The brand includes best-in-class applications with high technology integrations. They seek to simplify the transaction process and improve the guest experience.
Today, they power many Fortune 500 companies and process billons of dollars annually across multi-unit businesses.
Appetize POS Benefits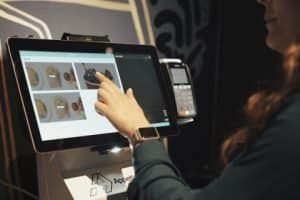 There are many benefits to the Appetize POS system. This includes:
On-the-go and handheld equipment for tableside service.
The ability to place orders quickly via an image-based dashboard.
Select the payment method that works best for your business and customers.
Apply digital gratuities and receipts automatically to optimize server tipping.
Manually apply discounts and promotions
Appetize POS Pricing
The pricing for Appetize POS is quote-based. Third-party resources state you could end up paying up to $2,000 per device per year. This can really add up. Especially for small and medium businesses.
If you need a personal representation of the enterprise cloud POS and management platform, request a free demonstration. Consultants can provide valuable insights and deliver ROI to a company of any size.
Hardware and System Requirements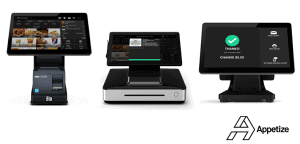 The system offers sleek hardware configurations that are built to last. Not only can you increase transparency, but you can improve order accuracy with customer-facing displays.
This also enables a business to create revenue streams with sponsorship opportunities. There are fixed and portable options that enable on-screen signatures and tipping. Choose from multiple screen sizes that include:
Give your guests peace of mind while boosting your bottom line. The Appetize system enables a business to engage guests throughout the entire customer journey with hardware that increases order accuracy and provides digital insights. Earn additional revenue from vendors with anew advertising platform complete with signature options.
Hardware
Appetize POS offers a variety of hardware solutions to suit the needs of any business. POS hardware includes:
Handheld POS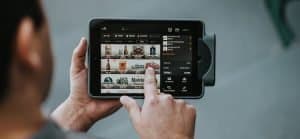 This is native to both iOS and Android devices. It gives staff time and options to take the POS solution on-the-go. They give you a variety of screen sizes that accompany cases and all-in-on-enclosures.
Strong peripheral support with barcode scanners, Bluetooth printers, and cases means staff always has everything they need. With full payment options or order-only, you can checkout guests quicker and keep the line moving.
Kiosk
The self-service kiosk helps to reduce lines and increase transaction size. Appetize POS offers user-friendly kiosks that can streamline the ordering and payment process. This is why consumers prefer to do things for themselves. It's empowering. This works even during interruptions of connectivity.
Mobile
You can always give guests the option the want. Order food, beverage, or items with roust solutions for online ordering. Integration into a third-party application is also a convenience.
Kitchen Printers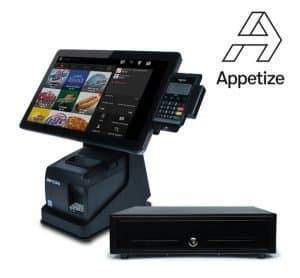 All printers purchased must be compatible with Appetizer software. They work with the Clover platform to optimize results and drive revenue. The kitchen printers most compatible with the system include:
Clover Mini
Clover Flex
Clover Station
Mobile Devices
The Mobile and Flex are wi-fi only. The SP700 replaces the older Star Micronics SP500 series.
Enterprise Management
Upgrade clients to an omnichannel, cloud-based POS system that has real-time vision into operational health.
Features
Appetize POS is a smart system built to apply to a business of ay size. There are three tiers to their offerings that include:
Image-driven Interface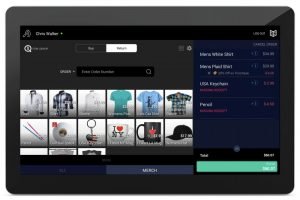 Whether you have seated guests or helping them at the counter, the easy-to-use image-driven interface helps your staff identify intuitive interfaces. This helps to guide all employees through the checkout experience with a simplistic flow of actions.
Appetize POS is designed to reduce training times and get tables turning faster. The entire idea is to create an atmosphere and experience that is memorable for return customers and word of mouth marketing opportunities.
Maximum Efficiency
The software is designed through an business intelligent lens to drive maximum efficiency. The idea is to create an infrastructure that functions with minimal staff. This creates a seamless checkout experience for both the employee and guest.
Most Secure Payment
You can accelerate transaction times by accepting all types o payments which includes:
Cash and credit
EMV
RFID
NFC
Custom tenders
That means, with loaded value, member benefits, and loyalty, you can go on with business as usual.
View and Add Cart Items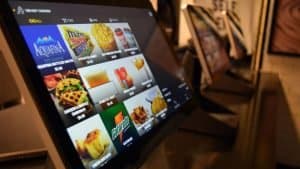 Place orders easily and quickly via an intuitive workflow and image-based interface. Post clear item descriptions that include allergy information and consumer preferences. This enables staff to quickly answer customer questions right on the spot. Servers, bartenders, and cashiers can pair options while upsell prompts increase check averages. This enables a business to give guests more of what they want and "predict" favorite dishes.
Discounts and Promotions
Automatically or manually apply promotions and discounts as you go. Staff can manually enter promo codes at checkout or pre-build promotion templates. This includes Happy Hour scheduling, BOGO triggers, and tender-specific discounts.
Payment Types
Select the payment method and check people out in just a few clicks. Appetize POS helps a business speed up transactions through a platform that presents the most likely cash combo. Staff can quickly divide up bills with the "split check" functionality.
Digital Gratuities
Allow guests to easily select electronic or printed receipts and tip accordingly. This can be done quickly via the customer-facing display.
Benefits to Business
When ordering benefits to business, whether it is fully documented and a restful API or direct access, you can access the simple web=based solution online which eliminates the need to download an application.
Automatic Offline
When a business is attempting to process orders and payments at full speed, the automatic offline mode becomes a feature really in handy. Despite connection interruptions with a proprietary offline mode, this type of feature requires no staff interaction.
Faster Transactions
A business has the ability to shorten lines an keep guests moving. The POS feature not only sports an intuitive interface but includes an easy-to-use discount engine that supports versatile payment options.
Appetize POS Customer Service and Support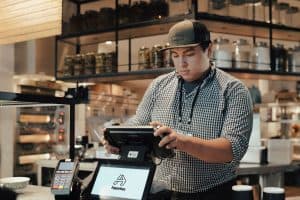 Appetize POS has a variety of resources and support for their customers. They offer a weekly blog to gain insight and perspective into POS technology, industry advancements, and innovations. If you want to look into modern cloud case studies, that information is available also.
Appetize also offers whitepapers to maximize the capabilities of your system. Dive deep into proven strategies that will drive revenue, increase sales, and create a better experience for guests. If you learn better by digital media, they hold ongoing webinars to view past features and learn more about omnichannel POS software. This is the type of technology that can transform your sales department and elevate performance.
Alternatives to Appetize POS
The Final Say
Appetize POS is the type of system that is designed with the food service industry in mind. Whether your brand is big or small, this is the type of platform you need to explore to expand business growth.
From in-depth inventory management to on-the-floor real-time service, when your business wishes to succeed, Appetize POS is a superior option.