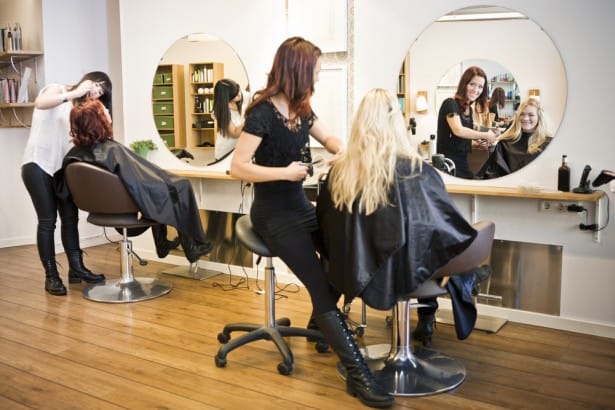 Beauty salons and cosmetic stores have a lot of returning customers. This is the case for various reasons – the customer ran out of their favorite hair dye or they want to buy a new hair dryer…at any rate, a beauty salon is a complex business to run, and you need to balance your time effectively in order to grow sustainably.
One thing that can help beauty salon owners organize their business better so they can focus on more important things is a good POS system. Most modern beauty salons have long upgraded from electronic cash drawers.
Things like reporting, purchase orders, dashboards, and inventory management are part of a decent POS package, while purchase orders, for one, are nearly impossible to get from a cash register.
We've tested the best beauty salon POS systems on the market and familiarized ourselves with the companies that produce them, whose goal it is to help your business grow by freeing up more time to spend with customers and saving time from tedious activities like accounting.
Our Top Beauty Salon POS System: Loyverse


This is an incredibly versatile POS system, which simplifies sales a great deal, giving customers no choice but to keep returning to your salon. Smooth design, friendly user interface and an affordable price are the salient features of this product. Read on to find out why this beauty salon software is our top choice!
3 Best Beauty Salon POS Systems
Overall

5/5

4/5

5/5

Ease of Use

5/5

4.5/5

5/5

Customer Service

5/5

4/5

5/5

Starting Price

$0.01

$75.00/month

Not provided

Deployment

Cloud, SaaS, Web
Mobile – Android Native
Mobile – iOS Native

Cloud, SaaS, Web
Installed – Windows
Mobile – iOS Native

Cloud, SaaS, Web
Installed – Mac
Installed – Windows
Mobile – Android Native
Mobile – iOS Native

Training

Documentation
Live Online
In Person

Documentation
Webinars
Live Online

Documentation
Live Online
In Person

Support

Online
24/7 (Live Rep)

Online
Business Hours
24/7 (Live Rep)

Online
Business Hours

Free Trial

Yes

No

Yes

Cash Drawer Management

Yes

Yes

Yes

Employee Management

Yes

Yes

Yes

Gift Card Management

No

No

Yes

Inventory Control

Yes

No

Yes

Loyalty Program

Yes

Yes

Yes

Tips Management

Yes

Yes

No
Get FREE POS System Quotes


The Complete Beauty Salon POS System: Loyverse
Loyverse lets you manage your beauty salon from mobile devices, acquire, keep and engage customers, manage inventory, visualize sales analytics, and generate a higher yield among other things. Sales become quick and easy, as does building your customer base. You can gather important feedback by sending messages and e-receipts to your customers.
This POS software tracks inventory and indicates if something is causing a high amount of waste or if you are losing money for whatever reason. Overstocking is one of the main causes of financial loss. If you are tracking your sales with ingredient inventory accurately, you should have a good grasp of what and how many products you're using each day.
Smart Management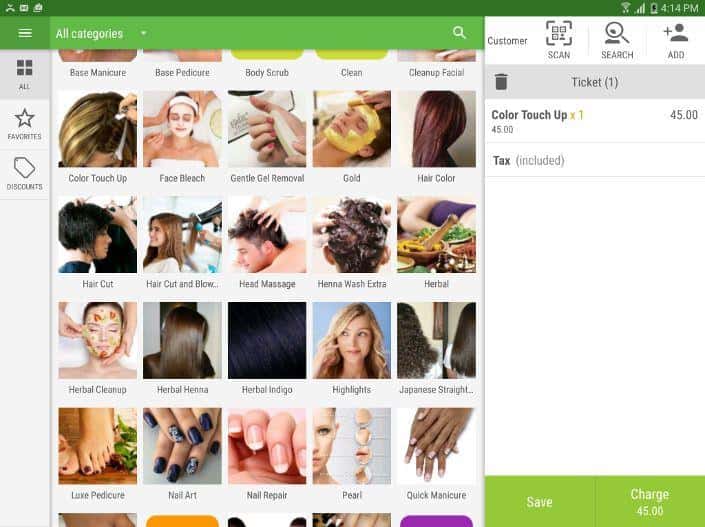 Loyverse is equally well-suited to small and large salons as well as salon chains. It is highly convenient to manage one or more salons from the same account. Your analytics are uploaded to the cloud. It is a system, with which you can grow and prosper – improve sales, retain customers, and run your own loyalty program. You will also be better able to make informed business decisions thanks to the visual analytical reports.
Users of this POS system receive instant messages when supplies are running low or out. Sound notifications ensure you will never miss a new order. You can view the list of completed orders and reopen orders if needed. Finally, orders are color-coded for convenience.
The back office works in sync with the POS system. You can see what your top-selling products are and browse your transaction history. The free dashboard app offers instant access to your salon's supplies and sales analytics anytime, anywhere. You can view revenue, profit and average sales and follow sales growth, making comparisons to previous days, weeks, even months and years. You will also see which items are selling well, averagely, or not well.
Disadvantages
Some users have said that this POS software is not very convenient to use with smartphones and that you need a drop box for the different categories of products on bigger screens.
Bottom Line
This system is flexible and easy to use. What is more, it can be run by more than one user online. Also, there's a separate dashboard and a customer support portal. All in all, we definitely say give it a try.
Our #2 Pick For Best Beauty Salon POS System: Cashier Live

Accepting payments is easy and simple with Cashier Live, the second-best POS system for beauty salons. By combining excellent design with extensive usability testing, this company has made it fast to complete transactions from your PC, iPhone, or iPad. You can ring up a transaction faster than ever before.
You know how messy it can get when you're using a separate terminal to process credit cards. You'll reduce transaction times by 50% with integrated card processing and save money since you don't have to lease any equipment.
The provider offers email receipts, which have a myriad of advantages, the key one being waste reduction. Both Cashier Live and the Cashier iPhone app can send email receipts directly to your customers.
What is more, Cashier Live integrates with devices like a receipt printer, cash drawer, and barcode scanner smoothly.
This company is integrated with Bigcommerce, a leader in the e-commerce software industry, so that you can get your online salon up and running in no time. Inventory will transfer over with just the push of a button when you add BigCommerce to your Cashier Live account. Selling your products online has never been more simple and lucrative.
Split Payments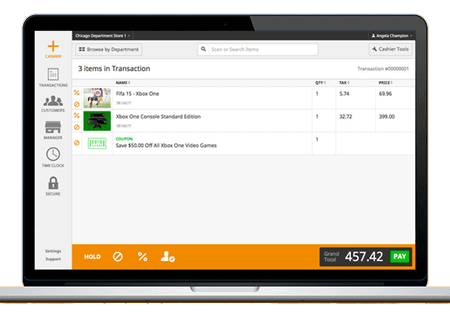 Although it seems basic, lots of POS systems make it difficult to accept multiple forms of payment. With Cashier Live, you can receive payment via any method you want, even more than one. Just enter the amounts – that's all you need.
Scan Barcodes
Ringing up items is easy with barcode scanning it is. Users scan barcodes with an attached scanner that connects with USB on the computer or Bluetooth with an iPad. You can even use the camera on an iPhone or iPad.
Simple Returns
Returns are a seamless and straightforward process with the system. All you need to do is enter the transaction number from the receipt, look for the transaction, or enter the items being returned by hand.
Accept All Payments
With this flexible software, you can accept any form of payment beyond basics like charge, cash, and check. You can set up a house account and let people pay at the end of the month. The options are endless. You can also put transactions on hold, like when someone gets to the register and only then realizes they forgot their purse at home. This happens often, so this system has the answer - putting a transaction on hold. You can continue ringing up other customers while you wait for the client to fetch her purse.
Search Inventory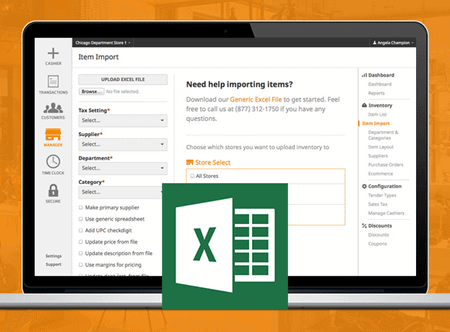 No matter how many items you sell, it will never be a challenge to search through your inventory. It is possible to filter items like UPC, description, supplier, and reorder number in many ways. There are also many ways you can sort your items.
Collect Tips
If your staff accept tips, you can set it up so that everything is run through the system - including credit card tips. The customer can add a tip on an iPad and sign the receipt or you can have a receipt printed on the computer with a tip line.
Discount Transactions Made Easy
You'll need to provide special pricing for a specific item or an entire transaction on occasion depending on how your salon offers coupons or discounts. The simple discount tools make either option available to your cashiers. Regardless of whether it's a holiday, a birthday, or another occasion, people probably come to your salon to buy gifts for friends and relatives. They'll want to provide the person with a gift receipt, and this POS system makes it easy to print one.
Disadvantages
The system is relatively expensive, so it wouldn't be suitable for a very small salon.
Bottom Line
This system works with iPads, iPhones and PCs, and it is easy to get reports. Plus, you can access it anywhere. It's very convenient how everything is in the cloud. It takes a while to learn how to set up products and items in the system.
Our #3 Pick For Best Beauty Salon POS System: Phorest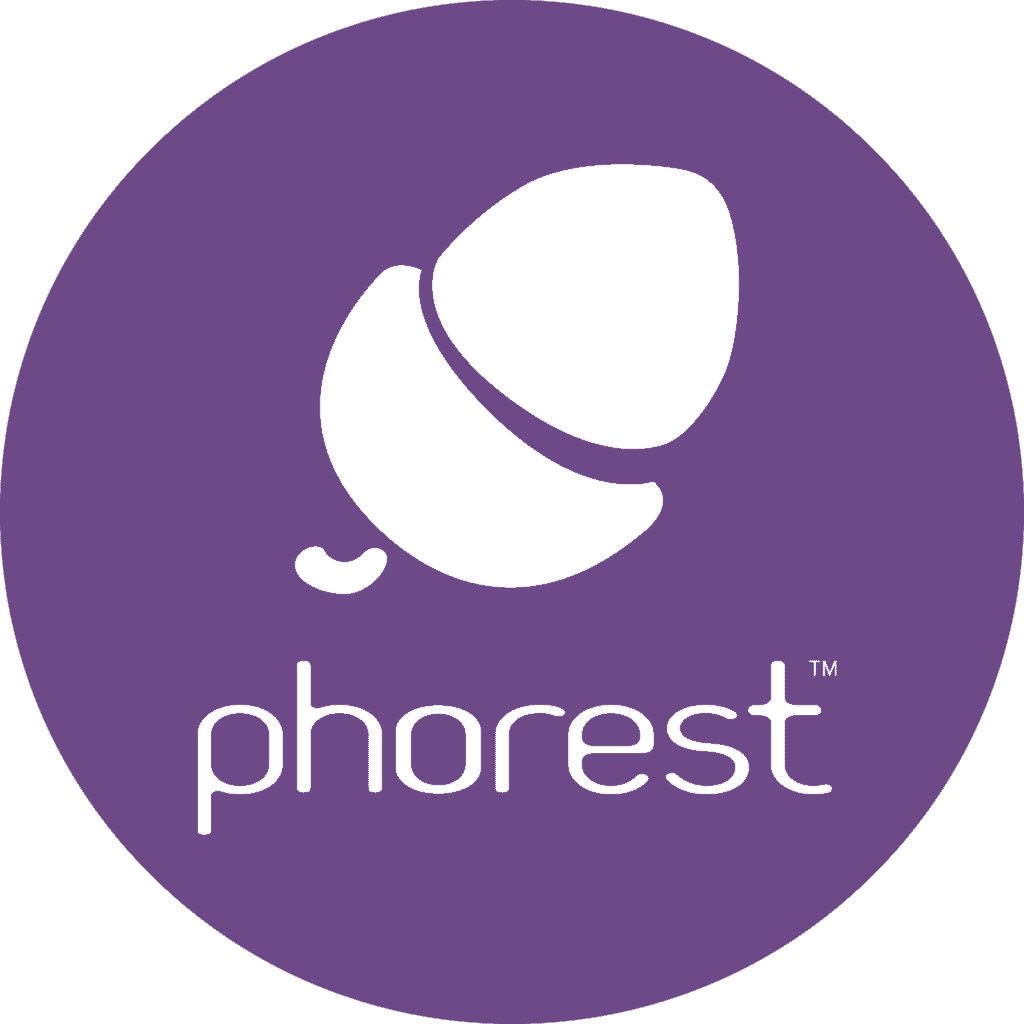 Phorest is an award-winning POS system tailored to beauty salons. It provides everything you need to attract customers more easily and get them to spend more including email and text message marketing, a loyalty program, salon-branded apps, automated reach-out to clients who haven't returned in a while and Google, Yelp and Facebook reviews. What is more, beauty salon owners can manage appointments, stock, and rosters effortlessly, plus get a suite of reports on all areas of salon activity.
This POS is equipped with a high-speed cash register, a handheld barcode scanner, salon gift cards, voucher processing, instant receipt printing and more. With the barcode scanning hardware, you can add product offerings to your salon with ease and scan the pricing into the POS system at checkout. Salon gift cards will entice your customers to invite friends and family to become loyal customers of your salon, and the salon voucher processing feature ensures your accounts balance as you sell and take payment from your salon-branded gift cards.
Ease Of Transactions
Receipts are printed immediately and sent right to your clients' inboxes. One of the most sophisticated credit card solutions in the industry, PhorestPay, is at your disposal as well. Using the mobile hand-held payment hardware, you can instantly take credit card transactions from anywhere in your salon. Payments can be processed through credit card tap, slide or even through smartphones using Apple Pay or Android Pay.
Tip Prompting
Tip prompting is a nice, smooth feature of this POS system. It is very simple to set up – just connect it to your salon Wi-Fi.
PhorestPay POS Specifications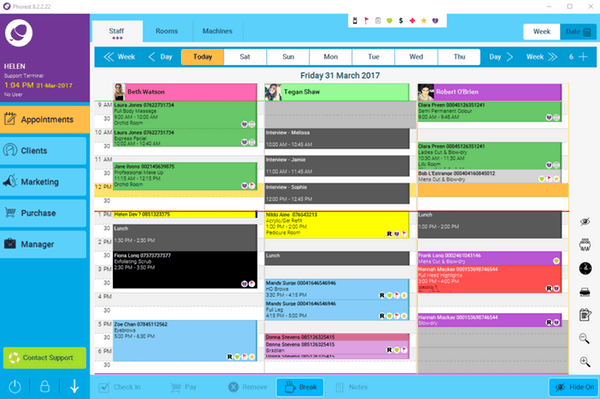 This system boasts a number of additional special features apart from the possibility to accept all payment methods. These include Magstripe, NFC / contactless operation, EMV chip & PIN, advanced security, multiple P2PE scheme support, a 2.8" backlit color display and illuminated EMV slot, a variety of connectivity options, Bluetooth and Wi-Fi, and physical pairing. The system is fully PCI PTS 4.x certified and EMV level 1 and level 2 certified. It incorporates a 1D/2D commercial-grade barcode scanner that scans loyalty cards, coupons, barcodes, and QR codes reliably.
The battery is a 2,000mAh, the longest-lasting in its class.
Disadvantages
Training is provided, but it tends to be in large groups, which not everyone may find beneficial. There are a lot of add-ons with Phorest, which hike up the monthly fee, but these are an investment as the software helps beauty salons grow.
Bottom Line
The automated reach out to customers saves a lot of time, and the loyalty scheme feature facilitates further growth of establishments. Social media marketing is a big plus.
What To Look For in a POS Scanner For a Salon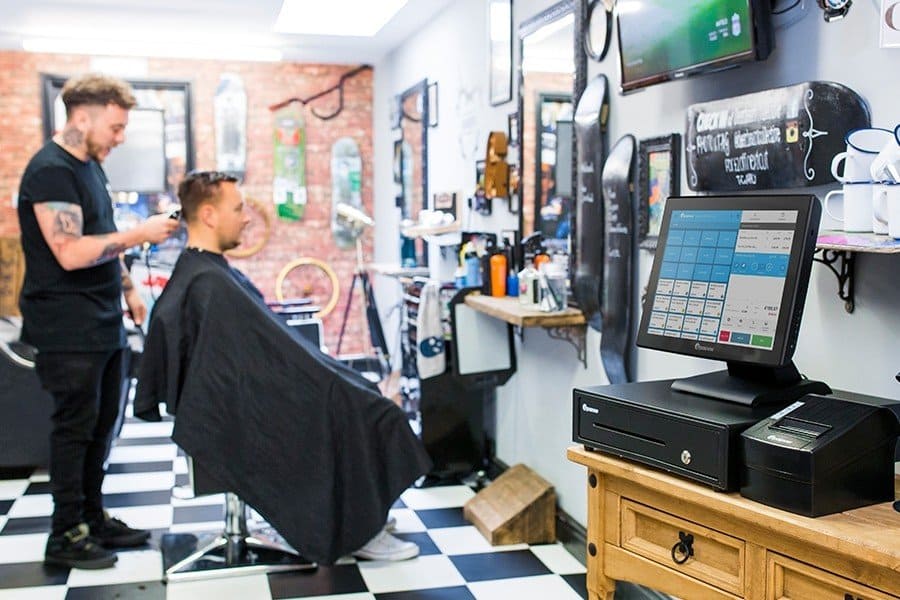 If you happen to run a salon, you probably know that customization and different services are a big part of the business. Clearly, your POS system should reflect that, and be up to date. From pedicures to facials, prices can range and vary greatly, so your POS system should be able to have clear and easy access to charging for these services.
Tablet-Based Hardware
When most business owners, (especially the old-school type) think of a POS system, they think of a simple desktop set up that processes information easily and quickly. A simple computer is really all you need to run a POS system for your business, but a "computer" could be defined as anything that processes data, so a tablet is actually your best choice, rather than an old desktop setup.
From iPads to Android-based tablets, they could make the checkout process in your Salon run much faster. With a few quick swipes and browses, salon purchases and services could be easily taken care of, rather than continuously clicking through on your PC.
Advanced Inventory Tracking and Easy Management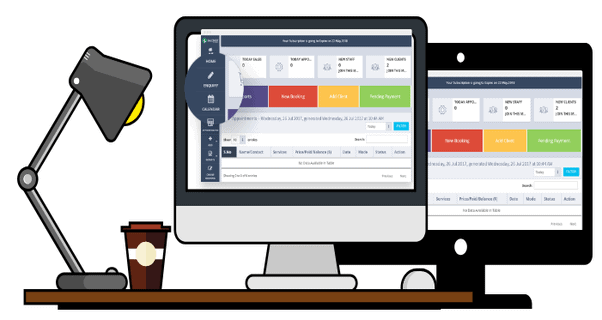 Running a Salon contains more than just specific services that you set your own specific prices for, as you could carry luxurious and varied hair, skin, or nail care products. So advanced inventory tracking is pretty much a necessity, and it could certainly save you and your customer much valued time.
Internet-based or a cloud-based POS system could make it easier to manage multiple salon businesses, and to organize the products in your salon. So an easy program that implements inventory tracking and easy management is sure to grow your business. Transaction histories and gross income should also be able to be viewed within your POS system, to easily track your profits, and what you may need to improve upon your business. The collection of tips should also be made easier with an easy-manage POS system.
Barcode Scanners and Readers
While not technically a main component to the POS system, barcode scanners are an essential part of the hardware. A barcode scanner should be able to easily scan items such as shampoo and nail polish, and enter them into the system.
This feature paired with inventory tracking is a must-have for the check out process, and could have clients coming back often. Seeing as most people make purchases with the use of a credit or debit card, a great card reader and terminal is also a necessity for your POS system.
Our Final Review
If your software comes with a training video, take the time to watch it. When you start out, customize everything about your salon. It may take a while at first, but it is worth it every time after when every function and command is just a click of a button away.
Work with your company of choice to get advice about on-boarding, set realistic goals for the implementation process before jumping in to avoid getting overwhelmed, and take some time to learn the ropes regardless of the system you choose.
Last but not least, get to know the support team – you might need them! Any one of the three systems reviewed here will help your salon grow in no time.