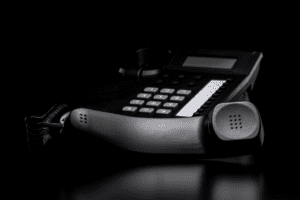 Phone call only systems are now a thing of the past. The phone systems that are available on the market today are much more robust. Small business owners specifically can greatly benefit from using a phone system to help operate their business. Business owners all across the globe are trading in their old clunky desk phones and switching to a feature-rich VoIP phone system. According to recent numbers, around 30% of business owners are currently using a VoIP system, and that number will likely continue to increase. By the year 2025, the VoIP global market share (1) is expected to reach upwards of $55 billion.
What is VoIP?
VoIP stands for Voice over Internet Protocol. Initially, VoIP began as a technology that allows users to use their internet provider to make phone calls as opposed to a standard phone line. Some system providers only work through your computer, while others allow you to use an adapter to your already existing business phone. The systems that are now available have continued to evolve and develop to allow users to perform an array of other tasks, including conference calling, virtual receptionists, message alerts, voicemail-to-email, and more. The best VoIP phone systems will allow businesses to run more smoothly and efficiently.
Never purchased a business phone system before? Click here for a buyers guide to help you get started.
How Does VoIP Benefit Small Businesses?
While there are many advantages to utilizing a VoIP system, there are 10 benefits that we have ranked as the top features.
#1 – Scalability Options (While Saving Money)
Probably the largest benefit of VoIP systems is that they are able to cut business costs. How? With standard physical systems, adding additional phone lines can add up quickly. Also, you can only add so many phone lines – so you're normally limited on the amount of employee phones that you're able to have. With VoIP, business owners won't have to worry about a large cost spike when the communication aspect of your business sees a major growth.
#2 – Budget-Friendly International Calling
If your business requires international calling, traditional phone systems typically charge outrageous amounts for these call fees. In contrast, most VoIP systems don't charge any additional fees for international calls. If there are charges, they are minimal in comparison to typical landline fees. In fact, reports suggest (2) that businesses can save close to 90% on international calls by using VoIP.
#2 – Remote Accessibility
Standard phone systems can be really limiting. When your office number is set up, if you're away from your desk, the phone call will likely be missed. VoIP combats this problem by offering the solution of remote access to work. VoIP can be accessed anywhere that there is internet connection. Many business owners are seeing this as an opportunity to encourage remote working.
#3 – Increased Productivity
Not only does a remote workforce cut costs for business owners by alleviating some of the overhead expenses, it is also beneficial for employees. Remote workers save time on telecommuting, increasing the amount of time that they are able to spend working. Surveys have found that 77% of remote employees state (3) that they are more productive when they are able to work from home.
#4 – Less Hardware Costs
Traditional landline phones require significant start up costs for hardware. After installation, there are additional fees associated with hardware maintenance costs as well. VoIP systems are run over internet access, so there typically aren't any hardware costs that are associated other than purchasing softphones if desired for employees. Statistics have shown that using VoIP over a standard phone system can save between $950-$3100 on hardware expenses (4).
#5 – More Efficient Communication
Nothing will ruin a business call faster than poor signal. When communication isn't clear, it's very difficult to convince a client to trust your business when they aren't even able to understand you. When your business is using a robust VoIP service provider with reliable internet service, you can rest assured that the quality of your audio will be crystal-clear. In addition, the majority of these systems offer call forwarding feature options. This means that in the event of a power outage due to networks being down or inclement weather, your business calls will be forwarded to your cell phone, tablet, or specified device. No more missing important phone calls.
#6 – Better Security
In this day and age, one factor that all consumers are highly aware of is fraud. Consumers are constantly being met with spam, particularly from telemarketers. It makes it difficult to establish client trust, particularly when seeking out personal or sensitive information over the phone. In comparison to traditional landline phones, VoIP is highly secure. These systems have encryption protocols that are standard across the board. These end-to-end encryption protocols ensure privacy.
#7 – 24/7 Assistance Options
When using a traditional landline system, when your employees are away from the phones – there are no alternatives for customers to be able to reach your business. Typically, consumers are seeing that businesses are offering phone support for limited hours during the week, closed on the weekends and holidays. While this is understandable as most small businesses are unable to handle the overhead of a call center, it's unfortunate and sometimes can cause customers to be turned away to a business that offers 24/7 support. With VoIP, FAQs and other important information can be programmed into your after-hours automation messages to provide customers with service options both day and night.
#8 – Simple Installation
If you've ever gotten landlines installed at your business, you probably know how much of a headache it can be. Having to contact a phone service provider, have a technician come out and disrupt your offices running wiring – it can turn into a mess pretty quick. Choosing to use VoIP alleviates some of the installation burden, as these systems are extremely easy to install. Essentially, they are just plug-in and you're ready to roll. You won't have to worry about a phone company tech coming in and destroying your office for a few hours trying to wire things correctly.
#9 – Easier Conferencing
Have you ever experienced a conference call over a landline? It can get difficult as well as costly. Most VoIP systems offer conference calling as a standard feature at really reasonable pricing rates. This means that business owners will not have to have a dedicated phone line or pay additional fees for extra hosting capabilities when using VoIP for conference calls. The simplified conferencing abilities will allow meetings and overall communication throughout the workplace much more productive.
#10 – Tons of Other Features
As mentioned earlier, the best VoIP systems offer so many features that will be helpful to business owners. These features are designed to make running a business just a little bit easier. Some of the top features of these systems include conferencing, holding music, transcriptions, call-forwarding, live chat, automated attendants, synced communications, call recording, call queuing, and so much more. The features that are available from VoIP systems will simplify task management and enhance productivity throughout your business.
Which VoIP Phone Service is Best?
Now that you know what a VoIP system can do to help your business, the next step is choosing the right system. Currently, there are over 1,000 VoIP providers – and that number will continue to increase as the market grows. Deciding which provider is the right choice for your specific business needs can be a difficult task. After researching many providers, consulting with experts, and digging through consumer reviews – our team has narrowed it down to the top five VoIP providers on the market.
RingCentral takes the award for the best overall VoIP system in our lineup. The system offered by RingCentral is the most versatile out of the options in terms of features. Their software is also well-rounded enough to be beneficial to businesses of all sizes. The company has received several "Excellent" ratings from top consumer review magazines. Currently, RingCentral is trusted and used by over 400,000+ clients worldwide, including top names such as First Bank and Stumptown Coffee Roasters.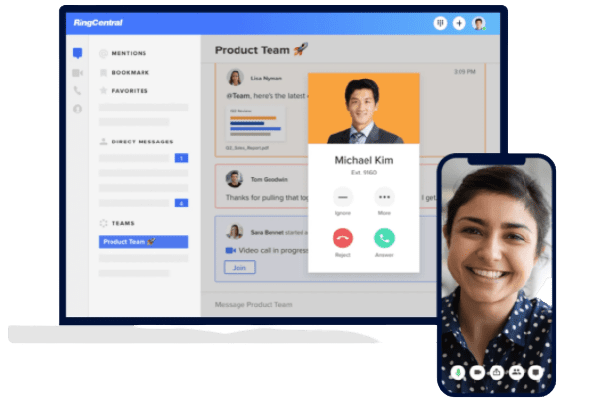 The RingCentral application is extremely easy to use. The app allows users to manage all of their communication such as calls, messages, conferencing, and video meetings in one central location. Aside from being able to access all your communication in one place, the analytical components on the application dashboard are pretty impressive as well.
The software is designed to learn with your business from trends, preferences, and behaviors throughout your business. Users will be able to view reports, analyze communication data, monitor all communication, and predict any potential issues with real-time notifications and alerts.
In addition, RingCentral has a wide variety of app integrations that their system is compatible with. Some of the noteworthy applications include Microsoft Teams, Zapier, Salesforce, HubSpot, OneDrive, Skype, Alexa, and more. Their integration library enables users to be able to expand the benefits of RingCentral software into their favorite communication apps that they may already be using.
In terms of connectivity, RingCentral makes it very easy to get started with their phone system software.  Their website boasts that their support team is available 24/7 to assist with getting set-up in just a few minutes. Their software has a 99.99% uptime, which means that after setting up, you're virtually good to go. The RingCentral system has one of the most impressive uptimes, keeping users online in unexpected events.
Pricing
There are 4 different service packages available for RingCentral. The basic package allows for up to 20 users, which is perfect for small business owners. Depending on the pricing discounts going on, the basic package is typically around $19.99/user/month. It should be noted that this basic package is the only plan that does not include RingCentral's video features. If you want to have access to the video capabilities from their software, you should consider upgrading to one of the next packages in their line-up. The most advanced package option goes up to around $50-$60/per user per month. Again, the pricing with RingCentral frequently fluctuates based on the promotional discounts that they are offering at the time.

While Ooma may not have all the bells and whistles that some of the other VoIP providers have, their system is designed with small businesses and teams in mind. If you have a small office team of 5 or less employees, you will really be able to save some money when choosing Ooma. On average, a team of 3 employees will save approximately $831.84 (5) in their first year of switching to Ooma from their traditional landline system. This may not seem like a whopping amount of savings, but year after year it really adds up. Keeping this money in your pocket by switching to Ooma for your small team will allow you to invest that money somewhere else in your business.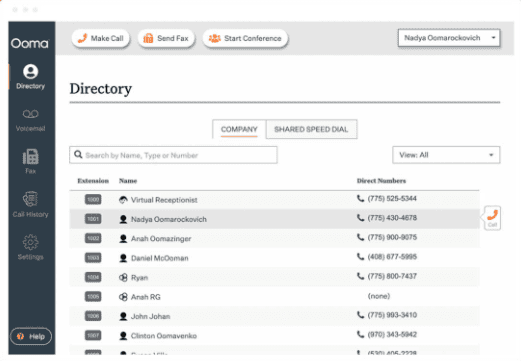 Ooma offers a mobile application to users to be able to access your phone line wherever and whenever you need. Their application interface will encourage employees to stay more connected through the messaging features available on the app. Increased workplace communication has been shown to not only enhance productivity, but accuracy as well. Employees will be able to text each other, send picture messages, create message groups, reach other employees via extension dialing, and more all within the Ooma app.
Through the Ooma app, your team will be able to clearly see when a phone call is coming from work. In the event of not wanting to or not being able to answer, the Ooma virtual receptionist is able to be programmed to assist customers for you. In addition, calls can be transferred to another extension or a co-worker with just the touch of a button. If an employee answers a business phone call on their mobile application and needs to access the call from their computer, Ooma allows seamless call-switching without interruption. (Note: Call switching to desktop requires Office Pro).
Pricing
Ooma offers two plans, their Office plan and the Office Pro plan. Some features from their software are only accessible through purchasing Office Pro. These features include video conferencing, call blocking from telemarketers/spam, call recording, voicemail transcription. There are plenty of features and benefits that are accessible through just their Office plan, so it's important to compare the two before deciding which plan is best for your business needs. However, both of their plans are very affordable in comparison to some of the other top systems out there. The standard Office plan is $19.95/month per user and the Office Pro plan is $24.95/month per user. Since there isn't a huge gap between their basic and more extensive plan, most users choose to go ahead and opt for the Pro plan to access all the features that Ooma has to offer.

While Dialpad is a smaller company, currently servicing around 7,000 clients – their system is used by some pretty impressive brands that the majority of consumers are familiar with. Some of the top names they provide VoIP service to include Uber, HubSpot, Vend, and TED.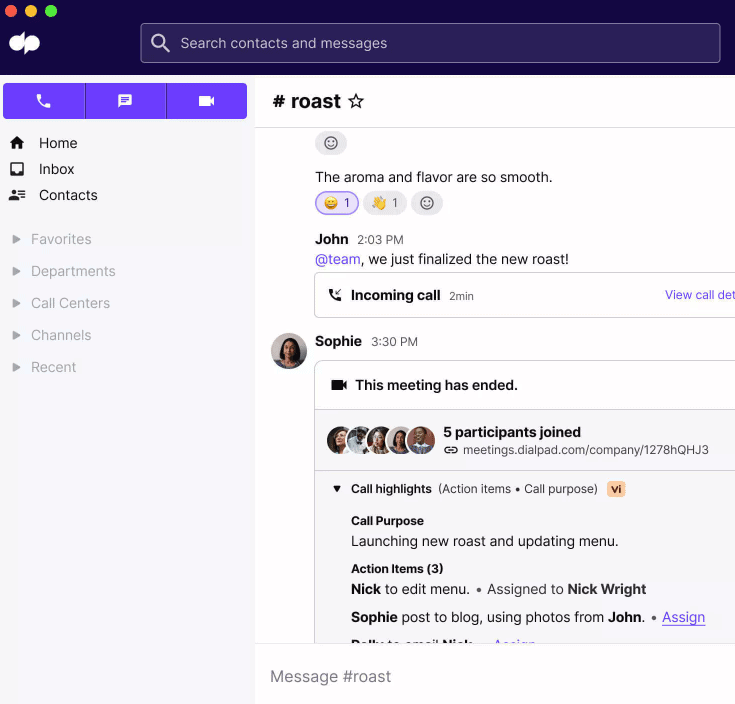 Artificial Intelligence is a fairly new concept to most consumers. Although the term can sound overwhelming, technology with artificial intelligence is designed simply to help you in terms of usability as well as analytical insights. If you're looking for a VoIP system that has in-depth insights with capabilities of elevating your business phone calls – Dialpad just may be the right software choice for you. Dialpad has coined their Artificial Intelligence technology as Voice Intelligence (VI).
VI is a helpful tool that enables business owners to have assistance before, during, and after their business calls. VI is constantly monitoring phone calls to provide actionable suggestions to business teams. VI is designed to learn with you, so as the intelligent agent listens in on conversations it's able to make to-do lists for after the call for you, dictate definitions, transcribe calls, and offer post call summaries. If you've ever found yourself 'stuck' while on a business phone call, not knowing which direction or the next steps to take – VI will be a really beneficial tool for your team.
Aside from the Voice Intelligence feature, Dialpad is really impressive when it comes to their user interface. Their platform allows users to be connected from their phone, tablet, desktop, or mobile browser. Although other VoIP companies offer this as well – it's often found that one or more of the access points can be buggy/not work as well as the other. Dialpad has really nailed down the usability of their software and it's visually appealing as well as user friendly across the board. Another major perk is that their Voice Intelligence feature isn't locked into one platform. VI features can be accessed no matter where you're accessing Dialpad from.

Pricing
There are 3 pricing options in the Dialpad product line up. The most standard software option is $15/per user per month. The middle plan jumps to $25/per user per month. Their most robust plan is known as their Enterprise package and users will have to contact Dialpad directly for a custom quote if this package is needed. Most small business owners are comfortable with one of the two transparent pricing packages.

You may have heard of the VoIP system known as GoToConnect. Their software is well-known among consumers because of the high consumer ratings. In recent years, their system has received awards such as Telephony & Call Center Software Award, VoIP Provider Leader, and Top-Rated VoIP Provider just to name a few. On a popular online consumer review website, their system has a 4.5 out of 5-star rating with almost 700 public reviews. If you are a business owner, you know that it's more common to get a negative review online. People love to trash businesses online. If consumers go out of their way to leave a glowing review on the internet, it's really saying something.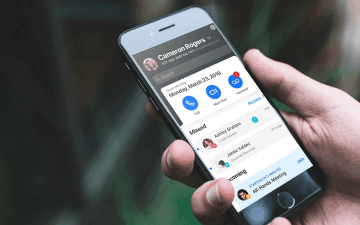 What makes their system so well loved? Overall, it's the ease of use of every aspect that their software has to offer. From initial set-up, it's probably one of the simplest VoIP processes out there. GoToConnect's software is compatible with over 180+ desk phone models, so users really enjoy that they can simply add the perks of GoToConnect into their already existing hardware. Most other providers are typically used through softphones such as headsets, cell phones/tablets, or computers. If your team has already invested money into desk phones that they prefer to use – GoToConnect has got you covered there.
On top of all of the standard benefits that are offered with any cloud-based VoIP system, GoToConnect has some exclusive features as well. One of the most impressive features to note is the capabilities of their admin tools. All the providers in the lineup offer some type dashboard, but this interface is different. The editor on the backend side of GoToConnect is an industry first. The workplace flow is able to be edited as a drag-and-drop canvas style, making it really easy and flexible to scale your business communications. In addition to the admin portal, all employees (even those without administrative access) will be able to enjoy a web-based portal. Team members can modify voicemail, fax-to-email settings, Find Me/Follow Me, and more.

Pricing
When it comes to pricing, the first thing to note is that video capabilities are not offered standard with GoToConnect. If a user wants to access the video features, there is an additional fee to add on this integration. The standard pricing packages only include phone and chat features. There are 3 different pricing plans available. The most basic is $22/per month per user, the middle plan is $26/per month per user, and the most advanced plan is $39/month per user.

You may have heard of Nextiva because of their major endorsement from Conan. Chris Hayes, the IT director from Conan stated, "I have nothing but praise. The best experiences I've had in IT have been with Nextiva" (7). In addition, their system is utilized by other big brands such as Taco Bell, DirectBuy, and Ashley Furniture. Currently, their software holds the title from U.S. News as the #1 rated cloud phone system.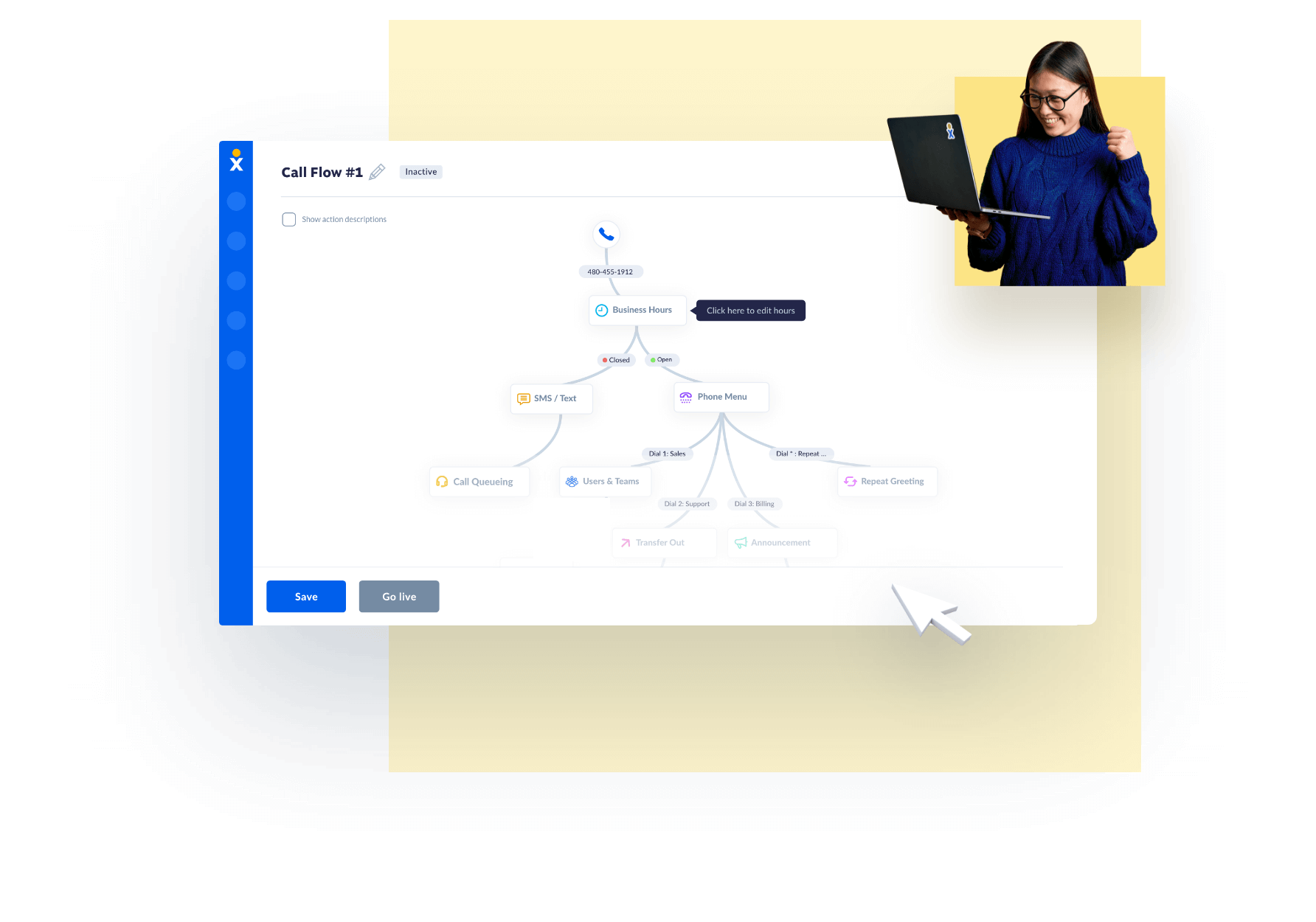 What sets Nextiva apart from the rest of the VoIP providers is their heavy focus on CRM (Customer Relationship Management). In recent studies (8), it's been found that businesses that utilize CRM strategies can increase sales by upwards of 29% and increase sales conversion rates by up to 300%. As a business owner, if you're not taking advantage of implementing CRM in your business strategy, it's time to. The perk of choosing Nextiva is that you can gain access to all the benefits of a VoIP system in addition to CRM all in one central software platform.
Nextiva's platform provides features that will increase productivity and enhance customer satisfaction. Their software delivers multichannel service support via email, phone, live chat, social media and SMS. Customers will be able to interact with your business like never before – so you'll never have to leave a question or concern unanswered. In addition, all of the customer engagement is located on one screen so that contact history can be viewed by anyone with access to the support dashboard, eliminating miscommunication. Their CRM application also features intelligent case routing capabilities. This will enable any support tickets to be routed to the correct agent. Sophisticated case routing results in team members being able to respond to customers more efficiently and in a prompt manner.
Aside from the CRM capabilities, Nextiva has nailed down all of the industry standard features expected from any decent VoIP provider. Features like auto attendant, local numbers, better call quality, call recording and forwarding, text messaging, and more can be expected from their software. In addition, their company offers users 24/7 customer support.
Pricing
There are 4 pricing packages Nextiva offers and they can get a little pricy. However, their pricing plans are dependent on how many users that you have on your business team. Their pricing quote page offers an employee number sliding scale that's simple to use to get an accurate quote. Their basic plan is usually around $18/month per user, and their most advanced plan comes in averaging around $60/month per user.

The Final Verdict: Which VoIP Business Phone System is Right for You?
Depending on the needs of your specific business, the right VoIP Provider will vary greatly. If you're on a tight budget, consider Ooma for your needs to access some basic VoIP features without breaking the bank. A popular system that has received popular user reviews on a consistent basis might lead you to choose GoToConnect.
If your business could use some additional help in the area of customer relationship management, choosing Nextiva will be helpful so that you can utilize their CRM resources. If a virtual voice intelligence assistant sounds helpful to you – consider Dialpad.
If you're just looking for an overall well-rounded VoIP provider and you're unsure which direction to go – RingCentral takes the award for our best choice. However, you really can't go wrong with any of the providers on our top-ranked list. All of these software choices offer features that will be advantageous to small business owners.