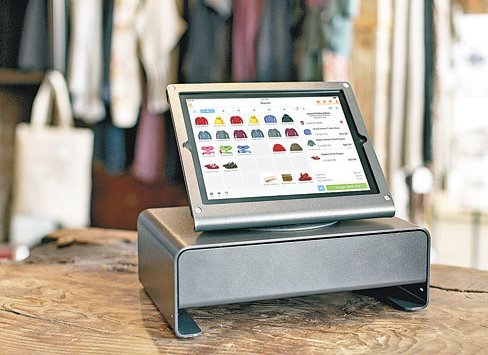 Bindo is a point of sale system specifically designed to work with iPads. It's a relatively new platform, but it has already gained popularity and it's being used in over 50 countries worldwide, having processed millions of dollars' worth of payments in over 3000 establishments.
Unlike other POS platforms, Bindo's main purpose is to help local businesses compete with the saturated online market, which gets more popular as time goes by. This POS permits quick connectivity between businesses and local potential buyers.
Its design encourages people to place online orders. This gives business owners the ability to keep their online and physical inventories up-to-date, as sales are made and inventories get restocked, maximizing customer experience.
Bindo POS Review – Brief Overview
Although Bindo was originally designed to work as an inventory management app, it has evolved into one of the best POS systems that any modern business can get. It does require access to an iPad to properly access all its features, but it's enormously complete and provides owners with great value for money (although it is more expensive than others).
The origins of the app are well reflected in its current features, as it still offers great inventory management and an easy-to-operate interface. The app is designed to be as user-friendly as possible, granting easy accessibility to almost anyone who owns a business and any modern iPad.
Bindo POS for Retail
Bindo works best for retail shops than anything else. Its design allows clients to make orders remotely and pick them up later in the day, should they wish to do so. Given that Bindo wasn't originally designed as a POS: It offers a wide array of features that can easily improve the management and customer service in most retail venues.
The app presents users with eCommerce integration, which is very popular among retail customers today. Bindo feels like it can slot right into any retail venue and instantly improve it.
Bindo POS for Restaurants
Although its original build was meant to be used solely on retail businesses, the app's developers have expanded Bindo's features and now allow plenty of useful customization that comes very handy for restaurant business owners. They've integrated a system of table and order management into the app, making it even more versatile than it was before.
Bindo for Cafes
The latest Bindo update didn't only make it a great POS for most modern small and medium-sized restaurants, it also became a great app to have in small cafes and quick-serving food venues. If you own a store with just a few tables available and a small clientele, the newest features of Bindo will fit right into your business' model.
Bindo POS Benefits
The app is incredibly intuitive and can be used by people who are not good at handling Apple devices. The instructions are clear and easy to follow. Bindo has great customer service and they will happily assist you with any problems that arise.
Business and Staff Management

The features included in the app are extremely complete and they can be used in any small or medium-sized food or retail business. It offers a "Back-Office" Interface, which provides a lot of information regarding the day-to-day running of the business.
The amount of information that the app offers greatly diminishes the employer workload. If you have accountants or someone in charge of handling finances, this POS will tremendously simplify their job.
Multiple Plans
Although it might seem a bit expensive, the app can be purchased using various pricing plans, and you can choose whichever one better fits your needs. Unlike other apps, the pricing isn't only related to the devices available: some plans have more features than others.
The sheer amount of features included in the app make it one of the most complete POS for most modern retail businesses.
Bindo POS Drawbacks
If you don't pay any of their plans on a yearly basis, you'll be charged with an activation fee which costs over $100. It's a pretty unfair charge that you'll have to deal with, even if you aren't sure you want to use the app for more than a year.
Although the customer service offered by the company is very good, they still don't have a 24/7 line. If your business has issues while operating at nighttime, you might have to find a solution by yourself.
Other than that, the only clear issue related to programming is the fact that sometime routines get bugged when you assign them. For example, if you create an event or action inside a preexisting code, the app might crash, and you'll have to restart it. It doesn't happen all the time and it isn't a constant issue, but it's still annoying nonetheless.
Get Free POS Systems Quotes
Which Bindo Service is Best Suited for Your Business?

Before we begin discussing pricing and plans, keep in mind that each of these plans will grant you access to a custom online store which the app developers will help you set up. You'll get personalized support regardless of the plan you choose, as the service is included in all plans.
Although the Bindo developers are not open about the actual price you pay for each service, the fee is entirely correlated to the amount of storage units that you buy. This means that the bigger your store, the higher the price you'll pay for the service.
Bindo POS Pricing
Bindo offers plans which are entirely correlated to the size of your business. Their plans have different costs depending on the features they offer, and each one can also be extended to be used in more than one register if you pay an additional fee.
If you want to know exactly how much Bindo will end up costing in relation to the services offered by your business, you'll have to personally talk to someone working with their team. The good thing is that you can try the app for free, for up to 14 days, free of charge.
Detailed Info

Unlike other companies, they won't ask you for your credit card information. Once the two-week trial ends, you can choose whether you'd like to continue with their services or not. If you choose to continue, they'll tell you all about their plans and the total amount of money you'll have to pay for them.
We've investigated further details regarding this subject, and we've discovered that they offer four basic plans: Essentials, Basics, Pro and Enterprise. We recommend you choose the Enterprise plan only if your company has over 20 employees – otherwise you might want to choose a cheaper option.
They'll also charge you a percentage ranging from 2.5% to 3.5% (plus 10 cents) per each credit card sale that you make.
Bindo POS Features
Ability to Work with Large Inventories

Bindo offers availability for a large stock of items, regardless of the plan you choose. The app is capable of handling thousands of products. It provides business owners with a very large platform which makes online purchases very easy for customers.
The app design makes it ideal to be used in small retail businesses, but it can be adapted to work in larger enterprises as well. It depends on what you're looking for, of course, but the plans they offer scale up to suit the needs of medium businesses (and some large ones as well).
Purchasing Process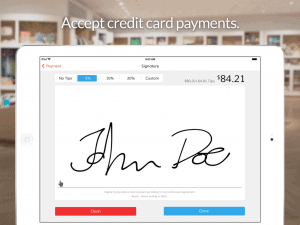 The app deals with credit card orders twice a day, but the hours vary depending on the company. This doesn't affect your business' clients, but it does mean some transactions will take a while to process.
If one of your customers orders the last product in your store via online purchase, the app will notify you of this, so you can take any necessary measures. It will also inform you of any other items which are close to running out of stock.
User-Friendly Design

The app is extremely easy to use, even when compared to other similar iPad-based products. Generally, these apps tend to be extremely intuitive, but Bindo has an interface which isn't matched by any other app. The menus can be navigated easily, and none of the buttons are confusing. You probably won't even need any instructions to make the app work as you intend.
This saves a lot of time to owners looking for a quick start (or at the very least an app capable of being handled by anyone).
Uses & Integration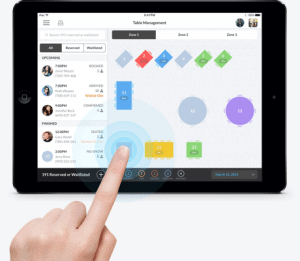 This POS platform suits tech-savvy business owners as well as not-so modern managers. The product can be easily integrated with modern apps and eCommerce, keeping permanent logs of transactions while also offering a great cloud storage system to avoid the loss of data. The POS synchronizes itself with the cloud storage as soon as it can, which saves the trouble to the business manager.
The best thing about Bindo is that it offers a whole bunch of complete features, but at the same time it doesn't feel overwhelming if you're just learning how to use it.
Database Setup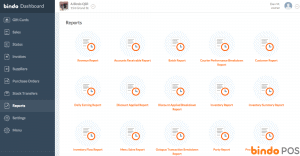 The app has a very simple setup process that allows business owners to get started quickly. Any previous documents that you have detailing inventory items, prices and product information in general, will be imported by the developers manually in the first two weeks of service.
Any other bulk information that you might need to add after that timespan will cost you $250 a piece – so be sure to add everything you need in the first couple of weeks.
Staff & Client Features

The amount of staff features that the app includes is simply overwhelming (in a good way!). You can set different permissions according to each member's duties, you can keep track of the time each of your employees has spent working, and you can also create custom profiles for each staff member.
These features are also very well developed when it comes to your clients' POV. You can create and modify personal profiles to each of your clients, and you'll be able to save their email addresses as well, which is great if you work with email marketing.
Common-Item Shortcuts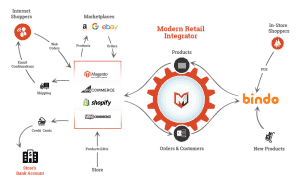 You have the option to quickly access the most popular items in your catalog by simply selecting them and marking them as favorites in the menus. This is an amazing feature for busy businesses who tend to be making sales left and right, as it saves the cashier-manager a lot of trouble by allowing them to tap any item and tag it as sold in a matter of seconds.
This feature goes to compliment the overall handiness of the app. It does an amazing job at saving time to the people tasked with registering sales and dealing with customer orders. There is a limit as to how many items can be fitted into the favorites catalog but considering you can tag up to half-a-dozen worth of items, you shouldn't run out of space any time soon.
Additional Inventory Features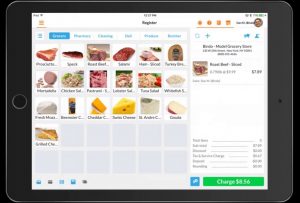 The ability to properly organize and add new items to your store's inventory is what truly makes Bindo excel as a modern POS system. The app was originally developed to work in retail businesses. This has caused the inventory features of the app to tweaked and modified plenty of times, to the point where they have become the best in the market.
If you've purchased a new item to sell in your store and you need to add it into your online catalog, you can literally scan the barcode and the app will do all the work for you. Bindo will instantly (if you're connected to the Internet) retrieve a picture of said item and it will provide it with a short description for customers to read.
Our Final Verdict
If you own a retail business, Bindo is the first POS software you'll want to check out. The sheer amount of features that it offers makes it the best option available for retailers and businesses with online catalogs.
You can fully customize the app to fit your needs and edit a bunch of stuff from its already user-friendly menus, giving access to endless time-saving possibilities to business owners and cash register-workers alike.
If you want to try out this app, just make sure you know you'll have to pay an additional price (activation fee) if you don't purchase their yearly subscription. We strongly suggest you take the 14-day trial and, if you like the system, purchase a yearly plan to save up some money.