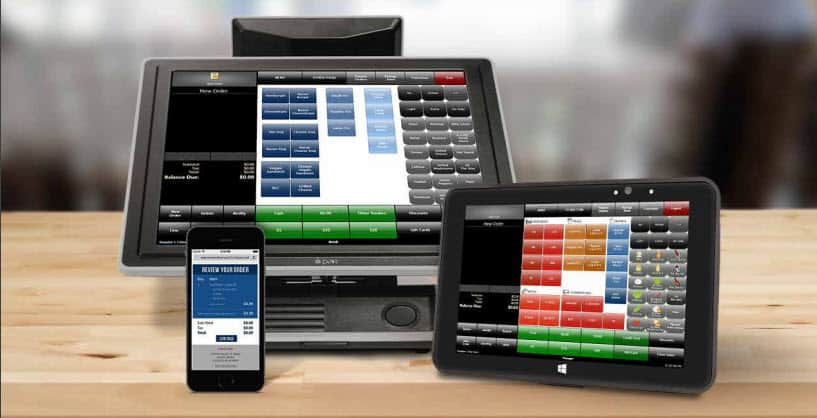 If you own a relatively large restaurant, such as a restaurant chain, a cloud-based point of sale (POS) will be the best choice. Also referred to as POS as-a-Service (SaaS), cloud-based systems are a preferred option for multi-location businesses today. In this regard, Brink POS is one of the best systems you can get.
As opposed to some of the leading POS systems in the market, Brink POS does not require upfront licensing fees and is known to work offline.  Such are the aspects that make this system a preferred system for growing restaurants today.
Though not so popular, the Brink point of sale system can actually transform your business and meet all your POS needs. So, what makes this POS system suitable for your restaurant?
Brink POS Review – Company Overview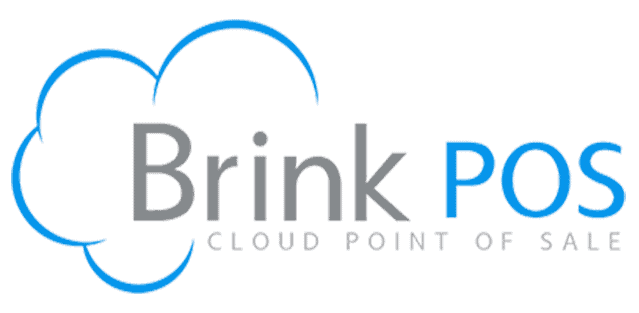 The Brink POS system is offered by PAR Tech, Inc—a renowned global POS solutions provider that is based in New Hartford, NY. The cloud-based SaaS POS system is equipped with an array of features for restaurants.
Some of the capabilities of this software include customizable Loyalty Programs, Multi-unit Management and Online Ordering. The POS software may be deployed in several hardware options, including PAR EverServ tablets and/or PAR EverServ hardware terminal (s).
In addition to offering a complete restaurant POS feature suite, this system allows for integration with other technologies.  For instance, it is now possible to integrate your Brink POS with Hot Schedules platform in order to get advanced Inventory, Management and Labor capabilities.
Superior Real-time Integrations
As mentioned above, this POS system supports integrations with several third-party POS services. For instance, integrating the system with the HotSchedule platform will give you access to real-time time cards, workforce and sales information.
Such integrations make it possible for you to gain access to reliable and accurate data regarding your business wherever you are whenever you need it. With this system in your restaurant(s), you will also be getting updates automatically at no extra cost.
All in all, you will find this to be an affordable, easy-to-use, feature-rich and reliable SaaS POS system for your business.
Brink POS Benefits
Supports Online as well as mobile ordering
Offers cloud-based data hosting
Allows for business-wide menu management
Features a built in loyalty program
Allows for orders to be sent directly to the kitchen
Allows for real-time access to data
Supports payroll processing
Ideal for multi-location businesses
Allows for integration with third-party apps
Brink POS Drawbacks
Cannot match labor hours against sales
Get Free POS Systems Quotes
Brink POS Pricing
Brink POS may have its fair share of downsides, but is definitely one of the affordable restaurant point of sale systems in the market today. As you may have realized, affordability is one of the aspects that make this system desirable to small restaurant owners. So, how much will it cost you to have the Brink Restaurant POS system?
To begin with, you will not be required to pay upfront licensing fees for your Brink POS. Instead, the provider offers a monthly subscription plan. In this regard, you will have to pay $90 per month for the Single Enterprise plan.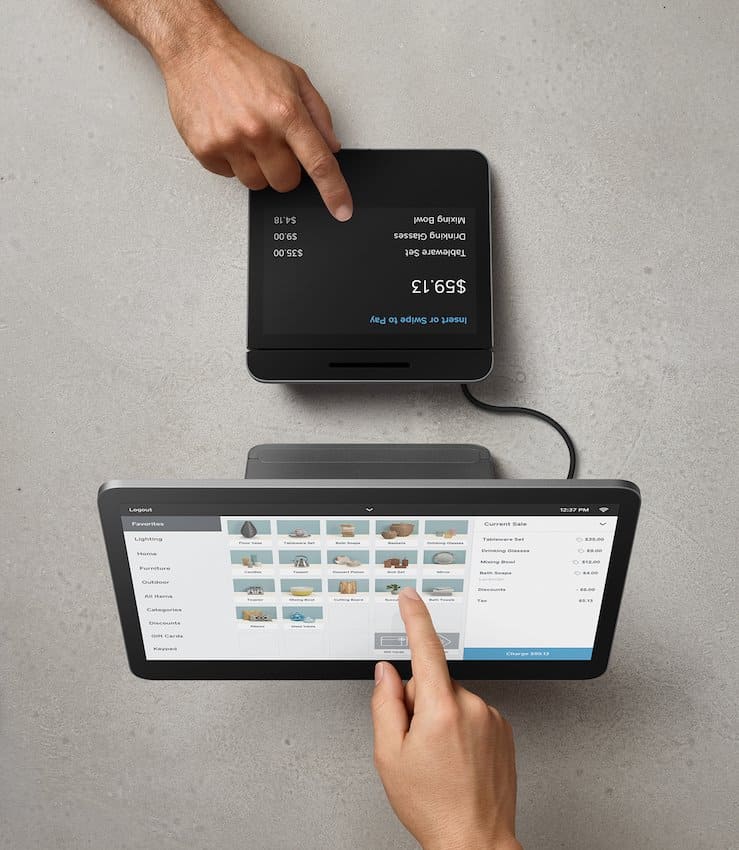 This is essentially a single terminal POS system that will offer you the following features and capabilities:
Enterprise reporting
Automatic upgrades
Mobile order taking
Online ordering integration
Loyalty program
Kitchen display system
Cloud data hosting
Workforce management
Multi-unit management
Third-party integrations
If you feel that a single terminal is not enough for your business, you can also get additional terminal hardware from the provider. In such a case, you will be required to pay an additional $50 per month for each of the additional terminals.
Brink POS Features and Capabilities
As compared to other restaurant POS systems available today, Brink supports an array of OS platforms. Basically, the system may be used on Linux, Windows, iPhone/iPad, or Mac devices. However, this is not the only thing that makes it a desirable restaurant POS system.
While there are many aspects that determine the suitability of a POS system, you need to determine what the solution can actually do. In this regard, here are some of the main features and capabilities of the Brink POS system:
Mobile and Online Ordering

In addition to the conventional desktop permanent POS terminal, this POS also supports mobile ordering and payment processing through tablets. This streamlines operations for the servers and enhances table turn times in the business.
As opposed to some of the best restaurant POS systems in the market, the online ordering system is part of the Brink POS system. As such, you only need to setup the menu to get online ordering capabilities for the restaurant.
This is to say that you will not need any third-party POS integration to get online ordering capabilities in your business. With Brink's online ordering, you can offer the same discounts and offers you are running in the restaurant online.
Enterprise Reporting
In order to analyze the restaurant and make decisive business decisions, you will need a timely supply of accurate and relevant reports on the business. In this regard, you will find the Brink Enterprise Reporting feature to be the solution you need.
With this feature, you will be able to generate and manage different reports on one or several business locations. With regard to versatility, this feature allows you to define how you would like to have the data consolidated.
All the reports you will get from this system are real time and are conveniently delivered to your inbox at the preset intervals. From such reports, you can analyze kitchen, sales and labor performance in the different locations.
Labor Management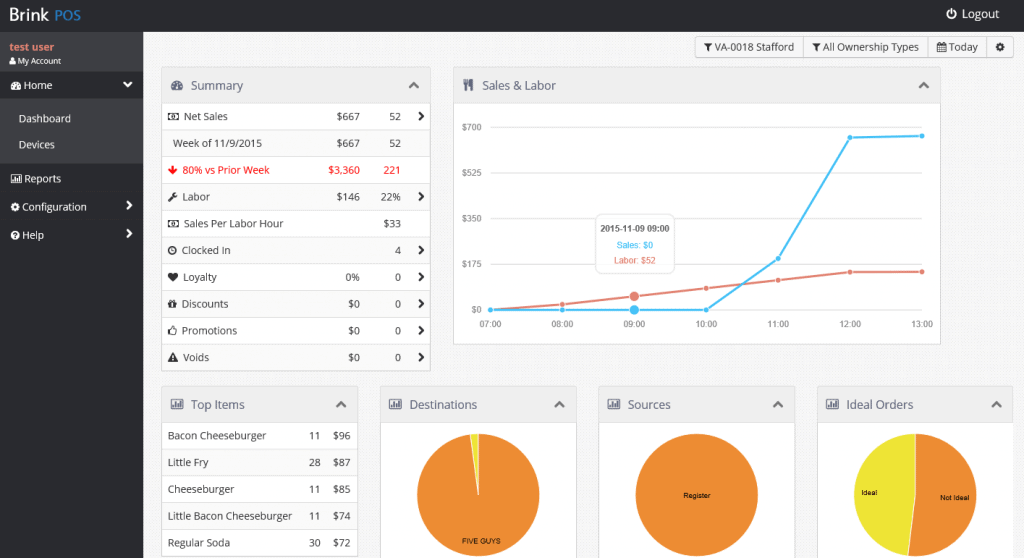 Labor is an integral part of any business today. For enhanced performance and streamlined operations, you need to manage your employees more effectively. You will find labor management to be easier with the Labor feature of Brink POS.
With this system installed in your restaurant, you will be able to keep track of such labor aspects as:
Labor costs
Payroll integration
Employee time and attendance
Labor scheduling
With this system, integrated labor capabilities allow you to view labor distribution as well as assign shifts. You may also integrate the system with such payroll services as ADP to make payroll processing easier and more accurate in your restaurant.
The advanced labor reporting capability of the POS system offers you such real-time reports as labor cost against sales percentages. This makes it easier for you to make staffing decisions for the business.
Multi-Unit Management
Though an affordable solution, Brink POS allows for configuration of menu management across multiple units. Some of the aspects you will love about this feature include:
Improved efficiency
Simpler menu rollout
With Brink POS, you only need to make menu changes to one restaurant location. Afterwards, you can decide which other locations, if any, to apply such changes to. As such, you will not have to make changes to menus over and over again.
Register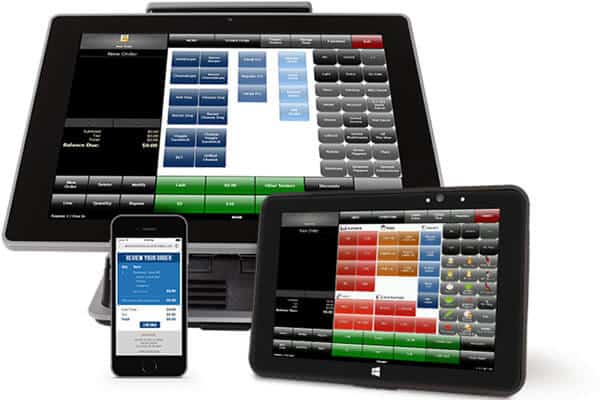 Well, you also need to pay attention to the innovative register capabilities of this system. After all, it is still a point of sale system. The register feature in Brink POS is specifically designed to drive almost all your in-store operations.
Some of the aspects that restaurant owners have come to like about the Brink register include:
Advanced discounts and promotions
Secured access
Peripheral support
Customizable layout
With the advanced promotions and discounts capability, you can easily carry out such tasks as accepting group on-types of promotional coupon codes or even comping a meal in your restaurant. You will also love the fact that the register feature of Brink POS is built to support all the peripheral hardware you may need.
In this regard, the Brink POS register is meant to support such hardware as printers, cash drawers, weight scales, barcode scanners, coin changers, fingerprint readers and magnetic card readers. With regards to secure access, employees can access the register using a magnetic card swipe, PIN number or biometric authentication.
Kitchen Video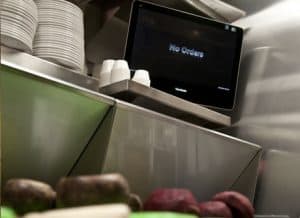 This feature will help your restaurant go green as well as make it easier for you to monitor kitchen efficiency.  With Brink's Kitchen Video, you actually do not need a kitchen printer; hence will never require paper rolls.
Instead, the system displays all the ordered items on the video monitor installed in the kitchen. With this system, you may decide to list the ordered items in line or group them according to order type. The display system is also designed to show you the speed of service reporting and efficiency of the kitchen.
Brink POS Alternatives
The Bottom Line
If you own a comparatively small restaurant, you do not have enough money to splash on the expensive restaurant POS systems, right? In such a case, you need a relatively affordable solution that has all the restaurant POS features you need.
With such considerations in mind, the Brink POS system is one of the best restaurant POS systems you can buy today. Not only is this system affordable, it has all the important restaurant POS features, is scalable and customizable. With Brink point of sale, you will not have to change to another POS system as your business grows.