If you run a convenience store or gas station, this article is for you. As a convenience store or gas station owner or manager, you're constantly looking for ways to streamline your efforts and grow revenue. You need to keep better records, have easier access to important business data, etc. CStorePro can help. This CStorePro review will explain how.
CStorePro is a web-based back-office management system that makes it easy for convenience store and gas station owners to streamline operations. With CStorePro, you can monitor and control sales, refunds, transactions, purchasing, price books, and a host of other functions from one central system.
Because it's web-based, users can access key system data from anywhere, as long as they have mobile data or an internet connection for their mobile device. As of 2020, there are over 62,000 convenience stores and gas stations in the United States (Source). So, the potential market for CStorePro is quite large indeed.
The product integrates with your point of sale (POS) system and delivers the features that convenience store and gas station owners need to manage a streamlined business and quickly scale revenue growth.
The company is quite customer-centric and prioritizes the needs of its patrons when introducing new features and functionality. Below we'll cover some of those features in detail. However, before diving into a full-on review, we'll provide our overall sentiment on CStorePro.
CStorePro Review: Our Overall Assessment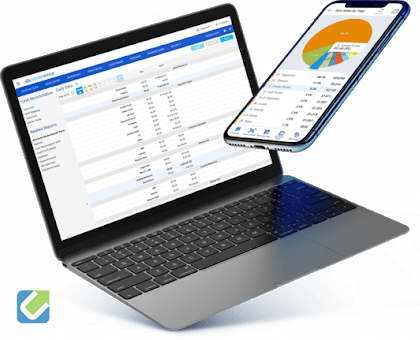 Our research revealed that the company had a bit of a rocky start as far as customer satisfaction goes, with many complaints early on. However, being customer-centric, the company took customer feedback seriously.
Continual Improvement
Over the last few years, CStorePro incorporated that customer feedback into a series of software updates. Today, customer satisfaction is much higher and the system, as a result, is more powerful.
Adding Context to Negative Reviews
You will read your fair share of negative user reviews. When you do, be sure to check the date of these reviews because if they are older than 2019, they likely complain about system aspects that have been dramatically improved.
Why We Love Customer-Centric Brands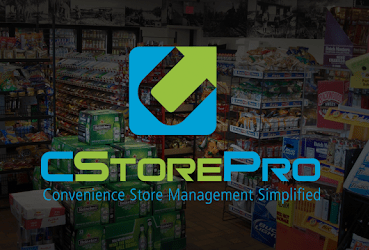 We are big fans of companies that make their customers a top priority. We especially respect companies that take negative customer feedback and incorporate it into system updates and enhancements. This is precisely what CStorePro does to continue to improve the system and the overall customer experience.
Bill Gates said it best: "Your most unhappy customers are your greatest source of learning" (Source). We see CStorePro maintaining the same philosophy and because of these consistent improvements, we award CStorePro an overall rating of 4.2 out of 5 stars.
Overall Rating: 4.2 / 5
CStorePro Advantages and Disadvantages
Because of its rocky start, the company—even though it's come a long way since inception—still has room for improvement. However, users are increasingly satisfied with the system year over year. Here are a few pros and cons associated with using CStorePro:
Pros
CStorePro offers free training not only to new customers but to new users as they are hired and require system training.
You're not required to sign any type of contract to use CStorePro. If you don't like the system, you can cancel your monthly subscription at any time.
If you're not sure if CStorePro is the right system for you, you can test the product out by taking advantage of their 30-day free trial.
Value for the money—customers consistently cite the fact that CStorePro delivers great value for its affordable price tag.
Implementation assistance—the company holds your hand during the installation process to ensure that you are set up for success using the system.
Cons
Customer support receives mixed reviews from customers. Some claim it is amazing while others claim that it can take days to receive a response to support tickets. From this, we can ascertain that, at best, their customer service is inconsistent.
A number of users have reported bugs in the system through the years. Although, we feel that most of those issues have been resolved
It does not include a built-in POS system—rather you must integrate it with a separate POS system. Luckily, CStorePro integrates with most or all major POS systems designed for convenience stores and gas stations.
Now that we've given you a high-level view of our system assessment, let's shift gears. Next, we'll dig into CStorePro's system features and capabilities that help sell the system.
CStorePro Review: Features, Functionality, and Selling Points
To be honest, we found that the system serves virtually every need a gas station or convenience store owner or manager would have. Below, we'll explain some of the strongest selling points in detail.
Tobacco Scan Data
Tobacco is regulated by the Bureau of Alcohol, Tobacco, Firearms, and Explosives—better known as the "ATF." Therefore, keeping accurate sales records for tobacco is more important than for other products. Luckily, CStorePro makes tracking tobacco sales a breeze.
Once a tobacco item is scanned at the cash register, the corresponding data is automatically captured and stored in the system's database.
The system then produces a report from the tobacco sale, which includes a description of the product sold, the quantity, the price, as well as any discounts that were applied at the point of sale.

That report is then automatically routed to the manufacturer of that particular tobacco product for review.
Finally, in return for the convenience store or gas station providing this information, the manufacturer provides rebates to the store owner. Everyone wins.
Gasoline and Diesel Fuel Price Updates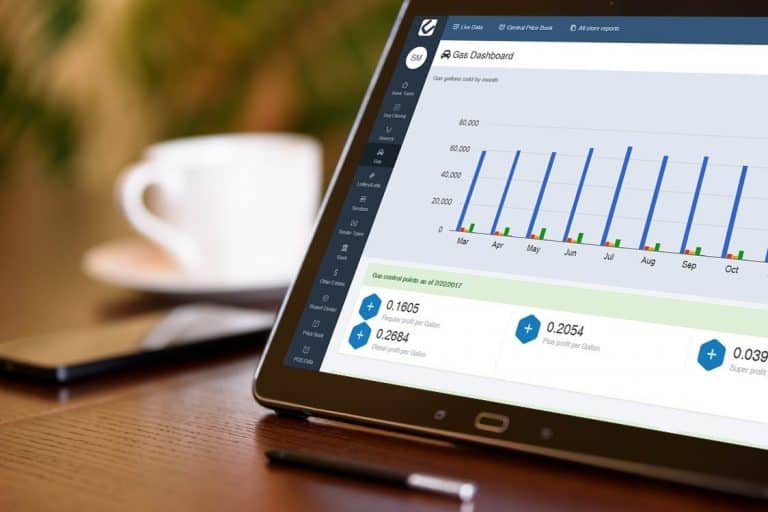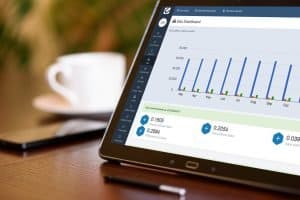 For gas station owners, one of the most important things to get right is tracking gasoline inventory, deliveries, prices, etc. CStorePro makes this a cinch with its robust fuel price updates.
The system makes it easy to keep track of pending and past deliveries. Plus, because the system offers mobile access, managers and owners can change prices from across the world by simply logging into CStorePro on their smartphone.
The system also offers robust reporting around fuel sales, which is incredibly important to gas station owners. Incorrect reporting could cost a station hundreds or thousands of dollars. When fuel reporting is done manually, it is prone to human error, not to mention the fact that it pulls employees away from their jobs.
Fortunately for owners, CStorePro offers accurate, automated inventory and profit reports around fuel sales. This lets managers and owners keep a constant finger on the pulse of their gas station's fuel supply. A few value-added features around fuel management include:
Built-in support for ownership or consignment gas
The ability to accurately monitor fuel tank inventory in real-time, from anywhere, at any time
Easy-to-use features that support gas cash card and fuel rewards for those that choose to engage in those programs
The system can track and report on up to 10 separate gasoline or diesel storage tanks
Multiple Location Management Features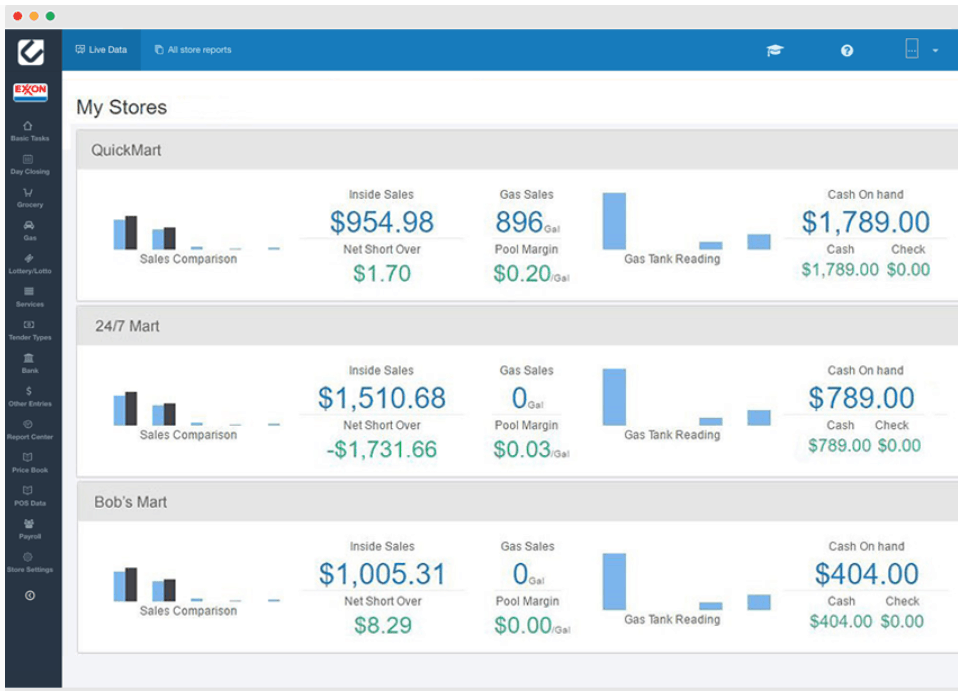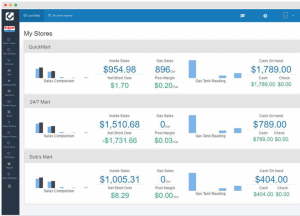 Generally speaking, gas stations and convenience stores are owned by businesspeople who own a collection of them. The days of mom and pop businesses are slowly coming to an end, unfortunately for mom and pop.
These days, owners often have a portfolio of stores to run, across a specific geographical region. Fortunately for them, CStorePro offers roust multi-store management features that lighten the burden of managing 20 stores at the same time.
They can manage prices and promotions across all locations from one central system, greatly reducing the administrative time spent on store management. Owners can easily add new items and discounts or promotions, alter prices, and more with CStorePro's central price book functionality.
This empowers those owners to keep track of every store they own and each store's performance data from one consolidated dashboard.
This allows them to maintain constant insight into the financial results of each individual store and make more informed, data-driven decisions about business growth.
Lottery Ticket Management Capabilities
If there is one type of store that consumers look to when they want to gamble legally, it is the convenience store/gas station. Those who purchase lottery tickets tend to do so religiously, which demands close monitoring and processing of ticket inventory and sales.
CStorePro delivers that capability by offering faster scratch-off lottery ticket readings. Users can track daily scratch-off sales in a flash by leveraging a special scanner built specifically for this purpose. Those readings can be accessed in real-time from the owner's smartphone or tablet.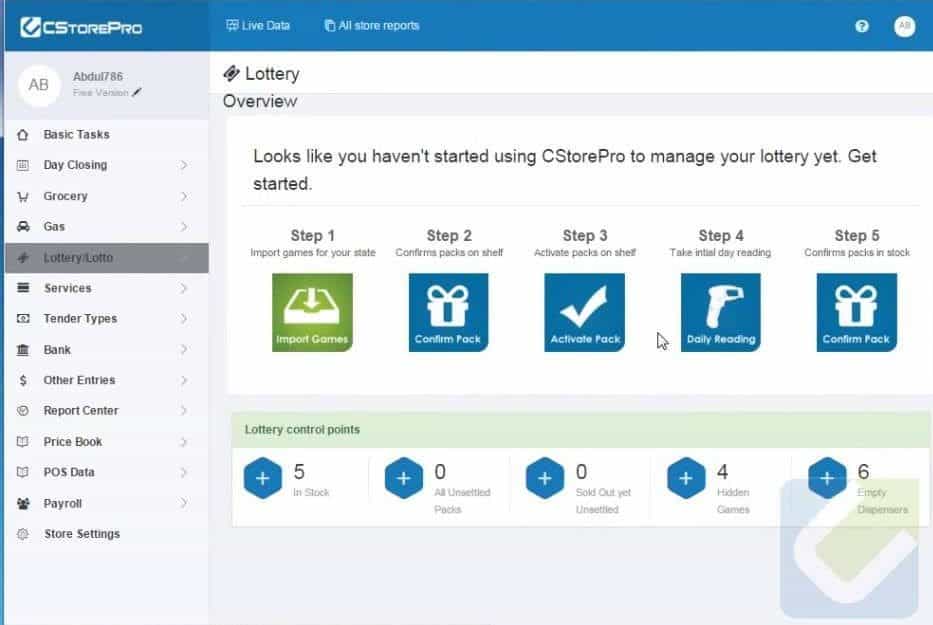 They can also streamline the tracking of entire rolls of scratch-off tickets, from delivery all the way through to sale and payment to lottery ticket winners.
Additionally, managers and owners can maintain constant insight into lottery sales, inventory, and settlement of winning tickets through robust reporting which includes:
Data around lottery ticket sales by date, ticket value, and ticket type
Insight into ticket inventory, un-activated ticket rolls, and more
Pending payments to winners of large sums of money when that amount of cash is not readily available on-site
Plus, they can automatically import new lottery ticket games into their CStorePro system. The only task for employees is to open a pack of new tickets and put them into play. All the related data around those is already in the system and ready to go.
Enhanced Inventory Administration Features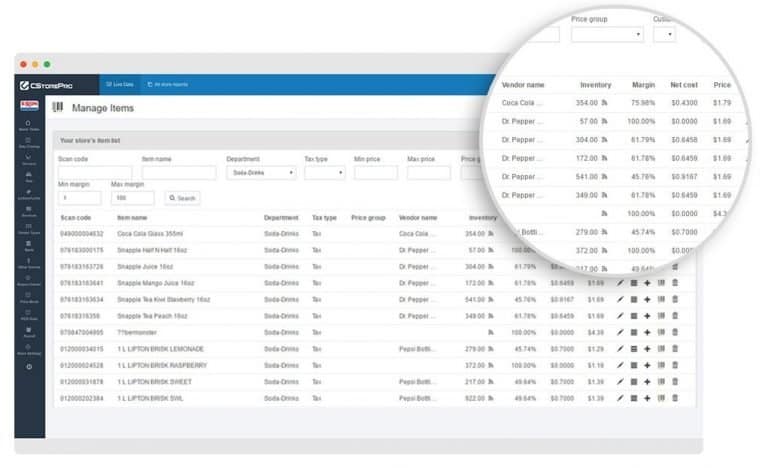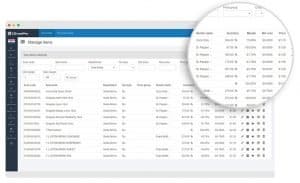 With CStorePro it's easy to keep track of your exact inventory and maintain an accurate count of each item you sell. Plus, it's all done in real-time.
The system includes a special browser designed specifically for gas stations and convenience stores. With that browser, users can effortlessly track purchases. They can quickly and easily enter purchases by uploading EDI files or, alternatively, by scanning deliveries upon arrival.
The system comes with loads of inventory automation and productivity-increasing capabilities, which allow users to:
Receive automated inventory reports that include details about cost and retail by item, category, vendor, and more
Gain instant insight into the store's sales/purchase ratio as well as sales/retail ratio
Purchase new items for restocking by item, vendor, and category—all from within the system
And a whole lot more
Maintaining accurate inventory counts becomes an automated process. This frees up time for employees to focus more time and energy helping customers.
CStorePro Review: Pricing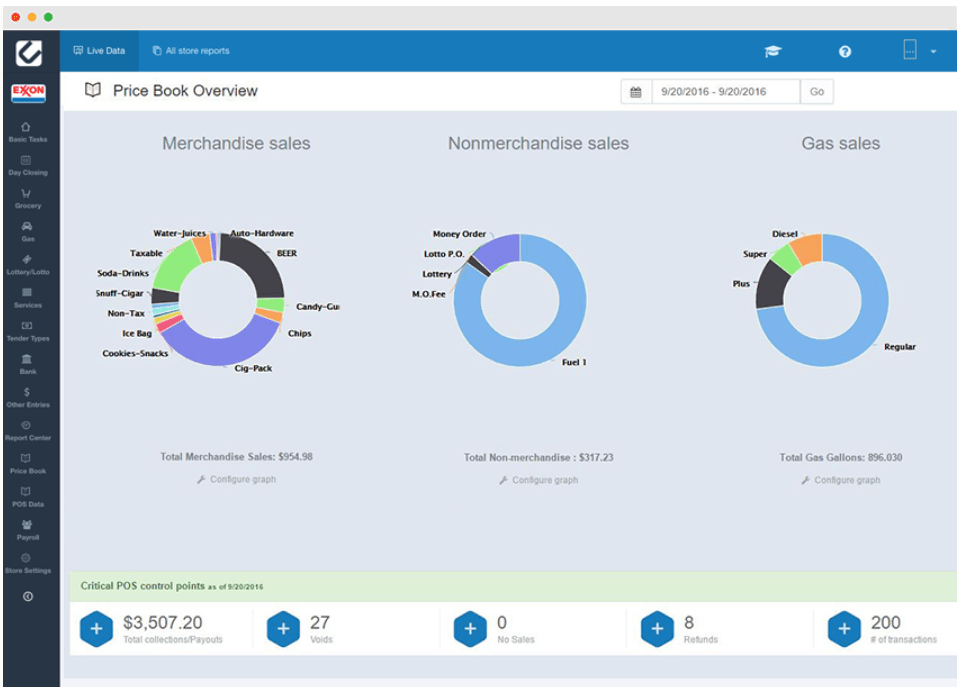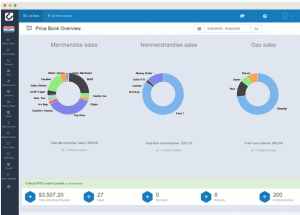 CStorePro has very transparent pricing, which consumers love these days. Pricing information is easy to find on the company website and is as follows:
Free Trial: You can get a risk-free, 30-day trial to test the system before paying for it.
Scan Data Basic Plan: This is the company's basic plan with a drilled down feature set.
Price: $19 per month, per store
Store Operations Standard Plan: This is the next tier up and includes more features and functionality, should you require them.
Price: $59 per month, per store
Tobacco Loyalty Plus Plan: This is their all-inclusive, buffet option. It's all you care to eat (i.e., includes all available features) and is still quite reasonably priced.
Price: $89 per month, per store
Our Final Thoughts on CStorePro
If you own or manage a gas station or convenience store, we recommend taking a look at CStorePro. Many business management systems are built in a way that's applicable to a broad range of businesses. CStorePro, on the other hand, was built just for you. That alone sets it apart from most of its competition.
With features specifically tailored to the needs of your type of business, revenue growth is exponentially easier. Conduct some research of your own always. But there isn't much direct competition with CStorePro.
In fact, with their 30-day free trial, if you're interested you have nothing to lose by trying it out risk-free. It could end up being the answer you've been looking for.
Just be sure that it fits your specific needs and budget, and you'll see more gas pumping, more cigarettes leaving the store, and more lottery tickets scratched off.