eHopper's point of sale (POS) software has been around for 20 years. At this point, it has created a name for itself and is well known in the POS industry. Today, the company offers four versions of its software, including a free version, which is what catches most consumers' attention.
Here we will primarily focus on the free version but will also touch on the paid versions. All four of these systems are mobile POS solutions. They are referred to as such because they rely on a tablet—like an iPad—to operate. The tablet acts as the brain of the entire system and connects to the internet, allowing users to carry it around with them. Thus, it's a mobile POS system.
eHopper Review: A Brief Overview


eHopper sells POS hardware components. However, their selection is somewhat limited. They offer to a handful of comprehensive hardware bundles that include everything certain businesses need to run a smooth operation.
Plus, although their selection is limited, eHopper's POS software solution is compatible with and easily integrates with many POS hardware components manufactured by third-party vendors.
eHopper was designed to be used by a wide range of business types such as retail stores and restaurants. We will cover those below. The platform delivers a spectrum of valuable features. Those include customer relationship management (CRM) capabilities, marketing features, powerful reporting, and quite a lot more. It is very intuitive and user-friendly, and has a short learning curve, making it easy to set up and use.
Below we dive into a full-on review of the eHopper POS system. We will cover its top-selling points and some of the more important benefits users receive from using the system. We'll mention a few of the advantages and drawbacks of using the system. Plus, we will touch on specific aspects of the system such as its mobility and operating system compatibility, as well as the types of businesses that use it.
You'll also learn about key software features and hardware components, as well as third-party compatibility and eHopper system pricing. Let's dive in.
Our Overall Rating
eHopper is quite popular among POS systems, partially because of its free version and also because of its feature set. It's not perfect, but it's solid enough to earn a four-star rating from us.
Advantages of eHopper POS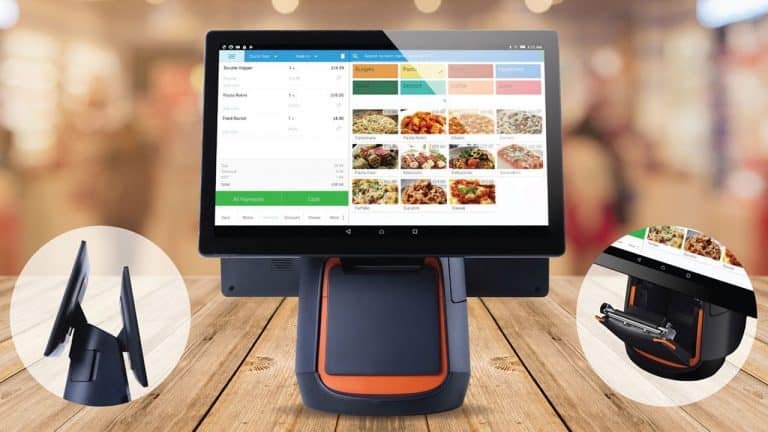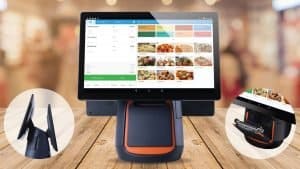 Just like with any software solution—or product for that matter—there are people who love eHopper and those who would prefer another solution. That's a very natural occurrence in today's competitive business landscape, with so many options to choose from in nearly every market.
That's why we will touch on some of the system's pros and cons to provide an unbiased evaluation of the system. We will start by discussing some of the system's strong points.
Excellent Customer Support: This is one area in which eHopper excels at. Customers' issues get resolved quickly—normally on the first attempt. This increases the company's customer effort score and consequently increases customer satisfaction levels.
Dedicated Customer Support Reps: If you wondered why eHopper's customer support is so good, it's likely because each customer has a dedicated support rep that knows that customer's use case, support history, challenges, system configuration, etc. With that insight, they can deliver best-in-class support.
Intuitive and Easy to Use: eHopper is extremely user-friendly and has a short learning curve. Its interface is intuitive and new users can come up to speed in a short amount of time. This saves businesses time because they don't have to wait weeks for a new employee to learn the ins and outs of the system. Rather, they can have a short training session and hit the ground running.
Free Version: many small businesses—especially new businesses—are often bootstrapped with a limited budget. However, they still need, or at least would benefit from, using a point of sale system. The fact that eHopper caters to that type of business by offering a free version is a definite bonus. Plus, eHopper does not charge a fee for credit card processing, which is unusual but great for small businesses.
No Long Term Commitment: Some POS systems lock you into a contract that obliges you to pay for the system for one or two years. eHopper does not. You pay monthly and you can leave any time you want without incurring any cancellation fees. If you don't like the system, you can stop using it and migrate to another.
Possible Drawbacks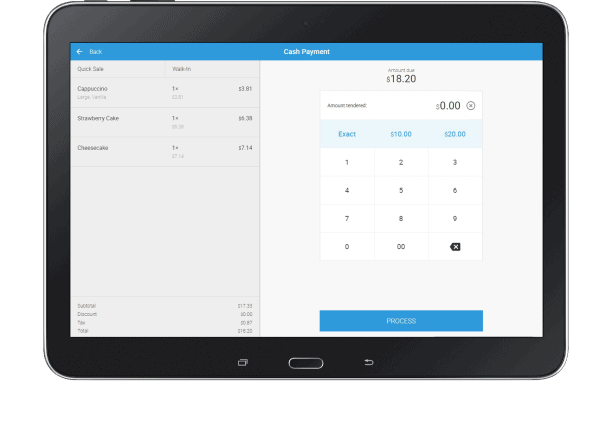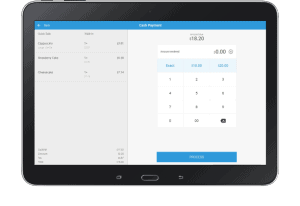 No system is perfect; even the absolute best software tools have their weak spots and eHopper is no exception. That's why they continually update their system to address those weak spots. Below, we touch on some of the potential drawbacks of using eHopper.
Basic Reporting: This is one area where eHopper lags behind other systems like Revel POS, which has excellent reporting features. Reporting and analysis are essential to business growth because they allow you to make data-driven decisions. When you maintain insight into a broad spectrum of metrics, you can make the most informed decisions possible. When you can't, you must engage in a lot of guesswork. eHopper does have reporting features, but they only cover the basics.
You Must Pay to Maximize the Return on Your Investment: Although eHopper offers a free version, it is quite basic. It is sufficient for basic businesses that don't require very many POS features and can easily get by with the basics. But to really get the most out of the system you must shell out the cash for a paid subscription. The good thing is that the price is very reasonable (more on that below).
Limited Customization Capabilities: eHopper POS does allow you to customize certain aspects of the system. However, there are systems out there that are highly customizable, such as Clover POS for example. This may or may not be an issue for any given business. For some, what eHopper delivers out of the box is sufficient. Others prefer to customize to the max and for them this would be a potential deal-breaker.
Lacking in Metric Measurements: As you probably know, the United States is one of only three countries in the world that does not use the metric system. It is not in good company with the other two being Burma and Liberia—both developing countries with plenty of problems. That poses a number of problems.
One of which is that products manufactured in the US that use the Unites States Customary Units measurement system (i.e. pounds, miles, inches, gallons, etc.) are challenging to use for the 195 countries that do use the metric system. Because eHopper is sold outside of the US, non-US users must calculate many measurements produced by the system.
Which Types of Businesses Use eHopper?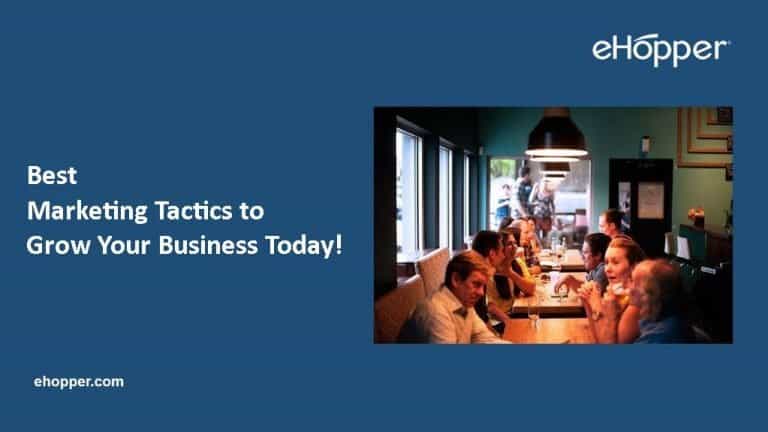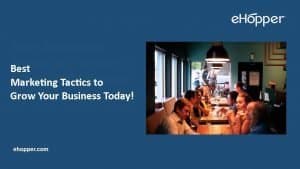 In this article, we focus mostly on eHopper's POS solution for retail businesses. However, the company produces POS systems specifically for a variety of business types.
Most of these systems are slightly-altered versions of their retail system. They may have an extra feature that the retail system does not include. They might also lack a feature or two that the retail POS system includes. But, ultimately, they are versions of the same system.
At any rate, it's nice for a bakery to buy a "bakery POS system." Presenting their POS systems in this way is very clever. Below we give you an idea of the spectrum of POS systems eHopper offers and a rundown of which businesses use the company's software.
eHopper offers the following point of sale systems:
eHopper Bakery POS
eHopper Bar POS
eHopper Coffee Shop POS
eHopper Food Truck POS
eHopper Liquor Store POS
eHopper Quick Service Restaurant POS
eHopper Vape Shop POS
eHopper Retail POS
eHopper Restaurant POS
eHopper Fashion Boutique POS
eHopper Pizza Parlor POS
eHopper Jewelry Store POS
eHopper Deli POS
eHopper Canada POS (catering to Canadian businesses)
Using a Mobile, Cloud-Based POS System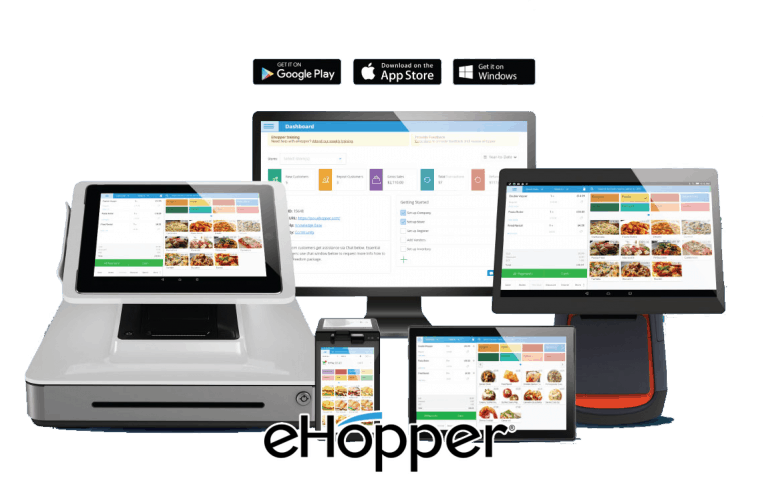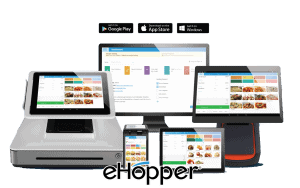 eHopper, as mentioned above, is a mobile POS system. This means that the system can be used—and is most commonly used—on a mobile device (normally a tablet). It depends on an internet connection to sync the data it collects to the cloud (an off-site data server).
However, eHopper POS is also compatible with and can be accessed on Apple Mac or Windows-based desktop or laptop computer. But there are drawbacks to taking that route, such as the inability to access the system from home or any other location where you have access to data or Wi-Fi. So, the vast majority of users prefer to work in the system on a tablet.
When you use software by accessing it through the internet, you are using a software as a service (SaaS) system. Over the last few decades, SaaS software grew in popularity and continues to do so, for various reasons.
First, SaaS systems store all your sensitive (and non-sensitive) data in the cloud. The benefit here is that you never need to back up your data or worry about losing it. Off-site servers constantly back up your data to safeguard vital business intelligence. Also, normally there is a back up of the back up so you have double data protection.
Second, since mobile POS systems depend on mobile data or a Wi-Fi signal, you and your staff can access your system and work with its data from anywhere at any time of the day or night. You don't need to be in your store to access your POS system.
Instead, you can do so from the comfort of your own home, during your morning or afternoon commute, or anywhere else you need to. All you need is a mobile device and mobile data or the internet, and you're all set.
Mobile, SaaS POS systems are convenient for and popular with retail stores. Why? Because they enable owners and store managers to check in on vital metrics whenever they need to. But, also, because store employees can carry a tablet around the store with them and help customers.
For example, let's say a customer is browsing shoes in a shoe store and asks a staffer if they have Shoe X in a size 10. That employee no longer needs to trek back to the storage room and fumble through countless shoe boxes looking for a size 10. They can simply check inventory levels on the store's POS tablet and know right then whether or not that shoe is available in that size.
eHopper Software Features
eHopper POS has a decent set of features to take advantage of. It is not the most robust feature set out there, but it gets the job done for thousands of businesses every day.
Below, we cover some of eHopper's strongest features—those that attract consumers. Please note that we're only covering features available in the free version of eHopper.
Customer Management Capabilities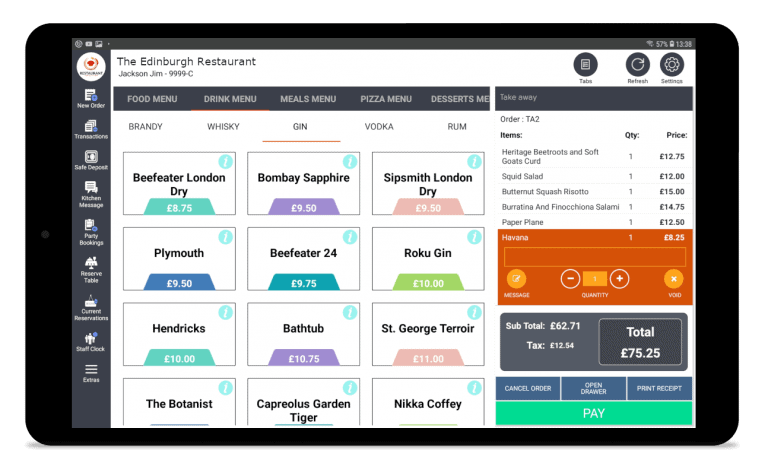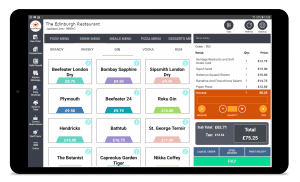 Businesses that leverage eHopper POS can take advantage of various customer management features for various purposes. They can keep track of customer purchasing histories, create customer profiles, and access personal information about each repeat customer and in doing so serve them better.
Business owners, managers, and employees can use the data they gather with customer management features to run personalized marketing campaigns. However, eHopper's marketing suite is only available in its OmniChannel package, which is the most expensive package the company offers.  At any rate, the ability to store personal information and buying data about each customer proves helpful in many ways.
Inventory Management
Whether you run a retail store, a restaurant, or any other type of business that sells physical items, you almost certainly keep inventory onsite. Every day inventory must be counted, and the count must be compared to items sold to ensure nothing is missing.
With solid inventory management and an inventory scanner (more on inventory scanners below), counting inventory is a breeze. Most of the process can actually be automated. An employee heads to the storeroom. They then scan each item with the inventory scanner and the total count is sent back to the POS system.
Emailed Receipts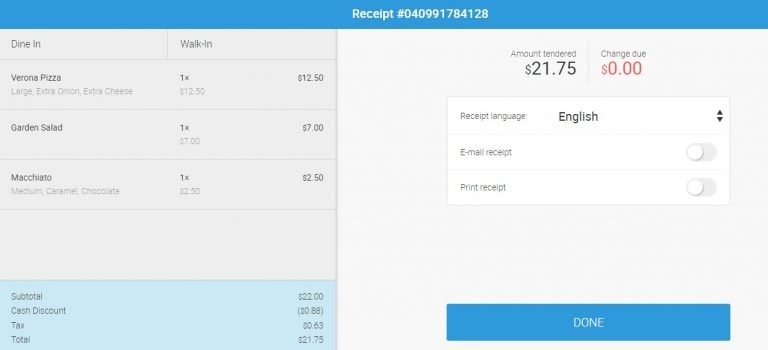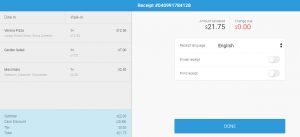 You may have seen more of this lately as you shop in various stores. When you go to check out, the cashier asks you for your email address so they can email your receipt. This is helpful because it ensures that the customer does not lose the receipt because it is stored in their email inbox.
However, businesses should use caution when asking for email addresses. Many people don't like to divulge personal information like that to strangers. Customers must also be aware of the fact that if they provide their email address to a merchant, they will likely start receiving spam emails in short order.
Automatic Tax Assignment
Unless you are at a fair or a garage sale, you will be charged a sales tax on any item you purchase. Traditionally, taxes were calculated at check out manually or by a cash register. That was fine. However, certain items have a higher sales tax than others. Every US state has a different sales tax rate for general items. They also tax special items like tobacco, gasoline, and alcohol at a different rate.
Even some cities have their own tax rates. For example, New York State has a sales tax of 4 % for purchases over $110. However, if you purchase something in New York City, you'll pay 4.5 % in sales tax. On top of that, New York State charges a tobacco tax of $4.35 for a pack of 20 cigarettes.
But if you purchase that pack of smokes in New York City, the city charges an extra tax of $1.50. Add that up and you're paying $5.85 in taxes for a single pack of cigarettes (Source). Let's say that pack costs seven dollars before tax. After tax, it costs $12.85.
That is roughly 55 % in tax that you're paying for a single pack of cigarettes, which is a bit higher than the 4.5% sales tax you'd pay for a tube of toothpaste. Keeping up with that can be a monumental challenge if done manually. But if your POS system calculates all those variables automatically, you save a ton of time.
Including Tax in Product Price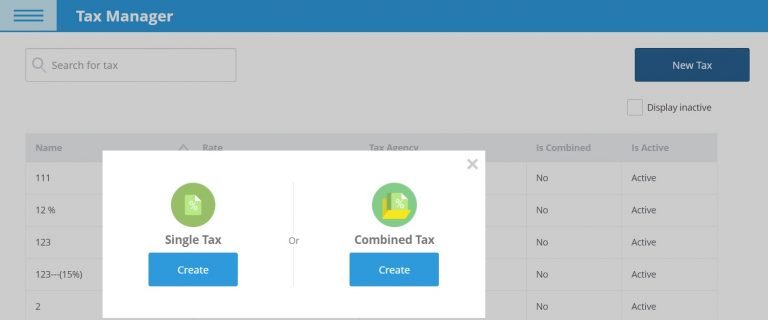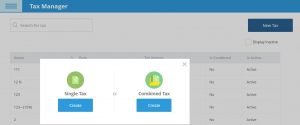 Not only can eHopper automatically calculate tax based on your physical location, it can also add that tax to the product price. When a customer sees $5.99 on a product, they will pay $5.99 when they check out because the tax is already factored into the price assigned to the product.
eHopper Hardware Components
The company does not manufacture much POS hardware at all. Instead, they sell hardware produced by other manufacturers. They ensure consumers that every device they sell is compatible with the eHopper software system.
Hardware components sold on the eHopper website include touchscreen terminals, thermal printers, cash drawers, credit card terminals, scanners, tablets, thermal printer paper, and additional POS accessories.
eHopper Pricing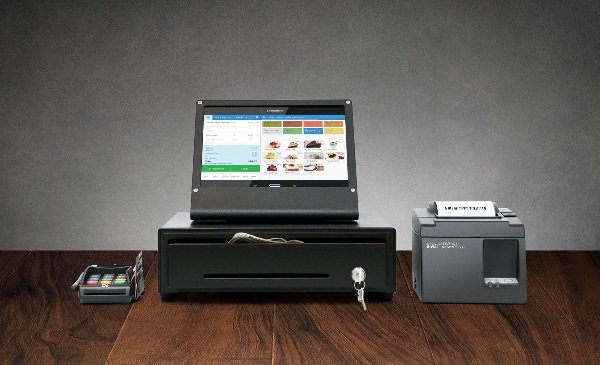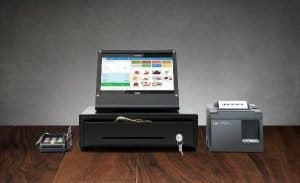 As mentioned above, eHopper sells various POS system packages and also gives away a free one. Here, we'll quickly cover those packages and the price tag associated with each one. We won't cover the free package, which is called the "Essential" package. But we'll touch on the other three.
eHopper Freedom POS
The Freedom package is the next tier up from the free, Essentials package. It includes around 25 additional features that do not come with the Essentials version. The difference between the two is fairly significant as far as available features.
The Freedom version costs $29.99 per month, per user license. With POS systems, you typically pay per user. It is rare to find a system that gives you unlimited user licenses for one flat fee.
eHopper Restaurant POS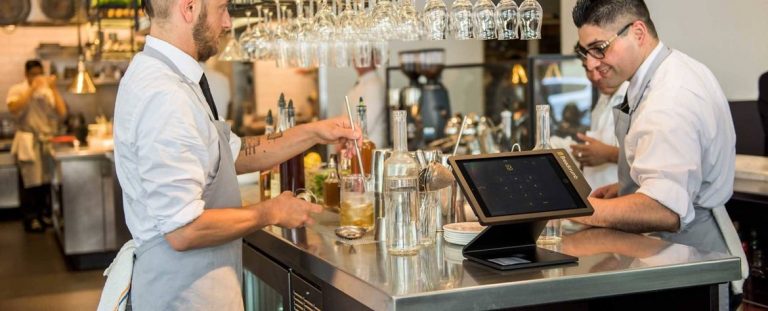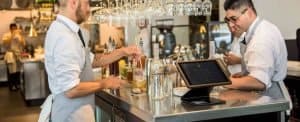 Restaurants and other food and beverage businesses require software features and hardware components that retail stores do not. However, they typically need the same features that retail stores do, meaning they require a broader feature set in general and thus tend to cost more.
eHopper Restaurant POS includes restaurant-specific features like table management and floor planning. Due to its broader feature set, eHopper comes with a price tag of $39.99 per month per user license. You can purchase as many user licenses as you need.
eHopper OmniChannel POS
OmniChannel POS is eHopper's highest tier package and includes all available features offered by the company. Some of those features are only offered in the OmniChannel package. Those include eCommerce capabilities, customer loyalty programs, a handy marketing suite, and electronic signing on credit card transactions.
The OmniChannel package will cost you $79.99 for the first user license per month. Additional user licenses only cost $39.99.
Is eHopper the Right POS System for You?
Above, we covered all of the aspects of eHopper POS that you need to know in order to make an informed decision about whether or not it's the right system for you.
You now know about eHopper's different packages, features, hardware components, and the benefits of using a mobile POS system. Plus, you know a few pros and cons of using this point of sale system.
Whether you own a shoe store or another type of retail business, it's time for you to continue your research and evaluation of other systems to determine if eHopper is the right choice for you.
Our recommendation is for you to make a list of needs and requirements that are specific to your business and how you run it. Then compare additional systems to see which ones check the most boxes on your needs list.
It's always important to do your due diligence when investing in any software system. Because if your entire team learns how to use it and six months later you decide to switch providers, you'll have to retrain everyone and basically start from scratch. As you look at other systems, pay close attention to user reviews.
It's one thing for a company to tell you their product is great. In fact, I don't think I've ever heard a downside mentioned during a sales pitch. Take your time, don't rush into any decision, and you're sure to find the right system for you—whether it's eHopper or any of the other hundreds of systems on the market.