We set out to deliver a Heartland POS review. However, Heartland is actually a global payments company that produces point of sale (POS) systems as well. In this article, we'll briefly touch on Heartland Payments.
But we'll focus our attention primarily on delivering a solid Heartland POS review. Heartland produces and sells five POS systems. In this article, we'll cover all five systems to give you the most comprehensive review possible.
Payment Processing: A Brief Overview

Payment processing is fairly straightforward—it is the method businesses use to accept payments of various types such as credit cards, debit cards, and more. Small business owners realize that in order to sell their merchandise, they must process payment transactions. Many of those are made by credit or debit card.
In fact, experts predict that by 2022, only 17% of purchases by US consumers will be paid for with cash. Payments made with credit cards, debit cards, and e-wallet payments will comprise a staggering 81% of payment methods by then (Source).
This shows just how important secure, reliable digital payment processing is. Luckily for Heartland POS users, Heartland delivers POS systems and the payment processing services that accompany them.
Advantages of Using Heartland POS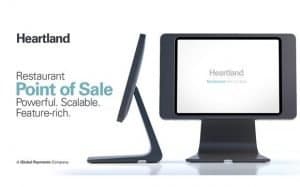 An increasing number of business owners today realize that using a POS system is critically important to their business's survival. That's because point of sale systems automate loads of routine, time-consuming, manual tasks. This saves ample time that can be spent on higher-value responsibilities like tending to customers and forming growth strategy.
Ultimately, point of sale systems are designed to help businesses increase efficiency, productivity, and expedite revenue growth. POS systems streamline payment and operational processes for retail stores, restaurants, and many other types of businesses that process payment transactions on-site. They also store a significant amount of data in the process.
In the case of Heartland POS, payment processing is super streamlined. Most POS systems partner with a payment processing company to handle that aspect of system operation. With Heartland, it's all under the same roof, which dramatically reduces the possibility of payment processing errors.
Software + Hardware = Business Success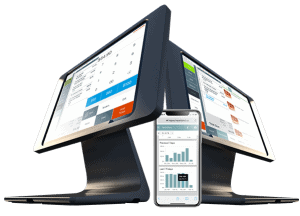 A point of sale system is comprised of a central POS software solution and multiple POS hardware components.
These components include cash registers, scanners, credit card readers, printers, and more. Businesses select the hardware they need based on the type of business they run. POS hardware functions alongside POS software to create a comprehensive POS solution.
Heartland only produces point of sale software, although they do sell hardware components. The company sticks to coding software systems and leaves the hardware construction to companies that specialize in POS hardware manufacturing.
This makes sense because Heartland has never been a consumer goods manufacturer, but rather a service and software provider. Initially, they developed payment processing technology. Now they also develop POS software.
When combined with the right hardware components, Heartland POS systems can be powerful software tools. It is installed at over 30,000 locations at the time of writing. This indicates the level of success it generates for businesses that use it.
But Do You Really Need a POS System?
If you own or operate a small business, you do need a powerful POS system to help carry the workload. Otherwise, your employees would spend loads of time on administrative tasks, which would reduce efficiency. POS systems deliver numerous benefits to the organizations that leverage them properly.
The bottom line is that businesses need POS systems to remain competitive in their respective industries. Point of sale systems automate and streamline multiple tasks associated with the everyday operation of their business.
With Heartland POS, these tasks no longer have to be done manually and absorb a ton of your and your staff's time. Any small business that does not use a POS system will succumb to its competitors that do. Regardless, there are many benefits associated with POS system use that can't be overlooked.
Benefits Involved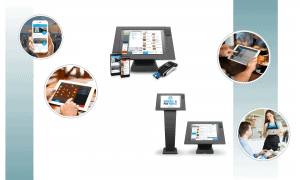 Aside from time and capital savings, one key benefit that POS systems provide to businesses is the ability to store extensive data. POS systems capture and stash away data around sales, customers, inventory trends, and much more. That data can then be accessed at any time, providing users with constant insight into the health of their businesses.
Business owners and employees can also use that data to personalize interactions with customers and deliver a better customer experience. That, in turn, results in faster business growth and higher customer satisfaction levels. Consumers increasingly desire the human touch of a personalized experience when purchasing a product or service. POS systems make that a reality.
Additional benefits generated by using a POS system include increased profitability, improved customer service, and better sales reporting. In addition, users enjoy more accurate inventory management, easier employee management, and lower payroll costs, to name a few.
Having covered the basics of POS systems, let's take a deeper dive into Heartland and its s POS offerings.
Heartland: Company Background

This may get a little complicated. Heartland Payment Systems, Inc.—previously a Fortune 1000 company—was founded on July 15, 1997, as a payment processing company. On that same day in 1997, it processed its first credit card transaction.
By 2014, Heartland was ranked by Nielsen as being the 6th largest payment processing entity in the United States. In this context, "largest" is measured by transaction count.
That same year, Heartland decided to branch out into the point of sale software space. It acquired industry-leading liquor store POS provider, LiquorPOS, entering the retail POS market. Later that same year it acquired XPIENT, a POS system catering to fast food and casual dining establishments, thus entering the restaurant POS space.
Then, in 2015, Heartland acquired two more foodservice POS companies, Dinerware and Digital Dining. This solidified Heartland's presence in the food and beverage POS market. But it wasn't finished yet. The company also acquired retail POS system manufacturer, pcAmerica, in 2015, giving it five POS systems in its portfolio.
The company's success did not go unnoticed. In 2016, Heartland itself, along with its assets, was acquired. Another payment processing company, Global Payments, shelled out $3.5 billion for the growing company. Heartland now continues to function as it previously did, only as a subsidiary of Global Payments.
Breaking Down Heartland's Five POS Systems
With five POS systems under its belt, Heartland has quite a lot to offer to retailers and restaurateurs. Now, we'll take a closer look at each of its five systems. This will give you a better idea of the selections you have if you consider Heartland POS.
Digital Dining
Not to use a common cliché, but Digital Dining is a restaurant point of sale system designed for restaurant owners by restaurant owners. Although that is a cliché of sorts, it is true. The platform was originally developed years ago by former restaurant owners with many years of experience in the restaurant industry.
They sat down and envisioned a point of sale platform that was diverse enough to serve the entire restaurant spectrum. They wanted a solution that could support a single, family-owned restaurant or a restaurant chain with 100 or more locations. Users tout its flexibility because it's true, it indeed can serve the entire spectrum of dining establishments.
It delivers almost to all of the features restaurant owners look for in a point of sale system:
Billing & Invoicing
Built-in Accounting
Employee Management
Inventory Management
Kitchen Management
Point of Sale Features
Reservations Management
Table Management
Loyalty Program
Mobile Access
Reporting & Analytics
Separate Checks
Split Checks
Wait List Management
Order Delivery Management
Gift Card Management
As you can see, Digital Dining delivers almost everything you could imagine in a restaurant POS system, with one glaring exception. It does not include menu management capabilities. This is a major blow for the system's practicality. Menu management is one of the most important restaurant POS system features available.
Dinerware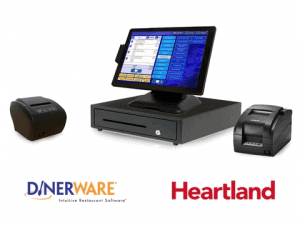 Now, we'll shift our attention to Heartland's second foodservice POS system, Dinnerware. This industry-leading platform that has been serving meals and the needs of restaurant owners for nearly 20 years.
Just like Digital Dining, this point of sale system has the ability to manage multiple locations from a central system. However, its multi-location features aren't as robust as Digital Dining's; it is reliable when managing up to 20 different locations. After that, it starts to lose some power.
Ease of Use and Customization
Digital Dining makes up for its limited multi-location capabilities by being a user-friendly platform. It features an intuitive interface that makes training new employees easier than ever.
Moreover, the solution delivers restaurant owners extensive options for system customization. This opens the door for restaurants to scale and grow while still using the same POS system. Dinerware is also quite flexible in terms of capabilities and adaptability, increasing productivity and driving steady revenue growth for users.
That flexibility allows for use by various types of food and beverage establishments, including bars, pubs, food trucks, nightclubs, quick-service eateries, and even fine dining restaurants.
Feature Set
Dinerware delivers a fairly robust feature set that makes it a reliable option for food and beverage business owners. A few of this foodservice POS system's strongest features include:
Time Clock Management
Mobile, Tablet-Based Operation
Pay at the Table Features
Solid Reporting and Analysis
EMV Payment Capabilities
Gift Card Features
Loyalty Programs
Inventory Management Features
Online Ordering
Table Management Capabilities
Major Market Differentiator
In addition to the features above, Dinerware includes value-added features that set it apart from many restaurant-specific POS systems. However, one system asset in particular is alarmingly impressive.
Almost No Downtime or Outages: Not very many POS systems can boast the minimal downtime that Dinerware can. On average, the system is up and running 99.995% of the time. When compared to other systems that have regular outages, this is a highly valuable characteristic. In fact, it's almost unheard of that a SaaS system has so much uptime.
Operating Systems
Dinerware POS can be used on a variety of devices and operating systems. If you want to go mobile, it can be used on both iOS (Apple) mobile devices as well as Android devices. You can access it as a SaaS application through any web browser on any device, such as a laptop or desktop computer.
XPIENT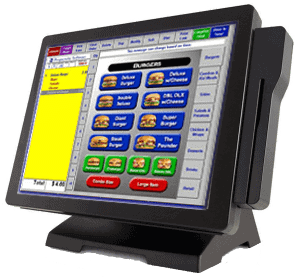 Heartland's XPIENT restaurant POS system offers advanced local transaction management solutions
Features
It delivers some powerful features that food and beverage businesses need. Its human resources management features are key selling points.
Additional features that attract users include advanced inventory management, food cost control capabilities, scheduling features, supply chain management, and sales forecasting.
Who Uses It?
The system is best used by quick service and casual dining restaurants. It is highly customizable and allows for extensive integrations with third-party applications, making it a great fit for those businesses.
Bottom Line
XPIENT is a fairly solid system but when compared to Digital Dining, it doesn't quite stand up. It lacks many of the features that Digital Dining delivers. Unless you own or run a bar or nightclub, Digital Dining is likely a better system to meet your needs.
LiquorPOS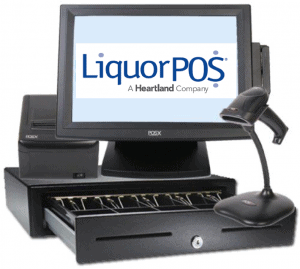 LiquorPOS is not new on the scene. In fact, it was one of the earliest point of sale systems introduced and has led the evolution of POS systems ever since. Over 5,000 liquor stores rely on Liquor POS to streamline operations, allowing them to work more efficiently and drive revenue growth.
The system is quite intuitive and user-friendly, which makes it simple to leverage its high level of customizability. That's one reason why LiquorPOS is among the leading point of sale systems designed specifically for liquor stores and the unique challenges they face.
pcAmerica
pcAmerica is Heartland's premier retail point of sale system. It positions itself as a premier POS system built with powerful tools to nurture customers, boost sales, improve business operations, and drive increased revenue growth
pcAmerica champions an important moto—that retail businesses should focus their time on their customers rather than on administrative duties. And they are correct.
The customer experience is increasingly important in today's competitive business landscape. A customer could leave you for a competitor in a blink of an eye if you deliver a poor experience. In fact, the customer experience has overtaken product quality and price as the key purchase decision differentiator.
Consumers are willing to pay more for a product if they receive a stellar customer experience, even if a similar product exists and is cheaper. Focusing on the customer experience is one of the smartest business strategies that exist. It leads to satisfied, loyal customers who promote your brand to friends and family, and provides reliable, recurring revenue.
This perspective is a major reason why pcAmerica is successful. It also explains why its customers are successful and loyal.
System Characteristics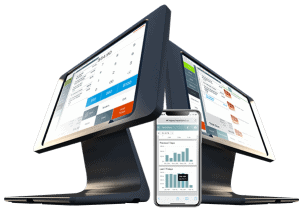 pcAmerica—officially pcAmerica Cash Register Express—automates and streamlines many aspects of the daily operation of a retail store. This gives you more time to focus on catering to customers' needs, bringing us back to the company's primary objective.
pcAmerica Cash Register Express empowers users with the ability to manage omnichannel businesses with brick and mortar, physical presences. It also caters to businesses that operate online, through digital channels.
The system delivers fairly respectable features and functionality. Users can easily and quickly access vital business intelligence and data, such as product and customer information. It is all stored in the POS system's software database, which can be accessed onsite or from a mobile device.
This allows users to deliver a more personalized experience to customers, and more efficiently track inventory. It also delivers the ability to run detailed reports around sales and business health, manage employees' schedules, and more. All of this helps to increase productivity and revenue growth.
Additional Features
In addition to the above-mentioned system traits, pcAmerica delivers plenty of helpful features. We list a few of them below.
Time Clock and Employee Management
Fast EMV Payment Capabilities
Onsite and Mobile Inventory Management
Reporting, Metrics, and Analysis
Bar Code Scanning Functionality
Label and Shelf Tag Printing
Gift Cards
Customer Loyalty Programs
Age Verification Features for Liquor and Tobacco Sales
It's no surprise that pcAmerica has installed over 50,000 systems around the world.
Heartland's Pricing Model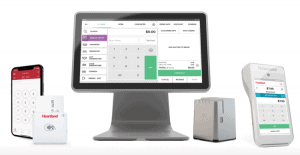 We can sum up the Heartland POS pricing model in a straightforward, simple way: their pricing model is a mystery. It appears to be based on a number of variables such as company size, number of employees, annual revenue, etc.
However, the company does not share this information, which is off-putting to many potential consumers. In order to learn how much you would pay for the system, you would need to visit their website.
Once there you must find their price quote form, complete it, and wait for a rep to contact you. They will discuss your situation and only once all of this has been done would you get a price quote.
In our opinion, this runs contrary to the motto of pcAmerica because, frankly, it's a poor customer experience. One way to measure customer satisfaction is by using what's called Customer Effort Score (CES). CES measures the amount of effort a customer must put into a given interaction with a brand. The more hoops they must jump through, the poorer their experience is. This lowers customer satisfaction.
Having to take all of the steps laid out above just to know how much a system costs does not display a customer-centric mindset. It is a week point with Heartland and something they should consider addressing.
Effect on Brand Reputation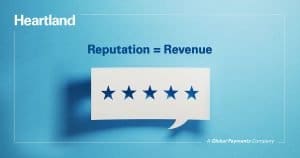 Heartland POS systems are solid systems with enough features and functionality to be useful to restaurants and retail stores. They don't lead the market, but they produce reliable, functional products users can depend on every day.
However, despite this, their brand reputation appears to be increasingly and negatively affected by the fact their pricing model. We have seen countless user reviews from people who like Heartland's POS systems. However, they are frustrated by the fact that Heartland is so closed off with regard to its pricing structure.
Evidence shows that SaaS companies who have simple pricing models that are published on their websites are more successful in the long run than those that don't. If someone visits a website during an evaluation, but can't find the pricing information, they are likely to leave and move on to the next provider on their list.
Companies with transparent pricing that is easy to find tend to outperform those companies that don't publish pricing information on their websites. Transparent pricing also keeps the attention of prospects while companies that don't do this send the message that they are hiding something, which kills consumer trust.
Final Thoughts on Heartland POS
After a thorough review of Heartland POS systems, we came to the conclusion that some of their solutions are a great fit for certain types of businesses while others may not be. For example, LiquorPOS is quite popular with users and we would recommend it to liquor store owners. That is because it was developed specifically for them and their needs, and includes the features they need the most.
On the other hand, if you own a foodservice business we would recommend considering Digital Dining, but probably not XPIENT.
The POS system you select depends on your unique needs. It's important to evaluate multiple systems before making a purchase decision.
We always recommend starting out by making a list of needs and requirements. Then reading review articles like this as well as user reviews on software review sites. User reviews can be extremely helpful. They let you envision yourself in the shoes of the reviewer, who has real-world experience with the system in question.
Take your time, do your research, and see which system checks the most boxes on your needs and requirements list. Don't rush into any purchase without competing enough research to make you confident in your decision. With this due diligence, you're sure to find the best POS system to meet your business needs.