IndicaOnline is one of the best point of sale (POS) systems for marijuana dispensaries today. The IndicaOnline POS software features an intuitive interface and is packed with a myriad of industry-specific capabilities.
The provider offers an all-in-one hardware solution to complement its innovative software solution. Projected to grow by about 28.7% between 2014 and 2019, the marijuana industry has generated a revenue of about $14bn this year alone.
Even so, you still need to up your game in order to outshine your competitors. The system allows you to track sales metrics, manage the inventory, generate invoices, and automates state compliance reporting.
Throughout this IndicaOnline POS review, you will learn why thousands of dispensaries are using it as opposed to other solutions.
What Are The Top Features from IndicaOnline POS?
Purchase limit alerts
Sales reconciliation
Compliance and compliance abilities (METRC integration)
Age validation and patient verification capabilities
Cannabis Tax tiers
Track sales metrics across multiple stores
Intuitive vendor, inventory and staff management tools
RFID inventory audits (integration with Zebra RFID scanner for fast inventory audits)
HIPAA compliant
Dispatch and delivery functionality
Even More Features
Allows for integration with Digital Menu Board Solutions
Requires physician verification
Allows for patient data import
Features an offline sales mode
Offers Smart order assignment and pricing tools
Allows for integration with Twilio, Leafly, and Weedmaps
Potify eCommerce platform
Possible Downsides
Integrating this system to Weedmaps is not as smooth and easy as it should.
Get Free POS Systems Quotes
IndicaOnline POS Pricing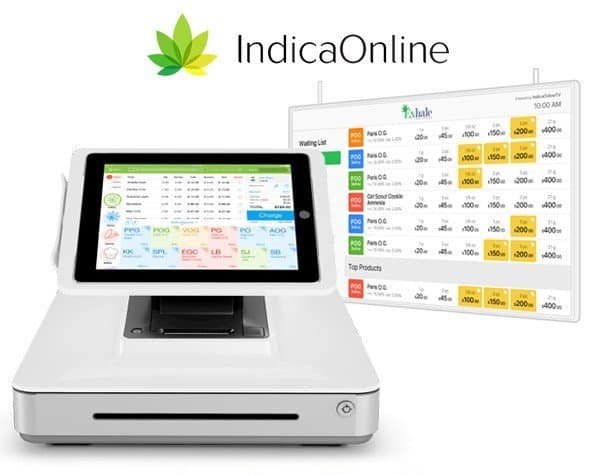 IndicaOnline is a proprietary POS solution. As such, it only runs on the rugged, easy-to-use and durable Workstations offered by the provider. The all-in-one workstations come with all the hardware components you need to run the system.
You will be required to make a quote-based upfront payment for the hardware. The provider offers its marijuana dispensary POS software as a service (SaaS), hence will require you to pay a monthly subscription fee.
IndicaOnline POS software offers three main subscription plans, as described below:
Basic Plan ($249)
This is the most affordable IndicaOnline POS software subscription plan. It will cost you $249/month if you choose to be billed annually. Should you decide to pay month-to-month, you will be required to pay $299/month.
For this amount, the provider will offer you two licenses and allow for up to 10 staff accounts. With this plan, you will get such features as batch tracking, advanced reporting, mobile dashboard analytics, automated metric reporting, and a customer blacklist.
Additionally, you will also get support for hardware integration by the provider.
Elite Plan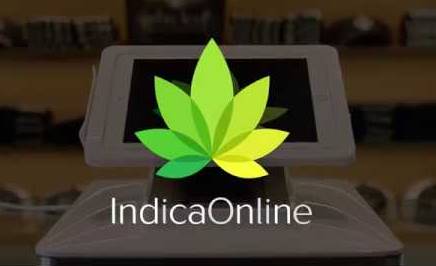 If billed annually, you will pay $429 or $499 if you choose to pay month-after-month. In either case, you will get five software licenses and support for up to 25 staff accounts. you will also get access to five delivery couriers and digital TV menus.
In addition to the features offered by the basic IndicaOnline subscription plan, you will also get Multi-Location management, dispensary delivery service, customer referral tracking, Email/SMS marketing integration, and Website eCommerce integration capabilities.
Enterprise Plan
This plan is meant for the Multi-Location cannabis dispensary enterprise chains and is availed on request. The plan is quote-based and will be priced in accordance with your POS needs. It offers all the features and capabilities offers by the Elite plan, in addition to others.
IndicaOnline Hardware and Operating System Requirements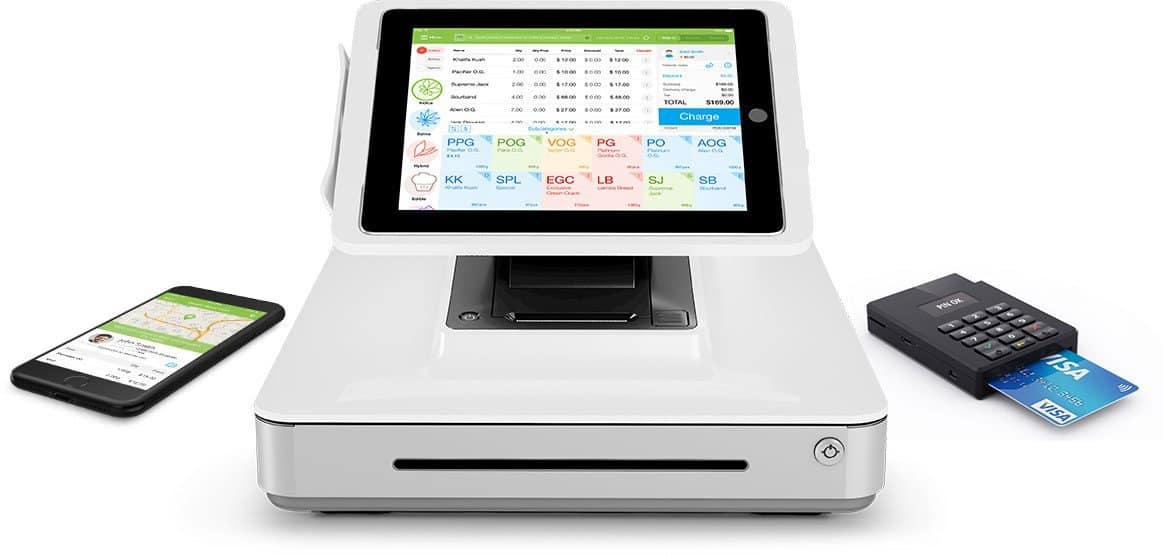 IndicaOnline combines multiple hardware components including receipt printer, barcode scanner, card swiper, and electronic cash drawer. The advanced cannabis software is compatible with iPads but can also be accessed from desktop computers and other mobile devices.
Integration with digital signage is available at no additional cost. This allows marijuana dispensaries to display menus, current specials, social feeds, videos, and customer queues. The PayPoint Workstation allows for integration with all the hardware accessories you will ever need in a marijuana dispensary.
It features a flip-for-signature screen, which encourages shopper engagement and electronic receipt delivery. Bluetooth connectivity and expansion ports allow for the addition of optional peripherals such as a handheld scanner or weight scale.
IndicaOnline POS System Key Features
In addition to meeting special state and federal guidelines, cannabis dispensaries need a superior POS solution to streamline operations and boost sales. Being an industry leader, IndicaOnline offers the very best of cannabis-specific retail features and capabilities.
Discussed below are some of the exceptional features and capabilities that make IndicaOnline stand out from its competitors:
Verification Tools
As you may be aware, the sale of marijuana is strictly regulated in the US. In almost all the states, you will be required to verify a few things before completing every marijuana product sale transaction.
To make this easier and accurate for you, IndicaOnline offers a number of verification capabilities, including: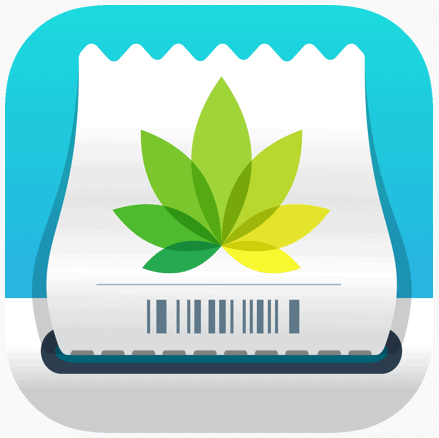 IndicaOnline allows for complete integration with the state medical board records, allowing for easy verification of physician details. You need to ensure that the physician you are working with is properly licensed by the state medical board. To d this, you should input the doctor's license number into the system.
The system will immediately display the verification of the doctor's status, license issue date, and expiration date. Updates are received in real-time, always keeping the status of all licenses and recommendations current.
IndicaOnline provides a quick and easy one-step automatic patient verification. It is connected with all major online verification vendors directly. As such, you will not need to navigate to different websites to verify a patient.
Each patient's record is automatically created in the system following verification, saving time and avoiding error in data entry. The intuitive POS software interface clearly displays the patient recommendation and physician status and updates in real-time.
Similarly, your patients will be able to create a profile, from any location, and with proper verification, by following a few simple steps. Once a profile is created, each patient may place on-line orders, request a delivery or schedule a pickup online.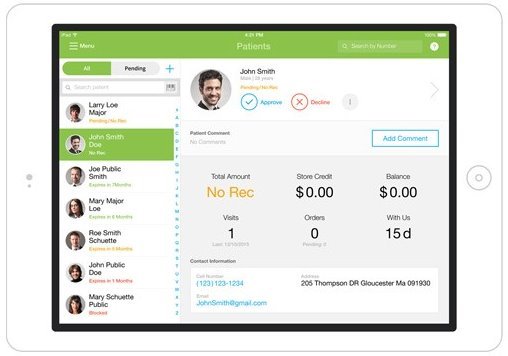 The system offers you complete access to your patients: profiles from any device. It will also allow you to view purchase history, account activity by employees as well as all updates and changes to the profiles.
In addition to email and SMS capabilities, IndicaOnline offers you access to all documents and paperless agreements from anywhere. You will also appreciate the customizable loyalty program that may be used to drive sales and retain even more clients.
With IndicaOnline, you will be able to categorize your clients into different groups, including  Veteran, Staff, Military, Disabled, Senior Citizen, Facebook Fan, or Cancer Patient groups. This allows for easier targeting for promotions and marketing.
Following its setup in your dispensary, IndicaOnline will allow you to import the patient database. The system allows you to transfer full existing patient profiles in Excel and CSV formats. Thereafter, you will be able to add new patients to the database by swiping their ID cards or manually.
Weedmaps Integration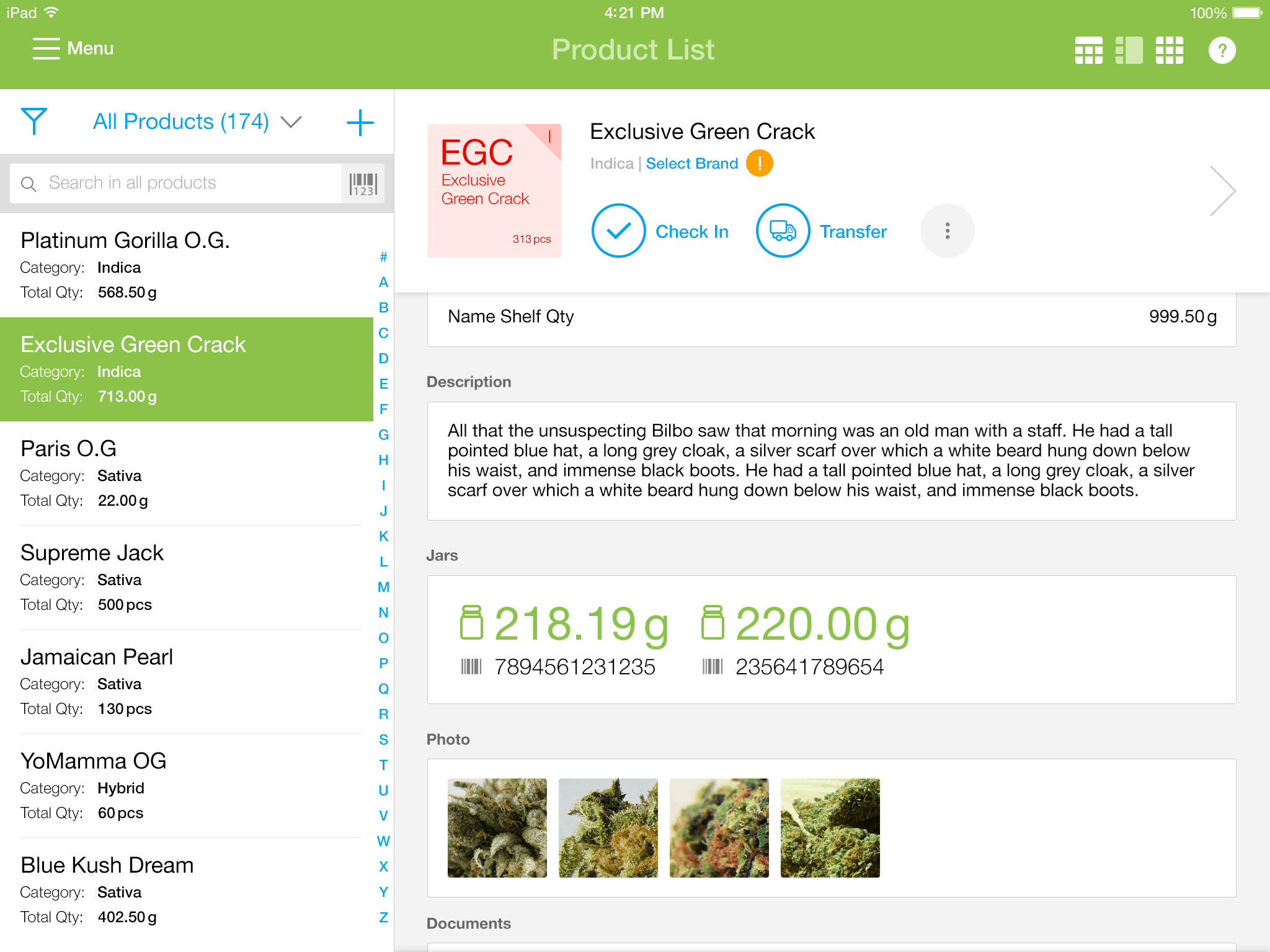 The latest software update includes full integration with Weedmaps, the first and most comprehensive marijuana directory in the industry. With this synchronized solution, updates are seamlessly transmitted from each dispensary IndicaOnline account to the Weedmaps profile it is linked with.
With such a solution, you will not need to update your system multiple times. Updating inventory, adjusting prices, or listing products that are out of stock has never been simpler. With this integration, Weedmaps receive updates immediately and automatically, saving you time and eliminating the possibility of error.
The solution also allows new dispensaries to build a customized menu. This is achieved by instantly synchronizing the progressive and innovative software with the corresponding account.
Compliant Electronic Medical Records (EMR)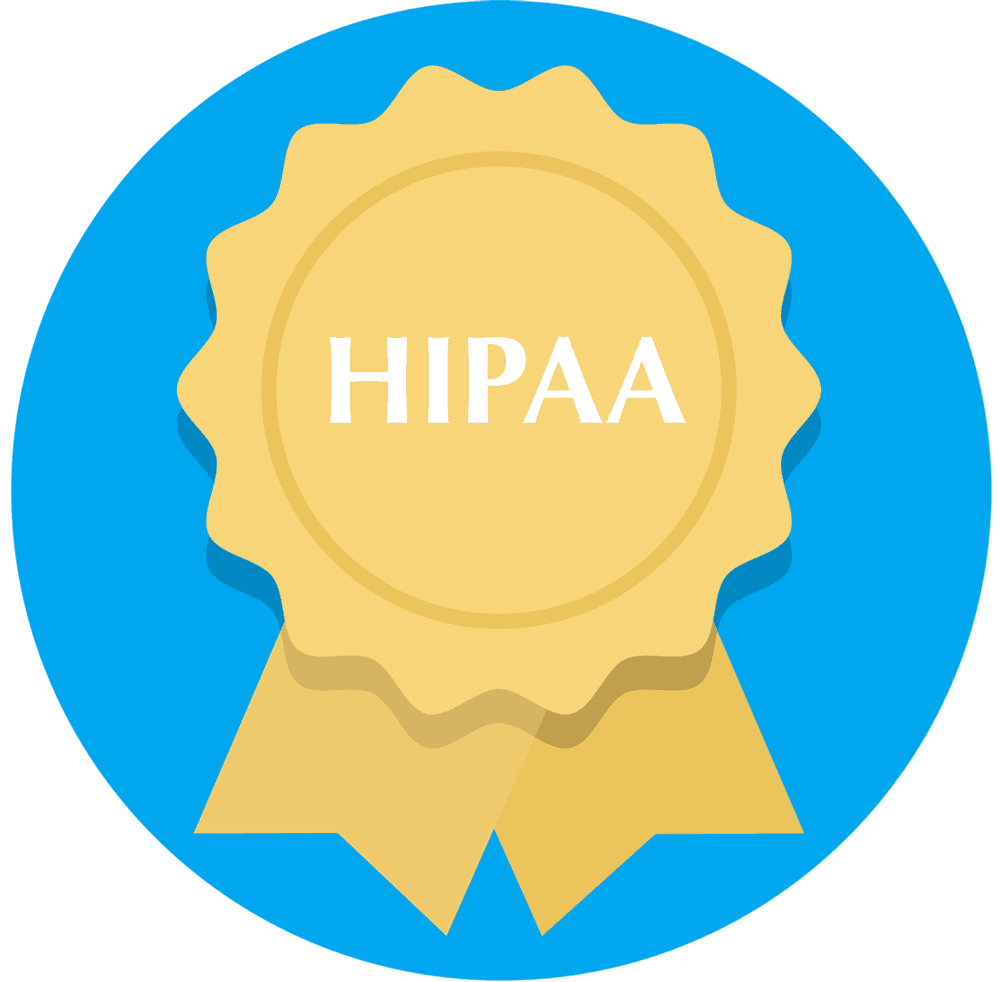 IndicaOnline is HIPAA Compliant. The system has been proven to exceed the various security standards for data transmission and security. As such, it will keep your collective's data secure and in full compliance. IndicaOnline POS has multiple redundancy measures in place to ensure 99.9% system uptime.
The entire EMR process on this system is paperless, making it simple for your staff and patients to complete all interactions with the least amount of hassle. As an organization, this assures you that no paperwork gets lost in the shuffle.
IndicaOnline EMR functionality also includes charting and medication management capabilities. It will allow you to create customized agreements and custom forms. All interactions are completed using state-of-the-art touchscreen technology.
Barcodes and Labels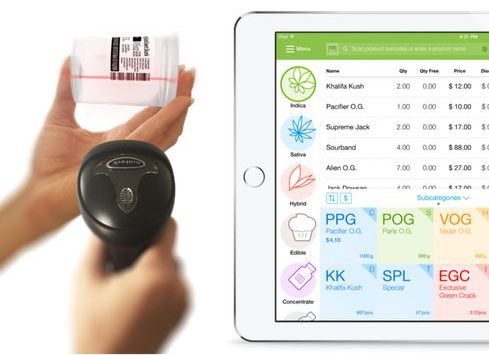 With IndicaOnline, you will be able to use barcode and RFID technology to keep an accurate track of the stock. The inventory management solution also allows you to monitor important stock details, such as shelf life and expiry dates. This simple, yet powerful tool will help you the inventory, reduce costs and increase productivity.
Each inventory item may be pre-packaged on the shelf or in the safe for more accurate selling with a unique barcode for each package. You may then use the IndicaOnline software to print unique barcodes from DYMO Label Writer Printers.
Not only does this help with tracking of the merchandise, but it also allows you to generate a broad range of product profiles and donation policies. The system features a multilevel structure. When counting by weight, you may set your own values for each size or add a custom one.
IndicaOnline POS System Alternatives
POS Name

Hardware Cost

Software Cost

Key Features

IndicaOnline

Quote-based

Starting from $249/month

Real-Time syncing,
METRC Reporting

Cova

Between $1,000 and $3,000

Starting from $449/month

Accept Various Payments,
Customer Relationship Management

GreenBits

Depends on the required components

Quote-based

Order Management,
Fully Integrated Reporting

BioTrackTHC

Between $1,000 and 1,500 for setting up

Between $200 and $500 per month

Custom Product Labels,
Solid Loyalty program
Our Final Verdict
IndicaOnline is an all-in-one cloud-based dispensary POS system that is packed with innovative and beneficial capabilities. Among other things, it will help you process transactions and manage daily operations for medical marijuana businesses and dispensaries.
Some of the industry-specific features you will come to like include patient and physician verification, inventory tracking, customer management, an offline mode, and automated state reporting.
For enhanced versatility, the solution also allows for integration with important third-party services. Such are the aspects that make IndicaOnline one of the best marijuana dispensary POS systems.
To learn more about their products and services, visit www.indicaonline.com