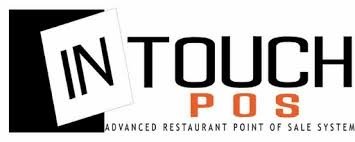 InTouch is one of the best restaurant point of sale (POS) software solutions for fine dining, quick service, nightclub, drive-through, and delivery businesses. InTouch software applications offer restaurant owners with all the tools they need to operate a table service or quick service establishment efficiently.
The solution offers such features as customer and inventory management, e-commerce, retail accounting, merchandise planning, and warehouse management. Recent research findings have revealed that about 70% of restaurant guests prefer healthy restaurant menu options.
In addition to displaying such menus, the unique InTouch menu feature may be used to display paid advertisements and promotions in your establishment. Additionally, the system offers customizable floor plan display options.
Throughout this InTouch POS review, you will learn what makes the solution one of the best restaurant POS systems.
InTouch POS System Alternatives
POS Name

Starting Price

Support Options

Starting from $900.00/one-time/user

In Person
Live Online
Documentation

Quote-Based

In Person
Live Online
Webinars
Documentation

Starting from $59.00/month

In Person
Live Online
Webinars

Quote-Based

In Person
Live Online
Webinars
Documentation
InTouch POS Benefits
Features dispatch, and delivery management capabilities
Allows for online ordering and order management
Supports Loyalty programs and gift card management
Easy and flexible menu management
Offers routing and sales trend analysis tools
Possible Downsides
You may have a hard time customizing the system to generate reports that are tailored to your KPIs. However, the responsive customer support team at InTouch will help you get it done in no time.
InTouch POS Pricing
The InTouch provider requires you to pay a one-time cost for the POS and management software. The price is quote-based and will mainly depend on your business size and needs. Although the provider does not display pricing information on its official website, reputable third-party sources have revealed that it starts at $900/user.
InTouch Hardware and Operating System Requirements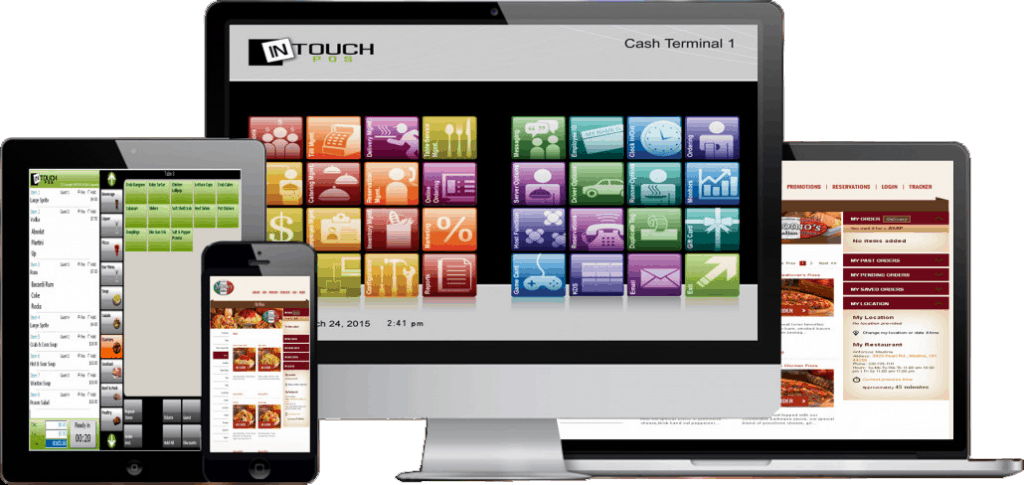 In addition to its exceptional restaurant POS software, InTouch also offers top of the line hardware options. The provider offers a range of hardware solutions to cater for bothering the budget conscious and restaurant owners who prefer quality brands.
The quality hardware components by InTouch have been rigorously tested for performance and reliability. The workstations feature Intel's latest technology for enhanced speed and performance. InTouchPOS point of sale stations is also equipped with SDRAM Memory and PCI express bus speeds.
The software supports multiple operating systems and is compatible with an array of accessories. Such things make for a reliable, fast and scalable POS system for restaurants of all sizes.
InTouch POS System Key Features
The InTouch turnkey system is a complete POS solution that streamlines Front of House operations and Back Office management. It is designed to keep your business running efficiently and thrive in a competitive environment.
You will find the software to be highly customizable and easy to learn through the corporate training program offered by the provider. Other features that make InTouch stand out from other restaurant POS systems to include:
InTouch Enterprise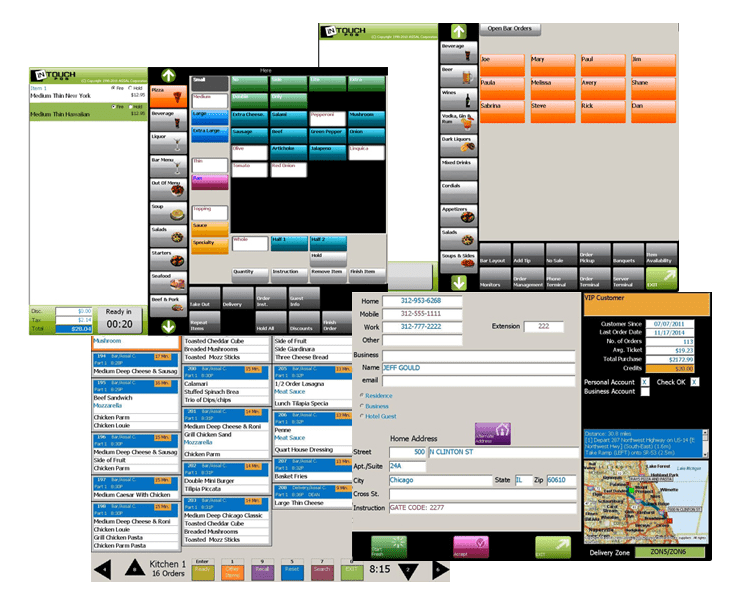 This feature will equip you with a range of geographical tools for enhanced data analysis, data visualization, and presentation. This is done through Dashboards and reports. By so doing, the system allows for better performance and easier scalability, especially when you are visualizing larger data sets.
The latest version of the software has been updated to offer self-service, agile and interactive data analysis. This is further enhanced by the renowned embeddable, enterprise-ready reporting engine by the provider.
Other appealing capabilities offered by the InTouch Enterprise feature include:
InTouch allows you to create as well as interact with dashboards that are highly visual. The dashboard features an assortment of intuitive tools, allowing you to combine various components derived from a convenient library.
It will also allow you to drag prebuilt components and drop them onto your dashboard. You may also reuse reports and report components in any of your InTouch dashboards. The solution offers you the flexibility of pulling external resources into the dashboards as well as integrate with third-party services.
InTouch dashboards feature a set of on-screen filters, drill-downs and slider controls to present you with a more granular view of the data.
The InTouch restaurant POS system is engineered to enhance geographic-based analysis and visualization of data as well. This is primarily achieved by overlaying markers and bordered areas onto maps supported in Google Maps.
This capability allows you to customize areas and markers using conditional colors, sizes, shapes, and labels. This technology has allowed the provider to extend conventional data analysis on static maps to dynamic methods of interacting with geographic county
Such a solution allows you to Analyze data using familiar map interfaces, along with other charts, filters, heat maps, and crosstabs components.
InTouch features intuitive on-screen interactions, robust charts, and enhanced usability, all of which help you get the most out of your data. In this regard, you will get about 40 chart types and styles, support for heat maps and scrollable real-time charts.
Additionally, the solution offers standard charts like scatter, pie, line, and bar charts as well as a bullet, scatter, bubble, and even live motion. You will also be able to use tables, crosstabs, and maps. The in-memory cube and incremental data fetching technologies by the provider allow the crosstabs to perform faster.
Back of the House Features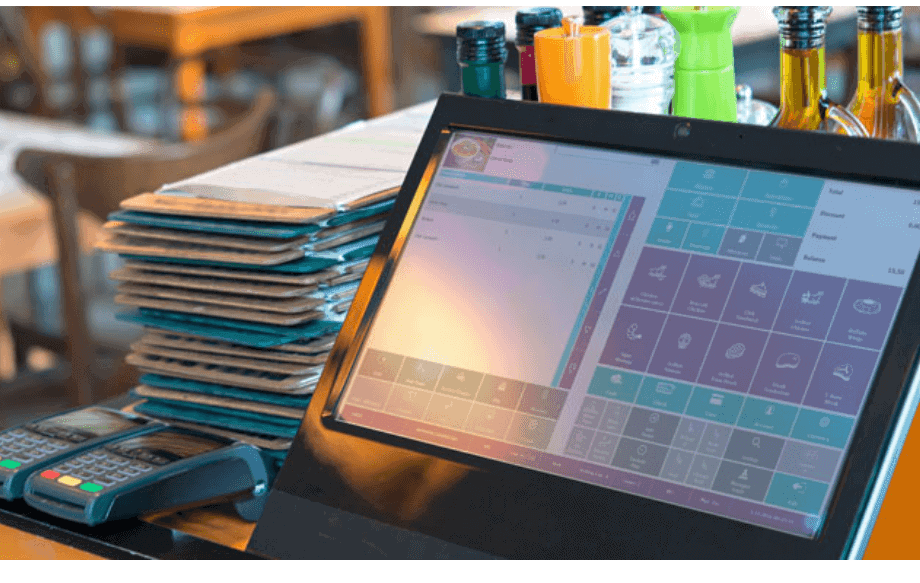 InTouch offers an award-winning back office feature suite to simplify business management. It comes in the form of a Windows-based software package that is designed to reduce the time required for back-office administration.
The back of the house suite features an assortment of management tools, including inventory manager, labor management, labor scheduler, marketing, time and attendance, gift cards and loyalty programs, report management, and accounting, as well as menu and party management.
You will also get accounting, operations management, room service management, delivery management, as well as configuration and backup management capabilities.
Inventory Manager
Designed to streamline operations and simplify such processes as ordering, receiving, transfers and, you will find this capability to be comprehensive and intuitive. The inventory manager on InTouch maintains real-time information on inventory levels, recipe ingredients, and costs, as well as actual and ideal reports.
It provides intuitive tools and reports, allowing you to manage inventory levels more efficiently. This will also ensure that your customers get fresh ingredients at all times. This feature also has the tools you need to control food costs in your restaurant.
With this solution, you will be able to reduce food costs, manage the availability of inventory items, monitor ideal vs. actual usage, and track multiple vendors and stocking locations per item.
In addition to offering better inventory visibility, the system will also allow for the automation of reordering reports based on sales and production forecasting for prepped items. It will help you reduce food and operational costs, manage inventory levels and track orders, and determine order volumes based on sales.
Online Ordering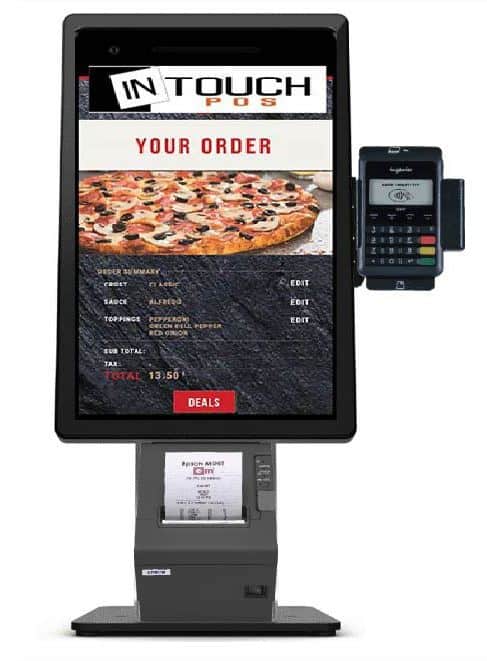 The online ordering platform by InTouch is fully integrated into the POS to make online ordering easier and more convenient. It comes packed with many features to help restaurants and catering businesses boost their sales, efficiency, and accuracy when taking orders.
It features a dynamic interface that constantly transmitting menu changes, customer information, customer previous orders, and delivery territory information in real-time. The system is capable of processing time quotes between the store POS and the internet as well.
The solution also features dynamic coupons, discounts, and promotions. Such a solution will help you reduce labor costs, eliminate ordering errors and miscommunication, and boost sales efficiency.
Digital Menu Boards
This feature is designed to entertain and engage with your customers using exciting visual promotions. By so doing, it will help you increase profits, generate revenue and streamline operations in your establishment.
The InTouch interactive digital menu boards have been proven to meet the demands of drive-through and self-service restaurant owners with regards to quick ordering and accuracy. The solution replaced conventional backlit restaurant menu boards with the digital menu board software.
This creates a menu that changes according to the time of day, giving you flexibility. You may also load it with a video or stream sporting events. Advanced technology offers engaging content that is better suited to attract the attention of those waiting to be served. Digital menu boards can increase product sales by promoting specific menu items.
Our Final Verdict
InTouchPOS offers a management and control solution for restaurants. The point of sale system may be used on workstations, Kiosks, mobile tablets, and mobile ordering. It is suited for quick or table service with solid Delivery and Pizza matrix management functionality.
It features an Open architecture for enhanced flexibility as well as room for customization. With InTouch, you will have a completely integrated solution, featuring online ordering, third-party ordering, mobile Apps and delivery management capabilities.
Along with all these, you will be glad to learn that the customer support at InTouch is very responsive and helpful. The provider will offer you 24/7/365 support in real-time as well as perpetual system upgrades. With the InTouch comprehensive POS platform, you will not need to purchase a third-party service.