Over the past few years, the foodservice industry has changed dramatically. The way restaurants are managed has shifted with a greater emphasis on takeout and delivery. If you want to remain competitive, it's critical you have the technology in place to stay afloat.
Lavu POS is an iPad point of sale system for all types of restaurants including coffee shops, fine dining, food trucks, quick-service, juice bars, delivery, and more. In an industry projected to reach $899 billion this year, it stands out as a critical tool used by thousands of brands worldwide.
This particular industry faces specific challenges that the Lavu POS system addresses. Profit margins can be low while food costs run high. Business is fast-paced with no room for error. There is a lot of staff to manage, inventory to track, and orders to take. Additionally, modern guests expect features like a self-service kiosk, reward system, and expedited service.
Every aspect of your business must run concurrently. You need a point of sale solution that can combine the front and back-of-house data for a singular view. The POS Lavu platform optimizes the customer experience with real-time reporting capabilities and a robust loyalty program.
From managing inventory to integrations and cloud-based mobility, we'll look over the key features and system requirements that make Lavu POS such a popular choice.
Who's Lavu POS?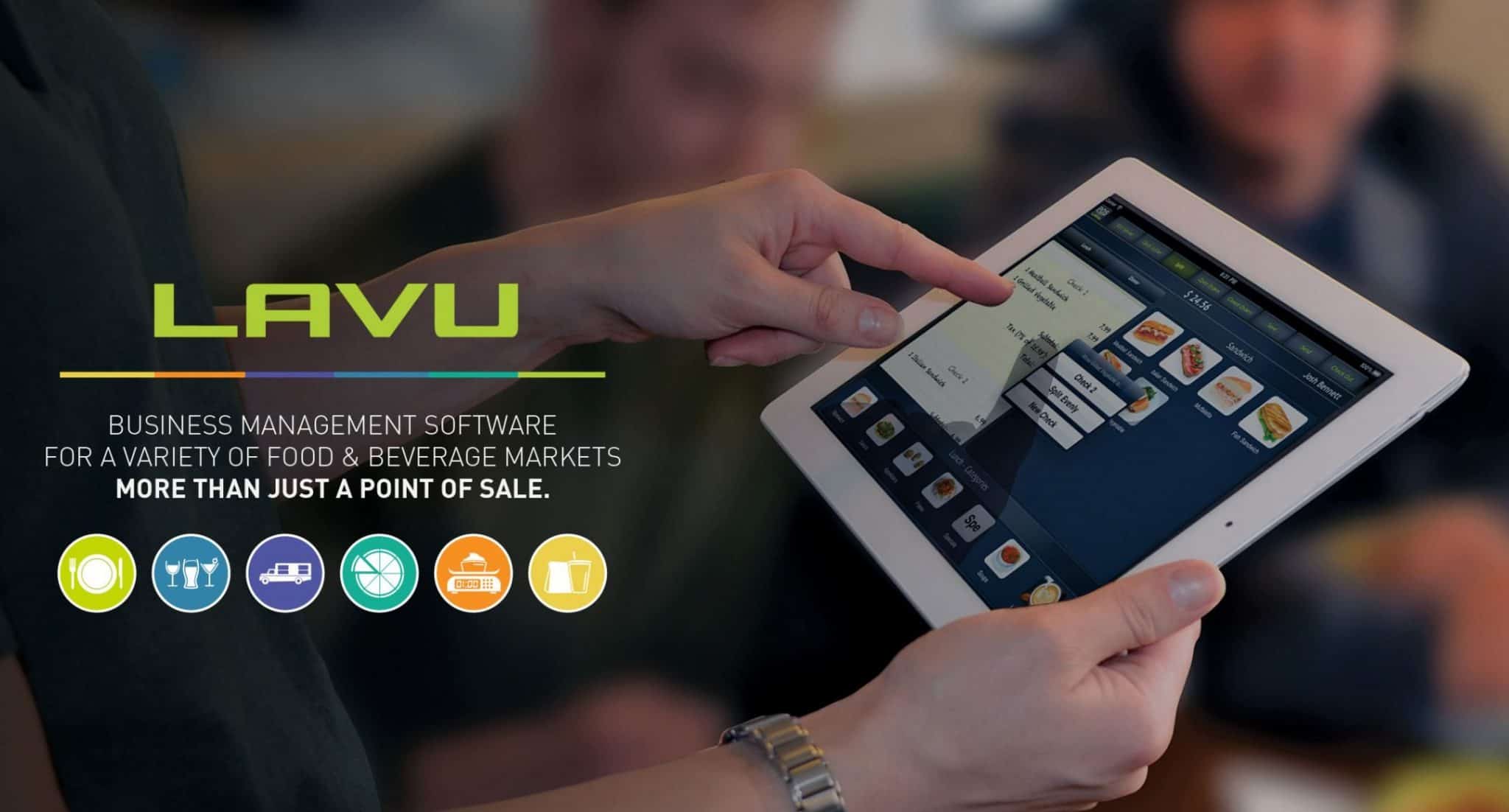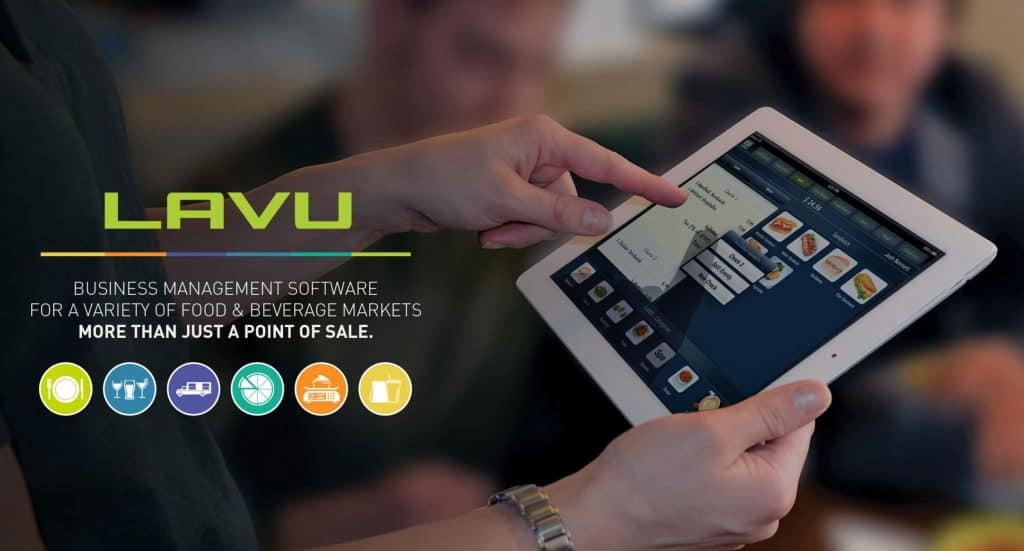 Lavu is a New-Mexico-based business that was specifically developed in 2011 for the foodservice industry. The brand has a self-proclaimed "Wild West" spirit and a mission to help restaurants do what they love. The company became an instant success due to the system's flexibility and capability to improvise small-scale food operations.
The story behind the brand name is adorable. It comes from the founder's young son, whose pronunciation of "I love you" was "Lavu."  That phrase evolved into a global enterprise, with three international offices.
Lavu focuses on mobility. According to their site, it's the #1 mobile POS system for restaurants and bars. They have paid considerable attention to developing a platform with extensive customization, menu building tools, restaurant layouts, and an intuitive back-end.
The Lavu iPad POS system was the first in the iOS app store and is now used in over 90 countries. The program boasts 300+ features and has processed over 1.3 billion menu items. But after all of this, how do you know if it's a good fit?
Here's a detailed overview of what you can expect from the platform:
The Key Benefits of Lavu POS
The POS Lavu app offers custom features by restaurant type with centralized data storage. There's a large selection of hardware with cloud-based capabilities and automated inventory management. The Lavu pricing plans are flexible with room for growth and 24/7 US-based customer support.
Additional benefits include:
Real-time alerts and notifications
Self-service hardware to empower customers
Employee scheduling and management
Menu and layout customization
Extensive selection of 3rd-party integrations
Robust kitchen management solution
Detailed reports for sales, inventory, and labor
The Lavu restaurant POS system is incredibly user-friendly with a color-coded interface to make things easy.
Possible Drawbacks
When you compare Lavu with other POS systems, one downfall is that it is only compatible with Apple iOS. It will not function on Android technology. Some customer complaints online also mention occasional system glitches.
The pricing structure of Lavu is not always transparent, which can make it tough for a smaller operation trying to budget. You have the option to purchase the product through third-party resellers which are similar to independent sales organizations. These companies have a reputation for hidden costs and fees. It's best to buy all Lavu products straight from the brand.
The Cost of Lavu POS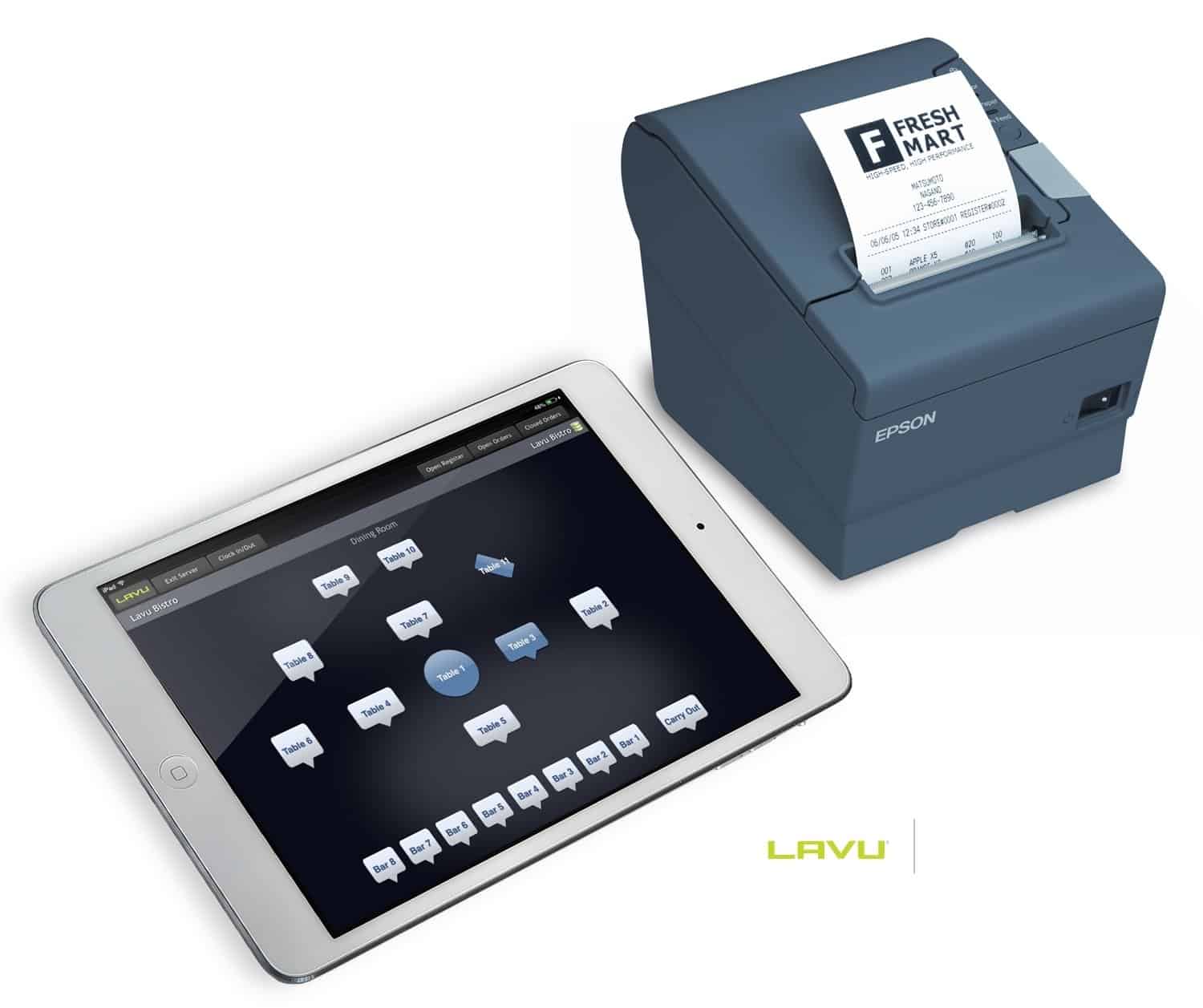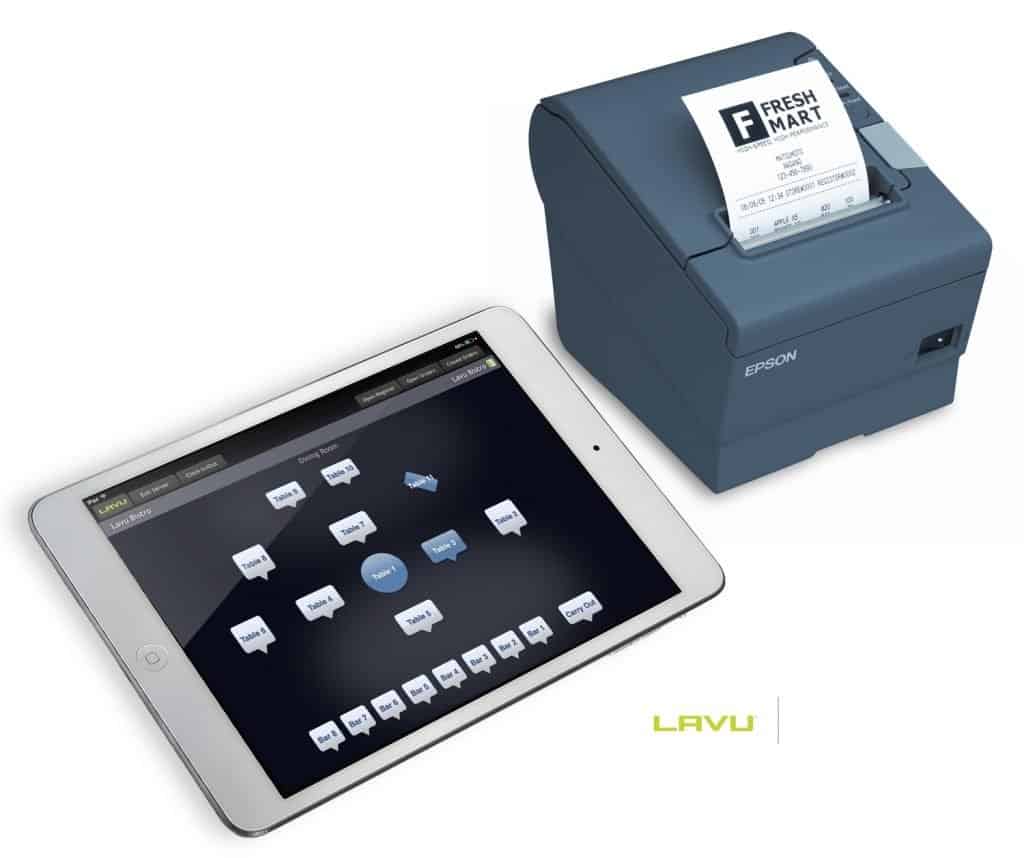 The Lavu POS system price is simple and flexible. Plans can be tailored to the precise needs of any establishment. They offer 0% financing for all equipment and these three pricing tiers:
Single Terminal

$69 per month when paid annually
$79 per month when paid monthly

Multiple-Terminal – pricing varies based on size
Enterprise –multi-location and multi-national establishments
The only plan attached to a price is the basic single terminal. All Lavu POS prices include more than 300 features like:
Cost-saving technology for both FOH and BOH
Lavu Pilot for mobile management
Real-time and in-depth reporting
Menu and layout customization
Inventory management
24/7 US-based customer support
Lavu offers a custom demo and a 14-day free trial. None of the plans list the cost of hardware which will be an additional expense depending on the system you set up. Other charges to anticipate include any add-ons like kitchen display systems, Lavu to Go, digital menu boards, loyalty programs, and so on.
Lavu POS Features and Capabilities
The POS Lavu platform is easy to use because of the multitude of features and customizations available. It's designed to improve efficiency and reduce staff training. The color-coded, modern interface helps employees navigate the various system components with ease.
The front end of the software allows a store to quickly customize orders. This is done with modifiers and restrictions that streamline the process of receiving complex requests. Once staff is trained, it can vastly improve order accuracy.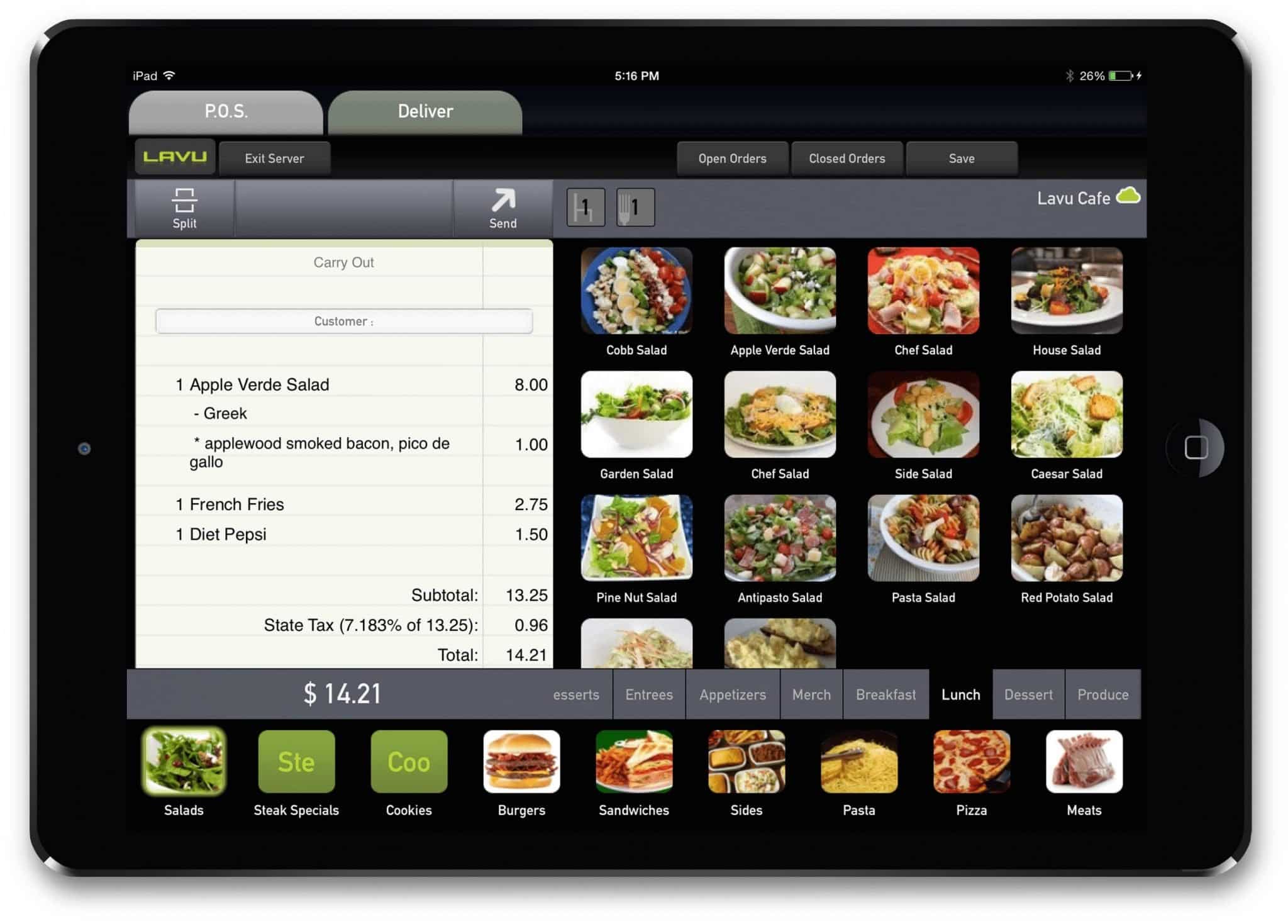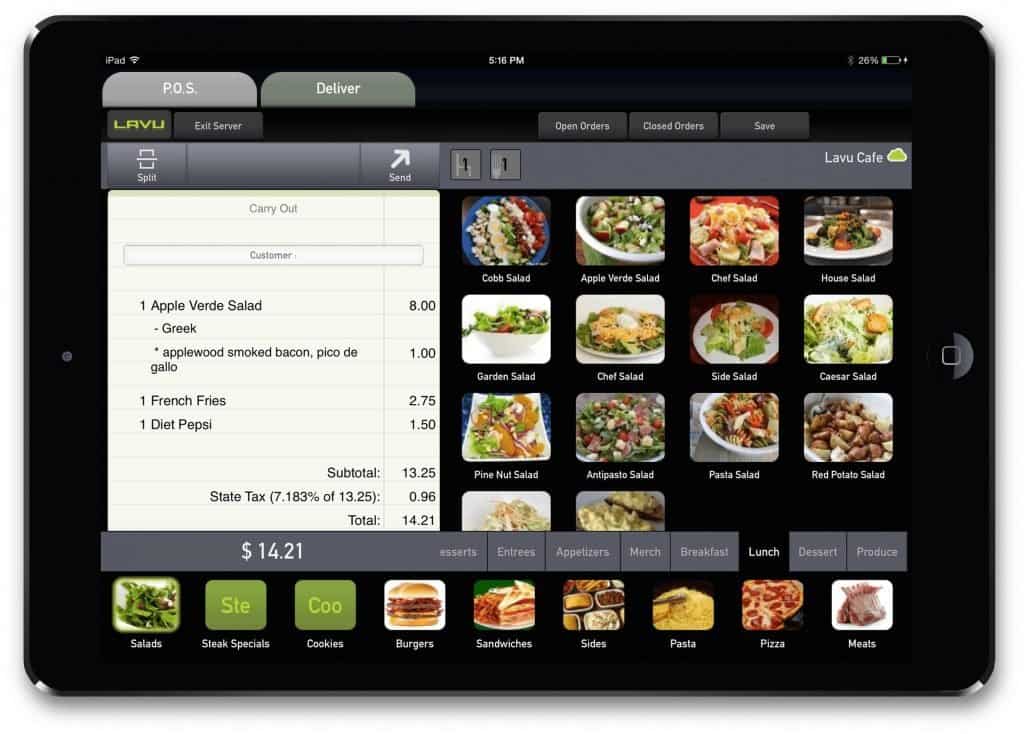 When staff logs into the backend managerial portal, it initiates a full POS Lavu tutorial to help you along. Within a short time, employees can access all core management, reporting tools, and features like:
Front of House
Managing what happens in the front of the restaurant is critical to running efficient operations. The front-of-house features are designed to keep the tables turning and lines flowing. There is no chance for a second impression when it comes to guests. Lavu gives you the right tools to deal with customers from the moment they walk in.
Customization
One of the key features of the Lavu POS platform is the ability to completely tailor the system to your needs. Configure the dashboard for total layout customization and change the table arrangement according to shift or occasion. Staff can easily track open tables, orders, and payment status.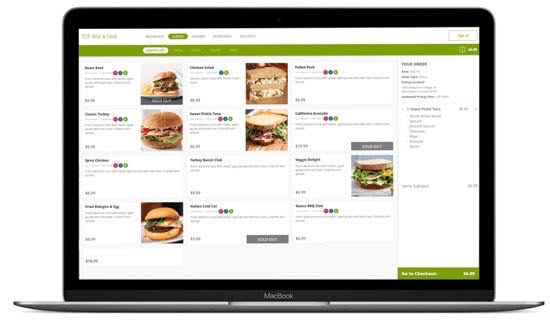 Custom menu modifiers also ensure the right questions are asked for every menu item ordered. This includes things like sides, food temps, and condiments. This helps to cut back on server training as they don't need to memorize every detail before starting a shift.
Ordering Capabilities
Lavu is an iPad-based POS system which means orders can be sent from virtually anywhere, be it online or at the table. If orders need to be placed at different times, the "Hold & Fire" feature will assign individual items to be managed separately. The monitor will always display exactly where an order is in the line.
Tableside ordering allows servers to send requests directly to the kitchen. Not only does it speed up processing times, it increases customer satisfaction and reduces errors in the workplace. If an item is running low, it can be "86'd" so you can't send any more orders through.
The hottest dishes are always placed front and center to push certain items or remind employees of specials. Instant notifications will be sent out which leads to more upselling opportunities and higher check averages.
Management
To prevent any lost or stolen credit cards, the Lavu system allows for tab preauthorization. Customers can pay for their drinks at the beginning of the night and staff can close the check out whenever. The "Happy Hour" function can be adjusted to apply automatic discounts based on a pre-set timeframe. You never have to worry about overcharging or undercharging guests again.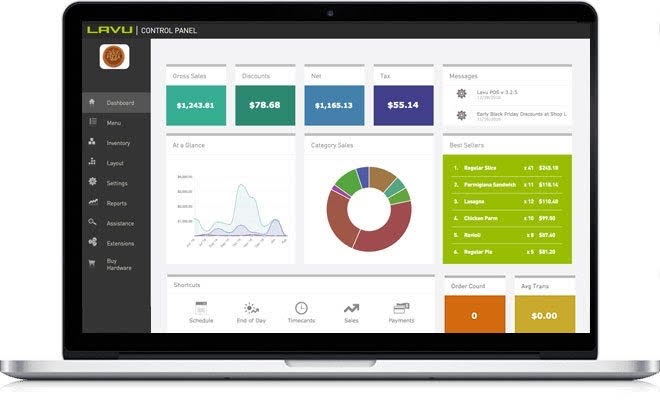 The Lavu "Combo Builder" allows a restaurant to combine existing menu products and group items for promotional purposes. One example would be a burger, fries, and soda. Each item costs more individually than when bundled together. The savings draw repeat customers. The Combo Builder also includes features like:
Different components are sent to different printers (i.e. drinks to the bar, food to the kitchen)
Hold & Fire features to send different items at different times on the same ticket
Create new combos and add modifiers
Flexible pricing that can be applied to individual items or the whole combo
MenuDrive
Increase sales with commission-free online ordering and delivery. There are never any hidden fees and customers can order directly from your website. Setup customized zones and delivery charges in minutes. Just build the menu, design the storefront, set up payments, then go live!
The system can take orders through a desktop or mobile device. You can receive them by text, email, or the online dashboard. Gain clear insights from consistent reporting and analytics to know exactly what parts of your business are profitable.
MenuDrive also boosts revenue with flexible discounts and appealing incentives. Change the way your sales grow with marketing services that include email automation and customer segregation. Broadcast in-store popups for special, promotions, and announcements.
Lavu Loyalty App
Decrease service time through the Lavu Loyalty app. It includes Pre-Order and Pay-at-POS features with automated loyalty redemption. Customers can easily skip the line by pre-ordering food and drinks that can be sent to the POS. Guests can then watch the order countdown on the customer-facing display.
Product data is pulled from the POS and menus can be managed right in the Lavu Loyalty app console. This system helps to increase capacity and engage your most valuable customers.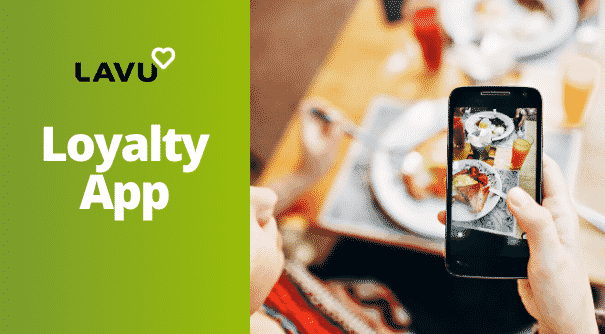 The app design is fully branded with your logo, colors, and fonts for efficient brand continuity. You also have access to an open API to design an online store from scratch. This helps to base target messages and rewards on real consumer behavior.
Customers can log in online to earn more loyalty points and pay securely. Staff can view customer profile data on the POS dashboard and greet people by name, upsell favorite items, and more.
Back of House
Lavu helps to improve communication in the back-of-house and optimize order management. Drive kitchen efficiency by sending accurate orders every time. All Lavu mobile devices can network with your kitchen equipment. Additional BOH functions include:
Control Panel
Lavu's all-inclusive control panel facilitates daily operations in a universal space. It's the main dashboard where staff takes direction, pricing is adjusted, and reports can be analyzed. The system has a global outreach with 26 different languages and cross-currency conversions.
The open API integrates with QuickBooks for in-depth reporting and analytics. Employees can clock in and out through the control panel and management can set role-based permissions. Additional control panel functions include:
Smart inventory tracking with low stock alerts
Customer database with order history and contact info
Staff scheduling with payroll integrations
Lavu KDS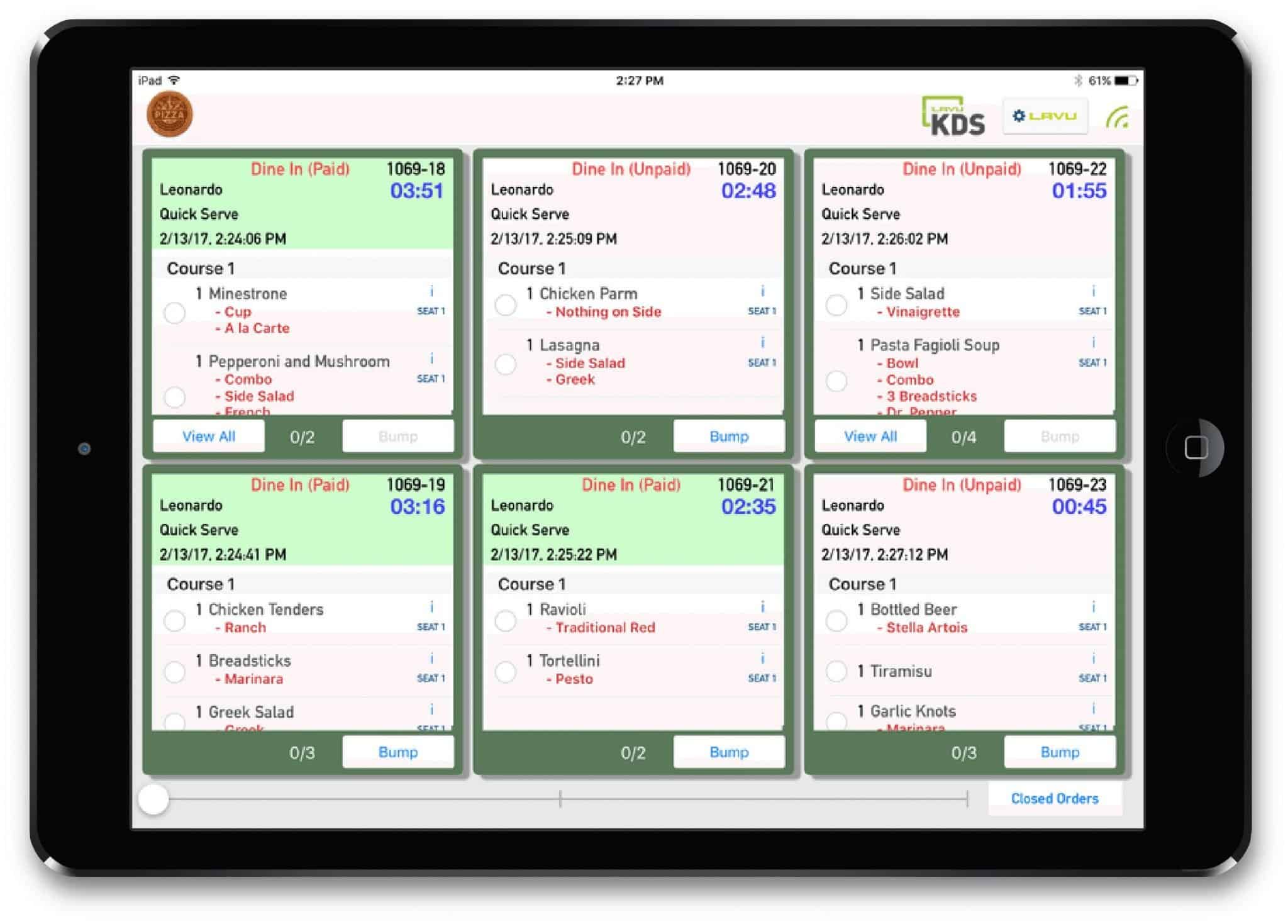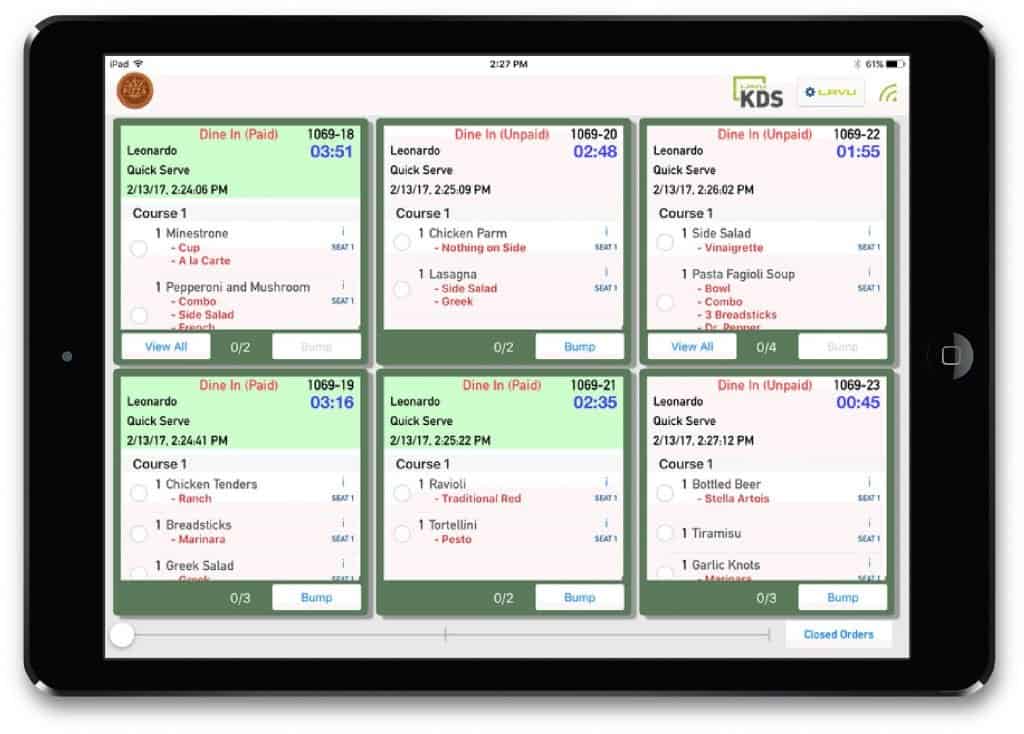 The Lavu kitchen display systems are large digital monitors with a fast-navigation bump bar. The monitor shows an order timer and has a customizable interface with several display options. Additional features of the KDS include:
Real-time ordering
iPad-based with touchscreen capabilities
Immediate reporting on order and item time
Instant FOH and BOH communication
Paid/unpaid identifiers
The Lavu Epson display is a step up. It's designed to handle multiple stations and print kitchen tickets. Items are still displayed on the KDS for easy management and visibility.
Inventory Management
POS Lavu inventory allows a business to actively monitor how items are selling, watch food costs, and the total value of goods held in inventory. The POS platform sends instant notifications to servers when items are 86'd and management when stock levels are low. Cut back on wasteful spending with these additional features:
Transfer items to different locations
Link inventory and menu items, including modifiers
Warehouse and commissary fulfillment and integration
Simplify purchase order processing and vendor relations
The Lavu solution is designed to consistently monitor stock and address issues before you know they happen.
Reporting and Analytics
Lavu POS offers in-depth reporting and analytics features that allow a foodservice brand to make smarter business decisions. The system is designed to work offline, so you don't need a wi-fi connection to use the platform. Lavu will sync and upload data automatically when connected again.
The comprehensive reporting helps you learn more about customers and how they are using the app, the time of day, and favorite menu items. The platform monitors a store's activity in real-time and provides actionable insights for data-driven marketing.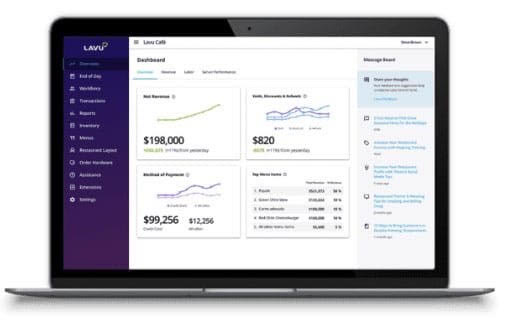 Create personalized and relevant customer communications with interactive, in-app messaging. Lavu also offers surveying capability to gather feedback on new items and products.
Mobility
There are several programs that Lavu offers to help increase a store's mobility. Lavu Pilot is an app that enables you to see real-time operations as they happen. Whether it's one location or multiple stores, downloading the app means you can consistently track payment types, taxes, employee hours, total sales, and other things like:
Labor summaries by hourly costs and sales percentage
Voids and discounts
The top-selling items (by sales, quantity, item, category)
Track trends with year-on-year comparisons
The dashboard gives you a quick peek at:
Gross sales
Guest count
Average order
Total orders
You can look at reports by the current day, last day, week, month, or year.
Lavu To Go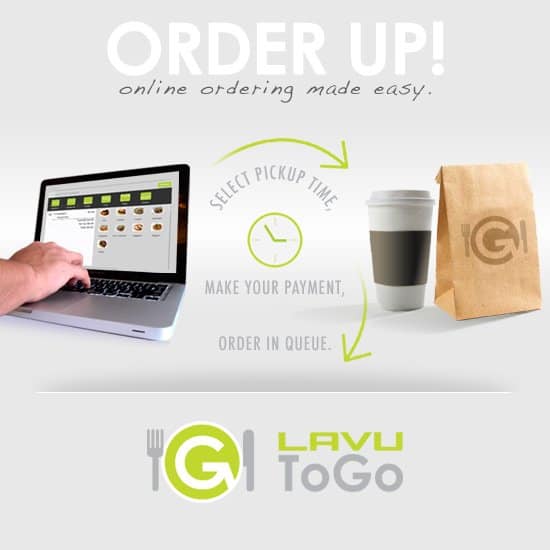 Enable customers to order online with the Lavu To Go app. It will effortlessly integrate with your POS system and website to drive sales and increase ROI. Customers can use the platform to order quickly and efficiently without calling in. The data is immediately transmitted to the POS and sent on to the kitchen (with proper prompts).
Lavu To Go allows you to manage customer profiles, track online sales, and post nutritional information. Lavu POS reviews mention features like:
Upselling suggestions
Custom modifiers
Performance comparisons
Low-cost management
The Lavu app saves a business from spending extra money on building a site just for online ordering. It also optimizes orders as there is no extra step to manually enter the data into the system.
Integrations
Lavu POS is known for providing effective integration both in-app and from third parties. They offer an extensive list of key integrations to keep your restaurant running smoothly.
These can help you upgrade the essential functions of any POS system. From customer relationship management to accounting, Lavu helps a business keep legacy systems without paying for costly upgrades. Top add-ons include:
KDS 2.0 – Kitchen display platform that sends orders directly to the kitchen
Routing – Helps to form efficient routes for delivery drivers
Inventory – Monitor extensive inventory to prevent shortages and reduce costs
Local server – A local server backup to prevent loss during wi-fi outages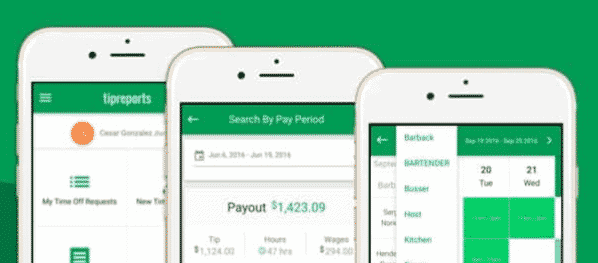 Using these apps improves delivery and takeout orders, employee management, customer relationships, and much more.
PayPal
Lavu has also teamed up with PayPal to offer companies more features to pay. The PayPal chip reader makes a restaurant EMV compliant and allows for contactless payment using Apple Pay or Samsung Pay. It can also swipe a magnetic stripe and regular credit card. All of this requires you to open a free PayPal account and link it to the Lavu control panel.
Lavu Pay


This is what Lavu offers as an all-in-one solution for your payment processing needs. Lavu Pay has end-to-end protection for all transactions and consistently guards consumer data. It works seamlessly with Lavu POS to send data securely through your server.
The app provides some of the lowest processing costs in the industry. POS Lavu pricing is flexible and has no hidden fees. If you email them your last three months of processing statements, Lavu will show you a free rate comparison. The setup is quick and simple with transparent pricing and can be up and fully running within two days.
US-based, in-house support is offered 24/7 with no additional training required. You'll experience an uninterrupted workflow with fast installation and little onboarding needed.
Third-party Processing
One of the primary benefits associated with Lavu is payment processing flexibility. If you have a legacy system and want to bring your credit card processor along for the ride, there is a good chance it is supported by the brand. Common credit card processing partners that deal with Lavu include:
PayPal
Heartland
BridgePay
Nets
Vantiv Integrated Payments
Lavu also boasts its own integrated payments system but the most important fact is that they allow a business to shop around and use the lowest rates.
Additional Features
Lavu offers hundreds of features, so you'll want to do your own research. Some honorable mentions in this guide include:
Green functionality. Lavu promotes a green environment with the KDS networking system and emailed receipts.
Partnership with industry leaders. A multitude of platforms for payment processing, hardware, accounting, employee management, networking, and other services.
Top-level security. Tokenization, end-to-end encryption, and EMV chip technology.

Lavu is one of the top dogs in the mPOS space (mobile point of sale systems). That is one reason why the platform is so feature-rich. Don't be overwhelmed by a large feature list. A qualified POS Lavu support member can help develop a custom solution that works best for your business.
Lavu POS Customer Service and Support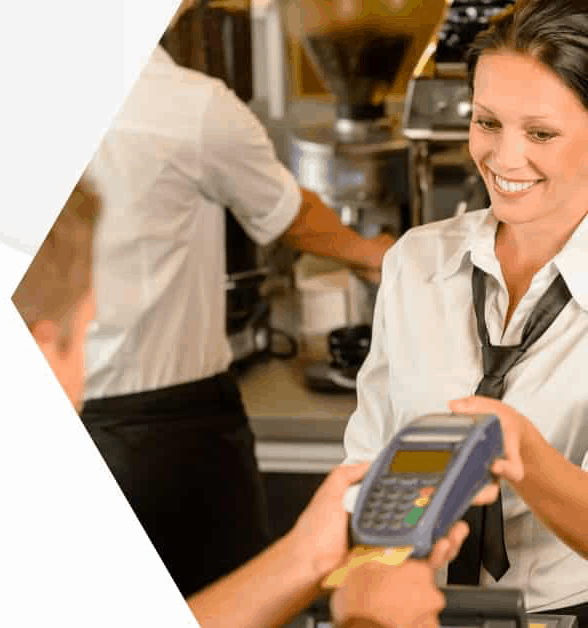 If you're running a foodservice company, chances are there are long hours each day. Your type of business needs a strong support team that can be reached during off-hours. Lavu POS offers users access to a 24/7 customer support group and a live chat portal on the website. A team member can be reached on the phone, by email, or via chat.
You should also check any negative Lavu POS review. It's critical to confirm that people have mostly enjoyed the service prior to purchasing. If there is a generous amount of negative press, they're probably not a good fit.
Mostly Positive Sentiment
Luckily, the majority of Lavu feedback is positive. Some brands have complained that the support team is overloaded and takes a long time to respond to critical issues. People have also mentioned technical glitches and "freeze-outs." This can be disastrous if this happens during a busy service.
Lavu provides consistent software updates to help combat these problems and fix the bugs before you encounter them. However, there is a monthly maintenance fee that does not appear in their pricing plans or is factored into the general cost of the application.
POS Lavu Hardware and System Requirements
The Lavu Shop is full of every type of hardware a restaurant needs for an all-inclusive POS network.  Lavu POS was one of the first POS platforms to function on iOS technology and offer mobility to smaller businesses looking to scale.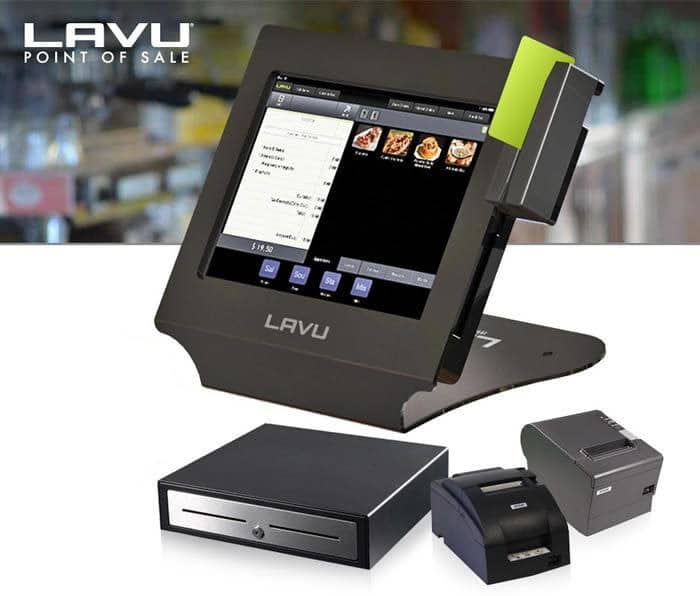 Starter kits are available for purchase which include an iPad, credit card reader, cash drawer, and printer. The POS terminals can be purchased separately along with additional equipment like:
Barcode scanners
Kitchen printers
RFID equipment
Networking

Router
Switch
Access point
Lavu also has a program for receipt paper. Sign up for the "Paper & Ribbon Club" and never worry about ordering again. The program will automatically ship a case of paper to your restaurant on a pre-set frequency.
Lavu Restaurant Point of Sale Station
This Lavu POS hardware is one of their complete offerings. The restaurant bundle comes with everything you need to get started including a 3-month subscription to the software with 24/7 US-based support.
The out-of-the-box solution enables you to service payments, support customers, and streamline the sales process from a single iPad. The package comes with the following equipment:
iPad
Cash drawer
Chip and Tap Reader (by PayPal)
Epson M30 receipt printer
The cost of the bundle is $899. Lavu also offers the same package for niche stores like pizza shops or bars.
Lavu Kiosk
If you run a quick-service restaurant or another type where customers can help themselves, the Lavu Kiosk is a great solution. It puts the control back into the guest's hands and expedites the ordering experience. It leads to shorter lines with larger orders and happier customers.
The iPad interface is intuitive, responsive, and easy for customers to navigate. These kiosks align perfectly with restaurants that have multiple locations with different menu items. Customers ring in, pay for, and send through their own orders.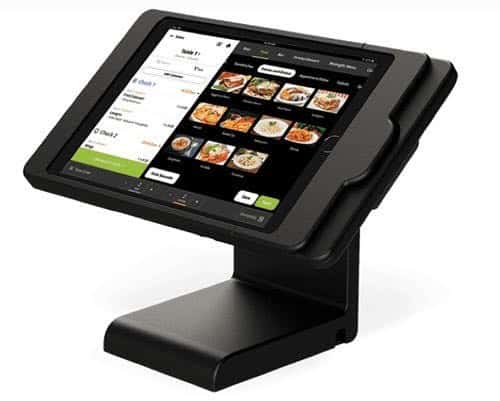 The dashboard will alert customers with modifiers and menu add-ons as they punch the order in. Not only does this increase sales and efficiency, it leads to other benefits like:
Higher check averages
Enhanced engagement
Less liability
Improved customer satisfaction
Reduced labor costs
The Lavu kiosk is PCI compliant. All payments are encrypted and customer data is always secure. Together with in-person and online ordering, a self-service kiosk gives the guest an omnichannel experience that increases brand awareness.
Lavu Digital Menu Board
Gone are the days of the chalkboard. Control a digital menu straight from the Lavu mobile app. Instantly update and add to the signage in real-time while highlighting new products and specials.
Don't worry about announcing lunch or happy hour. You can set the menu items/prices to change automatically based on specific dates, times, and availability.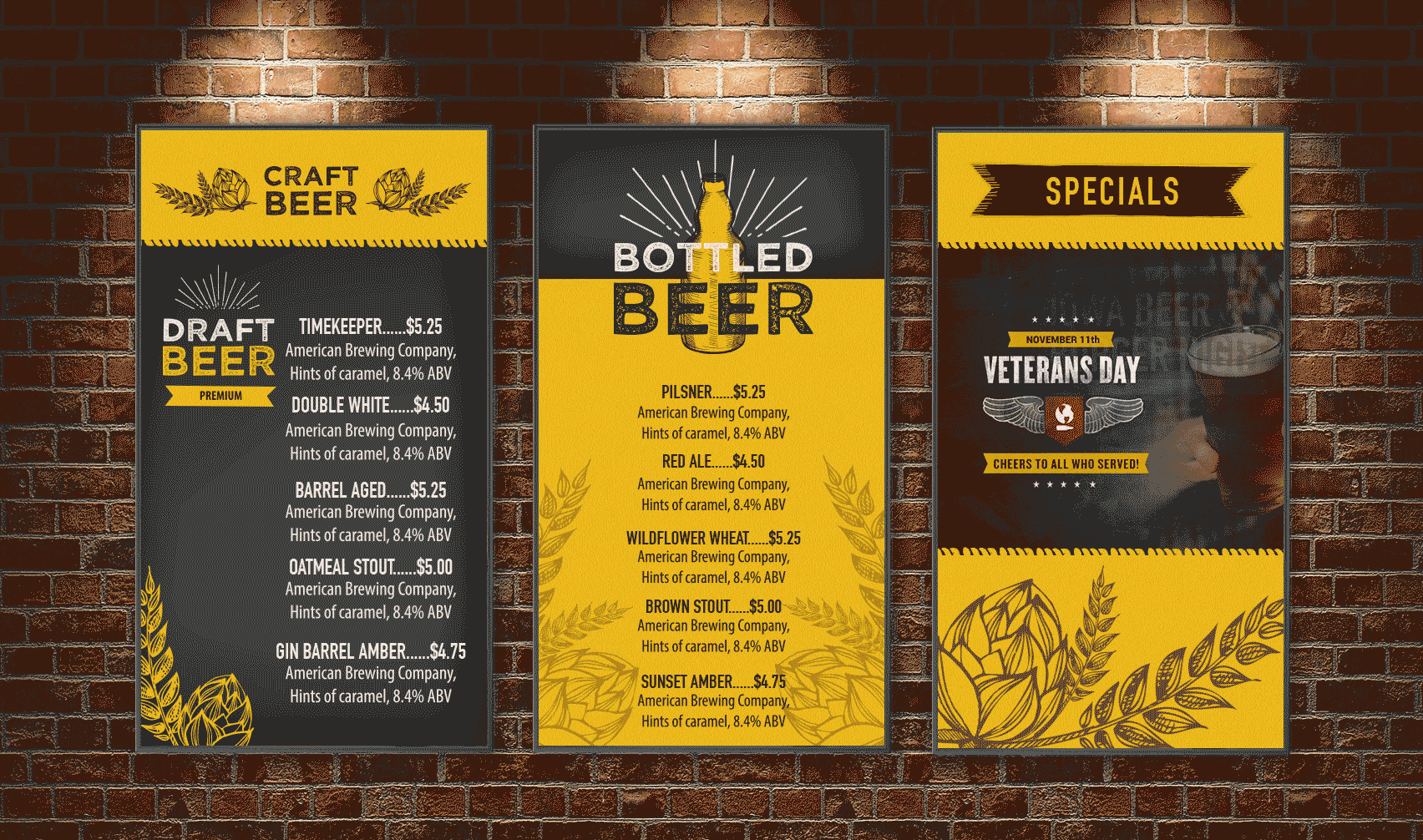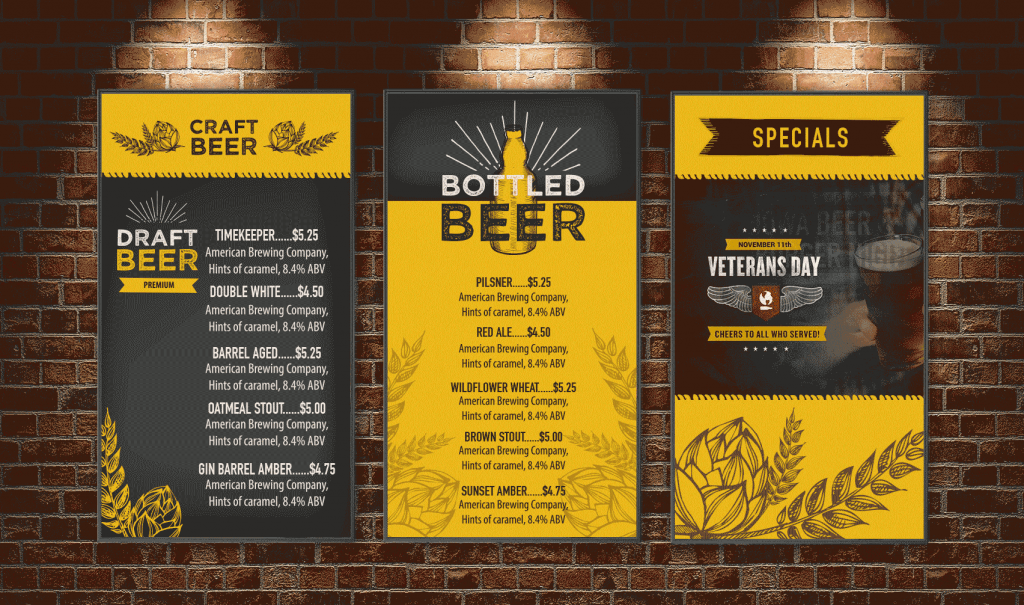 The feature-rich and highly interactive menu board includes:
Advertising capabilities
Free templates
Web-based Lavu POS mobile management
Scheduled menu rotation
Video backgrounds
Offline flexibility
Although digital signage can be costly, it saves money in the long run. There's no need to waste time or labor on paper menus. If an item is 86'd, it will be deleted from the digital menu board immediately.
Lavu Kitchen Display System (KDS)
The kitchen display system was developed to specifically function in the back-of-house. It serves as a central hub of communication in the kitchen and is customizable with various display options. There is a timer for all orders and visual indicators for updated or deleted items.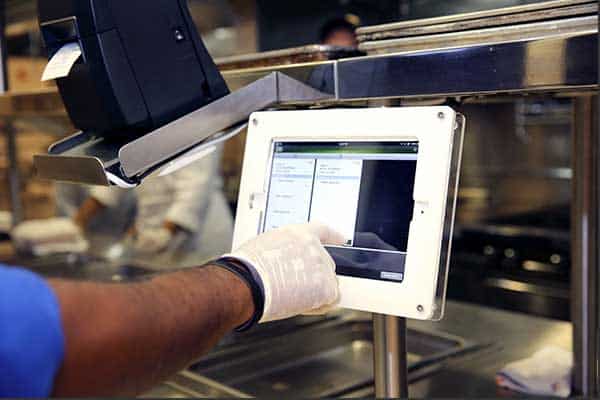 There is also an option for an Epson high-resolution kitchen display system. It's a feature-rich program that can be pre-configured when you place an order. The multi-station KDS is an ideal controller solution. It fully integrates with the POS Lavu system for easier scalability and customizable display options.
Industries and Business Size
Lavu can be used for anything related to selling food. The program has evolved to suit a variety of restaurant environments and has several different offerings depending on setup and needs. Custom POS systems include:
Restaurant
Bar
Coffee Shop
Food truck
Winery
Ice cream shop
Pizza shop
Specific features have been developed solely for certain restaurant types. For example, Lavu offers a virtual pizza creator for pizza shops. However, this isn't something that would be useful for a food truck.
Since the restaurant POS system has flexible inventory, robust menu building, and customizable layouts, it can be used by a business of any size. However, a system based on mobile iPads may not be suitable for large enterprises. The platform works best for small to mid-market business owners.
Before Signing a Contract with Lavu
Before signing any contracts, make sure you have a Lavu representative lay out the total costs of using the system. It's not that Lavu is trying to hide any fees. Since they allow a lot of third-party integrations, pricing transparency isn't always the greatest.
That being said, the Lavu POS system reviews online are typically excellent. The brand has an A+ rating with the Better Business Bureau and remains in the top ten for all POS systems on the market.
Manage Your Business Better with Lavu POS
There are hundreds of POS systems to research before making a decision. That's the purpose of guides like these—to help narrow down your search and understand a platform prior to commitment. The most important step is finding a solution that serves your individual industry needs.
Gone are the days of a simple cash register with paper orders and receipts. Everything is managed in a universal dashboard. This simplifies operations and takes the guesswork out of customer satisfaction. An intelligent point of sale system like Lavu covers all the bases to ensure your restaurant sees success.
Lavu is a POS platform that will drive sales and increase customer engagement. It is specifically designed to handle every challenge the restaurant industry throws at you. The system prompts servers to upsell and fills your reservation book. It gets rid of the manual labor so you can focus on what's important. That includes driving business and growing a frenzy of foodies all vying for your brand.