There are multiple Lightspeed POS systems available. In this article we focus our attention on Lightspeed Retail, its point of sale (POS) system for retail businesses. The company also sells a system built for restaurants, but that system is not discussed at all in this article.
Lightspeed Retail POS was developed with larger retail businesses in mind. Some users say the system is a little too complex for small businesses.
Plus, it offers a super robust feature set and many of those features wouldn't be used by smaller stores, therefore reducing the return on their investment. Regardless, many smaller businesses use Lightspeed and realize great success in doing so.
Lightspeed Retail POS has become one of the most popular retail-focused point of sale systems on the market, and for good reason. It comes with advanced features that many other systems do not provide, such as built-in eCommerce stores and search engine optimization (SEO) tools to optimize those store websites.
The system is cloud-based, can manage operations at multiple store locations, and can be used with an Apple iOS iPad or any popular web browser.
Below we dig into more top selling points for Lightspeed POS, a few drawbacks, and provide a general overview of Lightspeed Retail's operating system compatibility. We then cover its strongest competitors, key Lightspeed POS benefits, software features, hardware components, and software and hardware pricing.
Lightspeed POS Pros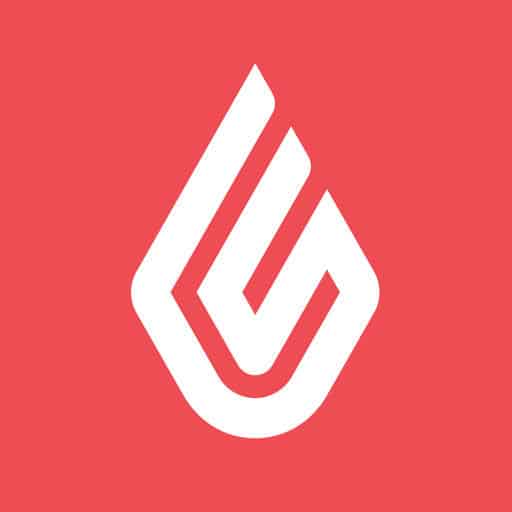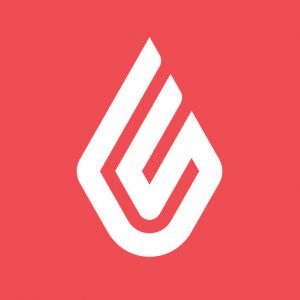 Surprisingly, Lightspeed has developed its own customer satisfaction algorithm. It takes into account numerous factors to measure how happy its customer base is at any given moment.
And according to the Lightspeed website, the company boasts a 98% customer satisfaction rate. Here are some of the reasons why customer satisfaction is so high:
14-day free trial available for prospects to test the system before they purchase it
eCommerce store building with built-in SEO optimization features
Supports all popular web browsers
Automatic software updates
Outstanding customer service
Over 250 integration partners
Lightspeed Cons
Despite the fact that 98% of Lightspeed customers are satisfied with the system and what they get out of it, no system is perfect. Even satisfied users can, at times, have complaints. Here are some of the cons associated with Lightspeed POS:
Users report a significant number of bugs
The user interface is busy and unintuitive
Limited payment processing system integrations
Customers must commit to an annual contract
With add-ons, it is slightly more expensive than competitors' systems 
Which Businesses is Lightspeed POS Built For?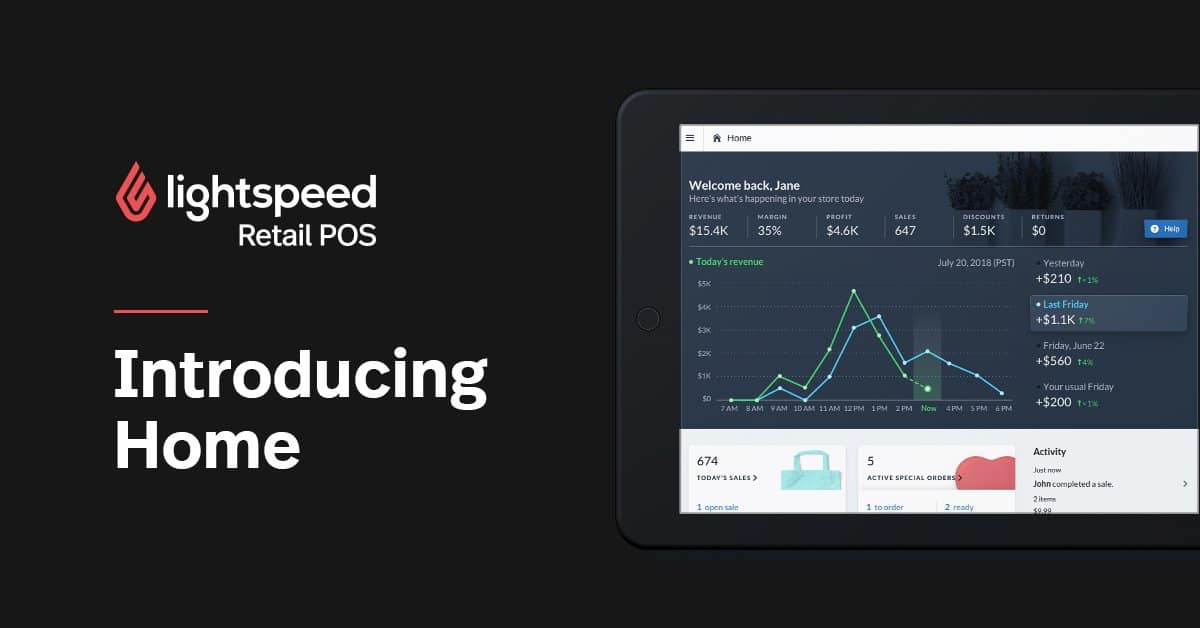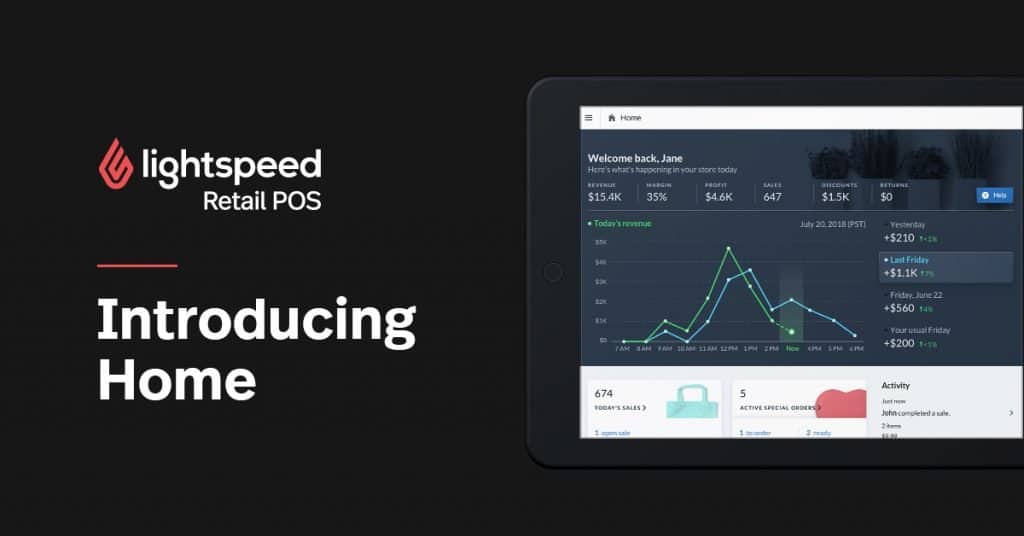 Because Lightspeed Retail POS delivers such a broad software feature set, it can be effectively used by virtually any retail store, large or small. However, the system is so robust that it typically suits larger enterprise businesses the best.
But that doesn't mean that smaller businesses don't use Lightspeed Retail. On the contrary; many smaller, boutique retail stores use Lightspeed Retail. Those smaller retail businesses are generally very satisfied with their experience using it and the results it delivers. They don't tend to cite many negative aspects of the system in user reviews.
Get A Quote from Lightspeed Retail
Using a Cloud-Based, Mobile POS System
Lightspeed Retail is a cloud-based, software-as-a-service (SaaS) POS system. SaaS POS systems are growing in popularity for various reasons.
First, they store all relevant data in off-site servers that are backed up constantly so you never lose important business intelligence data.
Second, because SaaS POS systems rely on an internet signal or mobile data to operate, users can access these systems from anywhere they have a signal. There is no need to be on site to access important business data. That data can be accessed on the go via a laptop, tablet, smartphone, etc.
This type of POS system is popular and ideal for retail stores. This is because they allow owners and managers to check inventory levels, run reports, and access other important data. Our prediction is that we will see the majority of point of sale systems moving to the cloud over the next five to ten years.
Supported Operating Systems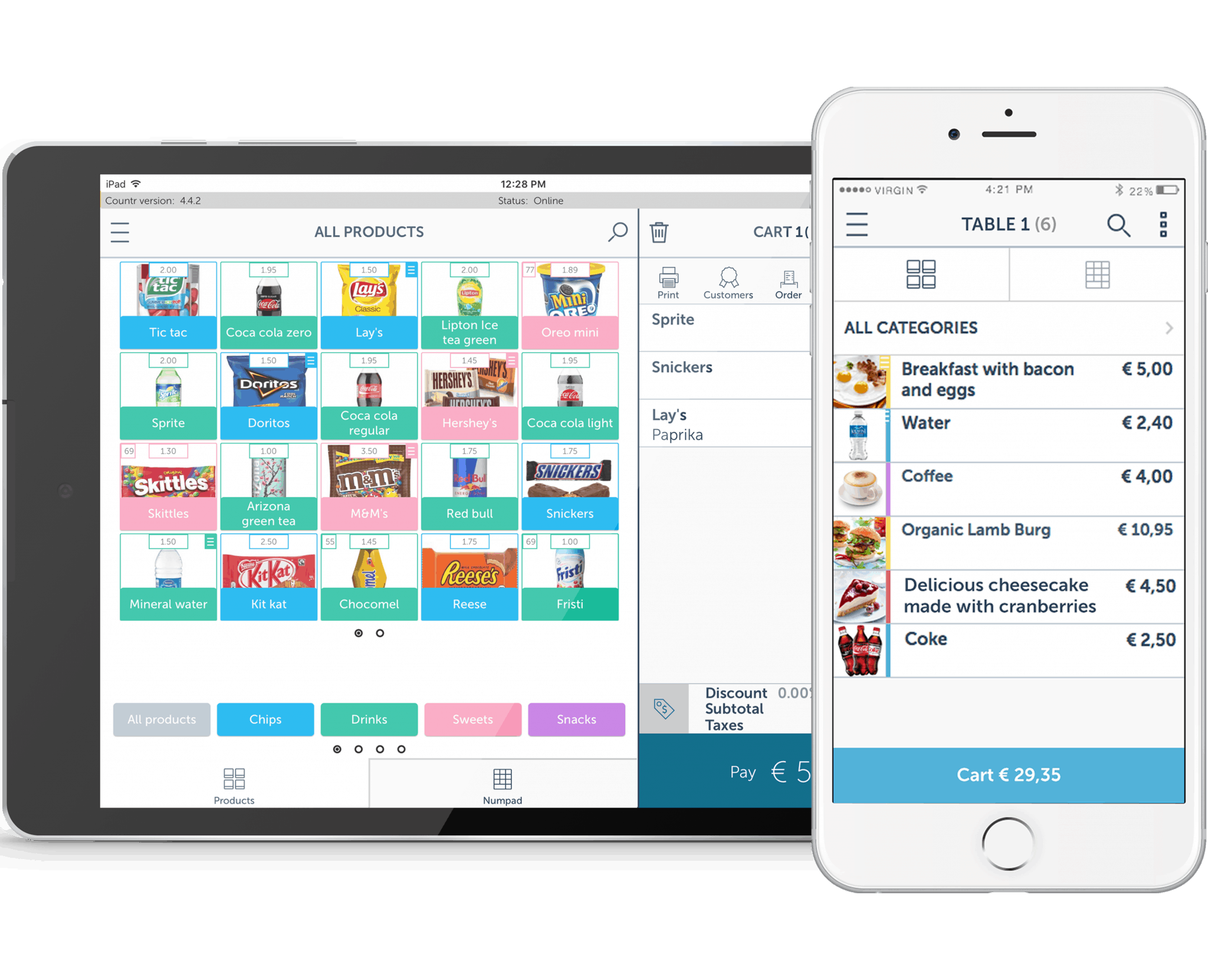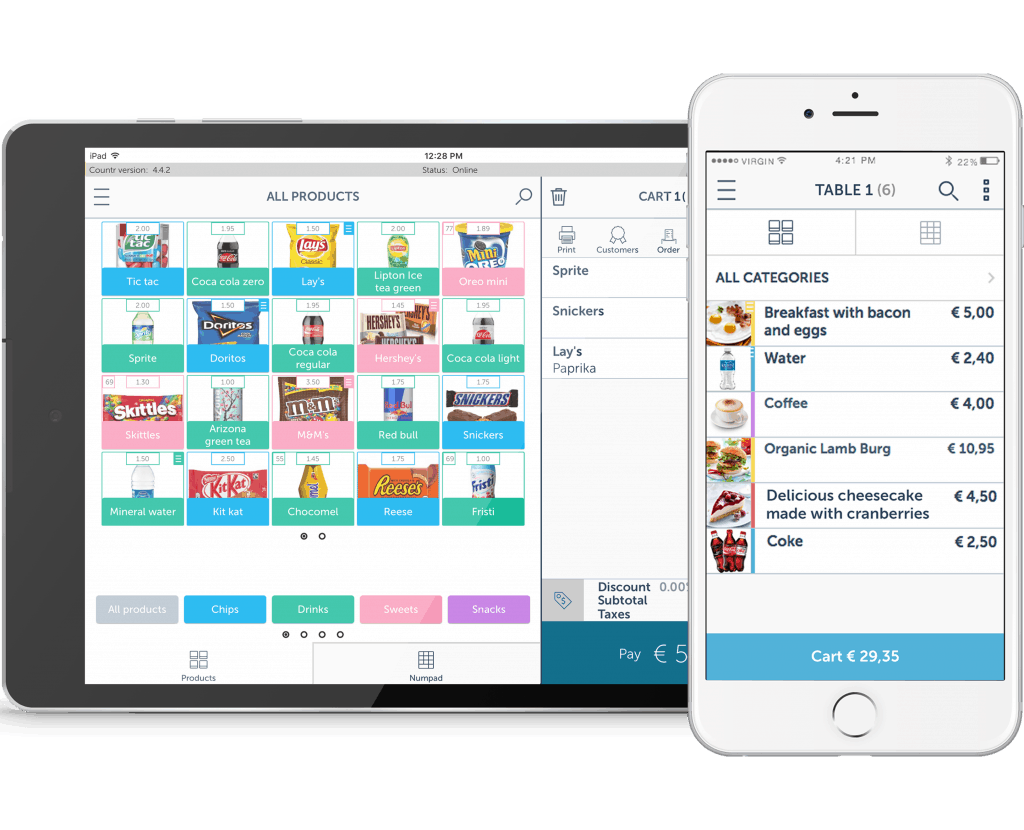 Lightspeed POS offers a native app that can be downloaded from the Apple App Store. This obviously means that it must be used on Apple's iOS devices, typically an iPad stationed in the store.
The system can also operate via all popular web browsers, meaning you can access the system through a PC, Android, etc..
Apple iOS
Lightspeed's native app was designed to operate through Apple's iOS operating system. Most businesses use an iPad as the central hub of the system, which is where automated processes are set up, customizations are configured, reports are run, etc.
Web Browsers
Downloading and using the Lightspeed native app to operate your business is not the only way to leverage the system. Users also have the option to access the system by opening a web browser on any device—Apple, PC, Android, etc.—and then navigating to the Lightspeed website, and logging in with your unique password.
When used in this way, Lightspeed becomes a software as a service (SaaS) solution, much like any other software that you log into from a browser. This lets owners and managers access the system from home, while commuting, or any other time they are away from the store and have Wi-Fi or cellular data.
Lightspeed Software Features
Lightspeed Retail POS delivers a robust feature set stuffed with value-added features that businesses need to streamline and automate tasks, increase efficiency, and deliver a better customer experience.
The software by itself can't do much. It requires POS hardware components to collect data, process payments, track sales, and so on. In order to complete most tasks, you need hardware components that integrate with your software system. We discuss Lightspeed hardware components in more detail below.
The system is so jam-packed with useful features that there are simply too many to cover here. So, we will describe some of the most important features that businesses look for in a point of sale system. Then give honorable mentions to the rest of its features so they don't feel left out.
Built-in eCommerce Stores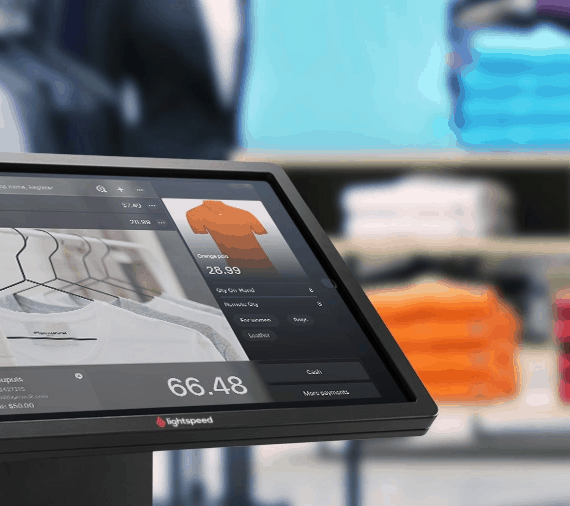 It's easy to set up your own eCommerce store with secure payment processing capabilities. You can either use Lightspeed's built-in eCommerce store capabilities or integrate a third-party eCommerce platform.
SEO Optimization Tools
Built-in SEO tools optimize your eCommerce site and increase its search engine rankings. The quality of your site's SEO tactics and efforts can make or break your business. It's crucially important to do it properly and Lightspeed does that for you, eliminating the need to hire an SEO contractor or an in-house expert.
Inventory Management
Inventory management is one of the strongest features Lightspeed offers. It is known in the POS industry as a leader in this area. Lightspeed makes it easy to save time by automating inventory tracking, sending you low stock alerts, and running inventory reports (especially as a florist POS) so that you can always keep an accurate count of what's left and what needs to be restocked. Users can also import items from external lists and order items from preloaded catalogs that are accessible in the Lightspeed POS system.
Marketing Tools
Lightspeed allows you to keep customers informed about new offers and encourage them to return and purchase more with built-in SMS and email marketing tools, such as a drag and drop email builder. You can also automate and customize marketing campaigns and auto-segment those you want to target based on their past purchasing patterns. Lightspeed POS also includes preset marketing campaign templates so you can set one up and start it in no time.
Customer Loyalty Programs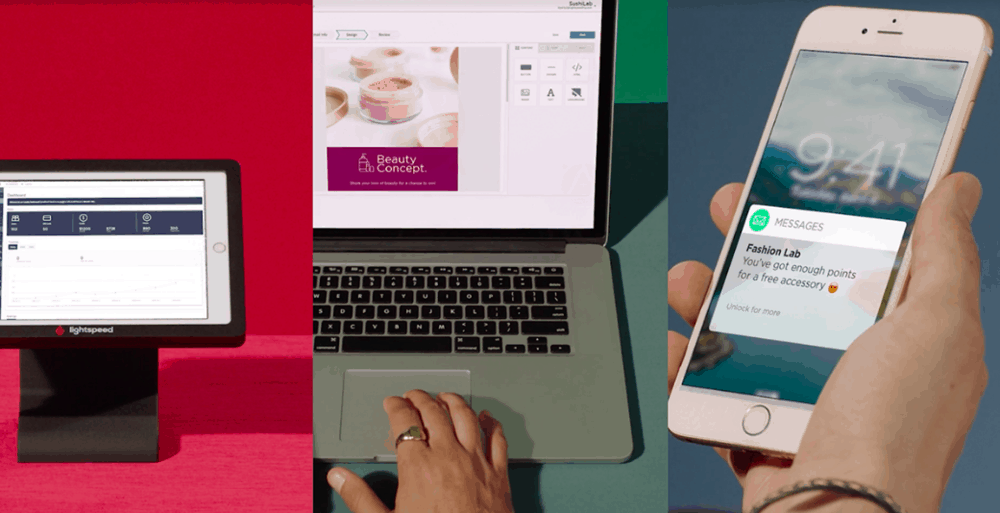 Reward your best customers with discounts, gifts, etc., through built-in loyalty programs. Keep track of customers who frequently buy from you and incentivize them for their loyalty with discounts and special offers. You can also win back lost customers by using loyalty program features to send them offers and discounts.
Reporting and Analytics
Powerful reporting, metrics, and analysis are features that every POS system should include, and Lightspeed excels at this. With so much data at their hands, users can easily maintain constant insight into their results and make better, data-driven decisions. They can run customized reports around just about any metric for which you track and store data.
For example, inventory discrepancy reports alert store managers when inventory does not align with the number of goods that have been sold. You can also easily run reports around sales, the number of customers broken down by time periods, revenue growth, employee metrics, and more.
Gift Card Processing
Giving gift cards to friends, family, and colleagues is a great idea when you can't think of anything else to give. Plus, some people prefer gift cards than actual gifts because it allows them to purchase what they want, not what you think they want.
That's why it's so important for your POS system to include gift card processing capabilities. It is just one more way to allow patrons to pay, which increases sales and boosts revenue. Plus, when someone receives a gift card from a store they are not familiar with, it expands your customer base. This is especially true if they walk away satisfied and tell their friends about your store.
Customer Relationship Management
Customer relationship management (CRM) features empower businesses to form better, more personal relationships with their customers. Lightspeed POS delivers robust customer relationship management features that make forming those relationships and getting to know your customers a breeze.
Lightspeed POS includes features such as individual customer profiles filled with their personal data, customer purchase history, customer categories for easy targeting, and the tracking of the lifetime value of each customer. With this data at your fingertips, you will build those relationships, which will lead to higher levels of customer loyalty. 
Integrations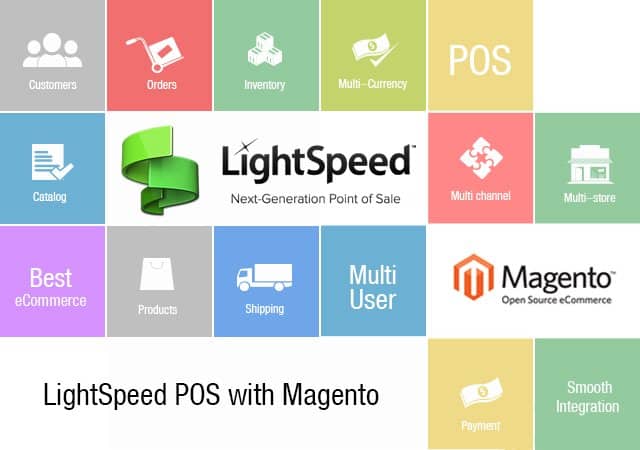 Lightspeed POS boasts super robust integration features that allow you to customize and personalize your system to meet your specific business requirements. Lightspeed POS integrates with loads of third-party apps—such as eCommerce apps (mentioned above), reporting apps, accounting and payroll apps, and many more.
Plus, the system includes integrated business catalogs, allowing users to import products from over 3,000 catalogs, which are then accessible in Lightspeed instantly. The time saved by easy integrations is significant, which is why solid integration features are crucial to a high-quality retail POS system.
More Payment Options for Customers
Payment terminals, automated check splitting, and card readers that can read and process all types of credit and debit cards give customers more payment options. But it is the payment processing software features that allow Lightspeed POS to complete those tasks—the hardware does the grunt work and the software manages that work.
Lightspeed POS allows customers to pay with cash, credit cards, debit cards, gift cards, and can process discounts. Giving customers more options to pay reduces the hoops they must jump through to settle the bill and improves the customer experience.
Lightspeed POS Hardware
Lightspeed does not manufacture many hardware components. That is because their software system was designed to primarily be used with third-party hardware components that integrate with Lightspeed POS.
If you need a complete system of software and hardware all manufactured by the same company, Lightspeed may not be the best choice for you.
When you use a consolidated system from one single vendor, you have one central point of contact when you need support. It also gives you peace of mind knowing that every hardware component in your system integrates and plays nicely with the rest.
However, because Lightspeed is known for its robust integration capabilities, this should not be a concern for most retail stores.
Aside from selling iPad stands and Bluetooth scanners manufactured by Lightspeed itself, the company sells loads of third-party components. They also publish a list of third-party components that are compatible with Lightspeed POS, giving customers confidence when they purchase third-party hardware for Lightspeed.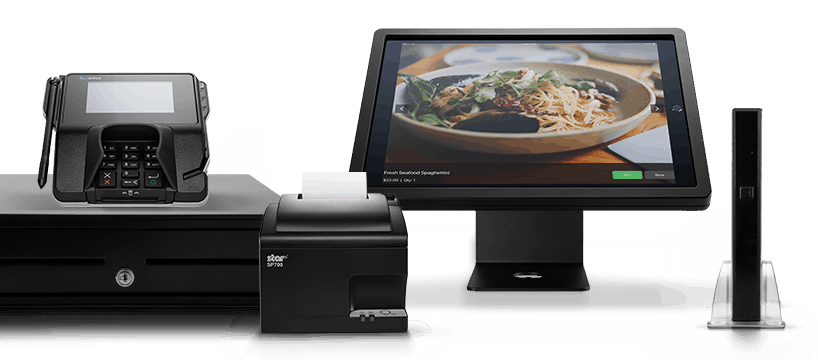 Get A Quote from Lightspeed Retail
Individual Hardware Components
There are certain hardware components that retail stores need to increase efficiency and grow their business. Lightspeed sells the following components—mostly from third-party vendors—and most retail stores have a need for most or all of them:
Cash Drawers
When someone pays you with cash, you need somewhere to store that cash. That's where POS cash drawers come in.
POS cash drawers come in a few different types:
Manual Cash Drawer: This is the most basic type of POS cash drawer available. You simply push the drawer inwards and it opens, allowing you to deposit the cash you just received.
Printer-Driven Drawers: These POS cash drawers do connect to the overall POS system and open when a purchase receipt is being printed. The drawer recognizes that printer action as a sale and knows it needs to open so you can deposit cash from the sale.
Direct Connect USB Drawers: These drawers connect directly into your POS computer system and can be configured to open based on a variety of criteria. For example, you could format it so that only managers can open the drawer. You have more control over why it opens and who can open it.
Barcode Scanners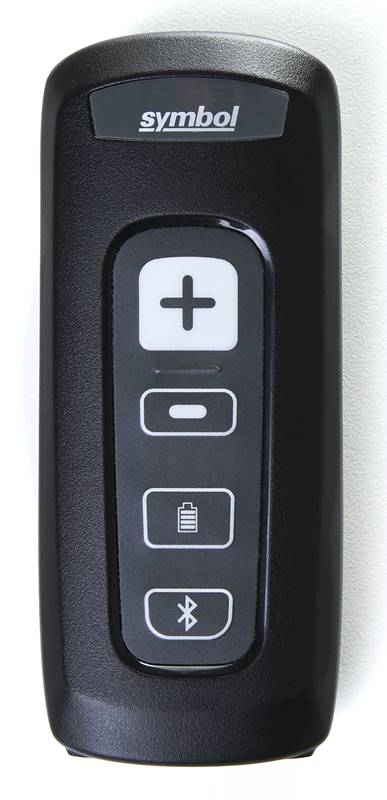 Every retail store, restaurant, and any other establishment that keeps inventory in-house and scans products during checkout has a need for wireless barcode scanners. They are a key POS hardware component for most retail businesses.
The idea is simple. To count inventory, you carry the scanner back to your storeroom and scan the barcodes on the items in your inventory stock. That data is automatically sent back to your POS system and updates your inventory for the day.
Keeping accurate inventory records is essential to running a successful business. A solid handheld inventory reduces the risk of human error that occurs when someone is manually counting items. They also pull all your inventory data back to your POS system so it's accessible by managers, owners, etc., making it a must-have for all businesses that keep inventory on-site.
And using barcode scanners during the checkout process is self-explanatory. Every time you have been to a store and an employee scans a product's barcode, it is added to the balance due. Scanners are a must-have for retail businesses.
Receipt Printers
Every purchase transaction you process with a customer requires a receipt of purchase—both for the business as well as the customer. That's why every store, retail or otherwise, must provide purchase receipts to customers.
Receipt printers are fairly straightforward and easy to understand. They connect to your Lightspeed POS system and the system tells the printer when a transaction has been made and the printer automatically starts printing.
Here are your two basic types of receipt printers (not to be confused with kitchen printers, which are only applicable to restaurants):
Thermal Printers: They use thermal technology—laser-generated heat—to mark the paper with words, symbols, etc. They are very commonplace, and odds are you've seen one within the last week.
Portable Printers: They are very self-explanatory. You can carry them with you around the store and print receipts based on data sent to them from your POS system via a Bluetooth connection.
POS Tablets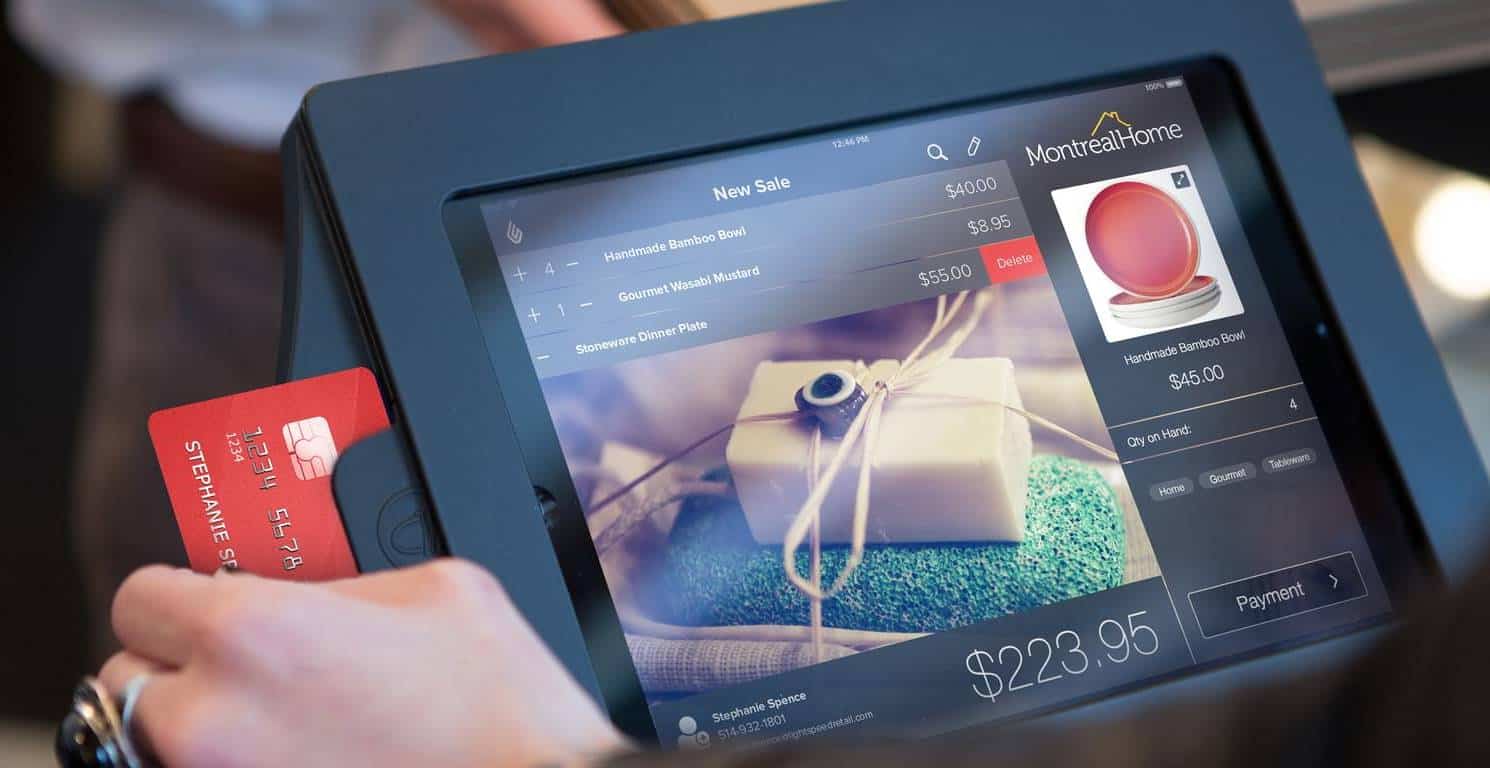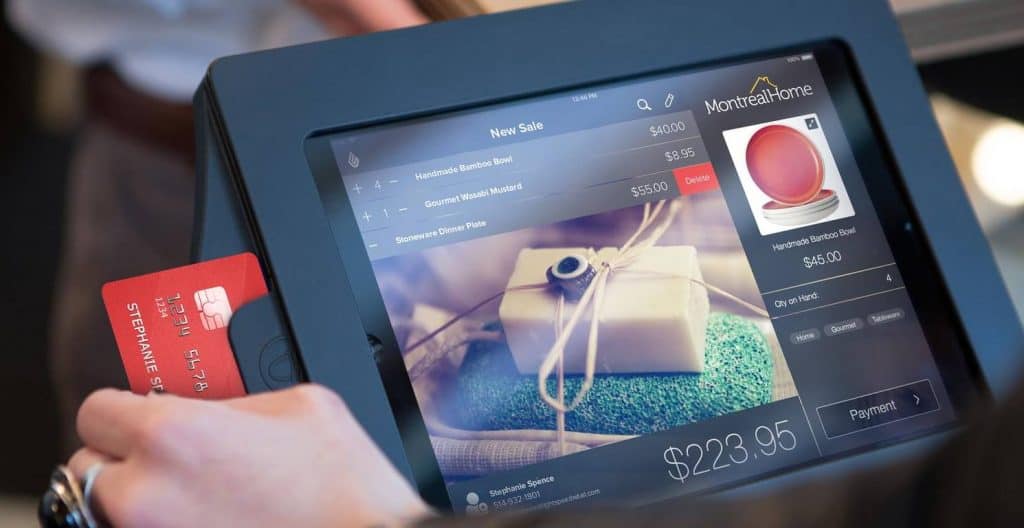 Lightspeed iOS is normally used with an Apple iPad. POS tablets have worked their way into overall POS systems, slowly but steadily. You may have noticed that, increasingly, you'll see someone using a tablet to check you out, swipe your card, or otherwise receive payment.
That's because tablets—being mobile devices—allow staff to walk around the store with access to their POS system in the palms of their hands.
They easily integrate with Lightspeed POS and are a must-have for any business that wants to stay on the cutting edge of technology. You can expect to see more and more businesses using tablets as part of their POS system in the future.
Credit and Debit Card Readers
Today, most credit and debit cards use encrypted chips rather than magstripes to process a payment. You just pop the card into the chip reader, your information is gathered, and your purchase is processed. But many card readers can process both chips and magstripes because most cards still have both.
Card readers are sometimes connected to a cash register or payment terminal. Since most credit and debit cards have already moved to chip technology, it's increasingly important to purchase a card reader that can process cards with encrypted chips as part of your overall POS system.
Customer-Facing Pole Displays
A pole display is a small, horizontal screen that displays the price due when a customer makes a purchase.
We have all seen them. We go into a gas station or convenience store to purchase a bag of potato chips. The cashier rings up our item and tells us the balance due.
To confirm, you can see the balance due on that small display monitor that sits on a "pole" much like a selfie stick "pole" supports a smartphone. Pole displays are used by most retail stores.
Lightspeed POS Hardware Bundles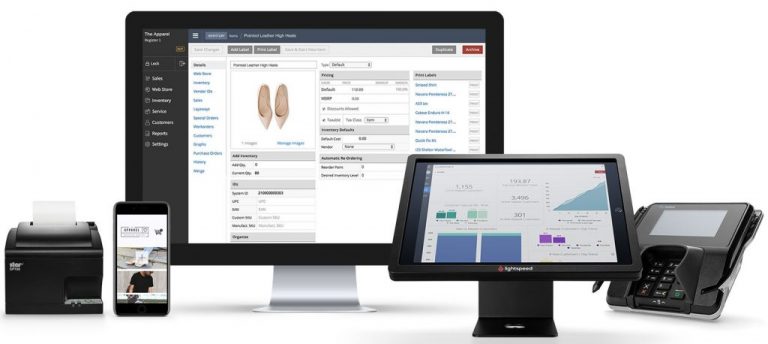 In addition to individual hardware components, Lightspeed also sells complete hardware bundles that come with the hardware you need to complete your POS system. You still must purchase your iPad or Mac separately. Those complete hardware bundles include:
iPad Hardware Kit
This kit allows you to use Lightspeed on your iPad and carry it around the store with you because it is wireless. The bundled kit comes complete with:
LAN Receipt Printer
POS Cash Drawer
Bluetooth Barcode Scanner
Lightspeed iPad Stand
Rolls of Receipt Paper
Desktop Hardware Kit
For those retail store owners who prefer to use a stationary desktop computer, there is the Desktop Hardware Kit. It comes with fewer hardware components, making it a better choice for smaller stores with fewer needs. This kit includes:
USB Receipt Printer
POS Cash Drawer
USB Barcode Scanner
NOTE: This kit does not include a wireless scanner. If you need to count inventory, it's advisable to purchase a Bluetooth scanner, as long as your desktop computer has Bluetooth capabilities.
How Much Does Lightspeed Cost?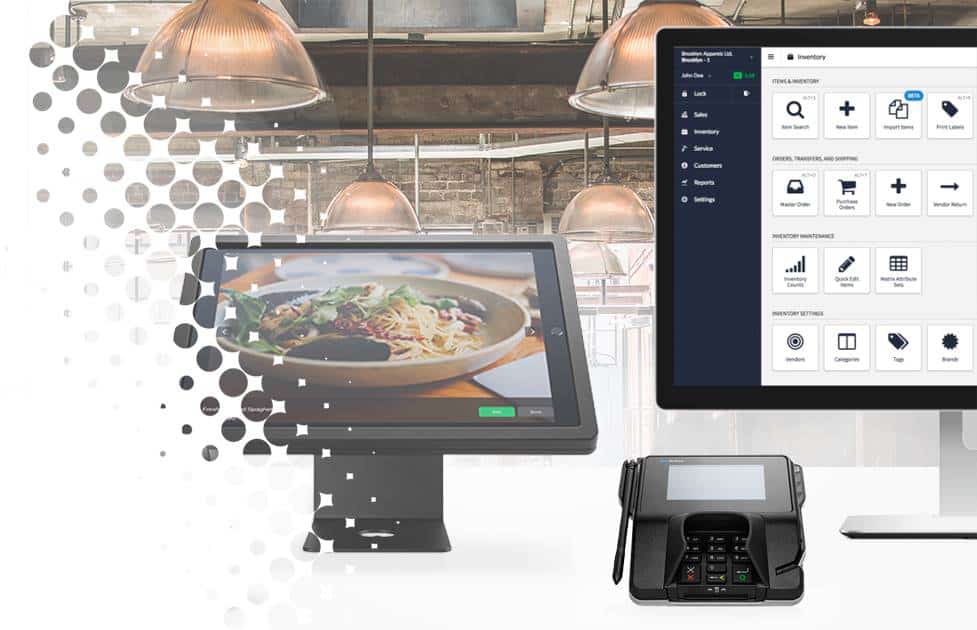 Pricing varies for both software and hardware—depending on whether you want just software, additional features, individual hardware components, or an entire system bundle.
Software Costs
Lightspeed Retail POS software systems start at $69/month and go up from there depending on which features you want. The highest tier system costs $229/month.
Hardware Costs
Unfortunately, Lightspeed does not publish hardware prices on its website. You must contact the company for a quote—both on individual hardware components and bundled kits. However, if you check their list of compatible hardware, you can check prices on Amazon.com or other POS hardware vendors without having to contact Lightspeed.
Lightspeed Credit Card Processing Fees
When customers pay with credit or debit cards, the retail store must pay a small processing fee for each transaction.
Processing fees for swiped cards on site cost 2.6% of the purchase plus 10 cents.
Purchases made over the phone that require an employee to key in the card number carry a processing fee of2.6% of the purchase plus 30 cents.
Get A Quote from Lightspeed Retail
Our Final Verdict
The retail POS system for Lightspeed is positively exquisite, functioning as one of the best systems available. There are too many unique features, taking Lightspeed above and beyond other retail POS systems.
The key features of this POS system are mobile access and the E-commerce feature. Both of these features allow your business to function at the level of the chain stores, without struggling to afford those features.