MicroSale is probably the only restaurant point of sale (POS) system that is developed and maintained by a team of former restaurant operators and staff. Currently being used by more than 14,000 restaurants, MicroSale is definitely one of the popular options for different types of restaurants.
Backed by the dependability of a Windows Platform, MicroSale is a perfect choice for the fast-paced business environment.
For instance, it is suited for application in bars, and clubs, table service, pizzeria, quick service, and yogurt businesses. Based on statistical findings, limited-service restaurant businesses are projected to grow by about 4.9% in 2019.
However, you need to apply the right techniques and technology in your business to achieve this growth. The system is packed with multi-location management, EMV technology, online ordering, loyalty, and online reporting tools to facilitate this growth.
Throughout this MicroSale POS Review, you will learn why so many restaurant owners prefer it over other systems.
MicroSale POS System Alternatives
POS Name

Monthly Subscription Cost

Free Trial Availability

Customer

MicroSale POS

Starting from $99.00/month

No

24/7 (Live Rep)

LightSpeed

Starting from $99.00/month

Yes

24/7 (Live Rep)
Online
Business Hours

TouchBistro

Starting from $69.99/month

Yes

24/7 (Live Rep)
Online
Business Hours

Toast

Starting from $79.00/month

Yes

24/7 (Live Rep)
MicroSale POS System Benefits
Supports dual cash Drawer setup
Allows you to interface to Drive-thru order confirmation screen and the MICROPLU MicroSale kitchen Video System
The system is capable of printing random messages, coupons, and customer surveys
Features a number of integrated credit card interfaces
Allows for the item and check to split
Features a Quick Bar mode
Allows for easy transfer of tables between server audits
Offers a customizable table layout, allowing you to replicate the current floor plan
Capable of opening tabs using credit card Pre-authorization
Equipped with an integrated customer waitlist that features seating preferences
Comes with an integrated reservation system with seating lock
Possible Drawbacks
The system only offers limited customization abilities and only offers a few automated reporting and emailing options.
Get Free POS Systems Quotes
MicroSale POS Pricing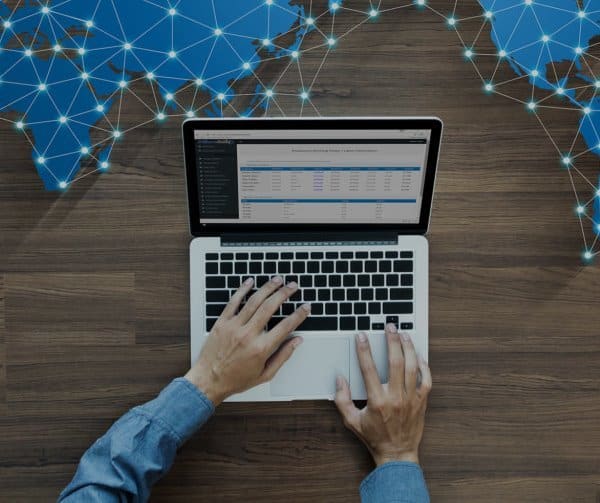 The MicroSale provider offers quote-based pricing for the POS hardware and software solutions. Although there is virtually no pricing information on the official website, reputable third-party sources reveal that the pricing starts at around $99/month. Basically, the pricing will be determined by your specific business needs.
As for credit card processing fees, the provider allows you to integrate the POS system with your preferred processor. As such, the fees you will be charged for transactions will depend on the provider you choose.
MicroSale POS Hardware and Operating System Requirements
The MicroSale POS software is compatible with different hardware components, but the provider recommends the Titan 160 touchscreen POS terminal. This terminal includes the POS Workstation, a card reader to swipe credit cards, and a thermal printer for receipts.
The rugged Workstation hardware is also spill-resistant for enhanced durability in restaurant environments. The system may also be run from a tablet device. In this case, the provider recommends the  Hisense HM518—a device that is strong enough to withstand four-foot drops onto concrete floors.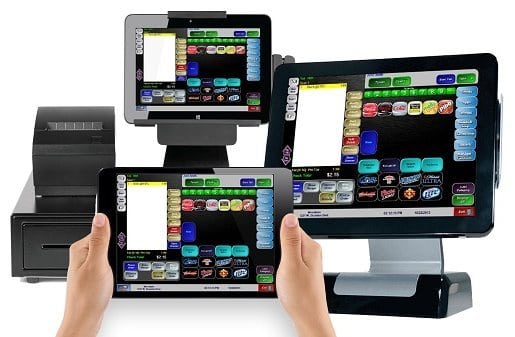 The software is also compatible with several other third-party hardware choices.  If you would rather use your own hardware, you need to ensure that it meets these requirements:
10 GB of hard drive space
8 GHz duo core processor or equivalent 2 GB RAM
64-bit operating system
As for the operating system, it is advisable to install the software on Windows 7 Professional, Windows POS Embedded 2009, or Windows POS Ready 7. The system will not run on Windows Home and Windows XP.
MicroSale POS System Key Features
The MicroSale POS system is specifically designed for businesses within the hospitality industry. The provider has several software variants to address the specific needs of each restaurant business type.
Some of the industry-specific features and capabilities MicroSale is popular for include:
Quick Service Restaurant Features
For Quick Service Restaurants, MicroSale offers such features as drive-thru ordering, error correct, and combo detection. The drive-thru functionality allows for customer touchscreen ordering.
Drive-thru also offers the option to take a picture when the customer begins their order.
This helps servers match orders to the customers correctly. Additionally, a timer function shows how long customers have been waiting for orders, to ensure a quick turnaround.
Error correct lets employees delete the last item entered, for accurate. This will also cut down on potential invalid discounts and employee theft.
The combo detection functionality recognizes when items that are part of a combo deal have been entered individually. The system will then group them automatically into a combo so that customers are charged the correct price.
Pizzeria Features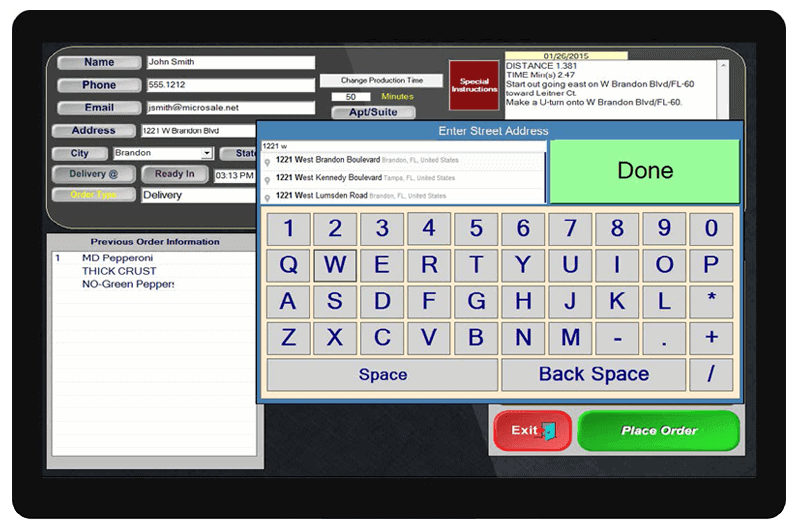 The MicroSale Pizza POS software features red/green one-touch toggle for quick modifications on pizza orders. This version of the software is also capable of applying automatic discounts for error-proof BOGOs.
Additionally, it features integrated mapping and displays an on-screen map for delivery assignments.
Other of the intruding capabilities of the MicroSale Pizza POS system include:
This capability is designed to address populate near your location. To help you accept phone orders, the system uses a third-party integration but will charge you nothing for the same. This means that you simply won't have a database to update or maintain.
Auto-filling addresses speed up the delivery process, prevents errors, and gets orders out faster, and more efficiently.
Toppings & One Touch Toggle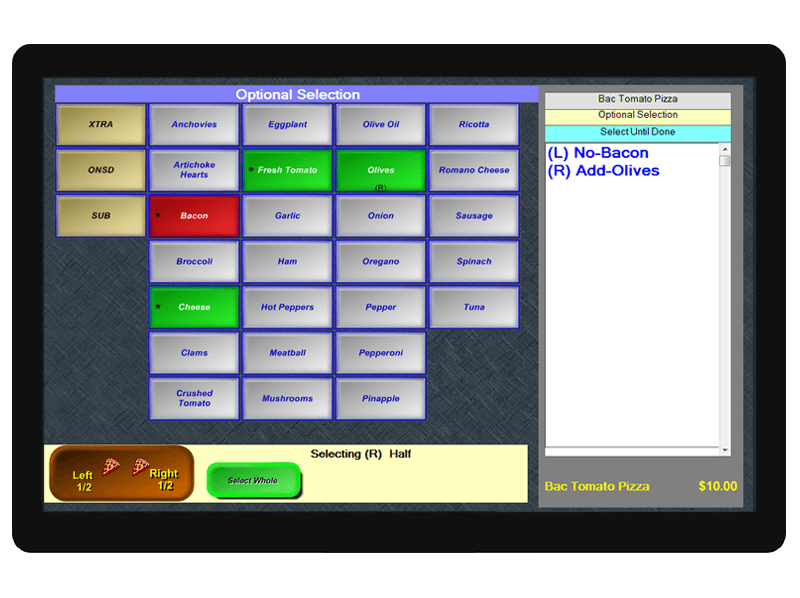 The system includes the ability to add toppings. In this regard, the included toppings in your restaurant menu items will be highlighted in green.
To add a topping, you need to touch a gray item to turn it green. If you do not need a topping, you simply need to touch a green modifier to turn it red for a "no".
Version 9 of the MicroSale restaurant POS system features updated delivery capabilities. To begin with, it features integrated Google Maps that uses current, live map data. The system also has Red/green one-touch toggle, allowing you to make quick modifications as well as complete orders faster.
You will also like its suggestive up selling points as well as the automatic BOGO discounts and combo detection to improve customer satisfaction and prevent re-ringing. With this updated platform, you will be able to assign multiple orders to a delivery driver using the on-screen map to visually see the stops closest together.
Multi-Store Enterprise Capabilities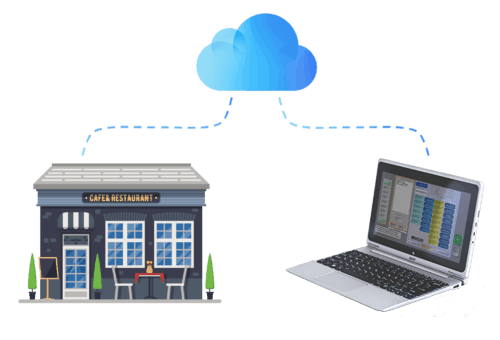 The provider offers a comprehensive Multi-Unit Remote Back Office. This package has been proven to be more robust than most of the leading store back-office management tools. The MicroSale multi-unit remote back office is equipped with all the tools you will ever need to stay connected to each of your restaurants.
It will also give you enhanced control over the entire business wherever you are. With this solution, you will be able to manage and even alter the menu, discounts, employee schedules and system options by location, region, or market.
It will also allow you to view real-time sales as well as compare sales between locations.
Final Verdict
In addition to an assortment of restaurant management and efficiency tools, the MicroSale POS system also has the tools you need to run a successful bar. It has numerous features and capabilities to help you cash out tabs in a matter of seconds and ring up drinks with ease.
Unlike some of the best restaurant POS systems, MicroSale offers you industry-specific tools for each restaurant type.