If you're running a busy convenience store or gas station, you need a point of sale system that is quick, efficient, and all-encompassing. NCR Radiant is a prime option for the type of technology that will accelerate your business. It's a fuel management and payment solution that will take your brand to the next level. Here's what you need to know.
A Quick Overview of the NCR Radiant POS System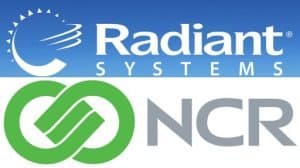 NCR has paired with Radiant to offer business and fuel solutions to over 50,000 C-stores across the globe. They have a track record of success in the petroleum and convenience store industry. In fact, the point of sale system has proven to increase transactions from 4,100 to 5,500 per day.
The brand has been shaping the future for 135 years and is the world's enterprise technology leader for retailers, banks, and restaurants. They are also the number one provider of multi-vendor ATM software. Their motto is "digital first, but not digital only." NCR stands out because they value creating lasting consumer relationships through efficient tools.
Today, NCR is headquartered in Atlanta, GA, and has over 34,000 employees in 160 countries with solutions distributed in 141 countries. 22 of the top 30 convenience retailers in North America depend on the platform.
NCR Radiant POS Key Advantages
There are many benefits to the NCR Radiant POS system. This includes:
Speed up transactions both inside the store and at the pump.
Rapid and powerful processing capabilities for smooth management.
Streamline operations at the pump with an integrated fuel controller.
Leverage customer loyalty programs to deliver ROI on marketing promos.
Increase consumer spend and win the race for repeat business.
NCR Radiant POS Costs and Pricing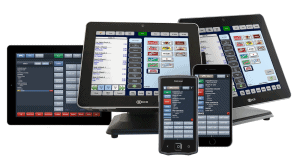 All NCR Radiant pricing is quote-based and personalized for your business. This is due to the wide range of service levels and features offered by the brand. The quote includes an in-depth consultation to fully match your business to the right solution. Although not as transparent as other POS products on the market, NCR pricing is designed to fit your custom needs.
Hardware and System Requirements
The NCR brand has been established for decades so, naturally, the company has a lot of products and programs to offer. Some of the key hardware systems to consider include:
NCR Radiant Vitalcast Digital Menu Boards
When it comes to convenience and customer engagement, vibrant digital menu boards truly capture people's attention. This also enables a business to always keep their menu and messaging updated with information in real-time.
The bright plasma and LCD screens can be used either inside or outdoors. They are built to withstand harsh conditions and are set to display content like:
Promotions
Menus
Ads
Branded data
News
…and other forms of content. Live TV and the local weather can also be incorporated into the display configurations. Professional layouts and content can be created easily using the Content Manager app.
The platform is scalable and easy-to-use. It runs on NCR Vitalcast Content Manager and WAN/LAN. This allows you to access global sites from a single workstation.
Back Office Self-Service Kiosk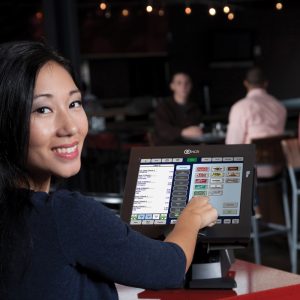 The NCR Radiant self-service kiosk fully integrates with the back system and other store technology integrations. This includes features like:
Food costing
Foodservice management
Inventory reporting
This gives you vital business intelligence that helps drive performance and increase productivity. All pricing, menu items, and other options can be configured and managed remotely. Push out universal changes to all stations with the simple configuration menu. The self-service kiosks can also have unique menu items, promotions, and prices.
All self-service kiosks can be customized by day-of-week or time-of-day. For example, you can schedule breakfast items until noon or all day. A business can set up specials that are only offered on certain days and/or times. Gain maximum flexibility with the amount of menu configurations at your fingertips.
These kiosks also help to improve the workflow of your kitchen. NCR Radiant will route each item in an order to the appropriate kitchen station. Staff and managers can use the video monitors to increase customer satisfaction and eliminate bottlenecks.
The NCR Radiant software uses the:
NCR P1560 Counter Kiosk
Intel Centrino Mobile Technology.
Compact footprint for limited space.
15-inch touchscreen display.
Customer Self-Service Kiosk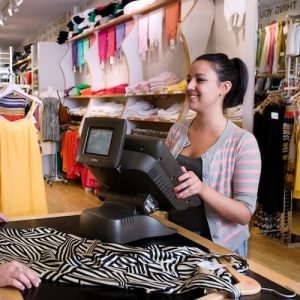 NCR was actually the first company to develop and market a self-service kiosk with a touchscreen. This type of technology has many benefits that include:
Reduces labor costs
Empowers consumers
Streamlines operations
Increases revenue
Drives profit
The average check total is increased by automated upsell suggestions and add-on products. Use enticing images and graphics to promote new items on the vivid displays. The system helps to educate customers on your latest products and special offers. This allows you to direct customers to higher-margin products to increase profits.
The self-service kiosks are not only intuitive, but they're simple to use. Having this option not only reduces lines but decreases abandonment as well. Especially during peak foot traffic. The integration of kitchen production systems increases accuracy and the overall speed of service.
Self-service kiosks are a great way to improve customer loyalty and market to your audience. Use the equipment to perform tasks like:
Gather customer contact information.
Launch new products.
Dole out customer loyalty and rewards points.
The NCR Radiant software uses the:
NCR K660 Free-standing Kiosk
Stable design with hardened enclosures.
No loose cables. Clean installation.
15-inch touchscreen display.
Kitchen Production System
NCR Radiant POS software comes with a fully integrated kitchen production system. This equipment includes everything you need to streamline operations with customizable displays that bolster order accuracy. The system also helps staff work more efficiently on the same page across all channels.
The NCR Radiant software uses the:
NCR K1700 Kitchen Production Terminal
17" LCD touchscreen display.
Retail-hardened electronics.
Single unit that is the brains of the operation.
The NCR K1700 does not need bump bars or separate monitors.
Features
NCR has been around for over a century, so when it comes to technology, they really know what they are doing. The Radiant channel is specifically designed to cater to the needs of convenience stores, gas stations, and quick-service restaurants. The features offered directly apply to the specific needs of the industry.
Back and Front End Solutions
NCR Radiant POS runs everything from foodservice to the carwash and forecourt. Connect your front and back office instantly while running lottery at the same time. The system gives customers new ways to pay and makes upselling a breeze,
1:1 marketing capabilities help bring customers in to buy. Loyalty programs are included to keep people coming back and increase customer retention. The NCR solution supports all of this and more.
High Margin Sales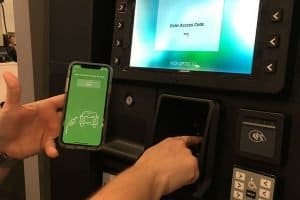 Grab the attention of customers by giving them more personalized offers, convenient options, and custom promos.
NCR OPTIC is the next generation forecourt solution and has been deployed in over 3,000 stores. The system allows you to provide better consumer engagement and drive more in-store upsells. It even garners foodservice orders with a secure outdoor EMV solution.
The retrofit kits will extend the lifespan of your dispensers and help a business fight fraud. A store can even add additional features they need with NCR's open API.
Foodservice Solutions
Most convenience stores and gas stations require a customized foodservice solution to increase the customer experience and serve up speedy orders. No matter how personalized, orders are always fast and efficient.
Delight staff and customers with orders straight from the pump and self-service kiosks. You can even process from third-party apps, routing all the data into one kitchen system. It's an intelligent way to boost same-store sales and increase revenue.
Self-Checkout
Customers want convenience, especially in the petroleum industry. People want to be in and out. Offering a means of self-checkout empowers the consumer and gives cashiers more time to focus on other transactions.
NCR self-checkouts deliver superior in-store experience using today's computer vision technology. Not only does it help to fight checkout fraud, it's an important step in overall technology strategy. The sleek footprint is designed for C-store counters for a more modern look.
More Ways to Pay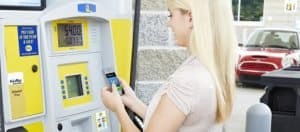 NCR Radiant makes it easy for customers to pay and speeds up the experience. NCR allows a business to transact securely at the pump with full EMV compliance already built in. Save on transaction fees by unlocking the pump with your mobile app. No matter the business, the system allows you to simplify payments and get customers in and out fast.
Pulse Mobile Dashboard
Speed up business for quick-service restaurants and convenience stores with NCR's Pulse Mobile Dashboard. The proprietary mobile app is designed to pull real-time data from your POS system and deliver on a visual dashboard. It lets you know when items are out of stock and other exceptions like refunds or voids.
Fuel sales operators gain access to critical data that tells them about pump performance, fuel flow rates, tank inventory levels, and software failures. The Pulse Mobile dashboard allows access to video monitoring, users access controls, and features like:
High-volume sales data.
Transaction-level detail.
Sales categories by register, hour, or type.
Sales forecasting and comparisons.
ConvenienceGo Mobile Payments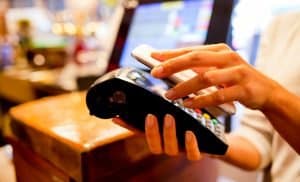 ConvenienceGo (a.k.a. C-Go) is a contactless mobile payment option that customers utilize in their mobile wallets. Shoppers can add suggested items to their transaction, receive e-receipts, and collect and redeem loyalty points.
Offering customers security and convenience, C-Go requires no card swipe or pin number to enter for debit transactions. Customers quickly activate gas pumps and complete transactions.
In C-Go, you can also save customer preferences to bolster future transactions. Use the data to send targeted ads, promotions, and other forms of custom messaging. This helps to increase brand loyalty with personalized content based on previous purchase history. The system helps to reduce transaction fees and improve the speed of service.
NCR Radiant POS Consumer Resources
NCR Radiant is available internationally through phone, email, and chat. They have specific customer support for every branch and other channels like payment processing, small business, and retail products.
The Bottom Line
The NCR brand has been around for ages and there is a good reason why. The sheer volume of products and services they offer perfectly complements their sleek and modern hardware.
The fully integrated system meets the demands of any business, big or small. With features that are industry-specific, you'll gain a competitive advantage in any business sector, increase sales, and drive healthy revenue.