NCR Silver has been growing in popularity since the company launched. This point of sale (POS) system is currently ranked fifth out of the top 20 retail store POS systems (Source).
Because of its growing popularity, there are many NCR Silver review articles out there. Some are completed through online research, while other reviewers prefer to actually try the system for themselves before offering their assessment publicly.
We take the latter approach because we can't provide you with a reliable review unless we've used the system firsthand. During testing, we discovered some cool features we didn't know the system included. We also unveiled some characteristics that could be considered as cons by potential users.
The company that produces the system—NCR Corporation—was founded in 1884. It was then bought by AT&T in 1991. This means there is close to a century and a half worth of accumulated expertise going into the system's production. This is why so many business owners rely on it.
NCR Silver Review: End-to-End Business Management

NCR Silver is a tablet-based POS solution that was designed to be an end-to-end POS and business management system. Its purpose is to help businesses manage all aspects of business administration, from inventory to purchase processing and metrics analysis.
But, before we dig into our detailed NCR Silver review, we'll cover some basics to provide you with context.
Which Industries Use NCR Silver?
NCR Silver is an extremely diverse platform with loads of features available for different types of businesses. Companies in several industries use the platform every day—it was designed to be applicable to the broadest audience possible.
Most of these business types fall under the umbrella categories of retail and food and beverage. A broad spectrum of businesses in those categories leverage NCR Silver. The solution allows them to create and nurture more relevant and significant relationships with customers.
NCR Silver for Retail Businesses
Retail stores and businesses of all types use NCR Silver to keep customers satisfied and keep revenue flowing. Service providers with brick and mortar stores often choose NCR Silver. Common businesses that use the system include:
Convenience stores
Gas stations
Minimarts
Drug stores
Grocery stores
Health food markets
Mass merchandise distributors
Department stores
Beauty salons
Vape shops
Spas
Craft stores
Mechanics and tire shops
NCR Silver for Food and Beverage Businesses
There is, in fact, a version of NCR Silver especially made for the food and beverage industry. We will discuss it in detail below. It includes features those businesses need—such as menu management—that retail stores have no need for. Common food and beverage businesses that use NCR Silver include:
Fine dining establishments
Family and local restaurants
Cafes
Food trucks
Bars and nightclubs
Ice cream dispensaries
Coffee shops
Concession stands
Quick service restaurants
Juice bars
Which Business Sizes Use NCR Silver POS?
The company claims that its POS software is built for small businesses. That's why it's designed for to be easy to use and set up.
Small businesses that lack a dedicated IT team can set it up and use it themselves, without relying on software experts. Moreover, it offers two separate POS system versions so businesses can select the one that best fits their needs. (More on that below.)
More than a Simple POS System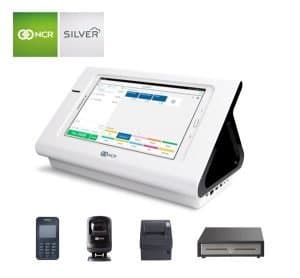 NCR Silver delivers software that integrates with POS hardware to create a comprehensive experience for users.
So, it's more than a simple POS system; it can manage and automate most aspects of business operations. Plus, additional attributes combine to make NCR Silver a popular solution.
Cloud-Based Data Storage
Because the system is tablet-based, all of its data is stored in the cloud. NCR Silver's mobile capabilities eliminate concerns about having to back up data on-site. It is all backed up in off-site servers and can be accessed and recovered from anywhere.
Moreover, you don't need a Wi-Fi connection to work in the system, but any data you enter won't be backed up until you connect your device to the internet.
Value-Added Features
The system is known to deliver excellence in a number of areas through robust system capabilities. Those include multi-store management, robust reporting, ease of use, and value-added marketing features. Additionally, it delivers powerful multi-store management features and loyalty programs.
Finally, with NCR Silver, customer service and support is available 24/7. This makes NCR Silver an attractive option for any company looking for a solid POS solution to manage various aspects of their business.
What We Love About NCR Silver: The Pros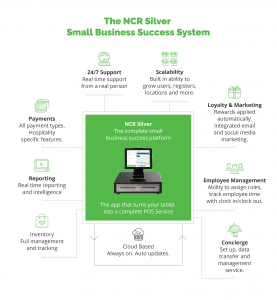 No software system is perfect. They all have their advantages and disadvantages. Before we go any further, let's highlight some of the system's pros and cons. Here are the features and capabilities that act as major selling points for NCR Silver POS:
Easy to use, intuitive, and easy to train new employees
Anytime, anywhere remote access
24/7 customer support
Multi-store management capabilities
Robust reporting that provides real-time insights into business health and other metrics
Built-in marketing capabilities
Possible Drawbacks to NCR Silver: The Cons
As we mentioned, all software has feature gaps and functionality that don't meet the requirements of some users. For SCR Silver, those include:
It's contract-based and the company charges a fee for early cancellation
There is no free trial offered
The system seems fairly expensive for a small business
The company could improve on communicating updates to users
NCR Silver customer service, although offered 27/, can lack in quality at times
NCR Silver POS System Options
As mentioned above, NCR Silver offers two distinct POS systems, each designed for unique business needs. Those are NCR Silver Essentials and NCR Silver Restaurant Pro. Below, we take a look at each.
NCR Silver Essentials
This is the company's slimmed-down POS system, which is typically used by retail stores. That's because retail stores don't require the extra features included in the Restaurant Pro version.
The Essentials system includes the following features (among others) that help retail stores increase efficiency and revenue:
Email Marketing
Multi-store Management
Employee Management Features
Loyalty Programs
Barcode Scanning
Commission Tracking
Discount Management
Gift Card Administration
Inventory Management
Loyalty Program Support
Pricing Management Capabilities
Returns Tracking and Management
Sales Tracking and Reporting
eCommerce Site Options
Additional features are also included in the Essentials package. But those mentioned above are the most important ones for you to consider when shopping around for a POS system for your retail store.
NCR Silver Pro Restaurant
In recent years we have seen a significant increase in restaurant-oriented POS systems. This gives consumers more choices to select from, but also drives innovation and results in better systems to choose from.
Most restaurant POS systems can be configured to meet your needs, and NCR Silver Restaurant Pro is no exception. With the NCR Silver Pro Restaurant version, you get all the features included in the Essentials package. Plus, you get the following value-added features to drive your restaurant's success:
Menu Management
"86 List" Automation
Table Mapping for Server Convenience
Splitting Checks for Large Groups
Online Ordering
Happy Hour Features
Inclusive Taxes
Offline Credit
These features help restaurants serve more customers and keep things running like a well-oiled machine. Restaurants can be hectic places during the afternoon or evening rush. These extra features streamline operations, automate processes, and empower your staff to work faster and more effectively.
NCR Silver POS Hardware Bundles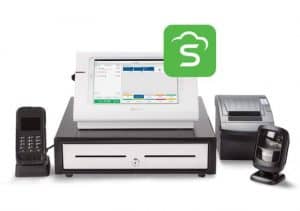 NCR Silver offers four comprehensive hardware bundles. This allows you to select the bundle that includes the components and tools to meet your unique business needs. Although NCR does not manufacture the components in its bundles, it does ensure that every hardware component it sells is compatible with its POS software.
If your POS hardware components are not compatible with the POS software you use, you can face countless challenges. Luckily, all the components offered in NCR's hardware bundle are compatible and designed to work seamlessly with NCR Silver POS software systems.
Their four hardware bundles range in price and include different things, although there is a significant overlap. We'll lay out the more expensive bundle—the others include all of the same components except for the scanner.
Out of the box, you get:
NCR Silver's own POS terminal, which features a 10-inch touchscreen display
Seven-inch customer display for full transaction transparency
Durable, solid all-steel cash drawer and a stainless steel front
One and two dimensional POS scanner that can read everything from pricing and product barcodes in retail stores to mobile coupons, gift cards, loyalty cards, and more
Three-inch wired thermal printer for a faster checkout process
Attached card reader that can read both older magstripe debit and credit cards to encrypted chip cards and gift cards.
All the connection cables you need to set up your system and its accompanying components
NCR Silver Pricing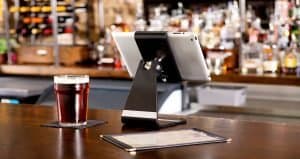 The two NCR Silver POS systems have different price points. As mentioned, their restaurant POS system includes additional features and logically costs a little more.
One aspect of the company's pricing model is not popular with many users. To use the system, you must sign a two-year contract. If something goes wrong and you want out of your contract, you must pay a cancellation fee. But they do offer a free demo before you purchase the solution.
NCR Silver Essentials Pricing
To use either of the two NCR Silver software platforms, you must pay monthly to use one of the company's hardware bundles. But that does not stop thousands of businesses from investing in the system, which is a compliment to NCR Silver.
NCR Silver Essentials starts at $108 per month, including both software and hardware, for one station. You must sign a 24-month contract from the start and additional stations cost $48 per month. The price can go up from there depending on which hardware bundle you select.
NCR Silver Pro for Restaurants
NCR Silver Pro for Restaurants, which comes with added features, starts at $178 per month for software, hardware, and one station. Just like the Essentials package, prices go up from there depending on the bundle you select and additional stations cost $48 each per month.
Top Competitors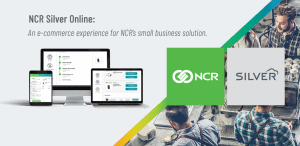 NCR Silver is quite popular and therefore faces a significant amount of competition. Constant innovation and system improvement are needed to ensure any POS software provider is able to maintain a competitive edge.
In our opinion, NCR Silver POS holds its own but faces fierce competition from other POS system providers. Below we cover what we believe to be NCR Silver's top competitors. They are broken down into two groups: retail POS system competitors and restaurant POS system competitors.
NCR Silver Retail POS Competitors
NCR Silver faces competition from two angles because it produces two different products for two distinct audiences. We'll start with its retail POS solution's top competitors.
ShopKeep POS


Some POS solutions are built especially for one specific type of business. For example, there are POS systems built for car washes and retail stores would most likely find them confusing and unhelpful.
Conversely, other POS systems are more flexible and are commonly leveraged by different types of businesses. ShopKeep POS falls into that category, although here we only discuss it as it relates to the retail industry.
The ShopKeep POS system is growing in popularity because it is diverse in its feature set. Many retail businesses of varying types use ShopKeep to manage daily operations. If you own or manage a brick and mortar retail store, ShopKeep could very well be your best bet. It was developed with small businesses in mind. However, it can easily be scaled as you grow to accommodate evolving needs.
Lightspeed Retail POS


Lightspeed Retail POS is a direct competitor of NCR Silver for retail businesses. The system boasts a robust feature set that attracts businesses of all sizes. To be sure, many smaller businesses use Lightspeed POS, making it a system that NCR Silver must watch out for.
Lightspeed Retail POS has become one of the most popular, retail-focused point of sale systems on the market, and for good reason. Its feature set includes numerous advanced capabilities that many similar solutions do not.
For example, it comes with built-in eCommerce store features—but so does NCR Silver. One thing it features that NCR does not is built-in search engine optimization (SEO) tools to boost the visibility of those online eCommerce stores.
Lightspeed Retail POS is cloud-based and can also manage operations at multiple store locations. That is another area where it competes with NCR Silver. However, where Lightspeed POS has NCR Silver beat is on price. Lightspeed starts at $69 per month and goes up from there—and it doesn't require a two-year contract.
NCR Silver Restaurant POS Competitors
Lightspeed POS, mentioned above, sells a restaurant version of their POS software just like NCR Silver. So do many other POS system providers.
Then, there are some POS solution providers that develop POS systems solely for use by the food and beverage industry. Those systems are direct competitors of NCR Silver PRO for Restaurants. Here are two of those top competitors.
Toast POS


As you might have guessed, Toast POS is built for the food and beverage industry. After all, toast is food. POS solutions developed specifically for the food and beverage industry need a few specific POS hardware components and software features that retail systems don't require.
Toast POS is known for its ability to increase productivity and efficiency in eating and drinking establishments. The system delivers robust features such as employee scheduling, menu management, easy check adjustment capabilities, tip tracking, and table management, among others.
Toast POS features a user interface that is quite intuitive and easy to use. This gives employees the capacity to streamline processes that would otherwise be completed manually. It can add, change, and delete items from patrons' checks automatically. Moreover, it allows users to process multiple checks at the same time—a feature that would be useless to retail stores.
Toast POS is a popular choice for food and beverage establishments of all kinds. It is leveraged by small businesses as well, making it a viable competitor of NCR Silver.
Cake POS

Cake is also food so it's only logical that Cake POS would be designed for the food beverage industry. It delivers the features that restaurant owners look for in a POS system. It also features POS capabilities that are useful to any type of business, such as powerful reporting and metrics.
Cake POS captures and stores a significant amount of data that can later be leveraged for a variety of purposes. That includes inventory and sales data along with customer data such as past purchase history, purchasing behavioral patterns, and customer demographics.
With the extensive data that Cake captures, dining establishments can engage in powerful, custom sales reporting. They can also deliver a more personalized experience to customers with the insight gleaned from that data. This allows food and beverage businesses to make better, more informed decisions around growth strategy, giving them a competitive edge.
Plus, Cake POS includes a dashboard full of metrics that allows users to maintain constant insight into the metrics that they need to see at any given time. These data collection and analysis features are key selling points for Cake POS. They are also primary reasons why Cake POS is a direct competitor of NCR Silver.
Honorable Mention: Clover POS

NCR Silver is built to accommodate the needs of various types of businesses, from car washes to fine dining restaurants. It's more than a simple POS system, as mentioned above, because it helps you manage nearly all aspects of business operations.
Clover POS is the same in that sense. It is an ideal solution for a wide spectrum of businesses, from all types of retail stores to food trucks and service-based businesses.
Clover POS, just like NCR Silver, is an end-to-end business management solution. It combines payment processing and point of sale features in one single software platform. Plus, it is compatible with third-party hardware components like payment terminals, cash registers, cash drawers, and credit card readers.
In fact, Clover POS is highly configurable. It integrates with more than 300 third-party applications, which are available in the Clover App Market. Clover POS is used by thousands of businesses and poses a direct challenge to NCR Silver.
Is NCR Silver Right for You?
Now that you have all the information and insight provided above, what do you think? Is NCR Silver the right solution for your business and its unique needs? If you own or manage a retail store or food and beverage business, it might just be.
NCR Silver, on the surface, seems cost-prohibitive for small businesses. However, when evaluating this system, you must take into account the cost of purchasing your own POS hardware components separately.
First, if you piece together a POS system by purchasing components from various vendors, you run the risk of compatibility issues. Second, purchasing hardware components is a significant investment.
On the other hand, leasing hardware—which you essentially do with NCR Silver—reduces costs and means you always have the most up to date components running your system.
It can cost thousands of dollars to purchase your own hardware. If your card reader breaks, the vendor doesn't bring you a new one like NCR Silver does. Rather, you must purchase a new one.
There are pros and cons to each approach. The most intelligent way to find the best system is to create a list of requirements, do extensive research into various systems, make a shortlist, and do a free trial of the one you like most before purchasing it.
In that way, you can ensure that when you do decide to invest, you will be confident in your decision and be ready to hit the ground running.