If you have been in sales or the retail business, you know what you need to sell more and drive revenue growth. It comes with the territory. Nova POS was designed by retailers, for retailers. Those retailers who designed the system also know what it takes to sell more and drive revenue. They worked those capabilities into their system, which we'll cover in our Nova POS review.
Point of sale (POS) systems typically include the basic features that retail stores need to operate and streamline operations. However, Nova POS is more than a simple POS system. It includes features that most point of sale systems do not, bringing every function into the same solution.
Nova POS is similar to all-in-one or unified customer relationship management (CRM) systems. Those systems have evolved to include functions such as sales and marketing automation as well as CRM, on the same platform.
Similarly, Nova has taken POS systems to a new level. The system includes features that eliminate a business's need for additional software by incorporating capabilities from other systems.
However, the POS space is extensive, and some of the best POS systems are known across the industry. Nova faces stiff competition from all sides, which is one reason it differentiates itself with such a diverse system. We'll dive into that diversity below, but first, let's summarize our overall opinion of Nova POS.
Our General Opinion of Nova POS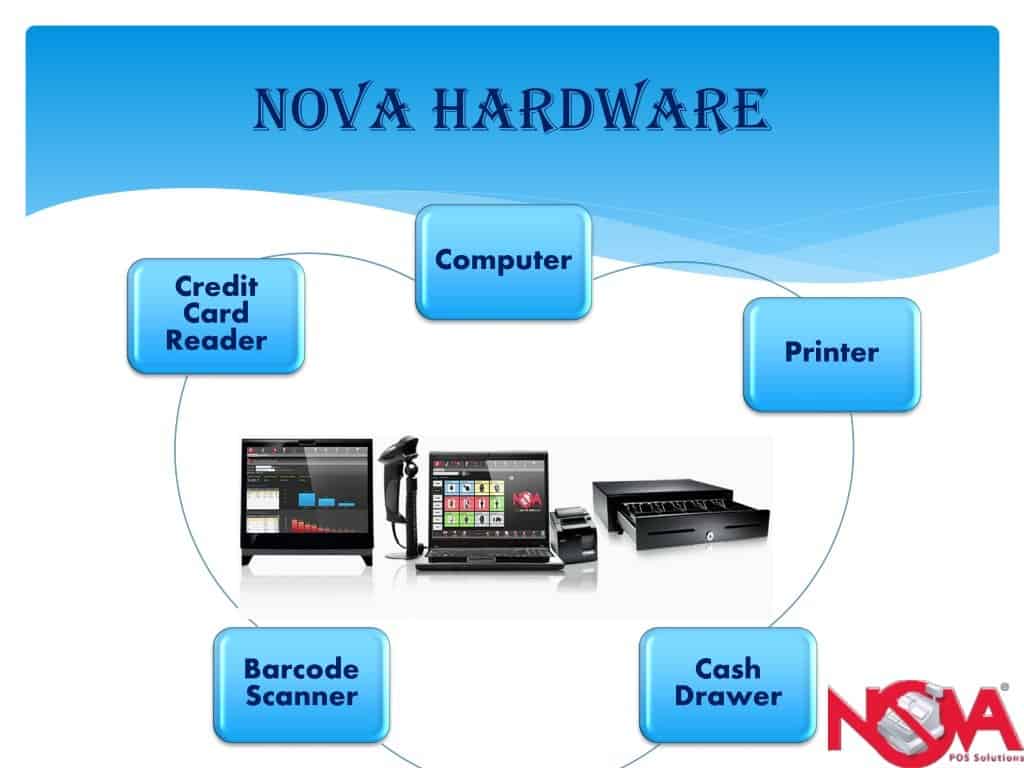 After considering the range of retail business functions Nova POS covers, we started to see its unique value. We rarely see a system with such a broad feature set, designed to help businesses sell more and drive revenue growth.
Why We Like Nova POS
Nova POS was built with the needs of retail business owners in mind. Most retail businesses may have a tech stack that includes a CRM system, marketing automation solution, and more. The folks who developed Nova realized this and knew there was a better way.
The All-in-One POS System
Nova's founders saw retail store owners paying for various systems and dealing with the headache of integrating them all. The more systems you have, the more difficult it is to maintain a clear view of your data and performance results.
Nova decided to incorporate CRM capabilities and marketing automation features into its POS system. This relieves owners from the burden of maintaining such a large tech stack. It also eliminates the need to integrate various systems, which can lead to data integrity issues.
With Nova POS, all business data is captured, analyzed, and stored in the same system. When all your data lives under the same roof, it is exponentially easier to maintain constant insight into business results. Nova, by combining various software capabilities into an "all-in-one" POS system, excels at that.
Our Overall Rating of Nova POS
Overall Rating: 4.7 / 5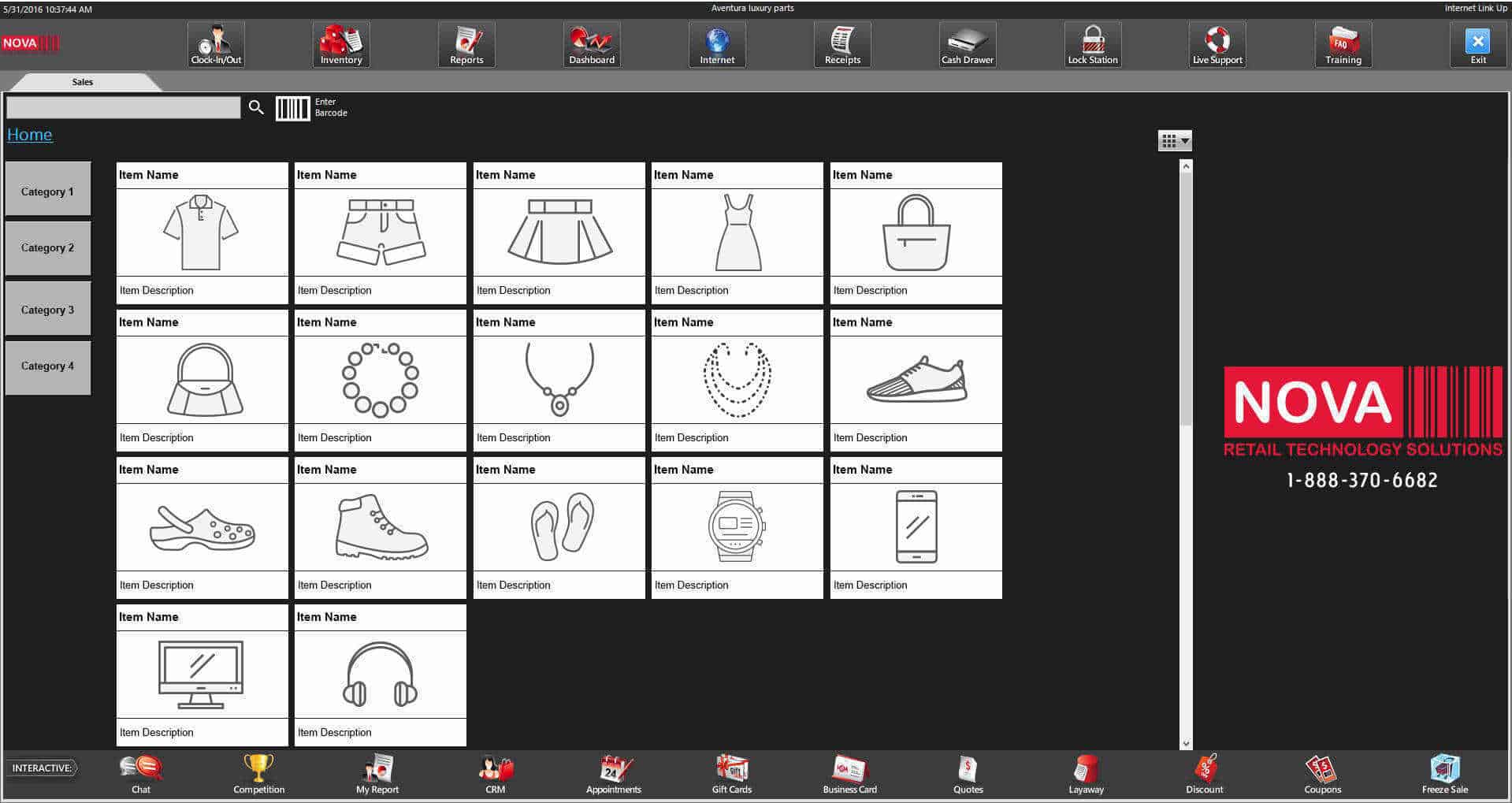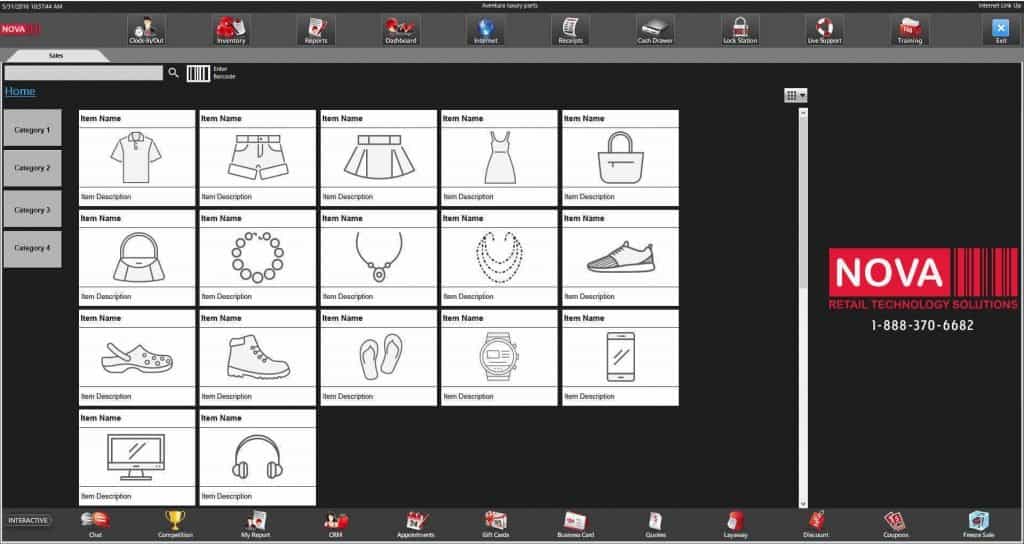 Because Nova takes an innovative approach to POS software, we give Nova POS 4.5 out of five stars. We like the company's innovative mindset and approach to helping businesses grow.
Their focus on empowering companies to improve the customer experience and foster better customer relationships differentiates them from many other POS systems on the market.
Nova POS Pros and Cons
Every software system has its issues. From the first software bug—discovered by Thomas Edison— to outages of cloud-based software today, they all have imperfections. Nevertheless, we feel Nova POS's advantages outweigh its disadvantages.
Pros
Sales competition features motivate employees to sell more and enjoy their jobs, increasing employee satisfaction
Robust reporting for constant insight into results
Intuitive, user-friendly interface makes the system easy to use for even the non-tech savvy
Mobile app allows users to check in on important metrics from anywhere they have internet or mobile data
An attentive customer support team, which is available 24/7
Cons
Some users report the occasional system error, but which system doesn't experience this?
Nova POS is not supported by Apple Mac computers, although the mobile app is available for iPads and iPhones
Some users report the system's inventory management features leave something to be desired
Which Businesses Use Nova POS?
Nova POS was clearly built for the retail sector—the company makes this clear on its website. It also specifies that the system was built with the needs of businesses of all sizes in mind.
Regarding retail businesses, Nova POS tends to be most heavily used by certain types of retail businesses. Those include:
Cart/Kiosk Retailers
Gift Shops
Hobby Shops
Online Retailers
Fragrance/Cosmetics Retailers
Skin Care Retailers
Liquor Stores
Clothing/Accessories Retailers
Franchises Retailers
Wholesalers
Nova POS Review: The All-in-One Feature Set
This is where the system gets interesting. Below we'll cover some of the key features Nova POS offers. You'll be surprised to see features listed below that you may not have seen in any other POS system.
Employee Scorecard Functionality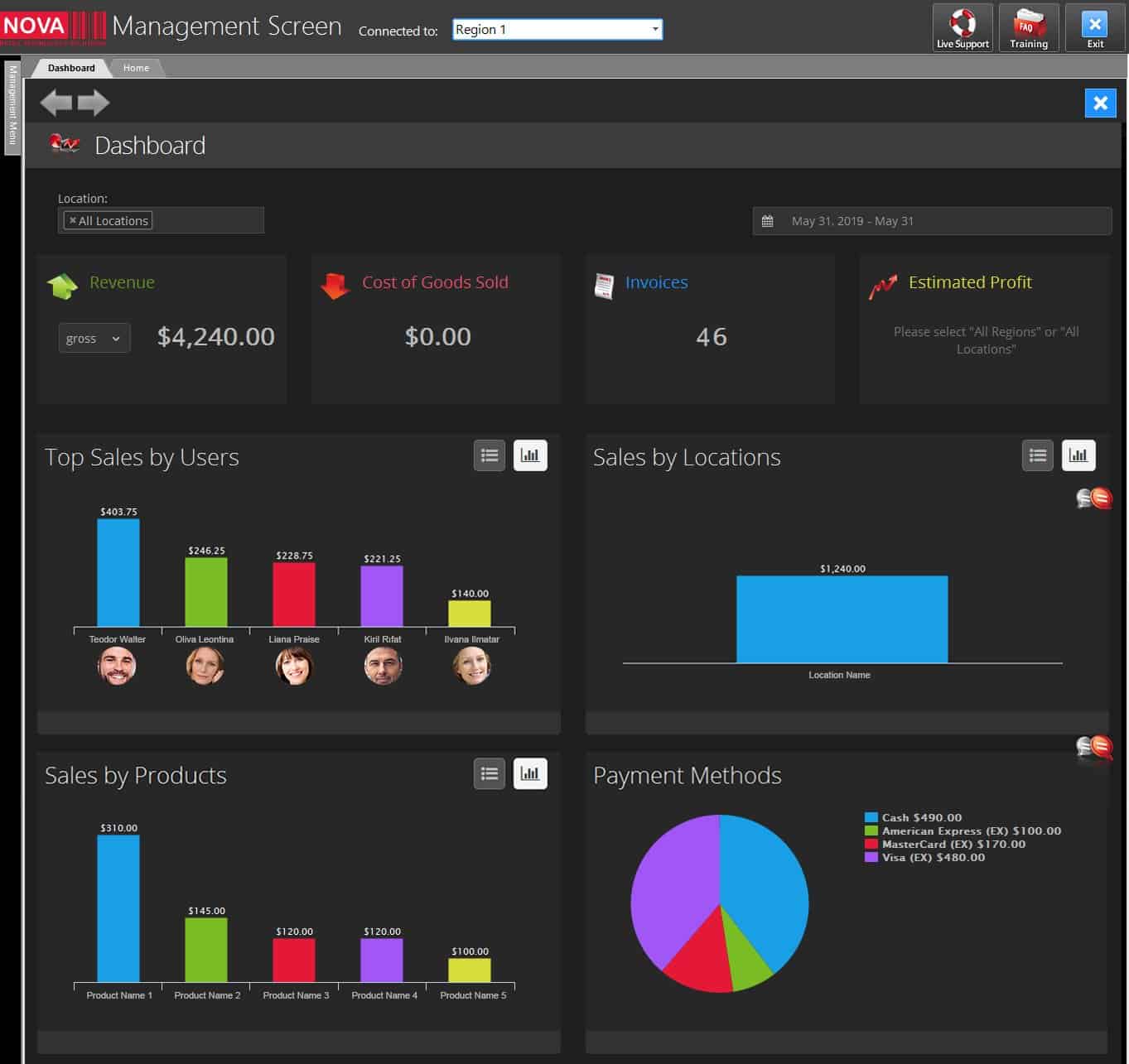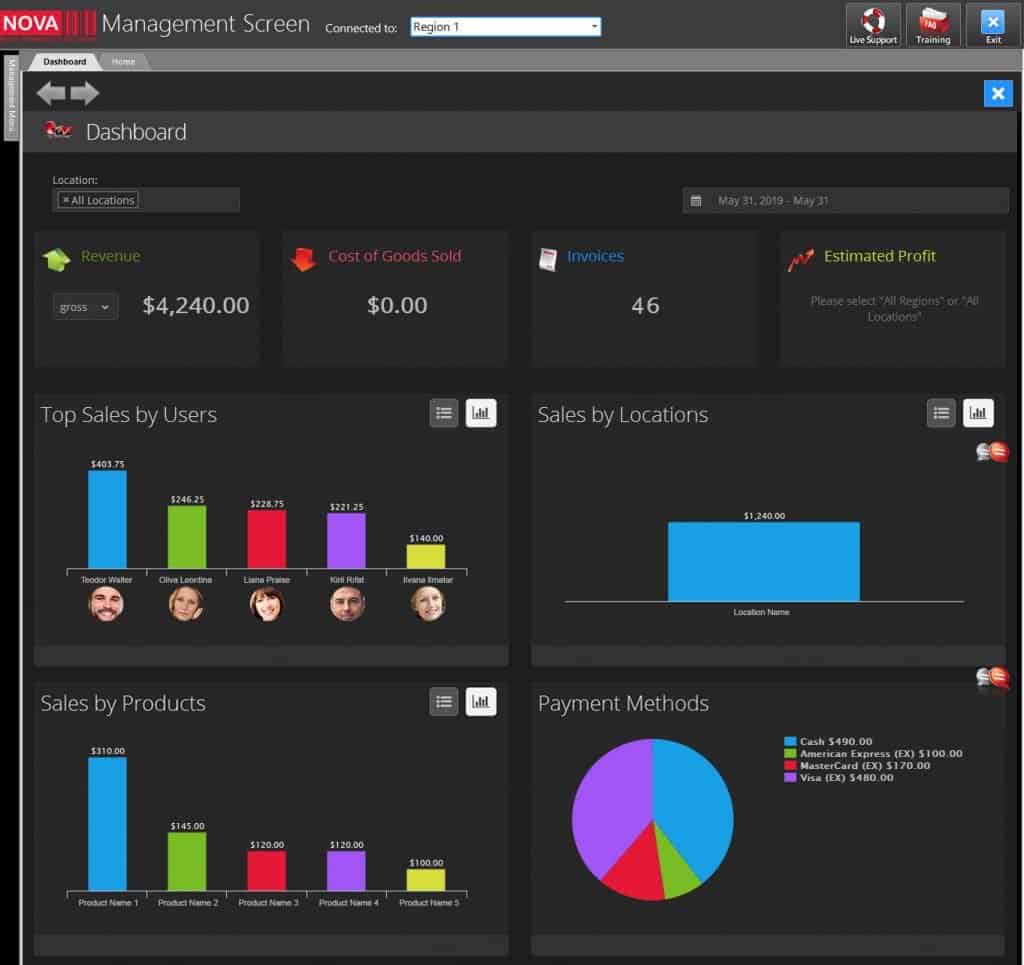 Nova POS makes it easy to see who is performing well and who needs improvement. This allows store managers to keep their finger on who is moving the dial and who may need additional mentoring or guidance. Finely-tuned employee performance management is a major revenue generator.
Real-Time Insights
With customizable dashboards that display the information you need to see the most, you maintain constant insight. Because these dashboards are populated with real-time data, you'll never lose sight of how your business is performing. Up-to-the-minute metrics around each transaction ensure this.
Sales Negotiation Guidance
Nova POS includes features that allow store managers to train their staff on how to upsell to customers. This is key to business growth as it generates repeat customers, who often provide the bulk of a business's revenue.
Employee Motivation Capabilities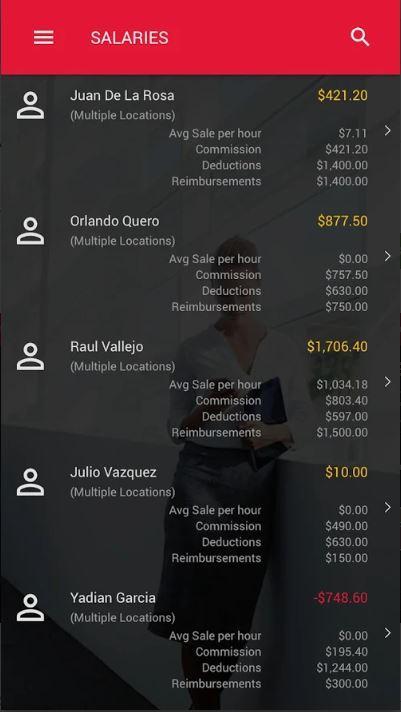 Most of us have a competitive streak that comes out when competition arises. Nova POS delivers built-in sales competition features that let employees see who's leading the pack and who is trailing. Nothing motivates a mediocre salesperson to up their game than public visibility of their results.
Accounting Features
Nova POS not only serves salespeople and those on the floor of a retail store. It also delivers back-office features, making it a true all-in-one point of sale system. Accounting is made easy with the ability to oversee, process, and analyze every facet of your sales revenue and expense accounting.
Customer Loyalty Programs
Loyal customers are immensely helpful in growing a successful business. They provide word of mouth advertising, which is the most effective kind.
They also come back to purchase more. Essentially, they become brand advocates. Nova POS makes it easy to develop customer loyalty with advanced loyalty program features.
CRM Features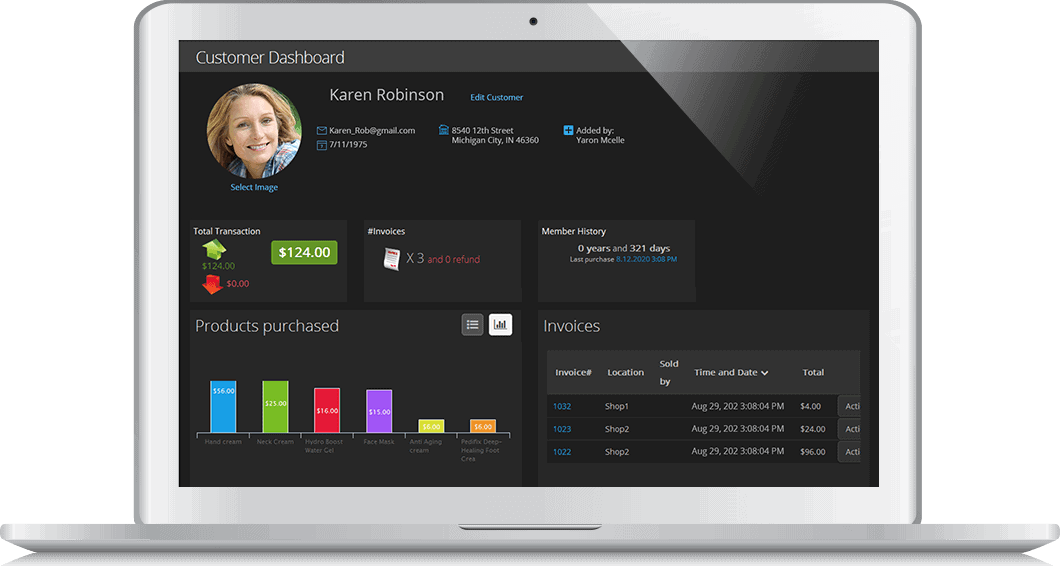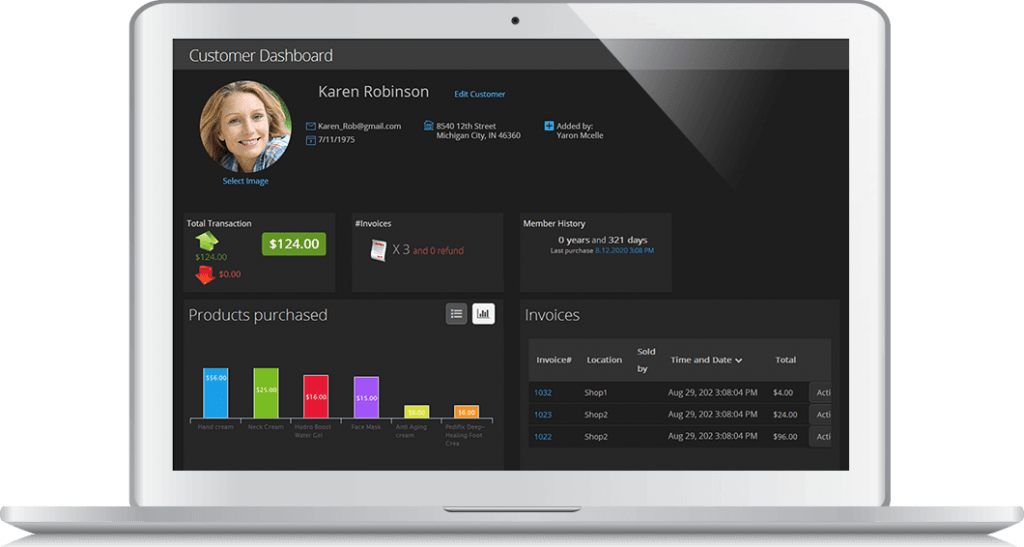 Nova POS lets you form closer, more personal relationships with your customers by getting to know them better. The system lets you create a database full of customer information. That data grows with each purchase. This facilitates the building of increasingly detailed customer profiles and allows you to deliver a more personalized customer experience.
Email Marketing Campaigns
Automated email marketing campaigns combined with CRM capabilities are another reason we consider this to be an all-in-one POS system. By collecting personal data through CRM features, users can email previous customers about discounts and other offers. This is a great way to encourage past patrons to return for more.
Branding Capabilities
Branding is important for any business. It defines your company's public-facing identity and personality. Consistent branding is essential, and Nova POS facilitates this. You can use the system to customize your receipts, gift cards, business cards, and more with your unique company branding.
Digital Signatures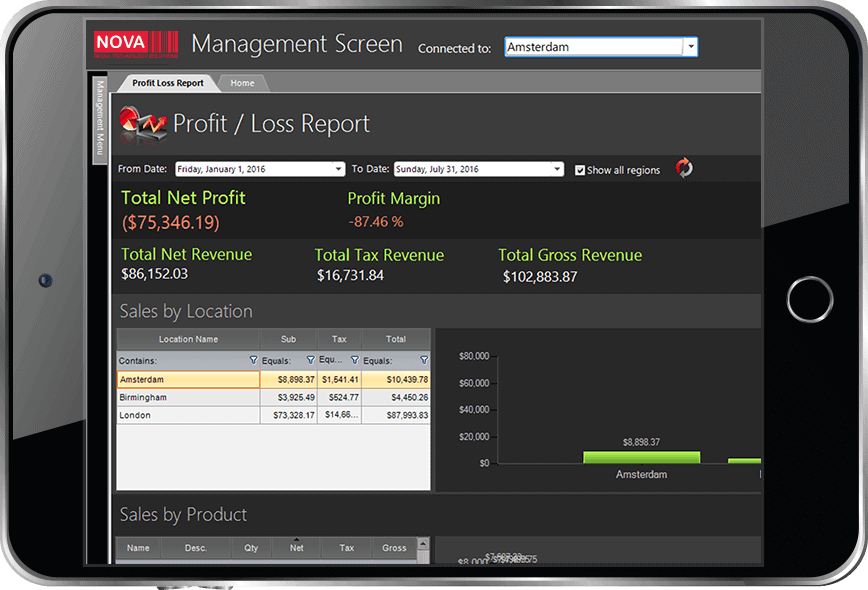 You never know when a customer might be dissatisfied with their purchase and ask for a refund. If they have a good case and the product remains in its original condition, refunding their purchase is a good idea. It means they'll be more likely to return in the future.
Nova POS provides digital signature capabilities and stores customers' signatures in their contact records. That eliminates various, time-consuming steps from the return and chargeback process. Every minute saved is important. They add up. Consider this one more time-saving, productivity-increasing feature of Nova POS.
Live Webcam Monitoring
Including live closed-circuit television (CCTV) capabilities in a POS system may be a new concept for you. But it's certainly a logical addition to any system that caters to the retail sector.
This harks back to our sentiment that Nova POS is an all-in-one POS system. Most retail stores invest in camera monitoring systems anyway. They do this to monitor shipments, deliveries, and staff—as well as theft. Nova POS users can do all that, with video in real-time, from a single system.
Multiple Store Management
Do you manage multiple stores across a given geographical region? If so, Nova POS makes doing so a breeze. You can run detailed reports for any specific store or reports that compile and analyze metrics across all stores.
Mobile App Features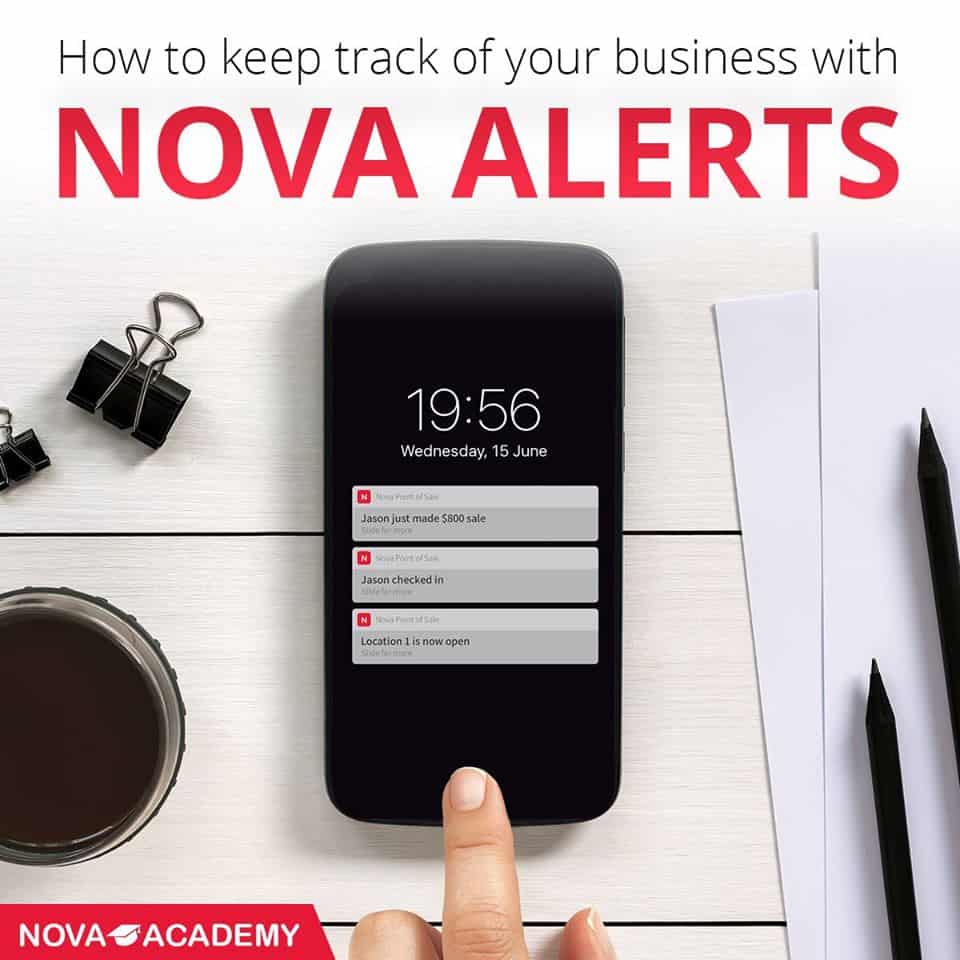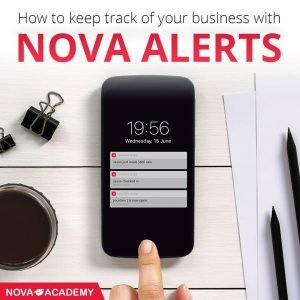 Nova POS is available from the Apple App Store for use on iPads and iPhones. It is also available for use on Android smartphones. A few key features of the mobile app include:
Nova Alerts
You can set up alerts to notify you of certain developments at any given store. As a multiple store owner, this ability is incredibly important.
Salary Access
Employees can download and log into the mobile app to check their salary, the status of their paycheck, and more.
Employee Scheduling
Managing employee schedules across multiple store locations wouldn't be possible without going to each store and developing individual store schedules. Unless, of course, you have the Nova POS app. With the mobile app, store owners and managers can manage employee scheduling from the comfort of their home.
Nova POS Pricing
Nova POS's pricing information is quite easy to find on the company's website. It's front and center, listed in the top menu navigation. As we've mentioned before, consumers often look for pricing information before searching for anything else when evaluating software systems.
If pricing is hard to find, or you must call for a quote, you're more likely to look at other providers instead.
Nova POS offers two clear pricing options and they are very easy to find on the company website. Plus, they offer a free trial.
Free Trial
Free trials are a vote of confidence in the vendor you're evaluating. It's important to have the opportunity to test out a software solution before investing in it. Nova POS gives potential customers that chance by offering a 10-day free trial, with no obligation to purchase. If you don't like it, you simply move on to evaluating other systems.

Nova Flexible Plan
This is their cheapest plan, with a price tag of $89.99 per month, per location. It comes with all the same features as the plan below. The difference between the two lies in the fact that this plan offers you the option to:
Choose from any of Nova's preferred merchants
Choose between two gateway options: GS Paytech or Authorize.net
NOTE: This plan is only available in the United States.
Nova Pro Plan
This plan is designed for more established businesses. It includes all system features, as mentioned above, and comes with a price tag of $129.99 per month, per location. The difference between Nova Flexible and Nova Pro is that the Pro plan provides you with the option to:
Choose your own merchant provider, not one specified by Nova
Choose your own gateway provider, giving you more flexibility in how you run your business
NOTE: Both plans above, in addition to providing all system features, come with 24/7 customer support.
Is Nova POS the Solution to Drive Your Success?
The only person who can make that decision is you—and you should do so by evaluating your needs against Nova's capabilities.
As we tend to recommend, start by creating a list of features and system requirements that will fulfill your needs. Next, consider your budget.
While looking at different systems, shortlist the ones that fit your budget and check the most items off your requirements list.
Take your time. Don't rush into any decision. There are many great retail POS systems available. However, with its extensive feature set and revenue-driving capabilities, Nova POS may be the system for you.
Take time to complete your due diligence. Try to get a free trial to test drive your new system. If you can't get a trial, at least ask for a demo. Use your needs checklist and follow our advice above and you'll find the right retail POS system, whether it's Nova POS, Revel POS, ShopKeep, or any other retail POS system.