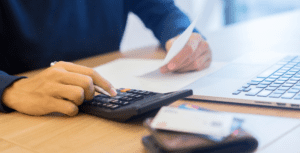 If you are like most small business owners, payroll day is not your favorite day of the month. Why? Paying your employees often means that you're neglecting crucial responsibilities as a business owner by spending a large amount of time on calculating your payroll. Let's face it… it's not an exciting task by any means.
It's a common misconception that small businesses don't need to utilize payroll software. However, this is simply untrue. Initially, payroll systems were designed for larger scale businesses. As these systems have developed over the years, the software has become much more accessible. There are more features found in payroll software now that are applicable as well as beneficial to small companies.
When business owners run their payroll, the process involves calculating and issuing earnings to their employees. Business owners are responsible for accurately calculating employee hours and pay rates to distribute their gross wage amounts. In addition, employers will be expected to make any necessary tax deductions based on local and federal laws, insurance, health care, social security, and more. Needless to say, running payroll can easily become not only disorganized, but inaccurate.
To mitigate the headache of the payroll process, most small business owners have come to the solution of outsourcing the task by hiring a full-time accountant. While having an accountant on board as an advisor to run your payroll for you, it's not always the best solution, especially for smaller companies. On average, accountants charge anywhere from $125-$425 (1) an hour. Hiring an accountant alleviates the responsibility from falling solely on the employer, but it's a ton of money every month that's being spent to run your payroll.
Never purchased a payroll system before? Check out this first time buyers guide to help you get started.
How Does a Payroll System Work?
Payroll software is designed to allow business owners to run payroll in-house, without having to outsource to a pricey option. These systems are able to manage all employee monetary transactions within your company. The 3 key features of any robust payroll software include:
Save Time – If you've ever ran payroll before, you know that it's a timely process. It's been reported that a majority of small business owners spend anywhere between 1-5 hours every month (2) managing their payroll tasks. In addition, the same survey found that most small business owners report spending more than 41 hours annually on end of year tax preparation. Payroll software can manage the calculations and deductions for you. What could you do for your business with all that extra time?
Avoid Tax Filing Errors – Tax codes and policies are always changing. It can be overwhelming to attempt to stay on top of the new rules and regulations that are being set in place. Also, as a business grows (either by employee growth or income growth) the tax policies will change. At some point or another, most business owners will have an encounter with the IRS. The reality is that the IRS loves to enforce penalties. Recent figures have shown that 40% of small business owners are fined annually for errors in payroll tax filing. It's at the expense of the employer when mistakes are made with tax compliance. Not only will a payroll software allow you to make complex calculations with accuracy, but these systems are tax compliant for your specific business needs. Many payroll companies also offer penalty protection in the event that you do get a penalty from the IRS.
Save Money – Most payroll systems are set up on flat rate + per employee fees. While this can quickly get costly for larger corporations, this is a big advantage to small business owners. The average cost of a subscription to a software is typically around $30-$100/month depending on the plan you select. Then, employers will pay another per employee cost. In comparison to paying an accountant hundreds of dollars per month to handle your payroll, and then hundreds to thousands of dollars more at tax time – this can cut your financial budget significantly.
Payroll software is a win-win scenario for employers. You're able to manage your payroll in-house, in a fraction of the time, with more accuracy, and spend less money.
Best Payroll System for Small Business
Now that you know what exactly payroll software can do for your business, the next step is deciding which system is right for you. There are tons of options available on the market, but not all of them are small business focused. After researching and reviewing the payroll market, we've narrowed it down to the top 2 payroll systems that are specifically geared toward small companies.
Gusto vs. OnPay Payroll Software
If you're a small business owner looking for payroll software, you should consider both Gusto and OnPay for your provider. Both of these companies have unique features that will be beneficial to smaller companies.
Let's break down the pros and cons of both to find which one would best suit the needs of your business.

OnPay started as a family company. In 2007, Jesse Burgess joined the company with one main priority, which was to help the family company's 6 payroll clerks become more efficient. At the time, the company had 200 small business clients that they were managing. With the help of Jesse, the payroll clerks on staff were able to automate tasks and move their process completely online. That's how OnPay as we know it now was born. OnPay is different from other software companies on the market. The main factor that sets their company apart from the rest is that they have the experience of being a payroll business. Their software was created out of need to streamline their already existing business.
Features of OnPay Payroll
Payroll that Integrates with QuickBooks – Most businesses are familiar with QuickBooks. If you're already using QuickBooks for your accounting needs, great! If you decide to switch to OnPay, there's no reason that you have to stop. OnPay integrates with QuickBooks Online, QuickBooks Desktop, and QuickBooks Time. This integration will allow you to sync any payroll data automatically to your QuickBooks account.
Efficient PTO Management – Calculating PTO can be a major headache for both employers as well as employees. OnPay will manage your PTO for you. Their PTO features include custom paid time off policies, in-app requests and approvals, a shared PTO calendar and reminders, and email notification alerts. Also, time accrual is much simpler using their software. Employers can create up to 3 accrual tiers, so that employees can earn PTO at different rates depending on their position. Every time you do payroll, hours are automatically calculated and added into each individual employees' profile. No more having to second guess who has how much time off, and when they'll be taking time off. It's all calculated automatically and reported onto the central calendar.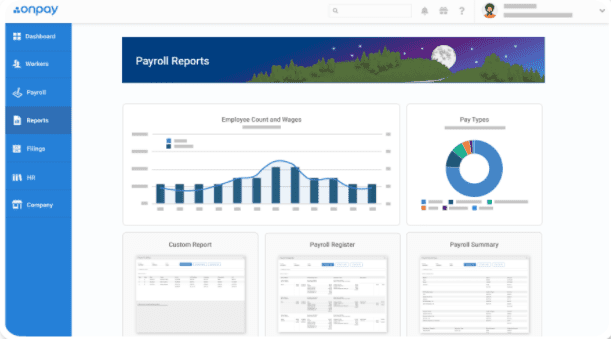 Automated Taxes – OnPay takes care of all of the local, state, and federal taxes for you. They also back the accuracy of their tax calculations with over 30+ years of payroll experience as a business.
Built-In HR – With all of the HR tools offered from this system, you likely won't need a designated human resources employee, especially if you operate a small company. The HR features offered from OnPay are arguably one of the most impressive features that they offer. Some of the HR tools included in their serves include e-signing, automated onboarding flows, compliance audits, online I-9 and W-4 forms, personnel checklists, and more. In addition, employers and employees can access the OnPay HR resource library to access legal guides and templates in seconds.
Customer Service – This company is known for their outstanding customer service. Their email support opens at 7 am on weekdays, and phone/chat support are open from 9 am – 8 pm EST. Their payroll experts are ready to assist you with account migration, app integrations, and more.
Transparent Pricing – OnPay is very upfront with their pricing structure. There are no hidden fees. All of the features that their company boasts are included with the monthly fees. The base fee is $36/month and each additional employee is $4/month.
OnPay Reviews
On a popular public online review site, OnPay currently has almost 200 consumer reviews and a 4.7 star "Excellent" rating from their users. Some of the most recent reviews raved about the superb customer service from this company, and how much time was saved by using their software. Several user reviews also noted that this software was very easy to use, even if you have never used payroll software before.

Gusto was founded in 2012 by Joshua Reeves and Edward Kim. Originally, Gusto was known as ZenPayroll. This company went really big, really quick. Just a year after being founded, by the end of 2013 their company announced achieving the $100 million mark in annual payment processing. Currently, Gusto reports that their company serves over 200,000 businesses nationwide. Their payroll service has won an array of awards over the years, with titles like Best Online Payroll Software and Best Benefits Administration Software.
Gusto Payroll Features
Workers Comp Partners – You can handle your workers comp and your payroll in one place. Gusto's insurance partner AP Intego will integrate your policy with your Gusto account. This will make insurance premium deductions a breeze.
Tax Compliance – Just like with OnPay, Gusto takes care of all of your tax filings for you. All local, state, and federal taxes will be automated using electronic sign and file technologies. The forms they take care of include W-2, 8974, 941, 940, 1099, and other necessary local and state paperwork. Essentially, any tax form that you would need to complete – they have it covered.
Debit Card – This feature from Gusto is a really unique one for a payroll software. When using Gusto, employers can offer their employees paperless paycheck through direct deposit. In addition, employees can choose to access their money sooner and easier through the Gusto employee debit card. Employees can simply opt-in and their paycheck will be automatically loaded onto the debit card when the payroll is run. Employees can also have personal access to their paystubs via the payday email sent to employees, on their Gusto employee account, or by downloading the Gusto Wallet app.
Employee Benefits – One of the most attractive features offered by Gusto is the variety of benefit options that they have available. If you are already using other benefit providers for your business, you can simply transfer and sync them into your Gusto dashboard so that all your benefit administration information is located in one central location. If you do not already have benefits set up, Gusto can help you with selection. Not only do they have standard offerings such as medical, dental, and vision, but they go above and beyond with this aspect. You can set up custom employee benefits and include options such as cell phone and gym perks.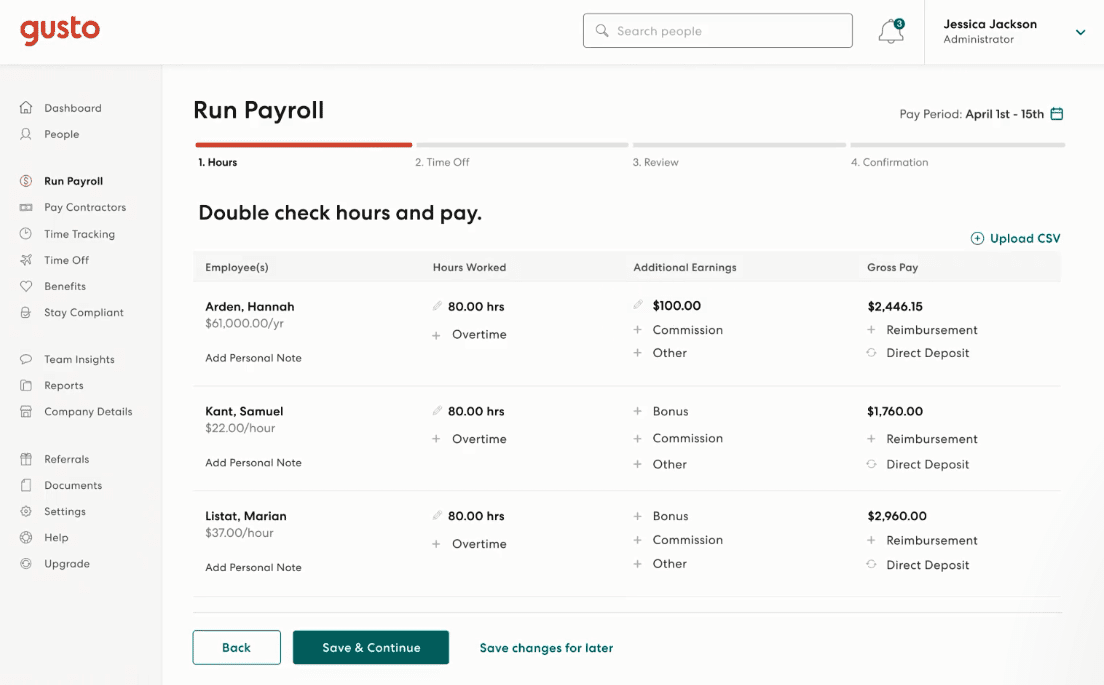 Simple User Interface – Gusto's software is really user friendly. Their dashboard is displayed in an organized manner using easy-to-read fonts and color schemes. If you're overwhelmed by the thought of using a payroll software for the first time, the navigation options make it fairly fool proof. Plus, if you need help while you're working with the software, there are help buttons displayed throughout the screen that are ready to connect you to their help center.
Gusto Pricing and Consumer Reviews 
Unlike OnPay, there are multiple different pricing packages you can choose from with Gusto. Some people like the option of upgrading or downgrading packages, while others will prefer the one size fits all pricing option that OnPay offers. Their most affordable plan is a $39/month base fee plus an additional $6/month per employee. Their most expensive package is $149/month base fee plus $12/month per employee. Of course, the more expensive the plan that you select, the better features that you'll get. That's a drawback of using Gusto vs. OnPay. With OnPay, you get access to all of their features because their base rate is the same for everyone. 
Gusto has fairly positive user reviews online. However, some of the most common grievances were regarding their pricing. Several users reported that their pricing was too expensive for the features that you get. The other common complaint was that there is no mobile app. Gusto does have a mobile-optimized desktop version that you can access from whatever phone or tablet device that you are using. However, with such an interactive dashboard, there is a lot of scrolling required to interact with their software from a mobile device. Something to keep in mind if you plan on accessing your payroll from mobile.
The Final Verdict 
It's clear that these companies can both be beneficial to business owners. They each have features that set them apart from one another. If you are looking for a more affordable option that is focused more employee management, HR, and has a wide variety of third-party integration capabilities, you would probably be more satisfied with choosing OnPay. If you are looking for a software that has package upgrade options to scale with your business and offers some unique perks to your employees such as debit card payments, Gusto may be the better option for you. 
The bottom line is that no matter which software that you choose, both of these are great options for small business owners. If you are not already using a payroll system, it's something that you should consider investing in now to streamline your payroll process, save you time and money, as well as benefit your employees. 
Still unsure which system is the right pick for you? Check out our in-depth payroll systems article here.