To compete in today's saturated, competitive markets, you need a point of sale (POS) system; here we provide a QuickBooks POS system review to aid in your search for the perfect system.
QuickBooks is made by Intuit, a household name in the technology space. They manufacture solid software solutions, so QuickBooks is a good choice for many businesses. It is designed for retail businesses and those are the businesses that use the system the most.
QuickBooks POS is designed for retail stores and helps them increase efficiency through the automation of tasks that are otherwise completed manually. It also increases productivity, revenue growth, and many additional benefits for your business, which we will dig into below.
QuickBooks is an on-premise solution and is appropriate for a vast array of businesses. It could be the perfect solution to your POS needs.
Below we discuss some pros and cons of the QuickBooks POS system, top QuickBooks POS competitors, some of the benefits it provides, types of POS systems, compatible operating systems, QuickBooks software features, hardware options, and pricing.
Get A Quote from QuickBooks POS
QuickBooks POS Pros
Most QuickBooks PS user reviews are positive. Most users love the system. There are too many system pros to discuss here. However, here are a few of the most commonly cited QuickBooks pros:
Intuitive System—Users report that the system is easy to learn and use, even for new employees
Inventory Management—The system delivers robust inventory management features and can store and process over two million stock items.
Easy Data Access—QuickBooks POS stores loads of data, which is very easily accessible by users.
Integration with QuickBooks Online—Integration with QuickBooks Online eliminates the need for manual data transfers because data synchs over to the online database automatically.
Highly Customizable—The ability to customize the system to meet your unique business needs makes the system even easier to use.
30-Day Free Trial—You can test drive the system for a month to assess whether it's the right system for you and your business needs before you shell out the money to purchase the system.
QuickBooks POS Cons
Although most users are more than satisfied with QuickBooks POS, some users are not so enamored with the system. Dissatisfaction with a software solution often results from a lack of user training and an inability of lack of knowledge about some of its most powerful features.
Regardless, users don't tend to cite many negative system aspects in their reviews, but there are some common complaints that appear in those reviews, including:
Pricing—Although QuickBooks POS's price tag is ultimately worth what you receive in return, its pricing structure is different (we touch on this below) and can turn some potential customers away.
Operating System Compatibility—QuickBooks is an installed solution and can't be accessed through a mobile device. It's only compatible with Windows' operating system (we expand on this below).
Customer Support—During our research, we read various user reviews claiming that the company's customer support needs improvement—and this was a very common complaint.
Payment Processing Fees Not Included—Although the QuickBooks POS system carries a relatively high price tag, that price does not include payment processing fees.
Top QuickBooks POS Competitors
QuickBooks POS is a popular system with a significant amount of competition. Here we list some of the top systems that compete with QuickBooks POS.
Lightspeed POS

Lightspeed POS is a very customizable POS system and is a common alternative that businesses select instead of QuickBooks POS.
Users tout its inventory management, employee management, reporting, and multiple store management features as being major selling points.
Lightspeed also delivers superior user training and performance management features to ensure users learn the system quickly. Those features also enable business owners to generate the greatest possible return on their investment (ROI).
However, customization features and system flexibility are truly the capabilities that impress most users. With tons of add-on features that integrate with the system—such as email marketing—you can customize Lightspeed to meet your unique needs.
Lightspeed Pricing
Prices for the software system start at $69 per month. You can purchase hardware components individually or purchase a complete system bundle. Bundle prices start at around $700.
ShopKeep

ShopKeep is a popular POS system for retail stores that experience an abnormally high volume of customers at unexpected times of the day.
Features that catch buyers' attention and are loved by users include the system's ease of use, the capacity to process mobile payments, and the ability to email receipts to customers. The latter helps retail stores grow their email list for email marketing.
The company provides best-in-class customer support, which is critical when an issue arises and you need to resolve it rapidly. Users consistently compliment ShopKeep for the high quality of the company's customer support.
Solving issues quickly is essential for retail stores that experience mad rushes and the store is so busy that employees are challenged to handle the volume of customers in the store.
ShopKeep Pricing
ShopKeep software prices are not published on its website—you must call for a quote. We did so and the most basic software package starts at around $69 per month. Hardware must either be purchased separately or in a comprehensive ShopKeep POS system bundle that includes software and hardware in one comprehensive kit. Bundle prices start at around $800.
Square POS


Square POS is a very reliable and versatile system for retail stores. It is one of the most popular names in the industry. It is a cloud-based system that relies on a tablet or smartphone as the central brain of the system.
It integrates easily with POS hardware components from most third-party providers, making it easy to configure your ideal POS system by purchasing the hardware components you need from the vendors you trust.
It offers a few of its own POS hardware components—such as cash registers and various types of card readers that connect directly to your mobile device.
With Square, you can process payments from just about anywhere. It can also track inventory, keep tabs on sales, and send digital receipts to patrons.
Square POS Pricing
Perhaps the best-selling point for Square POS is that its software is free to use and includes a free card reader. You only pay credit card payment processing fees, which are about 2.5% of the purchase plus 10 cents. Hardware must be purchased separately or in bundles and pricing varies according to the hardware components you need.
Springboard Retail

The majority of businesses that use POS systems are retail stores. Springboard Retail is one of the best retail POS systems for businesses with multiple locations.
Any business that operates and manages multiple locations needs a system that can run reports with data from all its stores, all from a single system.  Data from every store gets collated into one database and the system can provide metrics across all locations, or drill-down reports for a single location.
Springboard Retail is cloud-based and can be managed through a tablet or other mobile device, which makes managing multiple locations exponentially easier on the end-user as they can check in on inventory, sales, and other metrics anytime, from anywhere.
Managing multiple locations can be a headache. Keeping up with data from all locations can become a monumental challenge if processes are not configured to account for data coming from every store. Springboard Retail eliminates that challenge.
Springboard Retail Pricing
Springboard Retail software pricing starts at $99/user for the most basic package and increases from there if you want more features. The company doesn't manufacturer hardware but it does sell hardware on its website—including individual components and comprehensive bundles. Bundles start at around $500 and go as high as $2,000 depending on your needs. Individual component prices vary, depending on the tools you require.
Types of POS Systems
There are three main types of point of sale systems available and many are made with a specific type of business in mind. QuickBooks POS is an on-site, locally hosted POS system. In order to understand what that means, we'll quickly cover the three types of POS solutions.
On-Site, Locally Hosted POS Systems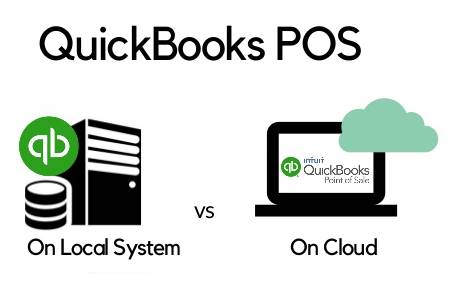 On-site POS systems are ideal for large retail stores that complete large quantities of transactions every day. However, they are equally effective when used by smaller retail stores.
They work as follows: Your business installs the software and in doing so acquires the capacity to store large amounts of data on-site in its own database. Then, all point of sale hardware components link into that closed system and all data collected from those hardware tools is also stored in your database.
Everything is stored on-site in your own system and will keep running if your internet connection drops. Data will still be collected, and every hardware component will continue to communicate with the system as per usual.
Cloud-Based, Mobile POS Systems
Cloud-based, software-as-a-service (SaaS) POS systems store all relevant data in off-site servers and can be accessed remotely, via a laptop, tablet, smartphone, etc.
The data they capture is also backed up in the "cloud" so there is no risk of data loss if the system crashes. This type of POS system is popular and ideal for small businesses that require fewer hardware components and a simpler system overall.
Hybrid POS Systems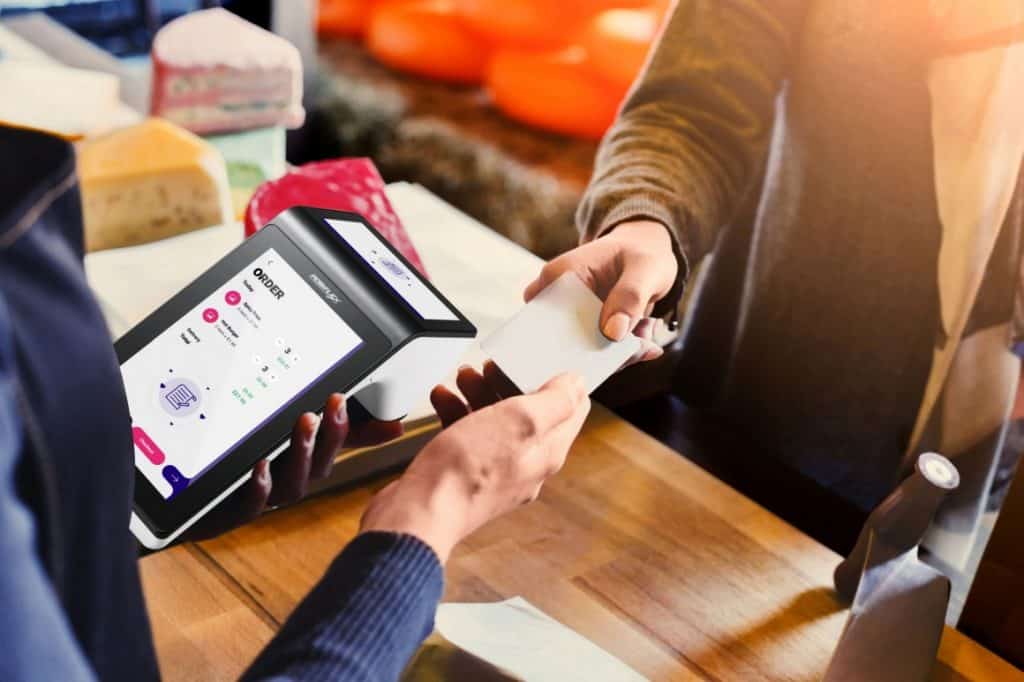 A hybrid POS system is a cross between a cloud-based and an on-site system. Updates happen automatically and the system relies on an internet signal to operate.
With a hybrid system, you maintain a data server on-site so that if your internet connection goes out, your POS system still operates with no kinks, much like an on-site, locally hosted system.
However, unlike a locally hosted system, a hybrid system's server connects to the cloud and backs up data. This allows users to access the system from anywhere they have data or a Wi-Fi signal.
Compatible Operating System: A QuickBooks Drawback
QuickBooks POS, unfortunately, is only offered as an installed solution and is only accessible when you are on-site in front of your POSS system.
Meanwhile, most POS systems can be accessed and leveraged on various operating systems, such as Apple iOS, Android devices, as well as through popular web browsers. All three of those options allow you to access and work in the system from wherever you are.
This is a major drawback of QuickBooks POS because increasingly business owners are migrating or purchasing to cloud-based, software as a service (SaaS) systems that are mobile and are much more accessible. QuickBooks POS is one of a few remaining POS system providers that require you to install the software system on a stationary computer.
Get A Quote from QuickBooks POS
QuickBooks POS Software Features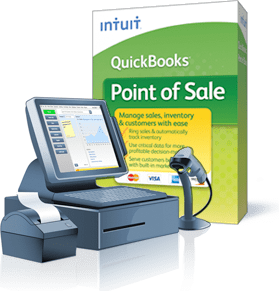 QuickBooks POS comes with many features that are built into the system and ready to use right away. The system includes so many features that explaining them all is beyond the scope of this article.
Instead, we will highlight some of the most important features that businesses look for in a point of sale system. But please note that all of the following features are not available with the basic, cheapest package. Some of them are only available in higher-tier plans.
Hardware Integrations
As your business grows and you need to scale up your system, you will likely require new hardware components to do so. If they don't integrate with QuickBooks POS or are not compatible with the system, you'll be in trouble. And QuickBooks doesn't produce its own hardware, so this is key.
Always check to be sure any new hardware you purchase from a third-party vendor integrates well with QuickBooks POS. Luckily, as mentioned above, QuickBooks POS integrates with the vast majority of third-party hardware components so finding compatible hardware should be easy.
Reporting and Analysis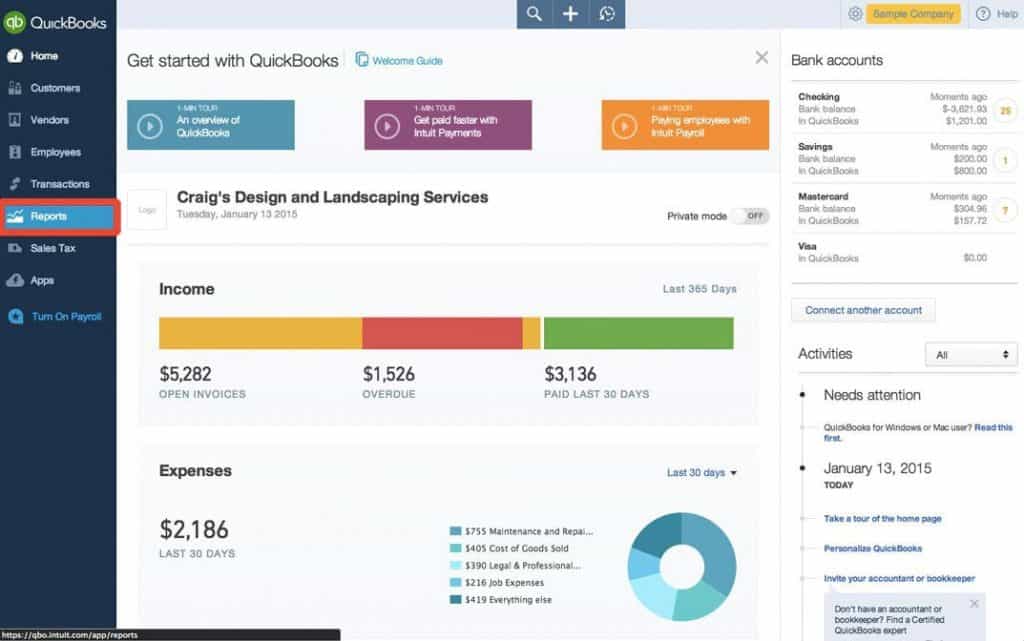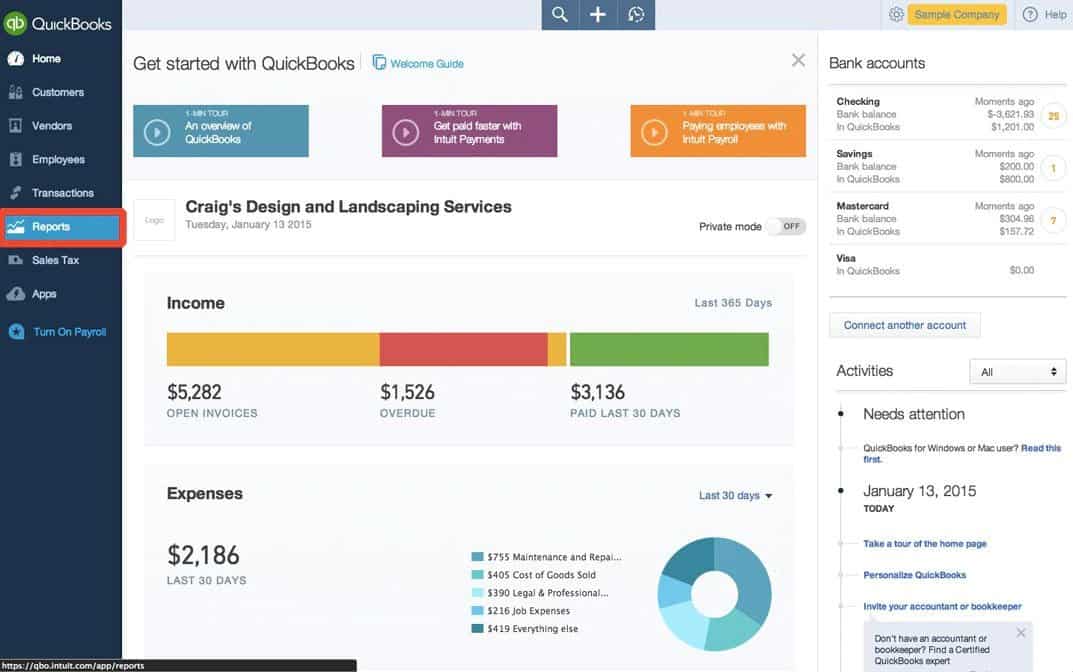 Powerful reporting, metrics, and analysis are features that every business needs. With so much data at their hands, users can maintain constant insight into their results and make better, data-driven decisions. They can run customized reports around just about any metric for which there is data stored.
Reporting is one of the most important POS system features because it allows you to maintain constant insight into your results and how you are moving the needle. Business growth is much easier when you have hard data to rely on for decision making.
Employee and Payroll Management
With multiple employees working simultaneously, each having arrived at a different hour, manually tracking hours worked and payment due can be a real challenge. Plus, it's time-consuming and leaves the process open to human error, which can cause problems with your employees and their satisfaction levels.
With QuickBooks POS, the system tracks employee hours, shift times, payment due for hours worked, and more—all automatically. Each employee with access to the system has a unique login code and that allows the system to do the heavy lifting while employees and managers focus on higher-value tasks. This results in a better customer experience, which leads to higher levels of customer satisfaction and more repeat business (i.e. business growth).
Inventory Management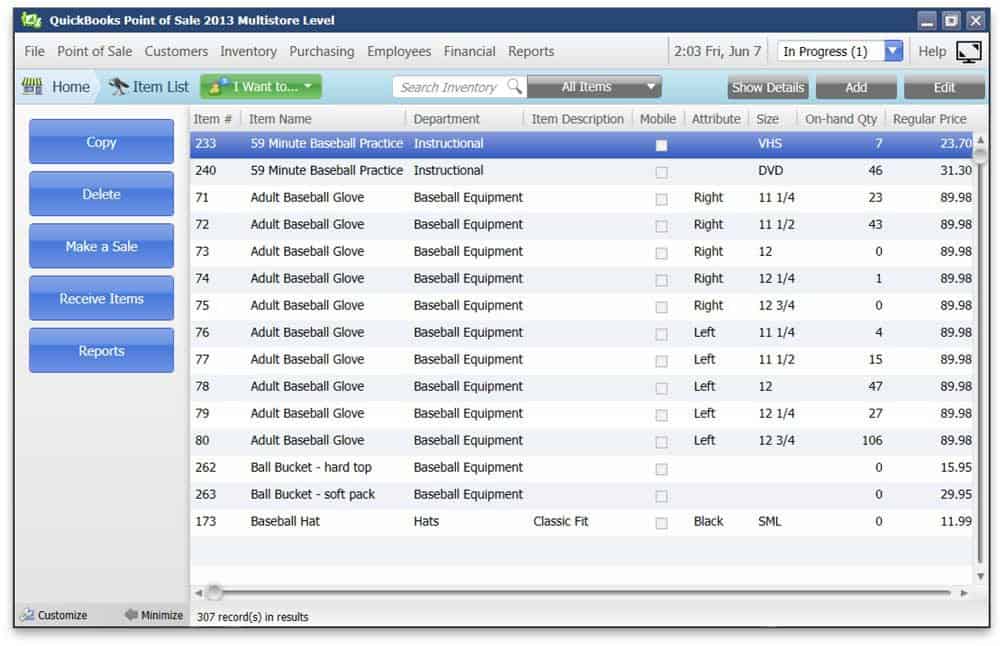 Virtually every retail store needs to count and track inventory on a daily basis. When inventory is counted and tracked manually, it is very time-consuming, pulls employees away from more important tasks, and increases the possibility of inventory discrepancies.
Of course, you always want your inventory to match what you have sold, with no discrepancies. However, discrepancies happen all the time with any business, so it is important to understand how they happen.
Luckily, QuickBooks POS allows users to run discrepancy reports to ensure that the number of goods in the stockroom match what should be there based on system inventory tracking.
Payment Processing with More Payment
Payment terminals, automated check splitting, and card readers that can read and process all types of credit and debit cards give customers more payment options. Plus, customers can always pay in cash as well. QuickBooks POS provides customers with more options to pay, which reduces the effort they must put into paying, a key component of measuring customer satisfaction.
QuickBooks POS Hardware Options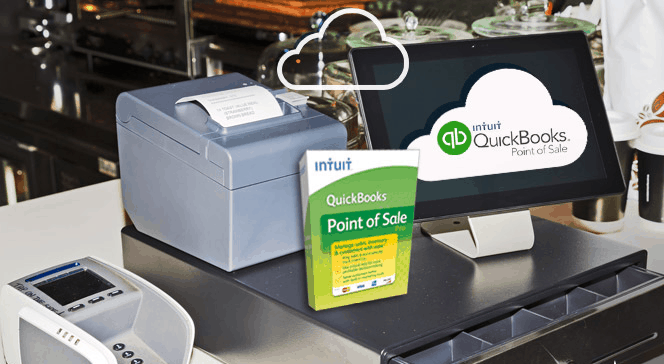 Because QuickBooks POS only produces software, they don't manufacture any of their own hardware components. Instead, users can purchase individual hardware components from the QuickBooks website, which provides a list of compatible hardware components.
They do not sell hardware bundles. However, if you call to inquire, a specialist will ask you some questions to understand your business model and use case, then help you piece together the perfect custom hardware setup for your retail store.
Individual hardware components they do sell on the QuickBooks POS website include:
PIN Pad Card Readers
POS PIN pads can also act as credit and debit card readers. Many customers will want to pay with a debit card. This will require them to enter their debit card PIN in order to verify their identity. Because debit card transactions often don't require a signature, entering the customer's PIN is the only way to confirm their identity.
Receipt Printers
Every purchase transaction you complete in your POS system requires a receipt of purchase. That's why every store, retail or otherwise, needs to hand out receipts when someone makes a purchase.
Receipt printers are fairly straightforward and easy to understand. They connect to your QuickBooks POS system and know when to print a receipt. The system alerts the printer when a transaction has been made and the printer automatically starts printing a receipt and then stores data from that transaction in your QuickBooks database.
Barcode Scanners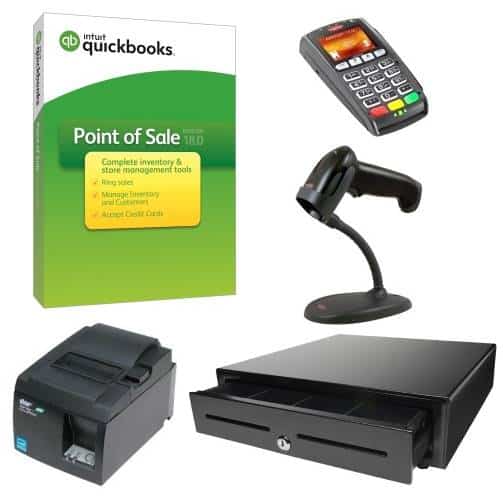 Any business that must scan physical items—and nearly all retail stores do—can automate item entry during a purchase by utilizing a barcode scanner. They can also be used to count inventory.
Brick-and-mortar retail businesses find it increasingly difficult to remain competitive without the use of a barcode scanner to process more transactions in less time.
NOTE: They also sell wireless barcode scanners which help during the inventory counting process.
POS Cash Drawers
When someone pays you with cash, you need somewhere secure to store it. POS cash drawers link to your POS system and keep track of how much cash should be in the drawer.
Pole Displays
A pole display is a small, horizontal screen that displays the price due when a customer makes a purchase. We've all seen them. Using a pole display is a good way to build customers' trust. If they can't see the amount you're charging them on a screen, they might doubt whether you are charging them the real price.
Barcode Printers
Many prepackaged goods sold by retail stores already have a barcode on them when they arrive. However, some items do not and you must print a barcode for them so they can be scanned during the checkout process. If that is the case with your store, you probably should invest in a barcode scanner.
QuickBooks POS Pricing
Here is a quick rundown of the prices you will pay to own and operate a QuickBooks POS system:
Software and Hardware Costs
Pricing varies for software, depending on the package and features you want. And as we said, hardware costs also depend on what you want.
You'll need to consult the QuickBooks POS website for hardware costs. Below is a chart that lists software pricing and the features you receive with each package: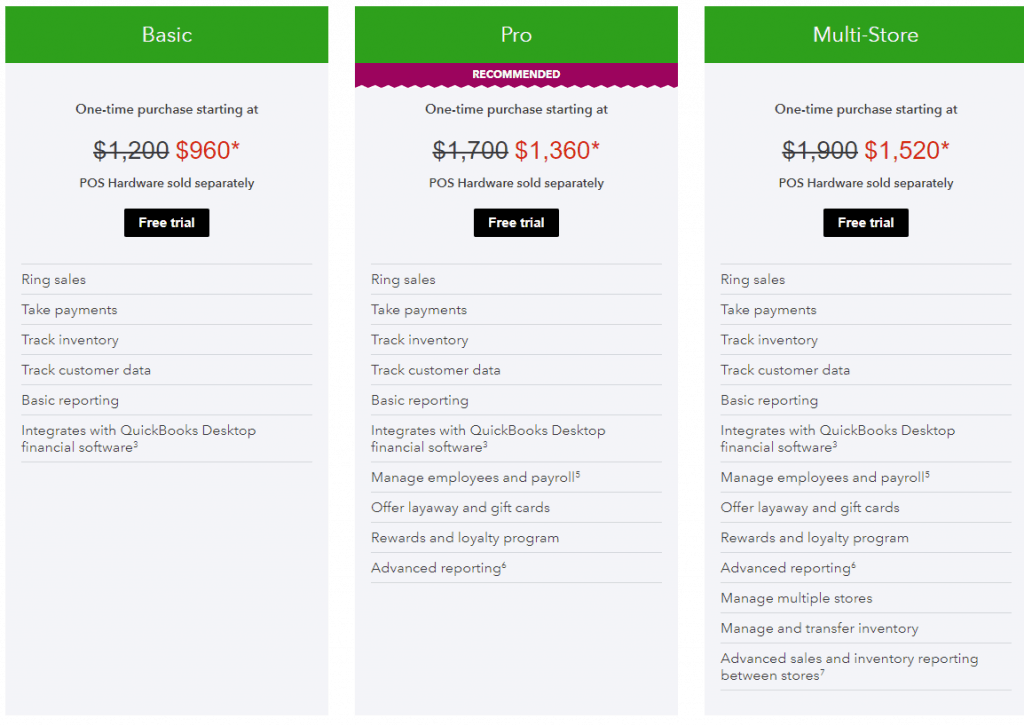 Get A Quote from QuickBooks POS
Is QuickBooks POS Right for You?
We have covered and reviewed nearly every aspect of the QuickBooks POS system in detail, with the goal of educating you on the system. With the insight in this review article, you hopefully gained a better idea of whether it is right for you.
However, this is just one review of one system, and there are tons of systems to choose from. Our advice is to develop a checklist of your needs and requirements, read more review articles, read user reviews (which are among the most helpful), and see which system meets most of your needs.
With some research and due diligence—as well as a patient approach to shopping so you can truly evaluate the best POS systems—you'll find the system that fits your needs and drives business and profitability. This system can be used as a consignment POS System.