The restaurant industry is one that will continue to grow no matter the ebb and flow of the local economy. It is simply a business model that thrives in any environment. Therefore, it is critical that a foodservice establishment employ the tools necessary to forge a healthy competition.
This starts with a robust point of sale system that not only transacts with your people but keeps detailed records for relevancy and relationships.
Restaurant Manager POS has been forging a digital path for decades in the foodservice industry. Here are a few things to know about the platform before taking a leap.
A Quick Overview of Restaurant Manager POS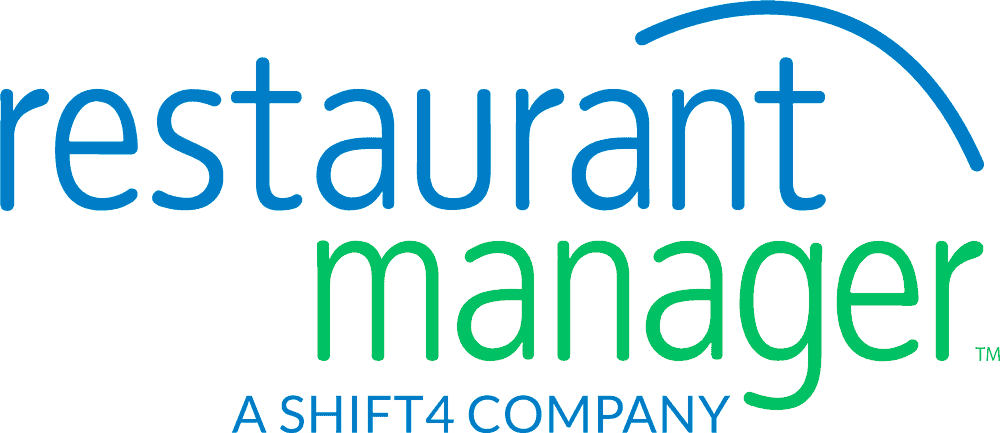 For almost 30 years, Restaurant Manager POS has dominated the POS foodservice space. Headquartered in Silver Spring, M.D., and minutes from Washington D.C., it is a solution that a business will never outgrow. Whether it's a traditional touchscreen or tablet/cloud POS, the company always offers a product that fits your business model.
Designing solutions since 1987, the Restaurant Manager POS product line has grown considerably to include solutions for all sectors of the foodservice industry. This includes businesses like:
Nightclubs
Bars
Table service
Pizza and delivery
Quick-service and chain operations
The 2002 release of the RM Handheld made the company an industry leader in mobile POS platforms. More recently, the cloud-based Duet POS application and services for online ordering and customer loyalty are particularly popular with independent establishments.
Today, over 20,000 restaurants have been licensed to use Restaurant Manager POS or Duet POS via a network of 150+ value-added resellers. The majority of resellers are located in the United States, but the program also has a strong following in South America, Canada, and Mexico.
The Key Advantages of the Restaurant Manager POS System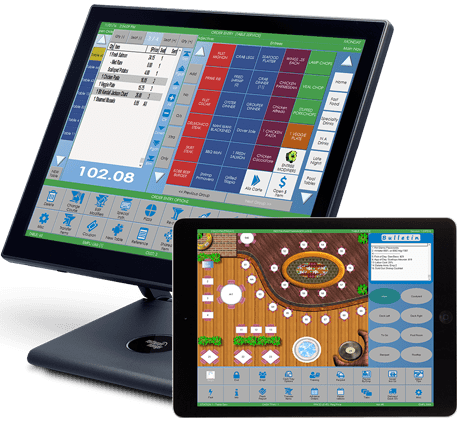 There are many benefits to the Rezku POS system. This includes:
Advanced reporting and analytics for greater business insights.
Mobile POS for pay-at-the-table capabilities.
Real-time labor and stock alerts for ultimate inventory management.
Intuitive software interface for quick employee training and scheduling.
Online ordering to generate new revenue streams and accommodate social restrictions.
Restaurant Manager POS Costs and Pricing
Most of the Restaurant POS solutions are sold through third-party resellers. That means that pricing will vary from one company to the next. According to online reviews, expect to pay between $99 and $150 per month for a single POS register.
System Requirements and Hardware
When it comes to POS processing for the Restaurant Manager POS system, there are a variety of options for hardware. This includes:
RM Handheld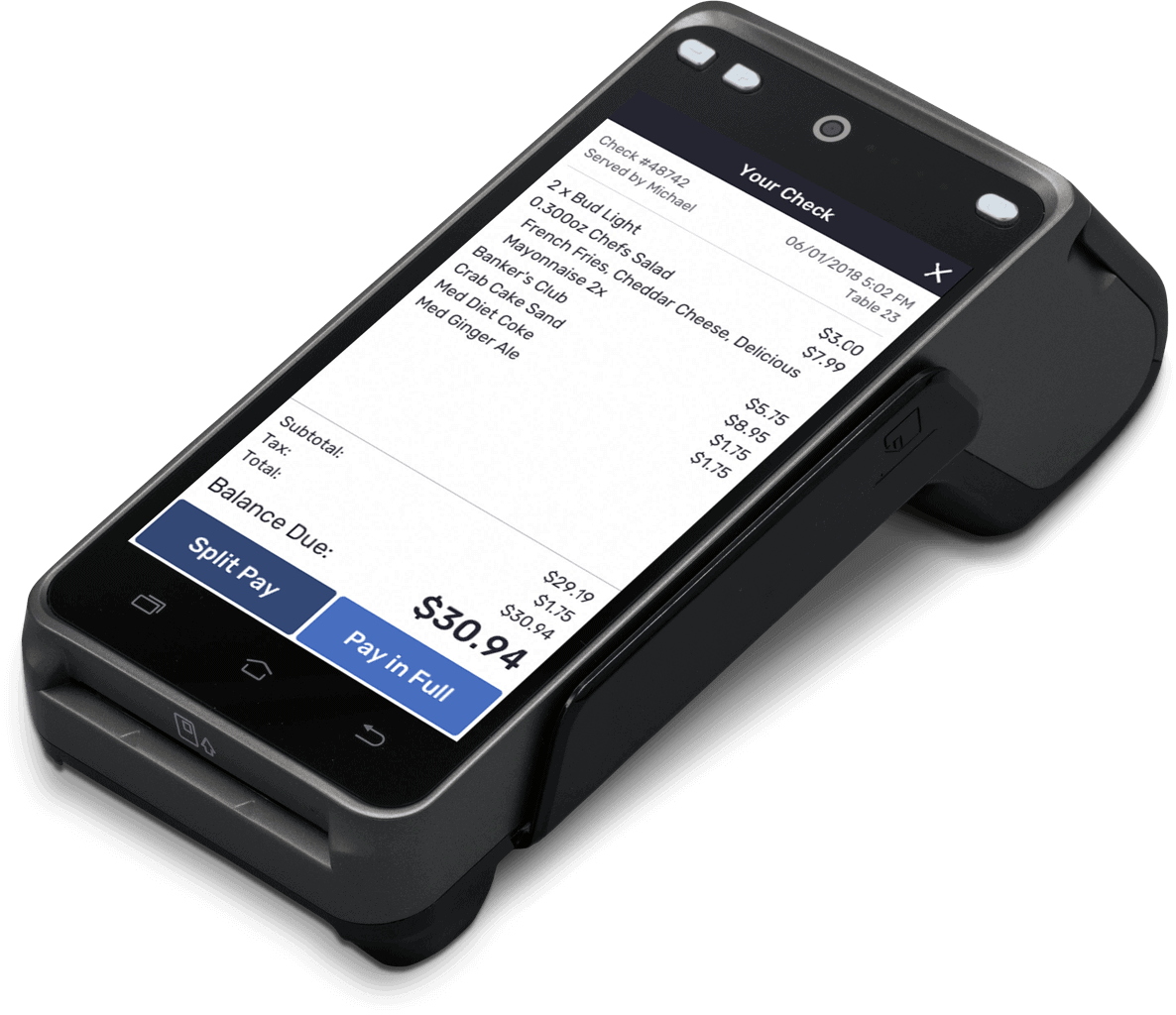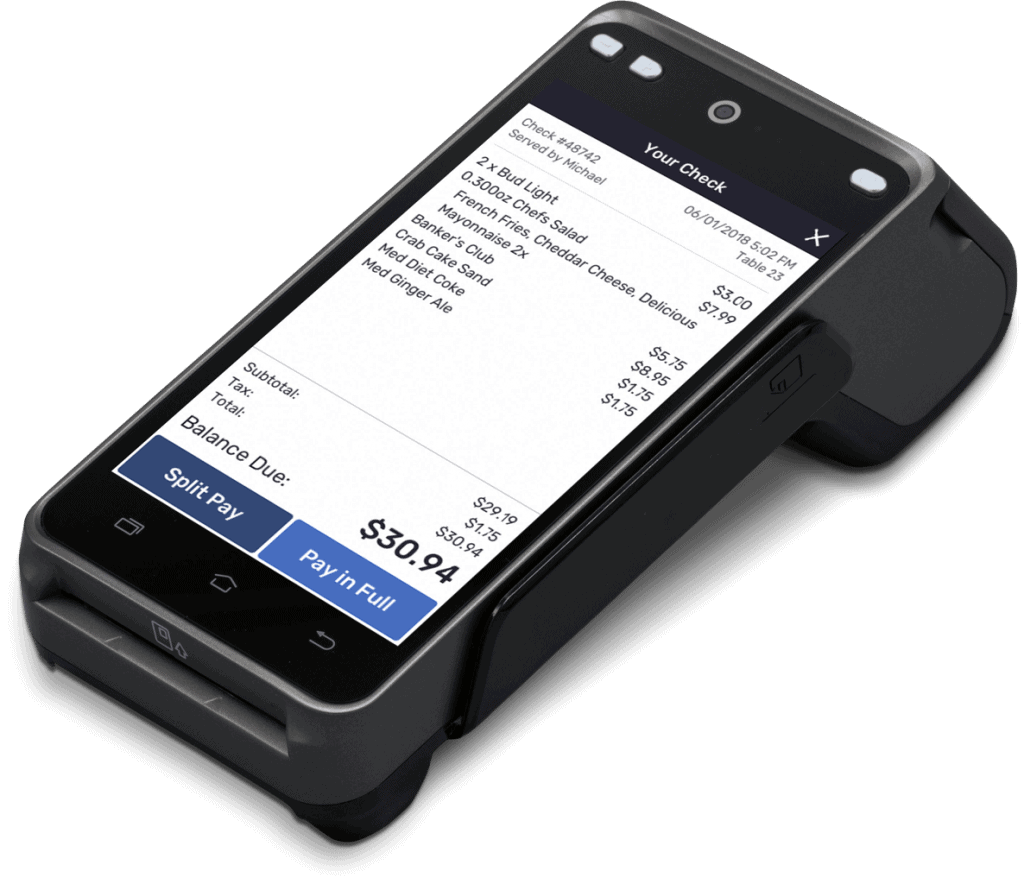 Whether a business is using an iPod or a handheld device, the magstripe reader can turn your equipment into a mobile tableside ordering machine. Think about the opportunity this gives your staff.
Pay-at-the-table is an ideal solution for full-service restaurants and establishments. This is especially necessary where payment is currently processed at a central location far from a customer's view.
Tables are freed up while people don't have to sit, waiting for a check to process from a station. Customers also enjoy the fact they can maintain a transaction without losing sight of their credit card. People appreciate the added protection against identity theft.
Any approved and handheld computer (including Apple's iPod touch) can be used for the Pay-at-the-Table device.
RM Tablet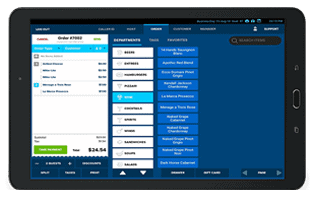 This could be the mobile solution that best fits your business. This app allows access to all the proven and profitable features of the system. It uses traditional fixed stations and a mobile POS equipped with the iPad or iPad Mini hardware.
There is no longer a reason for a server to write down an order and walk it to a stationary POS. Staff can take orders and process payments quickly on the RM Tablet. The more efficiently this streamlines staff workflow, the more it can add to your bottom line.
The RM Tablet is fully integrated with the Restaurant Manager POS system. Whether it is a full-service restaurant or a nightclub, enhancing the productivity of servers always adds to the bottom line.
RM Kiosk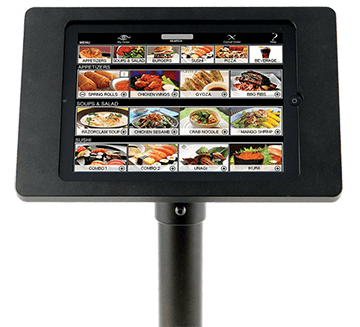 If you want to increase average checks and table turns, why not empower the customer with self-service? The RM Kiosk is the perfect customer-facing mobile POS system that allows your guests to view the menu anytime, anywhere.
The RM Kiosk is a fully integrated Restaurant Manager POS system that makes it easy and simple to run a kitchen. The platform enables a brand to do things like:
Ensuring orders are managed.
Add menu items on the fly.
Post in real-time when an item is "86'd."
Alert staff and kitchen when an order is placed.
A company can also create and manage promotions like Happy Hour, coupons, and loyalty programs.
The Top Features of the Restaurant Manager POS Program
Restaurant Manager POS provides an all-in-one solution to meet all of your business needs. The POS system includes features like real-time sales reports, integrated EMV, and check-splitting.
The solution is tailored to a variety of niche establishments that include:
Restaurant and Bar
Delivery
Quick-service
Pizza
Coffee shop
Other key features to keep an eye out for include:
Dining Experience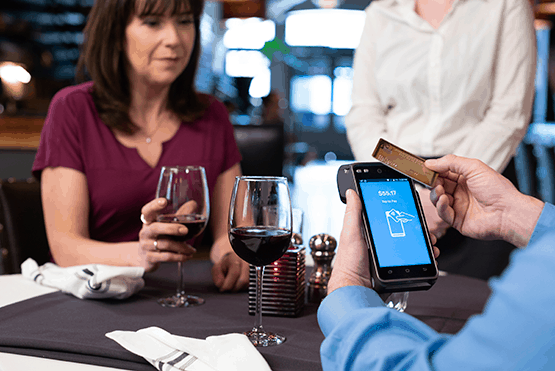 When there is a large party, people usually ask to split the check. This should not be a laborious task but something that can be accomplished instantly with modern POS technology. The system allows staff to split checks and items without messing with the integrity of the order. Orders can be specified down to line items and ingredients.
Real-time Sales
Real-time sales statistics prove for extensive reporting features like instant sales. Other types of detailed analysis to run include:
Server sales totals
Stock and item counters
Product mix reports
This enables a business to spend more time with customers while keeping the latest profit margin and performance measures.
Optimal Learning Curve
Learning the system takes no time at all for employees new and seasoned. The intuitive software interface means new people can get quickly up-to-speed while reducing the cost of training.
With a system that's easy to learn, less budget is spent on creating capability while more is spent on actual operations.
Server Tracking and Teams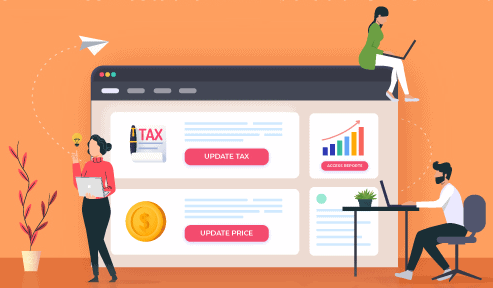 Creating configurable teams in the system is the first step in authentic customer service. You can assign passwords to options for proportional splits to use revenue for report enhancement.
With this type of feature, a business can improve customer service, satisfy IRS requirements, and speed up end-of-day reporting. Not only does this boost employee morale, it enhances satisfaction and drives productivity.
Hold and Fire
Sometimes it's necessary to hold and fire items according to course and availability. The Restaurant Manager POS system enables a brand to automatically release or fire items by specific course.
This allows a company to turn tables faster, improve timing on services, and increase operational flexibility. This leads to elevated customer engagement, satisfaction, and retention.
Real-time Alerts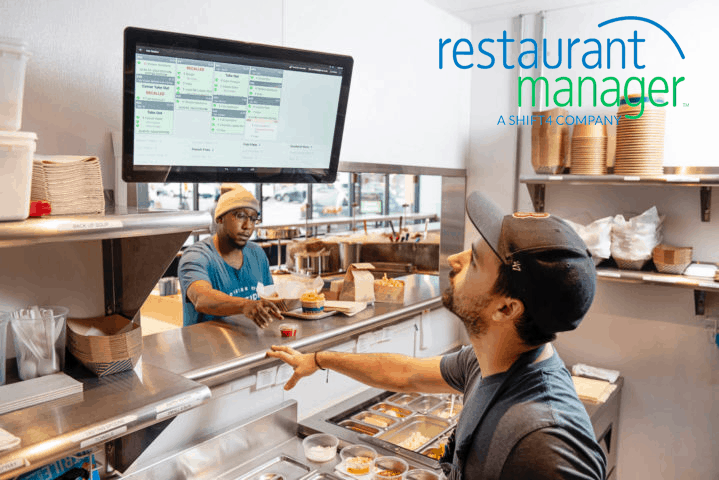 Send alerts via email or cell to keep people up-to-date. Now, a business has labor and stock costs in check through continuous monitoring. It also allows a brand to pay extra attention to VIP clients and recognize loyal customers when they come in the door.
Management Controls
The system provides complete control over all reporting and operational functions. Program events can be automatically activated at a specific time or date. A company can schedule certain messages to appear on the dashboard to keep employees informed.
Print and Display for Food Prep
Fewer kitchen errors are made, and customer satisfaction is improved through this POS feature. Banner alerts can be displayed with "updated item" messaging. The system can also display the quantity of modifiers. It makes for seamless communication between front and back of house.
SkyTab Pay-at-the-Table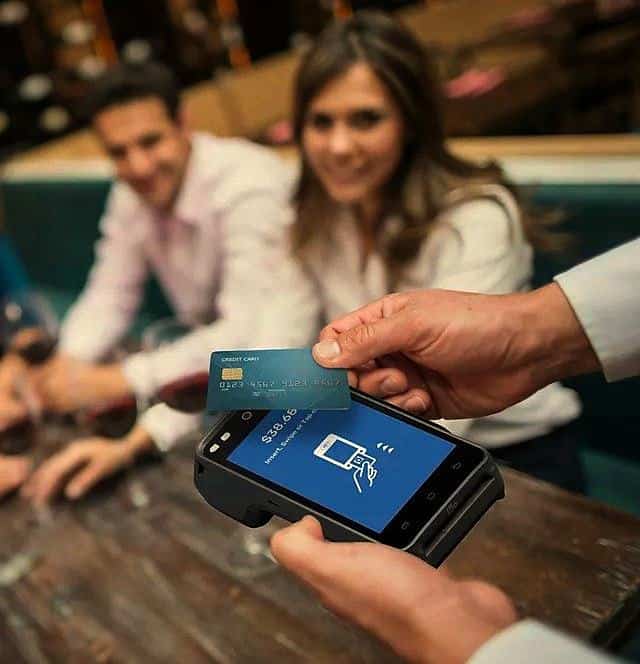 RM POS offers an app to utilize EMV technology with point-to-point encryption. It makes sure all payment data is protected. The app eliminates the need for servers to walk back and forth between POS service stations.
The system also enables a business to collect customer data including email addresses. This allows you to populate a marketing database and increase repeat business. It also means customers can rate their experience and alert management in real-time. If a patron is not satisfied, this can help a brand avoid negative reviews in the long run.
Inventory Control
This platform allows you to save thousands of dollars and eliminate waste and theft. A brand can track inventory depletion. This is especially applicable to high-dollar products and items that are typically off-target for internal theft.
At all times, a business can get real-time item and stock counts from any POS station in the building.
Loyalty Programs
Combine a built-in promotion and coupon capabilities to provide a robust program. Manage the sale and redemption of gift cards while maintaining customer accounts.
Guest Paging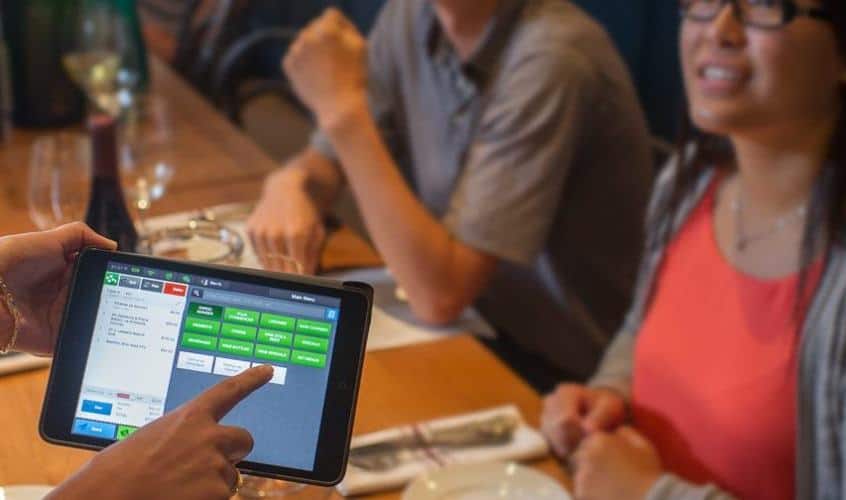 Reach guests in real-time with paging capabilities that remove the necessity of a pager. Locate guests quickly to decrease table turn time and get people in more seats faster. Guests have the freedom to visit the bar or go outside. This type of feature also reduces hostess stand congestion and long wait lines.
Online Ordering
Generate new revenue streams while providing customers with an easy and convenient way to purchase. People can quickly place orders and increase sales while reducing labor costs. The program also allows consumers to eliminate ordering errors due to miscommunications. This not only reduces waste, but unnecessary costs as well.
Caller ID
View the caller's phone number and pull up existing customer information. Dive into the POS database or create a new contact during the call. The robust CRM feature allows you to keep track of customers along every aspect of the buyer journey.
Management Reporting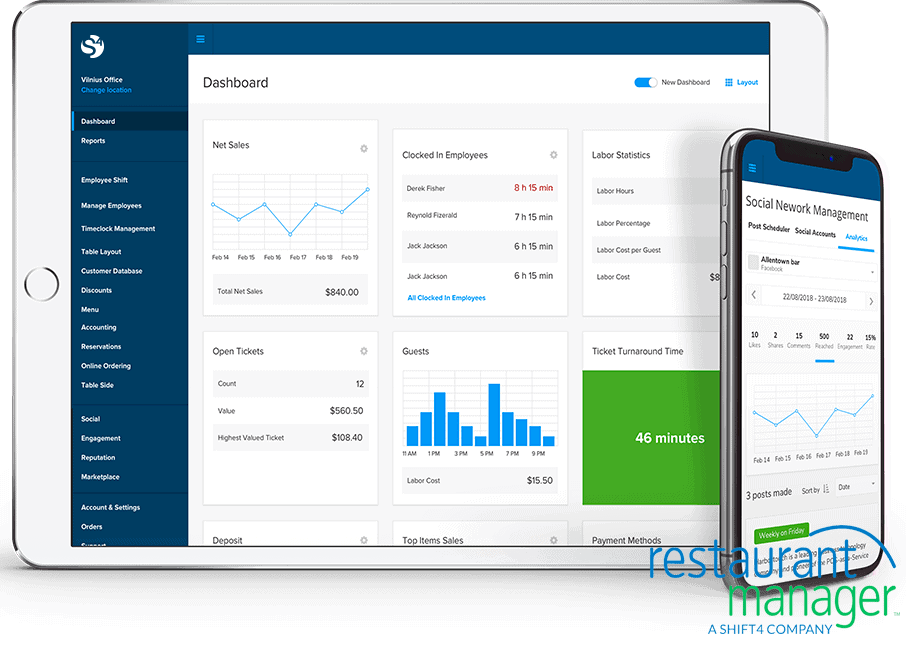 A company can automate the end of day processes and access reports from anywhere, at any time. Access the system through your favorite web browser or one of their mobility services and products.
Lighthouse Business Management System (LHBMS)
This cloud-based platform provides a company with an ecosystem of technology solutions. The mobile-friendly platform is available through RM Payments that have a Restaurant Manager or Duet Solution on hand.
The system includes robust features like:
Marketplace
A vendor can enjoy a repository of popular applications that include merchants like
MailChimp
Sling
Fisherman
DoorDash
These seamless integrations provide a business with ways to discover, delete, and activate application from one place to another.
Dashboard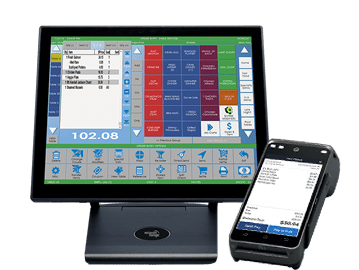 Customize your dashboard with a large range of widgets to put useful data at your fingertips. This includes things like labor statistics, online reputation, and other things that include:
Daily top items
Clocked-in employees
Labor statistics
Payment methods
Social media
Ticket turnaround is another key benefit of this feature.
Customer Engagement
With the RM POS system, you can set up welcome emails and promotional offers with ease. Use built-in tools to improve customer loyalty and create the perfect email in minutes. Send out customer surveys and other ways of gathering s public opinion. This tool is a primary means to build customer relationships and increase brand loyalty.
Restaurant Manager POS Consumer Resources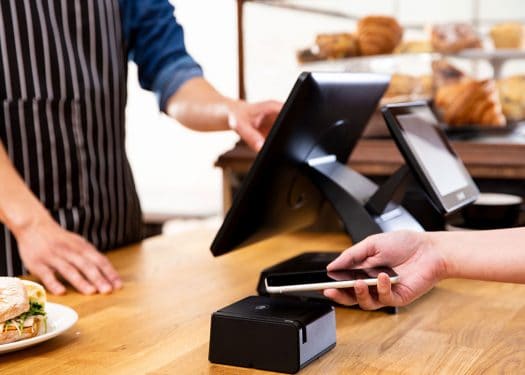 The Restaurant Manager POS program has been in operation for decades, so they have a firm grasp on real-time tech support.
For existing customers, Restaurant Manager (RM) now offers in-house payment processing services for a better and more integrated POS experience. Current customers can take advantage of certain incentives that are open to those that switch to the RM payment processing program which can include:
Free Upgrade to RM Version – Take full advantage of the functionality and features that RM v20 has to offer.
Free EMV Terminals: – Fully support EMV chip card transactions with tip adjustment. A business can accept Mastercard's new BIN cards to ensure the new PCI's TLS requirements.
What Did We Learn About This POS System?
Restaurant Manager POS has been around for decades because they accommodate a business big and small. The brand offers a flexible payment plan that offers value no matter what your needs.
The platform makes it easy to manage staff and ensure the menu is up-to-date in real-time. A solution like Restaurant Manager POS is the ultimate program to engage consumers and drive your business to success.