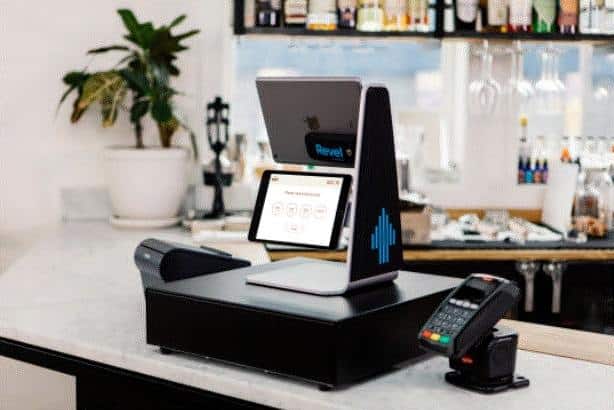 Before we dive into the costs of restaurant POS systems, let's start by asking an important question: What is a restaurant POS system?
A point of sale (POS) system is not a static machine or process. Rather, it is a customizable network of software and hardware components that work together to complete a vast assortment of simple and complex tasks.
They streamline your business's operating practices and automate routine, manual administrative tasks so your staff can spend more time focused on the customer. This empowers restaurants to serve more customers in less time, grow their businesses faster, and deliver a better customer experience.
By leveraging a restaurant POS system, you generate many benefits for your business. These include increased productivity; better data storage and accessibility; a better customer experience and higher levels of customer satisfaction; and accelerated revenue growth—all of which we discuss below.
However, this brief explanation just scratches the surface. Aside from cost, there are many things you must know about restaurant POS systems to purchase the right one and properly use it. Below, we touch on these topics.
We provide an overview of restaurant POS systems, essential POS tools restaurants need, how they function, and how restaurants benefit from using them. We then dig into the various software and hardware components restaurants need in a POS system, the functions they serve, and the costs associated with them.
An Overview of Restaurants POS Systems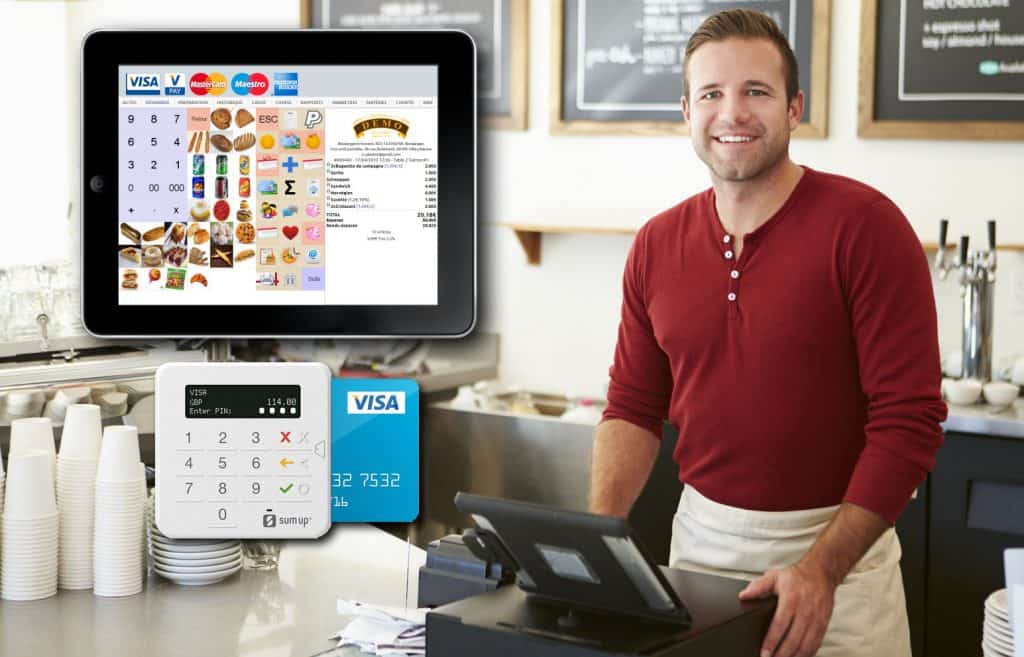 Competition in the restaurant POS system market has grown considerably over the last decade and now there are many options to choose from.
Nearly every restaurant POS system can be configured to meet your business' unique needs. That requires a collection of the right point of sale software and hardware components that can carry out the tasks you need completed.
Restaurants need different hardware components and software features than retail stores do. Because restaurants are so distinct from other businesses, restaurant POS systems are equally unique.
Below, we expand on this brief overview with a deeper dive into individual aspects of owning (or leasing) and operating a restaurant POS system.
Types of Restaurant POS Systems
Not all restaurant POS systems are created equal. The type of system a restaurant owner or manager selects depends on many personal preferences. Here, we'll explain the three primary system types for restaurants.
Cloud-Based, Mobile Restaurant POS Systems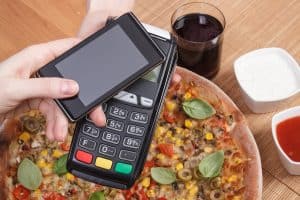 Cloud-based, software-as-a-service (SaaS) POS systems are growing in popularity because they are accessible off-site and store all your data in off-site servers. That data is backed up in the "cloud" so there is no risk of data loss if the system crashes.
This allows users to access their POS system on the go, anytime, anywhere. Restaurant owners and managers can check in on important business metrics and other data while commuting, at home, or anywhere they have data or Wi-Fi for their mobile devices.
Get Free POS Systems Quotes
On-Site, Locally Hosted Restaurant POS Systems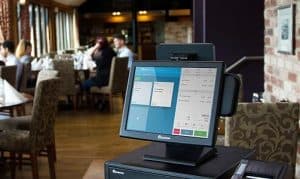 Locally hosted POS systems store data in the restaurant's own, on-site server. All restaurant POS hardware components link into that closed system and all data is stored on premise. Users cannot access the system or any of its data if they are not on site.
This comes in handy if your business has a non-reliable internet connection. You don't have to rely on an internet signal to operate your system and all your data is stored in your own database.
This means your system will keep running and remain accessible if your internet signal drops. Your data will still be collected, and every hardware component will continue to communicate with the system and function normally.
Hybrid Restaurant POS Systems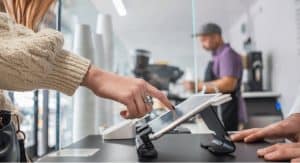 A hybrid POS system is a cross between a cloud-based and an on-premise system, offering the best of both worlds.
With a hybrid system, you maintain a server on-site that backs up your data in the cloud. If your internet connection goes out, your POS system continues functioning, like a locally hosted system.
But data is backed up in the cloud every five minutes, like a cloud-based system, and you can access it off site. That's why they are called "hybrid" systems.
Restaurant POS Software Features and Costs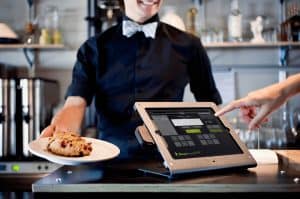 Restaurant POS software varies widely when it comes to features and cost. Keep in mind that POS software is only half of the equation. You must also pay for the POS hardware components you need to link your software to.
Restaurant owners and managers can purchase software and hardware à la carte, either from the same vendor (which is preferable for compatibility reasons) or from multiple vendors.
Or, they can purchase entire POS systems that include hardware and software in one, comprehensive bundle—we cover complete POS system bundles below.
Important Restaurant POS Software Features
Restaurants' software needs vary depending on whether you run a large restaurant chain or a single, small café with seven tables. Smaller establishments need fewer features because they run simpler operations.
Here are the most important POS software features for restaurants:
Inventory Management
Customized Ordering
Discount and Gift Card Management
Check Splitting for Large Groups
Waitlist and Table Management
Sales, Employee, and Inventory Reporting
Online Ordering
Customer Relationship Management
Employee Management
Customer Loyalty Programs
Menu and Item Pricing Management
Tips Management
Free Software Updates
Easy Integration with Third-Party Hardware
Processing Multiple Payment Methods
POS Software Costs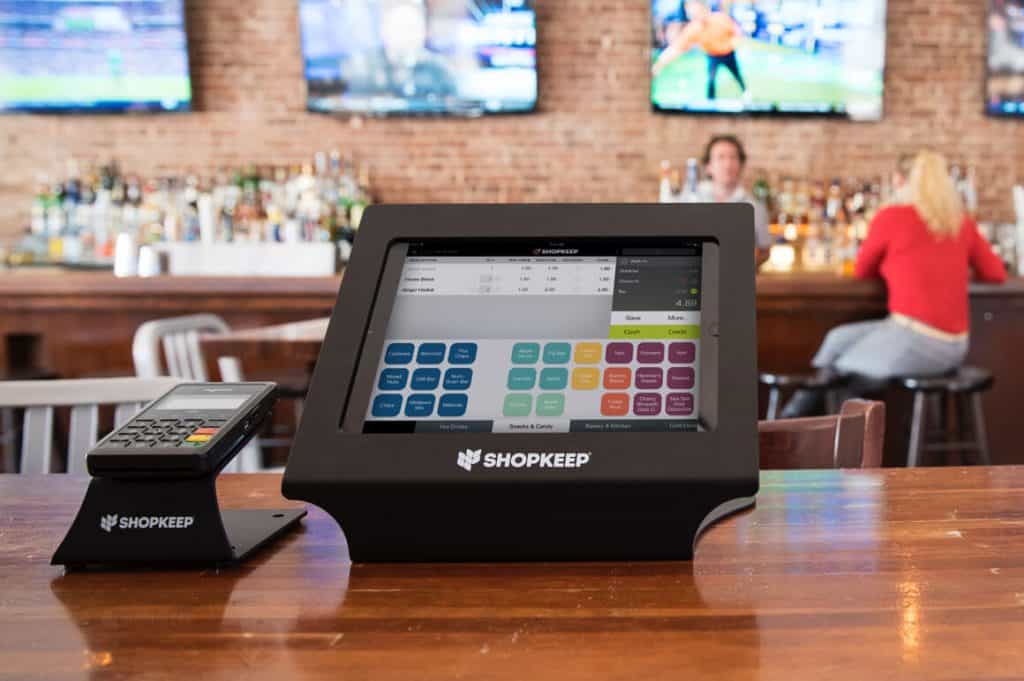 POS software is typically sold on a subscription basis. Restaurants pay monthly fees for the software that drives their system. Many restaurant POS systems, such as Square POS for Restaurants, offer free trials of their software.
Some vendors, like eHopper, offer entirely free POS software. The only con about that is that free software has limited feature sets. Free plans are intended to persuade you to pay for the next tier up, so you can utilize those features you need but don't get with free software.
However, most vendors charge restaurants for software and they normally charge on a per month, per location basis. Most vendors have multiple software packages at different price points. The more you pay, the more features you get.
Prices for restaurant POS software vary, depending on which features you want.
Lower Tier Software Costs: These simpler systems, with fewer features, cost as little as $30 to $40 per month, per location.
Higher Tier Software Costs: As you add more features by purchasing a higher tier software package, you can expect to pay as much as $100 or more per month, per location.
One-Time Payment Software Costs: Some vendors sell restaurant POS software by charging customers a one-time fee rather than charging monthly or annually. eZee Burrp!, for example, sells its software for a one-time fee starting around $575.
That price increases as you want to customize your system with value-added features not included in the base package.
NOTE: One-time fee software often requires you to pay for software updates, while subscription-based software typically provides free software updates.
Restaurant POS Hardware and Costs
There are many different types of POS hardware components that restaurants can leverage to streamline business operations.
Below we outline the most commonly used restaurant POS hardware components and their cost when purchased individually.
POS Cash Drawers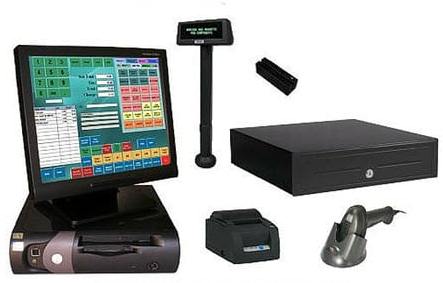 When someone pays you with cash, you need a way to store those bills. POS cash drawers integrate into your system have a price range of roughly $100 to $140.
Receipt Printers
Every transaction you complete in your POS system—with a customer—requires a receipt of purchase. There are tons of receipt printer models available and costs vary, ranging from around $200 to $250.
Kitchen Printers
Once a server enters an order into your POS system, it is instantly sent to the kitchen printers in the back of the house. Kitchen printers use more advanced technology than receipt printers and generally cost around $350.
Kitchen Bump Bars
A bump bar is a keyboard that allows kitchen workers to see orders in the queue and shift their order in the queue if necessary. They have a rough price range of $130 to $160.
Card Readers
Today, most credit and debit cards use encrypted chips rather than magstripes to process a payment.  But many can process both as most cards have both. A card reader that reads only magstripes will cost around $100. One that reads magstripes, encrypted chips, and includes a pin pad will cost around $300.
Tablet Stands
If you use a mobile POS system that leverages a tablet to process orders and execute tasks, you need a stand to mount it on. A basic stand will cost roughly $100 while a more elegant one will cost as much as $200.
Complete POS System Bundles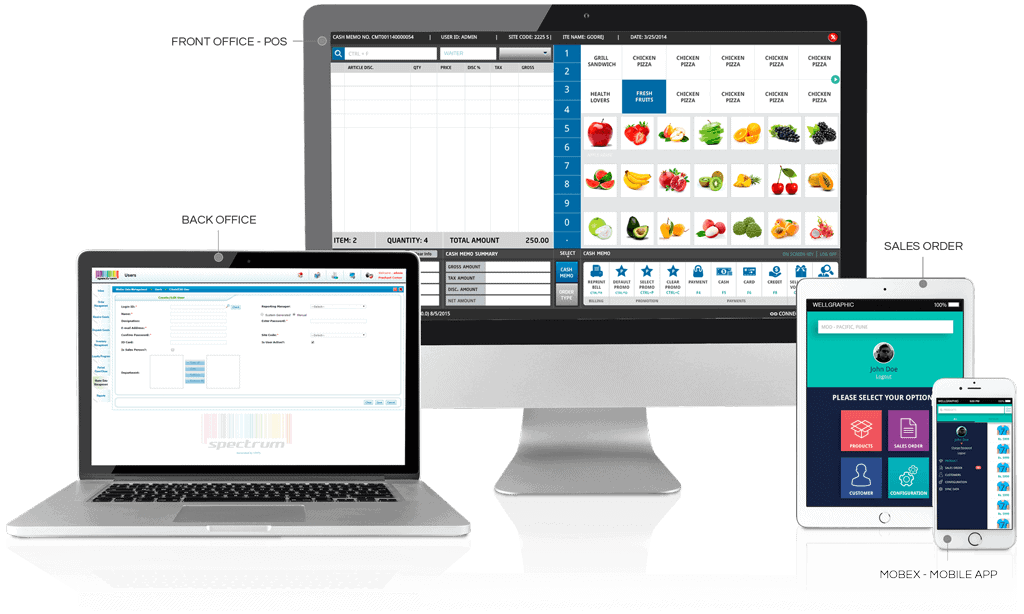 Instead of purchasing software and hardware separately and linking them all together, many restaurants prefer to purchase a complete POS system that includes software and hardware components in a single bundle. There are many system bundles available and prices vary depending on the size of the bundle and what it includes.
For example, BPA Restaurant Professional POS's complete system bundles cost anywhere between $1,000 and $1,600. They include various hardware components and software to coordinate them all.
NOTE: Bundles normally include a monthly fee of around $40, which pays for customer support, software updates, and data backed up in the cloud.
Payment Processing Fees
When restaurant patrons pay with credit or debit cards, the restaurant must pay a small processing fee for each transaction.
Processing fees for swiped cards cost between 1.5% and 2.9% of the purchase, on average.
Purchases made over the phone that require an employee to key in the card number cost around 3.5% of the purchase.
Benefits of Using a Restaurant POS System
When you use digital technology to run your restaurant, you achieve better results and receive many benefits, which we dig into below.
Data Storage and Accessibility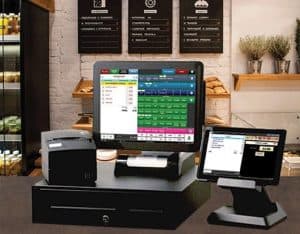 Restaurant POS systems store tons of data that can be used to personalize the customer experience, run reports, and can be leveraged to make better decisions.
If you use a cloud-based system, you can access that data and those reports any time you want, allowing you to work with them from home or wherever you want.
Improved Efficiency and Productivity
Streamlining and automating processes with a POS system allows restaurants to complete everyday tasks faster and with better accuracy. The system completes the tasks automatically every time, without needing an employee to complete them.
Instead of using their time to complete manual, administrative tasks, employees become more efficient and can better tend to customers' needs.
Better Customer Service and Satisfaction
Customer service, customer experience, and customer satisfaction are the metrics that your business will increasingly be judged on.
Restaurant POS systems allow servers to devote more attention to meeting customer needs. Kitchen staff can prepare more meals, more accurately, in less time.
This all leads to higher levels of customer satisfaction. Happy customers are more likely to return for more.
More Payment Options for Customers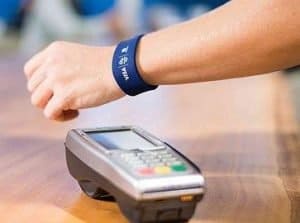 Payment terminals, automated check splitting, and card readers that can read and process all types of credit and debit cards give customers more payment options. Giving customers more options to pay reduces the hoops they must jump through to settle the bill and improves the customer experience.
Employee Management
Each employee with access to the system has a unique login code. This lets you track who is working, when, what they are there to do, and who is scheduled to work a specified shift. Employees maintain a clear view of the hours they've worked, and managers reduce time spent on employee management tasks.
Better Accountability
Employees must log in to use a POS system. This provides transparency because every transaction and interaction each employee has with the system is tracked. Knowing that transactions are closely monitored could deter internal theft by a business's employees.
Payroll Management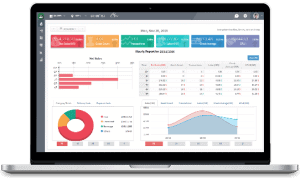 When various employees are working at the same time, each one having arrived at different times, manually calculating hours worked and overtime pay is time-consuming.
But when that data is collected and those calculations are completed automatically by your POS system, your time is freed up and you get more accurate payroll reporting.
Automated Accounting Capabilities
Automated accounting eliminates the need for restaurants to keep an accountant on the payroll.
Every transaction is automatically tracked, calculated, and used to produce accounting reports at any given time. Taxes due are also calculated. A POS system makes accounting a breeze.
Improved Metrics, Analysis and Reporting
Restaurant POS systems capture sales, revenue, inventory, and customer information, among other data.
The reports that most POS systems can run—and many offer custom reporting and dashboards—provide valuable insight into business results. That insight enables owners and managers to make data-driven decisions about how to grow, scale, and maintain a competitive edge.
Efficient and Accurate Inventory Management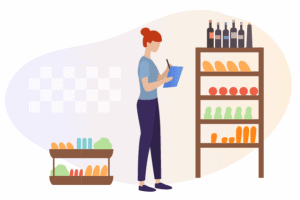 Restaurants must count and track inventory daily. When done manually, it's very time-consuming. With an inventory scanner connected to your POS system, inventory can be counted more accurately and in a fraction of the time. Plus, if the system detects an inventory discrepancy, it alerts managers so they can address the issue.
Boosted Revenue and Profitability
Take all of the benefits listed above and add them up. Satisfied customers return and bring their friends. POS hardware and software ensure accurate data collection, inventory tracking, and streamlined employee management. Reporting provides insight that can lead to better customer experience. A better customer experience leads to repeat business, increased profitability, and revenue growth.
Buying Vs. Leasing POS Hardware
In the beginning, you could only buy POS hardware. But as the market grew and demand soared, some companies began to lease POS hardware components.
Buying Your Hardware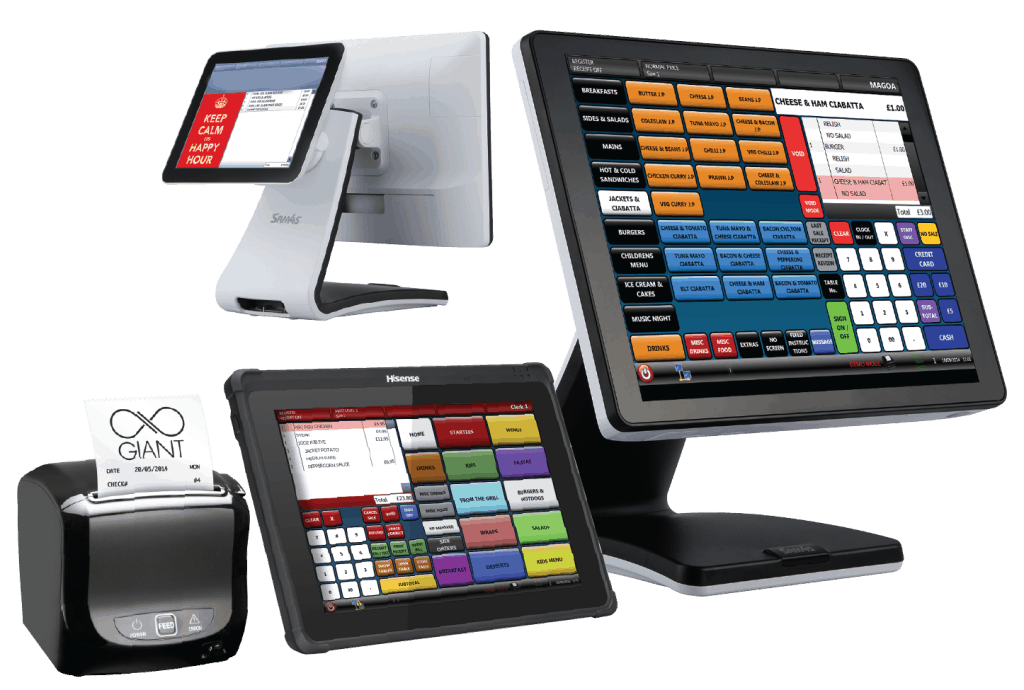 The great thing about buying is that once you make the initial payment, the hardware is yours. You can always buy more components as you scale. Below we cover individual components and their cost ranges.
The con associated with buying hardware is that it doesn't last forever. Eventually, something will get damaged and need replacing. However, buying is normally cheaper in the long run than leasing.
Leasing Your Hardware
When you lease, you always have the newest technology at your disposal. And you pay well for that privilege.
You will be using the most cutting-edge and innovative components to run your business. Plus, if you are leasing a specific component that you end up not needing, you can return it and stop paying for it.
The cons of leasing revolve around the cost. Over the long run, it's certainly cheaper to buy than lease. Leasing adds a recurring bill to the stack of bills already on restaurant managers' desks.
Wrapping Up
Restaurants can purchase POS software and hardware components from different vendors and build their own POS system. If you take that route, you should ensure that every hardware component is compatible and can easily integrate with your software.
Alternatively, restaurants can purchase entire POS systems that include software and hardware in a single, all-inclusive bundle. The benefit of taking that route is that your entire system was produced by the same vendor.
This means you don't have to call multiple customer support lines for your various hardware components. Nor do you have to worry about compatibility. Dealing with one single vendor rather than 12 makes accounting, troubleshooting, and system management much easier.
The POS system that you purchase depends on many factors that are unique to your restaurant. Simply do your research, compile a list of needs, and either piece together or buy an entire system that meets those needs and you will be all set.