By the end of this year, the projected sales in the restaurant industry is set to hit $899 billion. With over 1 million locations in the United States alone, it's a thriving industry that continues to expand.
In order to maintain a competitive edge, a business must employ top-of-the-line technology that adds to their bottom line. This takes a little bit of research and know-how to find the exact tool that fits.
Rezku POS has long been a strong competitor in the restaurant POS market and there is good reason why. Here is a brief review of what they have to offer and why the solution is so popular in the foodservice industry.
A Brief History of the Rezku POS System

The Rezku brand is committed to being the best technology partner for iPad bars. The platform is the highest reviewed iPad Bar POS system on the web. Founded in 2012, Rezku has paved the way for the restaurant point of sale industry. The company has consistently first to market and the leading innovator in restaurant management technology.
Rezku POS offers 100% EMV and PCI compliance and co-innovates with the biggest players in POS hardware, software, and payment industry. They have helped to reinvent the restaurant point of sale system for a new era.
The organization's focus is to provide the highest level of support with unmatched value to restaurant partners.
Rezku POS Top Benefits
There are many benefits to the Rezku POS system. This includes:
Advanced reporting and analytics for greater business insights.
Unlimited remote training and exceptional menu building.
Extensive system setup and implementation.
Ingredient-level inventory tracking in real-time.
Unlimited VIP customer support via email, chat, and phone.
Rezku POS Costs and Pricing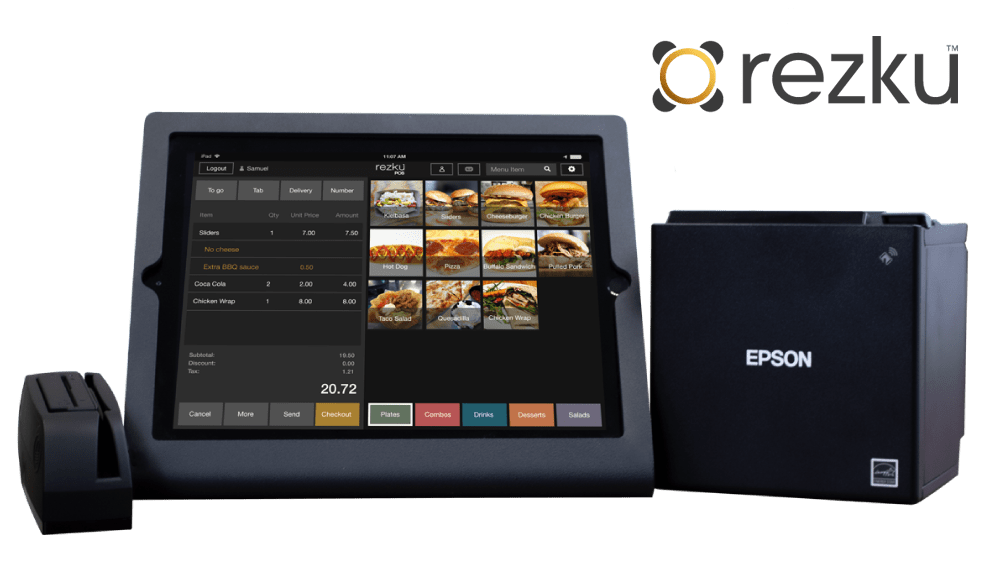 When it comes to pricing, Rezku POS software is subscription-based. For a low monthly fee of $79, the program includes online ordering and delivery. You can schedule a free, 30-minute demo to see if the system works for your business. Additional features to watch out for include:
Delivery zones, tickets, and trips.
3rd party integrations with estimated delivery times.
Loyalty programs with gift cards and point systems.
Customer relationship management (CRM) platform.
Offline mode with credit card payments.
Features
Rezku offers innovative restaurant POS technology that rivals every other platform. Some key features to the system include:
Employee Management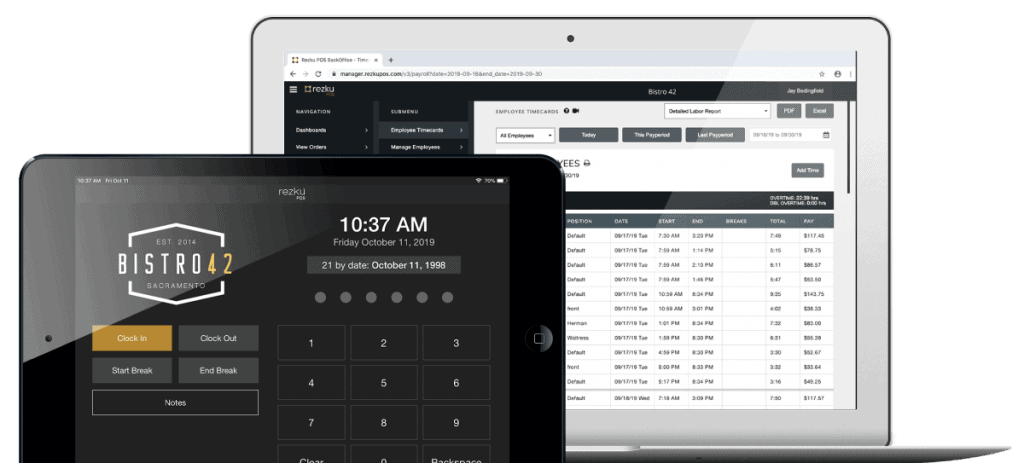 The Rezku POS system enables a business to track employee scheduling, performance, and general data. Maintain labor compliance and effectively manage the team without the added cost of a separate timecard system. All employee data is stored in a centralized space for uniform management.
Cost Controls
Accountability-based reporting that includes a live KPI dashboard. Generate comparative analysis reports with actionable insight into critical business areas that can deliver results.
Operations
The Rezku POS system enables a business to improve efficiency while maintaining a competitive edge. This includes total inventory management with hundreds of in-depth, customizable reports. The system enables a business to stay ahead of their bottom line and predict obstacles before they arrive.
Reliability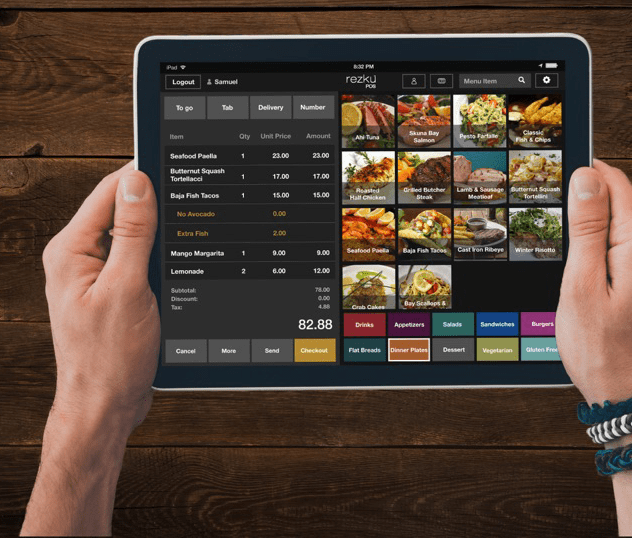 There is unmatched dependability with the Rezku system. It features sturdy hardware with automatic cloud backups. A business can utilize credit card payments without the use of the internet. The platform can be used even in a blackout.
Implementation
The Rezku program is one of the fastest POS systems to get up and running. A business can train staff in under 20 minutes as the learning curve is minimal. Menus can be changed at the drop of a hat. Cloud-based mobile management means you don't have to be inside of the restaurant to keep a finger on the pulse.
Scalability
The Rezku program is available for multi-site data sharing and omnichannel optimization. Produce enterprise loyalty and gift cards while carefully tracking consumer data. Have controlled manager access with change-tracking. A company can also activate additional POS tablets in less than five minutes.
Security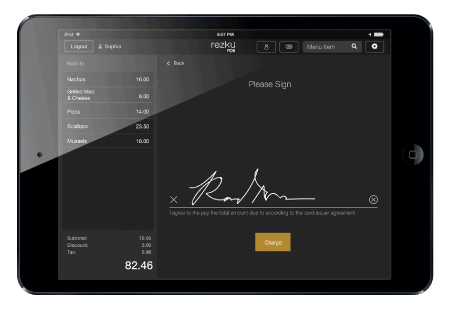 Featuring industry-leading POS data protection, the Rezku system offers access ID cards with 2-factor authentication. The program is 100% EMV and PCI compliant with end-to-end encryption.
VIP Service and Support
Leading experts provide remote support and unlimited personalized consulting no matter the time. Whether it's late nights, weekends, or holidays, a Rezku customer can speak directly to live support without hold times. The brand ensures they are there all the time to answer any pertinent questions or concerns clients might have.
Online Delivery and Ordering
Every subscription comes with a personalized menu. This includes the ability to accept online payments. A customer simply needs to click, order, and have it delivered.
Profit Protection
Rezku protects your business with profit protection in 6 unique ways, which include:
Online ordering: Setup and delivery included free for life.
EMV compliance: 100% protection from fraud and chargebacks. Transparent card processing with rate locking.
Remote menu building: Free, unlimited setup with employee training.
Fee-free integrations and API: They never charge an integration fee.
Inventory management: Loyalty rewards and gift card programs are included.
Highest quality: The lowest cost hardware including brand names like Apple, Epson, and MagTek.
Online Ordering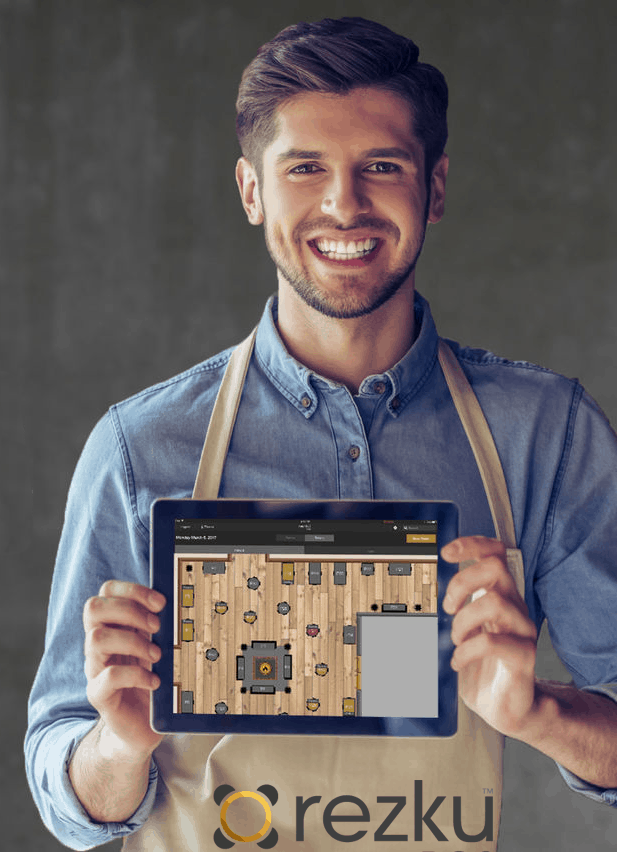 A separate service of the Rezku platform is the ability to easily set up online ordering for consumers. The point of sale system offers free online delivery that every restaurant needs today. Customers can order using a phone, computer, or mobile device.
There are no additional fees for this feature, which include benefits like:
No pre-order charges
No 3rd party fees
No web hosting costs
No setup or training fees
While other POS systems can charge hundreds of dollars for this added advantage, Rezku offers must-have online ordering features at no cost. They have thought of everything like:
Personalized website with a unique URL.
Pickup and pre-ordering with a countdown timer.
Fully tailored online menu with item descriptions and images.
Order slots for pacing the kitchen.
New online order notifications with credit payments and tips.
The system also has room for the loyalty program which includes an order approval queue and delivery fees with a map and zones.
Restaurant Reservation System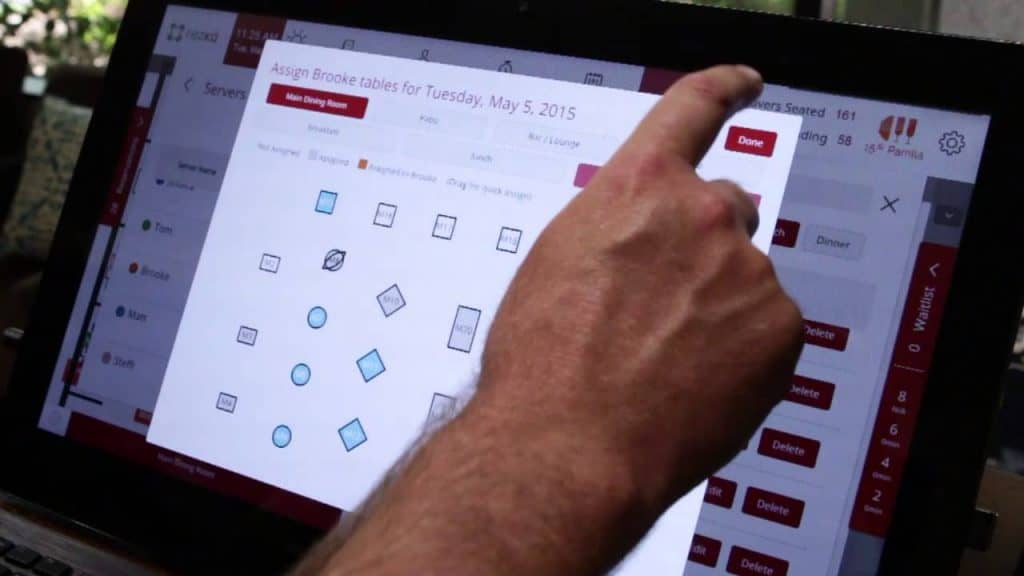 The Rezku iPad app transforms your host stand into a guest management command center. If you want to try it out, receive one week free with no credit card required. This app helps to manage a complete view of your restaurant to optimize service for speed and quality. It gives a business total control of the dining area that includes:
Unlimited tables, seats, and floor plans.
Easy to adjust zoom and view.
One-tap seat walk-ins.
Table occupancy and status.
The reservation system enables a restaurant to have a total view of service. It has a seated time counter and an auto-server rotation feature that keeps the floor moving.
Color-coded server sections mean less room for confusion or error. Seated and open tables can be viewed for fast seating and turn times.
A restaurant also has complete control of reservations through the unique app. It gives wait time estimates and upcoming reservation notifications. Other features include:
Service hours and table availability.
Unlimited guests SMS texts.
Average table turn time data.
Downloadable guestbook with an unlimited CRM.
Mobile reservations back office.
Unlimited Everything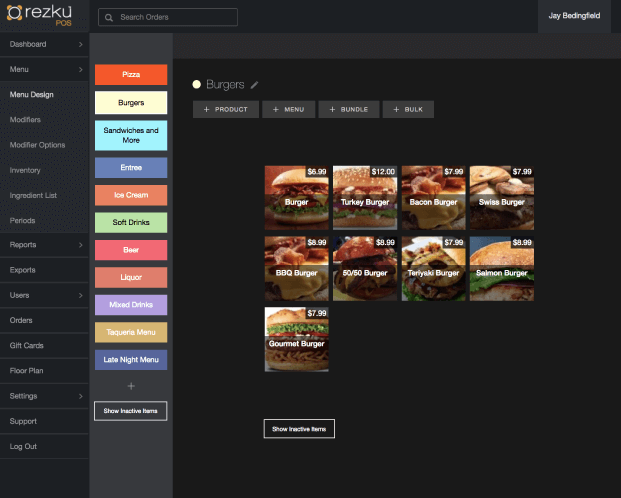 The Rezku reservation app gives a business access to universal features available at all times. The unlimited benefits include:
SMS texts – Notify guests without an extra charge.
License – Install as many iPads as you need to cover the business.
Training and support – Just call or chat for continual, US-based support.
Server – Add staff with their own color and floor plan.
Reservations – No per-reservation fees of any kind.
The system also allows for unlimited online bookings with a widget included. There is never any booking fees with the program.
The reservation app can be applied to an unlimited number of independent users. You can set permissions at any level based on seniority, whether it is a manager, server, bartender, or bus staff. Additionally, all guest data can be added without restrictions to optimize future marketing opportunities.
Waitlist App
This is another app that makes the host stand a table management command center. Receive one week free with no credit card needed just to test the app out. If your business needs reservations or a waitlist, this is the perfect integration. It includes things like:
Unlimited online reservations
Unlimited fee-free bookings
More features for reservation management
With complete waitlist control, you can reduce guest wait times, provide accurate estimates, and view all table statuses at a glance. The advanced technology allows you to install the app on unlimited iPads and self-service kiosks. Send unlimited SMS table-ready texts while keeping in consistent contact with customers.
Rezku POS Consumer Resources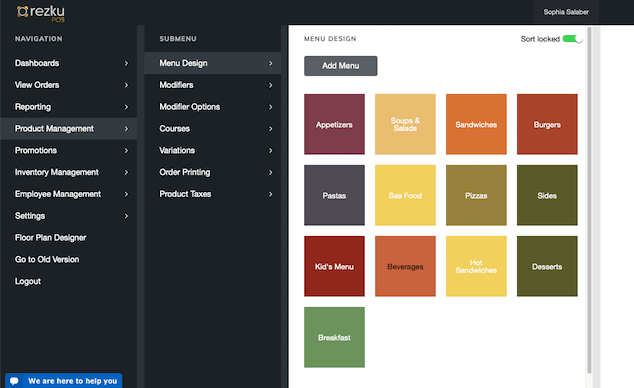 When it comes to consumer resources, Rezku offers a variety of free tools to help your business. Whether you are running a bar or restaurant, you can't get optimal results without any design experience. The easy menu maker comes with any subscription. It allows a business to simply add pages, products, and sections from one of the great-looking themes offered.
A business can build a menu for free in four easy steps:
Add info and logo
Choose a theme
Add pages, products, and sections
Download
Rezku also offers an easy food cost calculator for restaurants. The menu pricing calculator helps a business keep a healthy margin while pricing out a menu. The tool features a few options for real-time calculations that include:
Plate Profit Calculator
This will show you current pricing through the lens of profit percentages.
Target Price Calculator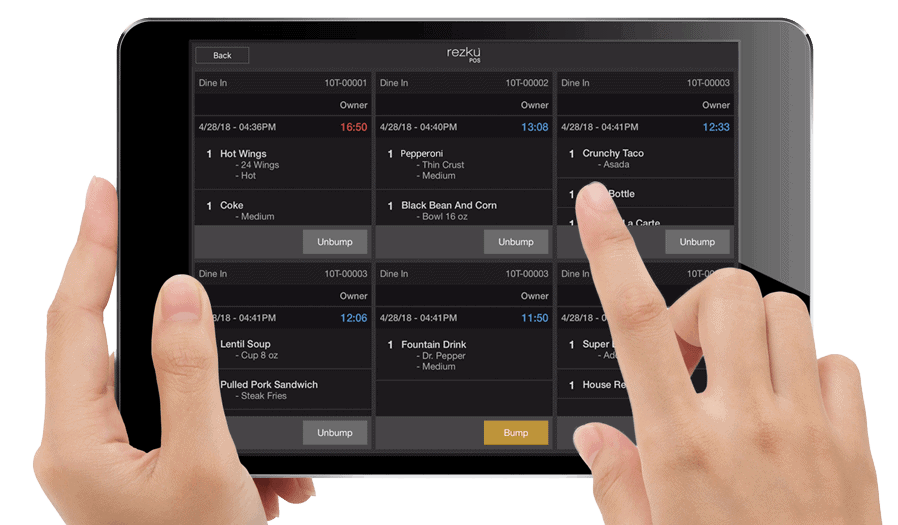 The target price calculator makes sure your plate prices accurately reflect costs. This will help a business keep a consistent amount of profit when pricing. Since restaurants typically try to establish a profit margin of 30%, it can vary based on concept and volume.
Contribution Margin Calculations
This platform helps you understand the difference between products that contribute to your bottom line and those that you may need to discontinue. It's critical to understand the contribution margin of the products/services you sell.
Recipe Cost Calculator
Menu engineering doesn't have to be complicated. This is a simple ingredient cost calculator that figures out the combined cost of your recipes. Once a company knows the cost, you can use the target margin calculator to establish accurate pricing.
KPI Calculator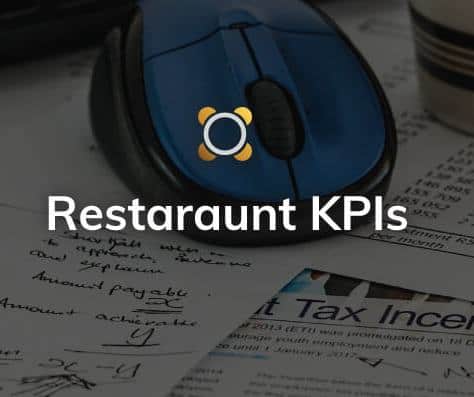 Gauging the success of a business sometimes starts with employee performance. Key performance indicators (KPIs) help to determine the health of your business. There are plenty of operational metrics that can qualify as a KPI, but some are considered more telling than others.
The most important key performance indicators relate to gross sales and the primary costs of running the business. The Rezku KPI calculator helps to identify and determine the efforts needed to meet these set goals.
The simple KPI calculator shows how much you should be spending on three primary cost areas. These are important areas to watch because they largely determine whether or not a business is successful and can keep the doors open.
The KPI calculator helps a company answer questions like:
How much you spend on hourly labor per month.
How much you spend on rent and building costs per month.
How much you should spend on food and beverage each month.
How to Use a KPI
KPIs are a way to gain an overview of your establishment's performance. The goal of every organization is to generate a profit. A KPI helps to obtain certain goals tied to profitability.
Established restaurants must keep a close watch on how resources are spent to ensure long-term profitability. This ensures investors and partners are seeing a worthwhile return on their investments.
Startup restaurants also use KPIs in a business plan to entice investors. It can show them how quickly a business can pay back loans. Key performance indicators also help plan ahead when making projections for cash flow and costs.
The Bottom Line
The Rezku POS system gives a foodservice business all the tools needed to focus on business growth and drive success.
From managing people before they arrive to a continued experience after they leave, it's the perfect tool to maintain a competitive edge over local establishments.