Verifone is behind the Ruby2 POS solution designed for c-stores. It follows the Ruby Superstation POS platform with the same dispenser, network processor compatibility, and oil brand.
Ruby2 POS System Review  – Company Overview

Verifone is a multinational, American corporation headquartered in San Jose. Established in Hawaii in 1981, the brand now operates in more than 150 countries and employs 5,000+ people worldwide. The business provides technology for electronic payment transactions and value-added services at the point of sale.
The company sells consumer-facing, merchant-operated, and self-service payment systems. Their products process a range of payment types that include signature and PIN-based credit cards, ID cards, smart cards, and electronic billing…to name a few.
They offer a range of modern technologies that allow for more efficient payment processing for a multitude of industries, specializing in fuel and retail. Here are a few things to know before purchasing the system.
Ruby2 POS Benefits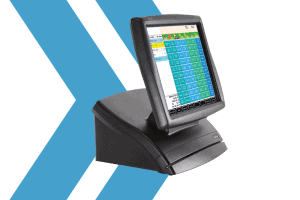 There are many benefits to the Ruby2 POS system. This includes:
More than 60 customized and in-depth reports.
Stacks fuel transactions to free up a pump for more immediate use.
A personalized control panel for easier navigation.
Simple management of inventory, store, and price changes.
Always prompts for an ID with alcohol and tobacco sales.
Ruby2 POS Pricing
Since Ruby2 POS is available through a variety of third-party vendors, pricing can greatly vary. Verifone's official website does not list an exact price either. Based on multiple merchant quotes, the Ruby2 single-station POS console runs anywhere from $3,400 and $4,000.
A Verifone Commander Ruby2 Terminal POS System costs about $11,500 while the Ruby 2 Dual Terminal POS System will run you around $16,000.
Hardware and System Requirements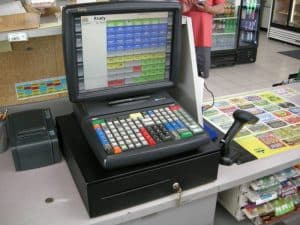 The new Ruby2 has a much stronger processor than the old Ruby SuperSystems. That means it's completely scalable to support new products and integrations. Functions can be processed with increased speed and the platform comes with important peripheral hardware like:
15-inch infrared touchscreen with high resistivity and anti-glare glass.
LED-backlit TFT XGA high-brightness display.
DVI connector for the second display.
3-track MSR to read ID and loyalty cards.
2 cash drawer ports with RJ-45 connectors.
The hardware also has audio mic-in and line-out connectors.
Advanced Pin Pads
Deliver world-class performance, advanced security, and flexibility with a variety of pin pads offered through Verifone.
The P400 is the main pin pad, powered by the company Engage. It's customizable, increases productivity, and protects your investment. It boasts the latest Linux-based OS with an ultra-fast processor and ample memory that makes it totally future-ready.
The redesigned EMV slot allows for smoother card insertion and easy operation. The angled screen makes for easier reading with a new user interface and tactile keypad. It also accepts mobile wallets and is NFC/CTLS enabled. Other models available include:
Countertops
T650c – Next generation in countertop commerce solutions.
V400c – Is a high-end touchscreen countertop solution.
V200c – This is an affordable and smart solution with an elegant design.
Pin Pads
P400 – Comes with high performance capabilities. It's an advanced pin pad with rich commerce and multimedia capabilities.
P200 – Lightweight and affordable, the P200 is a durable, multi-payment acceptance pin pad that works at a high rate of speed.
VX 820 – This all-inclusive touchscreen has a high-performance processor with a stylish design.
VX 805 – This EMV pin pad supports a full range of transactions and card types.
Multilane
M440 – The industry's thinnest large-display payment device.
M400 – This multi-lane and sleek device comes with advanced personalization and commerce capabilities.
MX 925 – This rich and elegant multimedia powerhouse comes with a 7-inch WVGA color display.
MX915- This has the same features as the MX925 but comes in a smaller design (4.3" color display).
Kiosk and Unattended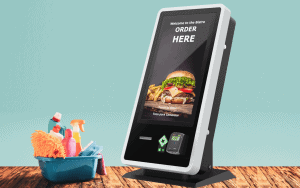 Whether it's self-service or you are combining customer-operated terminals, Verifone has the right solution. They offer a diverse portfolio of kiosk products that include wall-mounted, freestanding, and countertop displays. Some of the models they sell are:
K250 – This is an ultra-slim countertop kiosk that's perfect for increasing customer engagement.
K450 – This is a larger screen size with multiple configurations to choose from.
Get Free POS Systems Quotes
Integrated POS Systems
Verifone provides a family of integrated POS solutions that helps merchants manage their business and drive revenue. The products are ready-to-use right out of the box, so a business can easily connect to value-added, commerce apps that help build brand loyalty.
The Ruby2
Offering dynamic sales functionality this full touchscreen console provides fast and efficient order-taking and payment processing. The solution can be adapted by the store as well. The function menu on all registers allows you to always manage updates with full reports.
This system supports the MX 800 and MX 900 series with a DVI connector for a second display. The main display is an LED-backlit 15" TFT XGA with high brightness. The OS is secure, real-time Linux with a 1.86GHz Intel Atom Dual Core CPU.
Features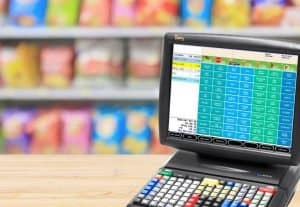 Verifone's Ruby2 is made for a connected world. It helps to not only drive business but create meaningful customer experiences beyond just accepting payments. The system is built for the convenience retail industry to withstand the harshest environments.
Small Learning Curve
The Ruby2 POS Workstation features an easily customizable configuration for enhanced use of the system and faster adoption. It combines all features in the dashboard including your cash register, card processing, and reader into one single space.
It has been designed to meet the needs of fast-paced petroleum and c-store operations. These capabilities work in conjunction with a number of partner peripherals for advanced retail automation. This allows for custom and tailored solutions that meet all business requirements.
Interactive Display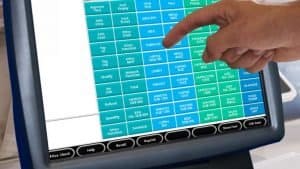 The intuitive interface of the Ruby2 system is equipped with a customizable control panel that makes it possible to tailor screen menus to your sales activity and inventory management. The soft key and menu configurations make this system easy to integrate and set up for staff. It also means things are simple to modify. Features of the display include:
77 soft keys
On-screen scrolling receipt
Animated and graphical icons
Manage up to 32 fuel pumps from a single dashboard
Large sub-menu screens for quick and easy navigation
On-Screen Help Menus
When training staff on the system, the on-screen help menus come in real handy. They also offer quick answers to questions in the event a supervisor isn't present. This means an on-screen message board that runs in real-time provides instant access to vital notifications and important merchant data.
Integrated Solutions
Unlike the predecessor, Ruby2 is capable of integrating with several other solutions by Verifone. For example, a business will be required to connect to the Commander Site Controller by the provider. Ruby2 integrates with other products that encompass:
Site management software
Customer engagement
Multi-location management
Media solutions
Fuel control management technology
And more…
All aspects of gas station and convenience store management can be performed in a centralized system.
mPOS
Flexible mobile payment to adapt to your needs. The fully encrypted card reader ensures card numbers are never passed straight through a smart device. A business can save time and money by eliminating manual entry errors. Access reports in real-time through the backend portal. It comes with extensive transaction details.
All Verifone devices work with modern and next-generation smart devices. This prevents the need to invest in another solution as your device inventory changes.
The e280 is Verifone's main mobile device. Powered by Engage, it's one of the most flexible payment solutions you can find. Pair the e280 with any phone or tablet and any Verifone POS system. It comes with a bunch of accessories to develop the perfect mobile solution, whether in-aisle or through a kiosk.
Ruby2 POS Customer Service and Support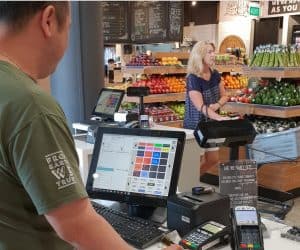 To contact the Verifone customer support, simply fill out your information on their contact page and someone will get back to your promptly. Ruby2 comes with a suite of managed services with a helpdesk and onsite integrations.
Verifone also offers a support portal that addresses your issues by device and cloud services. You check on things like:
Tech support
Support articles
Knowledgebase
Estate management
Development tools
There is no indication where you can call them and reach immediate support.
The Final Say
If you need a c-store POS system, chances are you've heard about the Ruby2 POS system before.  Verifone is a trusted international brand that has been around for a long time.
They specialize in the retail and fuel space but offer solutions that can work for a business of any kind.  If you're looking for an out-of-box product with a short learning curve, try Ruby2 on for size.