ShopKeep POS was founded in 2008 and has become a household name in the point of sale (POS) industry. Its stated mission is to "Empower independent business owners to dream big and fight smart."
Before we dive into our review of ShopKeep POS, let's start with a basic question for anyone who is not familiar with the POS industry: What should you look for in a POS system?
Combining software and hardware, a POS system can help streamline and automate manual tasks that help operate your business. These include payment processing, inventory management, employee management, reporting, and many more. Automating these processes saves employees' time so they can focus on more important tasks. These include increased productivity; better data storage and accessibility, a better customer experience, and accelerated revenue growth.
With that out of the way, let's turn our attention to the ShopKeep POS system. This article is comprehensive and reviews every aspect of the system. You may have read other ShopKeep POS reviews, but this article digs into areas that other reviews do not.
Below, we'll discuss key pros and cons of the system, which industries use ShopKeep the most, operating systems supported by ShopKeep, software features offered, hardware components for ShopKeep POS, and pricing. Let's get started.
What Do We Love About Shopkeep POS?
Most ShopKeep user reviews are positive because the majority of those users love the system. There are too many system pros to discuss here. However, here are a few of the most commonly cited ShopKeep pros:
24/7, high-quality customer support
Ease of use and intuitive interface
Great staff training for new users
Best-in-class back-office management features
Highly compatible with third-party hardware
Possible Drawbacks to Shopkeep
Although most users are more than satisfied with ShopKeep POS, other users are not so enamored with the system. Users don't tend to cite many negative system aspects in their reviews, but there are some common complaints that appear in those reviews, including:
Customer-reported bugs sometimes take a long time to address
Updates sometimes affect system performance and introduce new bugs
No free trial is offered
You're charged for important add-on features that most users will want
Which Industries Use ShopKeep POS?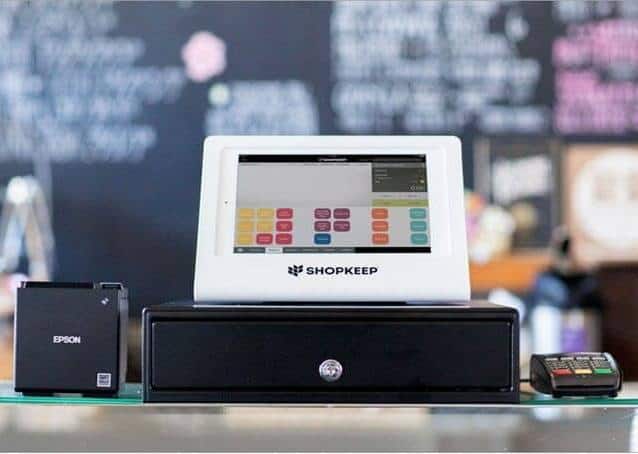 ShopKeep is so flexible and customizable that it is used by a broad range of business types and sizes around the globe. Most of these businesses fall into the retail and food and beverage categories.
When you purchase ShopKeep POS it comes with a large feature set right out of the box. Then, business owners can purchase individual premium add-on features to customize the system to meet their unique needs.
These add-on features include hardware protection plans, social media management, inventory synching, gift card processing, and more.
Businesses should take into consideration the extra charge for purchasing an add-on feature because those costs will start to add up quickly, which can make their pricing a little misleading.
With that said, here is a list of the most common business types that use the ShopKeep POS System:
Retail Businesses
Boutique/Clothing Stores
Convenience Stores/Delis
Gift Shops
Grocery Stores
Liquor Stores
Pet Stores
Specialty Retail Stores
Vape Shops
Wine Shops
Food and Beverage Businesses
Bakeries
Bars
Coffee Shops
Concession Stands
Food Trucks
Full-Service Restaurants
Ice Cream/Frozen Yogurt Parlors
Juice Bars
Quick Service Restaurants
Specialty Food Establishments
Business Sizes that Use ShopKeep POS
ShopKeep was designed with small and medium-sized businesses in mind. The company intentionally built the system with the goal of capturing the most market share possible in that niche.
The system can be used by larger businesses and many do. ShopKeep POS can be used to manage multiple stores for businesses with more than one location. However, larger businesses typically opt for a more expensive system with features specific to their business type.
Get Free POS Systems Quotes
POS System Types
There are three main types of point of sale systems available and many are made with a specific type of business in mind.
Some are developed specifically for retail stores. Others are designed to support restaurants, bars, cafes, coffee shops, etc. Furthermore, some systems are developed with the stated goal of supporting the hospitality industry, the entertainment industry, service-based businesses, and so on.
ShopKeep is a "hybrid" POS system. In order to understand what that means, we'll quickly cover the three types of POS systems to provide context through which to understand hybrid systems and why many businesses opt for them.
Cloud-Based, Mobile POS Systems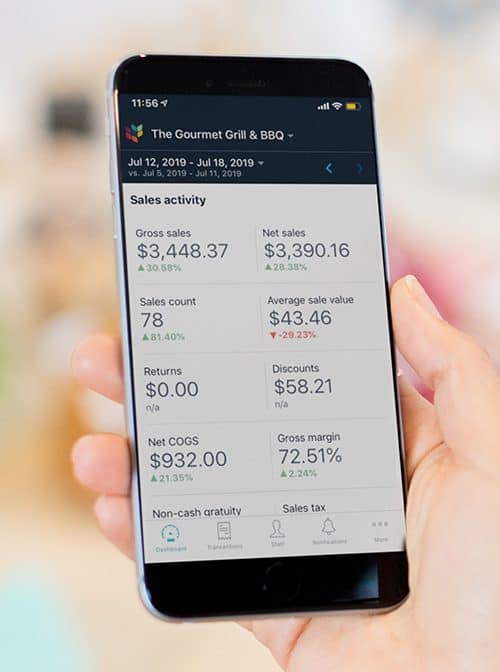 Cloud-based, software-as-a-service (SaaS) POS systems are growing in popularity. This is because they store all relevant data in off-site servers and can be accessed on the go via a laptop, tablet, smartphone, etc.
The data they capture is also backed up in the "cloud" so there is no risk of data loss if the system crashes. They are operated through a tablet most of the time, which is why we refer to them as "mobile" POS systems.
This type of POS system is popular with and ideal for use by smaller retail stores, restaurants, and other small businesses that require fewer hardware components and a simpler system overall.
On-Site, Locally Hosted POS Systems
On-site POS systems are ideal for large supermarkets and other large retail stores that complete large quantities of transactions every day.
They work as follows: Your business acquires the capacity to store large amounts of data on-site in a large database.
Then, all point of sale hardware components link into that closed system and all data is stored on site. This comes in handy if your business has a non-reliable internet connection that goes out from time to time.
Everything is stored on-site in your own personal database and your system will keep running if your internet system stops working. Data will still be collected, and every hardware component will continue to communicate with the system as per usual.
Hybrid POS Systems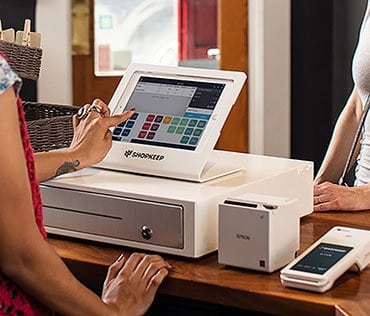 A hybrid POS system is a cross between a cloud-based and an on-site system. Updates happen automatically and the system relies on an internet signal to operate.
With a hybrid system, you maintain a data server on-site so that if your internet connection goes out, your POS system still operates with no kinks, much like an on-site, locally hosted system.
However, unlike a locally hosted system, a hybrid system's server connects to the cloud and backs up data, hence the name. This allows users to access the system from anywhere they have data or a Wi-Fi signal.
Supported Operating Systems
ShopKeep POS can be used on various operating systems, which adds to its flexibility and attractiveness to customers.
Apple iOS
ShopKeep was designed to operate through Apple's iOS operating system. Most businesses use an iPad as the central hub of the system, which is where automated processes are set up, customizations are configured, reports are run, etc.
Because the system was designed for iOS, it can also be accessed by an iPhone. However, to use ShopKeep on Apple devices, most users download the ShopKeep native app from the Apple App Store.
Plus, most of the hardware that ShopKeep sells is intended to be used by an Apple device. Although, they also sell hardware bundles that are compatible with Android devices, which is a perfect lead-in for the next section.
Android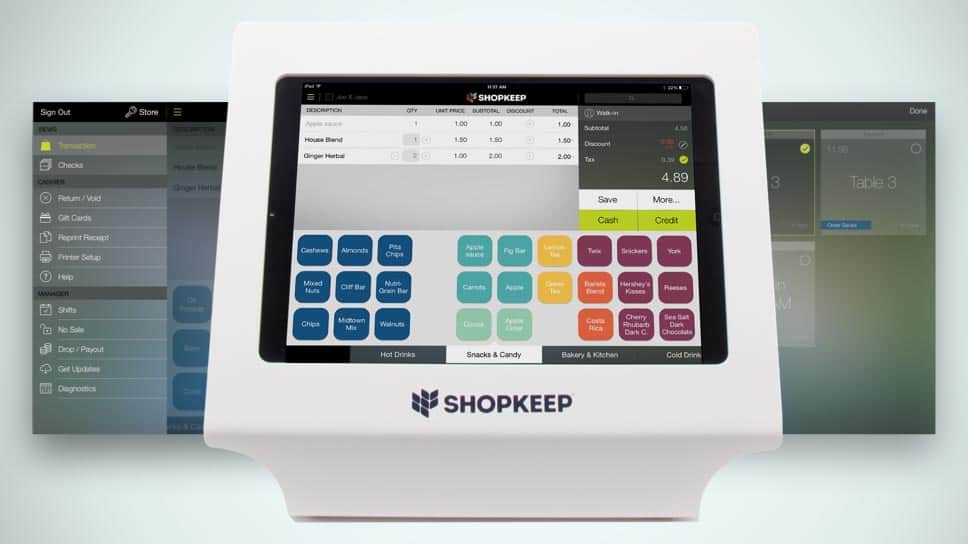 It is possible to operate ShopKeep on an Android device. To do so you must download the ShopKeep native app from the Google Play Store. But doing that only gets you the app. It does not come with any hardware—that has to be purchased separately.
ShopKeep sells hardware bundles manufactured by POS competitor, Clover. These hardware bundles are built for the specific purpose of allowing ShopKeep users to operate the system on an Android device with hardware components that are specifically built for the Android operating system. We will discuss these Clover hardware bundles in more detail below.
Web Browsers
Downloading and using the ShopKeep native app to operate your business is not the only way to leverage ShopKeep POS. You can also access the system by opening a web browser on any device, navigating to the ShopKeep website, and logging in with your unique password.
When used in this way, ShopKeep becomes a software as a service (SaaS) solution, much like any other software that you log into via Google Chrome, Firefox, Bing, etc.
ShopKeep POS Software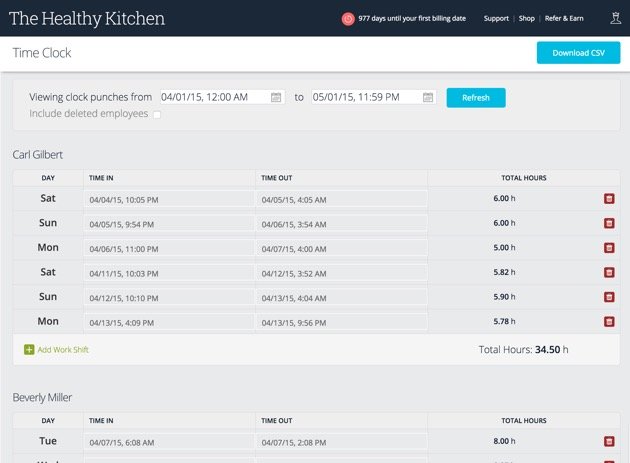 The ShopKeep native app only provides the software features businesses need to automate processes, run reports, and complete a host of other tasks. In order to complete most tasks, you need hardware components that link to your software system. We'll expand on ShopKeep hardware components below.
ShopKeep comes with many features that are built into the system and ready to use right away. Some of the most useful and popular features were covered above.
The system includes so many features that explaining them all is beyond the scope of this article. Instead, we will highlight some of the most important features that businesses look for in a point of sale system.
Data Storage and Accessibility
Restaurant POS systems store tons of data that can be used to personalize the customer experience, run reports, and can be leveraged to make better decisions.
With ShopKeep, you can access that data and those reports any time you want, allowing you to work with them from home or wherever you want.
Reporting and Dashboards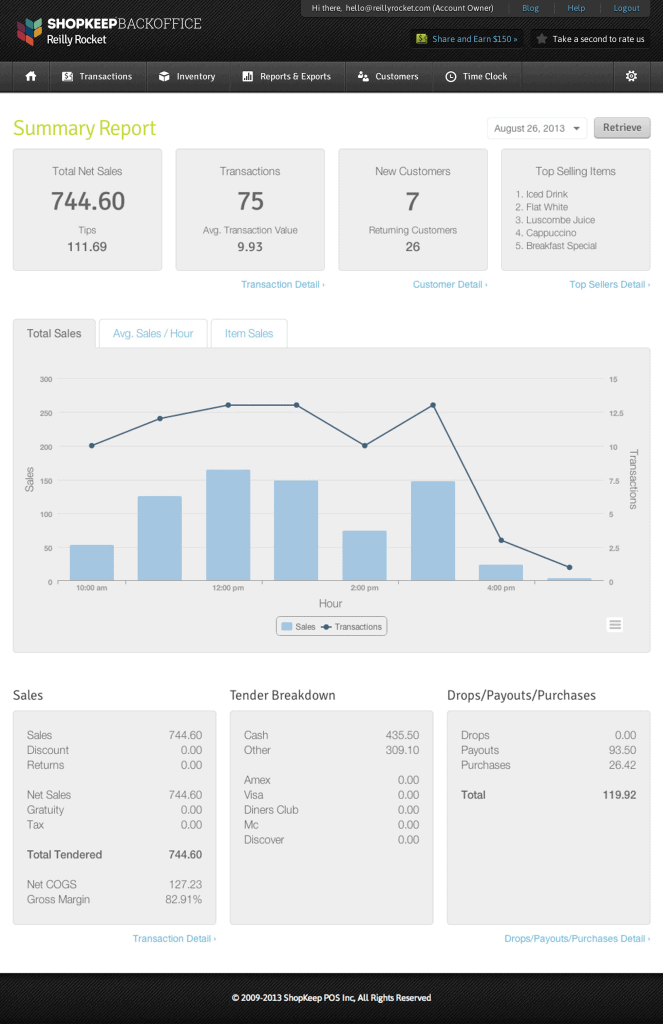 Powerful reporting, metrics and analysis are features that every business should require. With so much data at their hands, users can easily maintain constant insight into their results and make better, data-driven decisions. They can run customized reports around just about any metric for which there is data stored.
For example, inventory discrepancy reports alert store managers when inventory does not align with the number of goods that have been sold.
Plus, ShopKeep provides customizable dashboards that display specified metrics, giving users an at-a-glance view into how the business is moving the needle. And with the ability to customize them, your dashboards display only the data and metrics that you need to see most.
Hardware Integration
Square does not manufacture many hardware components itself. Rather, it easily integrates with nearly every manufacturer's hardware and that is how users build a complete ShopKeep POS system.
As your business grows and you need to scale up your system, you will likely require new hardware components to do so. If they don't integrate with ShopKeep or are not compatible with the system, you will have wasted your money.
Always check to be sure any new hardware you purchase from a third-party vendor integrates well with ShopKeep. Luckily, as mentioned above, ShopKeep integrates with the vast majority of third-party hardware components so finding compatible hardware should not pose a challenge.
Employee Management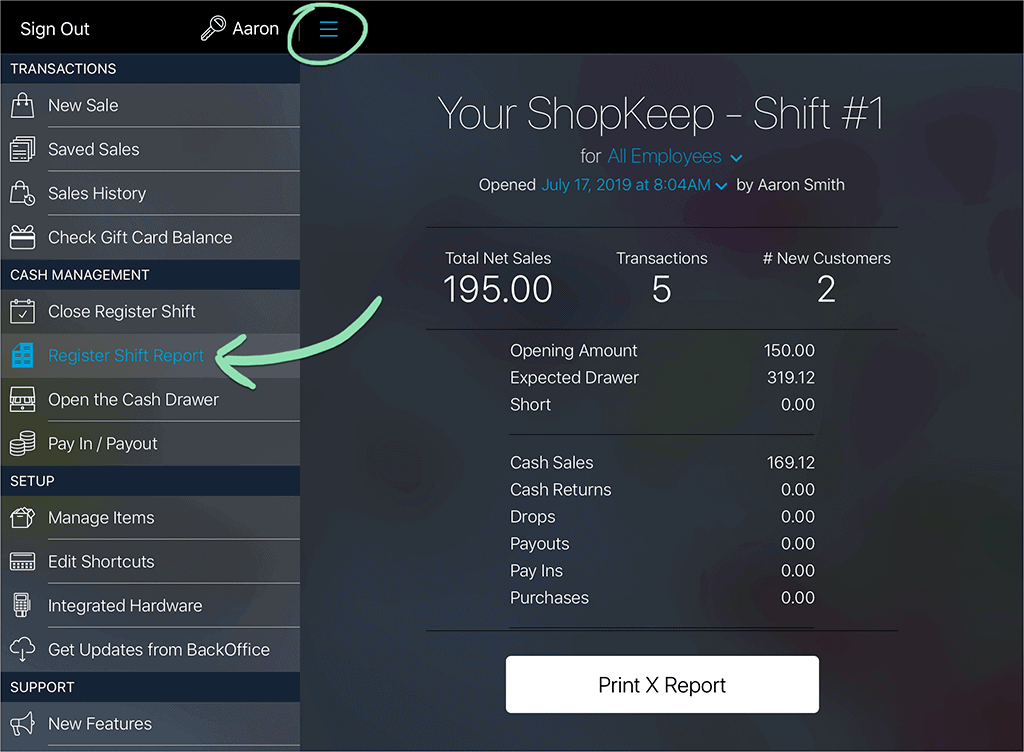 When you have multiple employees working at the same time, each having arrived at a different hour, manually keeping track of hours worked and payment due can be a hassle. Plus, it is quite time consuming and leaves the process open to human error, which can cause problems with your employees and their satisfaction levels.
With ShopKeep, each employee with access to the system has a unique login code. This lets you track who is working, when, what they are there to do, and who is scheduled to work a specified shift.
The system tracks all of that automatically so managers don't have to spend time doing it manually and can focus on other, higher-value tasks.
Solid employee management features allow employees to maintain a clear view of the hours they've worked and how much they will be paid on payday. And as mentioned above, when managers don't have to waste time managing employee movement they can spend more time interacting with customers, tending to their needs, and delivering a better customer experience.
Discount and Gift Card Features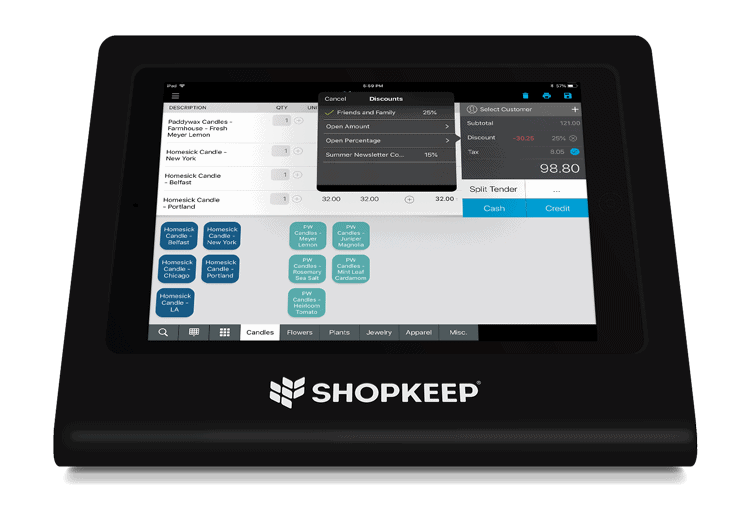 People like to give gift cards to friends, family, and colleagues when they can't think of anything else to give. Often, those gift cards are for a specific restaurant so the recipient can enjoy a nice meal at no charge.
That's why it's so important to have gift card processing capabilities built into your POS system. It is just one more way to allow patrons to pay, which increases customers served and boosts profits.
Discounts and special offers also attract new customers to your store. People love discounts and will often purchase something they don't need just because the price has been reduced.
ShopKeep's discount management features track discounts, automatically adjust prices accordingly in the system, and simplify and streamline the process of offering discounts. Discounts leave customers feeling satisfied and customer satisfaction is one of the most important benefits a POS system can provide.
Inventory Management

Any store that keeps inventory on site—and most businesses are in this boat—need a way to count and track inventory on a daily basis. When inventory is counted and tracked manually, it is very time-consuming, pulls employees away from more important tasks, and increases the possibility of inventory discrepancies.
Of course, you always want your inventory to match what you have sold, with no discrepancies. However, discrepancies happen all the time with any business, so it is important to understand how they happen.
Discrepancies can occur due to a number of scenarios. For example, if an employee is stealing inventory, you would see an inventory discrepancy notification in your ShopKeep POS system. If you suspect that might be the case, you can rely on your security cameras—assuming you use them—to identify what's going on and remedy it.
Discrepancies can also happen for less-malicious, accidental reasons. If you rely on an employee to manually count your inventory every day, it is almost a certainty that one day someone will miscount your stock.
That's an innocent mistake. Everyone makes mistakes—it's part of being human.
Luckily, ShopKeep allows users to run discrepancy reports to ensure that the amount of goods in the stockroom match what should be there based on system inventory tracking.
eCommerce Integration
Generally, businesses invest in a point of sale system in the early stages of opening a business. Over time, they must be able to scale up as their businesses grows.
For example, if you run a retail store and decide that you want to build an online store to sell your products, you must use an eCommerce platform like Magento or Shopify to do so. The eCommerce solution processes payments online and does so in secure ways that protect customers' personal data, like credit card numbers.
If you use a traditional POS system, it is often more difficult to integrate third-party hardware eCommerce solution into your existing POS system.
Luckily for those business owners that acquire ShopKeep, integrating an eCommerce platform is simple and easy.
More Payment Options for Customers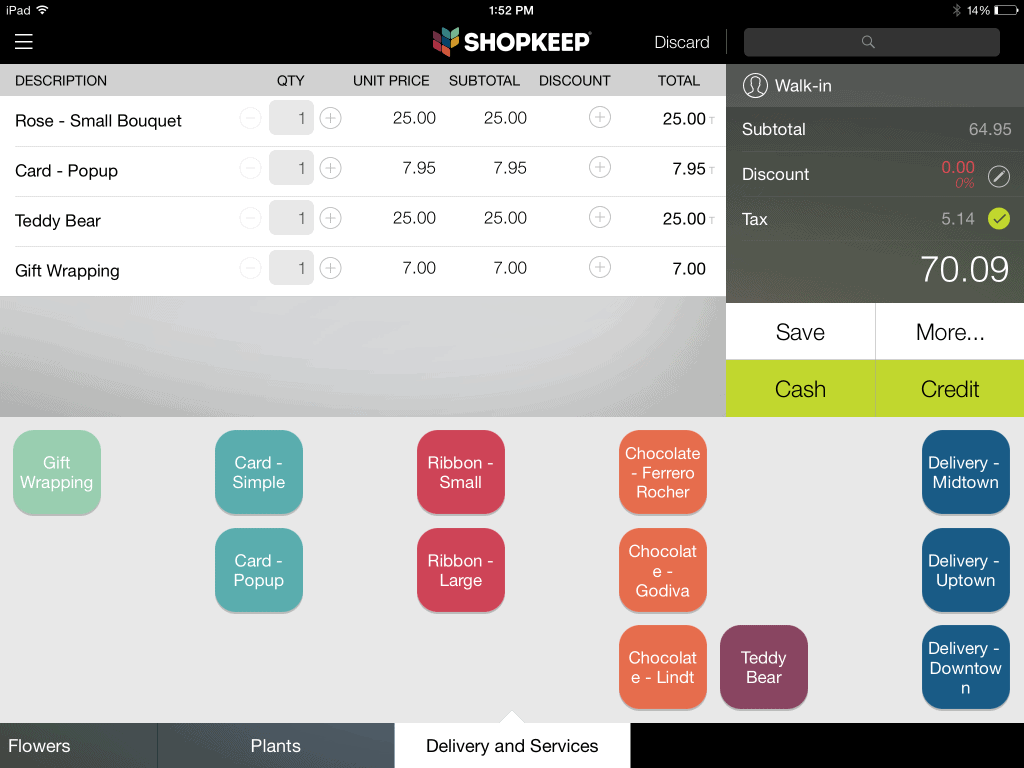 Payment terminals, automated check splitting, and card readers that can read and process all types of credit and debit cards give customers more payment options. Giving customers more options to pay reduces the hoops they must jump through to settle the bill and improves the customer experience.
Marketing Features
Keep customers informed about new offers and encourage them to return and purchase more. Use email marketing and other marketing features to raise brand awareness, communicate discounts and special offers to past customers, and educate potential customers on how they could benefit from your products.
ShopKeep POS Hardware
ShopKeep does not manufacture many hardware components. The software system was designed to be used with primarily third-party hardware components. Businesses looking for a POS system that includes hardware and software all from the same vendor might not be satisfied with ShopKeep.
Using a consolidated system from one single vendor is often preferable because doing so allows you to have one central point of contact when you need support. It also ensures that every hardware component in your system integrates and plays nicely with the rest.
However, because ShopKeep is known for its ability to easily integrate with third-party hardware, this concern is not as relevant as it would be if you purchased another software system.
What ShopKeep does do is sell individual hardware components that integrate with the system. They publish a list of components that are compatible, so customers have no doubt about their purchase.
They sell hardware components—all of which are compatible with iOS—from an array of companies, including:
APG Cash Drawer
Epson
Ingenico
Socket Mobile
Vault
MagTek
Dymo
Heckler Design
They also sell entire POS system bundles that include the only hardware component the company actually produces—a tablet stand.
Clover Hardware Kits for ShopKeep
Those who have Android tablets and want to use ShopKeep can do so by purchasing a complete POS system that allows them to use ShopKeep on their Android tablet or smartphone.
These bundled systems are manufactured by Clover and there are multiple bundles so business owners can select the package that best fits their needs.
ShopKeep POS Pricing
Pricing varies for both software and hardware—depending on whether you want just software, additional features, individual hardware components, or an entire system bundle.
Software Costs

ShopKeep software prices are not published on its website—you must call for a quote. We did so and the most basic software package starts at around $69 per month. Then you must purchase hardware.
Hardware Costs
Hardware must either be purchased separately or in a comprehensive ShopKeep POS system bundle. Virtually every component that ShopKeep sells is manufactured by another company. Because ShopKeep POS doesn't publish prices on their website you must call for quotes for hardware as well.
Complete System Bundles

Entire system bundles vary in price depending on the tool you need. ShopKeep POS bundle prices start at around $800 and run as high as $1,500 for the most robust package.
Clover System Bundles
As mentioned, Android users can purchase full systems manufactured by Clover. Again, unfortunately, they don't publish prices for those on their site. You must call for a quote, which typically results in a salesperson pushing her best pitch at you.
Wrapping It Up
With such a detailed review of ShopKeep POS, you should now be able to discern whether or not it's the right system to meet all your business needs.
However, it's always smart to create a list of your system needs and requirements, then look for a system that meets all those needs.
We also suggest reading user reviews and review articles like this to help in your evaluation process.
ShopKeep is, no doubt, a great POS system for many businesses. Just do your research, compare it to others, and you'll be able to make an informed decision about the system that best fits your business' needs.