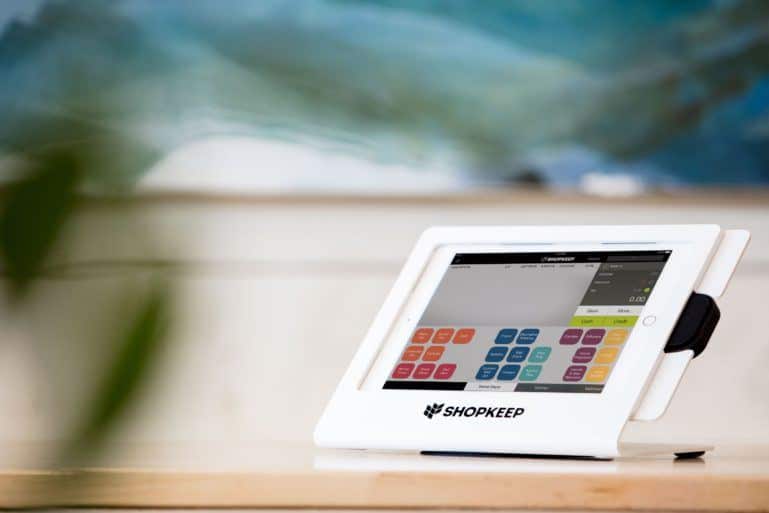 Shopkeep is one of the most popular POS systems, as its interface and functionality is ideal for nearly any type of business, regardless of their inventory size or the type of service offered.
Unlike other apps, Shopkeep works with gift cards and promo codes. If you work in retail, you probably already know how many customers shop using these bonuses – allowing them to use these coupons could massively increase your profits as it will attract additional buyers.
You can keep track of a small business inventory or you could have an enterprise with thousands of items in stock – the app will do an amazing job and serve as a first-class companion for your venture. Oh, and Shopkeep also works with Android devices!
Shopkeep POS Reviews – Brief Overview

Shopkeep was created around the premise of aiding business owners into creating a stable, successful and self-sustaining business. This is done by encouraging practices of smart management, proper employee clocking, comprehensive evaluations of sale reports. Also, many other practices that are very common in modern successful businesses.
It's tailormade to suit almost any type of venture that you might own. Its features are versatile and adaptable – you can count on the Shopkeep staff to assist you at almost any given time of the day. We would like to point out that there is no free trial included with this POS, though. Read our whole review to make sure this is exactly what you want.
Shopkeep for Restaurants
The app has a vast amount of features well suited for the food industry. Although organizing clients and tables isn't as straightforward as it is in other apps, you can still add different clients and combine their checks, calculating tips and other payments with no issue at all. We do suggest looking for a food industry specialized POS( i.e frozen Yogort POS), but Shopkeep does a great job anyway.
With Shopkeep, you can keep track of the most sold items in your shop's inventory, and the app will also keep track of 10,000 products in your inventory. It doesn't matter the type of restaurant that you run – Shopkeep seems to be tailormade to run businesses of almost any size.
Shopkeep for Retail

The retail industry is where Shopkeep truly excels at. The features that you get with Shopkeep are meant to simplify the tasks of retail workers, even when it comes to clocking and billing. If you own a big retail store (or even a franchise of stores), you should strongly consider setting up Shopkeep for your business.
The staff management features are also great for business owners to keep track of the time employees work, how they perform, and how many items they sell while they're clocking time in the app. All in all, it offers a complete retail-management system for business owners and employees alike.
Shopkeep for Bars
Shopkeep has a special bar POS design which also makes it an ideal tool to keep around bars, nightclubs or businesses of such sorts. You can use the inventory functions to keep track of all the liquors you have in store, and the app will be sure to notify you when you're running low, so you know when to restock your inventory.
As a very important bar feature, Shopkeep also includes an option for customers to tip their bartender. The tip function gets excluded from the overall wage of a worker, but you can further tweak this setting depending on the type of contract your employees have signed.
There's also special hardware that you can get to further boost the POS performance. None of it is required, but some products are very useful.
Get FREE POS System Quotes
Shopkeep POS Benefits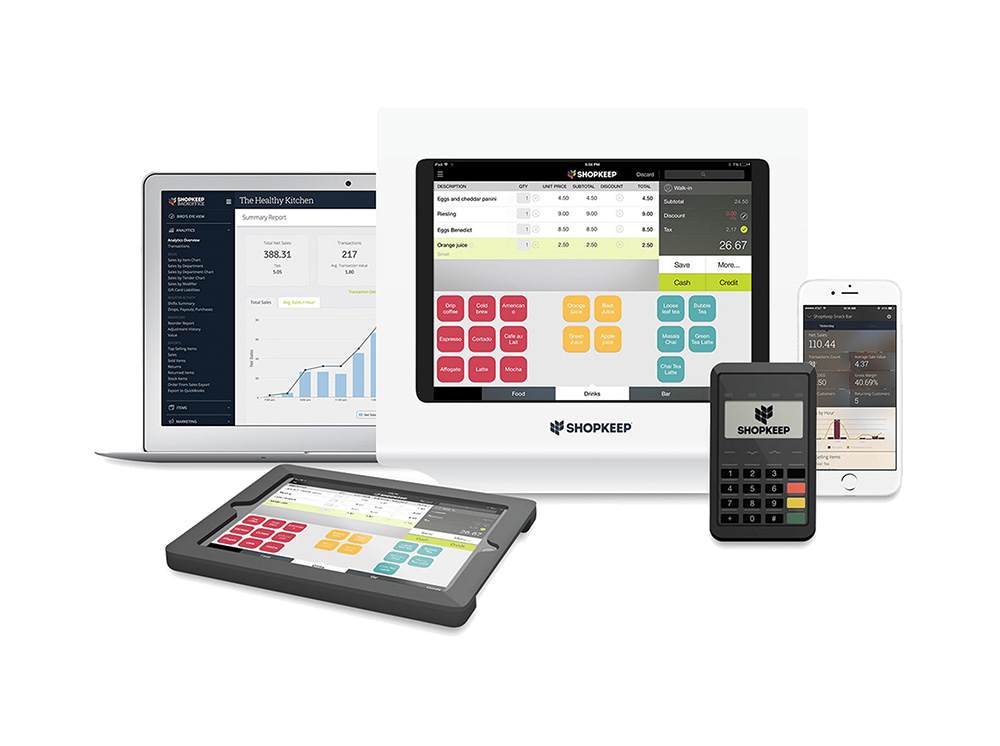 The checkout process is simply impeccable. Some apps tend to have a lot of issues when it comes to processing payments (even more so when credit cards are used), but Shopkeep does things as cleanly as possible. Clients are rarely delayed when a payment is made, which is a great feature to have if you run a business with a large clientele.
Payments
The app also works with any payment processor. You might need to purchase some custom pieces of hardware, but these will be provided to you by the company after you've made your first subscription payment (you'll be told the exact price of the hardware you'll buy after sealing your deal with the Shopkeep staff).
Ease of Use
Shopkeep's menus aren't the only things that are crisp and clean. The setup process is also incredibly straightforward. Unlike other apps that are simple to use but difficult to set up, this one promises you an easy process from the beginning to the end.
Its ease of use also saves you a lot of time when it comes to personnel training. Staff can get accustomed to the app rather easily, even those who work at the registers (which are naturally the most difficult parts of the app to work with).
Management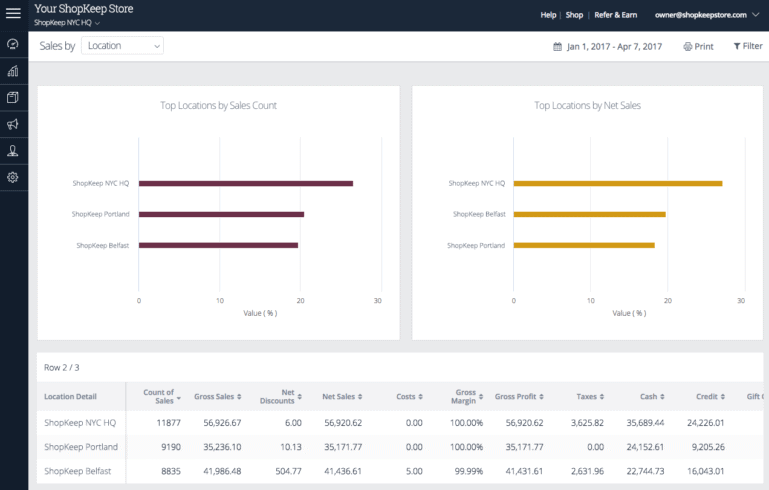 The versatile management features also play a great part in making this app one of the best POS in the market. One of the reasons as to why you can use Shopkeep for retail, restaurants, bars or nightclubs is because of the app being able to adapt to each of these environments.
Multi-Location
One of Shopkeep's most critical drawbacks is its inability to work at multiple locations at once. The app is designed to be used in a single venue, so if you want to have it working somewhere else, you'll have to purchase the subscription once more, as well as all the hardware. This could happen if, for example, you own a franchise and want to use Shopkeep in all your venues.
There have been some recent fixes regarding these issues and now there's a small menu allowing you to see all the locations where the services are purchased. Pricing still seems to work on a 'per-location' basis, which keeps this problem as a drawback nonetheless.
Reports
The "Back Office" features of Shopkeep are incredibly complete, and they do provide you with more information than almost any other app on the market. The problem is that some of this information isn't too clear, and at times it can be quite hard to understand. You'll have to pay extra attention to every detail if you want to produce comprehensive reports.
Which Shopkeep Service is Best Suited for Your Business?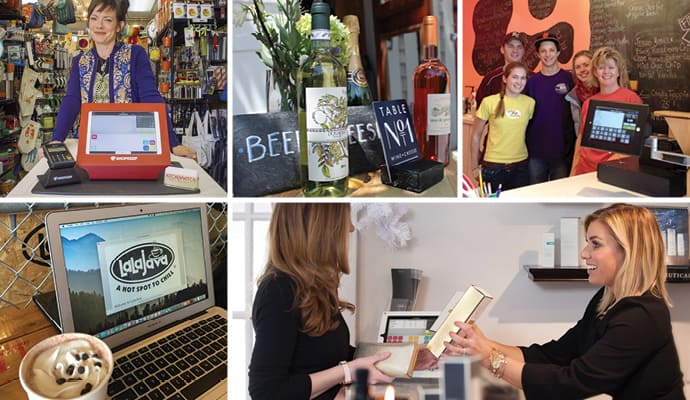 Shopkeep offers a special service where you pay $69 a month per register. This gives you the option to pay as much money as you need to keep your business running and ensuring you that you won't have to overpay for any service.
As an important note, you don't sign contracts and there aren't any hidden fees. You don't pay a fee to activate the product, nor you pay additional money to terminate it. All you need to do is pay the price of each register and be done with it.
You can also choose to pay for additional hardware, and although some of these machines will massively boost the services offered by the app, none of them are strictly necessary. We do recommend evaluating all the hardware they offer, and we encourage you to purchase what you need to increase your venue's performance.
Shopkeep POS Pricing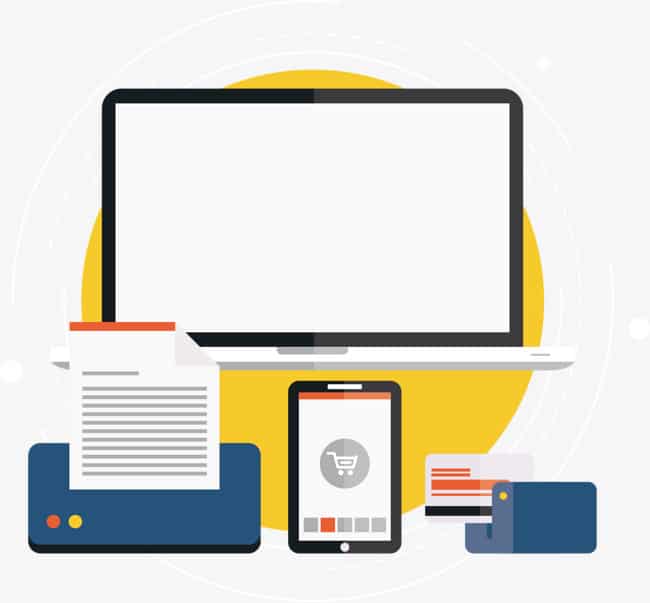 Sadly, Shopkeep only works in a single location. You'll have to pay $69 per each of the first three registers that you get from Shopkeep, but from the fourth register onwards, you'll only have to pay $29 per each of them. This is a monthly fee, and the prices apply in one location. Let us explain this to you:
If you want to purchase the Shopkeep service for a different venue that you also own, you'll have to pay $69 per register EVEN IF YOU ALREADY BOUGHT 5 REGISTERS IN ANOTHER BUSINESS. Again, you'll only have to pay $69 for the first three – the rest will cost $29 per unit.
When it comes to hardware, Shopkeep also offers a complete kit which includes a credit card reader, a cash drawer and a special receipt printer. The total amount you'll have to pay for all these products is close to $800, but if you already own a few of these, you can get them individually in a scaled 'per-unit' price.
They offer a bunch of items that could prove to be extremely useful for your business, so we encourage you to look at their catalog and check out all of them before purchasing Shopkeep's service.
Shopkeep POS Features
Setup and Use

The app setup is very clean. You can put everything in place without having to read complicated guides. Your staff should be able to get familiarized with the software very quickly as well – handling payments and instructions in the register isn't complicated at all.
The overall use of the register is very simple and straightforward. In there, you'll be managing check-splitting, tipping and everything related to payment or payment options. Whoever handles the register might need a couple of hours to get thoroughly in touch with the system, but since the app runs in a regular iPad, things should fall in place shortly.
Menus
The POS has clearly displayed menus, where all features are presented in a slick manner to the eyes of the user. The simplicity of the menus is one of the things that makes the app so easy to use – it's hard to get distracted or even confused with such a well-displayed presentation.
No buttons can be easily missed, and no features appear to be "hidden". Everything is where you expect it to be.
Use of Gift Cards and Coupons
Perhaps one of the biggest benefits of Shopkeep is that the software permits customers to use coupons and gift cards while shopping. The app will process the numbers and add the discount to the final price that will be paid by the customer in question. You need internet access for this feature to work, though.
Office Tools
The Back Office section of this app is even more complete than the one included in some of the other widely used POS systems, such as Ambur. It contains an enormous amount of data and it also allows the manager to create reports based on different areas of analysis. You can choose which type of report to create by accessing the Back Office section.
Company Support
With your purchase of the Shopkeep services, you'll be granted 24/7 access to their customer support lines. You can contact the Shopkeep staff using their live chat or their email. You can access their live chat within the app, in the office section.
They've also listened to user feedback and they're now allowing you to set your own tax rates manually, in case the custom setup doesn't suit your state or country.
In-Depth Inventory Management

The app can track an incredible amount of inventory items, and at the same time it can break down each of them in the form of raw goods, should you instruct the app to do so.
This is especially helpful for food industry businesses, as managers can keep track of all the good needed to prepare the food sold at the establishments. The inventory feature is extremely important when using as Shoe Store POS.
Business-Type Adaptability
One of the best things about Shopkeep is that it can adapt to personalized business practices. You can choose which features better suit your business and 'mold' the way you use the app according to them.
It gives you an enormous amount of variety and considering you can only use Shopkeep on one venue, you can even manage venues from a franchise differently if you want by simply purchasing a separate service for each new establishment.
It might be a tad expensive, but since you don't need to own all the official Shopkeep hardware, it might even cost you less than 200$ per month.
Automation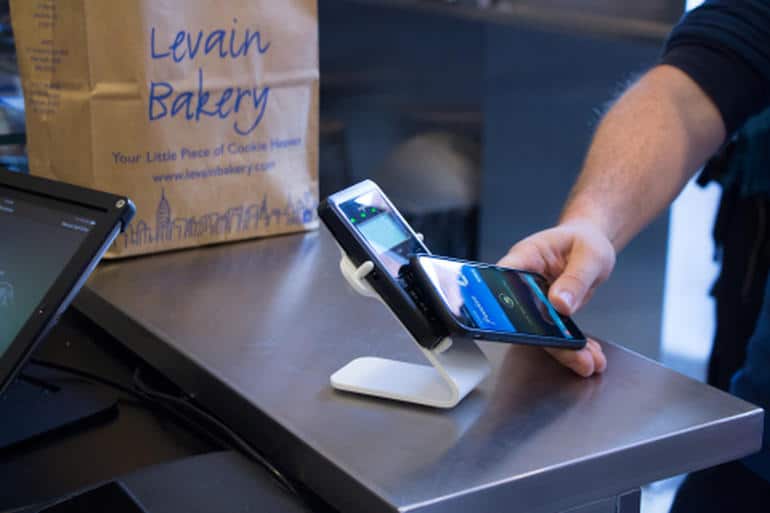 The app has a lot of options that you can set for certain routine things to be done automatically. For example, the inventory management features can be almost entirely set to automatic.
You can select which are the vendors that you order from and the times where you usually do it, and the app will create customized thresholds and dates. Once a certain date or threshold is reached, the app will inform you of your need to restock and tell you the vendors that you've selected.
This is especially useful for larger companies with inventories exceeding 5000 items. Nevertheless, smaller businesses can still get the best out of the 'reminder' features as well.
Training
If you subscribe to the Shopkeep service, you'll be granted training by a member of the Shopkeep staff. They won't tell you how things are done – they will guide you through the process via live chat.
You'll be learning to work with the POS by actually using it. Reading guides isn't only troublesome, but most people don't do it anyway and consequently lose out on a lot of product features. This is entirely avoided with Shopkeep's personal training.
Payment Features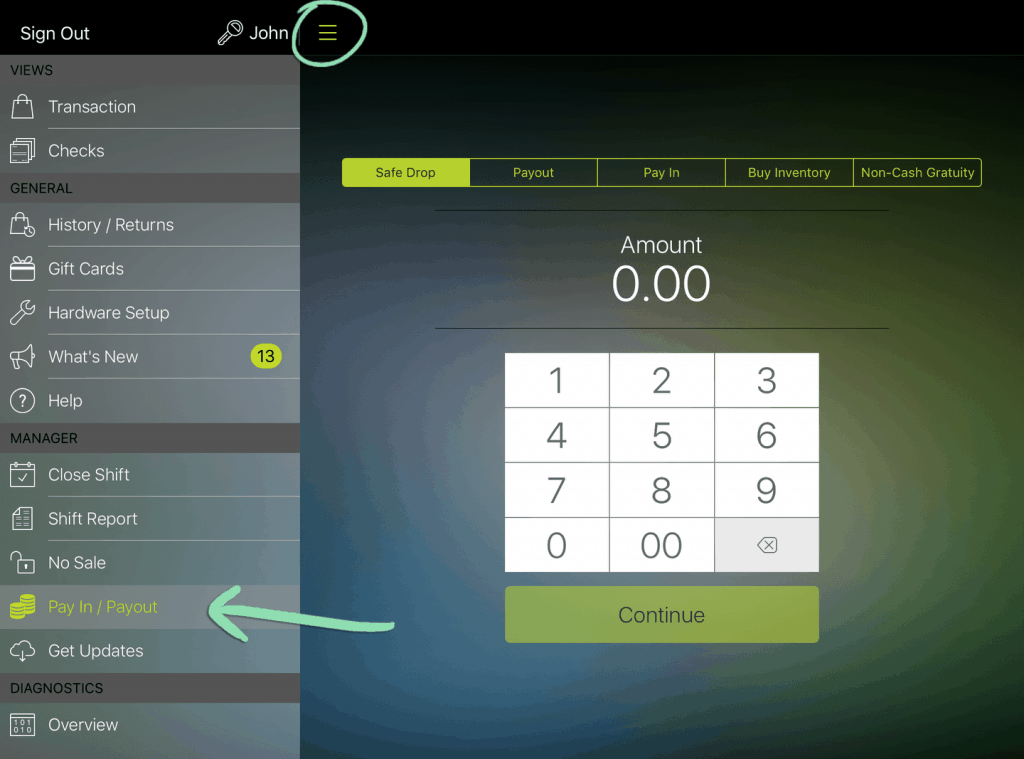 Shopkeep comes with a payment option made by the developers of this software themselves. If you've been operating your business using another payment processor, you can talk to one of the company's staff and let them know of this issue. If the payment processor is compatible with the app, you can get it installed in your own Shopkeep software.
Keep in mind that the amount of processors available for Shopkeep are limited. We advise you to use Shopkeep's own processor or ask them if they can set your preferred one in advance, before deciding whether you'd like to try this app or not.
Staff Management
This POS platform offers a complete breakdown of staff responsibilities as well as tracking on the amount of work each employee does. This way, you can determine which employees are "dispensable" in your business – you might not know, but plenty of big establishments tend to overpay on staff and hire people who aren't necessary for the day-to-day running of the business.
With Shopkeep's tracking and clocking features, you can create reports which will give you clear information about every single member of your venue's staff.
Shopkeep POS Drawbacks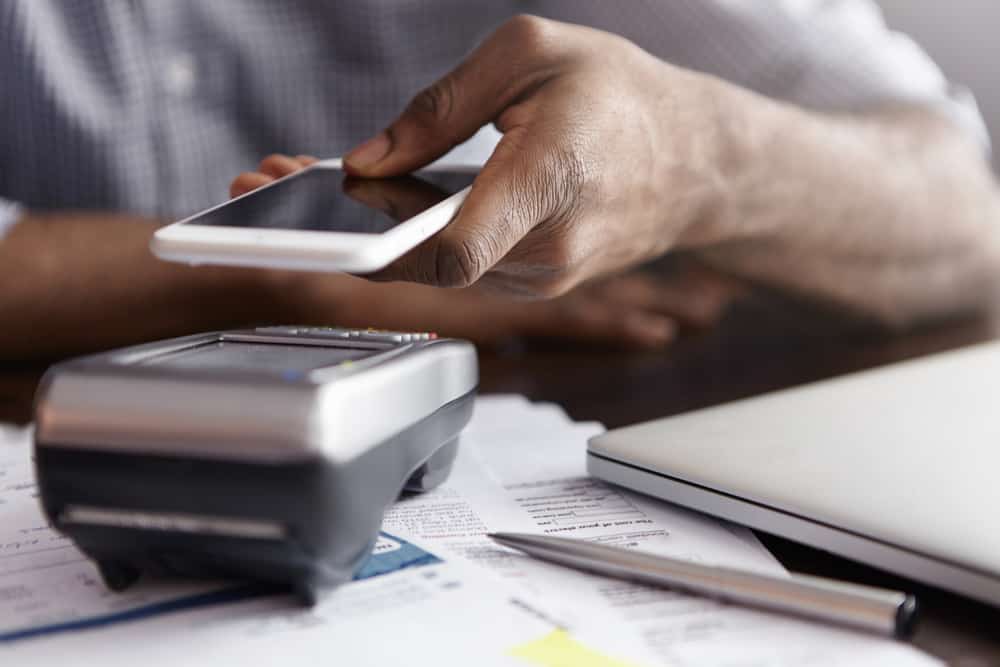 Updates don't roll as often as they should, either. If clients encounter bugs in the software and inform the company, they take a long while to patch them out with new updates. Each update might also add new features, but since they aren't too frequent, the app remains on its current state for quite some time.
The way they calculate tax is also a bit different to the way it's done on most POS platforms, but they've already argued and stated that the setup encourages a safer environment for business owners. You might want to be the judge on that one, though.
Get FREE POS System Quotes
Our Final Review
Shopkeep is, hands down, one of the best POS platforms for most types of businesses. It offers diverse features and enough adaptability to fit almost any sort of commercial practice while increasing a venture's productivity by a few levels.
The amount of data that the app provides, complimented by its features and ease-of-use, have made it one of the most popular POS systems in the United States.
We've also talked about its issues, but if you've read our whole review, we've made it obvious that the pros far outweigh the cons. Just be sure that the product's drawbacks aren't detrimental to your business practices and you'll be good to go.