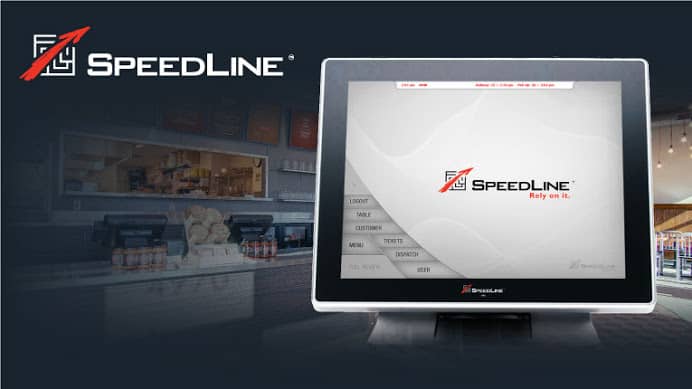 Do you own a pizza and delivery restaurant? You must know that not just any restaurant point of sale (POS) system will meet your needs.
What you need is a POS solution that is specifically meant for Pizza or delivery restaurant like the SpeedLine POS system.
To begin with, the features and capabilities of this system are tailor-made for pizza and delivery restaurants. As such, it will help you make more on-time deliveries and allow for convenient as well as flexible online ordering.
Additionally, Speedline POS will grow with you as your business grows. The system is designed to scale up as your business grows; hence continue to offer speedy and quality services. As you will learn throughout this review, SpeedLine is the scalable, flexible solution with enterprise capabilities you need in your business.
SpeedLine POS Review 2019 - Company Overview

SpeedLine is the preferred technology partner for thousands of restaurants in the US today. According to these business owners, SpeedLine POS offers the right solution for enhanced efficiency and reliable insights in restaurants.
Since its foundation in 1990, SpeedLine Solutions has been offering reliable Pizza and delivery POS solutions. Over the years, the provider has diversified its product offering to cater for the ever-changing needs of the food delivery businesses. That said, SpeedLine is one of the best pizza and delivery POS today for a reason.
Although the food delivery industry is a rather demanding one, this system is aimed at improving your efficiency, profit and enhances long-term growth for your business.  The system is packed with industry-specific features for restaurant delivery, pizzerias and multi-brand restaurants, and chains.
SpeedLine POS Benefits
Offers training and resources
Backed by 24/7 customer support
Features caller ID
Offers driving directions
Supports address verification
Offers delivery mapping
Offers gift cards and loyalty programs
Allows for online ordering
Supports tip management
Allows you to manage tables in your business
SpeedLine POS Drawbacks
Does not support mobile ordering and payment processing
You may find it to be redundant from time to time
Speedline POS Pricing
Although the provider offers a free demo for the point of sale system, there is no mention of its price on the official provider's website.
SpeedLine POS Features & Capabilities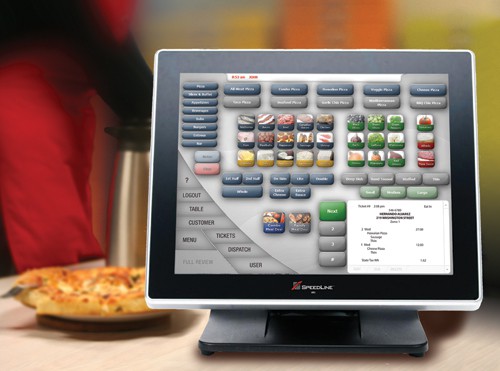 What sets SpeedLine apart from other restaurant POS systems is its unique, industry-specific features and capabilities. The product essentially equips you with tall the pizzeria and restaurant delivery tools you need in a single package.
With this system implemented in your business, you will be able to make the right decisions in accordance to its accurate, real-time reports. Additionally, the system will help you control costs as well as manage labor in the pizzeria. With SpeedLine, you will also be able to improve delivery times and efficiency as well as increase sales.
Discussed below are some of the features and capabilities that set this product apart from its competition:
Simplified Ordering Experience
Not all your customers are tech savvy, right? As such, a website that is interactive and comparatively easy to navigate will encourage them to order online. This is why the SpeedLine POS online ordering platform is designed to offer unmatched simplicity.
Whether they are ordering for takeout, table service, delivery or catering services online, your clients will always have an easy time. Additionally, the system allows you to customize your online ordering menu. With this capability, you will be able to create your own pizzas, subs or even introduce extra toppings.
Some of the capabilities of this SpeedLine ordering platform include:
Upselling to prompt your staff to continually offer add-ons
Conventional ordering – allows you to enter toppings and items in whichever order you desire
Directed Order Entry – this prompt will guide your customers through the value meals to ensure that they do not miss anything
Recall/Reorder – allows customers to easily to reorder something they ordered for in the past.
Get FREE POS System Quotes
SpeedWeb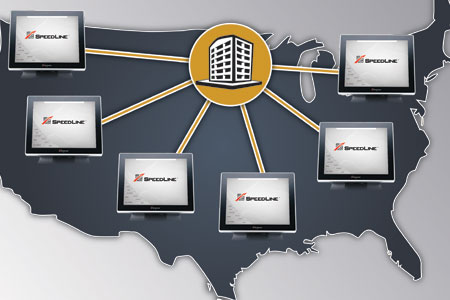 This is an online platform that is meant to enhance your mobility and convenience. The SpeedWeb may be accessed from any mobile device with an internet connection. With this portal, you can check on the restaurant stats wherever you are.
In this regard, the system will give you and your managers access to real-time data on how the business is performing. You will also love the fact that the SpeedWeb does not interfere operations. As such, you can keep track of what is happening in the restaurants without the employees suspecting that you were in the system.
With such a solution, you can view different restaurant reports wherever you are at any given time. This is to say that the portal gives you secure remote access to live information on your business. Some of the reports you will be able to access remotely using the SpeedWeb include:
Hourly sales against sales
Coupon use
Hourly and current sales
Notable activities – usually the red flags that need to be addressed
Table service and delivery performance
Employees currently on clock
Delivery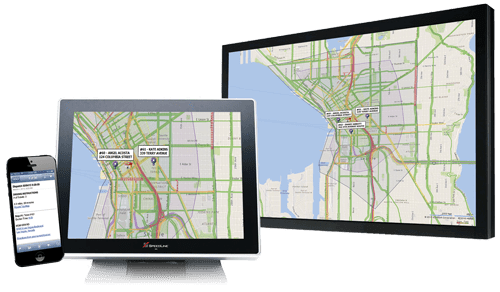 This is one of the industry-specific features that make this system suitable for pizzerias and restaurant deliveries. The delivery feature in SpeedLine is designed to offer a more efficient delivery system in your business for increased profits.
Since the solution is specialized for pizzeria and delivery concept businesses, the delivery feature will speed up deliveries and the overall growth of your business. With this feature, you will have access to tools that will speed up services at your front of house.
Additionally, these tools will help you make an increased number of on-time deliveries, whilst keeping delivery costs in check. Some of the Speedline delivery tools you will find useful include:
Visual Dispatch – you can use this capability to expedite deliveries, hence be able to use the same staff to make more deliveries in a timely manner.
Delivery Metrics and Zones - this allows you to keep track on your drivers as well as the deliveries they are making. In addition to helping you manage the drivers, it also keeps tabs on their overall performance. As such, you will be able to deliver high performing drivers.
Order Tracking – rather than keeping your customers waiting, this system quotes accurate delivery times automatically. Based on kitchen load, the system can automatically estimate the average wait time for orders. Additionally, it also gives you the flexibility to adjust anything you need to, regarding order deliveries.
Mobile Ordering – allows you to connect mobile and web ordering seamlessly to offer your customers more ordering options. This capability also allows you to integrate third-party aggregator sites.
Employee Management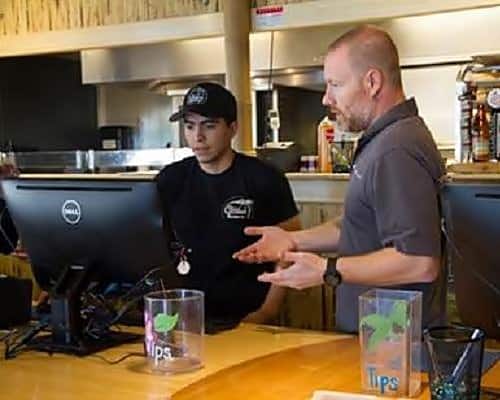 For enhanced productivity and streamlined operations in your business, you need to get the guesswork out of your scheduling. This is precisely what the Employee Management feature of SpeedLine helps you achieve. Using the predictive analysis capability of this feature, you be able to develop the right schedule for your employees.
The predictive analysis uses historical as well as projected sales for that particular week to make scheduling predictions. With the help of this feature, you can avoid such things as under or overstaffing in your business. You will also find the SpeedLine Scheduling feature to be very precise.
In this regard, the feature accounts for such scheduling aspects as order types, dinner and lunch peaks. This will help you assign the right mix of drivers, servers, and cashiers for different times. Such a scheduling system will make it easier for your employees to handle the workloads at different times.
Additionally, the Employee Management feature will help you:
Monitor your labor – uses inbuilt clock to track employee hours and breaks
Control access to different systems – enhances accountability by allowing access to specific employees
Enhances compliance with employee labor regulations
Keeps coworkers in a loop - gives the managers and employees on different schedules an opportunity to communicate.
SpeedLine Inventory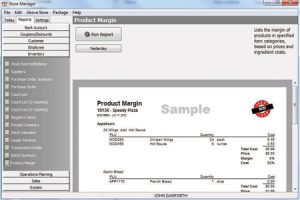 Managing the inventory in your restaurant or pizzeria is not easy, especially if you are using spreadsheets. The SpeedLine Inventory feature is meant to keep food costs in check and monitor stock levels. You may also use this feature to keep track of inventory usage, hence minimize wastage.
In addition to calculating stock levels, this feature will also calculate product margins on the various inventory items. This calculation is mainly based on the daily sales in your business. With this feature, you can choose to track all items or to just monitor the inventory items that are deemed critical to the business.
With SpeedLine Inventory, you can easily monitor portions and detect theft in your establishment as well.
Get FREE POS System Quotes
Our Final Verdict
As you can see, this product is not only industry-specific; it offers advanced capabilities to make managerial work easier. The SpeedLine Enterprise feature, for instance ensures that you always have the right facts and figures on your business.
You may also connect this POS system to different marketing, accounting and business intelligence integrations to get additional capabilities. regardless of the size of your pizzeria or restaurant delivery, SpeedLine is the flexible, industry-specific POS system you need to drive your business to the next level.