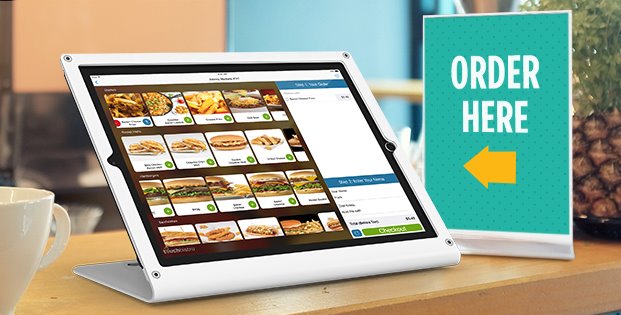 Running a restaurant no longer works with a pad of paper and a pen. Gone are the days where the server brought the order to the kitchen. It's simply not efficient and besides, we have technology.
When you're running a busy restaurant, you want a portable system that does it all. Every server should have a tablet, and everything should be connected. If you haven't considered a tablet point of sale system for your restaurant yet, now's the time. Here are the top 5 on the market today:
The Benefits of a Tablet POS System
When it comes to integrating a tablet POS platform, there are a lot of arguments to make in favor of it. Here are just a few of the benefits to this type of technology:
Smart inventory management with real-time stock alerts.
A payroll system that ties into employee scheduling and a timeclock.
Real-time menu management that translates to online pages.
Offline capabilities with cloud-based functionality.
Multi-store management from a universal dashboard with ongoing reporting.
Comparing the Top Tablet POS Systems for Restaurants:
POS System

Cost

Cloud or Local?

Credit Card Processing

Unique Feature




Lightspeed Restaurant




Starts at $69/month




Cloud

For processing less than $250,000,
Swiped cards: 2.6% + 10 cents per transaction.
Keyed cards: 2.6% + 30 cents per transaction

Floorplans with multiple
menus and modifiers

ShopKeep

Quote-based

Hybrid

Swiped or keyed is 1.00% - 4.99%

Plug and play hardware with free guidance

Square for Restaurants

$60/month

Cloud

2.6% + 10¢ for contactless payments,
swiped or inserted chip cards,
and swiped magstripe cards

Free card reader for instant startup

Toast

Starts at $79/month

Cloud

Toast charges by customer

80+ 3rd party integrations




Clover POS




Starts at $29/month




Hybrid

Keyed-in rate at 3.5% + $0.10;
in-person at 2.7% + $0.10 through
the "Register Lite" plan,
"Register" plan has a 2.3% + $0.10
in-person transaction rate

Entire system (software and hardware)
completely customizable
Get Free POS Systems Quotes
1. Lightspeed Restaurant – The Point of Sale System for Universal Management

Lightspeed Restaurant is one of the industry-leading point of sale systems for the foodservice industry. The program is delineated by full service, quick service, bars, and cafes. Lightspeed allows you to manage your business from one spot. Track sales down to the minute in the cloud-based dashboard. Other key features include:
Features
Tableside Management
If you purchase a tablet point of sale system, it is absolutely essential that it comes with tableside management. Otherwise, what is the point? Your servers need the means to run efficiently with the system. The Lightspeed program allows you to assign orders to seats and tables and send them to the kitchen as needed. You can also expect to:
Manage takeout and delivery orders
Divide items by customer
Split group bills and transfer items
Preset modifiers to speed up taking orders
Safe Checkout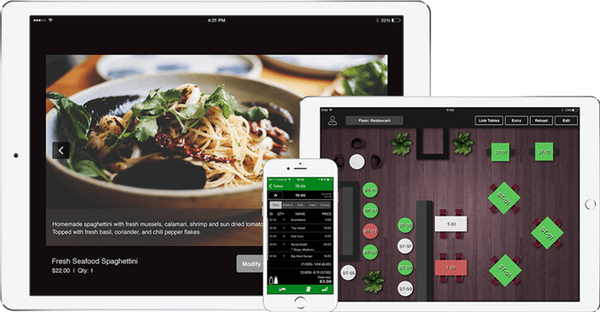 All terminals are EMV compliant and can handle any swipe, transfer, tap, tip, or split. The PCI-certified software comes at no additional cost. The system offers a single seat checkout to group orders and the ability to add a tip on the spot. Tips can also be set for redistribution within the team. Tabs can be opened, and orders placed on account.
Central Management
Lightspeed works offline. That means it can be managed from anywhere, at any time. You have the ability to customize floor plans with multiple menus and modifiers. Staff scheduling can be set from the dashboard as well as workflows. The printer is also controlled through the tablet POS system.
Additional Features:
Automatic syncs and backup for use offline.
Track staff performance and shifts.
Live, customizable feeds and revenue centers.
Advanced reporting for deeper insights.
Webinars, demos, videos, and other customer resources.
2. ShopKeep – The Point of Sale Platform for Flexible Hardware

ShopKeep is the number one rated iPad system that offers some of the most dependable hardware a restaurant will ever need. The program is bundled for affordability and incredibly user-friendly. The software automates and simplifies operations so you can focus more on what's important: growth. Here are some of the key features:
Features
Hardware Setup
ShopKeep's real boasting rights come from their hardware bundles and setup. The equipment is plug-and-play with a free, guided installation. If you call them up, they will talk you through the entire process.
If you are more of a "do-it-yourself" person, there is a multitude of free resources on-demand to walk you through installation. If you are not sure which package to purchase, a ShopKeep specialist can consult with you to determine the best fit and cost.
Order Management
ShopKeep's tableside point of sale allows staff to send orders straight from table to kitchen. The tablet also enables you to accept all payment types at the table, including EMV chip cards and Apple Pay. The dashboard even features customizable suggested tip amounts to make it convenient for customers and to increase tips for employees.
Online Visibility
ShopKeep helps customers locate your business online across 100+ websites in one place. The system enables a restaurant to continuously make profitable decisions using vital data collected across channels.
Additional Features:
ShopKeep Pocket allows you to manage operations anywhere on-the-go.
Sync checks across multiple registers at once.
Simplify inventory down to ingredient-level tracking.
Integrated loyalty program with gift cards.
Menu management with modifiers and custom buttons.
3. Square for Restaurants – The Point of Sale System for a Quick Start

Square was the original POS company to consider convenience and mobility. They are the only brand that gives away free hardware to run sales. They make their money through credit card processing fees which are still quite reasonable. They have a specific POS system for restaurants with key features that include:
Features
Back of Office
Square allows you to manage your restaurant from anywhere. Setup menus, items, and modifiers all from a smartphone. The system has order entry and 86ing that are built for speed. Run real-time sales and shift reports to manage multiple locations with one login. Other administrative benefits to the platform are:
Set discount for plates or happy hour.
Add unlimited employees and permissions.
Customize floor plans by location.
Run the dashboard in either dark or light mode.
3rd-Party Integrations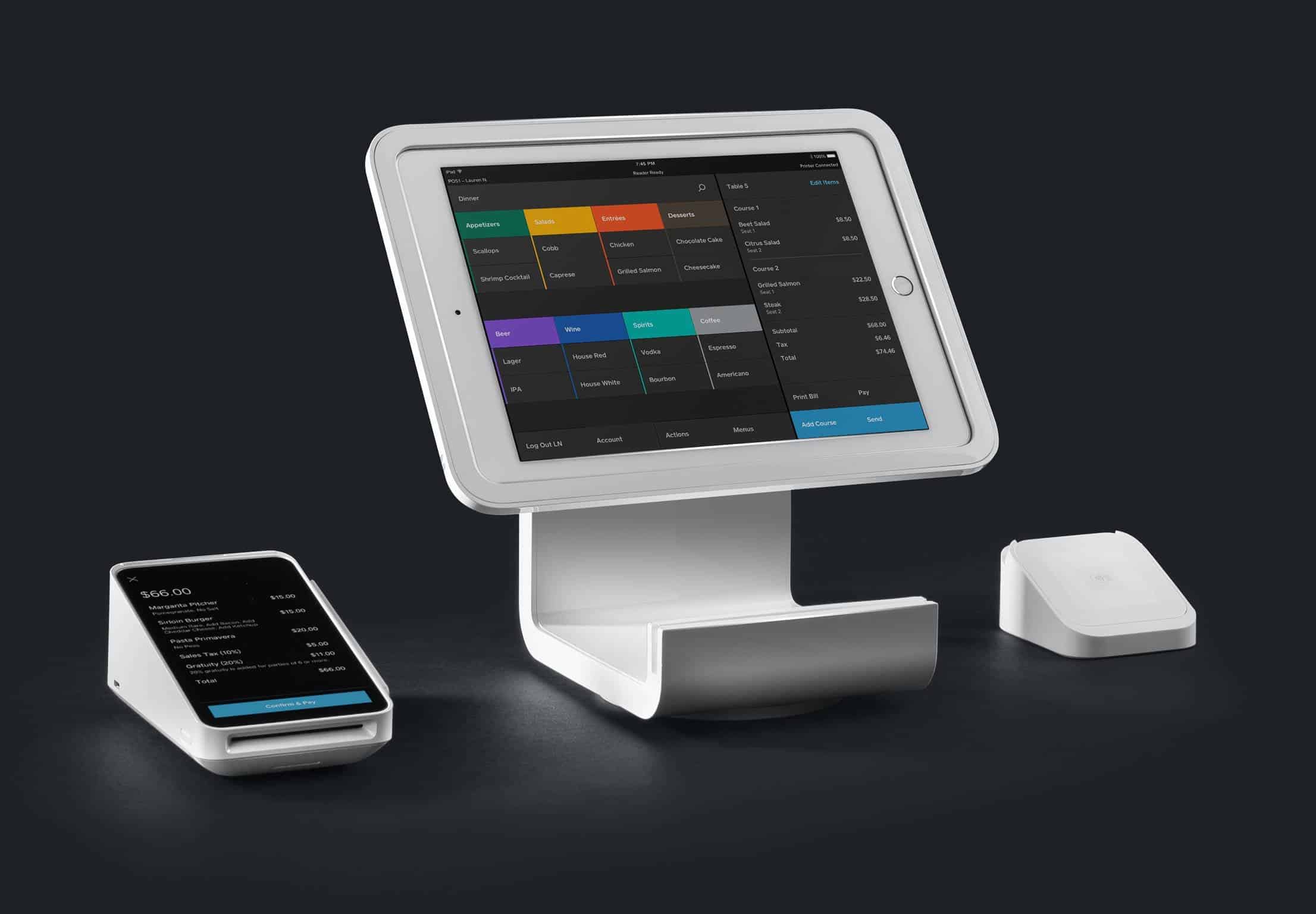 The system can sync seamlessly with a variety of applications. Square adds new partners all the time for restaurant management and online order optimization. They work with companies like Doordash and Postmates for delivery, and QuickBooks and Avero for administration. All integrations send the data you need straight to the Square POS system.
Order Control
Square has exceptional order management for restaurants. A server can setup, view, and assign orders down to the specific seat. Orders can be customized in a variety of ways, including:
For Here
Pickup
Delivery
Automated modifier prompts
Course out meals
You can switch items between courses before sending them to the kitchen. Orders can be easily repeated for faster entry and quick tabs can be created that don't affect cover counts.
Additional Features:
Fire and hold items while controlling the pace of meals.
Quick split the bill into halves, thirds, quarters, etc. with a single tap.
Set up comps and voids and restrict permissions for certain staff.
Manage as many menus as you need for multi-store and channel supervision.
Set "turn alerts" to track how long a table has been sitting to streamline operations.
4. Toast – The Point of Sale System for Smart Integrations 

The entire Toast brand is specifically designed for the foodservice industry by veterans who have been there. It is the only service on this list that only caters to restaurants. If you are looking for software that can manage it all (and not just the point of sale) this is going to be the program for you. Additional features to look out for include:
Features
Tableside Service
Toast's handheld technology is specifically designed for the restaurant environment. Teams can spend more time with guests, speed up checkout, and accelerate service all while standing at the table. There is less running around and thus a need for fewer staff. The simple time you save equates to less labor costs.
The Toast tableside service sends order ready notifications, so food is always served hot. When guests are ready to leave, payments can be taken tableside with either a credit/debit card or an EMV chip.
Guest feedback can be collected before people even leave so management can respond accordingly. This helps to streamline customer service and saves from getting bad reviews once people are out the door.
Smart Integrations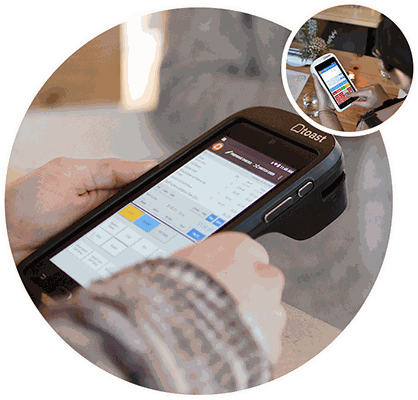 Wherever Toast falls short, they allow for integrations. They have a robust partnership program in addition to over 80 third parties. If Toast can't do it, you can rest assured they have an app that will. In addition to point of sale and payroll management, other integrations can help with things like:
Marketing
Accounting
Sales
Customer Relationship Management (CRM)
Inventory
Detailed Analytics and Reporting
Toast enables a restaurant to always keep an eye on the metrics and measure performance in real-time. You do not have to be present to know that the store is killing it in sales for the day. You can keep tabs from anywhere, at any time.
The cloud-based access allows you to run key reports like "Location Overview." This is a unified view of net sales and labor across a certain time frame and/or multiple locations. You can also consistently monitor sales performance by running a sales summary whenever needed.
Lastly, monitor inventory by running reports on product mix and stock. This will help to identify areas of improvement and where you can cut costs.
Additional Features:
Robust menu management with item availability countdowns.
Updates automatically reflected in-house and online.
No additional markup or hidden fees.
Accelerated turn times and a faster speed of service.
A single point of contact for POS and payment.
5. Clover POS – The Point of Sale Program for Customization

The Clover tablet POS for restaurants has the basics built-in so a business can get up and go. There is never any charge per employee, and you can add unlimited permissions. The Clover program syncs with the cloud, so you can manage sales, refunds, deposits, and reports from anywhere in the world. Additional features to keep an eye out for include:
Features
Customizable System
The Clover brand prides itself on giving customers the opportunity to optimize at every corner. Who doesn't want a system that can be branded and set up exactly how it's needed?
A business can select the stationary and portable devices that are required. Customize the POS software with the features and functions that are right for your restaurant. Enhance the Clover program with accessories to strengthen the system and streamline operations.
Payment Processing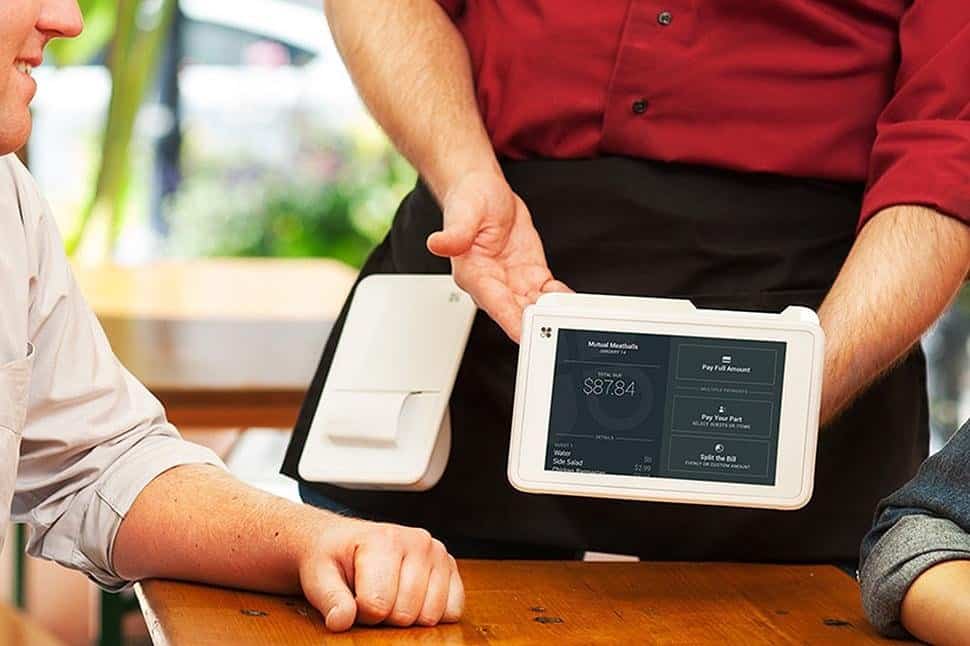 Offer customers digital tips and one-touch tipping for convenience and to optimize your staff's revenue. The Clover system accepts all types of payments including:
Credit and debit card
Gift cards
NFC
EMV
Mobile payments
The program can also be set up to automatically apply service or delivery charges when necessary. When a server has a big party, even when the check is split, they never have to worry about being undertipped. Clover also processes refunds, returns, and exchanges swiftly.
Order Management
Drill down to the details with Clover order management. Orders can be taken for in-house, delivery, or pickup. No order is ever too complicated. Open tabs, combine multiple orders, or split bills. It's all easy to manage—even "on the fly."
Clover also enables staff to ring up and track orders at the item level. Discounts and taxes can automatically be applied to facilitate transactions and increase table turn time.
Additional Features:
Get to know customers with order history and loyalty programs.
Send out marketing campaigns via email or text.
Manage team shifts and schedules, then feed the data into payroll.
View employee sales, refunds, and tips.
Customize administrative functions like employee permissions.
Before Purchasing Your POS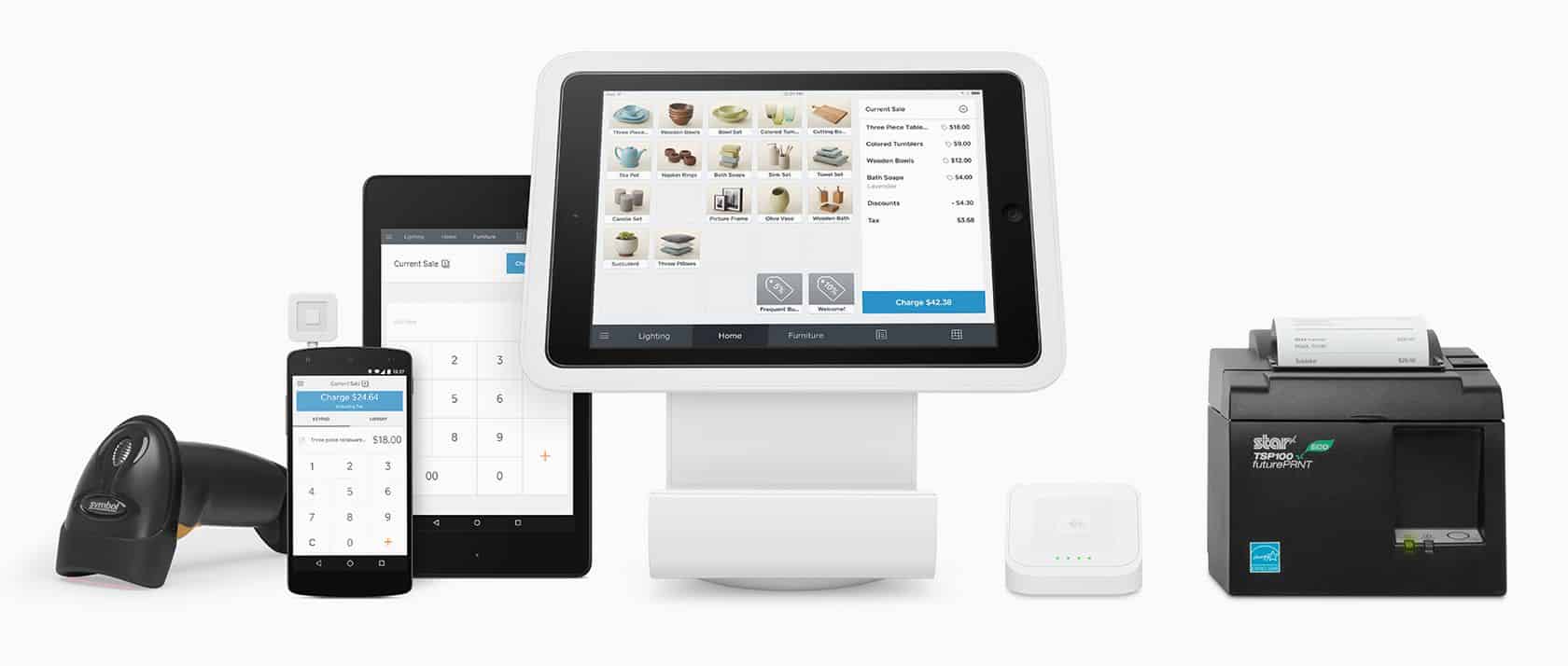 You know your restaurant and no two stores (even in the same brand) are ever the same. Above are the top five systems, but there are many more out there. The idea is to first get personal with your exact business needs so it's easier to choose a system that's the right fit. Before you go out and buy anything, consider some of these points:
Pricing
How do you want to be charged for using a tablet POS system? As you can see, some brands choose to offer the service for free while charging for payment processing. How many transactions are you doing a day? Would this be a feasible payment structure?
Platforms like Square tend to work best for businesses that are just starting out. Otherwise, if you are performing a ton of transactions a day, it can get very costly to pay a percentage of each one. However, there is no subscription fee.
Hardware
How much equipment do you need? Do you already have items in place? If there is hardware like scanners and receipt printers already set up, you probably won't need a system that sells bundles. You should also be extremely careful about compatibility. Not every restaurant POS platform will work with what you have. Some brands build their own stuff.
Staff Management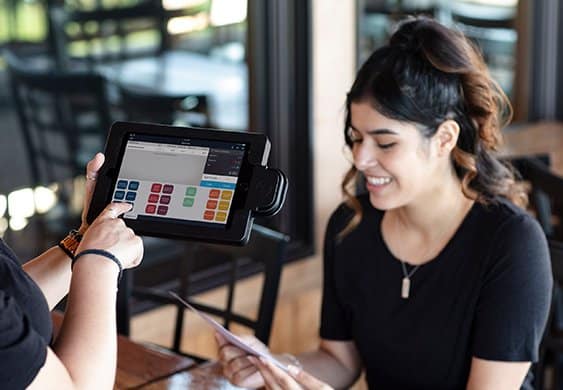 Even if you only have a few employees, this is an extremely convenient feature to tie into your POS system. Especially since restaurant staff are using the tablets and terminals to clock in. A robust restaurant POS will allow you to manage employees in a multitude of facets, like:
Setting permissions based on job role.
Clocking in and out and switching shifts.
Payroll management with benefits.
Tracking OT and holiday pay.
Measuring and reporting on sales performance.
If you can tie supervising personnel into a point of sale platform, you no longer need to manage two separate systems.
Smart Inventory
The restaurant industry goes through a ton of waste. Look for a system that can help you automate inventory and save on costs. Running reports can show you which items are trending.
Conversely, it will also display food/drinks no one likes. Those can immediately come off the menu while you further promote inventory that sells. Food has a very short shelf life so the more you can tighten this area, the less you will have to throw away. Smart inventory looks like:
Countdown to 86 in the menu (in-store and online).
Detailed sales analytics and reporting.
Real-time notifications on stock levels.
When a POS is tied into inventory, you rarely have to tell a customer "sorry" or "no."
Final Thoughts
Every year the market gets more flooded with POS platforms that claim to "do it all!" Look for a system that has a history of solid customer support and a thorough onboarding process. The quicker you get to know the program you choose, the faster you'll start leveraging sales.
Your POS should do more than just transact. The ultimate goal is to build a universal system. Once that happens, you reach restaurant singularity where every customer is satisfied, and employees are happy to be there.