Do you own or operate a restaurant, nightclub, or any type of medium- to large-sized business where food is sold? If so, you may have heard of restaurant point of sale (POS) systems. POS software solutions perform many functions, which we'll cover in this Upserve POS review.
There is fierce competition in the POS software market. The restaurant industry, along with the retail industry, sees the most competition vying for its business. Top brands of restaurant POS solutions include Toast POS, Square for Restaurants, TouchBistro, Upserve, and Cake POS.
It's difficult for us to objectively say which restaurant POS system is the best. However, user reviews from leading software review site, Capterra, shed some light on the subject.
As of October 2019, user ratings indicated that Upserve ranked higher than other restaurant POS systems in every category rated (Source). And users have the best perspective with which to assess the quality of a software system.
To give you a better idea of the Upserve system and its quality, we'll start with an overview of the company itself. Following that, we'll cover who uses Upserve, system accessibility, and some pros and cons of using it.
Next, we'll move on to discussing its extensive feature set and available hardware components. Then, we'll wrap up by discussing pricing and providing our final take on the system.
Upserve Overview: What Do We Know About This Restaurant POS System?

Upserve—previously Breadcrumb POS—is based in Denver, CO. More than a simple point of sale system, Upserve is a full-blown, comprehensive restaurant management solution that includes POS features.
It delivers functionality such as table management, check-splitting, tips management, online order receipt, and delivery management. So, it certainly makes a strong case for the best restaurant POS system on the market.
Front-of-house features allow staff to streamline daily operations. Front-of-house managers can designate tables to specific servers in specified zones of the dining room. They can also make menu changes, complete the payment and checkout process, and much more.
For those who work in the "back of the house" such as cooks, chefs, etc., Upserve provides many helpful features that keep the food coming. With restaurant POS-specific hardware components like kitchen printers, kitchen bump bars, etc., the kitchen becomes a well-oiled machine that is always in sync with the front of the house.
Below we'll cover more of its capabilities and features in a section dedicated to just that. But before diving into features, let's ease in by covering who actually uses Upserve.
Who Uses Upserve?
Upserve presents itself as offering a POS system for just about any type of restaurant or food service business you can think of. The company website lists them out and provides helpful information around how its POS systems help each of these businesses thrive and grow.
Navigating to the company website, you'll see pages specifically dedicated to the following:
Bar POS
Hospitality POS
Cafe POS
Pizza Parlor POS
Nightclub POS
Deli POS
Bakery POS
Fine Dining POS
Owners, managers, servers, chefs, hostesses, and more from any of the above business types use Upserve to streamline daily tasks and improve the customer experience. In this way, Upserve helps create customer loyalty and empowers businesses to improve their brand reputation management efforts.
Upserve also boasts that its solution can improve restaurant sales by 30% or more, increase staff productivity considerably, and provide managers and owners with access to the system 24 hours a day, seven days a week from anywhere in the world. All they need is internet or mobile data. Regardless of whether you own or operate a Manhattan deli or a Michelin five star fine dining restaurant, Upserve can serve you well.
How Do You Access Upserve?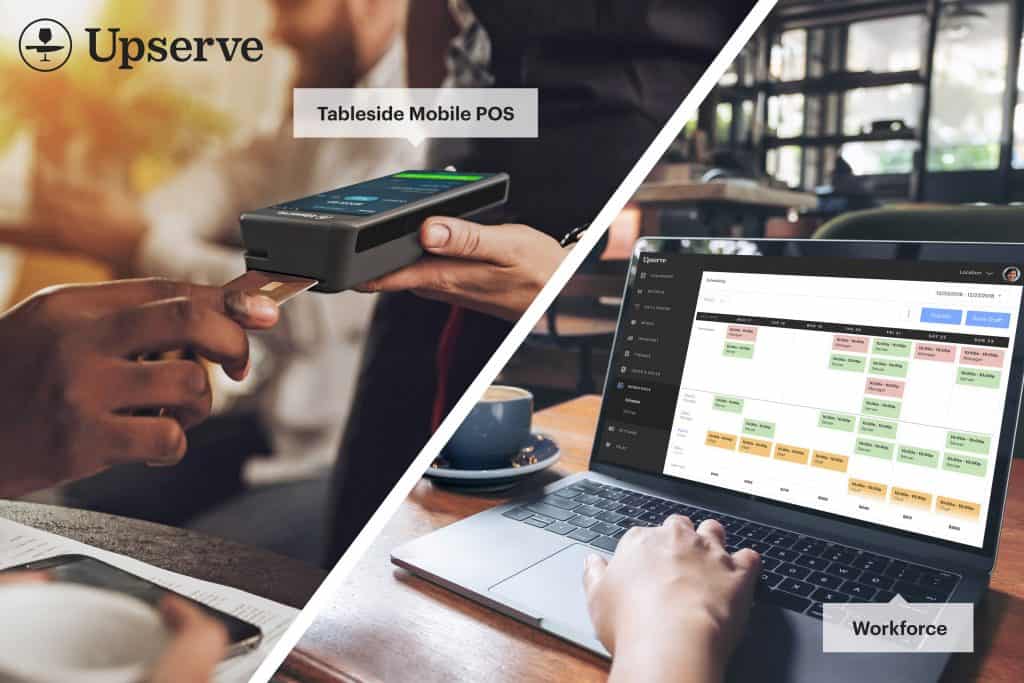 Upserve is a mobile POS system, which means it doesn't need to be physically installed on your computer for you to use it. Rather you either access it through a native mobile app or a web browser. If accessed through a web browser, it's just like going to any website, logging in, and working in the system from your computer.
This type of application is called software as a service (SaaS). Instead of installing software on your computer like we used to, you access it through the internet. Your account data and files for that application are not stored on your computer or mobile device's internal memory. Instead, it's stored in what is referred to as "the cloud," which we'll cover next.
Mobile, Cloud-Based POS Solution
Upserve—like most software these days—is a mobile, SaaS solution that is hosted and stores your data in the cloud.
What is the cloud? It's not an intangible concept like the "worldwide web." Rather, "the cloud" refers to off-site data servers and storage facilities the size of football fields, or larger. When you save a file in the cloud, instead of being stored on your computer, it gets sent via the internet to that facility and is stored in a massive database there.
Plus, data in the cloud is double backed up, meaning that data within the server is backed up on another server. It's a failsafe that ensures you never lose any important data.
Cloud-based, SaaS systems have the benefit of being accessible from anywhere; you don't have to be in front of a computer where your files are stored to access them. You can do so while in a train, plane, or automobile—from your smartphone or tablet.
Advantages and Drawbacks of Using Upserve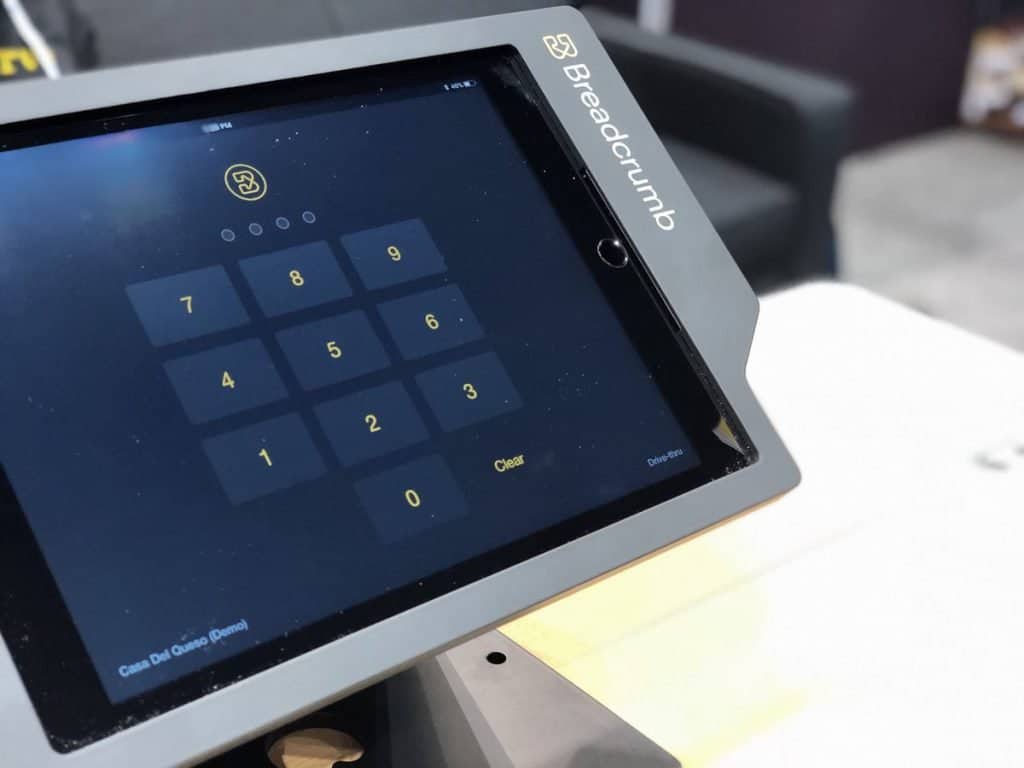 Based on user reviews of Upserve, market sentiment is quite positive. The vast majority of users are very satisfied with the system.
However, as with any product, there are detractors as well. Some users simply are not satisfied with a particular aspect of Upserve. This is normal.
When someone provides a negative review of a software system, it is often because they were not properly trained on the system and therefore are not using it to the fullest of its potential. If a user doesn't understand a system, despite how powerful it is in reality, they will be unhappy and frustrated with it.
Below we provide some commonly cited pros and cons of using Upserve.
Pros of Using Upserve
It delivers a broad spectrum or tableside features that make life easier on servers
It includes deep menu control features that allow users to quickly and seamlessly adapt menus to fit their needs
Training new employees/users is simple and easy with live, in-person training offered
The system is compatible with a wide range of POS hardware
Cons of Using Upserve
No free trial offered; buyers are not able to test the system before investing in it—however, potential buyers can receive a free demo and a chance to ask questions before purchasing
Some of the most powerful features are only available with the highest-tier, most expensive plan
Users must sign a three-year contract to purchase the system
If you want out of the contract, you must pay an early termination fee
Upserve POS Review: Features and Selling Points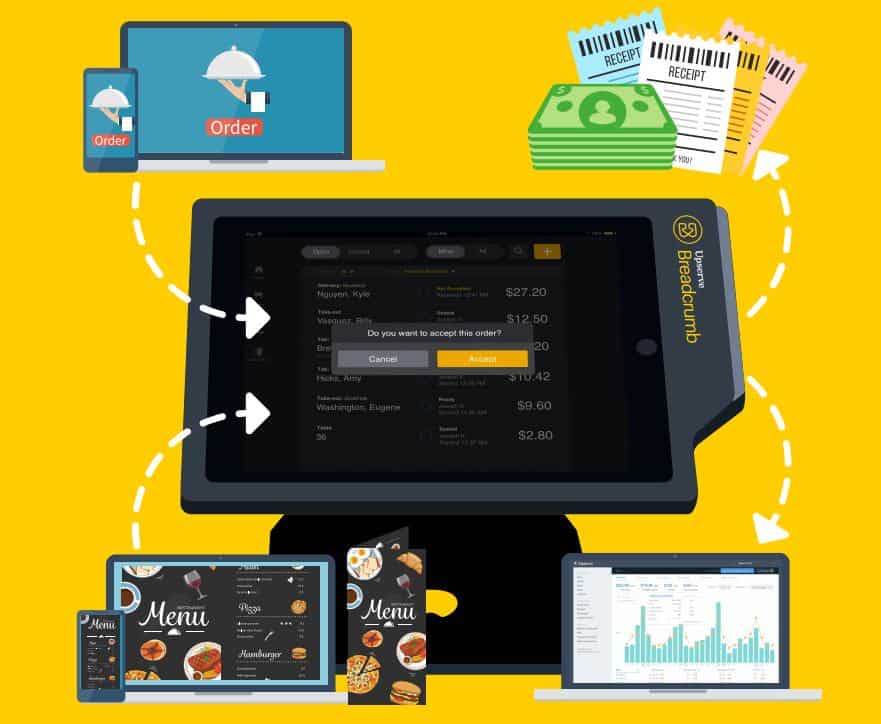 One of the things that users love most about Upserve is its extensive feature set. With three plans to choose from—each with different features—buyers can select the plan that fits their business needs.
There are far too many features to cover here because that would be way beyond the scope of this article. But, to give you a sense of how feature-rich the system is, we'll touch on some of the most powerful features and functionality.
Exceptional Reporting, Metrics, and Analytics
Upserve is known to deliver some of the best reporting and analysis capabilities of any POS system. The company was founded initially with "the goal of unlocking the data behind [payment] transactions" (Source).
Upserve POS captures and stores loads of data around numerous business functions. This includes sales and inventory data, as well as personal data from customers like past purchase behavior, demographics, purchasing patterns, and more.
The stored data about each customer and their buying patterns and history facilitate powerful, custom sales reporting. It also allows restaurants to run highly-targeted marketing campaigns that speak to the displayed interests and buying habits of customers. This facilitates repeat business, recurring revenue, satisfied customers, and customer loyalty.
Customizable Dashboards for Maximum Insight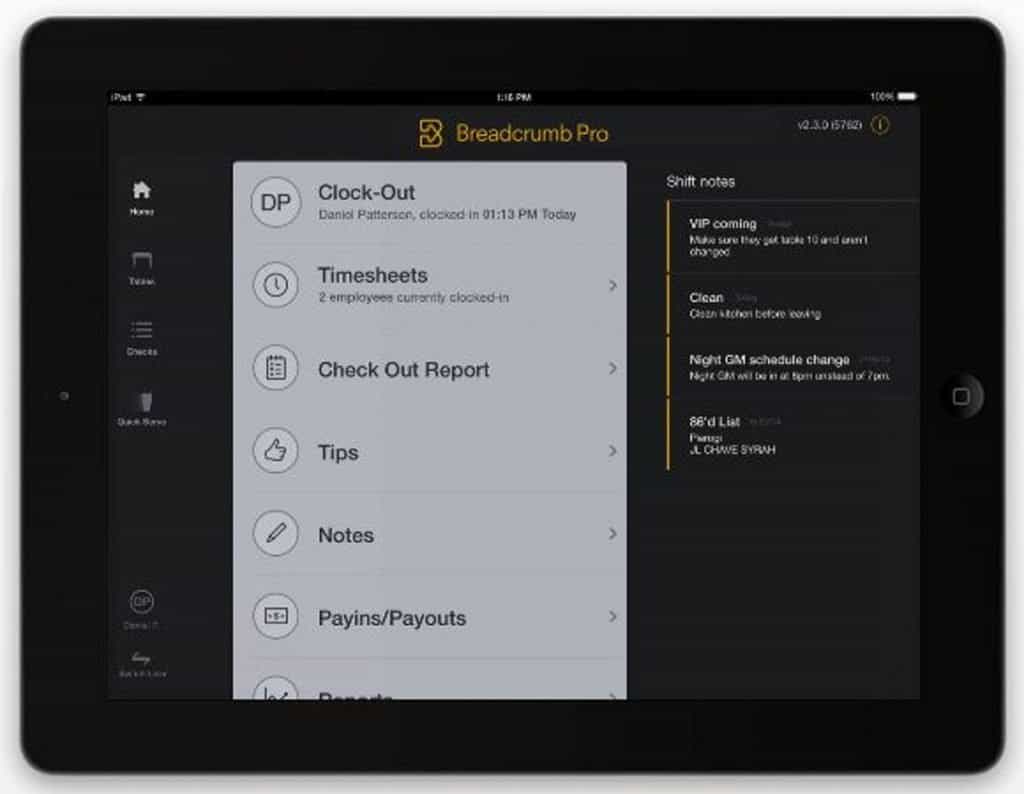 Upserve includes customizable dashboards that aggregate the metrics and data that you need to see most. This gives you an at-a-glance view of business metrics and allows you to maintain constant insight business results and how growth tactics are moving the needle. into how things are progressing.
Plus, with such extensive data at your fingertips, you can make data-driven decisions that produce results rather than relying on assumptions and speculation. These decisions, driven by cold, hard data, are extremely helpful in developing effective growth and scaling strategy. Being able to do that makes it easy to identify ways to differentiate your business from the competition.
Best-in-Class Onboarding and Training
Above, we mentioned that often negative reviews of software stem from the fact that the user was never properly trained. Poor training on a new software system can rip holes through the ROI you receive from the system.
First impressions do indeed matter. When you acquire new software, you should expect the provider to offer you free training, onboarding, and customer success support. That's how a software company retains clients.
Upserve is a perfect example of a brand that excels at making a good first impression. If you sign a contract with the company, they send a trainer to your location to deliver live, in-person training. They onboard your entire tea and don't leave until everyone is well equipped to successfully use their product. This, on the other hand, sends the message that since you're investing in them, you deserve for them to invest in you, which they do.
Ease of Use
Upserve is very intuitive and easy to use. It's easy to use, in part, because of the stellar training they provide. But also, they can successfully train someone in two hours and let them loose in the system, which speaks to the intuitiveness of the user interface. A powerful system you can't use is a worthless system and a drain on your resources and time.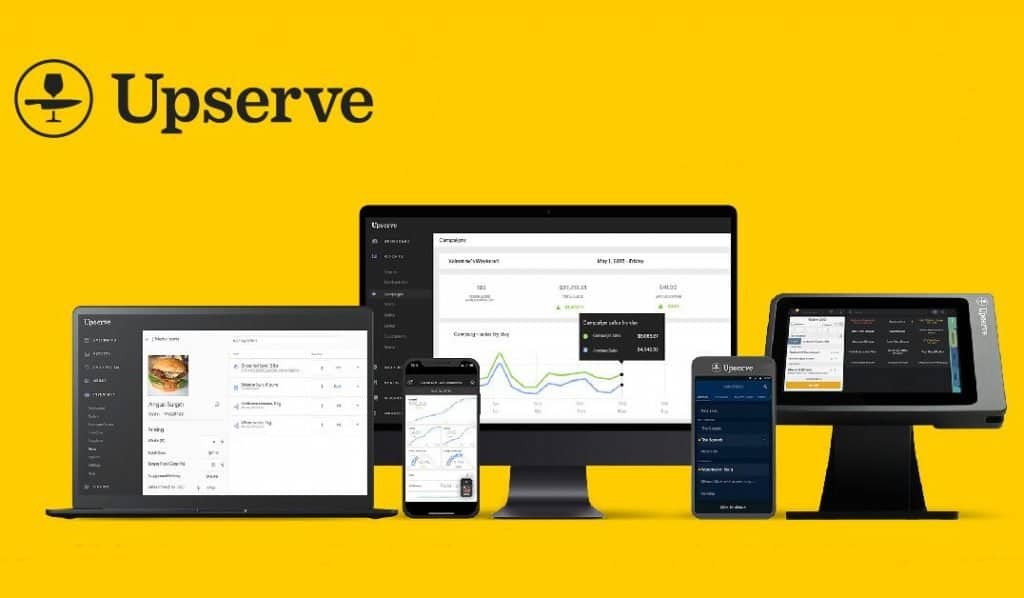 Hardware Components
Upserve manufactures its own hardware components and also easily integrates with third-party components. The Upserve Tableside is a small, handheld device that servers carry around to their tables, place orders as well as process payments from the table.
They also produce their own EMV certified card readers and POS touchscreen terminals/monitors. Plus, they sell third-party components on their website, such as Epson receipt printers, Bematech kitchen display bump bars, and Cisco wireless routes.
For prices, you must contact Upserve and they will provide you with a quote.
Pricing
Upserve has three pricing tiers all with varying features, which increase in volume if you go for a higher package. Below we'll quickly cover their three plans.
Core Plan

Upserve 's Core plan is its most basic and costs $59 per user per month. With this plan, display monitors cost $60 per month each.
Pro Plan
The cost of Upserve's next tier up is a major jump in price from the Core package. The Pro Plan will run you $199 per user per month. It includes everything the Core Plan does plus a number of additional features. With this plan, display monitors cost $50 per month each.
Pro Plus Plan
This is their premium plan that includes everything the company offers. It costs $359 per user per month. Just like the tier below, it includes everything the Pro plan includes plus additional features—quite a few of them but perhaps not enough to justify its price point, which is among the highest in the restaurant POS industry. However, you do get what you pay for and this plan is powerful like the Incredible Hulk. With this plan, display monitors cost $40 per moth each.
UNSOLICITED ADVICE: One drawback we didn't mention above is that this system is so robust that it's likely too powerful for small dining establishments. Sure, they would benefit greatly from it, but at that cost, it would likely be too expensive.
Plus, it would deliver many features that would go unused. So, we advise small restaurants that have ten tables, for example, to look at Square for Restaurants or another more affordable system instead of Upserve.
Upserve Alternatives
Our Final Take on Upserve
Upserve is a powerful restaurant system and as far as we're concerned among the very best the industry has to offer. The drawbacks are minimal, and the benefits are significant. If you run a restaurant that's not a tiny, hole-in-the-wall joint, Upserve will help you serve up deliciousness faster and more efficiently.
Now that you have the information above, you can accurately compare Upserve with competitors like Toast POS, Square for Restaurants, TouchBistro, and Cake POS.
We advise that you couple review articles of individual systems with user reviews. Users actually live with the system and have the best insight into how well a given system functions. Their opinions are valuable.
We also advise you to, compile a list of your POS system needs. Then, as you evaluate each system that interests you, see which one meets the most requirements possible.
Information is empowering. Hopefully, this article has armed you with the information you need to make an informed, confident purchase decision.
Finally, don't forget to set a budget and stick to it, and also always take a free trial before purchasing if one is offered. If not, at least get a demo.