Vagaro is more than a point of sale (POS) system. It delivers solid POS features, but its capabilities go far beyond that. In this Vagaro POS review, we'll cover a broad spectrum of system characteristics that accompany its point of sale capabilities.
At its heart, Vagaro is widely considered a scheduling and payment processing system for spas, salons, and fitness centers. But the truth is that various businesses can use Vagaro as a comprehensive business management solution.
To be sure, it is positioned in the market as a salon, spa, and fitness center management solution. And there is no doubt that it is an ideal spa and salon POS system as well as an ideal solution for gyms and fitness systems.
But that's mostly because those businesses need strong scheduling features, which Vagaro delivers.  However, many types of businesses have similar needs and use Vagaro very successfully.
That's because it comes with loads of features besides online scheduling and payment processing capabilities. We will expand on those features below.
It delivers loads of benefits to users and has a respectable mission and vision as a company. In this review, we'll touch on all of that and more as we bring you the most comprehensive assessment of this popular software solution.
Vagaro POS: Company Overview

On the surface, at least, Vagaro as a company appears to be a good corporate citizen. Its stated goal is to assist in business growth. Of course, in presenting that business identity, it presents itself as a trustworthy business. But we believe there is some truth in this.
Every business has hopes of growing and expanding. However, doing so becomes progressively more challenging the larger a business gets. Business growth is complicated and difficult, however important it may be.
Vagaro realizes that and incorporates their objective to aid in that growth into their solution. The company aims to simplify processes and the daily operations of businesses, empowering them to overcome those growth challenges.
The company intends for its software tools to help clarify and simplify business growth. It realizes the importance of streamlining business growth. That's why Vagaro set out to support growing businesses in realizing the growth they dream of.
By automating processes and streamlining business operations, Vagaro helps businesses focus more energy toward accomplishing those goals.
Working in the Cloud with SaaS Solutions
Vagaro is a cloud-based, software as a service (SaaS) system. This means that users access it via an internet connection or mobile data. In other words, it's not an application that you install but rather one that you can access anytime, from anywhere.
Vagaro's Formally Stated Values
To back up the brand identity Vagaro presents to the market, they publicly present three officially stated values. Those are:
1. Being Awesome
By enabling users to maintain a fun working environment, they facilitate motivated and inspired employees. To be sure, this is an awesome value to champion.
An awesome workplace generates satisfied employees, which leads to a ton of benefits. Those include the delivery of a better customer experience, improved customer satisfaction, and customer loyalty. All of this leads to faster, more reliable revenue growth.
To be sure, 78% of US consumers say that the way a business treats its staff and employees is one of the best ways to gauge how trustworthy that business is (Source).
2.  Full Transparency
Vagaro believes in the value of business transparency. That's a good choice on their part because consumers tend to favor companies that display transparent business practices. That's not just a hunch either.
These days it's getting harder and harder for businesses to hide certain operating practices, such as using children for labor. We expect to see transparency continue to rise as an important factor that determines consumer behavior.
Why? Because 86% of American consumers say that, after having a poor customer experience, they are willing to give a business a second chance if that company has a history of displaying transparency (Source).
3. Empowering Users
Vagaro is always improving its product and looking for ways to help customers run their businesses more efficiently. Of course, most companies would say that. But market sentiment tells us that with Vagaro this is truly the case.
Its customers realize this too. That is how Vagaro is able to maintain high levels of customer satisfaction and low levels of customer churn. Vagaro's customers are loyal and stick around because of these company values.
Advantages and Disadvantages of Using Vagaro
No software system is perfect. They all have their advantages and disadvantages. Before we go any further, let's highlight some of the system's pros and cons.
Here are some of the pros—the features and capabilities that act as major selling points for Vagaro:
Pros of Using Vagaro
Great scheduling features
Top-notch payment processing capabilities
Extremely easy to use
Includes a broad feature set in general
Has a very reasonable price point
Cons of Using Vagaro
They don't offer packages for added features—you must purchase them a la carte
System downtime during software updates
Inability to block an entire day off in the system's calendar
It's made for various business types
Vagaro Pricing & Free Trial
Vagaro gives anyone interested in purchasing its system the ability to take a free trial with no commitment to buy.
They don't even ask for a credit card number then charge you automatically if you don't cancel the trial before the end of it. The free trial is available with no contract, cancellation, setup, or sign up fees.
Plans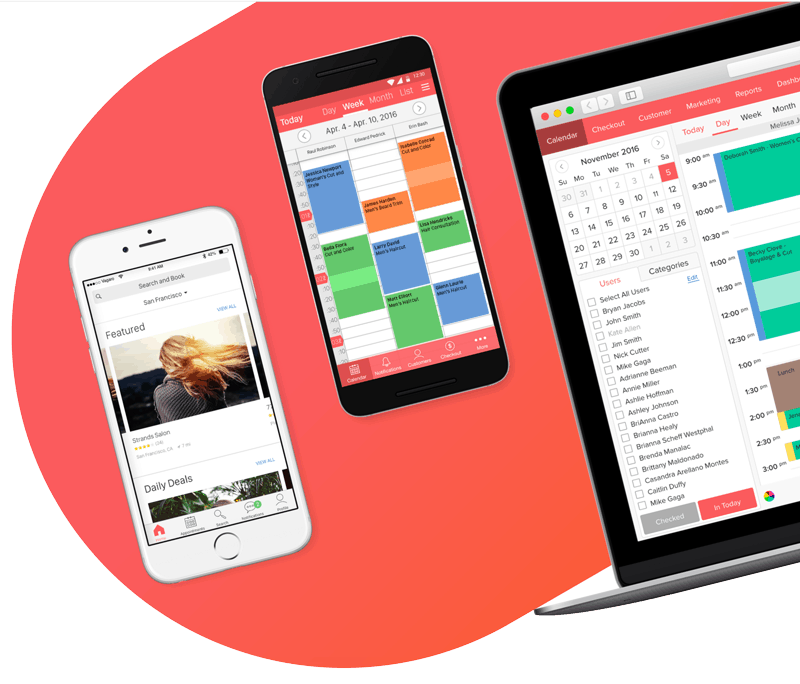 At the time of writing, Vagaro doesn't offer different plans with more features if you pay more. Each plan comes with all the features the system offers. You only pay per user and get to enjoy all the features included (we cover features below).
The cost per user is as follows:
One User: $25 per month
Two Users: $35 per month
Three Users: $45 per month
Four Users: $55 per month
Five Users: $65 per month
Six Users: $75 per month
Seven Users and Above: $85 per month
Vagaro's Feature Set
In addition to the scheduling and payment processing features the system is well known for, Vagaro delivers many additional features. It's a robust feature set stuffed with value-added features that businesses need to streamline and automate tasks, increase efficiency, and deliver a better customer experience.
The system comes with plenty of useful features, which, as we mentioned, come with every package. Below, we will touch on the features that businesses look for when investing in Vagaro.
Pay Desk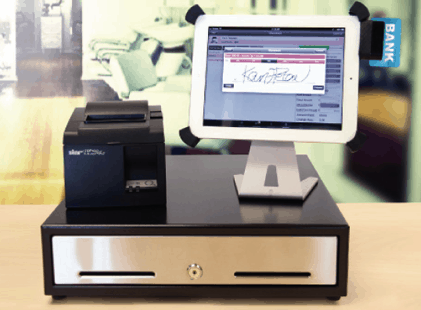 A dual-screen checkout system, which is a key element of Vagaro's point of sale system. It allows for a transparent, safe, and secure checkout.
Live Stream
This feature lets gyms and other businesses that offer classes or courses to live streaming classes and consultations remotely, anytime, from anywhere.
Online Store
eCommerce capabilities make it easier than ever to create, manage, and market your products or services online. Having an eCommerce online store is crucially important to many users so this is a particularly popular feature.
Calendar Capabilities
Online calendars are popular these days and they are very easy to use. Online calendar scheduling is pretty much what it sounds like. It is a way for customers and prospects to schedule appointments or meetings with you online. With reminders, you never miss an appointment or meeting.
Online Booking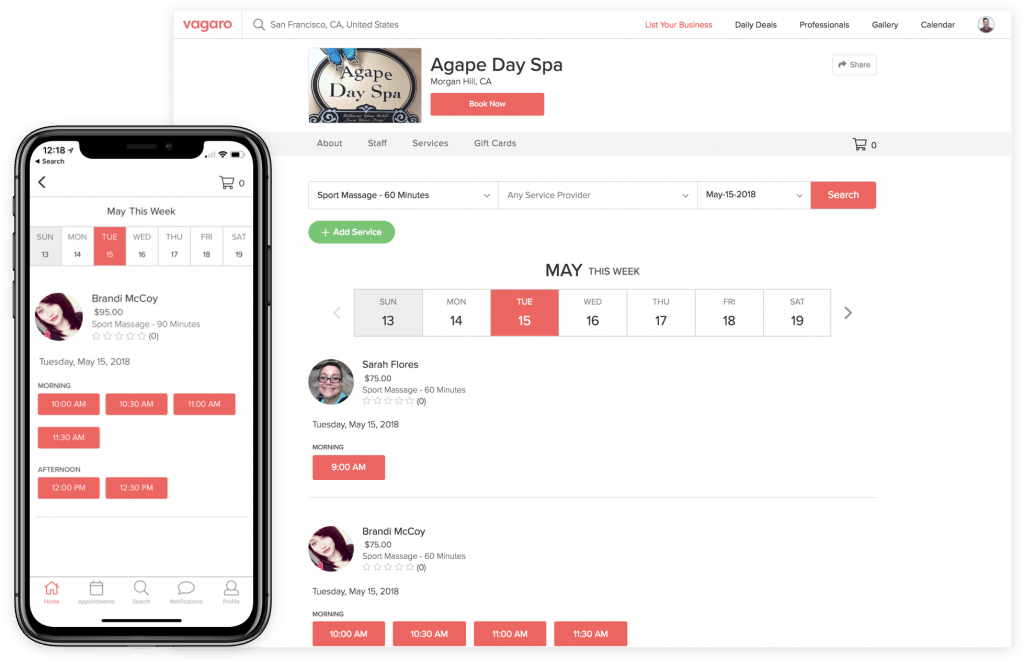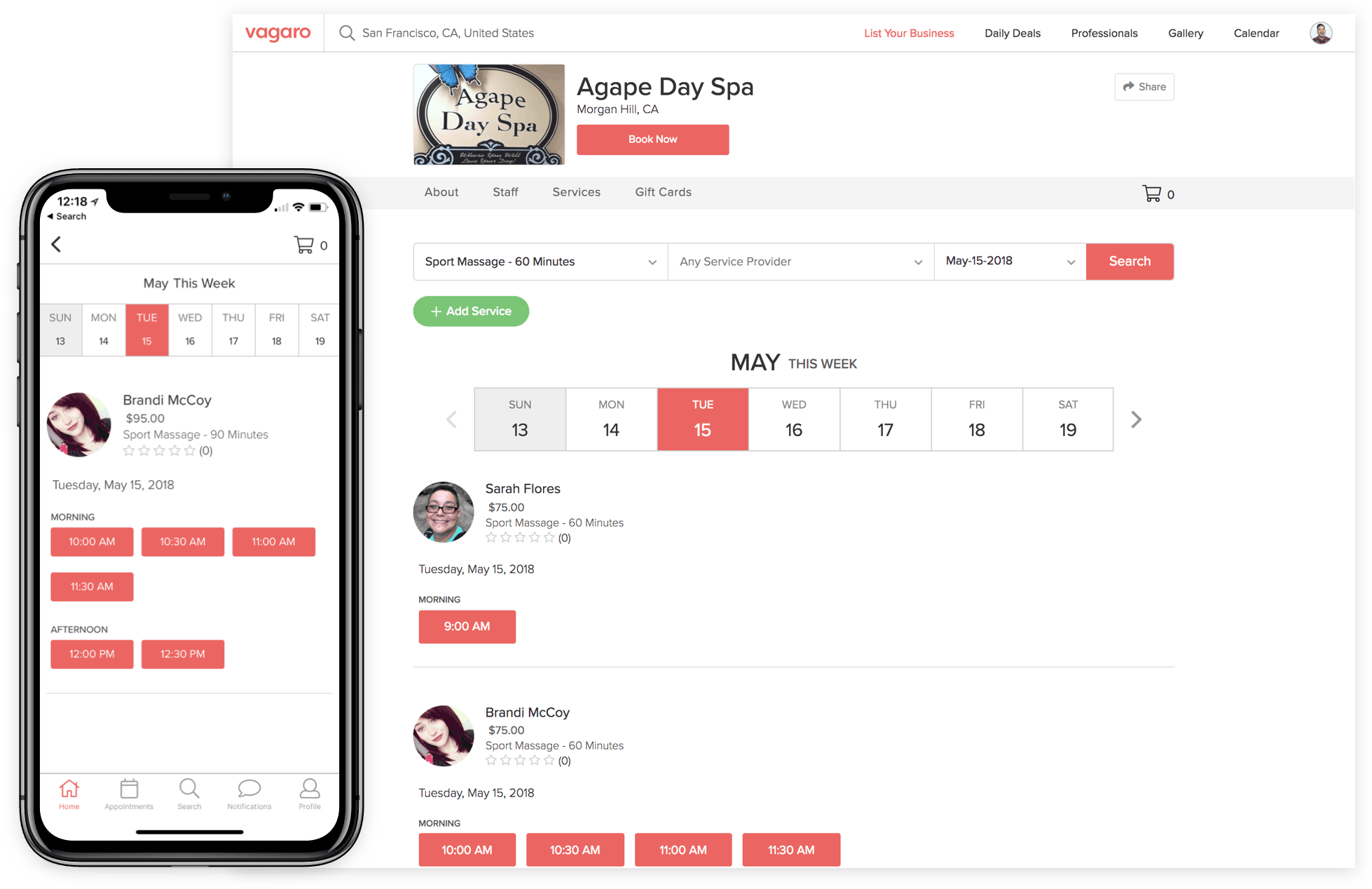 An extension of the calendar capabilities, the online booker lets customers book time with you online, with any device. It's pretty easy to use. You have a visual calendar. You select the dates and times that you are available, as well as the length of the time slot.
Customers select the time that's most convenient for them, and the booking automatically shows up on your calendar.
Notifications
When a customer books an appointment, it is one of many on the schedule. It's nearly impossible for someone to remember all those appointments.
With Vagaro, all those appointments are automatically saved and tracked. Users can set up automatic reminder emails to notify employees and customers a day, an hour, etc., before the appointment.
Mobile Apps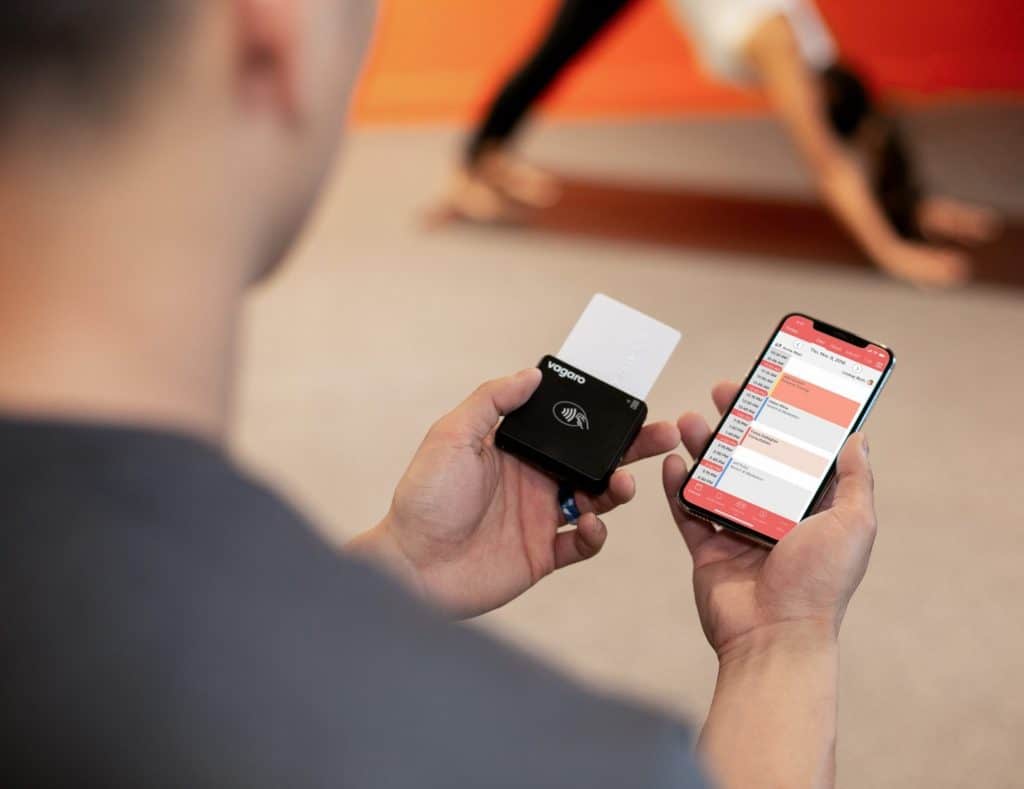 Vagaro offers two separate but interconnected mobile apps that work with both iOS and Android. One app helps your business keep track of things. The second app is for your customers to book and keep track of appointments.
Customer Tracking
Vagaro lets you track customer information and give rewards to your most loyal customers so they keep coming back for more.
Marketing Features
With Vagaro, you can design and send email and text campaigns easily. Plus, it's automated, sort of like a mini marketing automation solution built right in.
Reports and Metrics

Solid reporting, metrics, and analysis are features that every spa and salon need. Vagaro delivers solid reporting that provides loads of data and insight. With so much data at their hands, spa and salon employees, managers, and owners can easily and quickly run reports and maintain constant insight into their results.
Website Builder
Here's a feature you'd never expect to find in a system built for running a salon, spa, gym, etc. Vagaro lets you design a custom booking website for your business.
Inventory Management
You can easily track products, send purchase orders, and sell your products online with Vagaro's inventory management system.
Frequently Asked Questions
Here are some of the most commonly asked questions potential buyers have when evaluating Vagaro.
How do I install Vagaro?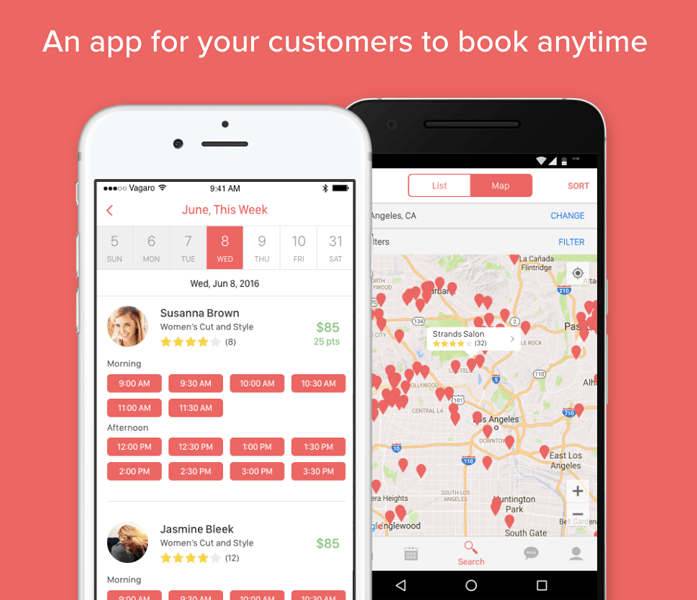 Vagaro is a web-based software that can be accessed anywhere you have Wi-Fi or mobile data. The Vagaro Pro mobile app can be downloaded from Google Play Store or the Apple App Store.
Can I cancel my subscription?
You can cancel your subscription at any time, for any reason — no questions will be asked and no fees will be charged.
How long does the free trial last?
The free trial lasts one month, during which you have access to almost all the features, with a few exceptions, including credit card processing.
How long does the system take to setup?
The setup time can be as little as 15 minutes depending on the number of staff, customers, services, and inventory to be added. In short, setup is a quick process.
Considering Vagaro to Help Run Your Business?
Spas, salons, gyms, and other businesses that want a solid POS and business management system should give Vagaro a close look.
At this point, you have a clear idea about what Vagaro is and what it can do to improve the results of your business. However, it's always a good idea to compare multiple systems when investing in a software tool for your business.
We recommend you conduct some additional research on your own. This article has given you a good start. To complement the information you gained here, read user reviews on sites such as Capterra to better understand how real-life users like the system.
Take your time and don't rush into any decision without some research. Do your due diligence and you will surely find the right POS system for your business. It might very well be Vagaro.