(Last Updated On: April 4, 2022)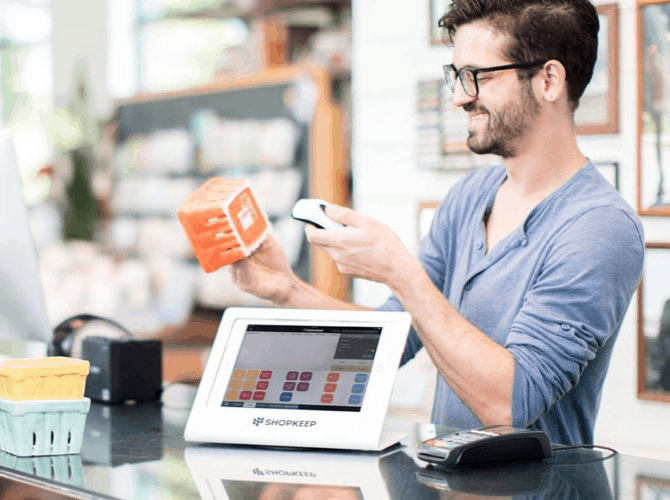 Gift shops transport you into a new world with an endless variety of items big and small. There's something to discover around every corner and it can be a source of inspiration. Although this makes for a magical experience, it also means a massive amount of management, organization, and behind-the-scenes work.
The market size of the gift shop and card store industry in the United States is over 16 billion dollars. However, the growth rate is declining. Negative factors affecting the market are high competition and low barriers to entry. Therefore, you must have a strong gift shop POS system in place to streamline operations and remain competitive.
A gift shop faces a variety of challenges that make it different from other retailers. Inventory management is complex due to a high volume of item differentials, bulk ordering, and the need for deep customization. Customer self-service opportunities are anticipated in this space which can lead to a higher cost in hardware.
When it comes to choosing an effective gift shop POS, look for a system that will have optimized inventory with custom bulk ordering, product variants, and layaway features.
Automated purchasing with comprehensive employee management is also beneficial for a successful gift shop POS. It should have offline capabilities with in-depth sales reporting for better decision making.
If you're wondering how to equip your gift shop with the right system, check out these five platforms for a leg up on the competition.

The Best Gift Shop POS Systems
Korona POS – Best Overall Gift Shop POS System
Rain POS – Gift Shop Software for Faster Checkout
GiftLogic – The Most Gift-Shop Specific Features
Hike – Solid Inventory Management System
CashierLive – A True Retail POS System
Comparing the Best Gift Shop Software Solutions
| POS System | Software Costs | Other Costs | Key Feature |
| --- | --- | --- | --- |
| | Starts at $99/month per user | Need to sign up for a 15-minute free demo for more pricing | Advanced SEO and digital marketing integration |
| | $49/month for regular subscription | $69/month for GiftLogic Pro edition | Custom order capabilities with a house account and layaway |
| | Startup $59/month (paid yearly for 1 outlet) | One store $79/month (paid yearly for 1 outlet) and Multi-store $129 (paid yearly, unlimited outlets) | Plug-n-play compatibility with mobile management options and cloud-based data storage |
| | $75/month for unlimited terminals | $1,899 single-touch terminal and 2.7% per transaction for processing fees | Cashier management with time clock and transaction report integration |
| | Starts at $49/month | Korona Retail is an additional $10/month per terminal | Extensive hardware selection with leasing options, training, and dedicated support |

1. Korona POS – Best Overall Gift Shop POS System


Korona POS is a point-of-sale system you can count on. It's uniquely designed for fast gift shop checkout that will lower your transaction times and increase sales. The company has sold over 18,000 point of sale systems to thousands of companies worldwide. Setup is easy with bulk data uploading and quick configuration.
Additional features include:
Powerful POS Hardware
This point of sale software has a robust selection of hardware needs to suit a gift shop of any size. In addition to the powerful desktop hardware, Korona POS also has customer-facing displays to empower guests and drive more sales. This helps to enhance the convenience and speed of the checkout experience. It's what elevates a POS system vs. a cash register.
The gift shop POS software is compatible with mobile devices, like a tablet, for shops that need to add lanes quickly. There is also financing available for a business that wants to lease the hardware. Korona offers several affordable options. Hardware training is extensive with a system rep that will walk you through the first day.

Inventory Management
A gift shop tends to have a lot of SKUs and various items to track. Thus, this business setup requires a point of sale system with focused inventory management. You can import inventory databases quickly and easily when opening new locations or franchises and get updates on low stock, out-of-stock, and overstock as it happens.
Keep all inventory consolidated between various verticals and scan new items fast and accurately. The Korona POS system allows a gift shop to print labels and price tags on products straight from the POS. You can also easily generate a report on each item in the product catalog with the click of a button.
Employee permissions are customizable to protect the store and bolster loss prevention. A gift shop can download the Korona POS inventory app for added convenience and streamlined management. Now you don't have to be in the store to know what's going on with the stock. Whether you need to manage thousands of products or enter multiple products and variants, this software can handle it.
Efficient Payments
Accept all credit card and debit transactions with EMV-chips and automated prompts to ensure all payments are secure. This gift shop POS can also accept all mobile and contactless payments like near field communication (NFC) with Apple and Android Pay.
Although the platform isn't a payment processor, the software integrates with any merchant service of your choice. You can structure custom payment plans for large transactions, split payments, and offer gift cards all within a central dashboard.
Additional Features
Loyalty program and customer relationship management program with data tracking
Detailed reporting on profits, revenue, sales, conversions, returns, turnovers, etc.
Franchise and multi-location optimization with royalties management
Loss prevention with blind cash drops and receipt cancellation
Free 24/7 email, phone, and chat support with no contracts
2. Rain POS – Gift Shop Software for Faster Checkout


Rain POS customers typically boast a 20% growth in sales during their first year. The retail point of sale system is built to manage customers, inventory, and marketing all in one place. There's no more double data entry or duplicate efforts when using the Rain platform. Where Rain really 'shines' is with its email marketing tools.
Key features to consider include:
Automated Marketing Tools
Rain offers advanced digital marketing tools that are integrated directly into the POS system. Send customers automated marketing emails with carefully customized drip campaigns.
Your emails can cover topics like:
New arrivals
Top sellers
Sale items
Upcoming classes
These messages can be targeted and sent to specific customer segments right from within the dashboard. There is no need for a third-party email platform.
Timely notifications can also be sent to keep customers coming back. In addition, Rain POS makes it simple to manage your social media reviews from big channels like Facebook and Google+.
Class Management
Gift shops offer classes on occasion for different kinds of crafts and other forms of networking. Rain POS has a class management feature that enables a customer to register for a session and pay online or in the store.
Once a guest is registered, their seat is automatically saved and the number of available seats is reduced. This also allows you to require and accept payment in advance and avoid the cashflow loss from no-shows.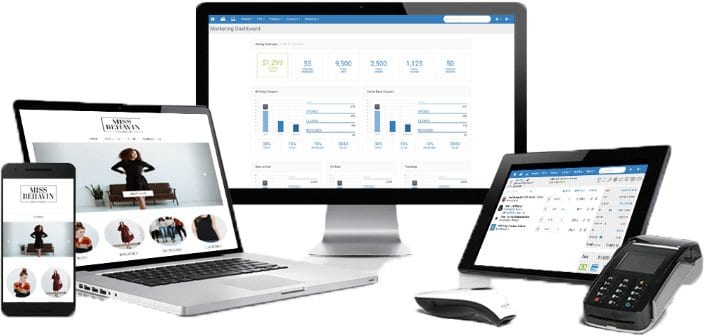 Customer Accounts
The Rain POS system includes robust customer relationship management (CRM) tools. Access important customer data to make better business decisions, like:
Contact info
Purchase history
Email address
Reward points
The more closely you track information related to customers, the easier it becomes to market to them. This, in turn, bolsters your retention rate and leads to a higher rate of customer satisfaction.
Multi-Store Optimization
If your business operates in more than one location, you need a gift shop POS system that can handle the volume. The Rain POS platform runs on a single database. This facilitates moving inventory between locations and makes for tighter controls. It also helps to eliminate human error and accurately optimize stock levels between stores.
Additional Features:
100% compatible with all QuickBooks accounting platforms
Allows for unlimited users with different access levels
Rental management with custom deposit amounts
eCommerce website powered by POS database
Easy-to-use widgets for content management
3. GiftLogic – The Most Gift-Shop Specific Features

GiftLogic is a system built with the gift shop industry in mind. They make it easier for a customer to get what they want with advanced customization and mass-ordering features.
The gift shop point of sale system allows a brand to ring up sales, accept payments, engage the customer, track inventory, and grow your business, all within a single platform.
Some key benefits to using this platform are:
Comprehensive Layaway
When you go to buy balloons, you are generally buying more than one. The same goes for any time you purchase office swag as a gift. You're going to need the custom items in bulk and GiftLogic is the perfect system for it. They offer extensive layaway options that give a business the ability to purchase larger ticket items.
Allowing people to make installments is a surefire way to move merchandise faster. It allows customers to set aside items they desire but can't necessarily fit in their budget today. For gift shops, this is perfect. Especially since they deal with a lot of party planners who shop in advance for big events. Some key layaway features include:
Quickly create a layaway sale
Modify the pickup date and enter notes
Accept payments towards an item at anytime
Perform cancellations
View multiple layaway reports
Other options in the system can be customized, like the maximum number of days for pickup and the service charge (% or $).

PurchasePal
GiftLogic helps to automate the reordering process for purchase orders with personalized settings. The program is called PurchasePal and it's designed to collect and calculate vital sales data for automatic purchasing. The information collected will also enable the program to suggest certain products to add when placing an order. Additional benefits include:
Sales history consideration
Suggested purchase orders
Sales analysis per inventory item
Set conservative or aggressive reordering preferences
Considers vendor minimum P.O. amount and lead times
Additional Features:
Custom label creator system built into the POS
Employee security with permissions based down to item levels
Monitor sales distribution with drill-down reporting
Customer relationship management utility for easy marketing
Optional merchant service integration
4. Hike – Solid Inventory Management System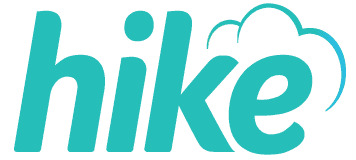 Hike is a fully functional gift shop POS system that boasts strong inventory management, loyalty programs, and online sales opportunities. It's an intuitive point of sale program that helps a company sell in-store or on-the-go. From trade shows to pop-up shops, these are just some of the ways the brand can "hike up" your revenue.
Some key features to keep an eye out for include:
Cloud-based Mobility
Whether you are in-store or down the street, Hike offers the ability to manage operations from anywhere, at any time. You can continue selling even when offline—with no need for wi-fi. The gift shop POS software can be used on an iPad, Mac, PC, or any device that suits your store setup and counter size. You can use Hike on any web browser as well.
Track Cash Flow
Easily manage your cash float with the Hike POS system and keep track of all gift store transactions. This means all payment types are accepted, including credit cards, gift cards, and loyalty points. The software monitors all refunds and every transaction that are linked to a staff member's profile.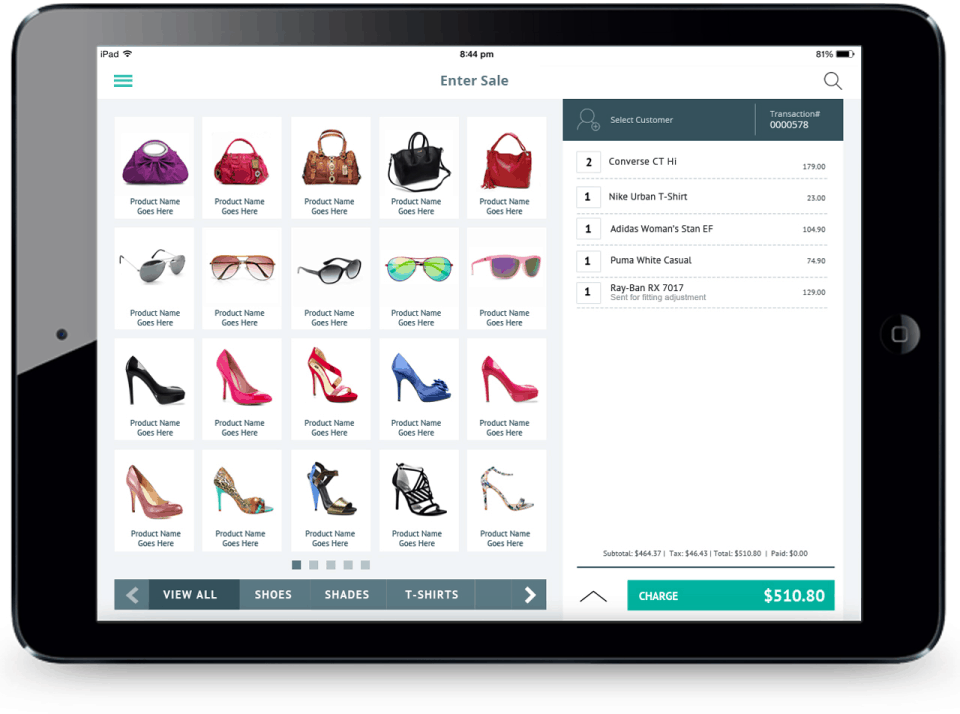 Sell Online
The online retail market for gifts is huge as people prefer to shop from the comforts of their own home (or when traveling). The Hike platform will help you create convenience for customers with an integrated online store. Users can order directly from your built-in (free) website and schedule to pick up orders in-store.
Fast Checkout
Quickly apply discounts to an entire sale or simply alter the dollar value for a particular product line item. A clerk can park orders for later fulfillment or layaway orders for partial or periodic payments. The system features easy order flow with the simple "click and pay" customer payment screen. It then automatically opens the cash drawer and prints a receipt.
Additional Features:
Easy inventory setup with product variants (color, size, material, etc.)
Product import template to build a catalog in minutes
Detailed customer profiles with purchase history and loyalty rewards
Multi-store reporting with a centralized dashboard
24/7 email and chat support with video tutorials
5. CashierLive – A True Retail POS System

CashierLive will help automate and streamline your gift shop operations so you have more time to connect with customers. The product combines durable design with extensive usability testing. They make it quick and easy to complete transactions from anywhere on the planet.
CashierLive is integrated with Bigcommerce, a leader in online store setup. They help translate your business to the digital space.
Additional features of the gift shop POS platform include:
Employee Management
CashierLive helps a business focus on building a solid team of trusted employees. The platform pairs a staff timeclock with cashier-level transaction reports to determine your top-performing employees. Staff controls like this help you identify your best workers and who may need a little encouragement.
When payroll comes along, the integrated time clock runs an ongoing tab of every employee's shift. Each cashier must clock in and out at the terminal. A weekly report can then be run on hours and shifts worked.

Comprehensive Reporting
The CashierLive dashboard allows a business to combine cost and pricing data with actual sales information. This gives you a quick snapshot of how profitable your store is and where the money lies. What once was a difficult, manual task can now take mere seconds.
The CashierLive platform gives you access to over 25 reports that demonstrate a variety of data sets and trends. Look for reports on:
Sales Tax
Open Drawer
Employee Time
Department and Category Sales
Item Sales Reports by Units
Many software companies that store your data make it difficult to export. CashierLive ensures you have complete access to all of your store's information at all times. This includes customers, transactions, inventory, and other important things to track.
Simplified Transactions
CashierLive makes it easy to accept multiple forms of payment. Customers can easily pay with any method they want (or more than one). Returns are also a simple and straightforward process. Just enter the transaction number from the receipt and search or enter the items being returned by hand.
Ringing up items is facilitated by efficient barcode scanning. An attached scanner connects to the USB on a computer or Bluetooth with an iPad. You can even use the camera on an iPhone or iPad.
The flexible software accepts all forms of payments. In addition to cash, check, or charge, you can give customers a house account and let people pay at the end of the month. Depending on how your store offers coupons or discounts, you can provide special pricing for a specific item or over the entire transaction.
Additional Features:
Email gift receipts for holidays, birthdays, or special events
End-to-end day and tax reports for accounting integrations
Works seamlessly with cash drawers, barcode scanners, and receipt printers
Easily collect employee tips straight through the POS
1-on-1 training with a premium video library
Gift Shop Point of Sale Buyer's Guide
When it comes to technology, it's no longer a "one size fits all" solution. The best point of sale platforms understand that competition requires niche offerings. Therefore, it shouldn't be as hard as it once was to find an effective POS that caters to the gift shop industry.
However, this can also dilute the market and make it difficult to find a solution that truly fits. Consider some of these following features when hunting down the perfect POS for your store:
Advanced Inventory Management

A gift shop requires careful tracking of hundreds, if not thousands, of items and SKUs. There can be the same product in 10 different colors, sizes, and textures. Variation is what makes a gift shop so suitable for buying gifts. Chances are your items will differ greatly from the next customer's and that's exactly what people want.
Look for a system that allows for bulk uploading of inventory with product variant management. You should be able to easily categorize items on the dashboard and quickly sort them during a sale. Automated reordering and instant notifications will ensure you never run out of your best products.
Layaway and Customer Accounts
The business of gift-giving often requires careful planning. People will buy up your inventory and spend the money, but sometimes they need to do it in increments. Giving customers the options to purchase larger items on layaway frees up your warehousing for more stock and ensures a line of future revenue.
When conducting B2B business, vendor accounts for bulk ordering drives sales and increases customer retention. Many brands want to order tons of swag and gifts for events and such. They need custom products in large quantities. A gift shop POS will make sure you always have the custom order correct and the right items in stock.
In-depth Reporting
Gift shops are busy during arbitrary times, like holidays and events. That means a business must pay closer attention to sales trends to ensure they are always offering customers exactly what they want. Look for a gift shop POS system that can run reports on all activities in the store, including:
Sales
Inventory
Employee performance
Cash flow
Some systems will integrate business verticals for greater insights. For example, running a report that incorporates both an employee schedule with sales per shift will help demonstrate the performance of that staff member and their level of productivity.
Digital Marketing

People love being told "Happy Birthday!" or wished a happy holiday. Since a gift shop happens to sell gifts, having a robust digital marketing program in place will nurture customer relationships and keep them coming back for more.
Choose a POS system that will use data collected during transactions to segment customer audiences and market accordingly. This can include email drip campaigns or instant notifications to a mobile device. Use the data wisely and automate your marketing program to work concurrently with an intelligent gift shop POS.
Solid Support
You know your staff. If there is a sharp learning curve you may want to consider a system that has robust customer support. Look for a platform with 24/7 customer service via phone, email, or chat. If they offer 1-on-1 training, that's even better.
Some companies have an extensive library of resources that includes everything from whitepapers to videos and customer forums. It just depends on your level of need during the onboarding process.
Additional features to look for include:
Multi-store optimization
Cloud-based mobility
Efficient payment system
Low processing fees
Advanced hardware options
Ready to Evaluate Gift Shop POS Systems? 
We just started your evaluation for you. Now you have a high-level understanding of gift shop POS systems and what owners look for in those systems. Our advice is to read review articles like this and also dig up user reviews to gain a comprehensive understanding of your options.
Make a list of your requirements, consider your budget, and try to calculate the return on your investment that your POS system will provide. Use this to find the right gift shop software for your business.
By doing your research and due diligence, you will certainly identify the point of sale system that meets most of your needs, aligns with your budget, and will facilitate business and revenue growth.