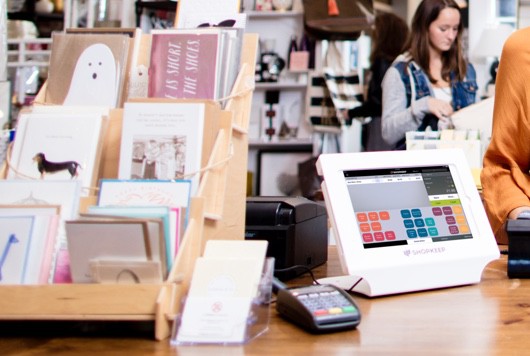 Gift shops need technology for certain tasks, so we compiled a list of the best gift shop POS systems.
Point of sale (POS) systems automate administrative tasks so your staff can spend more time serving customers.
Hardware components that are particularly important to gift shops include inventory management tools like scanners.
Gift shops also need tools to enter orders, process digital payments, and print receipts. These tools help employees deliver better customer experience and result in increased sales.
Gift shops also require specific software features. Key features include powerful reporting, data capture capabilities, and customer relationship management (CRM) features.
Ultimately, there are many hardware components and software features available. They help gift shops operate more smoothly, serve more customers, and drive business growth. We elaborate on those below.
We evaluated many gift shop POS systems to arrive at a list of the best POS systems available. This will help you make the right decision when shopping around for a gift shop POS system.
Top 5 Gift Shop POS Systems
| | | | | | |
| --- | --- | --- | --- | --- | --- |
| Pricing | Basic plan is $99/mo for 1 register, 5 users; eCom add-on is $59/mo | Basic software plus hardware bundle offer of $99/mo for 36 months; other plans by quote | By quote only, but touts itself as the most affordable option | Lite is $99/mo annually or $119/mo monthly; Pro is $129/mo annually or $159/mo monthly; Enterprise by quote | Pricing starts at $49/mo, with discounts for annual. Add terminals at same price. |
| Free Trial? | Yes, 14 days | No | No | Yes, 14 days | Yes, unlimited |
| Best Features | Optimize stock, make sales, data reports, eCom integration, CRM | Register, inventory, reporting, CRM | Inventory, register, reporting, eCommerce | Easy setup, simple interface, and all the basics | Inventory, CRM, payments, reporting |
| Hardware | Offers bundles and individual pieces for iPad or Desktop setups, contact for quote | Sells full range of hardware, including Dell touchscreen computers | Sells all hardware needed, except for iPads | Sells bundles for Mac, PC, and iPad. Must use Google Chrome | It runs on Mac, PC, Linux, Windows tablets, but not smartphones (back ofc only). |
| Local or Cloud | Can be all-cloud or hybrid system | Local Windows installation | Hyrbid installed locally, synchs to cloud | Cloud | Hybrid with back office in cloud, POS on local devices, synchs to cloud |
| Integrations | 40+ integrations with all kinds of business apps | 20+ integrations with various business apps | BigCommerce, QuickBooks, Mailchimp, Yext | Xero, WooCommrce, QuickBooks, Shopify, Apple, Deputy, Timely, Marsello, Stitch, Unleashed | bLoyal, QuickBooks, others by REST API |
| Support | Free unlimited support 24/7, one-on-one onboarding, webinars, demos, videos | 3 months free on basic plan; 6 months priority support with Pro plan | Free unlimited 24/7/365 phone, text, chat | Premium support free only with Enterprise plan. $19/mo on Pro | 24/7 phone, email and chat support |
Get Free POS Systems Quotes
Lightspeed Retail: Best Overall Gift Shop POS System

Lightspeed launched its first retail POS system in 2013. It's been making a name for itself in retail POS solutions ever since.
The company maintains a strong focus on helping retailers work smarter, make data-driven decisions, and create better customer experiences. It accomplishes its mission by offering a POS system with the following core capabilities:
More Payment Options for Customers
Payment terminals, automated check splitting, and card readers that can read and process all types of credit and debit cards give customers more payment options. But it is the payment processing software features that allow Lightspeed POS to complete those tasks—the hardware does the grunt work and the software manages that work.
Lightspeed POS allows customers to pay with cash, credit cards, debit cards, gift cards, and can process discounts. Giving customers more options to pay reduces the hoops they must jump through to settle the bill and improves the customer experience.
Inventory Management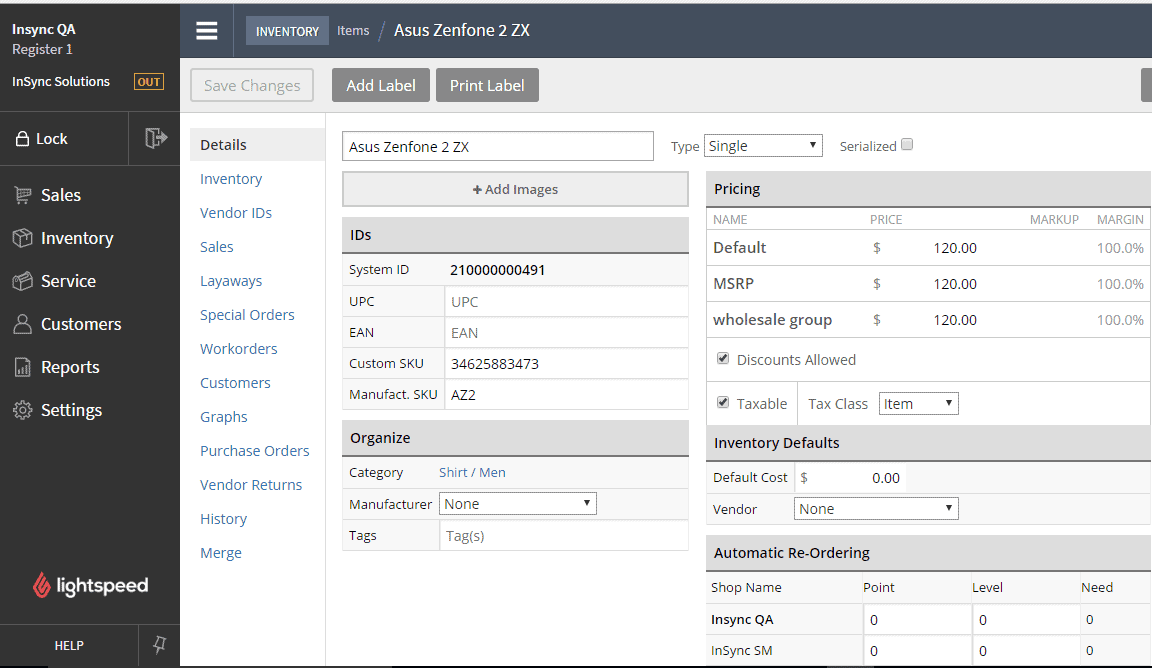 Lightspeed Retail's inventory functionality is robust. It includes integrated catalogs, item bundling, multiple product categories (size, color, etc.), unit cost tracking, low-stock alerts, special orders, work orders, layaways, and purchase orders.
Reporting and Analytics
Real-time tracking of everything that goes into business success facilitates better decision-making. Lightspeed Retail includes loads of reports. These include reports around overall sales, profit year-over-year, inventory levels, sales per employee, average transaction amount, and more. 
eCommerce Integration
Generally, companies invest in a point of sale system in the early stages of opening a business. Over time, they must be able to scale up as their businesses grow.
For example, if you run a retail store and decide that you want to build an online store to sell your products, you must use an eCommerce platform like Magento or Shopify to do so. The eCommerce solution processes payments online and does so in secure ways that protect customers' personal data, like credit card numbers.
If you use a traditional POS system, it is often more difficult to integrate a third-party eCommerce application with your existing POS system.
Luckily, Lightspeed has its own eCommerce add-on with a payment processing rate of 2.6% + 30¢ per transaction.
Mobile Accessibility
Lightspeed Retail is a cloud-based, software-as-a-service (SaaS) POS system. SaaS POS systems store all relevant data in off-site servers that are backed up, eliminating the risk of data loss.
Because SaaS POS systems rely on an internet signal or mobile data to operate, users can access these systems from anywhere they have a WiFi signal or mobile data. System data can be accessed on the go via a laptop, tablet, smartphone, etc.
This type of POS system is popular and ideal for retail stores. This is because they allow owners and managers to check inventory levels, run reports, and access other important data any time, from anywhere.
Customer Relationship Management (CRM)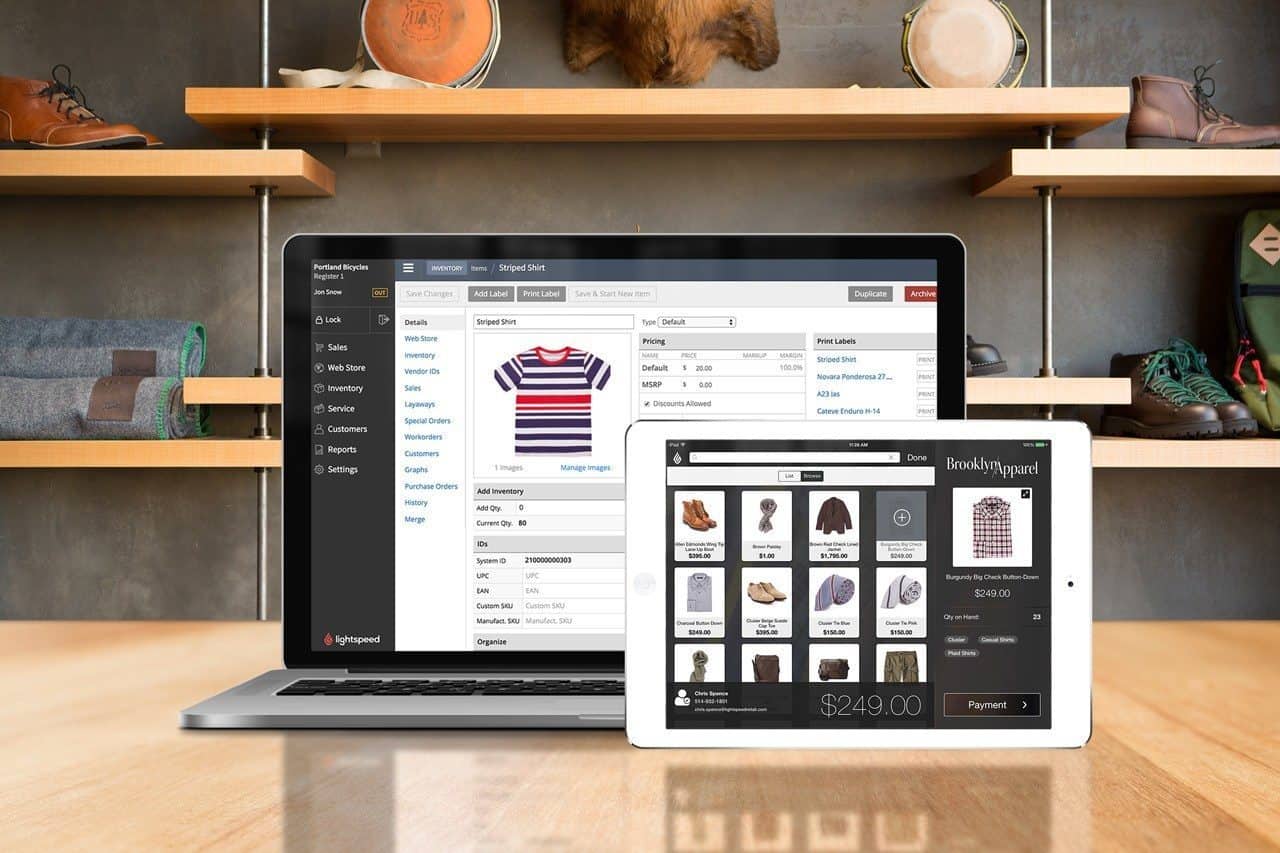 Customer relationship management (CRM) features empower businesses to form better, more personal relationships with their customers.
Lightspeed delivers robust customer relationship management features that make forming those relationships easier than ever before.
The system includes features such as individual customer profiles. Those are filled with customers' personal data, purchase history, customer categories for easy targeting, and the lifetime value of each customer.
Customer Service/Support
We can break this topic down very easily:
One-on-one onboarding sessions: Free
Webinars, demos, and videos: Free
Unlimited 24/7 support: Free
Downsides of Lightspeed Retail
One downside of Lightspeed Retail for small, independent shops is its complexity. It has robust capabilities, many of which smaller businesses don't need. Features like CRM capabilities aren't useful if your customers are primarily one-time visitors such as tourists.
While there are lots of positive user reviews of Lightspeed Retail, there are also a significant number of complaints. These are mostly focused on unreasonable contract terms, affordability, and ineffective customer service/support.
The Last Word on Lightspeed Retail
System aspects that satisfied users mention most are its ease of use, robust inventory tracking, real-time data analytics, and the eCommerce integration for those who need it. All in all, Lightspeed Retail is a great option for a gift shop POS solution.
GiftLogic: A POS Solution Designed for Gift Shops

GiftLogic was designed specifically for gift shops. Other retail POS solutions try to meet the needs of all kinds of retailers. 
When you use a general retail POS system in a gift shop environment, you often end up paying for features and capabilities you never use. GiftLogic offers the following core features and functionality:
Inventory Management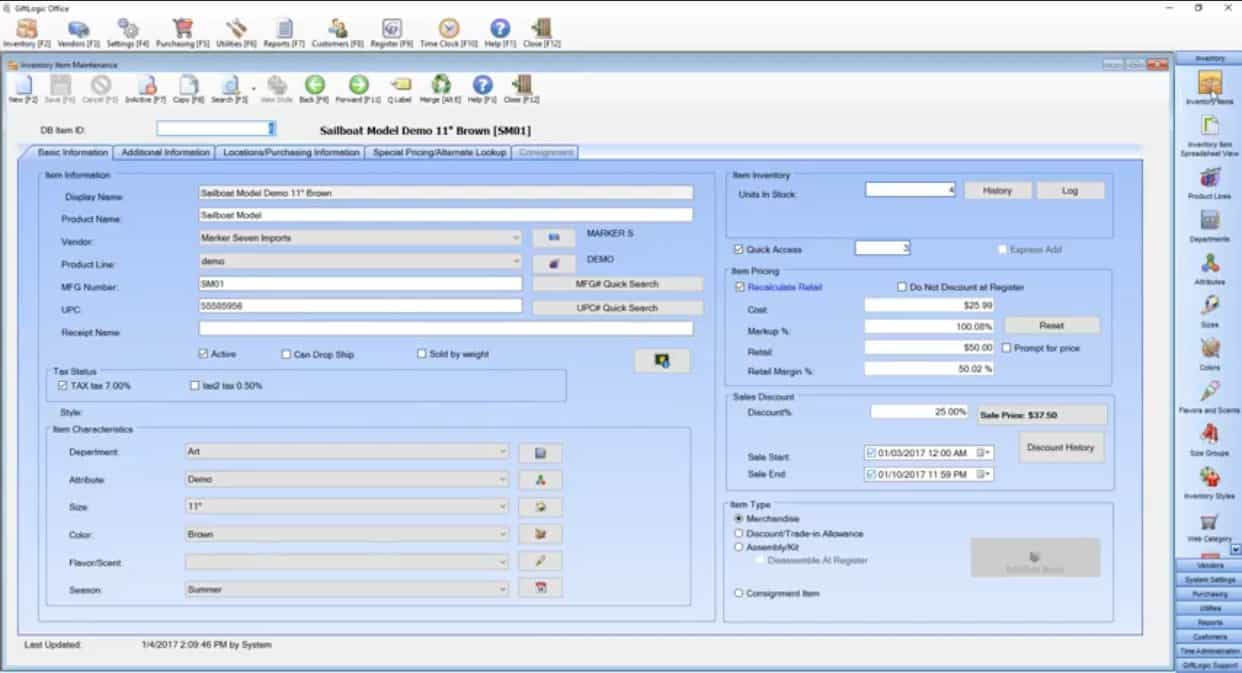 Inventory management features are essential for businesses that keep inventory stock on site. These features ensure that your inventory matches what you have sold, with no discrepancies.
However, discrepancies happen all the time with any business, so it is important to understand how they happen and how a scanner eliminates them.
With inventory reporting, you can easily uncover the source of a discrepancy and address it.
Customer Relationship Management (CRM
Customer relationship management (CRM) features empower businesses to form better, more personal relationships with their customers. GiftLogic includes features such as individual customer profiles. Those are filled with personal data, customer purchase history data, and customer categories for easy targeting.
With this data at your fingertips, you will build those relationships. This will lead to higher levels of customer loyalty, customer satisfaction, repeat business, and faster revenue and business growth.
Reporting
GiftLogic's Management Dashboard is truly a standout feature for quick performance evaluation. GiftLogic point of sale provides robust analysis tools to rapidly identify trends and patterns. They offer over 200 standard reports to choose from.
Employee Management
Employee management features help you operate your store with confidence while gaining greater control over daily operations. GiftLogic's robust permissions and data security measures put you in complete control of what employees can view and the tasks they can perform. 
Purchasing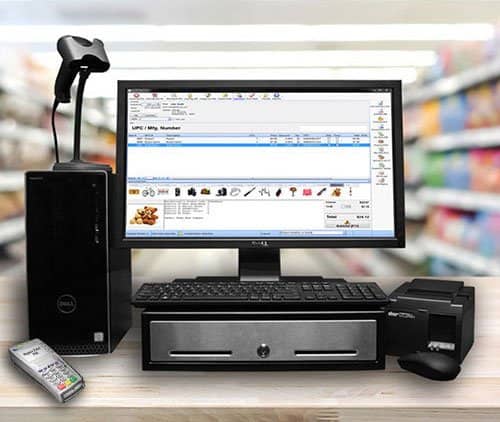 Inventory accuracy begins with purchasing and receiving. The GiftLogic PurchasePal system automates and creates suggested purchase orders. This provides a mechanism to maximize your inventory's profitability and turn rate.
Layaways
Offering the ability to purchase larger ticket items or a larger quantity of items by offering layaways is a sure way to move more merchandise.
Allowing customers to set aside the items they desire, but may not necessarily fit in their budget, is a valuable asset for any business.
Labels
Put down the price gun and replace those old labels with custom labels using the label creator included with GiftLogic's gift shop POS software. Barcodes are essential for speed during checkout.
Downsides of GiftLogic
The most common complaint in user reviews is that many features come at an additional cost, such as advanced email preferences and all the integrations offered by third-party apps.
Other users note that you have to be careful about the hardware, operating system, and related software such as Windows Office Suite. It all must integrate seamlessly with GiftLogic in order to operate the system and use all its features.
Many users found the system difficult to learn and feel there are too many steps required to complete what should be simple tasks. 
The Final Verdict on GiftLogic
If your gift shop already relies on the Windows operating system and Windows software such as MS Office Suite, GiftLogic is a great option for you.
ShopKeep: Best Gift Shop POS System for Inventory Management


The ShopKeep business was founded in New York in 2008 as a desktop POS solution but quickly switched over to being an iPad POS in 2010.
It's a solid choice for gift shops. It offers the following core features and capabilities:
Register
ShopKeep's register functionality is smart, modern, fast, and efficient. You can customize the register layout for better speed, handle refunds and returns with or without receipts, and accept partial payments.
Inventory Automation
Automated inventory management tools help manage your stock, no matter how vast it is. The system can handle multiple product variants (size, color, style, etc.). You can quickly see what you have in stock and set up automated order triggers when an item's stock is running low.
Reporting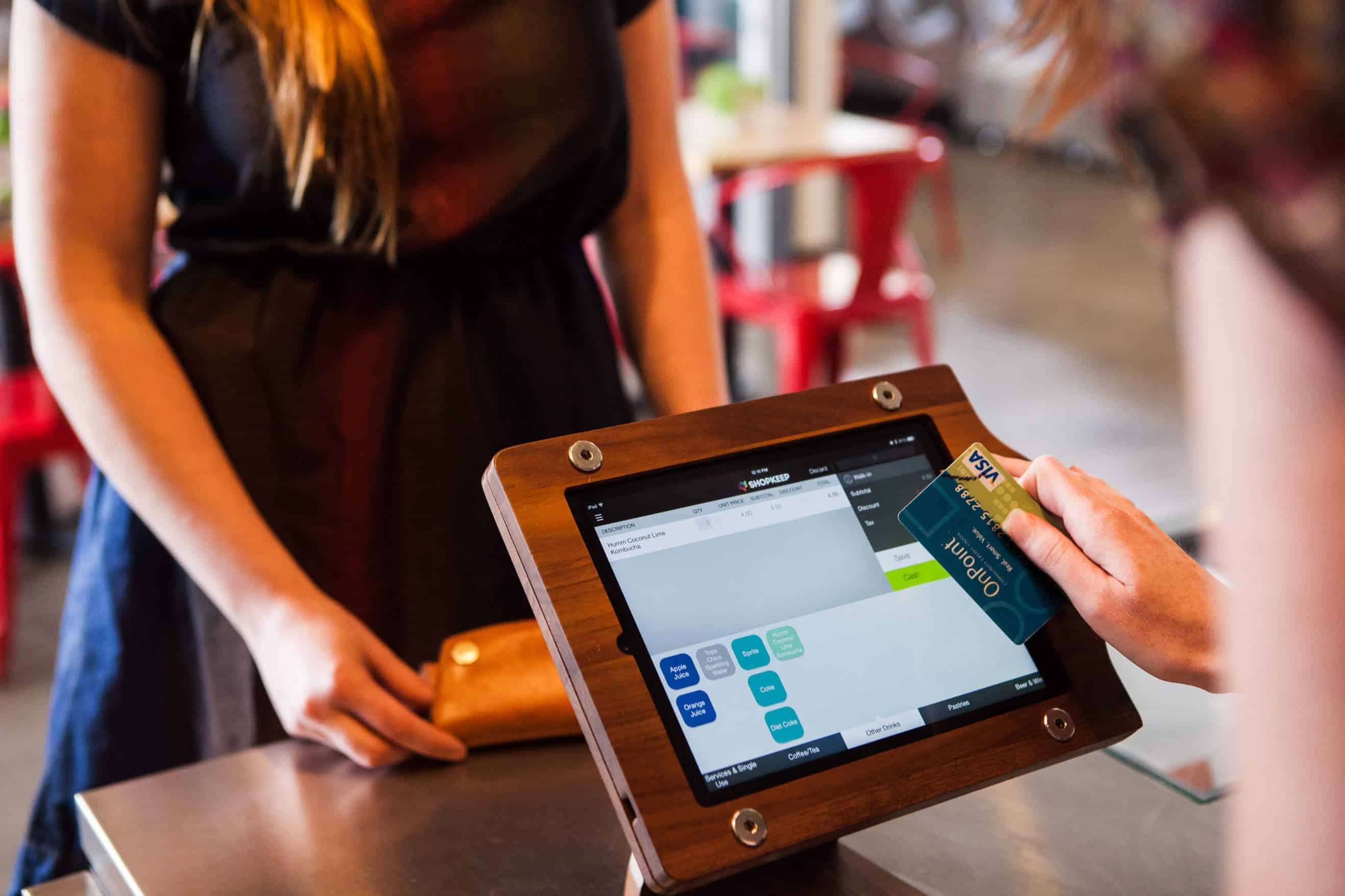 Real-time data reporting and analytics give you actionable insights when you need them. See what products are your top sellers and get rid of those that collect dust on the shelf.
eCommerce
If you want to sell online, take advantage of ShopKeep's integration with BigCommerce. More people buy online these days so having an eCommerce presence is important.
Downsides of ShopKeep Retail
Although it touts itself as the most affordable POS solution on the market, dissatisfied users tend to mention it being overpriced. Those who find it too expensive tend to specifically mention the cost of hardware.
Other users have noted the system does not do well if a business moves large volumes of inventory. Other complaints note that while customer service/support is available, it's not always very effective.
A number of users note that the company often blames poor internet service for many problems, but customers who upgraded their internet still had a variety of random problems customer support could not solve.
The Final Word on ShopKeep Retail
There is no doubt that ShopKeep will make your gift shop run more efficiently with its easy-to-use feature set, despite the occasional glitch or bug. The integration with BigCommerce for eCommerce functionality only makes it all the more appealing for many people.
Vend HQ: Best Gift Shop POS System for a Great Customer Experience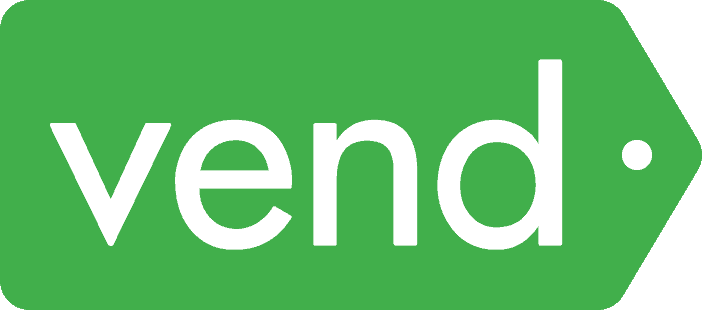 If you run a niche, boutique, specialty, or novelty gift shop, the Vend HQ POS system deserves a look. It's especially well-suited for smaller, lower-volume shops.
Vend came out with its POS solution in 2010, at which point it was nothing short of revolutionary as a cloud-based POS system.
Since then it has kept up with the latest trends and has continuously improved its offering. Vend HQ offers the following core features and capabilities:
General Features
You can run Vend as a native mobile app, through a web browser, or install the POS software on iPad, Mac or PC. Either way, your data will sync with the cloud database.
It also continues to function even if the internet is down and syncs your data when you're back online. Users are impressed with how simple it is to use, as well as how easy it is to train staff on how to use it.
It can customize receipts and email them to customers. Moreover, it can handle layaways, purchases on-account, returns, refunds, and store credit. Plus, individual staff accounts allow for employee-specific sales tracking. 
eCommerce Integrations
Integrations with Shopify and WooCommerce allow you to sync your eCommerce store with Vend HQ.  Inventory syncs in real-time across all locations and systems. Data is also synced across systems in real-time.
Hardware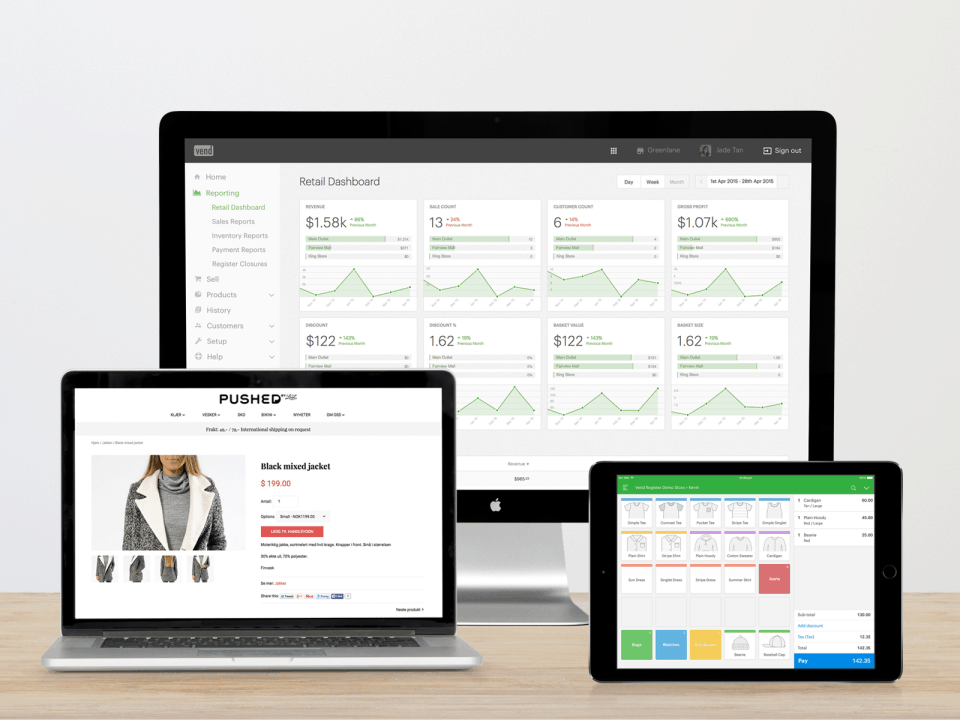 Vend works with a wide range of hardware, but be sure to check that each component is compatible with your system.
The company also sells bundles of hardware guaranteed to work with its system. Or, you can purchase individual pieces separately.
Payments
All types of payments can be processed, including credit, debit, and gift cards, as well as mobile/contactless payments such as Apple Pay. Payments can be split between multiple payment types. Unlike many POS solutions, Vend lets you work with the payment processor of your choice.
Custom Reporting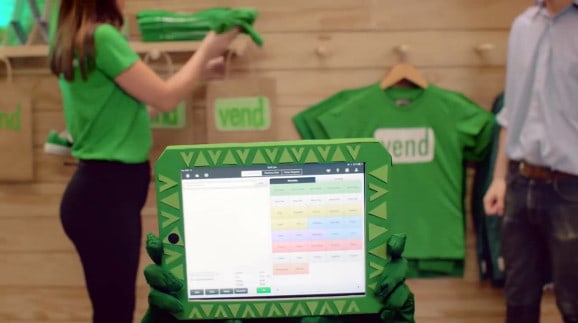 Powerful reporting, metrics, and analysis are features that every POS system should include. Customizable reporting goes above and beyond expectations, and Vend excels at this.
With so much data at their hands, users can easily maintain constant insight into their results and make better, data-driven decisions. They can run customized reports around just about any metric for which they track and store data.
Informed, insightful decision making is the foundation for business growth. This is why custom reporting is such a valuable feature in a POS system.
Downsides of Vend HQ
The most common user complaints about Vend tend to revolve around disliking the look and feel of the register interface. Users also complain about having to purchase expensive add-ons to complete certain functions. Vend has developed its own eCommerce platform, but it's not very good. Luckily, it has integrations with Shopify and WooCommerce for online sales.
The Last Word on Vend HQ
Vend HQ is one of the few POS solutions you can set up and start using quickly, effectively, and with confidence. It doesn't offer many integrations, but it's got the basics well covered. And although it may not have the most robust reporting, it's good enough for most users.

The KORONA POS system was launched in 2011 and offers the following core features:
General POS Features
The cloud-based POS system allows for special promotional pricing and deals, which is reflected in all reports. Refunds and returns can be handled as cash refunds or store credit. For accounting purposes, it integrates with QuickBooks. User permissions control what parts of the system are accessed by each user. You can track transaction histories by employee and shift. Employees can clock in and clock out through the POS system. And custom promotions and discounts can be printed on receipts. 
Inventory Management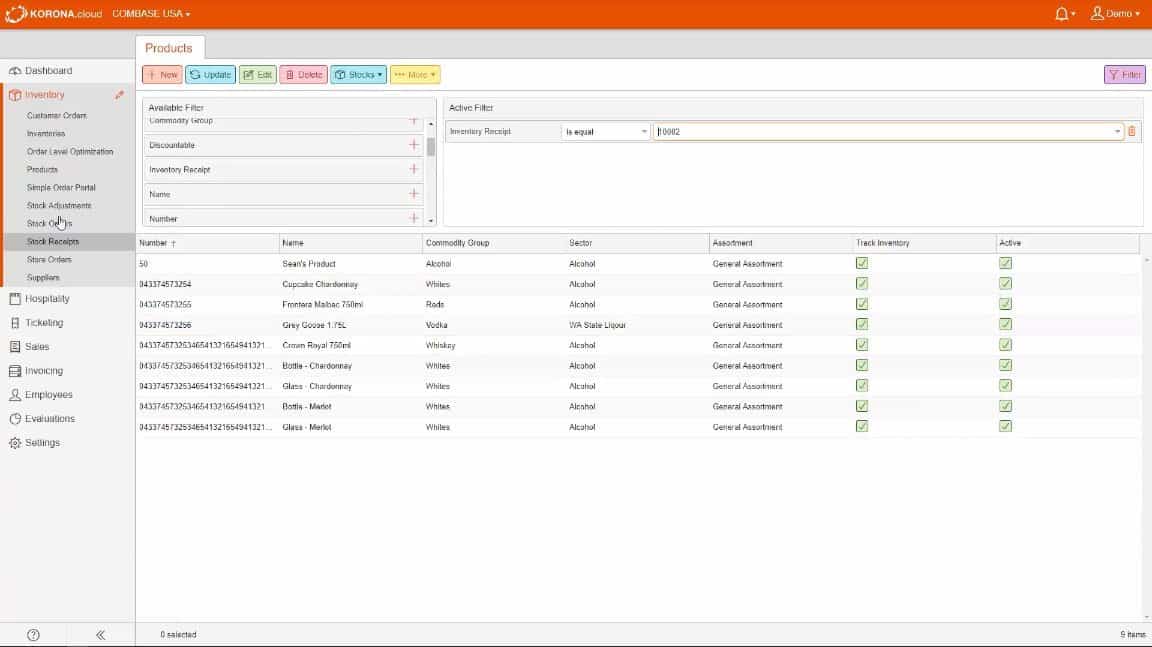 Import inventory data, receive automatic notifications about low inventory, and scan deliveries directly into your system's inventory tracker.
The system lets you label and tag products from the inventory management system and set up automatic ordering based on inventory levels. You can also manage vendors/suppliers and track their shipments to you.
Payments
Customers can pay with credit and debit cards, including cards with EMV-chips, and mobile/contactless payments with NFC technology through Apple Pay and Android Pay. You can work with the payment processor of your choice. Payments can be split between customers and you can set up customer payment plans if needed.
Loyalty Programs
Build a point-based loyalty program into your POS system and customize its structure to fit your business. Loyalty program analytics reveal who buys want and which promotions work best. Collect, analyze and leverage customer information for more effective marketing.
Reporting and Metrics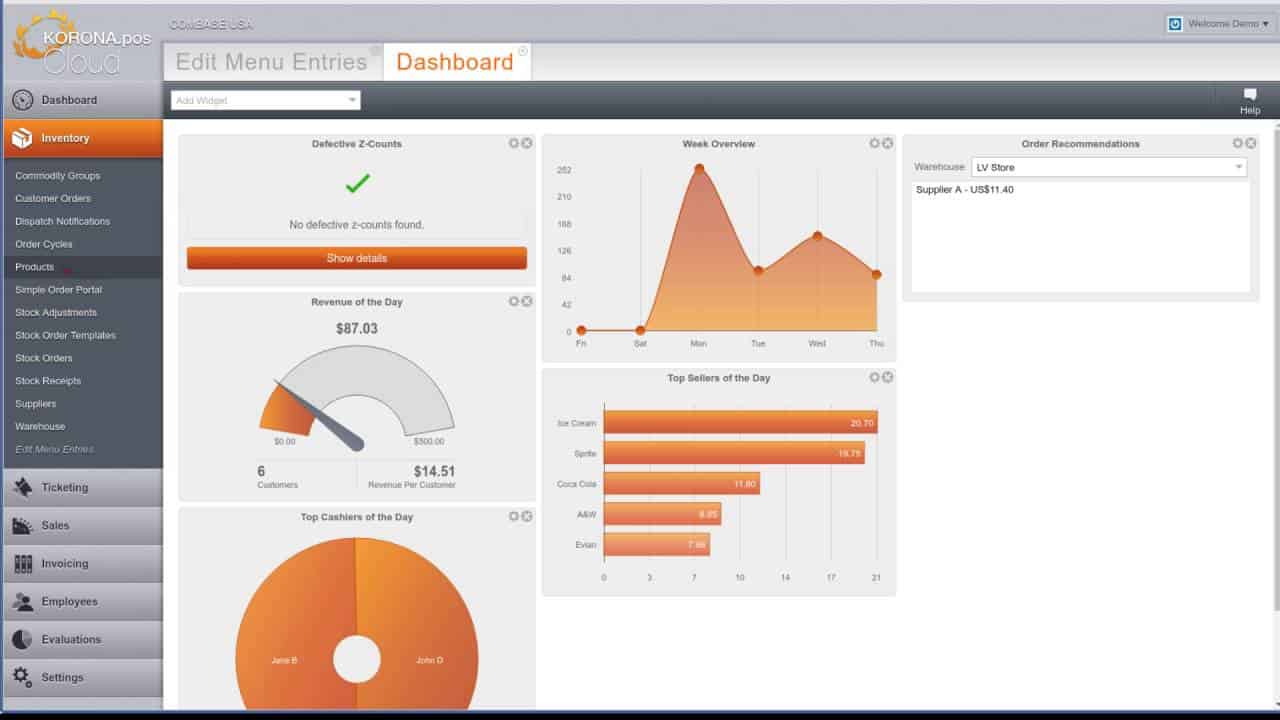 Track and run reports on revenue and profit data any time you want. The system lets you see seasonal effects on your inventory flow and compare sales across time intervals.
You can also check out average transaction amounts by day or employee. View inventory turnover rates by product to optimize ordering. Return rate reports show problematic products. And you can analyze gross margin return on investment for every item to optimize pricing.
Downsides of KORONA POS
Many of the features you may want from this POS may only be available through add-on modules that each have their own monthly price ranging from $10-$50/month on top of their standard pricing per terminal, which is $49/month.
The most common user complaints have to do with how updates tend to change or take away functionalities that were well-liked. Others note that their inventory management options are limited in a way that makes it not an ideal choice for shops with a lot of apparel products.
Only two integrations are offered (bLoyal and QuickBooks), so if you're hoping to integrate with a bunch of other business apps, you'd have to go through their REST API to make those happen.
The Final Verdict on KORONA POS
With an unlimited free trial, you have all the time you need to explore this POS system and make sure it's going to be the right gift shop POS system for you. You can also pick and choose from the add-on modules to make sure you get what you need and avoid what you don't need. And unlike so many POS companies, the customer service/support is relatively fast and effective.
What a Gift Shop POS System Should Do for You
It's always worth considering what you want and need from a POS system before making a purchase decision. One way to figure that out is by asking yourself the following key questions:
How easy is it to use?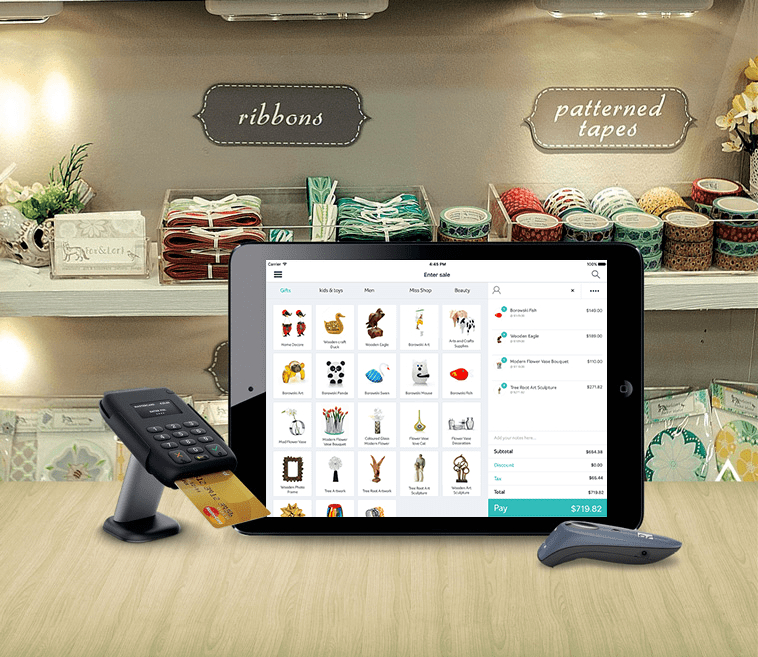 If the gift shop POS system you're considering offers a free trial, always take advantage of it. If only demos are available, make sure you verify with your own eyes how it accomplishes each function you need.
The tasks you need to do most often shouldn't require loads of steps to complete. You want your POS system to save you time, increase efficiency, and grow revenue, not slow you down with a clunky interface. 
Do you want it to be cloud-based?
A surprising number of POS systems claim to be cloud-based. In reality, many of those are hybrid systems where the POS software runs on your local devices and syncs with the back-office databases that live in the cloud.
A cloud-based solution should give you the flexibility to manage your business remotely, any time, from anywhere, on the device of your choice.
Will it give you the reports you need?
One of the most common user complaints about POS systems is that they don't produce the exact reports a business wants to see. This is something you should be able to verify before buying a system.
In some cases, reporting can be customized, but this isn't always an easy or fast process. Is it important that your analytics and reporting happen with real-time data flow? If so, make sure that is part of the system. To what level can sales and profits be reported? You should be able to run high-level reports as well as drill-down, granular reports.
What types of payments do you want to accept?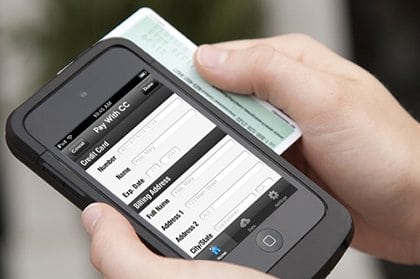 The vast majority of POS solutions are up-to-speed on secure payments, such as EMV. But, be sure to verify this. From there you have to decide how many different forms of payment you want to accept.
Be sure to ask how payment processing fees are structured, and whether you're locked into one payment processor or can choose your own.
Can the POS system grow with your business?
If your business begins to grow, can the POS system grow with you? What will it cost to set up additional terminals? What about multiple store locations? Are there more advanced features you can add in later if you decide you need them?
How reliable is the hardware?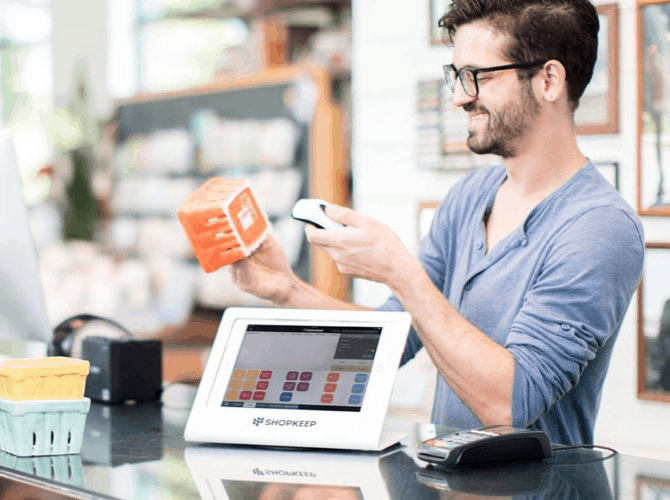 If you have existing hardware you want to keep using, verify whether or not a given POS system can integrate with it. Examine hardware offerings carefully (especially if you have to use the hardware they offer) for cost, functionality, durability, and aesthetic appeal.
Can you afford it?
Every POS solution website shows its lowest possible price, which is rarely the price you'll end up paying. The most basic offering probably won't meet all your needs.
Acquiring additional features means choosing a more expensive plan, adding on modules or features at an additional cost, and so on. Is support free or do you have to pay for it? What about payment processing fees?
Will you get effective customer service/support?
By far the most frequent user complaint about POS systems is the poor quality of the company's customer service/support. This is one that's harder to test beforehand, but do it if you can through a free trial if one is offered.
Ready to Evaluate Gift Shop POS Systems? 
We just started your evaluation for you. Now you have a high-level understanding of gift shop POS systems and what owners look for in those systems.
Our advice is to read review articles like this and also dig up user reviews to gain a comprehensive understanding of your options.
Make a list of your requirements, consider your budget, try to calculate the return on your investment that your POS system will provide, and then use those criteria to find the best POS system for your car wash.
By doing your research and due diligence, you will certainly identify the point of sale system that meets most of your needs, aligns with your budget, and will facilitate business and revenue growth.