(Last Updated On: April 4, 2022)
The wine industry continues to grow. The global market is expected to reach $30 billion in 2021. The volume of wine sales should remain steady within the U.S. despite the shutdown (Source).
However, If you own a winery, you know the complexity of managing a business that begins in the vineyard and finishes in the tasting room. It could be as simple as Wine labeling headaches or more serious as compliance issues. A winery selling in one jurisdiction is facing few challenges, but a winery that sells in multiple jurisdictions is facing a compliance nightmare.
After you got past what you are allowed to sell, you still got to deal with what you are allowed to market. Are you planning to sell wine using direct shipping? Do you know what is your best-selling item and how much it cost you? Without winery management software, you won't be able to optimize production, maximize your inventory, or integrate your systems to manage your business.
After getting on numerous demo calls, we believe, Vintegrate is the best winery POS system. This system provides the best end-to-end winery management. It controls the winemaking process from fruit delivery through fulfillment using the 360 dashboard. Costs are determined at each step to ensure profitability. The runner-up choice is KORONA POS, which in itself is a capable cloud-based POS system. 
With the right POS system, you'll be able to decrement your inventory as your wines sell online, in the tasting room, or through your wine club. With comprehensive inventory management, you can notify your tasting rooms and online storefronts when a wine is out-of-stock.
In this review guide, we'll cover the strengths and drawbacks of each winery point of sale solution. We'll also help you choose software to increase your business's productivity, organization, and profits.

The Top Seven Winery POS Systems
Korona POS: Best Overall Winery POS System
Vintegrate: Best End-to-End Winery POS System
eCellar: Best Mobile Winery POS System
Upserve POS: Best Winery POS for Reputation Management
VinNOW: Best POS System for Small Wineries
VinSuite: Best Entry-Level POS System for Wineries
WineDirect: Best Direct-to-Consumer POS System
Xudle: Easy-to-Use Winery Management System
Comparing the Top Winery POS Systems
POS System

Software Costs

Hardware Costs

Our Score

Starts at $49/month per terminal

Quote-Based

4.9/5

Quoted

Quote-Based

4.8/5

Starts at $450 per month

Quote-Based

4.5/5

Starts at $50 per month per location
2.49% plus $0.15 per transaction


$60 per terminal

4.0/5

Starts at $99/month plus a $600 data conversion fee

Quote-Based

4.5/5

Starts at $149 per month

Quote-Based

4.3/5

Starts at $79 per month plus 2% of sales and a $999 onboarding fee

Quote-Based

4.0/5

Starts at $199 per month plus a setup fee beginning at $1,000
2.75% to 2.9% transaction fee


Quote-Based

4.0/5
1. Korona POS: The Best Winery POS System

Based in Las Vegas, NV, KORONA has offered a powerful and in-depth winery solution since 2011. The software is now in wineries of varying sizes and operations across the country. While KORONA offers software solutions for many retail and event verticals, its partnership with bLoyal makes the winery solution incredibly robust.
Together, the solutions provide a complete system for wineries, including bottle, case, and barrel management, inventory, eCommerce, shipping compliance, membership and club programs, tours, tasting rooms, and dining.
Top Features
Cloud POS
KORONA is built in the cloud so all data is stored in remote servers. Not only does this keep it secure, but it allows owners and managers to access the data from any location. This is ideal for larger operations and wineries with multiple locations. And, with a cloud solution, the software is sold as a subscription. KORONA offers wineries a flat monthly rate that comes with automated updates for the duration of any subscription.
As far as bLoyal Integration, most larger-scale wineries also use KORONA's bLoyal integration. The CRM and loyalty software offers wineries an incredible array of tools and features. First and foremost, bLoyal brings a robust wine club management system. Manage all guests and keep your loyal customers happy with tasting room discounts, bottles of the week, monthly wine clubs, and more.
Among many other features, their CRM also helps wineries with marketing through email and texts. Send out friendly reminders and monitor your eCommerce shoppers with the software.
Tasting Rooms – For on-site service, KORONA brings a mobile ordering app that staff can use in the tasting room, QSR, or dining areas. The mobile app helps manage guests at the winery itself with bar and table management.
Inventory
Boasting some of the most powerful inventory management on the market, KORONA helps wineries organize and optimize their inventory. Every bottle is tracked through production and eventual sale. KORONA's KPIs and reporting help optimize inventory and production to minimize over and understocks.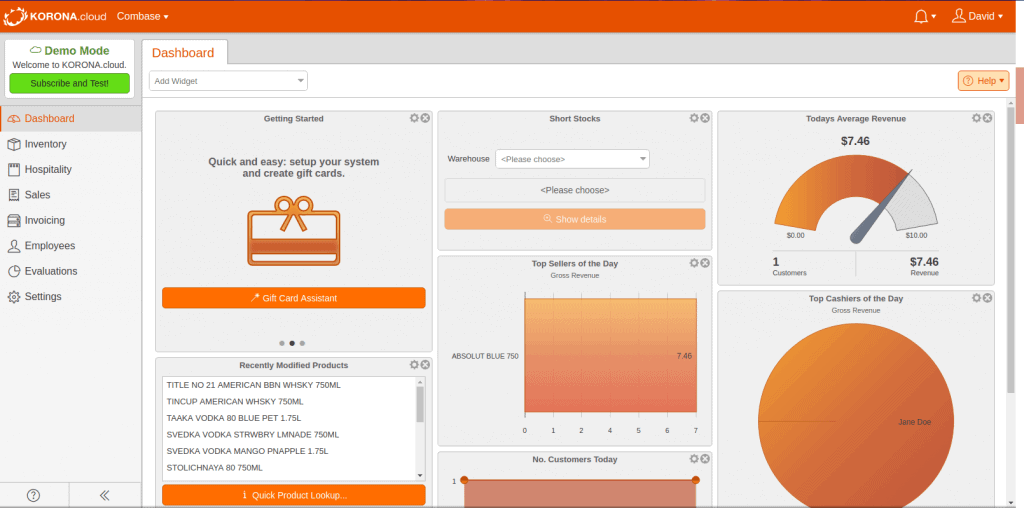 And for additional verticals at a winery, the software is built to serve as your retail solution, too. Use it for your gift shop or for bottle sales, case breaks, and any other retail operation at your store.
Customer Support
KORONA offers wineries full customer support by phone, chat, and email. There are rarely wait times, and the support team is not outsourced at all. Their product specialists will assist with set up, training, and installation in addition to support throughout the subscription.  All support is included in the pricing of any subscription and comes with emergency 24/7 support.
Pricing
Pricing with KORONA is straightforward. Software subscriptions start at $49/month with options for additional modules if necessary. All subscriptions are flat rates with no additional fees. Plus, there are no contracts of cancellation penalties. They even offer a 60-day money-back guarantee.
KORONA also allows users their choice in credit card processing. They integrate with all major merchant service providers so wineries can find the very cheapest option available.
2. Vintegrate: Best End-to-End Winery Management POS System

Vintegrate's cloud-based solution helps you improve wine production and increase in-person and online sales.  The feature-rich software includes one-of-a-kind functionality such as virtual wine tastings and built-in cybersecurity. This system takes the worry out of lost or compromised data and lets you focus on growing your business.
Complete Inventory Management
Vintegrate's inventory management is part of what makes it #1.  It offers the standard inventory management of sales and allocations, but it's added cellar and vessel management so you can see your current and future inventory. Whether your wine is sold in the tasting room, at special events, online, or to wholesalers, your centralized inventory is adjusted, so you always know exactly where you stand.
Customer Relationship Management (CRM)
Customer loyalty is key to a winery's success. Vintegrate's CRM centralizes customer information from all touchpoints to provide a 360-view of each customer. With Vintegrate 360 dashboard, you can see what your customers are buying without searching through dozens of reports.  Knowing customer trends can help you upsell and cross-sell your wines.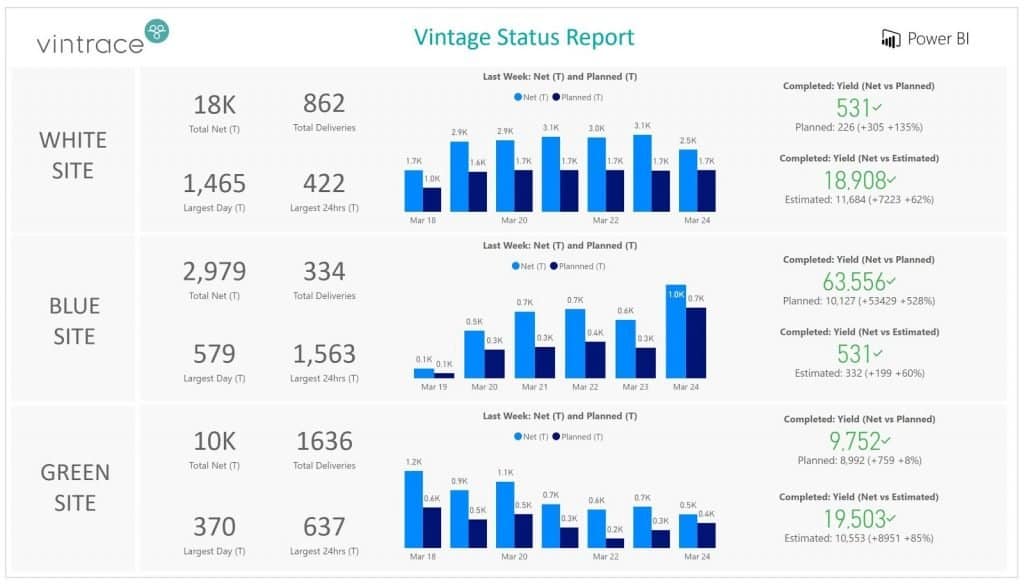 Customized eCommerce
Online sales are more important than ever.  With fewer in-person sales, you need a storefront that separates you from the competition. Vintegrate's eCommerce module lets you do just that. Customize your storefront and shopping carts.  Offer specials.  Promote your wine clubs. There's no limit to how you package or present your wines.
Other Notable Features
Wine Clubs: Create multiple clubs that include loyalty and rewards programs. Sell subscriptions or establish a flat rate.
Managed Services: Too busy to worry about your POS system? Sign up for Vintegrate's managed services program.
Wholesalers: Wholesalers place orders and track shipments using an online portal designed specifically for their needs.
Event Calendar: Event calendars support online reservations and pay-in-advance options through a single customer-focused interface
Virtual Wine Tasting: Create virtual tastings that pair featured wines. Let customers add wines to their shopping cart direct from the tasting event. 
Being the best POS system for a winery, Vintegrate's Back Office contains a comprehensive financial system that captures all winemaking costs. Also, manages inventory and production, and records wholesale and consumer sales. Its financial reports can help you stay on top of your finances.
---
3. eCellar: Best Mobile Winery POS System

Is your website hard to use from a smartphone or tablet? If so, eCellar's mobile-first solution is the answer.  It was designed to work on mobile devices, making it easy for your customers to order a bottle of wine for dinner while on the way home.
Seamless Customer Experience
Customers can start a session on a desktop and finish it from a smartphone without re-entering information. The eCellar solution retains the data, making it easy for customers to pick up where they left off.  This continuity reduces the chance of cart abandonment and lost sales.
Efficient Large Order Processing
Large wine club orders can bog down a system. With eCellar's OpenEdge Gateway, large wine club shipments can be batched and processed as a background task throughout the day.  That leaves the application available for immediate use throughout the winery.  You don't have to wait until after-hours to complete shipments.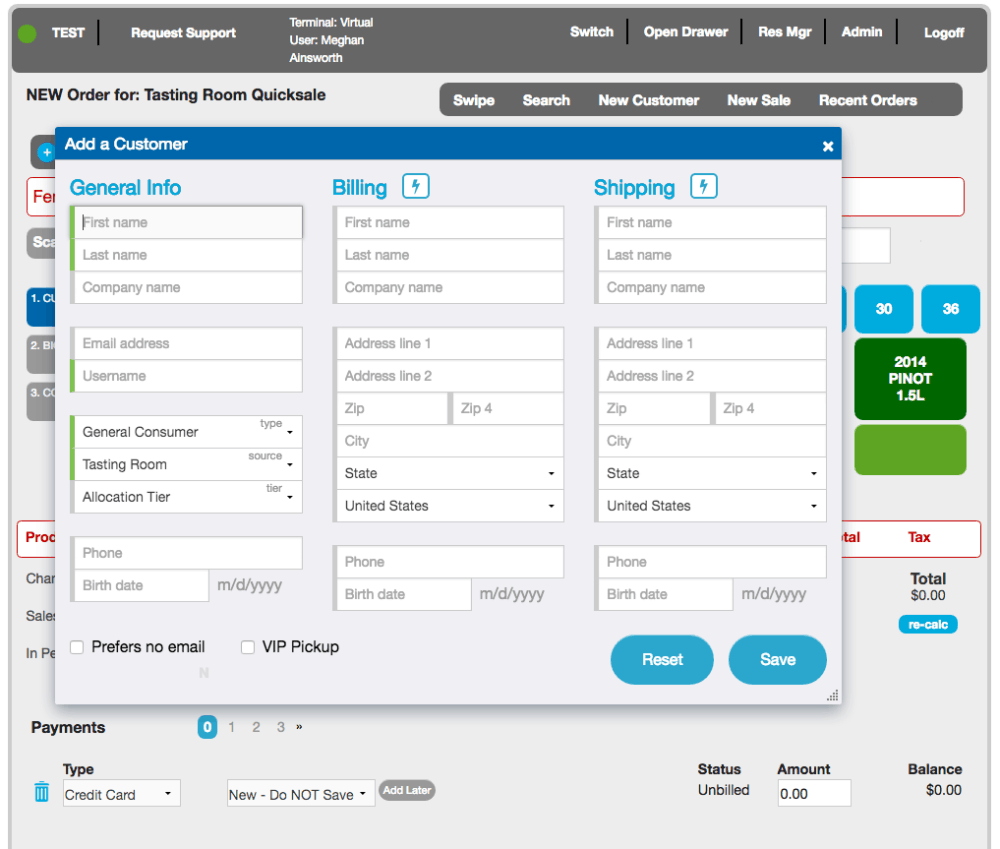 Integrated CRM and Email Campaigns
The core package integrates its POS, Wine Club, and eCommerce solutions into a comprehensive view of each customer's purchase history. By combining the customer information with its marketing module, eCellar's provides wineries with a tool for creating personalized emails. You can include links in an email to take your customers to the perfect page for their buying history.
Other Key Features
Security: User access requires a username, password, and IP address for added security.
Reservations: Customers can make reservations and pay-in-advance for special events or tasting room visits online.
Wine Club: Member portal for changing wine selections, shipment preferences, and payment information.
Inventory Management: Tie inventory location to sales channel to track customer behavior.
eCellar integrates with other solutions for shipping and DTC compliance.
---
4. Upserve POS: Best Winery POS for Reputation Management


Upserve POS is a cloud-based restaurant management system designed for hospitality workers by hospitality workers, making it an excellent choice for wineries that offer table service. It is the only winery system that provides workforce and reputation management.  If you want to know what your servers are doing or the competition, Upserve POS can give you answers.
Workforce Management
Upserve's workforce module lets restaurants set shifts, assign servers, monitor costs, and restrict system access. The system then collects performance indicators to help you evaluate your employees' performance. Upserve's workforce management tool can keep tabs on your employees when you can't.
Reputation Management
Do you want to know what people are saying about your business? Are you trying to stay ahead of the competition? Upserve's reputation management software gathers all online reviews of your winery in one place for you to review. It will even pull reviews for your competitors so you can see how you compare.  Think of the time you'll save not having to do your own research!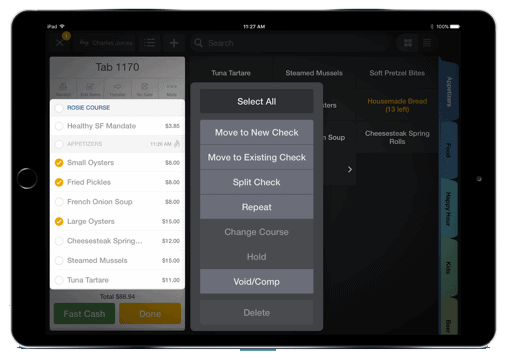 Event Management
Analyze the ROI for every event. The restaurant software will track the food, beverage, and labor costs per event and compare it to the number of guests and their spending to determine an ROI. It will even track customer visits and spending to determine your high-value customers.
Other Features
Online Ordering: If you want to offer online ordering, you'll need to purchase another module for an additional $99 per month.
Loyalty Programs: Loyalty programs offer cashback on a customer's credit card. You determine how much and how often.
Guestbook CRM: CRM maintains customer profiles, which can be shared with other programs.
Standard winery POS features such as inventory management or shipping compliance are provided through third-party integration. This is the only provider on the list that's suitable to be used as a POS system for a winery and restaurant.
---
5. VinNOW: Best POS System for Small Wineries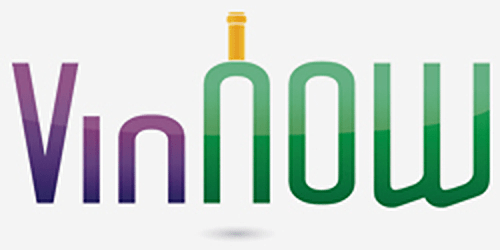 VinNOW believes that small wineries need the same powerful tools that large wineries do.  If you're a small winery, you'll appreciate the retail and restaurant options, robust data security, and integrated shipping features.  Of course, vinNOW's software includes support for wine clubs and gift cards and a CRM marketing module.  Everything a small winery needs at a reasonable price.
Retail vs. Restaurant
You don't have to sacrifice one for the other.  vinNOW has a restaurant mode that uses preauthorizations to include tips or start a guest tab. Its retail POS skips the preauthorizations for product-only sales. Workstations can be configured to operate in a single mode or allow users to toggle between retail and restaurant operations. It's perfect for small wineries with limited food service.
Data Security
A small winery has the same data security requirements as large, multi-site wineries. vinNOW implemented technology-forward features such as tokenization and point-to-point (P2P) encryption to ensure data security. Some of these technologies aren't available on many large systems.  Your data is better protected than that at larger businesses.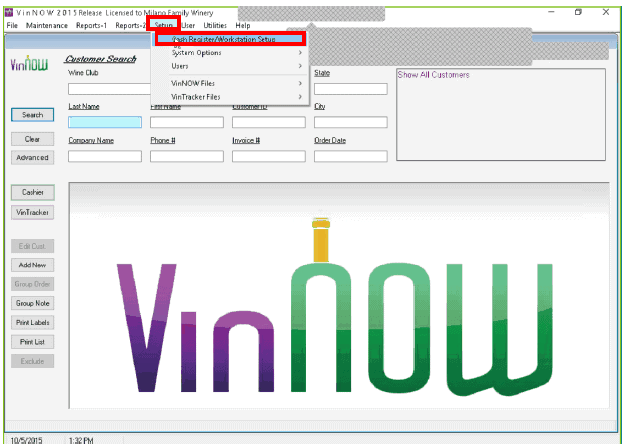 Back-Office Integration
The software integrates its inventory management, order processing, and shipping features so Intuit's QuickBooks accounting package can use the data. The software connects to ShipCompliant for DTC compliance, and the system can forward the shipping paperwork directly to GSO and UPS for transporting. By using technology, you can streamline your operations and have more time to grow your business.
Scalable Solution
vinNOW scales from less than 150 wine club members to over 1,000. The pricing adjusts according to the number of members.  Because the company does not assess a per-transaction fee, small, boutique wineries have better control over monthly expenses.
Additional Features to Consider
Marketing: vinNOW interfaces with Vertical Response and Constant Contact for marketing support. CRM data is available for export to other marketing solutions.
eCommerce: You must contact vinNOW directly to discuss their eCommerce solution.
vinNOW's wine club and gift cards are managed from within the product for better CRM integration.
---
6. vinSuite: Best Entry-Level POS for Wineries

vinSuite is a direct-to-consumer solution that includes an eCommerce website, POS, CRM, and wine club support.  It is a cloud-based solution that extends its functionality through APIs to third-party providers.  This business model means you only pay for the features you use, adding functionality as your business grows.
Seamless eCommerce
Build an eCommerce storefront to reflect your brand.  Once it's up and running, online sales are combined with wine club and tasting room sales so you can see your most vital revenue stream. vinSuite's eCommerce solution offers insights into cart abandonment to help increase online sales.
Wine Club Controls
Take control of your wine club by setting order requirements that the software can implement. Set minimum order amounts by the bottle or by the price.  Set up rules to notify customers of expired cards before the next shipment.  You don't want to waste your time calling for updated information, resulting in delayed sales.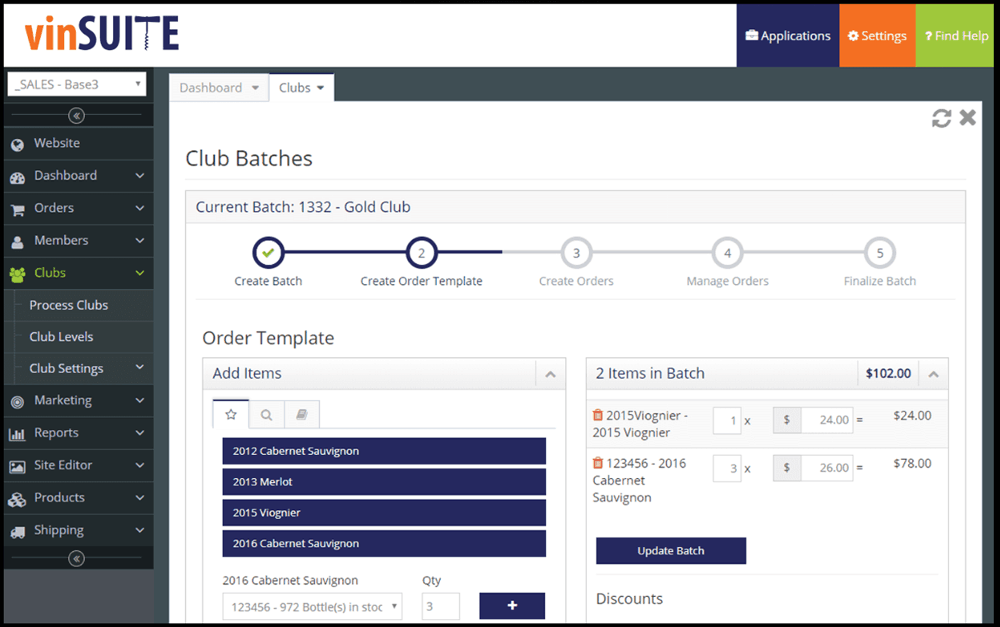 Mobile Payments
The POS solution runs on a desktop or a tablet, making it easier to sell to customers in the tasting room or at events.  The software supports split transactions over multiple methods to ensure you can make a sale.  Limiting how and when you can process a transaction serves as an obstacle to improved sales volumes.
Integrations
vinSuite integrates with third parties for the following features:
Mobile Applications
Reservations
Payment Processing
Logistics
Shipping Compliance
Marketing
Business Intelligence
vinSuite also offers onboarding assistance and a resource library to help new wineries get off the ground.
---
7. WineDirect: Best Direct-to-Consumer Winery POS

WineDirect supports more than the usual DTC channels for wine sales – tasting room, wine clubs, and eCommerce. It offers a Marketplace that lets you sell your wine on other sites such as eBay or Vivino.  With more sales channels, you have more opportunities to increase your market presence and sell more wines.
Customer-First Wine Club
Turn wine clubs into choice clubs, letting customers select their shipments from a preset selection.  Send Welcome Packages to each new member, followed by targeted emails created with built-in marketing tools.  Use detailed reports to identify trends and engage customers for more sales.
Mobile Tasting Rooms
Take your POS system to the customer with WineDirect's tablets. Whether it is the tasting room or a special event, your staff can ring up sales from anywhere there's a WiFi connection.  With one-to-one service, your sales will increase.  Add a follow-up email after a tasting room visit to encourage a repeat visit or purchase.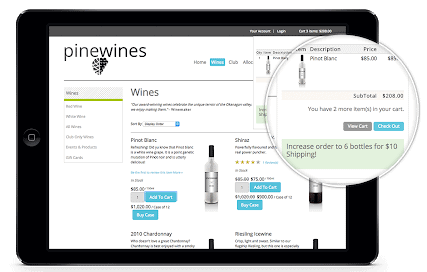 E-Commerce Capabilities
Create a digital storefront with streamlined checkout to reduce cart abandonment. Recommend wines at key points in the buying process to encourage added sales. Post reviews and offer promotions from within your online store.  Use CRM marketing tools to encourage customer loyalty and repeat purchases.
Notable Features
Same day refunds. WineDirect's payment processor supports same-day refunds for improved customer service
Chargebacks.  Chargeback Resolution Center reduces the time spent on resolving disputes.
Gift cards.  Develop customized gift and loyalty card programs to engage customers.
WineDirect has a fulfillment feature that is available to wineries in California and Oregon.
---
8. Xudle: Easy-to-Use Winery Management System

If you need to be up and running quickly, Xudle can help. You build your storefront, connect to your website, and you're good to go. The on-site hardware can be installed quickly, and the cloud-based software can be downloaded at any time.  With all the pieces in place, you're ready to start selling wine.
Limited Table Service
Xudle's quick service module is designed for wineries offering a limited menu selection.  Menu items can be quickly changed to reflect availability, preventing customers from ordering something that is no longer available. You can even apply club member discounts or promotional codes to encourage repeat business.
POS Processing
Improve guest experiences with a POS solution that displays customer account and order history at the payment screen, making it easier for your staff to provide personalized service.  As a cloud-based solution, information is available from almost anywhere. Using tablets, tasting room and event staff are not stuck behind a cash register.  Instead, they can mingle with customers as they take individual orders.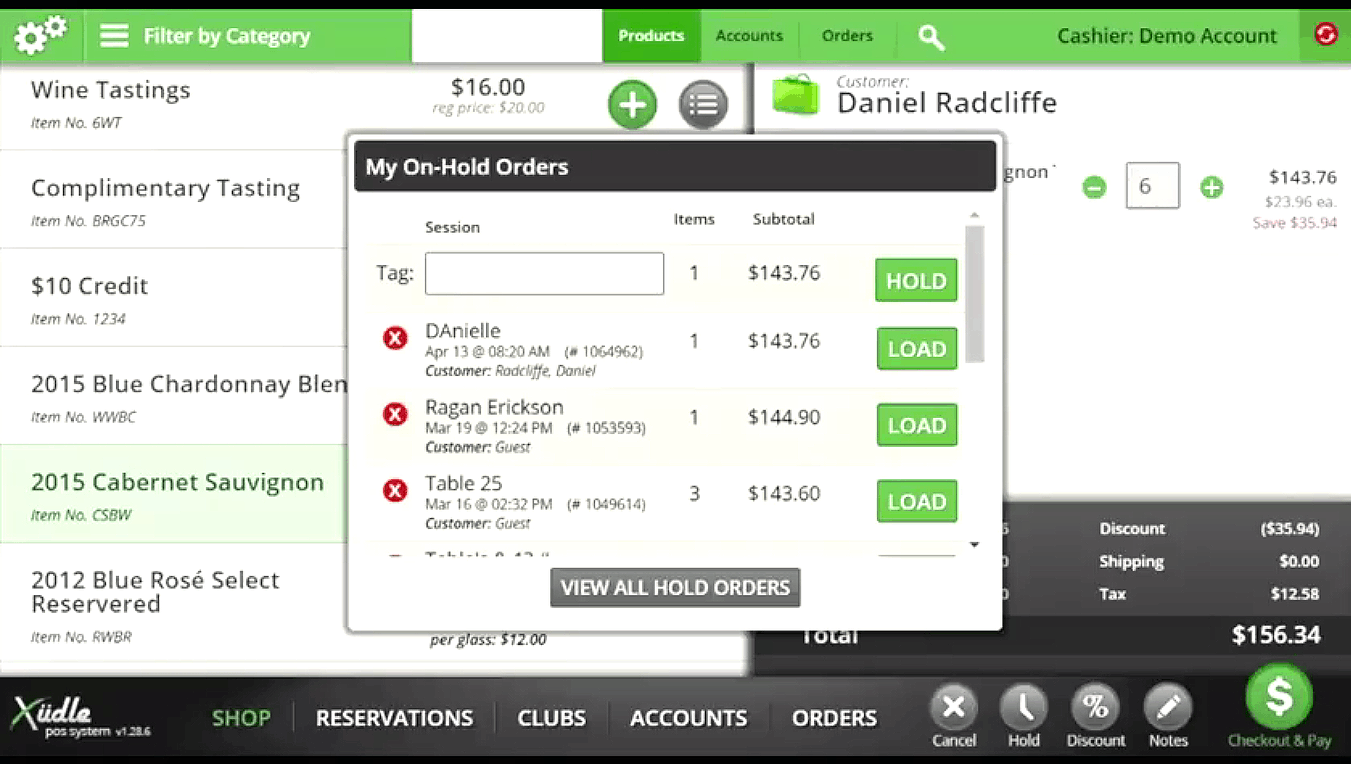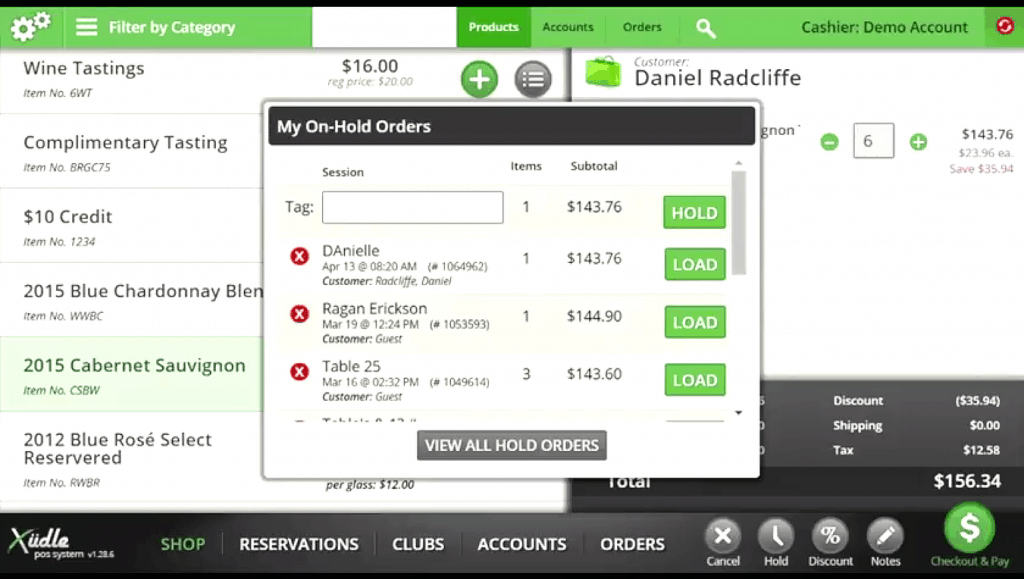 E-Commerce Solutions
Improve guest experiences with a POS solution that displays customer account and order history at the payment screen, making it easier for your staff to provide personalized service.  As a cloud-based solution, information is available from almost anywhere.  Using tablets, tasting room and event staff are not stuck behind a cash register. Instead, they can mingle with customers as they take individual orders.
More Features
Xudle includes support for the following:
Event Management: Sell tickets online for sponsored events and track sales during the event.
Wine Clubs: Manage your club membership, which is integrated into the system's CRM module.
Inventory: Do you have a gift shop as part of your Tasting Room? If so, this solution can track the inventory for that as well.  Having inventory data in one place makes it easier to stay on top of your business.
Wine club kiosks are also available to let members adjust their shipments or membership while at the winery.
---
Buyer's Guide: What to Look for in Winery POS Software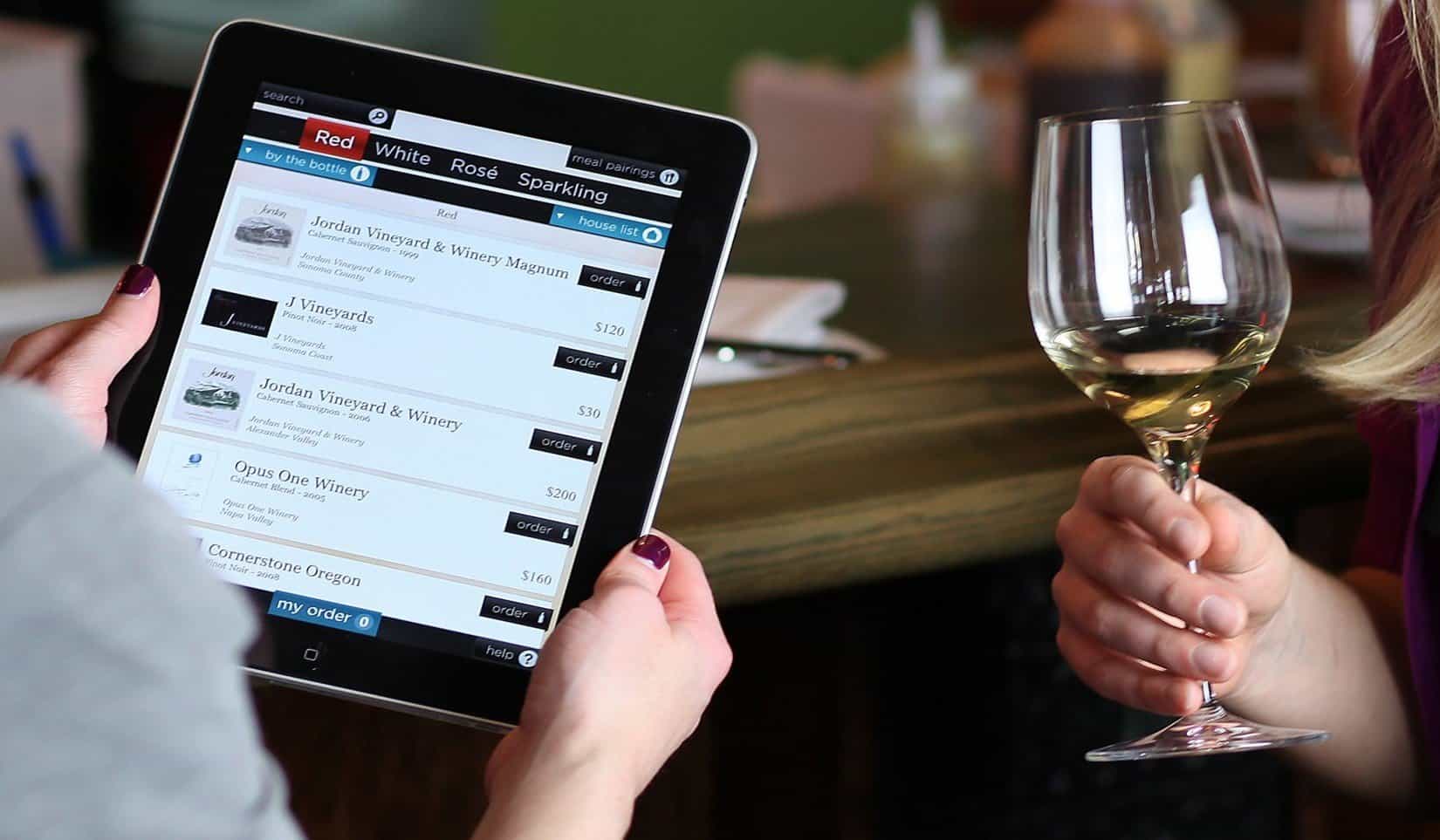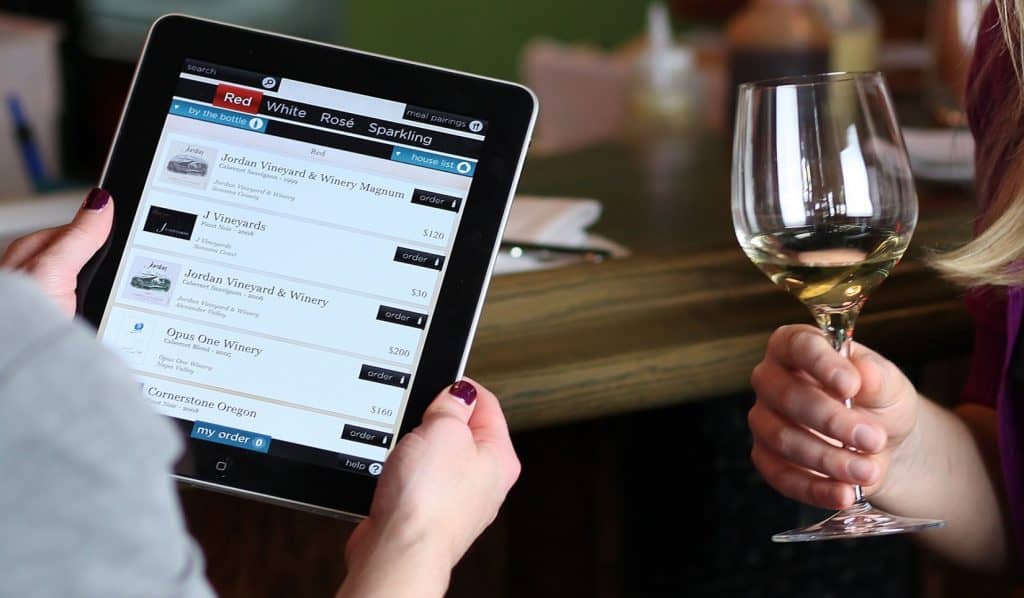 The best winery POS software increases your sales and engages your customers. The product's features improve the bottom line through operational efficiencies. That's why it's important to consider the following five features when looking for a wine management solution.
Pricing and Plans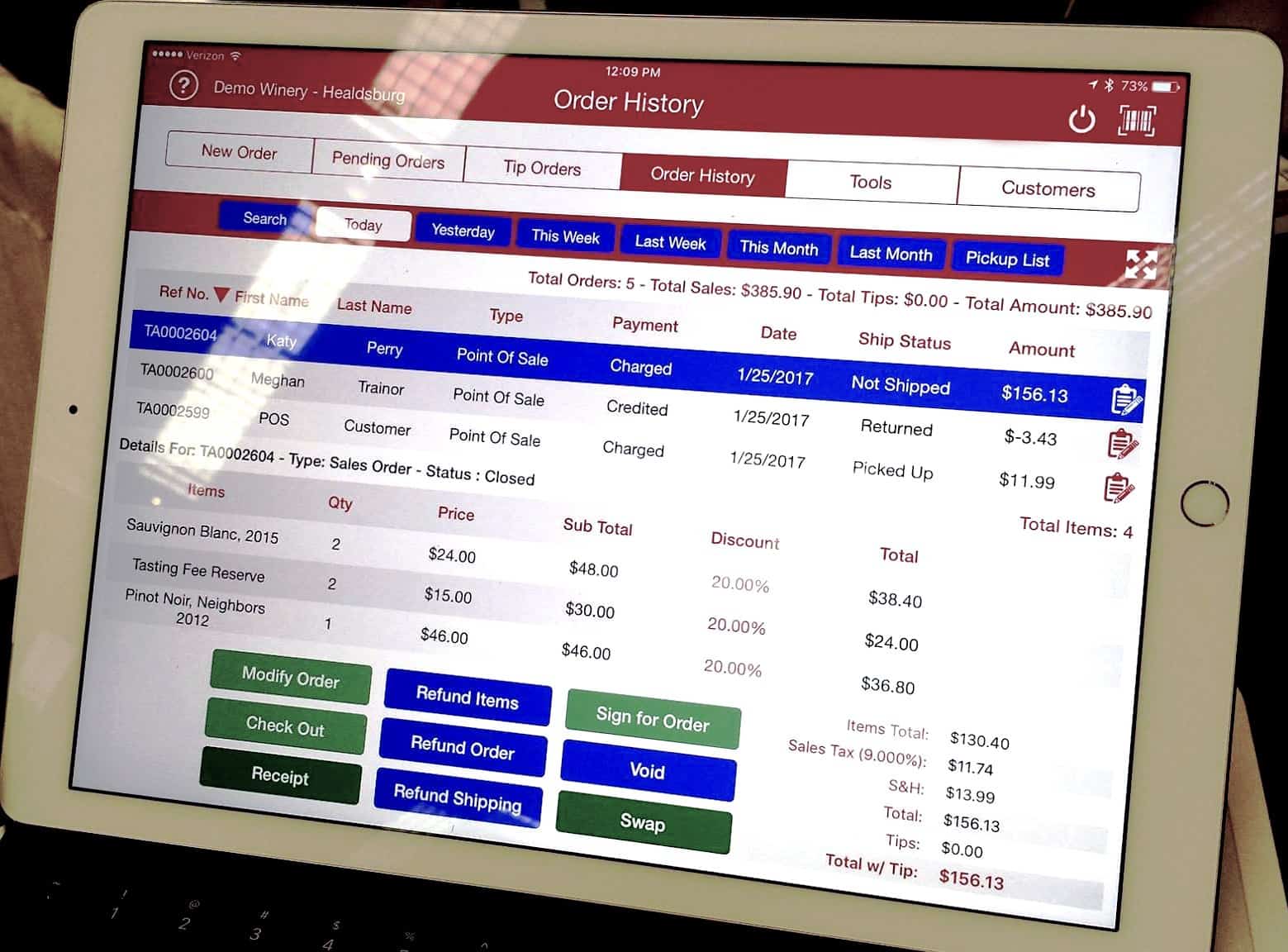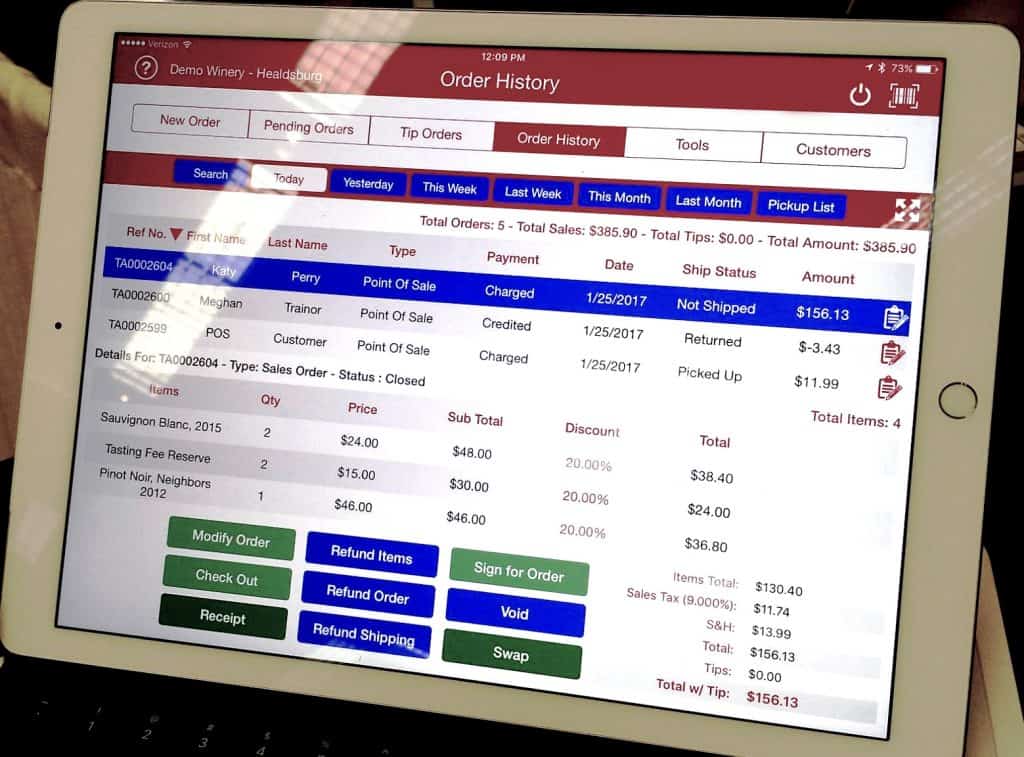 Pricing for Winery POS solutions involves software or subscription costs, hardware costs, and transaction processing fees. Be sure you get pricing for all three. Don't forget support.  Most companies provide phone and email support in the software costs.  If you want more personalized or hardware support, you will pay extra. Added support can range from $99 per month to $400.
Integrations
All seven systems support integration, but not to the same degree.  Some solutions, such as vinSuite, interface into several third-party providers.  Others may only interface into one or two.  When looking at integration, make sure the system will share data in real-time without intervention.  You don't want to spend time exporting and importing data into different systems – just to get the data you need.
Inventory Management
You can't manage your business if you don't know how much inventory you have and where it's located.  You need an inventory management system that will adjust your inventory based on bottles sold or allocated for wine club distribution. If the system can track your inventory by location, that's even better.  Not only will you know how much wine you have, but you'll also know where it's located.
CRM
Knowing your customers and their buying habits are essential if you want to establish customer loyalty.  Systems that centralize data from across the enterprise can present a more cohesive picture of your customer, driving marketing strategies, and increasing sales. If marketing automation tools and CRM are integrated, it can significantly reduce the time you or your staff spend on drafting and sending emails.
eCommerce
With more people staying home, you need an online presence if you want to sell wine.  When looking at eCommerce features, search for a customizable storefront so you can promote your brand.  Make sure it is easy to use on the web and on a smartphone. Check for built-in features to help counter cart abandonment and to encourage repeat business.
Ready to Implement the Right Winery Management POS Software?
If you're a vintner, your focus is on winemaking and not on the technology that can help your business run more profitably. Without technology, you can't compete with wineries that offer online sales, digital access to club memberships, tasting rooms, events, and more.
Additionally, your reach will not be as great, and your sales not as high. POS technology can automate tasks to improve operational efficiencies. Automating areas such as inventory management means having more time to engage customers and generate sales.