If you own or operate a quick service eating establishment, you know how important it is to serve customers quickly, which is why you likely need to evaluate the best quick service POS systems available.
Whether you run as a fast food chain, food truck, or a cafeteria type restaurant that serves many customers, a point of sale (POS) system designed for quick service will help you serve more customers in less time.
Point of sale (POS) systems integrate software and hardware to streamline and automate your business's internal operating processes. They allow quick service restaurants to keep meals coming out faster and keep the line of customers flowing.
POS hardware components are crucial to the operation of a POS system. Tools such as POS cash registers, credit and debit card scanners, and barcode scanners help quick service restaurants take more orders in less time. This frees up employees' time to focus more on delivering stellar customer experience.
Software features, which are typically included when you purchase or lease a POS system, link these hardware components together to create one well-oiled machine to drive your business's growth.
Quick service businesses need software features such as automated inventory management, staff management, sales tracking, solid reporting, and more. Below we cover our top picks for quick service POS systems—including software and hardware components—to help guide you through your evaluation process and purchase decision.
In a competitive market like the quick service business, sales and marketing tools like email marketing and CRM can help you enhance your client base and get them to come back. Furthermore, features like inventory alerts and controls are crucial because they keep you aware of inventory levels so you can restock faster.
Finally, a solid quick service POS solution will offer integrated accounting, in order to monitor sales and costs closely. The staff management feature will make it possible for you to track employee activities and performance.
Top 5 Quick Service POS Systems
Overall

5/5

4.5/5

4/5

4.5/5

5/5

Ease of Use

5/5

4/5

4/5

4/5

4.5/5

Starting Price

$79/month per terminal

$69.99/month

$69/month per register

$79/month per terminal

Not provided

Deployment

Cloud, SaaS, Web

Cloud, SaaS, Web

Cloud, SaaS, Web

Cloud, SaaS, Web

Cloud, SaaS, Web

Training

Webinars
Live Online
In Person

Webinars

Webinars, In person


Webinars, In person


Webinars, In person


Support

Online, phone, 24/7

Online, business hours

Online, Business hours

Online, Business hours

Online, Business hours

Inventory Management

Yes

Yes

Yes

Yes

Yes
Our Best Quick Service POS System: Revel POS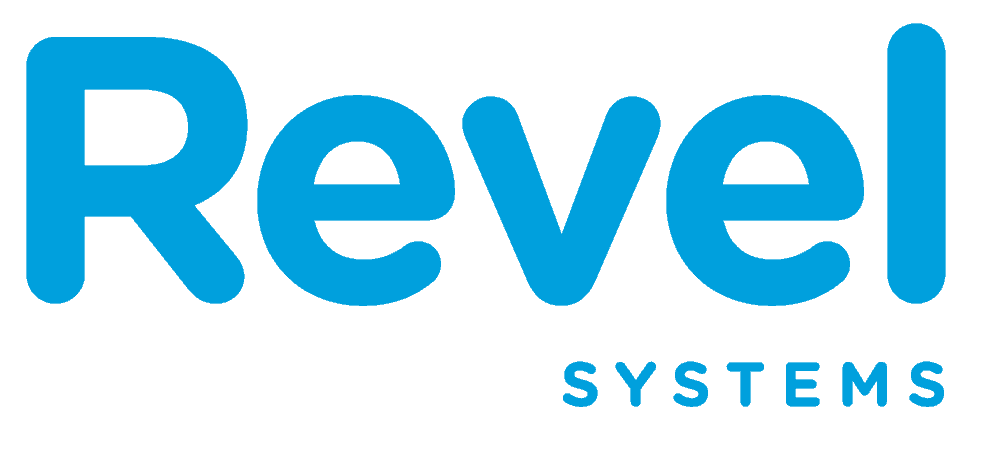 Revel Systems was founded in 2010 by Lisa Falzone and Chris Ciabarra. It is a modern, user-friendly Apple iPad POS. This system has received a number of awards, including the SFBT Tech Awards' "Best Enterprise Technology" and Business News Daily's "Gold Award for Top iPad POS Systems."
Hybrid System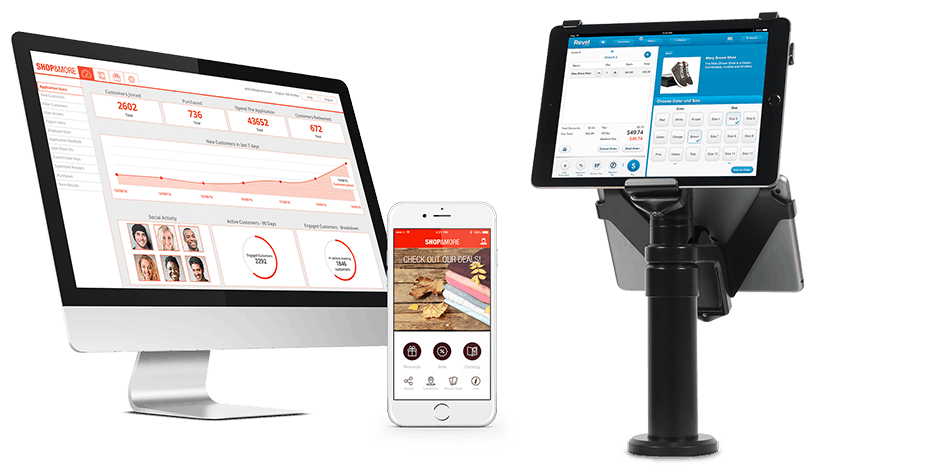 Revel POS Systems is both web-based and locally installed. Even if the Internet is down, the POS will continue to function. You can run it locally through your Apple iPad and sync all data to the cloud. However, it is not advisable to accept cards without an Internet connection because payment authorization for credit cards may not be possible while you don't have Internet access.
Revel works perfectly with quick service businesses and restaurants. In fact, most of their integrations are aimed specifically at the quick-service industry. The software has expanded greatly with time and can be used by salons, retail businesses, mobile businesses, grocery stores, pizza and coffee shops, and niche shops. We think it is the best POS system for quick service restaurants. 
Price
Revel's prices depend on the setup and the size of the establishment. The company offers industry-specific software packages for a fixed amount per month. The subscription includes a software license. Regardless of your specific type of business – café, bar, deli, restaurant, or even smaller-scale shops like food trucks and ice cream shops, the pricing is flexible and broken down per terminal. You can also avail yourself of Revel as a Service (RaaS) pricing, which includes minimal upfront costs.
You will pay only a monthly fee covering hosting charges and replacement of malfunctioning or defective hardware. All subscription packages include top security, unlimited data storage, personal data protection, 24/7 live support, unlimited software updates, and even integration with QuickBooks.
Manages Multiple Locations

Revel is most suitable for large businesses because it can manage hundreds of thousands of SKUs and multiple locations. However, it has been optimized for mid-sized businesses, especially those struggling to compete with their larger counterparts.
Indeed, it offers a wide variety of applications and modular software that makes it possible to customize the system to a specific business's needs.
The system is stable, yet customizable. But, even though it is customizable,  since it takes a lot of time and effort to set up, and may not be suitable for a very small establishment. Most small shops couldn't take advantage of its superb advanced features.
Excellent Staff Supervision
Staff logs in to Revel using a pin number to access permissions and unique settings. A touch screen displays a product matrix on one side with order tallies across from it. There are also descriptions if you choose this option. Amounts, discounts, modifiers, and additional payment options are simple to add. The Revel POS can also be used as a customer-facing display or kiosk.
User-Friendly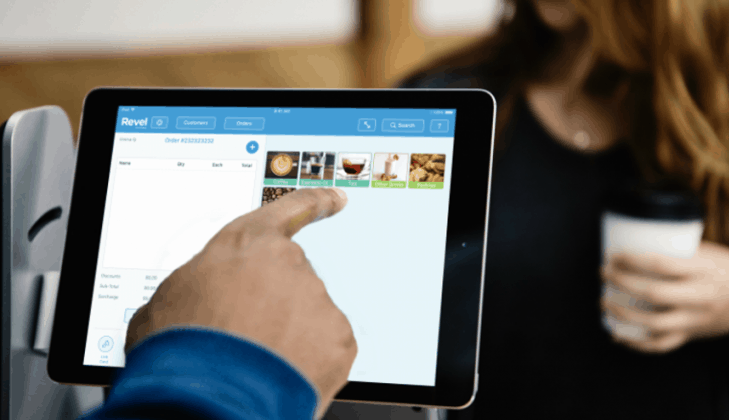 Revel POS's software is quite simple to use once you manage to get it going. The back end is clarified by a series of training videos, and the front end is very intuitive and easy to navigate.
Disadvantages
There are occasional software glitches, and the setup can be challenging, as mentioned. Although Revel has adapted its software to encompass almost every industry, it will still take some time to adapt the software to your quick service's specific needs.
Bottom Line
This is a great system for a bigger establishment. On the other hand, a smaller quick service operation might want to consider less complex system. Customer service is excellent, and the advanced functionality is a major plus.
Quick Service POS for Busy Restaurants: TouchBistro

TouchBistro was designed specifically with quick service establishment owners in mind. It offers mobility, cloud-based reporting, and excellent customer support.
It is an iPad-based POS system that can be taken anywhere in the restaurant, deli, or bar. Waiters can take orders from clients waiting in line to cut down on serving time.
This will help the facility run more efficiently and make it possible for staff to focus on providing good services. This POS system is compatible with iPad, iPad Pro and iPad Mini. You won't have to invest much in hardware. The system is cheaper to set up than most traditional quick-service POS systems because it is compatible with third-party POS equipment.
TouchBistro's professional customer support representatives are friendly and knowledgeable, and there are countless ways to contact a live representative and resolve issues under their guidance. All clients have access to email and phone support at no extra cost.
Cloud-Based Reporting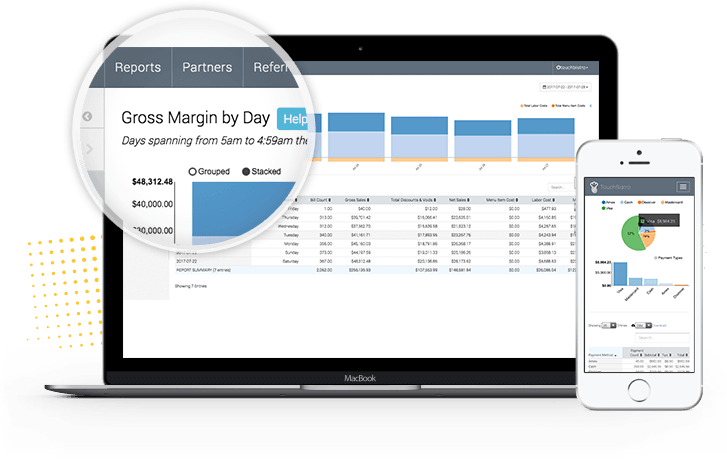 The cloud-based reporting enables access back-office features using any device equipped with a browser. Remote access is possible. You can follow what's going on in the shop without having to actually be there physically. The company offers video tutorials, step-by-step guides, and a searchable base of knowledge and other information to help you learn how best to use the system. The price is also quite affordable, making it very well-suited for smaller establishments.
You can choose from four software plans based on the number of iPads you plan on using with the system, and you can plan details and view rates based on annual billing on the company's website. All plans feature cloud reporting and full selection and support for an unlimited number of users. There is also a free trial if you want to try the system before buying it. Additionally, custom quotes are available too.
TouchBistro's solid reporting tools offer excellent assistance in managing an expanding quick service business. With sales data, inventory counts, expense reports, and other analytical data, the system offers full, detailed views of how your establishment is doing financially, which products are selling best, who your best employees are, and much more. It can also help you establish trends to make your menu better.
Disadvantages
This system cannot be used without a Mac computer – iMac, Mac Mini or iMac Pro – to use as a server if you have more than one iPad. As the system is based on Apple infrastructure, you will need both an AirPort Express router and iPad to get started with it. It may not be the best option if you're looking for an Android- or Windows-friendly POS system.
Bottom Line
TouchBistro offers a good balance of features that are specific to the quick-service industry, such as help with managing catering, reservations, and quick deliveries. It's a well-priced solution that doesn't force you to sign a long-term contract.
Perfect for Small Retail Businesses: ShopKeep
S

hopKeep is a complete solution that covers all the essential features of restaurant and retail POS systems.
The strength of this system lies in a mobile interface that works for both managers and for staffers. This simple iPad-based system is aimed at smaller retailers for food and beverage sales, and it is suitable for quick-serve restaurants, bars, and franchises.
Price
ShopKeep is a monthly subscription, pay-as-you-go, no-contract service. Since there is no pricing for particular subscription plans on their website, potential customers are required to create a quote or directly contact the vendor.
Previously, ShopKeep's pricing has started at $69/month for a single register. Keep in mind that this relates to the basic package. However, pricing may vary widely depending on the customization of your business, so it's best to get a free quote tailored to your specific business needs.
Locally-Installed or Cloud-Based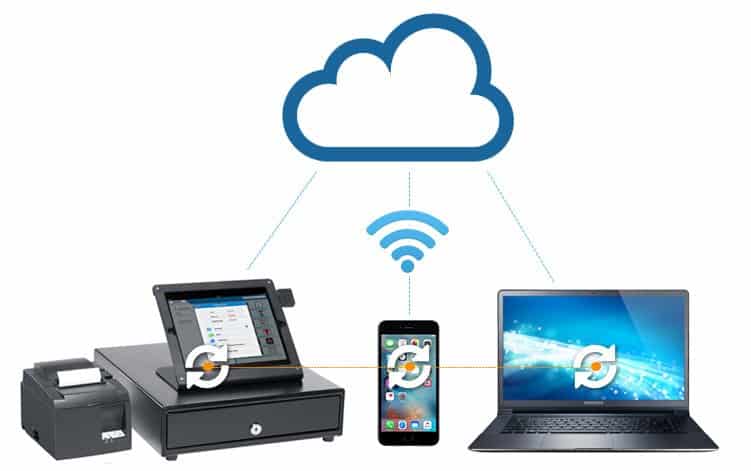 ShopKeep involves a hybrid setup. Basically, it is intended to operate locally from iPads so that all the relevant data are sent back to the cloud. In case of Internet outages, the software keeps running with all core features on Clover devices.
Specific Industry
As stated earlier, this POS system is great for small retail businesses and specialty vendors like bars, mall kiosks, food trucks, bakeries, and so on. Additionally, it is a good fit for smaller quick-serve and full-service restaurants alike. It is particularly recommended for businesses valuing mobile POS services.
Operating System & Hardware Requirements
To run the ShopKeep system, you are required to use iOS 9.3.5 or a newer version. It's compatible with iPads and iPad minis, as well as some Clover devices. While it's not necessary to buy hardware via their site, be sure to purchase the models and brands that are supported by ShopKeep company.
They offer several bundles, including a starter kit and kits specifically designed for retail establishments. There are also EMV-integrated readers that can be hardwired or connected through Bluetooth.
Key Features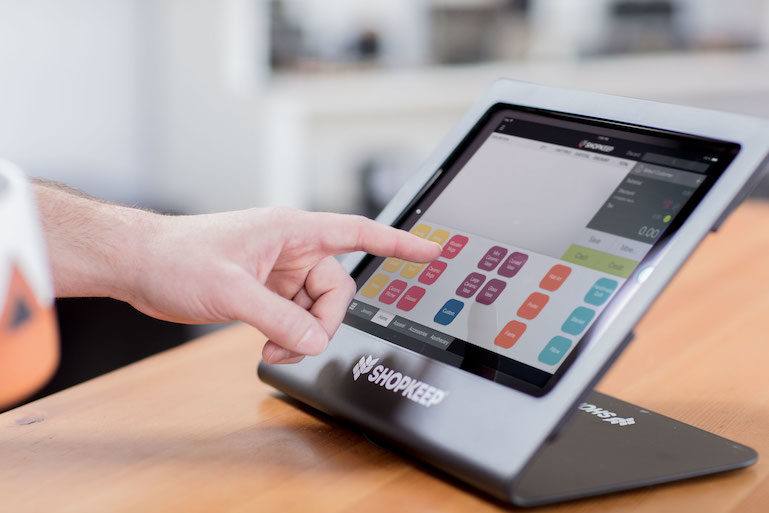 ShopKeep provides a full suite of features, such as:
Back office
Register
Inventory management
Customer management
Employee management
The Pocket App
Reporting
Tax rates
Multi-Store
Ease of Use
You want a simple yet multi-feature solution that comes with all the tools necessary to manage staff, payments, registrations,  inventory, booking, and marketing. With touch screen user-friendly interface and modern visual design, the ShopKeep is just that — an easy-to-use POS system that makes navigation easy and fun.
Disadvantages
The system has some bugs, especially with regard to inventory management. As for the connection issues, you may face unexpected system updates at the most inconvenient times. If the ShopKeep Payments is not your selected processor, you will have to pay extra gateway access fees ($20 monthly) in order to get connected to the ShopKeep POS system.
Bottom Line
Shopkeep POS system is an excellent option for both restaurants and small retail stores, which helps manage staff, inventory, and customers all at once. While the standard core features can be found in other POS products out there, customer marketing offers a value that stands out from the rest. However, there are still certain features we'd like to see included like table mapping.
The lack of transparent pricing is something many people will not like about this solution. Nevertheless, it is considered to be one of the best POS systems today. If you are a small business looking for a flexible, full-featured, reasonably priced POS, ShopKeep could be a great option for you.
All-In-One Restaurant Platform for Food Service: Toast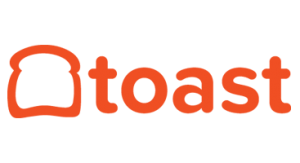 Created exclusively to provide the restaurants with a point of sale system, Toast POS is a solid option for just about any type of foodservice business, including full-service restaurants, bars, cafes, pizzerias, wine shops, coffee shops, etc. It can help you get more business insight, improve your operations, and increase revenue over time.
Price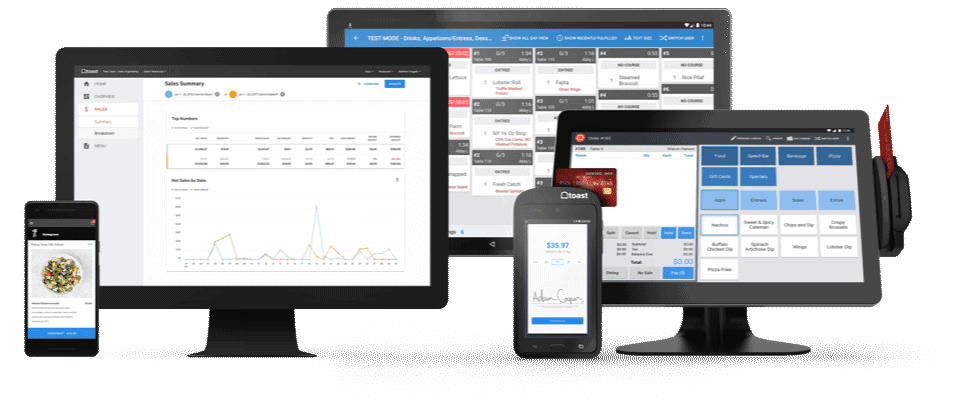 Toast's price format is quite simple yet competitive. Subscriptions (for core features) start at $79 per month for the Express plan. Aside from the entire range of standard features, this includes full-view reporting, mobile POS technology, unlimited software updates, customer data tracking, and 24/7 support. That's quite enough for most businesses.
It's important to note that this price applies for the first device only.  For every additional device, you will have to pay $50 monthly. Those running larger businesses — such as a chain or full-service large-scale restaurant — who would like to use more than 6 terminals should inquire about Enterprise custom pricing.
Additional features and capabilities cost extra, as follows:
Loyalty Program: $25/month
Online Ordering: $50/month
Gift Cards: $50/month
Toast Inventory: $75/month
Specific Industry
Toast POS is designed specifically for the foodservice industry. It is primarily aimed at smaller establishments, such as cafes and bakeries, but it can also help manage multiple restaurants. Data automatically syncs across multiple locations at once, which makes this POS system great for the owners of a franchise or restaurant chain.
Key Features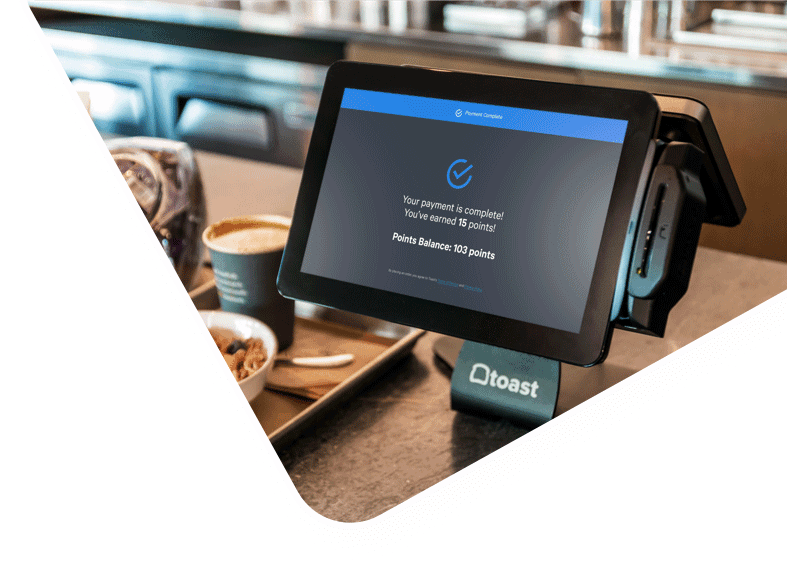 Thanks to advanced built-in features such as online ordering capability, this restaurant-specific tablet-based system allows your customers to conveniently place their orders for takeout. Moreover, it helps with higher checks and faster customer turnover.
Toast POS system comes with a huge selection of features. Here's what you may expect from it:
Tableside Ordering
Online Ordering
Delivery Management
Inventory Management
Reporting/Analytics
Customized Tipping
Pricing Menu Items
Additionally, it offers loyalty programs and gift cards that are associated directly with the Toast POS system to make it easy for users to complete, sell, and track their transactions.
Disadvantages
When it comes to negative reviews and complaints, most of them relate to poor hardware and issues with bugs in the Toast software. If you opt for Toast, then using their payment processor is the best choice. Otherwise, you will frequently end up being locked in the Toast processing system.
Bottom Line
Toast is a reliable POS solution specially crafted for restaurants. What sets it apart is the excellent customer service. It provides all the features you'd expect from a top-of-the-line POS system besides some costly add-ons. These additional functions are well worth the extra cost, though.
While loyalty functionality and gift cards can add to the cost, Toast POS is likely to be more versatile and less expensive than most of its rivals in the foodservice POS industry as an Android-based system. It would be nice to have a choice whether or not to use it as the payment processor, but that's not a considerable drawback.
A Feature-Packed Quick Service POS Solution: POS Nation

POS Nation has very efficient inventory control. You know how important that is for a quick service. Simply put, knowing what your inventory contains helps you serve your customers better. POS Nation generates sales reports, prints custom barcodes and tracks employees.
All of this enables you to get a better handle on the financial status of your quick service operations. As a result, you will be more efficient and make better management decisions. To track stock, you can simply create a label on the spot. The POS performs a quick scan to reduce inventory data errors and improve efficiency.
Quick service store managers can make better business decisions this way. Purchase orders can be created, tracked and sent automatically. Also, your staff will also receive notifications when it is necessary to reorder. Further, accounting processes are tailored to fit the quick service establishment's unique needs, keeping income flowing in.
Customer Sales History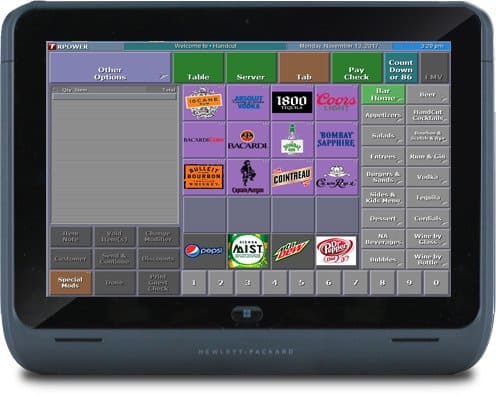 POS Nation can track a customer's purchasing history.This is one of the quick service POS software's best features. Furthermore, it allows a manager to created targeted marketing campaigns to track customers' purchasing habits.
Over 70,000 businesses use POS Nation, who work with a variety of retailers, ranging from independent convenience store owners and managers to multi-location chains. They are an excellent choice for enterprises of all sizes.
Despite the fact that POS Nation is very industry-specific and custom pos solution , it can be scaled.
I is a flexible retail POS system is capable of expanding with it. The system comes with a barcode scanner, cash drawer, receipt printer, touchscreen computer, and credit card swipe. You can upgrade if you choose. The system features lots of POS hardware as an ad-on, including pin pads, scales, customer displays, label printers, and more.
Bottom Line
POS Nation's software will help you run your quick service establishment easily and efficiently, no matter what its size is. The system provides all the data you need to make decisions. You can offer promotions, and you will always know how well your inventory is doing and how your margins are by stock type.
What To Look For When Buying A Quick Service POS System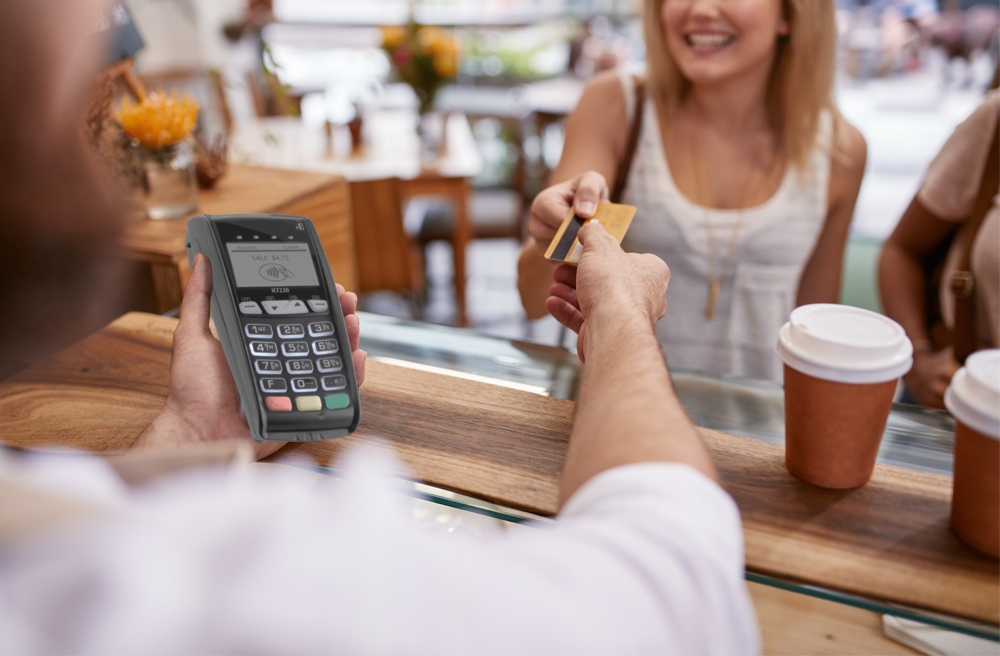 Cash management is a crucial function of POS systems, but far from the only one. In fact, many systems range from capability to streamline a typical quick service's processes to design a system fully adaptive to your business.
Speed
A good quick service POS should be user-friendly, fast, and intuitive to your processes.
It should offer an open API key to customize certain features. It should also provide an offline option to keep things running even on internet outages and scale smoothly to your customer volume.
24/7 Support
Technical support should be available around the clock with quick response time. Each second counts in a quick service's business hours. The provider should offer training for the setup, software upgrades and credit card payment integration.
Power Backup And Data Security
Always consider hybrid architecture such as that of Revel POS, our top choice, that enables the system to run offline or via a local network. Also, look for extra data security features to protect yourself and your clients from credit card fraud.
Integration
As your quick service grows, you need to grow the POS ecosystem via open API or third-party integration.
The Bottom Line
There are literally hundreds of POS and restaurant management solutions out there, each offering different features. Features important to quick service operations can include financial management, staffing, digital displays, and reservation platforms. Also, delivery management, smartphone payments, and wait-list management.
Some functions are add-ons, others are stand-alone, and others are bundled. Quick service managers realize that controlling the cost of your operation using a POS system is important. In this competitive business, the product must be perceived to be valued more than the cost of its raw materials. Creating value is your way to success. Finally, other great systems to check out are Heartland POS and Xenial POS.