(Last Updated On: October 19, 2021)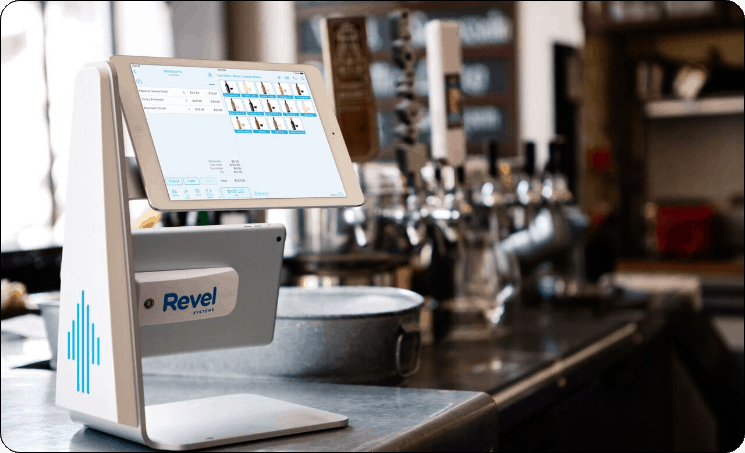 The primary function of your QSR is to give people fast and friendly service. Convenience is the top sell. Key challenges like online ordering, inventory variants, and customer engagement must all be addressed in a timely fashion. The best quick service POS systems are designed to tackle these critical issues.
Although the foodservice industry is on a downslide, the fast-casual segment is the only corner to grow traffic in the past five years. There are now over 25,000 locations in the United States alone. The industry is currently worth $239 billion with a fast-growing sector in delivery.
A quick service restaurant faces distinct pain points, unlike other foodservice operations. Guest expectations include self-service, quick turnaround, and enticing item combinations. People are looking for faster ways to pay with less of a hassle. They also expect you to remember what they like and offer discounts accordingly.
The best quick service POS systems will offer features like online ordering and customer-facing technology. You need strong inventory controls with in-depth reporting and analytics to study top trends. Streamlined staff management, third-party integrations, and multi-location management are also essentials.    
We've done some of the homework for you and listed the most exceptional QSR POS systems We'll look at things like pricing and top features to help you decide.
The Top Six Quick Service POS Systems
Lightspeed – The Best POS Platform to Grow Your Business
Revel Systems – The POS for In-house Payment Processing
TouchBistro – The POS Platform to Drive Sales
Toast – The Best POS for Kitchen Management
Square – The POS System for Customer Engagement
CashierLive – The POS Platform for Fast Transactions
Comparing The Top 6 Quick Service POS Systems
POS System

Software Costs

Other Costs

Key Feature

Basic package starts at $69/month.

Starter package is $99/month,
Standard package is $119/month.
Advanced package is $169/month.
Pro package is $229/month.

Centralized purchasing for multi-store management with shared customer data.

$99/month per terminal.

$674 for onboarding with service experts.

Revel Advantage is an in-house payment processing service to keep rates low and save you time.

Starts at $69/month.

$50/month for online ordering, $229/month for reservations, and $25/month for gift cards.

Drive sales and increase average check size with self-ordering and automatic modifier prompts.

Starter package is $69/month.

Essentials package is $99/month and Growth package is $189/month.

Toast Flex receives kitchen orders in real-time to assigned prep stations.

The basic program is free.

Square Chip Reader is $59. The Square Stand is $299 and the Square Terminal is $439.

The Square Feedback program gives customers a place to leave private messages via text and email.

$75/month per location.

2.7% processing fee. Can pay upfront for the system but must call for quote.

Accept all forms of payment, park transactions, split checks, run refunds, add discounts, all with a simple click.

1. Lightspeed – The POS Platform to Grow Your Business

Lightspeed is a quick service restaurant POS system built for growth. In just one screen, staff can view and fill orders quickly with a fully integrated online delivery system. Customers can order from anywhere to increase revenue and streamline operations. It's the perfect platform for multi-store workflows that will expand your business. Look for top features like:
Delivery Integration
Take your QSR restaurant on the road and sync with major food delivery apps. It's integration that's made to help your business grow. Get orders from popular third-party platforms like:
Foodora
DoorDash
UberEats
All of which are sent directly to the POS platform. Work efficiently and consolidate online orders into a universal screen. Use Lightspeed's robust reporting tools to see what's working, what needs to be changed, and spot new opportunities. Use social media marketing to stay connected and push delivery promotions.
Multilocation Management
Manage multiple locations and scale your business quickly with a POS that simplifies your workload. Store all data in the cloud so it can be shared among stores or accessed while on the road.
Do everything for your brand in one system. Run built-in reports and filter them by location. Edit your menus for each store with the simple click of a button.
Employee permissions can be set by location and based on their role. Staff performance, scheduling, and payroll for the entire company can all be managed in one spot. This reduces the time it takes to open new locations and scale the QSR model.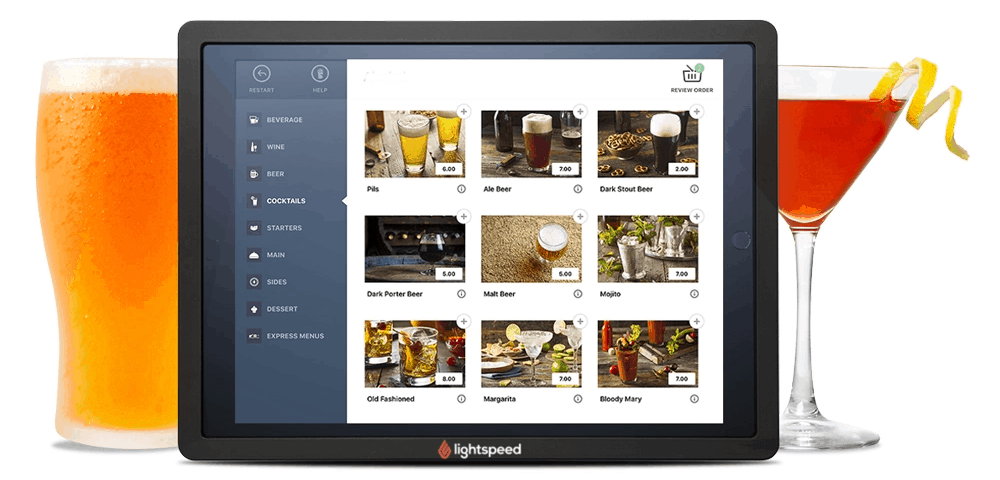 Self-order Menu
Let customers send their own orders to the kitchen to optimize labor costs and save valuable time. People tend to get more when placing orders themselves. This frees up staff to focus on customer service and upselling food. It also streamlines the number of people you need per shift.
The self-order menu can be used at both tables and/or a kiosk. Simply download the app. Your existing Lightspeed menu will populate and guests can start placing orders through a customer-facing display.
Additional Features
Quick Service Mode to take orders and get paid faster
Swipe, dip, or tap payments from all popular card types
Built-in PCI compliance and fraud prevention for secure checkouts
Manage everything in a universal dashboard you can customize
Run transactions offline without a wi-fi connection
2. Revel Systems – The POS for In-House Payment Processing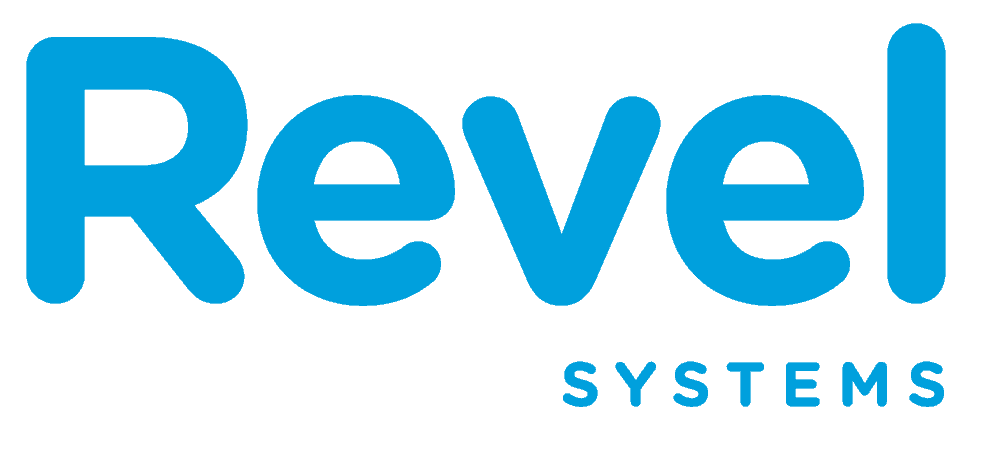 Revel Systems puts the "quick" back in quick service restaurants and focuses on features that emphasize the speed of service. The platform is secure and PCI-compliant with mobile device management and an integrated loyalty program. Key features include:
Employee Management
Revel is a QSR POS system that provides a full suite of employee management tools. Take care of scheduling, shifts, and payroll, all within a single platform. The software helps prevent over and understaffing, and tracks all hours worked for local workforce regulation compliance.
The system will enable a QSR to run reports based on employee performance. Easily determine who your top-performing people are and which areas may need a little work.
Intelligent Reporting
Any successful restaurateur knows the value of setting key performance indicators (KPIs) by running performance reports. Take the guesswork out of decision making with Revel System's intelligent reporting and analytics features.
Save time with reports that highlight your best sellers, top performers, busiest hours, and monthly progress. Access valuable data in real-time to make more informed business decisions.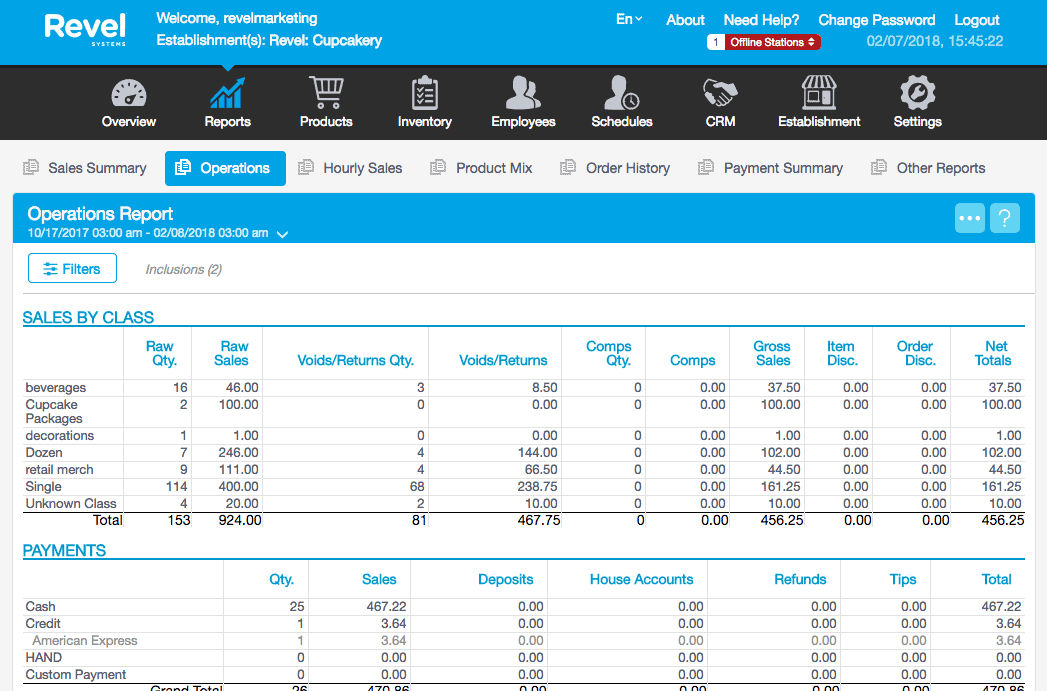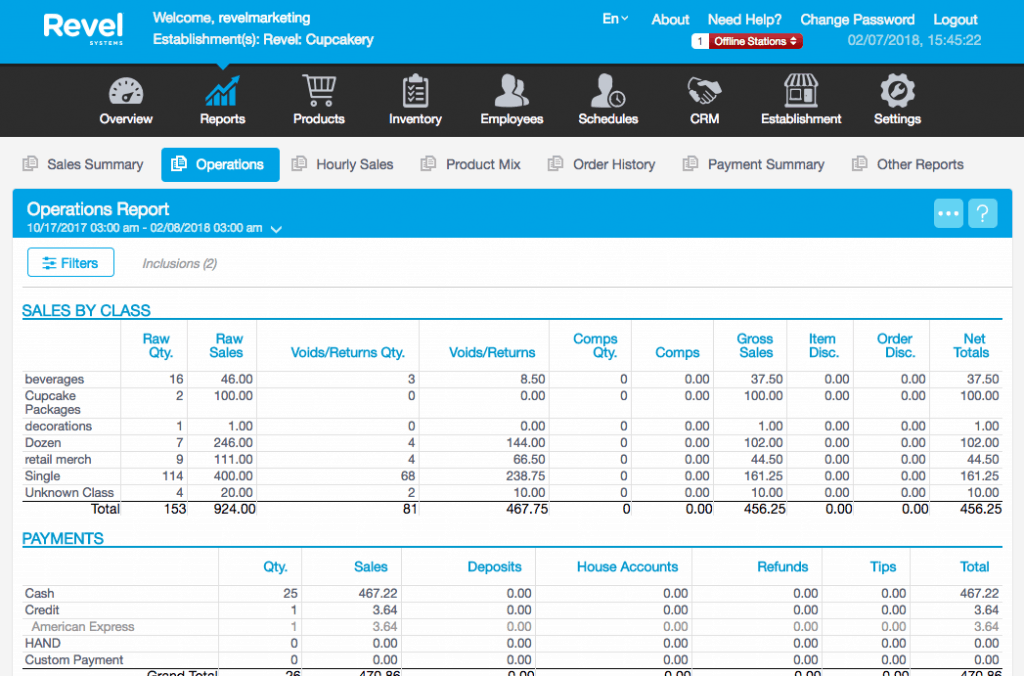 Flexible Payments
Revel offers multiple payment options to provide convenience for customers and allow them to pay how they choose. This includes contactless and other options like:
Credit cards
Debit cards
Mobile wallet
Apple Pay
Gift cards
The entire solution is EMV-ready with some of the lowest rates in the industry.
Revel Advantage is the brand's in-house payment processing service that will save a QSR both time and money. Enjoy industry-low rates and all the latest in payment flexibility with integrated software, hardware, and credit card processing. Have peace of mind that transactions are secure with point-to-point encryption (P2PE) and PCI-certified transactions.
Empower Customers
Revel is designed to allow guests to help themselves with hardware like the customer display system (CDS). Utilize the equipment for more order visibility, upselling, loyalty programs, data capture, and electronic signatures for faster and more accurate transactions.
A CDS not only increases transparency during the ordering process, it leverages the prime real estate on your countertop for branded promotional messages and custom offerings. Guests can choose paperless emailed receipts at the end and add a tip through the dashboard.
The system will then engage them in any loyalty program you have set up, displaying dynamic and custom imagery with tailored messages.
Additional Features
"Always on" mode ensures your business is up and running even while offline
Payment flexibility with split bills, bar tabs, and store credit
Kitchen management tools to streamline FOH and BOH communication
Menu building with custom images, descriptions, modifiers, and combinations
Multilocation management with a universal dashboard that works offline
3. TouchBistro – The POS Platform to Drive Sales

TouchBistro is a straightforward, easy-to-use QSR POS system that empowers staff to keep the lines moving and customers engaged. The company understands that margins are tight and competition is fierce. They offer a platform that enables a QSR to sell more profitable items, in less time, with optimized staff. Key features to consider include:
Active Sales Tools
There are a lot of features in the TouchBistro system that are designed to leverage sales and drive revenue. The product was built to help staff increase the average check size at the register with smart upsell tools like automatic modifiers.
These buttons are in place to instantly suggest alternative options that add to the check total. Even if an employee is new and doesn't know the entire menu by heart, TouchBistro will fill in the gaps. You can then run detailed reports on staff and menu items to better identify positive sales trends.
The TouchBistro Kiosk also enables a QSR to take more orders quickly and easily add registers without increasing your front of house labor costs. Staff can take iPads out into the line to bust it up fast and keep every customer satisfied.
Additionally, promotions and discounts can be set up in the system to apply automatically at the register or customer-facing display. This helps to move high-margin menu items and adds to the success of your marketing campaigns.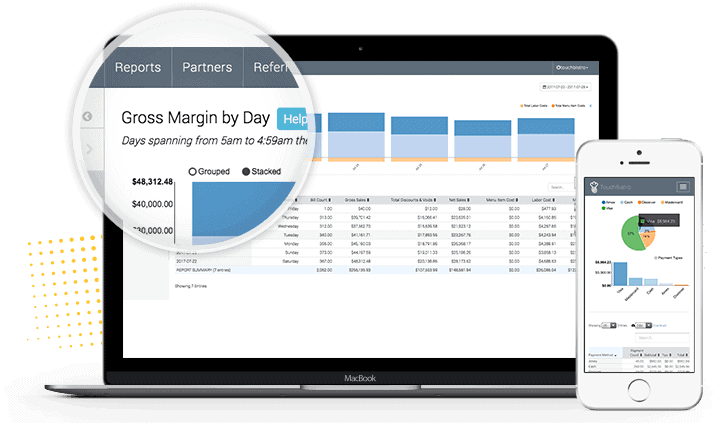 Customer Relationship Management
Reduce training time, limit errors, and improve operations with TouchBistro tools designed to nurture customer relationships. Predictive "quick cash" buttons enable staff to guess likely tender amounts or take payment with just a tap. This opens up a world of convenience for guests and keeps the lines moving fast.
Quick voids at the register save time and reduce errors before they make it to the kitchen. This feature can also help patrons prevent order errors, minimizing the risk of mistakes for all parties.
TouchBistro enables a QSR to consistently track inventory levels and keep popular ingredients in stock at all times. This helps to avoid disappointing guests, while eliminating waste and improving your bottom line.
Informed Decision Making
Make better business decisions with the right data. Know when to bring on more staff, run promotions, which items are popular, and more with a suite of restaurant success reports.
Access reporting from anywhere, at any time, with cloud-based analytics and the "Reports-To-Go" app. Automatically send out reports on a schedule and extend insights to your accounting team without any heavy lifting. While this POS system is great for quick-service restaurant, it is also ideal for businesses like bakeries and pizza delivery.
Additional Features
Book a live tour or request a free trial to test the software
Manage staff and track activity with punch clock and payroll
Table management with custom floor plan and guest status
Inventory controls with costing and unit measure information
Tableside ordering with automatic upsells and modifiers
4. Toast – The Best POS for Kitchen Management

Toast is one of the best QSR POS systems with hardware and software built for the fast-casual environment. The program addresses all aspects of restaurant operations to create a seamless process from your very first order. Both the terminal and handheld equipment run on intuitive, user-friendly software and provide rich, real-time reporting. Key features include:
Guest Facing Display
Give your customers the power to view order information as it is rung in. Not only does this ensure accuracy and reduce mistakes, it shortens the transaction time and provides a seamless checkout experience. People can watch as every item is scanned and chime in if anything is wrong.
Guests can tip and sign directly on the customer display. A store can customize the screen with a logo and colors to match branding. Additionally, the system will prompt people to opt into your loyalty programs which enables you to collect data for further marketing efforts.
Takeout and Online Ordering
An essential feature for modern quick service restaurants is the ability to order online and pickup quick takeout. Toast is a QSR POS system that enables a brand to integrate online ordering with your kitchen operations. Optimize digital revenue streams with Toast's online ordering and order ahead platforms.
Eliminate the need for extra equipment and save on third-party delivery commission fees. Customize the design of your online ordering menu and turn off the function when the kitchen is too busy.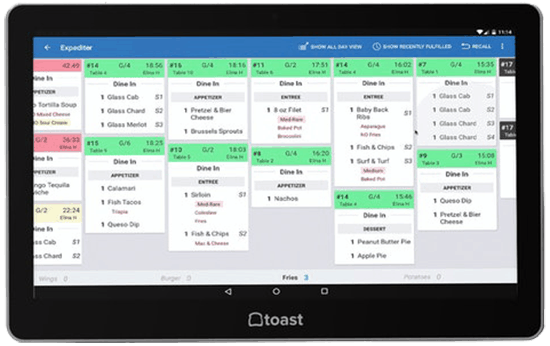 Toast Go
This is Toast's answer to mobile management. Toast Go empowers cashiers to fire orders directly to the kitchen, no matter where they are in the store. No one is tied to the counter.
Get orders out fast with total order counts by menu item. Alert guests and/or servers through SMS when food is piping hot and ready. Everything can be viewed on the Toast kitchen display system with the "All Day Display" feature.
Back of House
Many of the strongest Toast products are built for the back of the house. Eliminate the complexity of managing paper tickets and never worry about manual item counts again. Increase the speed of service in the kitchen with a suite of BOH solutions that include:
Double tap fulfill and single recall
Route to stations by dine-in or out
Color-coded modifiers
Fire by prep time
Speed by prep reporting
The restaurant-grade hardware easily integrates with all incoming orders and supports foreign language tickets.
Additional Features
Track trends and make data-driven decisions with analytics and reporting
Configure menus across all restaurants with multi-location management
Toast Inventory for variance reporting, waste tracking, and to capitalize profitability
Automated course firing by item prep time
Seamlessly update the menu from anywhere in real-time
5. Square – The POS System for Customer Engagement


Square for Restaurants is a good fit for everything from fast-casual to bars and multi-concept cafes. The system integrates all the business tools you need from a POS like inventory, reports, staff management, and sales tracking. It comes with a free card reader and highly affordable equipment options. Keep your line moving fast and customers satisfied with key benefits like:
Square Loyalty
Square is a QSR POS platform known for its extent of customer loyalty and engagement tools. Although it's a small monthly fee, you only pay when you earn more with the program. That means it's based on the volume of loyalty guests that visit your store every month.
There are no long-term contracts and it's free to try for the first 30 days. Enroll and reward customers directly within the POS system with no additional hardware or software required. Sellers who use Square Loyalty typically see a 40% increase in customer visit frequency.
Replace old paper cards with a digital loyalty punch card experience View returning customer points balances and rewards history in a glance. This enables your business to provide a more personalized experience for each customer. Your Square dashboard will always track pertinent consumer data like:
Top loyalty customers
Total number of program members
Average spend
Number of visits
Loyalty vs. non-loyalty behavior
Menu Engineering
Manage your menu with customizable layouts and place top-sellers on the main menu for faster checkout. Add items at any time to a display group and make changes from anywhere that apply to every location.
Use bulk additions to update your menu fast. It's as easy as uploading a CSV file. This works wonders when you want to make seasonal swaps or refresh an entire menu. You can even apply taxes and modifiers in bulk, which further streamlines the process.
Items can be added to particular courses. This enables a QSR to manage course pacing with order hold and fire features, making the timing of the meal just right. You can also set up happy hour or soup/salad discounts in minutes, with no mental math required.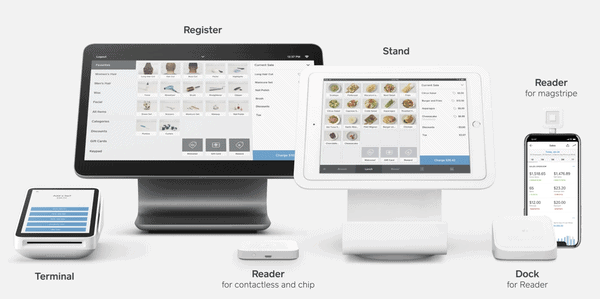 Detailed Metrics
Square helps a QSR keep an eye on all the numbers, from top-line summaries to granular daily stats. View sales by category, payment type, or item. This enables a store to deeply monitor overall trends, like sales, comps, and voided items.
Pull up a shift report and close of day to ensure everything looks right before locking up. Run reports on specific sections of the restaurant to demonstrate how each part of the business is performing. View covers per section and total sales so you know exactly where the store stands at any given moment.
Additional Features
Third-party partner integration for every type of back office task
Straight-fire categories to send items to specific printers (bar or kitchen)
Auto-gratuity for party size thresholds and larger groups
Custom Square Online site with third-party delivery options
Table clocks with red and yellow labels to ensure timely orders
6. CashierLive – The POS Platform for Fast Transactions

CashierLive is one of the simpler QSR POS systems and was designed to accept payments fast and easy. All you need is an iPhone, iPad, or PC. The platform allows you to swipe a credit card, charge a small 2.7% processing fee (per purchase), and speed up the connection so authorizations come through within minutes. Keep your eyes peeled for helpful features like:
Sales and Inventory Monitoring
Want to see what was sold yesterday? Last week? Last month? No problem. CashierLive gives a QSR the ability to access all of a store's sales and inventory data. In the "Transactions" tab, use the simple search button, and the data is there for the picking.
The easy import tool allows a store to pull inventory into the system in bulk. The platform then tracks all inventory based on sales and returns and produces detailed reports to spot important trends.

Taking Payments
This is where CashierLive shines. Accept multiple forms of payment for the convenience of your customers. You can even provide a house account and let people pay at the end of the month.
Process returns with the click of a button. Just enter the transaction number from the receipt or the items being returned by hand. The line can then move quickly from there.
High-tech barcode scanning makes ringing up items easy. You don't need to purchase costly equipment. CashierLive will work with an attached scanner through a USB or with the camera on your iPhone or iPad.
If someone has forgotten their wallet and the clerk has a long line, no problem. Transactions can be parked in the system and held. That way, staff can quickly complete the sale when the customer returns.
Additional Features
Custom gift receipts to facilitate easy returns
Simple discount tools for special pricing and promotions
Collect tips with printed signature receipts
Search inventory and filter items by description, UPC, supplier, etc.
Month-to-month service with no upfront payments
How to Choose the Best Quick Service POS System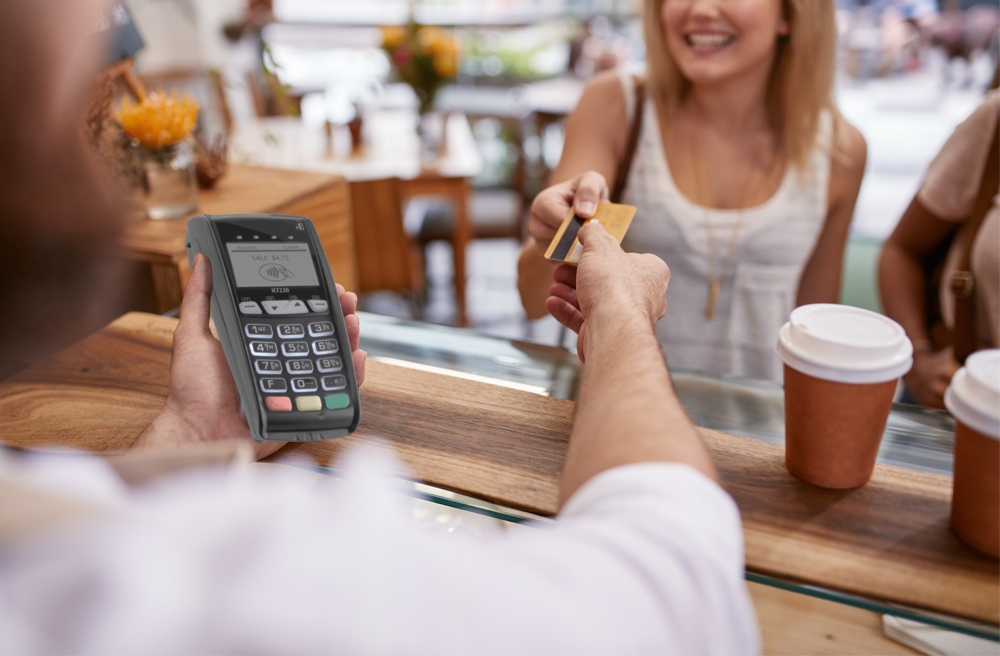 Everything moves quickly in a fast-casual restaurant environment. At times, this can also include decision making. Purchasing a point of sale system for your quick service enterprise should not be a quick move. There are a lot of factors that go into making these products unique tools that apply to your business model.
Consider some of these critical QSR POS system features before taking the plunge:
In-depth Analytics
A QSR is a restaurant model that has great use for data and analytics. That's because business moves at a high volume, so there are lots of opportunities to study consumer habits. That means, you need a point of sale product that has robust reporting and analytics tools to gain the most insight.
The benefits of running comprehensive reports and making data-based decisions is the ability to identify top-selling items with profitable combinations. This will tell a store when it's time to update menu items, raise prices, or push a new promotion. With the right program, there's no more need for costly trial and error or guesswork.
Intelligent Inventory
The best QSR POS systems will give a restaurant the ability to track and manage inventory on a variety of levels. Real-time inventory management means the ability to monitor menu items down to the last ingredient, morsel, or bite.
Always know which items you have on hand and set up automatic reorder triggers to avoid any unwanted surprises. Your POS system should run intelligent inventory controls that will make educated decisions.
Optimized Ordering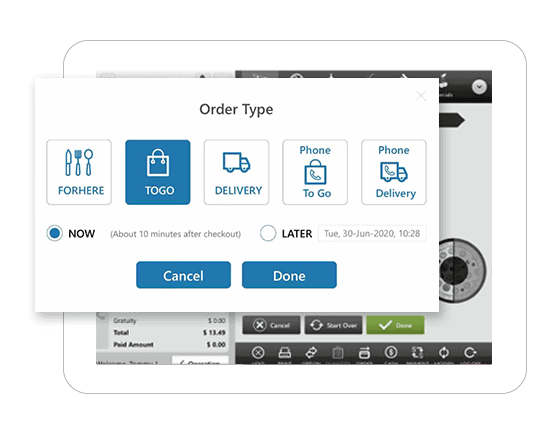 Ordering should be quick and detailed. Look for a QSR point of sale system that offers upselling modifiers and self-service technology to push orders through faster. The product should include the ability to fire directly to the kitchen, whether it's from a server with a handheld tablet or a guest using their phone.
No matter where customers place them, orders should also be routed to the register for faster transactions. When the order is up, customers should receive a text letting them know the food is hot and ready!
Delivery Integration
Many QSR brands rely on delivery to bolster their bottom line. Look for a QSR POS that offers delivery features or syncs with a third-party delivery app. This includes popular platforms like DoorDash or UberEats. All online orders should integrate automatically with the POS to optimize processing and data collection.
Multilocation Management
The idea behind most quick service organizations is to grow and scale. You should consider a point of sale system that is designed to do that with you. It must have the ability to manage multiple locations and operations in a single platform. Data should be shared among stores with the ability to access it from anywhere.
Reporting must always be tied into multiple stores, as well as staff management. Scheduling and payroll can be a universal task for an enterprise if you use the right system.
Additional Features
Profitable gift card program with custom and branded designs
In-house and/or affordable payment processing options
Menu engineering with bulk uploads and real-time changes
Staff controls with time clock and performance management
Optimized kitchen communication with prep station tickets
Honorable Mentions
Making the Smart Choice
How you choose the best QSR POS system for your business will vary depending on factors like size, table turns, check averages, staff management, inventory controls, and more. For example, a QSR for burgers may have a greater need for ingredient-level stock controls than a pizza place.
Basic things to consider include ease of use, cost, inventory, staffing, and reporting. If you're looking for an affordable system, a POS that uses technology you already have may be a good choice. For multilocation ventures, a product with a package deal is better suited.
If the POS doesn't offer a feature you are looking for, it should integrate with something that does. The last thing you want to do is purchase a point of sale platform that doesn't align with your operations.
If you still have some questions about which quick service POS system is the best, here are some demos from top providers in the industry.