(Last Updated On: January 10, 2023)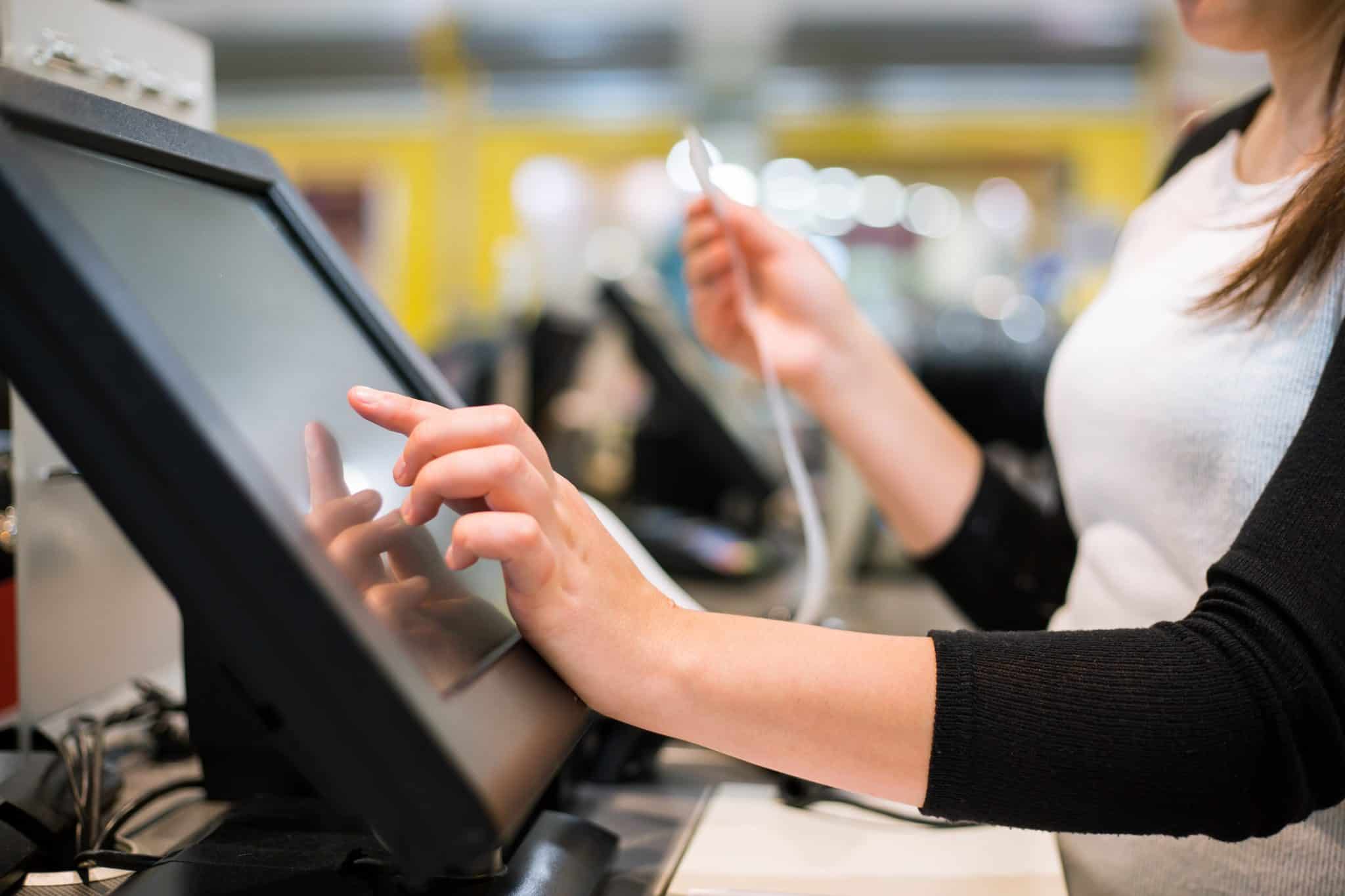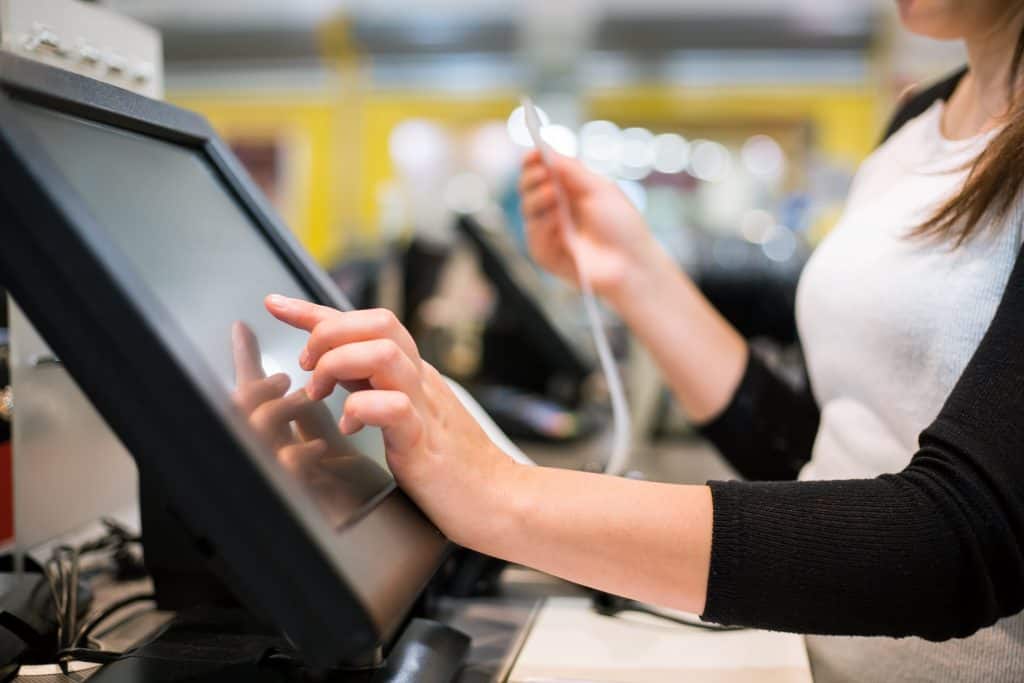 The best retail POS systems will assist with analyzing sales figures, keeping customers happy, and managing employees. While the cash register cha-ching is an endearing sound, a retail establishment owner or manager has to deal with tracking inventory.
According to the US Census, the retail industry is growing, having reached $6 trillion in 2019 (Source). To manage your operation efficiently, your business needs the best retail POS system to help perform various daily tasks.
Whether you're a small retail business, a franchise, or a large retail brand, your point of sale system needs to be reliable. Also, it should be flexible, and easy for employees to learn and operate.
Your retail software should be your number one sales tool. Most systems are built with sales in mind, as well as tracking data and cutting costs.
Ultimately, a retail POS system will help your business meet its operational goals; ring up sales faster, manage inventory, schedule employees, and cut waiting lines.

Comparing The Top Retail POS Systems
PLATFORM

SOFTWARE PRICE
(Excluding Device)

TOP FEATURES

FREE TRIAL

Cloud, SaaS, Web

$49 per month per terminal

Automated Inventory Management

Unlimited

Cloud, SaaS, Web Mobile – iOS Native

$69 per month (starting at)

Unlimited stores,
Advanced reporting,
Customer loyal features

30 Day

Powerful Business Reporting

$69 per month (starting at)

Effortless Discounts and Promos

30 Day

Cloud, SaaS, Web

$99-$289/mo (depending on plan)

Advanced CRM,
Loyalty features,
Easy integration

2-week

Cloud, SaaS, Web

Free, with optional add-ons ($60/month for Square Retail)

Built in payment processing,
Multiple locations on one account

30 Day

Cloud, SaaS, Web

$29-299/mo (depending on plan)

Payment processing integration,
One dashboard for all management functions

14 Day

Cloud, SaaS, Web
Mobile – iOS Native

$70 per month (not including hardware)

Employee management,
CRM tools,
Advanced data reporting

No Free Trial

Cloud, SaaS, Web

Initial cost of $999.99 + $60/mo

Loyalty offers,
Employee management,
Custom orders

14 Day

Windows, Mac, iOS, Android

$1,600 upfront cost (software only)

Multiple store access,
Extensive reporting options

90 Day

Cloud
SaaS, Web

$75-150/mo (depending on plan)

Online payments,
CRM functions,
Tableside ordering

15 Day


KORONA retail POS is built for retail businesses of any size or niche. The software comes with standard features to fit various verticals, and it serves as an all-in-one solution for users. Inventory management, product analytics, eCommerce integration, employee tracking, loyalty, gift cards, multi-store, and more make KORONA a solid solution across the board.
The pricing and structure are straightforward, too. The cloud software comes as a subscription service starting at $49/month. All costs are included in that subscription, so users pay only a flat-rate each month. All customer support is also included in the subscription.
Inventory Management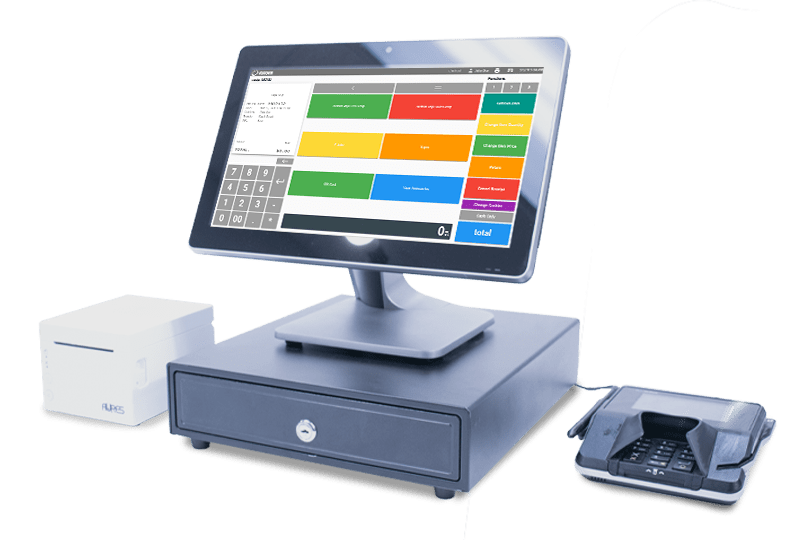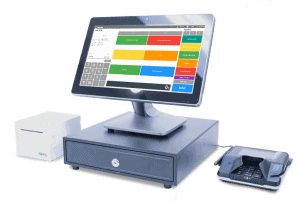 All inventory is kept under a single umbrella with KORONA. The system automates much of the inventory process through stock notifications, custom par levels, vendor management, auto-ordering, invoicing, and more.
The software is designed to ensure that retailers always have optimal stock levels for each product. Inventory features come standard with all subscriptions.
Custom KPI Reports
KORONA's powerful inventory management is combined with robust custom reporting and analytics features. Users can adjust hundreds of KPI reports to fit their business. And each can be created with just a few clicks. Reporting such as ABC analysis gives retailers deep insight into their product lines.
Customer Loyalty – With KORONA's point-based loyalty program, retailers can set up a simple incentivized loyalty system with a customer database. Further integrations are available for more robust CRM and membership solutions.
eCommerce Features
Modern Payments
All retail point of sale terminals will come equipped with exclusively modern payment machines. These include EMV and contactless terminals as well as gift card and ticket printers. Payments can be integrated with all major credit card processors. KORONA doesn't come with any merchant services contracts so users can find the best fit for their particular business.
Discounts and Promotions
In KORONA's backend system it's simple to create new products, change pricing, add promotions or discounts, offer bulk/wholesale rates, and make any other alterations. The changes are immediately reflected in the front end of the system.
Employee Management
The software comes with built in employee features, too. A time clock manager for hourly employees is built in. Additionally, KORONA provides theft prevention features, custom permission levels, and individual shift reports.
2. POS Nation – Best POS System for Small Retail Business


Retailers need a powerful point of sale solution for managing inventory, speeding up checkout, and producing in-depth business reports. After doing our research, we've found that POS Nation is the team that you need behind your small business.
 

Efficient Inventory Tracking
When it comes to inventory management, CAP Retail by POS Nation makes the entire process a breeze. Automatic purchase orders and reorder points keep you well-informed so you always know what's in stock. Their integrated mobile inventory feature and handheld inventory device make tracking products painless, even for end-of-year stock counts. To top it all off, POS Nation allows you to import an unlimited number of SKUs, so you never have to worry about hitting a limit.
Effortless Discounts and Promos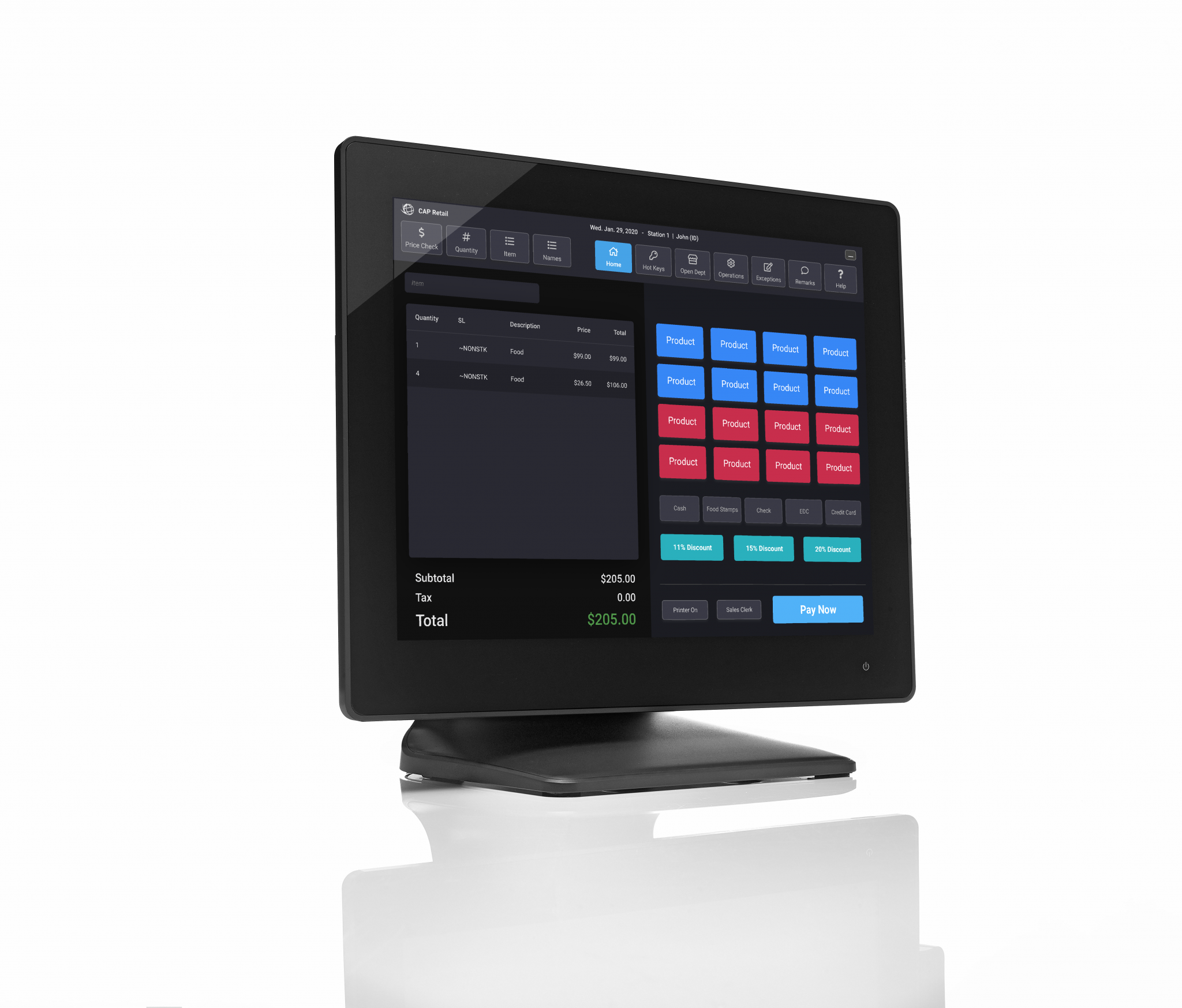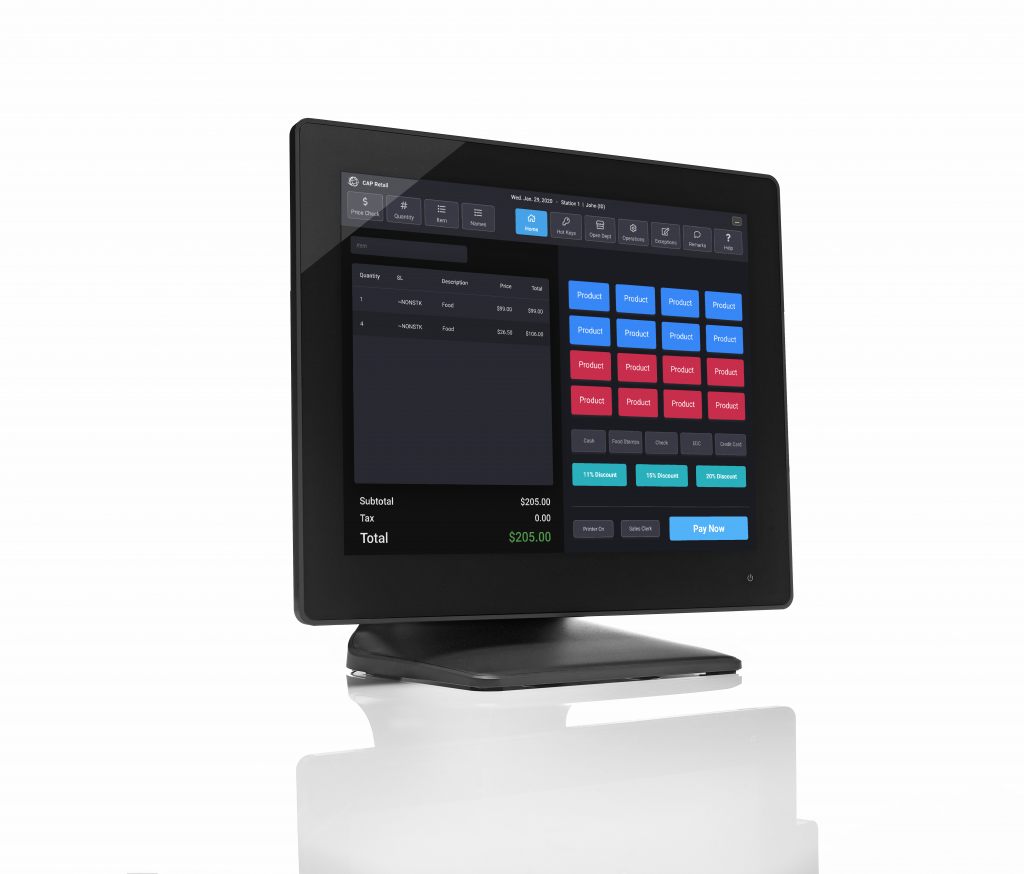 Promotions and discounts can easily be managed with POS Nation's retail solution. The mix and match feature makes it simple to run bundle promotions, allowing customers to pick and choose a variety of select products for a discount. Whether a customer wants to use a paper coupon or a first-time visitor discount, your cashiers won't have a ton of manual work to redeem promotions.
Customer Marketing
In addition to promos, customer loyalty is another integrated feature that's incredibly easy to use. CAP Retail by POS Nation keeps track of customer contact information such as emails, mailing addresses, and phone numbers so you can stay in touch.
Plus, if a customer is part of your rewards program, you can also see their purchase history — allowing you to customize any promotions sent their way based on what they've purchased in the past.
 

Team Management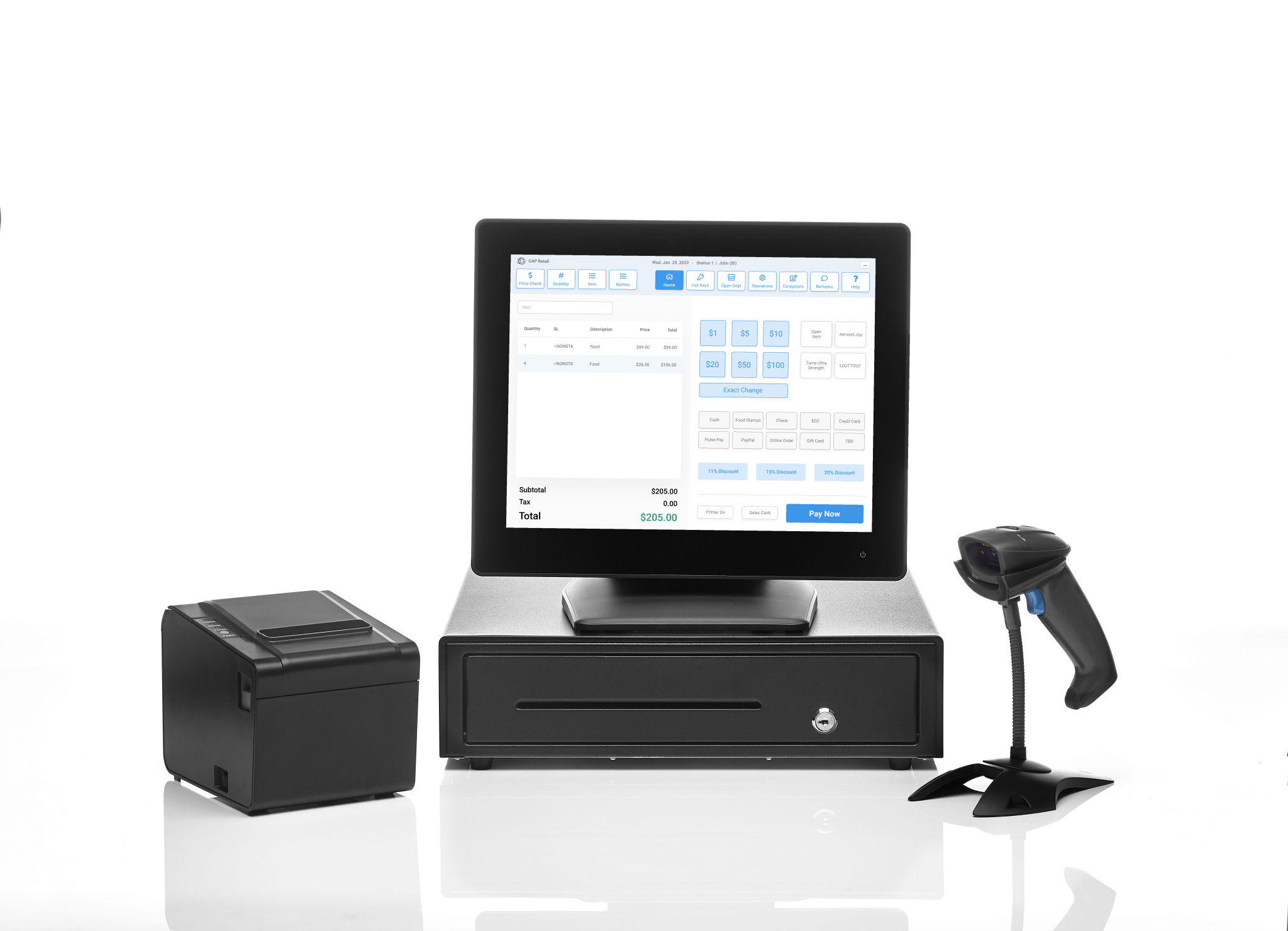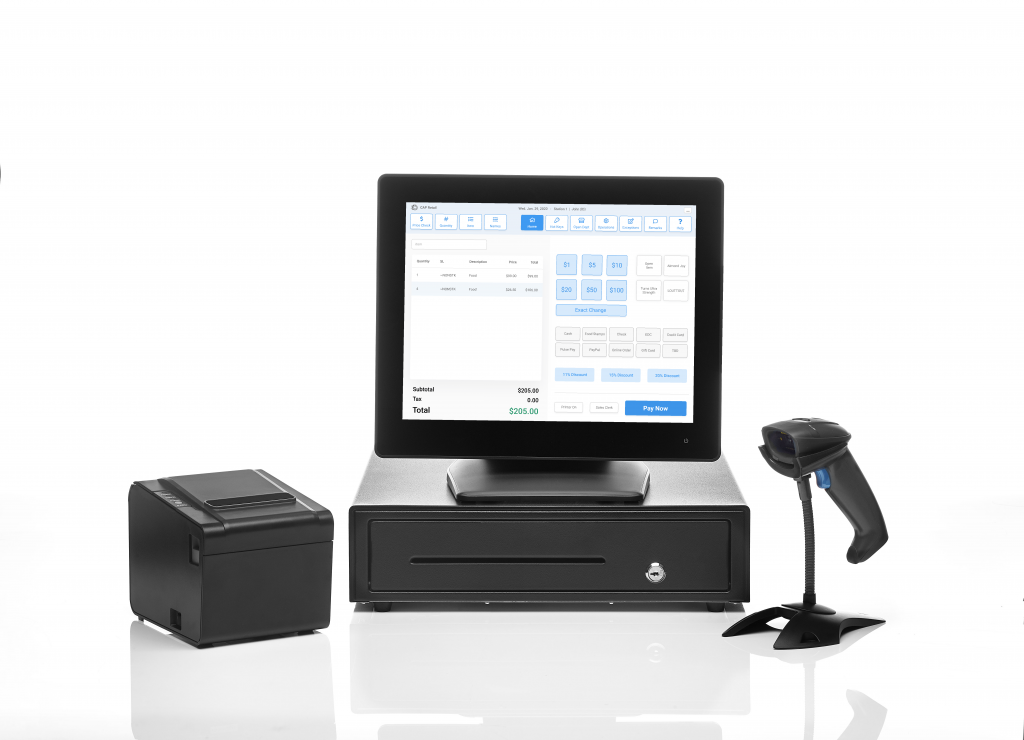 The other side of being a retail manager is overseeing your team — which can be a time-consuming and frequent task. With employee management baked right into CAP Retail by POS Nation, you'll always know each cashier's starting drawer count and who was working what shifts.
You can also manage your team's individual pay rates, time clock, scheduling, and payroll on the same solution. Think of how much time this can save you!
 

Powerful Business Reporting
Last but certainly not least, POS Nation's reporting allows you to dive deep so that you can make better business decisions. CAP Retail makes it easy to track sales by the department and identify which brands are driving profitability. With over 55 prebuilt reports and additional customizations, you can analyze every aspect of your small business.
At the end of the day, POS Nation is a safe and solid choice for retailers that want to speed up checkout, automate inventory management tasks, and make well-informed business decisions.
The company is a small business too, and they promise to be there for their customers with 24/7 support, payment processing, powerful software, and commercial-grade hardware.
3. Vend: Best POS System for Small Retail Business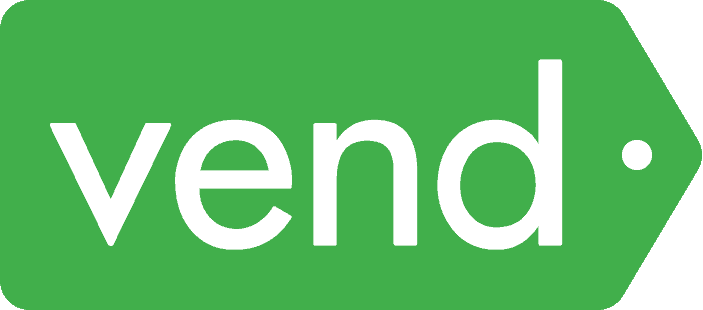 Vend offers all the POS features a retailer of any size would need. With Vend, you can easily maintain price books, manage inventory and your customer list, and design your own branded gift cards. Vend also features employee tracking to manage cash flow and employees better.
Its e-commerce functionality has become one of its hallmark features. The interface fits screens of all types and sizes.  The content management system enables users to easily add products. The software also allows you to rearrange the menu and other elements.
POS Platform Flexibility
Vend can be used on iPad, Mac, and PC. Because it syncs data on the cloud, all three platforms can be used. A business can continue making sales even if its internet connection is down, and Vend will re-sync when the connection is restored.
Payments and Refunds
Stores can stick with their current payment processor or choose a new one for credit card processing. Vend can also accept NFC payments like Apple Pay.
Multiple tender types per transaction are possible, as are custom payment buttons, partial payments (layaway), and gift cards. Refunds can be through store credit, gift cards, or issued to the original payment method.
Inventory Management
Vend retail POS allows for multiple product variants (color, size, material, etc.), bar-coding and labeling, and a central product catalog. It streamlines pricing and discounts/promotions, inventory counts and control, and automated stock ordering.
Custom Reporting
POS reports are customizable, such as sales by product, brand, supplier, tag and more to identify trends(especially when used as craft store POS). Set up a mobile retail dashboard to quickly see key sales metrics on the go. Monitor staff performance by setting and tracking sales goals.
Inventory reports and end-of-day reports round out visibility into a store's performance and management. Reports can exported to spreadsheet tools for more detailed analysis.
The Bottom Line
Vend is a flexible, affordable and scalable. Its POS system is tailored to various types of retail businesses, no matter the size. We truly believe it is one of the best solutions for retail establishments. While Vend offers a plan that's virtually free for retailers, their advanced plans offer no restrictions on products, support, and customer data.

Lightspeed has been on the market since 2005, but their retail POS system was launched closer to 2013. Despite being on the market for less time than some of its peers, it quickly became one of the top-ranking POS systems for retailers.
Lightspeed Retail stands out from the competition by offering high-level features. Such features include inventory management, reporting and analytics, multi-store functionality, and more.
Recently, they expanded their integration of various apps. Such apps can help drive your retail business to grow faster. For example, their team developed the "On Spot Transactions" feature which allows your business to accept payments on the sales floor. Similar to Vend POS, Lightspeed focuses on features related to customer management.
Inventory: Integrated catalogs save time with centralized purchasing. Items can be bundled and serialized to handle all kinds of variations and assemblies. Set up low-stock alerts, sell into the negatives when needed, and track unit costs and stale inventory. Inventory tracking is a big part of Lightspeed's core software.
CRM: Knowing your customers is critical. Lightspeed Retail POS lets you set up and populate customer profiles with purchase histories, customer categories, and view the lifetime value of shoppers.
Stock: Handle the special requests of customers through customized orders, special orders, work order management, layaways, purchase orders and more.
Payments: Customers appreciate fast and secure transactions. Lightspeed Retail POS can accept all payment methods, including mobile payments, all card types, is EMV compatible and PCI compliant, and allows for easy refunds. We found Lightpseed to offer easy credit card processing solutions.
Multiple Locations: Lightspeed Retail can grow and change with your business. Use it across multiple locations to handle product transfers, centralized purchasing, and stock tracking, as well as compare data among multiple locations.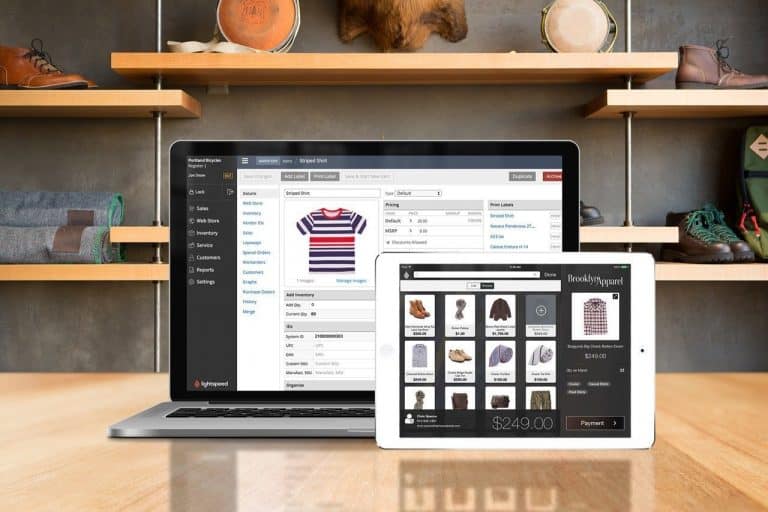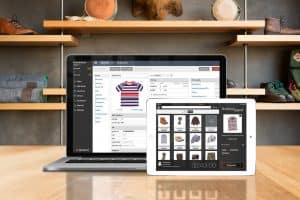 Even More Features
You can transfer merchandise between sites, and you have full visibility of all goods in stores and in the warehouses. You can also set varying prices on a location basis for the same SKU, helping you maximize your profit margin.
If you're a retailer that offers both goods and services (such as a bike shop), Lightspeed Retail can help you create quotes, service and repair orders, and determine labor costs.
All in all, we believe Lightspeed has the best retail software, which can be customized to various retail business types.
Downsides
It may be difficult to make spontaneous, unplanned price or inventory adjustments. The system is a bit complex and will require some employee training before using in your store.
The Bottom Line
Given the price of Lightspeed Retail, it's better suited for more established operations. Smaller retailers will find more beneficial options as far as the cost goes. Nonetheless, it is one of the most reliable POS systems for retail stores and businesses like consignment shops.
Lightspeed Retail's myriad of features also makes it attractive for companies with a large staff and lots of inventory to manage. Lightspeed also offers a Support Center and a community forum, in case you have additional questions.
5. Square POS: Retail POS System for Small Stores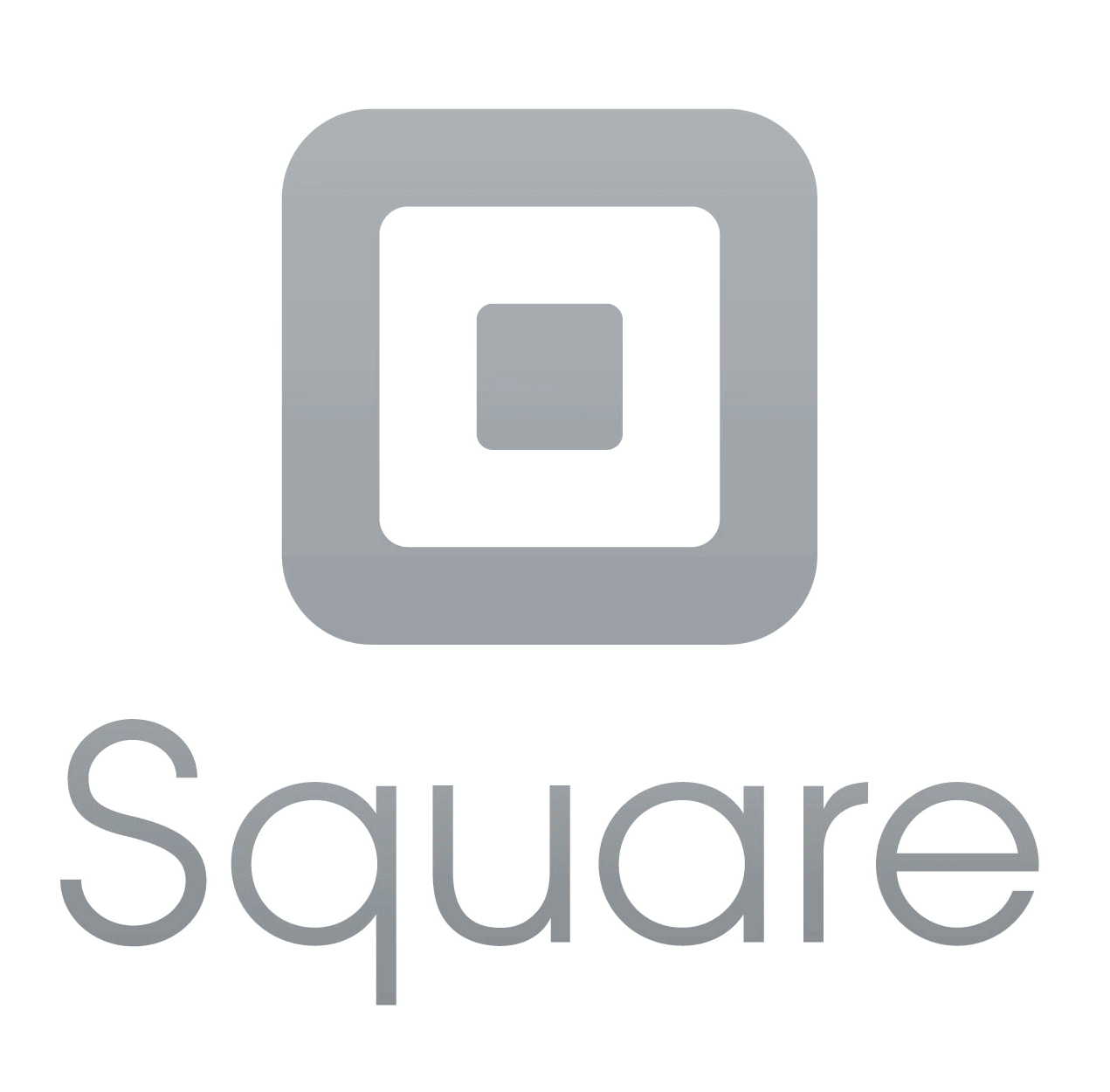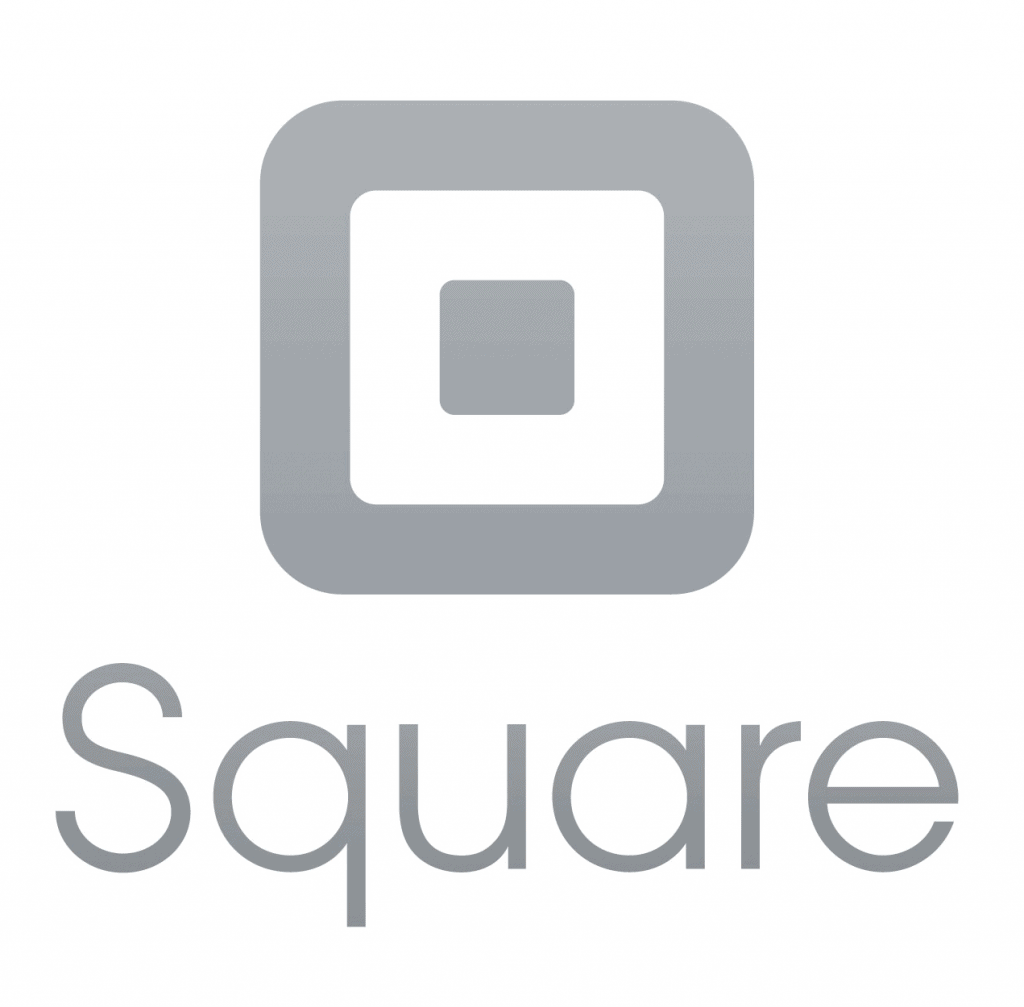 Square POS is an open-access, lightweight retail POS software geared toward small business owners. Square started its humble company by pushing a small and versatile card reader into the market.
This point of sale provider also supports this hardware with full-featured POS software. All in all, Square is relatively inexpensive to get started with. One thing that stood out for us with Square is its ability to simplify selling.
Square for Retail offers a complete solution; software, hardware, and a payment system. This all-in-one solution is perfect for any storefront looking to boost its sales, track data, and cut overall costs.
Key Features for Square POS
In-Store and Online: Combine the management of both a brick-and-mortar and an online store all through one POS solution.
Checkout: Speed up customer checkout with either easy item lookup via keywords or with barcode scanning. Process itemized exchanges and returns in a single transaction.
CRM: Create customer profiles to add purchase history and preferences.
Inventory: Create items and view stock levels from inside the Square retail POS. Use the dashboard to send purchase orders when stock is running low with vendors easily accessible from the system. Make checking out faster by creating and print bar code labels. Receive purchased items and add to inventory with quick scanning.
Reporting: Streamline a store when comparing sales with labor costs. Predict potential revenue with projected profit reports and know the value of inventory with cost of goods sold reports.
Payments: Pay one flat rate to securely accept all major credit cards, Google Pay, and Apple Pay through the Square POS system.
6. Shopify: Retail POS Software with eCommerce Integrations

Shopify, a cloud-based POS, was originally designed with retailers in mind. Since 2005, this real-time sales and management software has become one of the best-known in its class and remains a favorite among retailers.
Shopify is especially popular with e-commerce stores. The team at Shopify places a focus on conversion and inventory tracking, allowing you to forecast sales and make changes on the fly.
Key Features from Shopify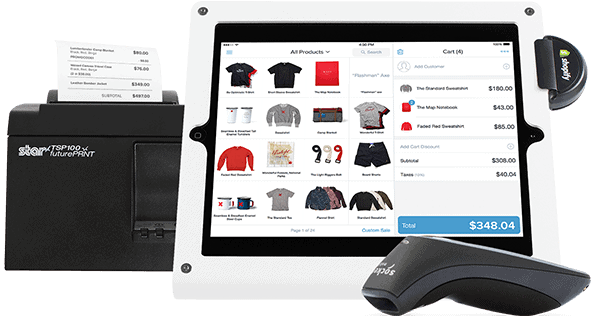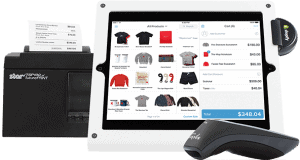 Payments: Accept credit cards such as Visa, Mastercard, American Express, and Discover using whatever card terminal you already have. Take two or more payment types in a single transaction.
Sell gift cards for use in-store and online, issued by email or receipt printer. Make refunds to the original payment method or store credit. Set up custom payment types for checks, IOUs, etc. Allow deposits and partial payments for layaways.
Checkout: Add notes to orders and collect shipping addresses and contact details. Take the POS to the customer using a smartphone or tablet.
Customize both printed and email receipts with online store URL, store hours, promotions, or store policies. Create custom line items and set the price to anything you want. Taxes are automatically calculated, but taxes can be disabled or customized for a specific product or order.
Discounts: Use rule-based settings for categories of discounts such as frequent buyers, seniors, military, etc. Create limited-time promotions and offers as well as limited-quantity offers (door crashers).
Set minimum-purchase discounts to increase average order value. Establish exclusive/VIP discounts and loyalty programs. Monitor the performance of each discount to see what works best for your business.
Store Management: View and search all past orders, whether online or in-store, by customer, product, or date. Monitor cash register adjustments and staff shift changes.
See daily totals for each payment type. Create multiple staff PINs for employee monitoring. Set up an accounting integration with QuickBooks or Xero.
Our Bottom Line
This system is a good choice if you're a retailer who wants comprehensive online store functionality. Its initial price is low, but the extras must be paid for additionally, which is likely to accumulate over time.
While it is not the absolute best POS system for a retail store, Shopify is more than ideal for small to medium-sized businesses. If you have any questions, Shopify offers a Help Center on their website.
7. Revel Systems: Retail Inventory Management Software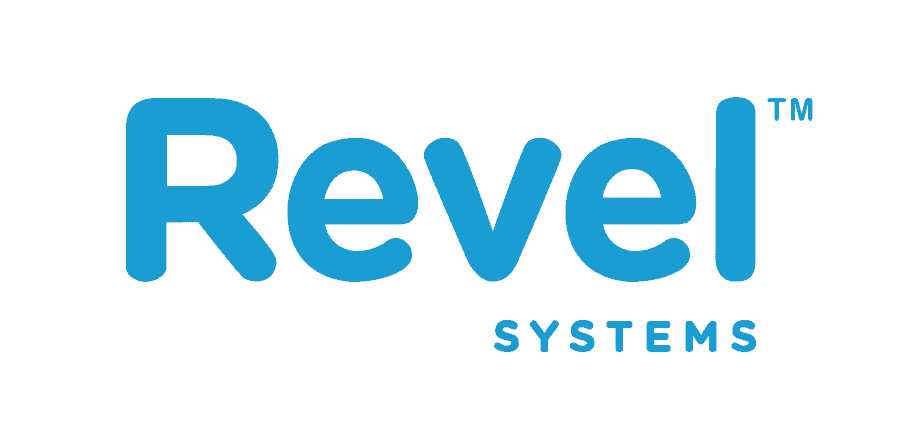 Revel Systems was founded in 2010 and is currently in use by over 20,000 businesses and was awarded the best iPad POS of 2012.
The company's goal as a POS provider is to streamline functionality in the form of a hybrid iOS while blending with cloud-based functionality and security. Revel's designs seek to implement a mobile POS that is both modern and cost-effective.
Revel POS runs on iPad and offers a versatile, multi-location set of features with specific retail packages that offer mid-sized to enterprise-level capabilities. Revel does not carry a contract, and charges month-to-month for their service.
Revel Has Advanced Customizing Options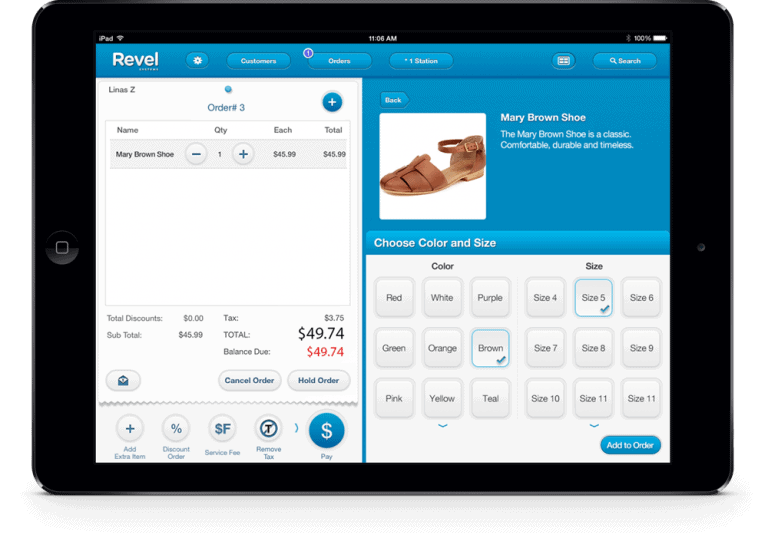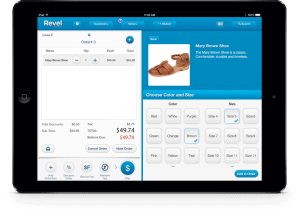 Revel POS is very customizable with payment and mobile ordering, as well as options for online ordering. Revel can either run on a local server or via the cloud. This hybrid system gives dual benefits, the mobility of the iPad with the safety of the cloud.
This makes it great in terms of security, but also reliable in times that the internet may be unavailable due to power outages or other mishaps.
Top Features from Revel Systems
Always on Mode: The advanced hybrid architecture of the Revel Systems POS solution ensures card processing even when the internet is slow or down.
Offline swiped payments are automatically queued and processed when your connection comes back. Set limits to control the number of offline transactions in a day to mitigate the risk.
CRM: Access purchase histories to driving repeat customers by knowing their preferences and favorite items. Capture customer information through the POS and use it to keep in touch with them. Boost your brand awareness and engagement, engage in email marketing, track loyalty program details, and more.
Stock Room: The Revel Systems POS solution can track thousands of SKUs across multiple locations. Accurately account for every item through matrix inventory management.
On-the-go Management: The Insights App gives access from anywhere to control and manage a business and its operations. See real-time straightforward sales data, manage labor, and generate forecasts based on reporting data at your fingertips. Reports can be viewed in a graphical format or visual data tables for actionable insights and better decisions.
Employee Management: Streamline administrative processes and paperwork with better onboarding, tracking productivity, and managing schedules. Limiting unapproved overtime with notifications and secure clocking in and out tied to payroll.
8. Clover Station: Retail POS System for Convenience Stores


Clover POS was launched in 2013 in Mountain View, CA. Since its inception, this company's goal was to provide an easy to use point of sale solution.
While this POS system fits various retail categories, it mainly used by jewelry stores, electronics stores, footwear, and other merchandise-based stores.
Out of the box, it has quite basic functionality. However, by using additional apps from its marketplace, this software can be quite powerful. If you apply such features, you can schedule employees and enter customer data. Also, create custom reports, as well as track inventory and revenue.
Clover POS Overview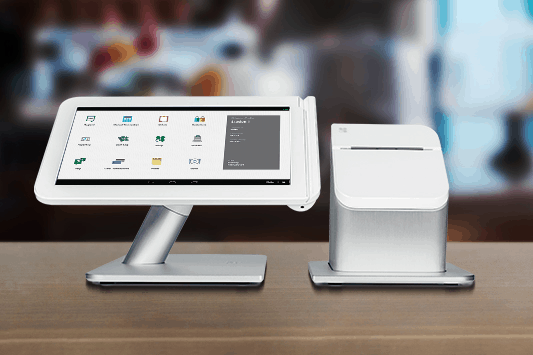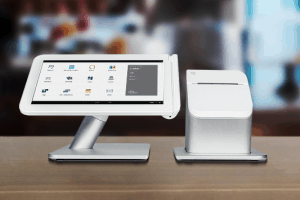 Clover Station is always coupled with a merchant account. You can sign up for Clover's service at more than 3,000 banks in the US, including Citibank, Wells Fargo, and others.
From a quick glance, Clover may seem like the best POS system for a retail business. It's packed with features, easy to use, and quite functional.
However, you have to pay for the hardware out of pocket. Still, the monthly plan fee is relatively low in comparison to other providers. Additionally, Clover is one of the easiest and fastest POS systems to setup.
Ease of Use
Easy & Quick Set-Up: Clover Station is all about its user-friendly interface. This is a significant factor in its popularity. It comes with a pre-loaded, straight 'out of the box' and so there are only a few tweaks you have to make.
Almost No Learning Curve: With just 15-30 minutes of basic training, employees can figure out Clover and its easy to use menu. Many apps that run reports and track inventory are self-explanatory and can be found easily with one click. Clover integrates its hardware seamlessly with the actual POS system. Clover's touchscreen monitor is durable and will look great in your store as it's quite visually appealing.
Clover's Top Features
User Interface: Clover's interface is really plain but easy to use. As we mentioned before, its basic functionality can be upgraded with its many apps. The minute you launch an app to add more features, you will notice a status bar with a content area.  This will lead to the app's main function, where you'll notice a barcode scanner. Then, an icon to return home or to access the most recent apps.
Orders: The best way to add an order is by searching for it on the menu or by typing the product name in. When needed, it's possible for your employees to customize an order. If you run a food establishment, custom orders need to be sent to a set kitchen printer. If you want to apply a discount, it can only be done through the register app. However, adding new items or apply discounts on the menu is possible, if you have that level of access. If the employee doesn't have such access, the manager can authorize the transaction.
Payment Options: Clover's POS station can process checks, credit payments, debit charges, and cash. If you need to accept secure EMV payments; Apple Pay, Android Pay, and others, you'll have to buy Clover Mini or the Clover Mobile device.
9. Retail Pro: Best iPad-Based POS System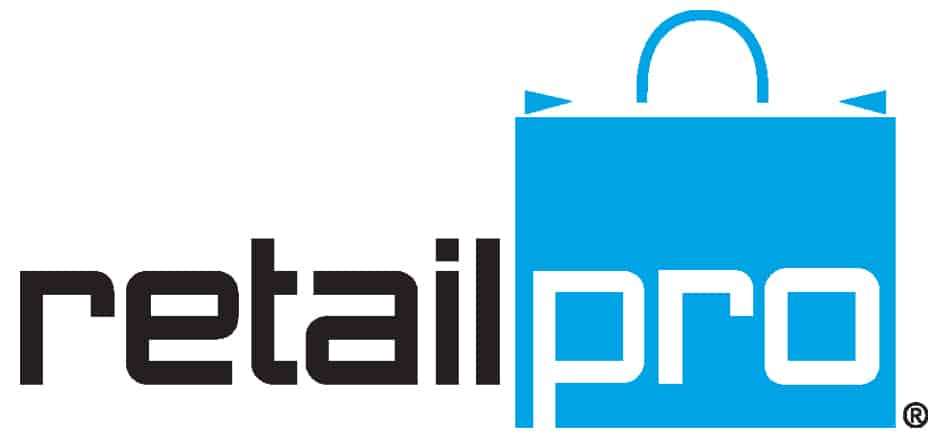 Retail Pro has been built from the ground up to meet specialty retail needs. In terms of point-of-sale specific features, it is quite powerful. This POS company has served the retail software business for over 25 years.
They are trusted by over 9,000 customers in over 128 countries and 54,000 stores. The company is headquartered in Folsom, California and serves really large brands such as Toys R Us, Adidas, and Calvin Klein.
Retail Pro has some pretty robust built-in e-commerce capabilities, allowing businesses to manage their online store transactions. This is an ideal feature for online or hybrid-style brick and mortar stores.
Top Features from Retail Pro
Unified Commerce: Integrate customer data and inventory for visibility into both in-store and online sales performance to keep less stock on hand. Connecting in-store and eCommerce saves inventory data entry time.
Integrate with Amazon, eBay, Jet and other online marketplaces for more sales channels. Real-time reporting across channels facilitates rapid, agile decision-making.
Platform Flexibility: The Retail Pro POS can be used on desktop, mobile, or both. It is compatible with Apple, Windows, or Android devices.
Promotions: Schedule promotion start date/time down to the minute. Specify which stores and/or price levels are affected. Choose how the discount applies (combined with other promotions, once per transaction, multiple times, etc.).
Set what requirements activate a promotion (item-specific, customer-specific, receipt total, coupon code, or any combination of these). Decide what discounts or rewards are given when a promotion is activated (item discount, transaction discount, issue a coupon, etc.)
Customer Engagement: Make relevant purchase recommendations based on customer history. Gain visibility into shopper activity both online and in-store.
Reward loyal customers, use customer data to personalize marketing and simplify returns for greater customer convenience. Sales-floor access to inventory and purchasing/receiving along with customer history makes for better on-the-floor shopper engagement and upselling.
Retail Pro Is Easy to Work With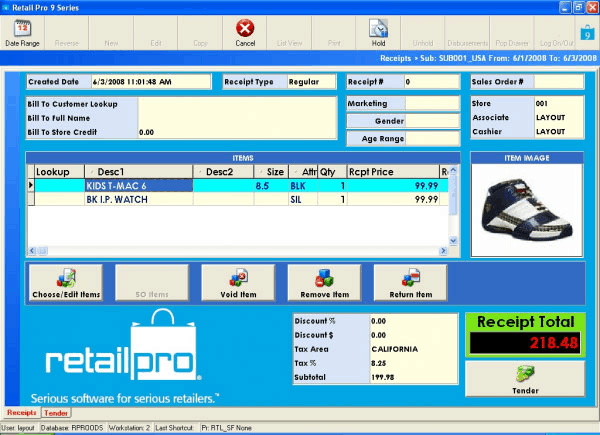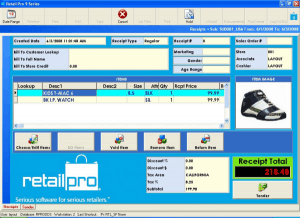 This software runs on almost any hardware you may already have. If you run your business using an iPad device or just your smartphone, Retail Pro may be a good option for you.
The customizable UI is another great feature. This feature enables the user to redesign the interfaces to meet a variety of needs.
This can further expedite transactions for better customer experience. Retail Pro offers both local and cloud-based versions of their software (Retail Pro 9 and Prism).
This POS provider offers different plans for small retail stores, all the way up to global enterprises. The ability to sync multiple store locations is one of Retail Pro's strongest selling points.
10. SalesVu: Best POS System for Retail Clothing Stores

SalesVu is an independent cloud-based retail POS system that offers seamless payment processing.
It doesn't matter if you have a clothing store or a food truck operation, SalesVu is still a solid choice. SalesVu's reputation comes from the flexibility of its actual software.
Just like the name, SalesVu helps you sell more. This provider provides excellent marketing features from within the software that aim to help you make more money.
While it doesn't work as well offline, it can still process basic functions when you don't have an Internet connection. Overall, it has a simple look, yet you can customize the appearance of this point of sale system to your liking.
Ease of Use
SalesVu is made up of two different segments; their front-end which operates the POS and payment processing. Then, the backend area where one can tally inventory, manage employees and reports.
The backend is accessed by logging into their website, as it is cloud-based. This way, you can review your activity and transactions in real-time from anywhere with just an Internet connection.
Both interfaces are quite user-friendly. If you access the checkout screen, you can see the products you're about to sell and which category it belongs to.
Another great feature from SalesVu is the ability to add custom images of products and color-code your buttons for a better experience for your employees.
Top Features
SalesVu has more features than even some of the more popular POS systems on this list. Some features we really loved include customer invoicing and recurring billing. Also, customers can take advantage of layaway and promos.
Other features include:
Processing payments credit cards, cash or check. Split payments for larger parties.
Split checks by seat, product, or even item.
Email digital receipts to customers with all the sales data or simply print to any printer in your establishment.
Customize your receipts and add your company logo and slogan or message.
Monitor incoming cash with an option to deposit it all into a safe, count cash on hand, and closing out shifts.
Look up items swiftly by entering SKUs or by scanning a barcode.
What is a Retail POS System?
The point of sale is the time and place in which a transaction is completed. In the past, a cash register was your basic POS system.
As businesses continue to grow through their digital channels, new tools have been developed to further accommodate e-commerce.
For example, POS systems can help you send e-mail promotions to your in-store clients like a Facebook or Instagram contest, helping you build your follower base.
There is a certain type of POS system for every industry—and retail is no different. A retail POS system will address industry-specific issues like inventory management and employee performance.  A point-of-sale solution should have features designed to accommodate your specific retail space.
This includes:
Processing transactions & accepting payments
Employee reporting and management
Customer profiles and data
Multi-channel integrations
Inventory management
Analytics and reporting
Loyalty and incentive programs
Offline capabilities
How Much Do Retail POS Systems Cost?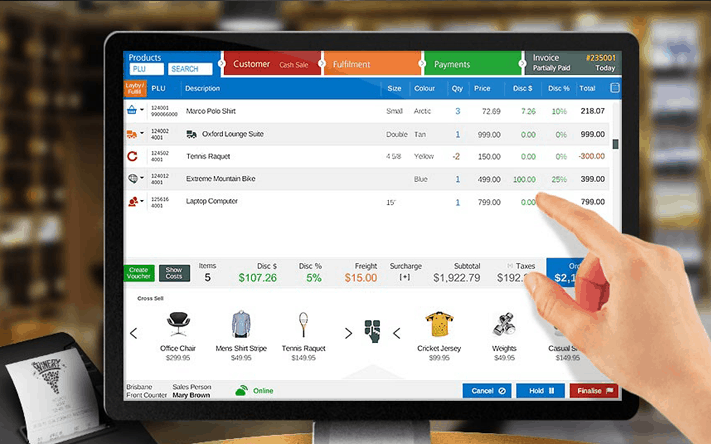 Not every POS system is the same. The right POS solution for your retail business will depend on a number of factors. These include the size of your business, your specific industry and the features required.
A POS system is composed of software and hardware. The software allows your staff to do things like processing transactions, managing inventory and sending out emails.
Similar to restaurant POS systems, hardware is required to process transactions and is composed of components like touchscreens, cash drawers, barcode scanners, and more.
For a retail business with one location and a single register, the software cost ranges between $49-105 per month. For larger retail operations with multiple locations, expect software to cost between $100 to $350 per month, per location.
POS hardware is quite different from software. While it requires an initial cash outlay, you pay for it once and own it for good. Expect to pay between $300-3,000 for various hardware components.
Such components include monitors, card readers, tablets, receipt printers, barcode scanners, and more.
For example, a small convenience store may only need to spend $600 on a cash drawer and a monitor, while a clothing store will require all that plus several iPads and other components.
Why Use Retail POS Software?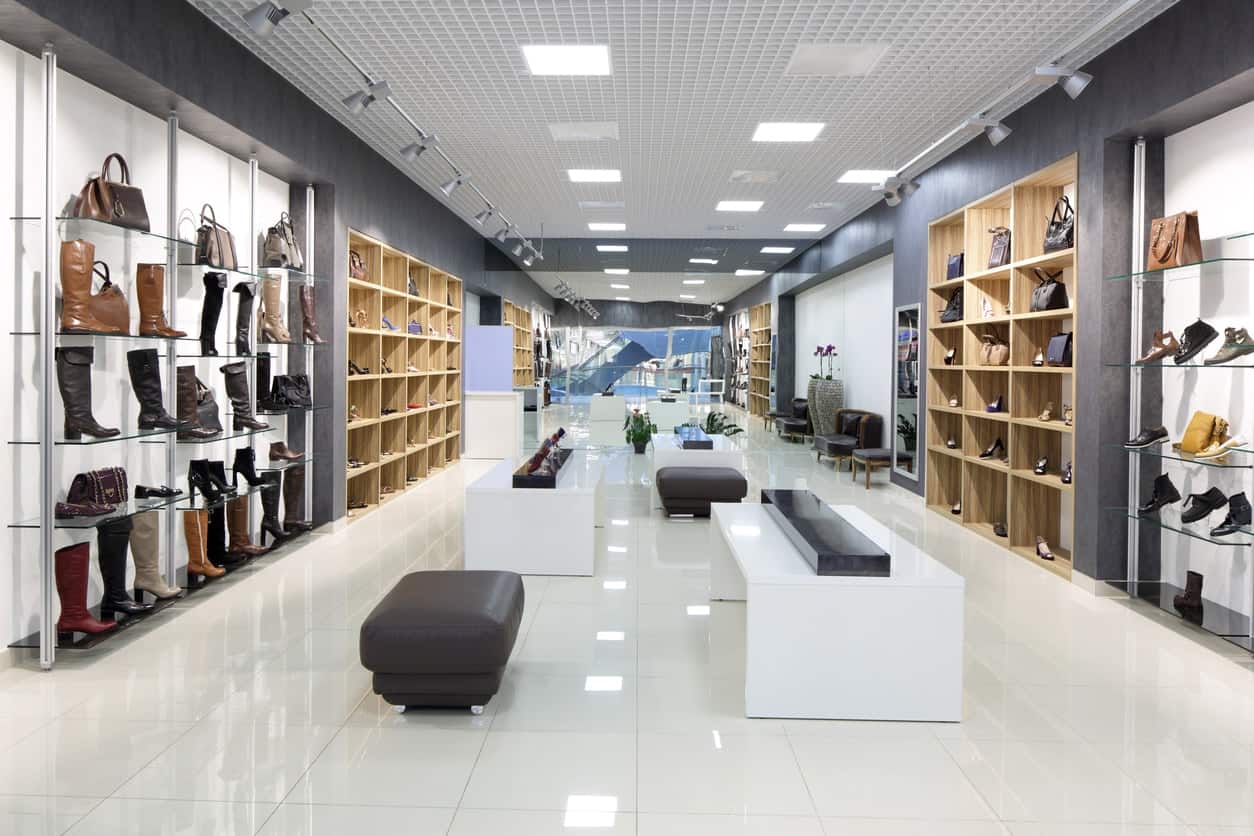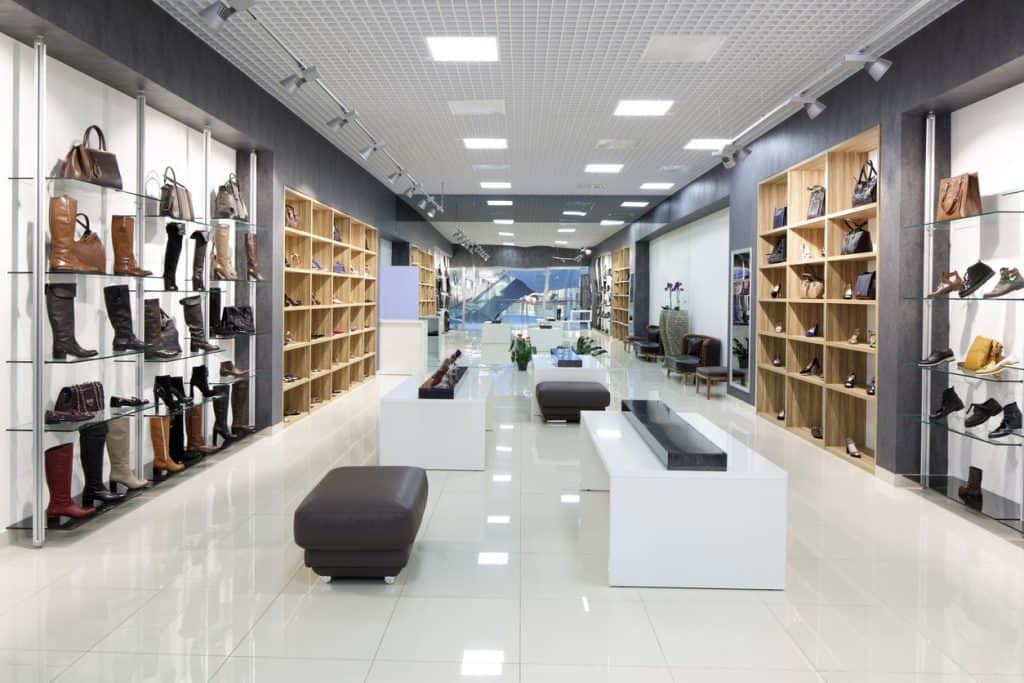 By using retail software, business owners can get insights like never before. From processing transactions to managing inventory, a retail manager can pull reports that help make smart business decisions. If you have an online store, a POS system can sync with your web and in-store purchases.
Additionally, retail POS systems can help simplify accounting. Keep all your financial data and transaction details in one place. This will help you budget accordingly and forecast your growth. When it comes time for tax season, you'll be able to quickly pull reports for your accountant to work with.
Retail management systems are also vital when it comes to employee management, scheduling, loyalty management, and email marketing. Perhaps the most comprehensive feature retail software offer is reporting and analytics, which gives you an end-to-end view of how your business is doing. Such systems also help you see where you can improve.
From a retail employee's point of view, such systems allow the ability to ring up customers, send out customer loyalty promotions, and manage the process of restocking. If you're a single person operation, most POS systems sync with a mobile device like a tablet. This will help you become more mobile around the store.
Why Your Business Needs a Retail POS System
The more you adopt modern technology like point of sale systems, the easier it will be to run your business. Anyone that sells through a brick-and-mortar store will tell you that POS technology can entirely transform their business.
There are several reasons to justify intelligent retail software, such as:
Relationship Management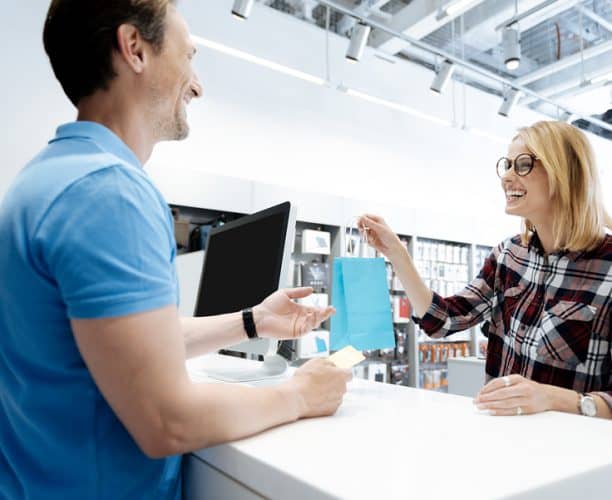 The best way to relate to your customers is to keep track of their data. This includes behavioral information, in addition to contact data and demographic stats. A retail POS can help you store consumer data all along the buyer's journey.
You can then use the information further down the road to make more informed business decisions. If your audience reacted poorly to a campaign, try tweaking it and testing it on another channel. The idea is to keep people consistently satisfied with your content.
Streamlining Operations
You may have apps running all over the place for your business. Your marketing team may also be working tons of different channels with various forms of content. The point is, there are a lot of loose ends to keep track of in retail.
A retail POS ensures a brand has everything easy to manage in one spot. That typically means a dashboard of some sort. This is the place where you can aggregate all data and connect your various marketing channels. This way your message is more consistent across the board.
Reporting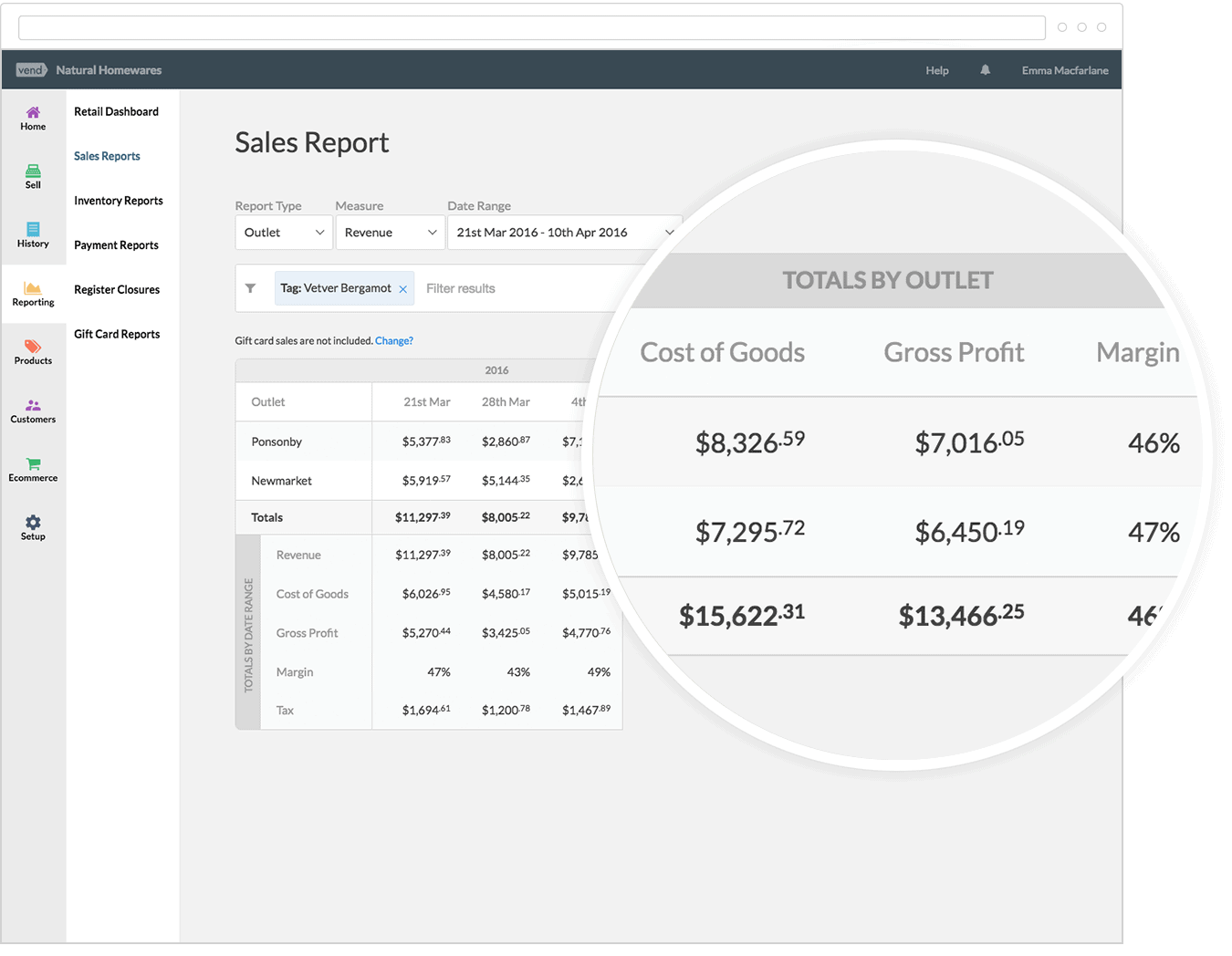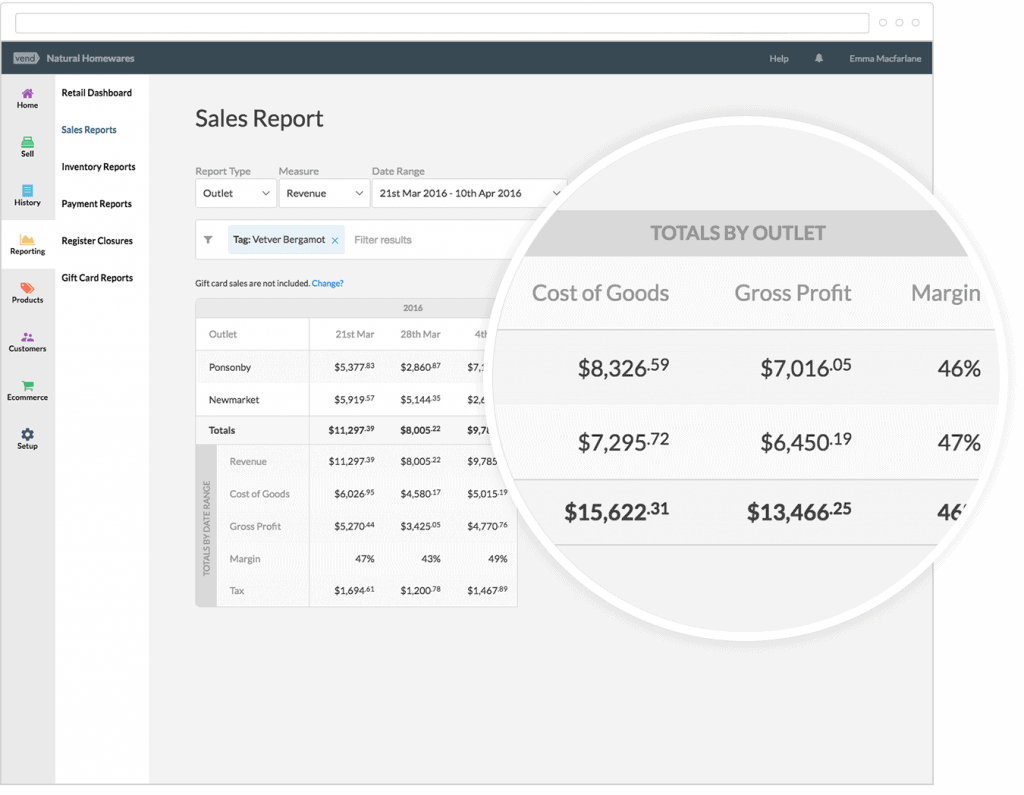 Retail managers use POS software to monitor retail transactions and analyze sales. They can easily collect inventory data such as volume, amount, or frequency.
Customer relations are facilitated through gathering this type of information and the way you use it.
Great insight can be gained by studying the sales patterns and intent of your audience.
The best retail POS systems will allow you to report on a variety of metrics to help you make better decisions in real-time.
You can set up reports to run on weekly, monthly, quarterly, or yearly intervals, then compare your numbers accordingly.
Integrations
To deliver maximum efficiency, POS software integrates with ERP and inventory management solutions. This means you can easily exchange data on products.
This type of program also integrates a variety of retail solutions, like:
Customer relationship management tools.
Supply chain and logistics
Accounting and finance
Employee management
E-commerce platforms
And more…
You don't want to abandon any processes that are currently working for you. Thus, it's important to find a retail POS that accepts your apps for seamless integration.
Features You Should Look Out For In Retail POS Systems
Ease of use: Systems should be intuitive and responsive to the user.
Price: What is the monthly fee? Cost of hardware and processing per sale?
Payment processing: Is it a third-party merchant or built-in? The fee for processing a transaction is almost always a percentage of the transaction amount plus a flat fee.
Reporting and analytics: The program should provide data on people, products, inventory, pricing, location, returns, cancellations, etc…
Customer support: How often are they available? In what format?
Relationship management: You should be able to create customer profiles and retain data like loyalty programs and email campaigns.
Integrations: The software should accommodate a variety of popular apps, from marketing to bookkeeping. It's also a plus if the system integrates with an e-commerce app to build your online presence.
Secure data: Limited access and functionality to protect sensitive data like customer information and credit card numbers.
Inventory management: All retail POS systems should have some aspect of managing your inventory. The programs are designed to alert you when levels are low.
Employee management: Have your people clock in and out straight from the POS system. Scheduling, management opportunities, and user permissions are all ways to utilize a POS system for retail.
Retail POS mobility: To help your retail employees be as mobile as possible in your business, consider switching to a handheld retail POS system. This can be used in addition to your desktop POS system.
Traditional POS Systems Vs. Cash Registers
A point-of-sale (POS) system is ideal for retail businesses that need to oversee all types of transactions, payments, and other operations under an all-in-one solution, in the form of a computer system.
Cash registers are better suited for retailers with a small operation that just need to collect cash and check payments. However, cash registers don't provide you with the ability to manage inventory, manage employees, create purchase orders, manage customer data, and many more features that POS systems offer.
Honorable Mentions
Ready to Employ a Retail POS System In Your Business?
The best retail POS system will help your business manage inventory, schedule employees, ring up sales faster and create purchase orders. Ideally, the right retail software will produce detailed reports that will help you improve your operation and increase revenue.
If your goal is to cut waiting lines, offer secure payment methods, a point-of-sale solution can certainly help. All this should be done with keeping customer loyalty in mind. We hope that our review of the top 10 retail POS systems has helped you make an informed decision.
As a business owner or retail manager, what's most important to you in a POS system?