(Last Updated On: October 19, 2021)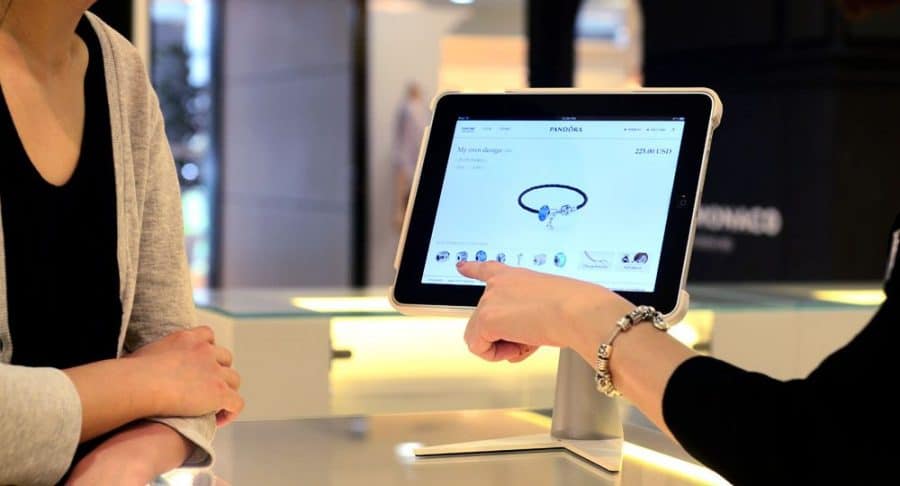 To be successful with your jewelry store, attention to detail is crucial. From catering to customers who are looking for an engagement ring, a birthday or graduation gift, to making every transaction a memorable experience, your daily tasks can become quite substantial.
To deal with orders, inventory management, your suppliers, and other tasks around the business, you need reliable jewelry store software. By using such software, you can create customer profiles, tag your inventory, and sell your jewelry online by integrating your eCommerce store with your physical location.
After reviewing various software solutions, I believe Lightspeed Retail is the best jewelry store POS system for any-size shop. With Lightspeed, you can easily import stock from your supplier, manage your in-store and online inventory, view quantity on hand, and accept layaways or special orders. More than that, Lightspeed's POS system places heavy emphasis on your marketing, bringing in new clients to your store.  
Whether you sell fine jewelry or minimalist wear, you want to get a system that can be easy to use and fast to train your employees on. The most important factor during the checkout process is making sure it is fast and seamless.
Finally, you want to make sure your POS system has full reporting capabilities to track your best-sellers and worst-performing products. Tracking your sales and expenses can be meaningful to your bottom line at the end of the month or quarter.
To check out the jewelry POS systems that can help you automate tasks like accounting, employee management, your stock, payments, and much more, let's dive into the actual system reviews.


Lightspeed Retail is a platform-agnostic point of sale solution which can easily be accessed at any place, any time. It is a server-based retail management solution that allows jewelry store owners to unify their stock, manage clients, process every transaction, and dig deep into their business's analytics.
With Lightspeed Retail, your jewelry store can accept various forms of payment. You won't have to buy additional hardware elsewhere, as Lightspeed's team will get you all setup. Lightspeed's retail division offers a variety of features that are a perfect fit for a jewelry store.
Some features include complete inventory tracking and management, apps to offer better customer service, and detailed reports. Those features also can serve well as part of Wholesale POS system or as Furniture Store POS.
Top 5 Jewelry Point of Sale Systems
| Jewelry Store POS Systems | Price | Features | Customer Support | Hardware & Software Requirments |
| --- | --- | --- | --- | --- |
| | $99- $289/month (basic or advanced bundle) | Free software updates, Customer relationship management, Takes all kinds of payments, Loyalty program | Email and phone support during business hours | Works with 3rd generation iPads and up. Peripheral bundles sold separately. |
| | Quote-Based | Salesperson Tracking, Advanced Reporting, Gift Cards, Automatic Notifications | Email and phone support during business hours | Designed to work with modern PC's or laptops. A server will be provided if you're running multiple registers. Barcode scanners, touchscreens, cash drawers, and receipt printers available. |
| | $69/month per register | Additional registers, Unlimited stores, User accounts, E-commerce, Advanced reporting, Gift cards | 24/7 email customer support + priority phone support for premium users | Works with nearly any device. Extra hardware sold separately. |
| | $79 per month per terminal | Quickbooks integration, Real time inventory, Customer management, Multi-store functionality, Flexible ordering | 24/7 customer support available through phone, email, chat | Works best with an iPad device |
| | $9-$79 (depending on the plan you choose) | Sync your physical and online stores & use one dashboard for all operations | 24/7 customer support available through phone, email, chat | Works best with your iPad device and Shopify app |


Lightspeed Retail presents a fantastic mix of affordability, ease of use, value, and features. This makes their POS solution quite unique to jewelry store owners. As Lightspeed offers an ideal solution for various retail establishments, features like item import, analytics, real-time data are just some reasons to consider this vendor.
The multi-store capability from Lightspeed ensures the inventory is synced across all of your locations. By using hardware like an iPad, your employees can walk around the store with the customer, check inventory from any location, and offer better customer service. If your jewelry sells inventory online, Lightspeed has the ability to integrate your website with the POS system by using an extension.
Visually get a grip on your stock with the easy to read menu. Lightspeed Retail's menu displays big icons so you can operate the software easier. Lightspeed claims that they serve more than 30,000 stores in over 50 countries, and over 1,000 jewelry stores use their software. With a network of licensed resellers worldwide, Lightspeed is always improving their product.
With seriously fast checkout and payment options, this jewelry POS is worth the praise. Also, easily schedule repairs and track the progress of each order. Manage all of your inventory from one dashboard, take orders from customers and place orders with suppliers.
Solid Customer Service
Lightspeed also has one of the best customer service ratings in the industry. With customer service available 24 hours a day, 7 days a week, you can rest assured any issues you have with your POS system will be resolved.
Additionally, Lightspeed has customer service representatives that can come to your business and help fix any issue you have. This level of escalation will probably on take place in the event live chat couldn't solve your problem.
---
POS Software Made for Jewelry Stores: The Edge

The EDGE software has been a popular system among jewelers for a long time. Recently, the system was upgraded to a full-scale POS system. The system is a robust jewelry store point of sale solution with the many specific (only to the jewelry industry) features.
The biggest strength of the system is its ability to utilize powerful management tools, which are powered by quality data.
Salesperson Tracking
Every profitable jewelry store wants to track their sales associates. The POS system helps you generate top salesperson of the week or month report. In addition, the system helps the store manager to split the sale for commission purposes.
Advanced Customer Information
This POS system lets the sales associate enter notes and specific information about the customer. For example, the salesperson is able to choose whether the sale is being made to the primary customer, their spouse, or list them both as a couple. In addition, the salesperson is able to set up notes on the customer.
This important information will automatically pop-up to alert your staff.
Wishlists & Giftcards
The system lets the shop owner or the shop manager manage gift card redemption and gift card programs. Manage wishlists for customers allowing them to add things to their own list or view someone else's.
Trade-Ins
The system lets the salesperson enter trade-in information. Furthermore, the jewelry store manager or owner is able to process trade-ins directly through POS. In other words, the system will automatically add the piece to inventory.
Layaways
The jeweler is able to easily place items on layaway and more importantly manage deposits, payments and final pick up of the layaway items.  Many jewelry stores (especially the small to mid-size) shy away from layaways due to the time-consuming record keeping.
Nowadays, with a robust Point of Sale system, the small jewelers can capture the layaway customers market.
Automatic Notification
Hunting down customers by making phone calls is a thing of the past. The perfect jewelry POS system has automatic notifications.  That feature lets the jeweler send a TXT message or an email, to let the customer know when their special order is ready.
Integration with ERP (Enterprise Resource Planning)
ERP system helps eliminate the repetitive tasks such as reordering of inventory.  By integrating your jewelry POS with ERP system you could save time and money by automatically reordering popular jewelry pieces.  For many jewelers that are family with the EDGE software, upgrading is no brainer.
However, for those stores that never use EDGE, we highly recommend the system, for the smaller jewelry stores. Similarly, it can be used as a Gift Store POS.
POS System for Jewelry Store with Solid Features: Vend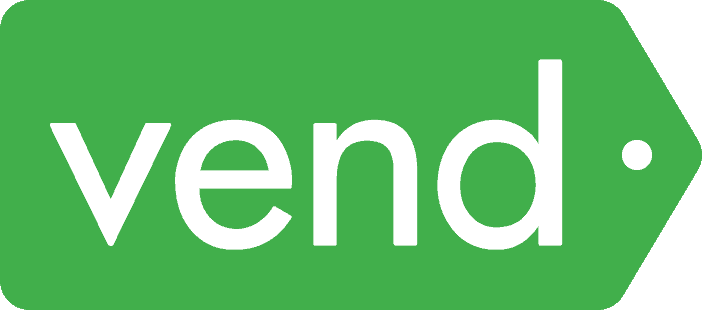 It wouldn't be an exaggeration to declare that Vend is one of the easiest POS systems to understand. This makes it a better option for jewelry store owners who are just getting started in this business.
The company was founded in 2010, and has been improving and growing ever since. We found Vend to be quite affordable and packed with features specific to retail operations.
Vend believes that your POS system should operate as beautiful as your products are. As Vend is cloud-based software, it is aimed at jewelry stores that want to be stylish. Some features that Vend offers include customer profiles, unlimited stores, user accounts, additional registers, advanced reporting. Also, multi-outlet options, e-commerce options, gift card compatibility, and more.
Vend is also known as one the best jewelry inventory software choices on the market. Stock management is quite easy with this system. You can add, remove or edit multiple products in just minutes, or import your current inventory in one click. If needed, you can order new stock, take inventory, and continue tracking this inventory across one or multiple stores.
Customer Service & Educational Classes

Vend also provides users with excellent customer service. Each customer service representative at Vend has a strong background in retail, helping them meet your needs.
Vend also provides you with an opportunity to better yourself so you can succeed with your business. This begins with Vend U, which offers you thousands of educational classes for you and your staff. You can also access their online forums and speak with other business owners. This personal touch can allow you to grow your business in ways you never expected.
This is a jewelry POS software which can really grow with the businessperson. Vend is easy to use, affordable, and one of the better options for individuals in the jewelry business.
Best iPad POS System for Jewelry Stores: Revel Systems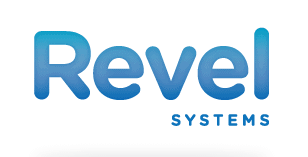 This is a cloud-based business platform, which integrates customer channels and operations with POS functionality in one dashboard. Revel Systems is suitable for jewelry stores of various sizes, offering features like integrated customer management, inventory management, and social media management.
This point-of-sale system provides data analytics application, which tracks order history, hourly sales, payment and sales summaries, and product mix. This data is presented in the POS in the form of graphs and detailed reports. Other features of this POS software include gift card management, loyalty programs, barcode support and mobile ordering.
Jewelry store managers or owners can easily control user access with distinctive passwords, user IDs, and swipe cards. Revel's inventory management tools connect e-commerce and in-store channels, so inventory data is presented in real-time. CRM features allow its users to capture order history and customer data.
Customer Service, Support & Education
While it is last on our least, Revel Systems is still a solid choice and offers superb customer service. They provide live chat and 24/7 over-the-phone service. However, like Vend, Revel offers an opportunity to grow yourself as a business owner, through Revel University.
This provides you with an incredible line-up of video courses. These video courses are arranged by type of business and by the strategy you may want to learn.
Unlike VendU, Revel University is not just focused on helping you learn how to manage the POS system. Revel University allows you and your employees to master any skills relating to your place of business. This is an incredible resource for you and your employees.
This POS is really great as it offers real support to its users through live chat, training videos, and over the phone. It is also integrated with third-party partners such as QuickBooks and Apple Pay.
Get A Quote from Revel Systems
---
Jewelry POS Software That Grows With Your Business: Shopify

Shopify is a perfect choice for physical stores. Whether you're selling necklaces, bracelets, or rings, Shopify changes the game when it comes to interacting with your customers. While their POS system is not specifically designed for jewelry stores, it is highly compatible and can be completely adjusted to your operation's needs.
When you have a POS system that syncs with your devices, your customers can comfortably walk around your jewelry store and browse inventory.  When they eventually decide on a purchase, you can simply hand the iPad over to them so they can swipe their card and sign. Shopify's app will even print the receipt for your customer.
Complete & Integrated POS
With Shopify, you never have to worry about syncing your digital and physical store. Your customers and orders that come in will sync accurately.  If someone orders online, you'll be able to see the order come through your POS system. Whether they use the layaway option or simply buy it just to pick up in-store, you'll be in the know. Of course, you'll need the right hardware to make all of this happen.
Such hardware may include printers, cash registers, barcode scanners, and more. Shopify will also provide you with a card reader if you don't already have one. While Shopify has their own merchant processing capabilities, they can certainly work with your current processor. Adjust your payment methods and options like debit, split or partial payments, and more.
One Dashboard for All Operations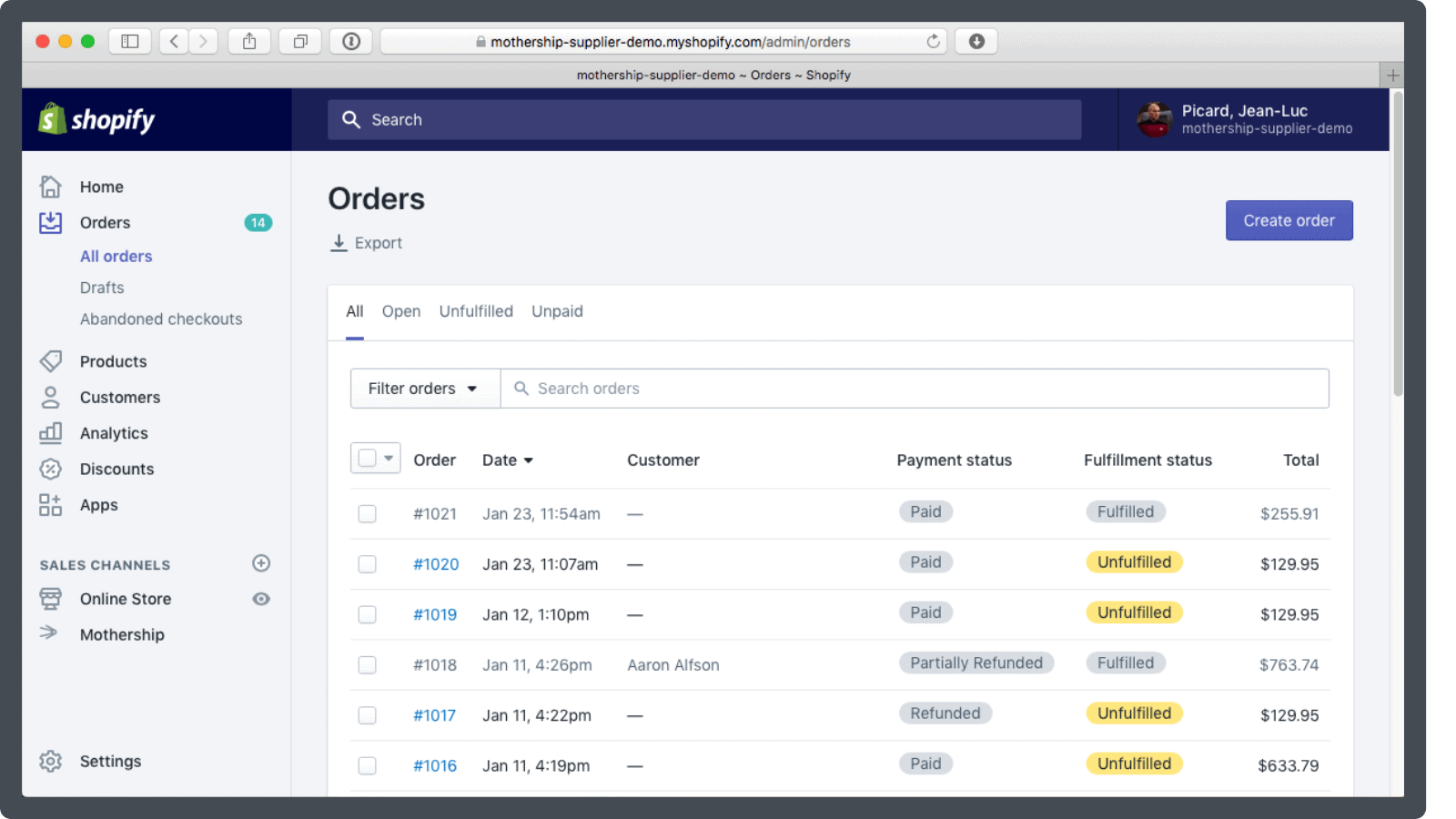 Manage your retail stores and your e-commerce store, all in one place. Track all customer sales and your online sales in one central location. View detailed reporting about each transaction and other important analytics. For example, you can pull a report about the busiest time of the day and what items sell more. This will help you decide which items you need to restock and which aren't selling so well.
By knowing what's working in your business, you'll be able to fundamentally improve the retail experience of your customers.
Shopify POS Pricing
While the Shopify app is free to download, you can only access the features if you have an active Shopify account. Shopify offers just three straightforward plans: Shopify Lite ($9/month), Basic Shopify ($29/month), and Shopify ($79/month). The only difference between the different plans is whether or not you get support, sales reports, and integration for your online store.
Top Reasons to Get a POS System for Your Jewelry Store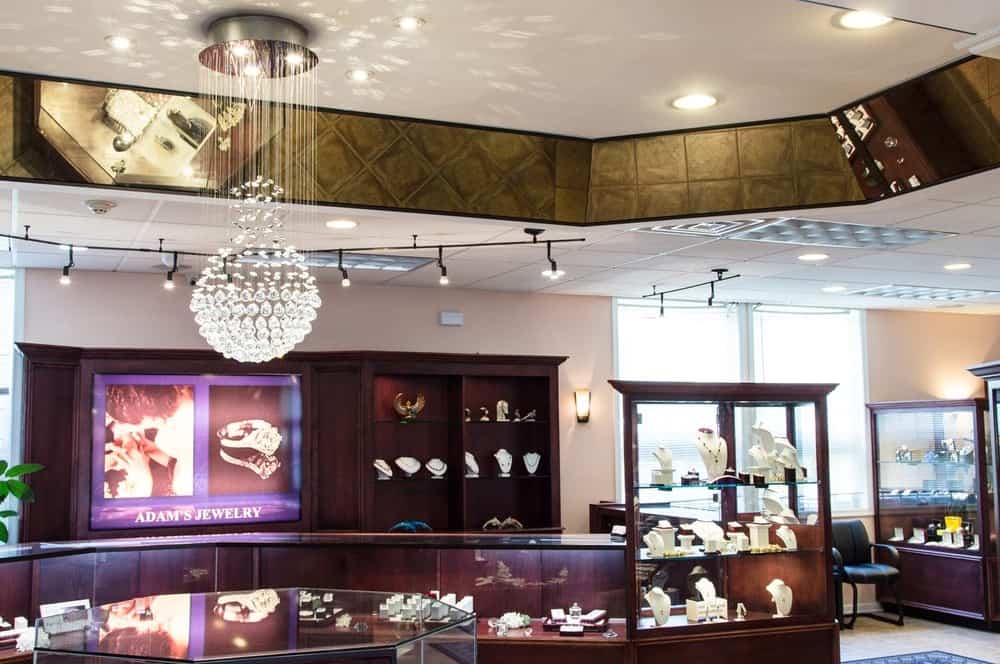 Jewelry stores are thought of as high-end establishments. With this assumption in mind, many customers will come to expect nothing but the best service. Be able to meet this expectation with the help of one of these jewelry store point of sale systems.
If you don't have one, you're definitely missing out on essential features like inventory control and high-level reporting. With the right system, you could be expanding your operations, improving your customer service, and cutting costs.
If you're still not sure why a POS system can be essential for your business, read further.
Accurate Sales Tracking
If you don't have a POS system, then you are left at the mercy of paper records, or even worse at your memory to determine how much you have sold and how many are left in your inventory. Once you have installed a POS system means that all your sales, be it consignment items, charge accounts, custom orders, standard or layaways transactions, are accurately recorded and stored to be used for future analysis.
Better Inventory Control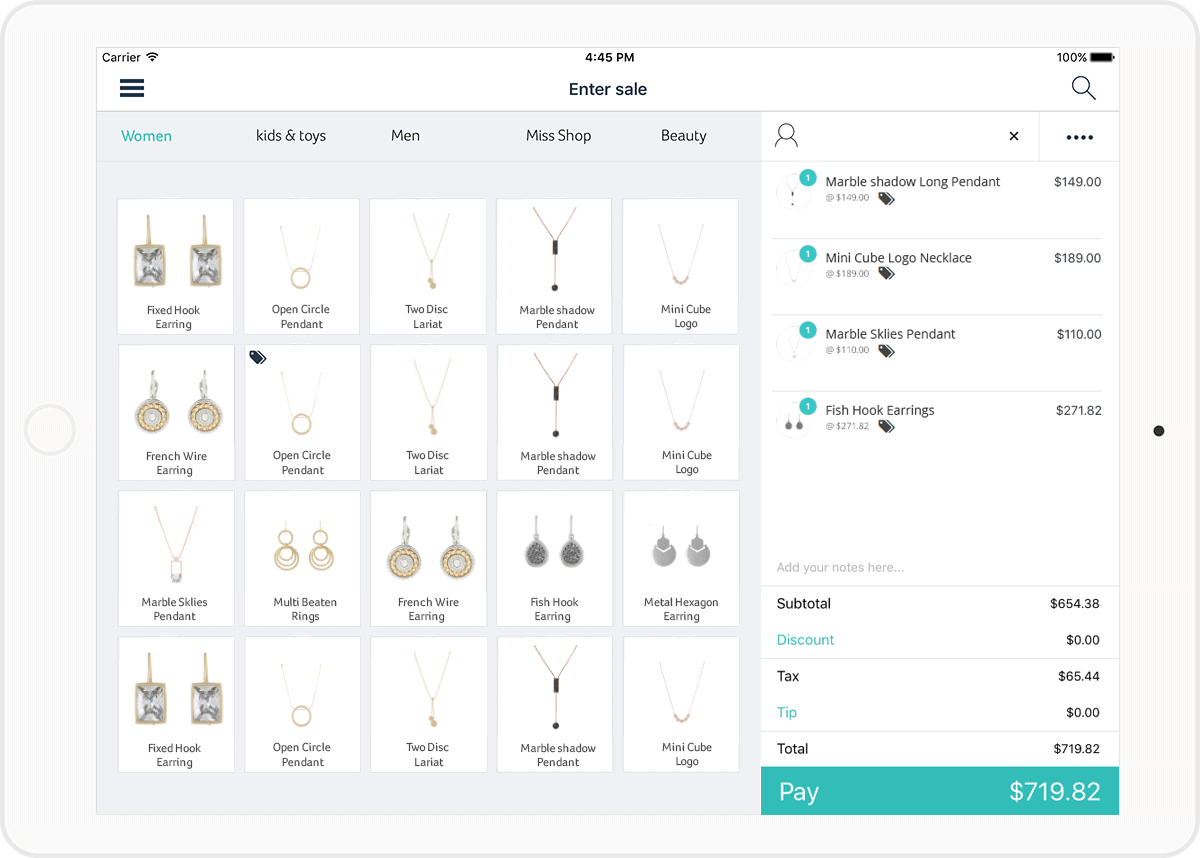 Managing the inventory for a jewelry store can be a highly stressful position. If even one item is not accounted for, it could potentially cost thousands of dollars to replace. That is why you need a solid jewelry POS system.
With the help of point of sale software, you can ensure that your inventory is all accounted for. Each interface tracks precisely what is shown to clients, what is sold, and what is returned.  The interface will also inform you of which item sets sell best and which items aren't a hot sell. You will also be able to order new inventory right from the same screen.
Easily Handling of Markdowns and Discounts
Most clients love bargaining, and there is no anything like a good sale to draw customers through your doors. Research has shown that when you mark your product on the floor at thirty percent, it rings up that way. If you do not have a good POS software, there is a probability you will miss a markdown. This can leave your consumers disgruntled.
When you have a point-of-sale system, what is required to be done is entering the discount and the SKU. Everything else is taken care of, and your clients will receive the discounts they deserve.
In fact, one can even program the point-of-sale software to offer customers special discounts for a given period. This allows the user to run frequent specials and sales. In turn, you will encourage on-time consumers and drawing in more consumers to become loyal shoppers.
Valuable Reporting
Running a jewelry store is thought of as a lucrative business. Your books may or may not reflect this assumption. There is one thing you can be sure of; your POS solution will ensure your books are easy to read. Such interface will also display visual graphics that show you exactly how much revenue is coming in for the day, month, or quarter.
You will be given insights as to what you have in stock, what is selling, and more. Vend's interface, for example, is extremely clear with presenting the data at hand.
Employee Management
Nothing helps business more than enthusiastic employees. With the right software, you will be able to track employees' sales. With this capability in mind, it is easy to set goals for employees. You will be able to reward your employees for meeting and exceeding sales expectations. Conversely, you can see if any staff member is falling behind on their sales quota.
If you see this happening, an early course correction can set them straight. POS systems will also aid in simple tasks like scheduling staff. Scheduling your employees will become an effortless process.
Better Tracking of Promotions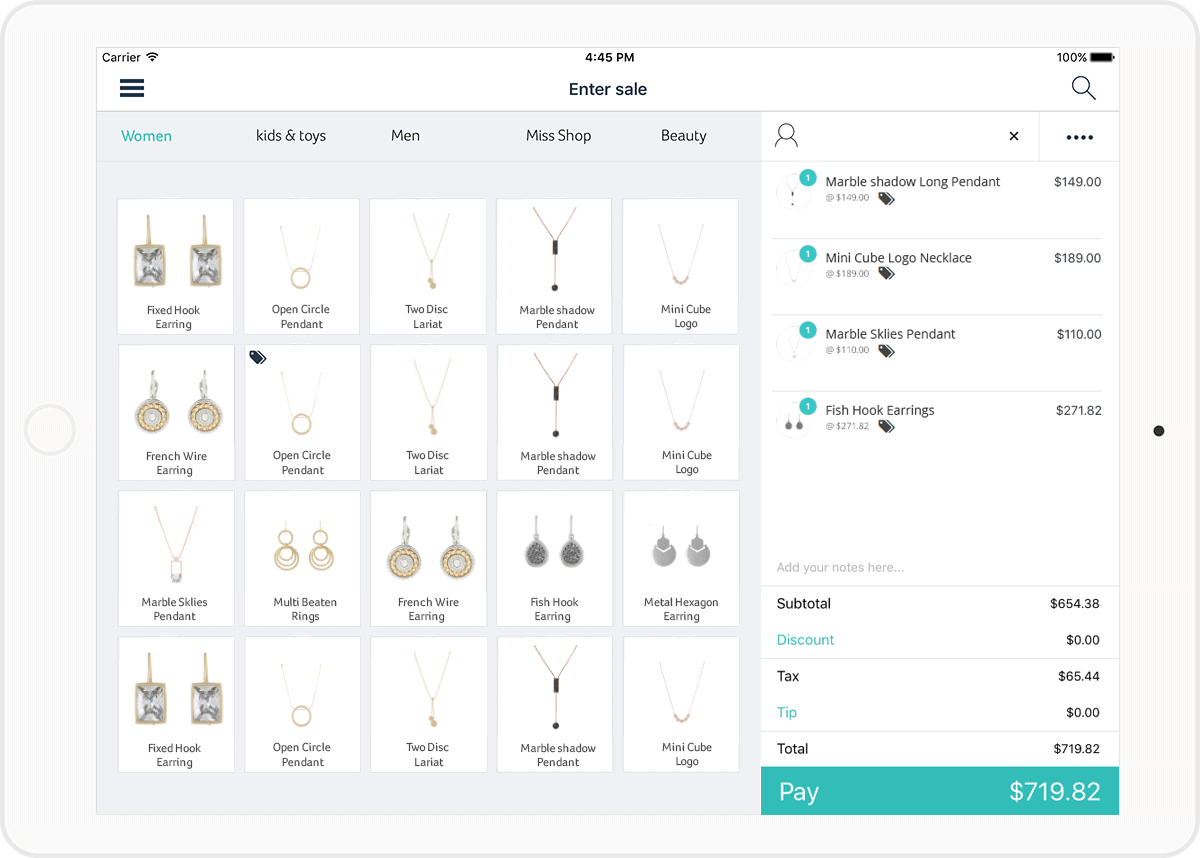 Placing coupons and running advertisements using paid media is still a good way to attract new clients. However, without a reliable POS software, your sales team will require to enter each coupon manually. They will also have to keep track of every applicable discount. In return, this turns out to be time-consuming, and entering of manual data is prone to error.
An ideal POS software automates the whole process and reduces the probability of keying errors. With a POS system, your employee will have the ability to scan coupons or promotions. At the same time, you will be able to find out how many items your promotion was used. With a system, you'll be able to run one-time campaigns. These promotions could be customer appreciation days, sidewalk sales, as well as other special events.
Jewelry POS systems give their users the ability to categorize and organize all their pieces. Owners can know the materials used to create the jewels, if they belong to a collection, their price, and more.
Repair Scheduling
Scheduling repairs can be a time-consuming process. Luckily, with any of the jewelry POS systems mentioned above, this process becomes timely and organized. Lightspeed Retail, for example, allows you to set a comprehensive calendar with all scheduled repairs. You will be able to edit and cancel reservations at the click of a button.
You will be able to give your customer real-time updates on the status of their repair. Manage your customers' expectations by tracking what stage of the repair process the item is currently in. These real-time updates will place your customer service above that of your competition.
Multi-Store Capability

Running multiple stores is a challenging feat all on its own. This daunting task becomes a manageable one with the right tools. A program like Lightspeed will allow for multi-store control. You can manage several different locations' inventory right from your home base. Have the ability to purchase new inventory for all your stores in one easy process.
With no more than the click of a button, you can transfer goods from one location to another. With this feature, you can accommodate your customers and optimize your sales.
The Bottom Line
In order to succeed in any business, you have to be organized, fast, and work smarter. This task is no different for the owners of a jewelry store. One of these is to manage and run your jewelry business the right way. As you've read above, there are various reasons you should employ the use of a POS system.
And, if you believe your jewelry store can't afford a POS system, then think again. In the current market and with rising competition, you simply can't afford to stay behind. A point of sale system can make all the difference between making it or not.