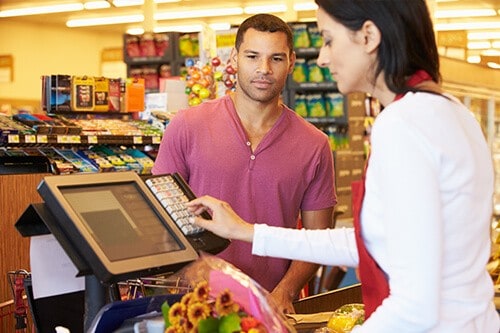 When shopping for a POS system, most grocers only think about a network-connected register and software that cashiers use during the checkout process.
In reality, the right grocery store POS system is the difference between running a clunky, inefficient operation to running a streamlined small business where profit margins are powered by marketing insights based on your actual customers.
As soon as you integrate a good POS system into your grocery store, every aspect of your business will be covered by systematic reports.
Information like who bought what and when, and who rung them up becomes just a few clicks away.
We reviewed the top three grocery and supermarket POS systems to help you find the solution that best fits your needs.  
Top 5 Grocery Store POS Systems
Get FREE POS System Quotes
POS Nation: Plenty of Features & Fast Checkout Functionality

POS Nation has helped more than 7,500 merchants with its range of POS solutions since it was founded in 2001. Users can choose from among several ways of implementing it, including Cloud/SaaS/Web, Mac installed, Windows installed, Android Native mobile, and iOS Native mobile.
Besides choosing which installation is best for your business, users appreciate how they can run their store like a big box, but without acting like one. Whether it's the core capabilities any POS should include or the vertical-specific features needed by specialty markets and grocers, POS Nation is a solution you should include on your short-list of options.
Hot Keys with Pictures
One of the keys to grocery and market success is rapid checkout. Instead of your cashiers trying to remember the PLUs for all your produce, quickly navigate through hot keys to find a picture of the appropriate product.
Inventory Control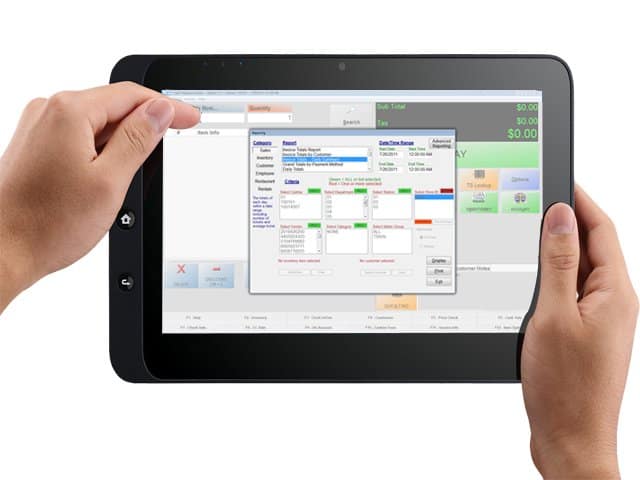 You can track and manage dozens, hundreds, or even thousands of products, POS Nation keeps you informed as to what's in stock at all times.
Accept Coupons
With POS Nation you can easily accept manufacturer coupons or create your own coupon to attract new customers with all the exciting offers you can dream up.
Track Customer Loyalty
Take advantage of increasing business by rewarding your customers for frequent visits and purchases with an integrated customer loyalty program.
Mix & Match Pricing
You can create an infinite number of product groupings with special pricing to increase sales and move your inventory in ways your customers will love.
Scale Integration
Easily ring up weighed items by integrating standalone scales, scanner scales, and deli scales as needed by your business to keep the checkout process humming along quickly and efficiently.
Sales Reports and Analysis
Instantly see which products drive sales and profitability with 50+ built-in reports, and build reports by department to see where improvements can be made.
CRM and Loyalty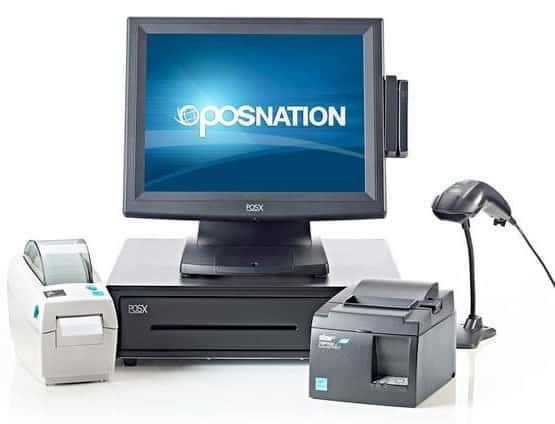 Having customer information and histories at your fingertips is essential to catering to their needs, as well as having built-in loyal program features.
Transactions and Payments
Accept EBT, debit, and credit cards, or expand to all types of payments for added customer convenience.
Hardware
Basic hardware included in any plan includes a Touch PC, MSR, Receipt Printer, Cash Drawer, Scanner, and Chip Card Reader.
Pricing
POS Nation can be purchased in three different ways: Paying on a monthly basis bundling software and hardware together for $119/month (requires separate agreement with Worldpay processing for payments); paying up-front for the basic hardware bundle of $1,249 and then paying $69/month for the software; or owning both the software and hardware up-front at a cost of $1,999. There are substantial add-ons and hardware items for an additional cost, including premium support, a QuickBooks integration, and so on.
IT Retail: Plenty of Features & Fast Checkout Functionality

IT Retail has supplied tens of thousands of stores in 130 countries around the world with outstanding POS systems for a number of verticals, including retail, hospitality, pharmacies and gas station or convenience store combinations.
IT Retail is actually most appropriate for grocery stores and some supermarkets. It's a tough business to be in given that competition is always fierce, and the margins are small. But IT Retail's POS helps you in maximizing product availability, minimizing costs, and increasing checkout speed.
Take Control of Your Stock
Inventory management and stock control can take up a lot of time if you don't have a POS solution that automates as much of the process as possible. One area where time and resources can be saved is through automatic replenishment of standard stock.
Another is inventory management through wireless technology and electronic shelf labels that make employees more mobile and productive. Getting the detailed view you need of what sells will help you optimize your product mix to drive sales and satisfy your customers.
Checkout Speed and Flexibility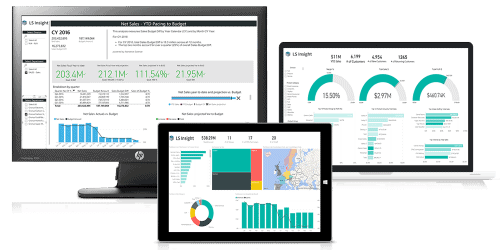 Every POS terminal in your store will have a copy of the full database on it, which allows for greater checkout speed. You also have the option to add self-checkout terminals. This is an important time management feature for the retail manager.
A Mobile App for Your Customers
The IT Retail mobile app can be made available to your store's customers. They can use it to create shopping lists, and you can push electronic coupons, customized offers and special promotions directly to their mobile phones to increase store visits.
Hardware
The company website says nothing about hardware at all, which feels a little odd. It is strongly recommended that you speak directly with the company about what types of hardware can work with the POS.
Most Flexible Grocery Store POS Software: Epos Now


This award-winning retail system offers the most flexible and feature-rich grocery POS system on the market. It is s accessible from virtually anywhere, so you can monitor your business and compile reports in real-time, no matter where you are.
And for grocers who are looking to upgrade their current system, Epos Now offers the most streamlined migration process we've seen — it will automatically export products and stock and customer data from your previous POS system to your new Epos database.
Epos Now's POS module includes barcode and credit card scanners, electronic scale integration and a staff time clock. It provides grocery store managers with the ability to discount items or void transactions, and carry out customer age verification. In addition, comes standard with an inventory application that helps to manage purchase orders, the supplier database, and more.
Top Features from Epos Now
Versatile Use

The system works in both online and offline mode, so you don't have to close your grocery store in the event you lose Internet connectivity.
Epos Now caches all sales information and uploads it in the cloud as soon as your grocery store gets back online. Through the web-based back office, users can add or edit product names and descriptions, access the app store, or run promotions.
Third-party Software Support
The system can be used independently,  or connect with hundreds of applications, including online ordering platforms, payment systems, CRM, and accounting systems. Reporting is super easy via a customizable dashboard that gives you an instant overview of your store across all of your devices and locations.
You can access real-time reports on sales, products and employees' performance anytime anywhere and from any device. With the custom dashboards, users can access key information quickly without having to re-run individual reports.
Accept All Bank Cards With Epos Now

Thanks to Epos Now's global network of merchant partners, the system accepts virtually all credit and debit cards. If you are worried about misuse, you can limit some employees' access to till functions such as making refunds or discounts.
Your employees clock in and out directly from the front office, making it easy for you to manage payroll and working hours. The functions "Blind Cashing Up" and "Petty Cash Recording" guarantee your till's maximum security.
Last but not least, you can allocate pin numbers to your staff and hide sensitive information like profit margins.
Customizable Promotions
Epos Now makes it easy for grocery store managers to set up, launch and manage various promotions like meal deals, happy hours, or buy-one-get-one-free, etc. The powerful online booking system is shared over your entire network.
Thus, Epos Now is perfect for service-based businesses that need to manage hundreds of appointments across different locations. This POS system also allows you to design custom receipts with images for your store, launch special offers, and track the purchase histories of returning customers.
Full Stock Control

Epos Now users have full visibility into their inventory because the system automatically eliminates unnecessary supplies. With Epos Now it becomes simple to monitor waste and shrinkage while making sure you always have your best-selling products in stock.
Moreover, the system automatically raises purchase orders and manages inter-location stock transfers with ease. As a result, the whole stock ordering process becomes a breeze.
Loyalty Program
The grocery store managers who have integrated Epos Now can add customers quickly as they make purchases, invoice them, give them credit, and gather essential marketing information like phone numbers and email addresses. The system's loyalty program also enables grocery store owners to issue branded loyalty cards that give their customers reward points for every purchase. They can use these reward points to buy lots of cool stuff at great discounts.
Epos Now's comprehensive employee reports enable grocery store managers or owners to identify the best- and worst-performing staff. This is a great feature, because it enables you to see who of your employees make the highest number of sales and who of them need further training.
Potential Disadvantages
Epos Now is the only one of our top picks that features 24/7 customer service, but based on our testing–and plenty of customer reviews online–the service is pretty spotty. Depending on your location, it can be difficult to get someone on the phone who knows what they're talking about. In the same vein, the online instructional material is lightweight and oversimplified, at best.
POS System for Small Grocery Store: Comcash ERP

Comcash ERP is a cloud-based retail management solution that's specifically designed for multi-channel and multi-location retailers. Its proprietary POS module features multi-touch capabilities and makes it possible for users to navigate the system's menu similarly to that of an iPad.
This system support lots of third-party hardware, including scanners, payment terminals, attached printers, and scales, but it's important to remember that the software only runs on Windows hardware. This POS system connects to the cloud in real time, but it can also run locally, in case your grocery store suddenly loses connectivity. It seems like it supports EBT just like Plexid POS.
Top Features from Comcash ERP
Easy, Smart Tracking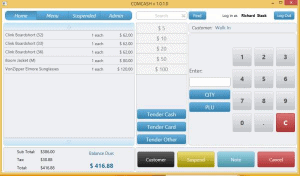 Comcash's inventory management function supports multiple measuring units. Thus, you can precisely locate a particular item in each stock location. The customer handling feature allows grocery store managers to collect some basic information about their customers.
The POS software is optimized for fast checkout, so products are scanned, products selected from a menu, and payments processed as quickly as possible. More complex operations are an option as well, including customer management and acceptance of multiple payments over time on held orders.
Customer Relations
Customers can easily register on your grocery store's website: After sign up, the system automatically emails a link so that they can manage their profile. On top of that, there's an iOS app for customers who use Apple devices.
Intuitive Operation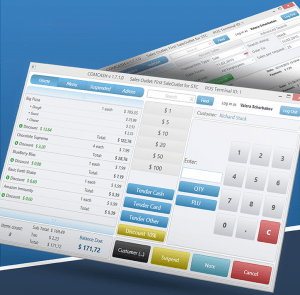 The POS homepage requires minimal operations to scan products and take payments. A quick report will highlight all items that lack barcodes, and you can switch between image and text view of the items depending on the product. It's also possible to mount the POS tablet on top of the scale.
Supports All Payment Types
Grocery store customers expect your POS system to support NFC, EMV and other modern payment methods. Comcash supports a wide range of modern payment methods, including the two mentioned above.
Potential Disadvantages
Some users have stated the system is not fully intuitive when it comes to setting it up for the first time. You may have to buy a Windows tablet, because the company works with Windows hardware. In addition, some small grocery stores might not find the price point affordable.
Get FREE POS System Quotes
Best Cloud-Based Grocery Store POS: QuickBooks


QuickBooks has a long reputation for serving the small business owner, and its POS is no exception. In addition to being a fully-featured POS system, it automatically syncs with the QuickBooks accounting software (if you have a license)–it's a great fit for small grocery stores.
QuickBooks POS provides standard point of sale features such as inventory management and payments and returns processing. This allows users to monitor items that are close to selling out, keep track of inventory, and place orders for items that need to be supplied. The system also helps users leverage purchase history and purchase habits for custom marketing initiatives by saving customers' data.
Top Features from Quickbooks
Ring Sales With A Barcode Scanner
You can use the optional barcode scanner Microsoft Surface® Pro 4,2 to ring sales. It's also possible to enter item names or numbers manually, add discounts and collect customer information for marketing purposes.
Smart Grocery Store Inventory Management
With QuickBooks POS you can update your inventory with every transaction. This gives you insight into what's selling well and what's not generating that much profit. You'll see what your most popular products are, what items need to be reordered, and what items you simply don't need. Shipping is also super simple thanks to Intuit's Shipping Manager module.
Track And Reward customers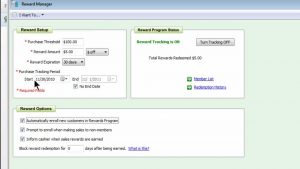 This affordable, easy-to-use system can do wonders for marketing. You can look at customer records like credit availability, the balance owed, loyalty program status, etc on your screen whenever you make a sale. When you process a sale, accept a payment, or update your inventory, QuickBooks automatically updates your books. Thus, the system saves you a lot of time and efforts.
Works With Microsoft Surface® Pro4
QuickBooks works with Microsoft Surface® Pro 4 tablets, which saves a lot of counter space and offers the flexibility of processing sales and checking inventory within the grocery store. Credit card and debit card payments are fully integrated with your inventory and cash register.
Flexible Rates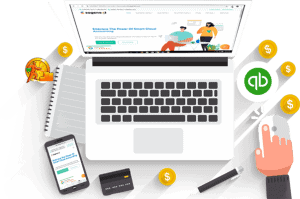 The "Flexible Rate" option is one of this POS system best features. QuickBooks' pricing tiers are easy to understand, and you can quickly choose the one that best fits your grocery store. Moreover, you do not have to sign a long-term contract with QuickBooks.
Yet, you with it you can accept payments via Visa, MasterCard, Discover, American Express, as well as all debit cards. There are no installment or termination fees either. You can control costs incurred, set up vendors, and manage invites. By creating customized purchase orders, you practically put purchase orders on autopilot.
With QuickBooks POS It is possible to pay multiple bills and vendors at the same time, create custom access to the system for office managers, sales reps, and other employees and partners. Employees clock in and out and their working hours that are easy to track.
Manual entry becomes a thing of the past. You can track individual working times for faster invoicing and payroll. QuickBooks Online will then automatically update your books.
Free Mobile App
The system comes with a free mobile app, with which you can meet all payroll deadlines, even if you are not in the office.
Potential Disadvantages
Customer service and updates are not free. We recommend adding your own customized fields.
How To Choose The Right Grocery POS System Software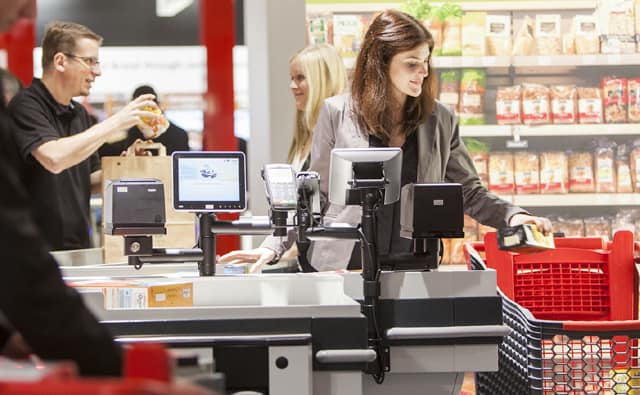 All three of our favorite retail POS systems for grocery stores cover the basics: a cloud-based, cost-effective system with intuitive features and versatile payment management. But which one is perfect for your business? Here are a few tips to help you weigh your options.
Remember That Intelligent Reporting Matters
Tracking your inventory isn't enough. To have the edge, you need smart software that helps you identify trends and opportunities about your payroll costs, returned items, customer preferences, and more.
Quickly analyzing this data in charts and graphs that make sense isn't just crucial; it's actually pretty easy with the right tools. When you're shopping, don't hesitate to call a sales representative and have them walk you through the reporting process. Ask for examples, tutorials, and any other educational material they can provide to you.
Consider A Self-Service Station
In the not too distant past, self-service stations could only be found in larger chain supermarkets. Not anymore.
In fact, according to a 2018 Business Store Software study by SOTI, consumers prefer self-service technology instead of interacting with a retail sales associate. Specifically, it revealed that 66 percent of shoppers preferred using self-checkout technology. On top of that, 77 percent of shoppers stated they would be comfortable in a store where self-checkout technology was the only option.
Benefits of Self-Service Stations
Show to promote increased spending

Reduces customer checkout wait time

Reduces staff workload
These stations aren't always cost-effective and they might not be right for you. But if you struggle with staffing, or want to provide another level of service to your customers, definitely consider installing one.
Always Request A Demo
Requesting a demo is a sure-fire way to make sure that the system you're looking at meets the needs of your business. Whether it's an on-site demo or the products are shipped to you, takes notes regarding the transaction times, user interface, and simplicity of the third-party software (soruce).
Important Grocery POS Features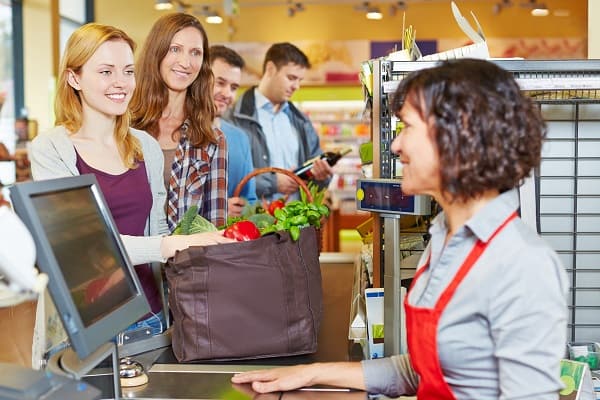 If you run a grocery store, chances are you are constantly checking out and ringing up multiple items at a time. So a high power POS system that contains both good hardware and software is clearly what you should be looking for.
From scaling software to high-tech barcode scanners, a POS system for your grocery store should be a bit different than any typical system that a gas station or other type of retailer may have or need.
Grocery store purchases are usually made in "bulk", or with multiple items purchased at a time, so a system that doesn't crash or glitch easily is a priority, so the software for your system would be just as important as the much-needed hardware and it's accessories.
Hardware
A simple POS system usually has varied options for its hardware and attributed accessories. POS systems are either locally installed or cloud-based. However, even cloud-based systems require hardware like cash registers or tablets for various types of transactions. For premium security and an easier check out time, a desktop or PC setup is best for your grocery store. Obviously, this type of hardware can store (and protect) information and important data much more easily.
The storage that comes with a desktop POS system is undoubtedly the most standard, so they are perfect for grocery store check-outs. Aside from the simple hardware setup, there are other important factors that you should take into consideration with your POS system. Card Readers are another important part of your POS hardware.
Thousands of purchases are made daily with the use of a credit or debit card, rather than older cash and check options, so a good card reader, also known as a "terminal" is a highly essential component. Barcode scanners are also typical with POS hardware or setups, while they aren't technically a part of the system, they are an important component that goes with the hardware.
Security
As with a gas station, restaurant, or other places of business with a POS system, security is a top priority. The security level of your POS system relies more or so on the software, rather than the hardware of the system. Precious data stemming from consumers credit cards and bank information is charged and located into the system on a daily basis, so a simple security breach could wreak havoc on your consumers and your store.
Security breaches occur when hackers use a monitoring or reading device to skim through the data located in a POS system, where easy access to important data is now compromised. Different security boxes, along with programs are an essential step for the best security concerning your POS system.
Different Pay Methods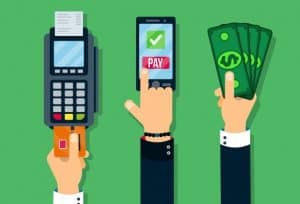 Not only must your POS system be able to read credit card purchases and have an efficiently working cash drawer, but it should also be able to take coupons and other offers into account.
Due to special deals and the large inventories that grocery stores usually have. Larger or standard purchases could come with a discount or a "BOGO" offer, could cause some confusion or issues if your POS system cannot read these purchases. A simple interface with a high-quality POS system should make this process easy and efficient.
Your POS software is what would really indicate how easy it is to check out items with coupons and other alternative methods.
Cloud-based POS systems are pretty much common nowadays, and while a cloud-based software could help with initial storage, it could also help scan and recognize items much easier, both helping to recognize coupons and to help different inventory necessities. A simple internet connection is really all you need for a cloud-based or connected POS system.
Easy User Interface
A great user interface that pairs with a POS system should include easy inventory management, supreme organization, and easy access to information that may be necessary for different purchases/requests. Great inventory management with your POS system offers easy access to price checks on specific items, and even the ability to see if an item is currently stocked.
In contrast, an easy and up to date interface (that may require an Internet connection) makes things easier for the employee, and the consumer. The interface should be simple enough to find things by typing in either the full name or a part of the name.
The Bottom Line
With any of our top three choices, you'll have access to extensive features that will help you manage your grocery store and employees. Cashiers using these grocery store POS systems will sign in under their own names to use the register, and any manager can access the transaction history of a register to quickly find the info they need.
Grocery store point of sale systems are becoming increasingly common as owners and managers realize the big benefits that they have to offer–they're much more versatile than a simple cash register, and they provide valuable marketing insights based on customer data.
We hope you've found this article helpful. Please check out our related review of the best POS systems for convenience stores.