(Last Updated On: January 20, 2022)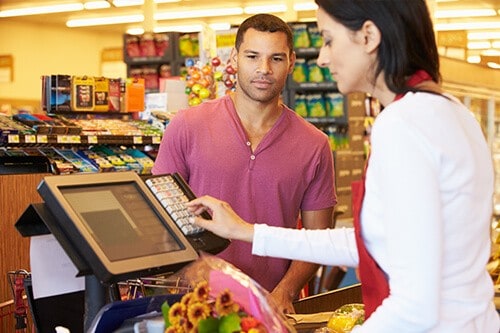 In such a competitive industry with large chain supermarkets taking market share, grocery stores need an advantage. To keep up, dish out your old cash register and get a POS system to truly increase your revenue, auto certain tasks, and increase the speed of the checkout process.
With the average grocery store margin at just 2.2% respectively, you can't afford to get things wrong. For starters, by using grocery store software you can create buttons and hotkeys for items that sell more often and save time when ringing up a customer. With a POS system, you can apply discounts quickly and keep customers coming back to your store.
Want to skip the whole debate? After personally testing various POS systems, I believe IT Retail is by far the best grocery store POS system. This is because they built their software to have grocery-store specific features like the low-inventory alert and delivery or pickup integration for eCommerce. Finally, you can train your employees on using the software in just minutes.
Don't have time to call your supplier? Use your POS system to make purchase orders in seconds. Also, manage your employees and generate sales reports right from the system. To keep customers coming back, use your POS to initiate a rewards program that gives customers a percentage or dollar amount off for every purchase.
Finally, consider getting hardware like scales and barcode scanners. But to truly determine if you need this type of hardware and other software features for your store, let's examine the top grocery store POS systems.

Our Top 6 Software Picks
IT Retail: Best Overall Grocery Store POS
POS Nation: Best All-in-One POS Solution for Grocers
Clover: Best Grocery Store Solution for Customer Management
eHopper: Best POS System for Small Grocery Stores
Square Retail: Best System for Inventory Management
Epos Now: Best Value for the Money
Comparison of The Best Grocery Store POS Systems
| POS System | Starting Software Cost | Mobile Access | Our Score |
| --- | --- | --- | --- |
| | $79 / month | ✔ | 5 / 5 |
| | $99 / month | ✔ | 4.8 / 5 |
| | Not specified | ✔ | 4.6 / 5 |
| | $0 / month | ✔ | 4.3 / 5 |
| | $0 / month | ✔ | 4.2 / 5 |
| | $39 / month | ✔ | 4.0 / 5 |

1. IT Retail: Best Overall Grocery Store POS Solution

IT Retail was built for grocery stores and is widely adored by its users. It delivers all the features and hardware options grocers need. It also offers superior customer support and operates with a customer-centric mindset. That's why customer satisfaction is incredibly high for IT Retail. Let's take a closer look at the top system on our list.
Line-Free Checkout
IT Retail partners with Future Proof, the leading mobile checkout solutions provider in the market to deliver line-free checkout. It's a seamless customer experience that leaves patrons delighted while saving grocery stores time and money.
How does it work? Download the mobile app and take it with you when heading into the store. As you shop, use the app to scan each item you put in your shopping cart. The app adds each item to your virtual shopping cart, much like shopping at an eCommerce store.
When you finish shopping, you navigate to the checkout screen on the app and pay with your preferred payment method. Then show the virtual receipt on your mobile device to a store associate on the way out and you're finished. You never wait in line.
This revolutionary approach to shopping at a brick-and-mortar store is likely to become the norm over the next 10 years. But IT Retail is way ahead of that curve.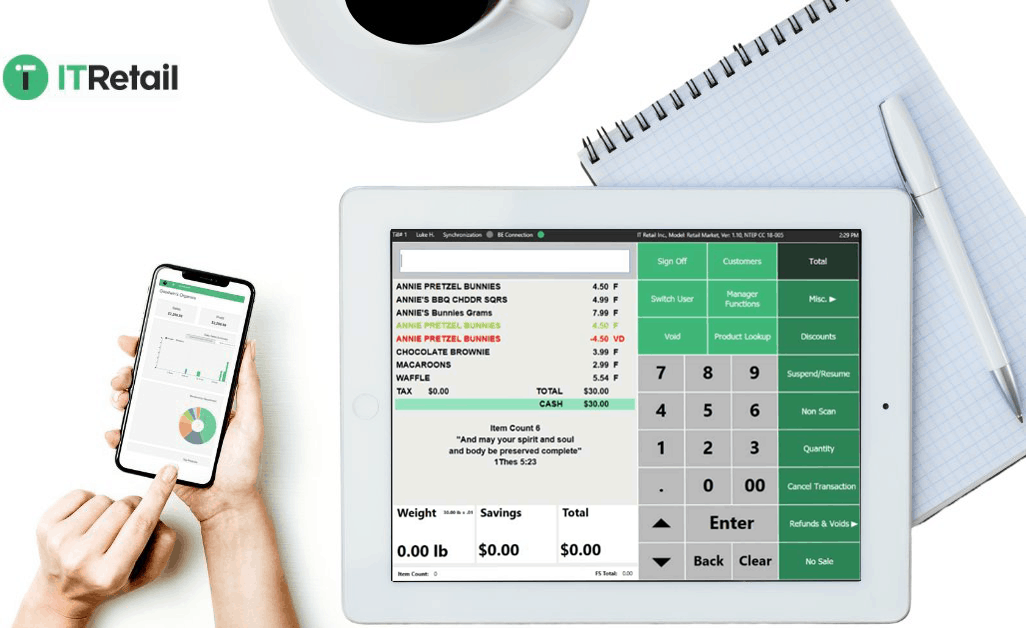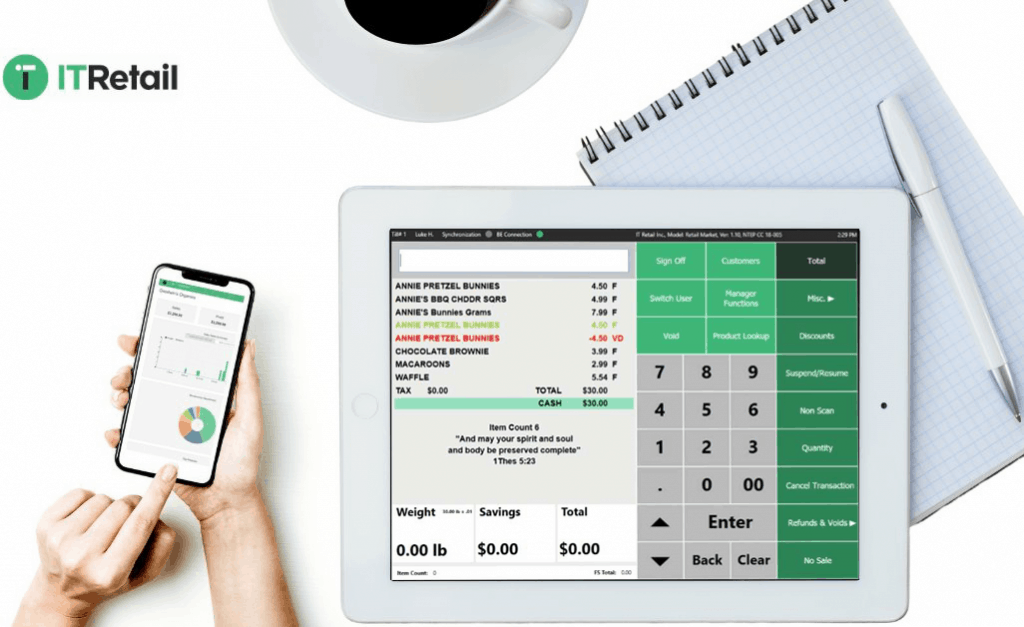 Self-Checkout Kiosks
IT Retail offers self-checkout kiosks that the company installs itself. These allow shoppers to ring themselves up rather than waiting in line for a store employee to check them out manually. These kiosks can switch between self-check and manual mode when needed.
Scanner & Scale Integration
IT Retail uses the latest in scanner and scale technology to deliver the ultimate checkout lane to your grocery store. It processes items at checkout faster than cashiers can manually.
By combining a scanner and scale into one hardware component, grocers must purchase one less hardware component. IT Retail's scanner/scale has a modern, sleek look and feel, leaving customers with a positive impression of your store.
Additional Value-Added Features
IT Retail delivers an incredibly feature-rich grocery store POS system. In addition to the standout features and hardware components above, including:
Powerful inventory management
Age restriction checking for alcohol and tobacco products
Employee management
Comprehensive back-office reporting
Customer loyalty
Discount and gift card management
Over 25 integrations with third-party applications
2. POS Nation: Best All-in-One Turnkey POS Solution for Grocers

POS Nation delivers a turnkey solution that streamlines operations for grocery stores and frees up time to focus more attention on the customer. Grocers can purchase the entire system as one packaged kit that includes POS hardware, software, and built-in payment processing.
Ease of Use
The system is remarkably easy to learn and use, making it perfect for rapidly bringing new employees up to speed. The intuitive interface guides users through screen navigation allowing them to complete transactions faster.
This saves time for customers, improving the customer experience. It also saves time for employees, who can then devote that time to providing personalized assistance to customers.
Customizable Hot Keys Menu
Items sold by weight such as fruits and vegetables have individual product look-up codes (PLUs). When a customer purchases one of these items, the store cashier often has to flip through a physical book to find that item's PLU and enter it into their POS system.
POS Nation eliminates the time involved in manually locating a product's PLU with its customizable hotkeys menu. It allows employees to locate the item on the POS terminal screen and click it to weigh and add the item to the customer's bill. This menu can be customized, and you can even add photos to the hotkeys, making PLU look-up even easier.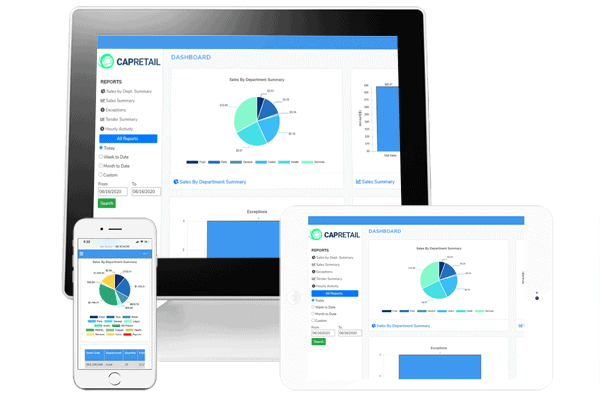 Cash Payment Discounts
Today, the majority of consumers in the US pay for purchases with credit or debit cards. This is convenient for customers, but processing digital payments incurs a fee grocery stores must pay for each transaction.
POS Nation includes a feature that lets cashiers subtract that extra cost from the order total for customers who pay with cash.
Customer ID Scanning
When a customer arrives at the checkout terminal with alcohol or tobacco products in their basket, employees must validate that customer is old enough to purchase that product.
Instead of having to manually inspect each ID, employees can simply scan the ID and the system automatically tells them if the customer is old enough to make that purchase. This shaves more time off the checkout process.
3. Clover: Best Grocery Store Solution for Customer Management


Clover is a comprehensive, all-in-one POS, payment processing, and business management solution. The company produces both software and hardware components, and also offers integrations with over 300 third-party applications.
With so many integration options, Cover is highly customizable, making it a good fit for any type of grocery store. But there's a lot more to Clover than customizability.
Customer Relationship Management
Clover features super robust customer relationship management (CRM) features that bring you closer to your customers and facilitate a better customer experience. These features allow you to form more personal, longer-lasting relationships with customers, which produces a recurring revenue stream.
Today's consumers increasingly expect a personalized experience when they shop and Clover gives them that. Key CRM features offered by Clover include:
Customer feedback channels to help you improve service
Promotions and special offer management
Customer loyalty and rewards programs
Individual customer profiles that compile data like purchase history, allowing employees to deliver an increasingly personalized experience.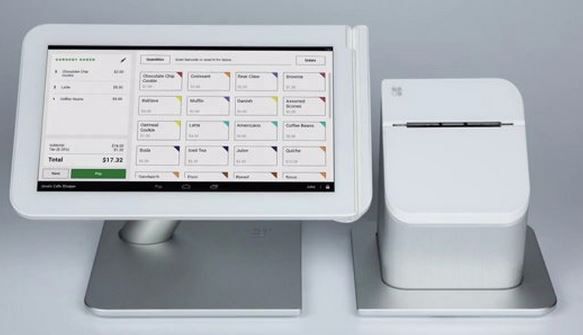 Reporting, Analytics, and Dashboards
Among the most important reporting capabilities, a grocery store POS system should include are inventory and sales reporting. Clover delivers on both fronts.
Intuitive, customizable dashboards display metrics and reports with at-a-glance views that let you grab the day's insight in moments and keep working. You can filter Clover's reports and view tracked metrics like your best-selling items, which lets you order more of the inventory that's generating revenue.
You can also maintain constant insight into sales trends, revenue generated per specified timeframe, and then drill down into those reports to see granular details that drive informed decision making.
Clover Hardware
Clover manufactures and sells its own POS hardware. This includes comprehensive Clover Station kits that can be customized to meet the needs of grocery stores of all types. You can outfit your system with POS scales (a must-have for grocery stores), card readers, cash registers, and an array of additional components to increase productivity and revenue generation for your grocery store.
4. eHopper: Best POS System for Growing Grocery Stores

eHopper, a well-known name in the POS industry, offers a free grocery store mobile POS system. The system was designed to streamline and simplify inventory management for grocers who carry large volumes of stock, increase productivity and employee velocity, and provide constant insight into performance results.
It's a feature-rich platform that offers a drilled down free version, making it a great choice for small, local grocery stores. As you grow your store, you can upgrade to a paid version and take advantage of additional, value-added features. The system can ultimately accommodate the needs of grocers of all sizes due to extensive scalability.
Seamless Device Integration
Many mobile POS systems only work on iPads and other iOS devices. Others only work on Android devices, although that's less common. However, smart businesses develop POS software that's "OS-agnostic," meaning it can be used on virtually any device with internet access. eHopper falls into the latter category.
The system can be used as a mobile app on Apple and Android devices. It can also be used as a software-as-a-service (SaaS) solution which you access on any app that has a web browser. This gives valuable flexibility to users who plan to use devices they already own. That, in turn, lowers costs for growing grocery stores.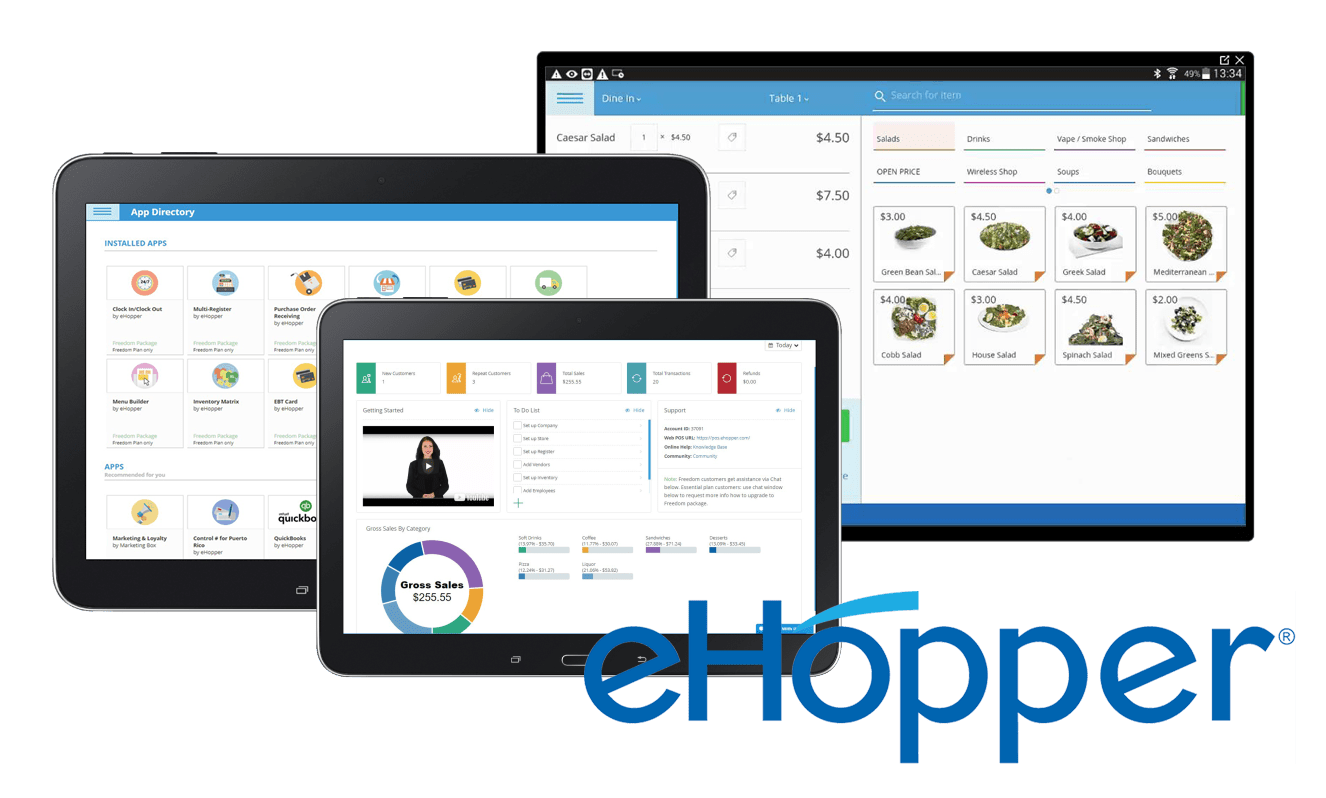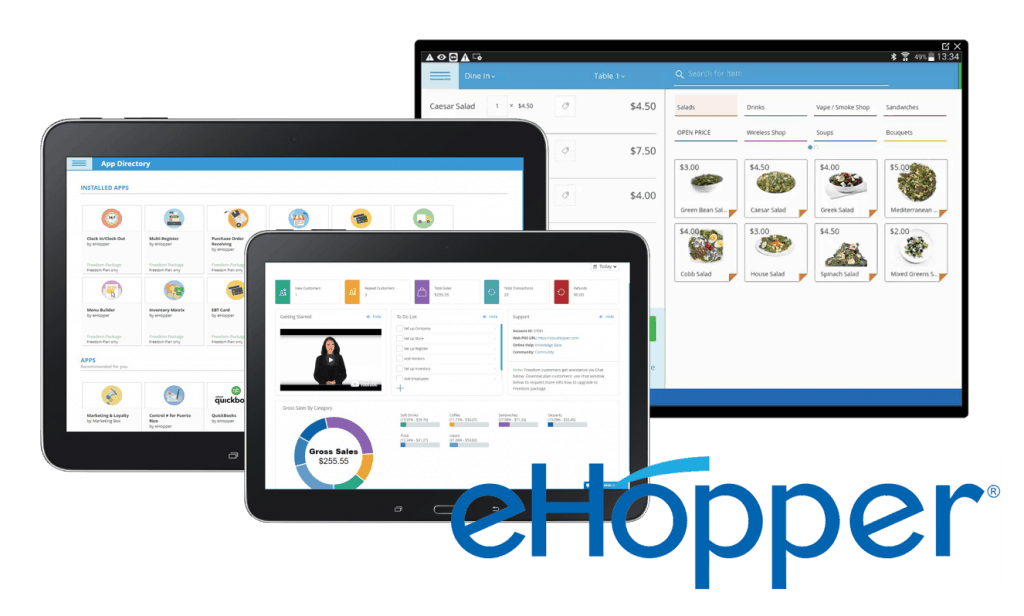 Scalable Inventory Management
While eHopper serves the needs of small grocery stores, it's often recognized for its capacity to manage extremely large inventory stocks. Comprehensive inventory reporting allows you to maintain insight into which items are selling and which should be removed from the shelf.
When items run low in your stock room, the system sends automated low stock notifications so you can order more. It also features automated purchase order receiving. However, unlike systems with more powerful inventory management features, it doesn't automatically send a new purchase order when stock runs low. That remains a manual process with eHopper.
One Important Drawback
Grocery stores need scales to weigh produce during the checkout process. So, a system that integrates with a POS checkout scale saves loads of time for the customer and your business. Unfortunately, eHopper doesn't allow for integration with POS scales.
Get A Quote from Square for Retail
5. Square Retail: Best System for Inventory Management


Square Retail is a newer version of Square's original point of sale system, which broke ground by becoming the first major, mainstream mobile POS system in the early 2010s. Today, over two million businesses worldwide use Square point of sale systems to manage business operations. Why is Square Retail a good option for grocery stores?
Increase Online Visibility
Square Retail helps grocery stores increase brand awareness by delivering a free website where customers can place delivery orders and process their payments. Users can brand this website with their branding and integrate it with their existing website.
When a customer places an order, Square Retail automatically subtracts the items orders from your grocery's inventory levels. In short, Square Retail increases your customer base and revenue by opening up a new channel through which to shop at your grocery store.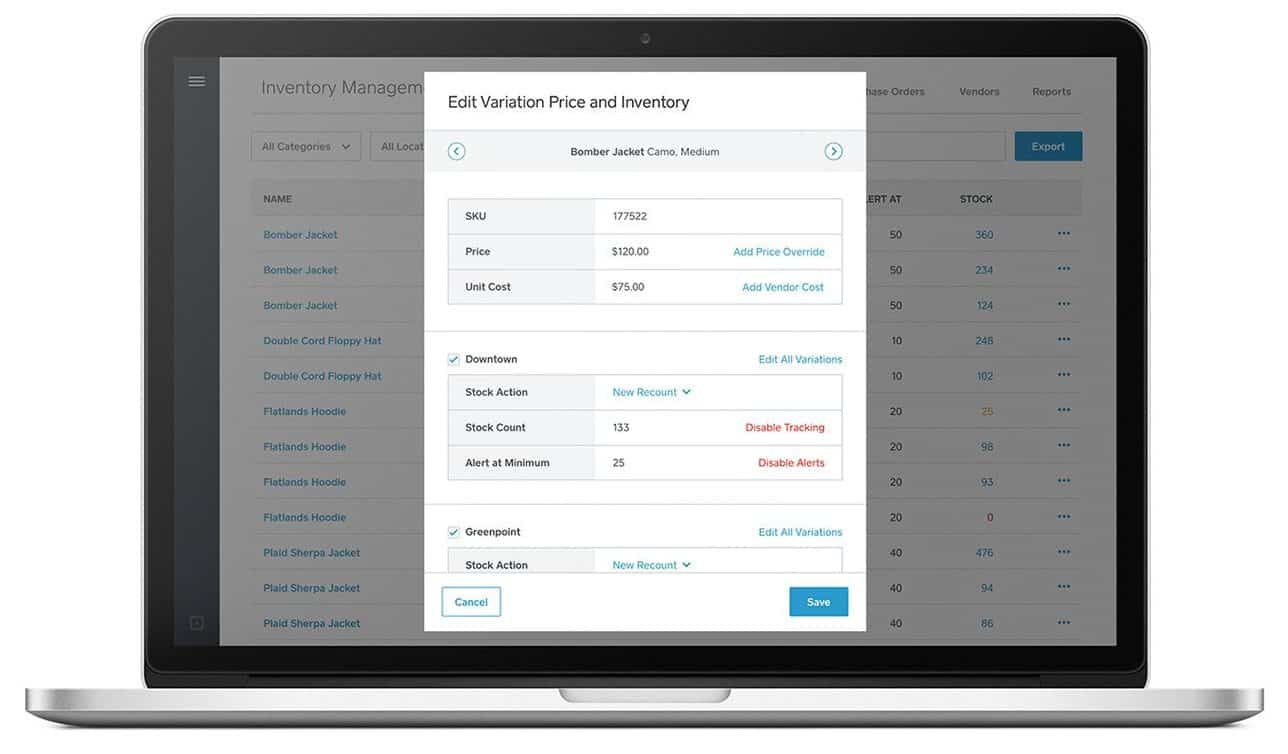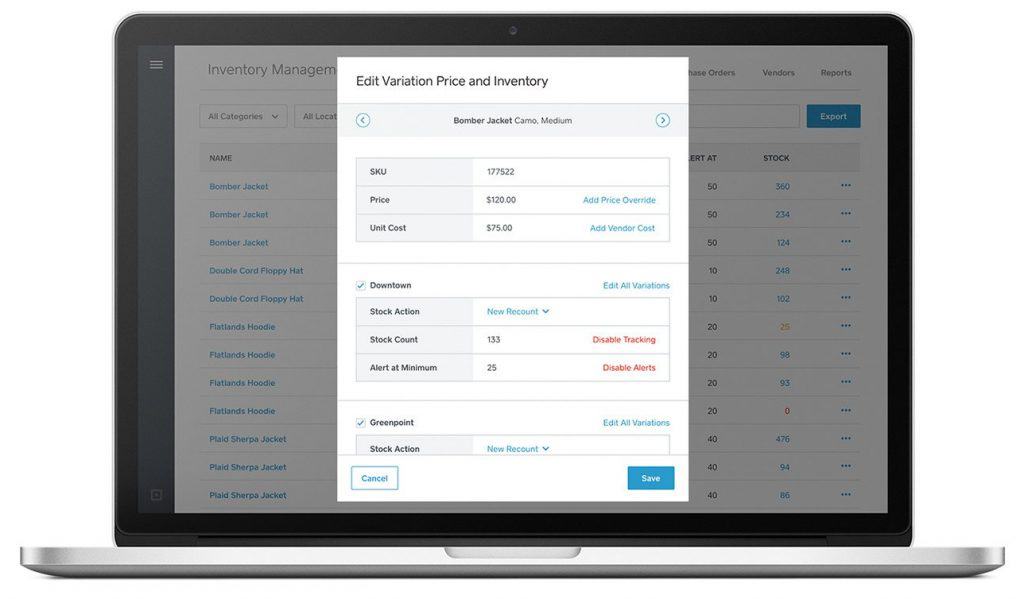 Inventory Management Made Simple
Square Retail offers inventory management features that are among the most intuitive and easy-to-use in the entire retail POS industry.
The system also features low stock notifications, automated inventory reporting, and automated inventory reports sent to your inbox weekly. Plus, since Square is a mobile POS system, grocery store managers can access inventory data from anywhere they have an internet signal, adding a layer of flexibility needed by grocery stores.
Additional Grocery Store Features
Square Retail offers many additional features that are great for grocery stores. These include:
Advanced marketing capabilities
Customer loyalty and gift card programs
Employee management
Payroll automation
Employee management
Customer relationship management
Powerful reporting and dashboards
And many more
Get A Quote from Square for Retail
6. Epos Now: Best Value for the Money


Epos Now is a solid retail POS system that meets the needs of grocery stores and improves the customer experience. The system helps you reduce operational costs, boost efficiency, and more easily grow your grocery store.
One of the best things about Epos Now is that it is a full business management solution, not just a simple POS system. It helps you manage and streamline every aspect of your grocery store. Let's dig in to see why and how.
Built-in Order Delivery Features
Today many grocery stores offer online shopping and delivery. Epos Now offers online ordering and delivery capabilities that expedite and streamline online shopping and the delivery of customer orders.
The system lets you sell your produce, meat, packaged goods, and more online, increasing your customer base and revenue generated. You can integrate Epos Now's online ordering functionality into your website for a seamless shopping experience.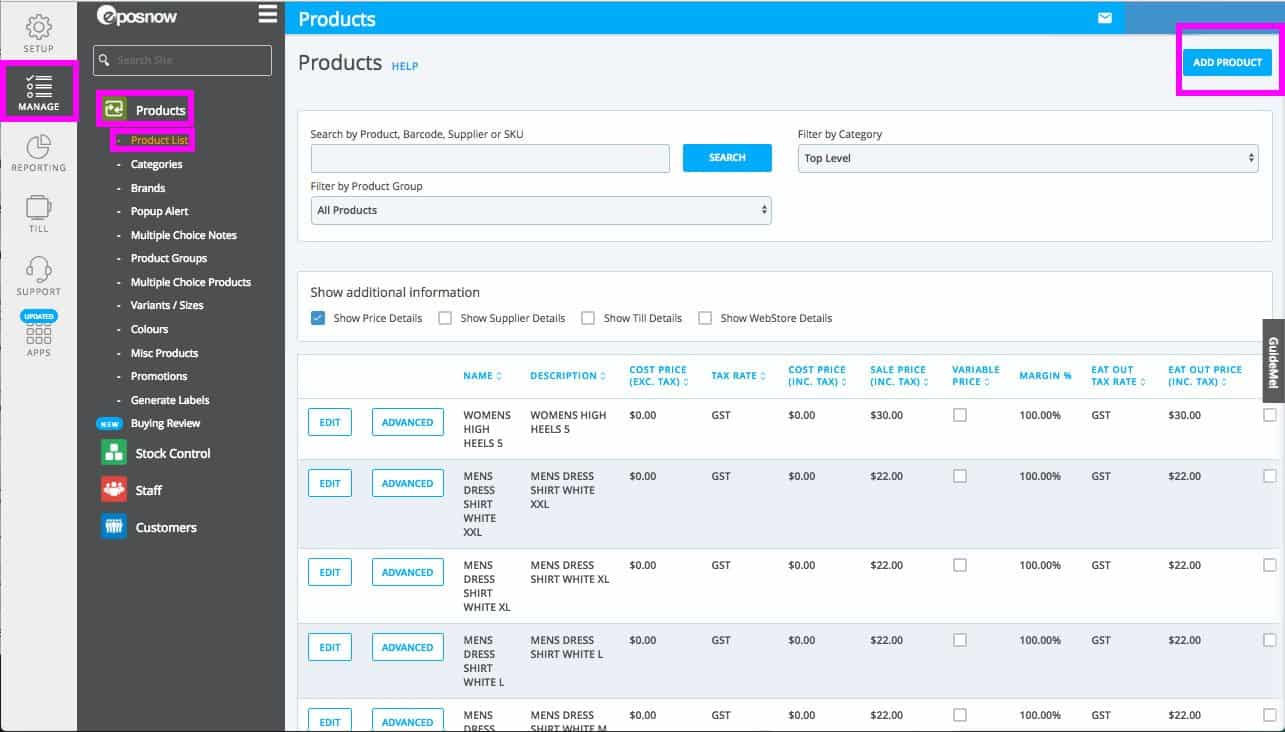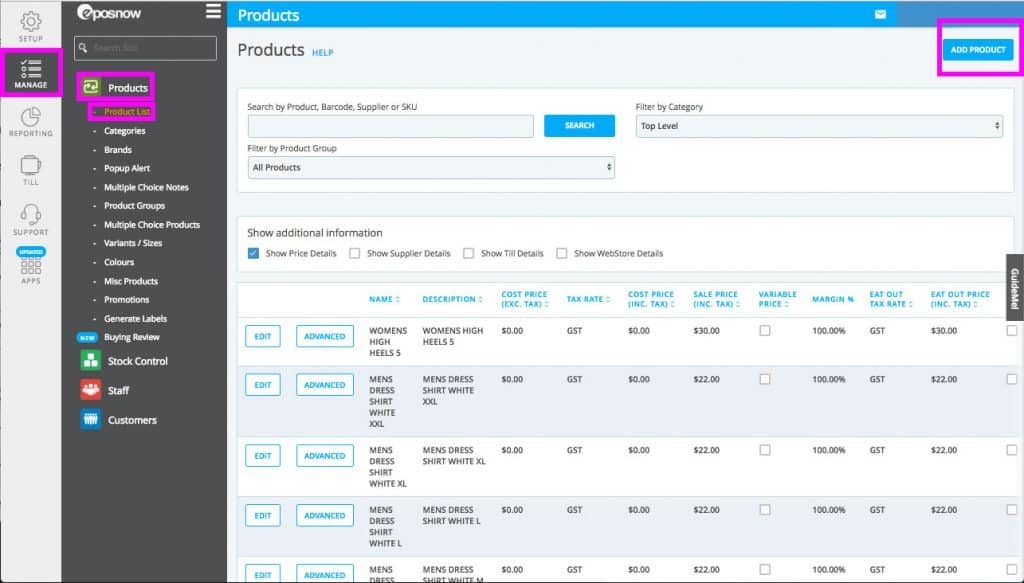 Multiple Payment Options
Shoppers at your grocery store will want to pay with every payment type imaginable. If you don't support the payment type a customer wants to use, you likely lose a sale. So, it's important to look for a system that gives customers the maximum amount of payment options possible.
Epos Now offers more payment options than most retail POS systems. These include contactless payments, Apple Pay, EVO, International Bancard, WorldPay, and all major credit cards.
ONE EXCEPTION: Unfortunately, the system doesn't accept Electronic Benefits Transfer (EBT) payments. This would prevent you from allowing customers on government assistance to shop at your grocery.
Employee Management Capabilities
Employee management capabilities are important to grocery stores because they often keep more employees on the payroll than most retail businesses.
eHopper makes employee management simple and easy with role-specific permissions, tracking of employee actions like taking inventory, and timeclock tracking. Plus, the system can be configured in different languages for employees that work better in their native language.
Buyer's Guide: What to Look for in a Grocery Store POS System
Grocery stores don't require that many industry-specific features. But the ones they do require are quite important. Plus, they need certain general retail POS features to maximize productivity and revenue generation.
It's also important to select the right POS hardware components to accompany your POS software. Below we cover features and hardware to give you a comprehensive view of what to look for as you evaluate systems.
Please keep in mind that grocery stores come in all shapes and sizes so some of the following might not align with your needs. Most, though, likely do.
Valuable POS Features
Here we cover the most important features to look for in a grocery store POS system. You can find many of them in generic retail POS systems.
Scale – Scanner Integration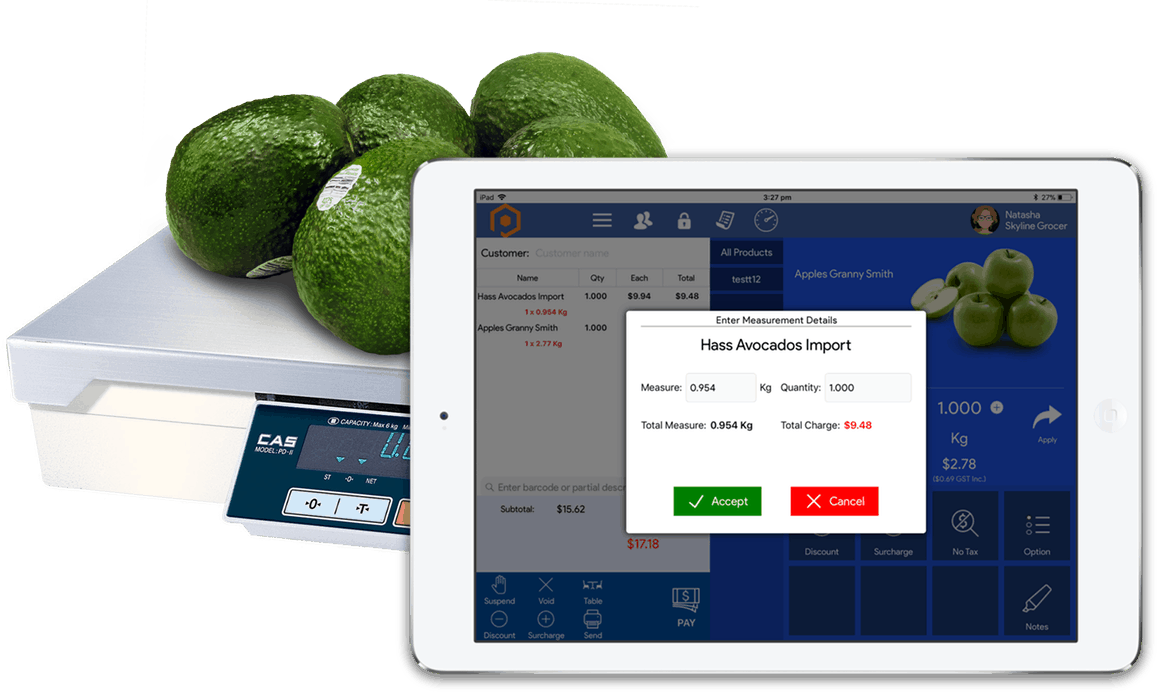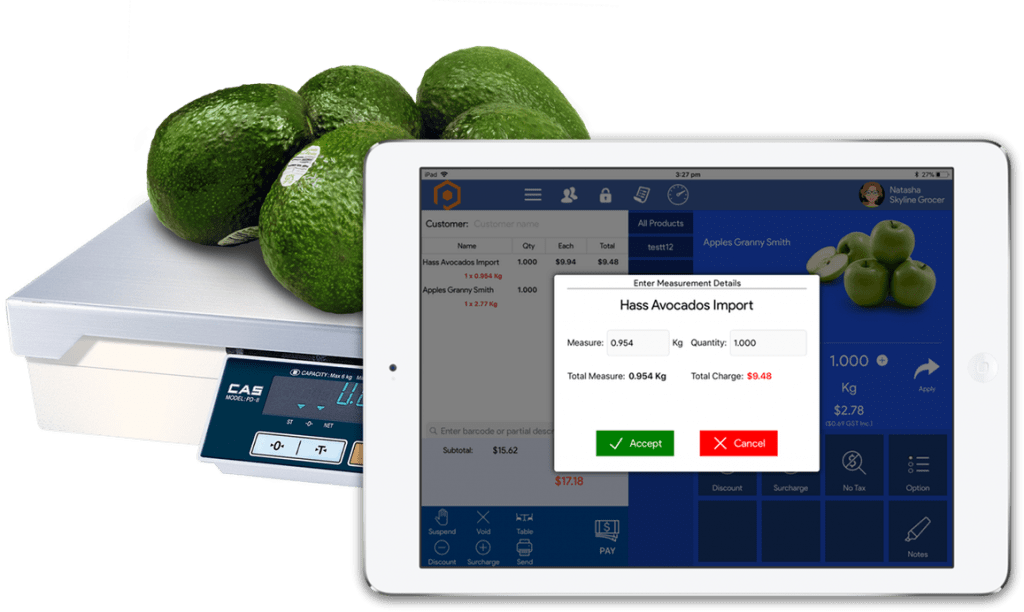 Grocery stores sell produce, meats, and other items by weight. This means you can't put a price tag on these items unless you sell them by the piece.
Grocery stores also sell prepackaged items with barcodes, such as a can of tomato soup. This item must be scanned, not weighed, to ring it up at the cash register.
Because grocers sell items through both methods, they need a system that can accommodate a checkout scale and a barcode scanner simultaneously. Not only that, they both must integrate nicely with your POS system so data from each is sent to and stored in the same place.
If you sell items by weight, look for a system that can identify an item by scanning its barcode. Once scanned, it should apply the item's price to its weight and calculate the total price.
EBT Payment Processing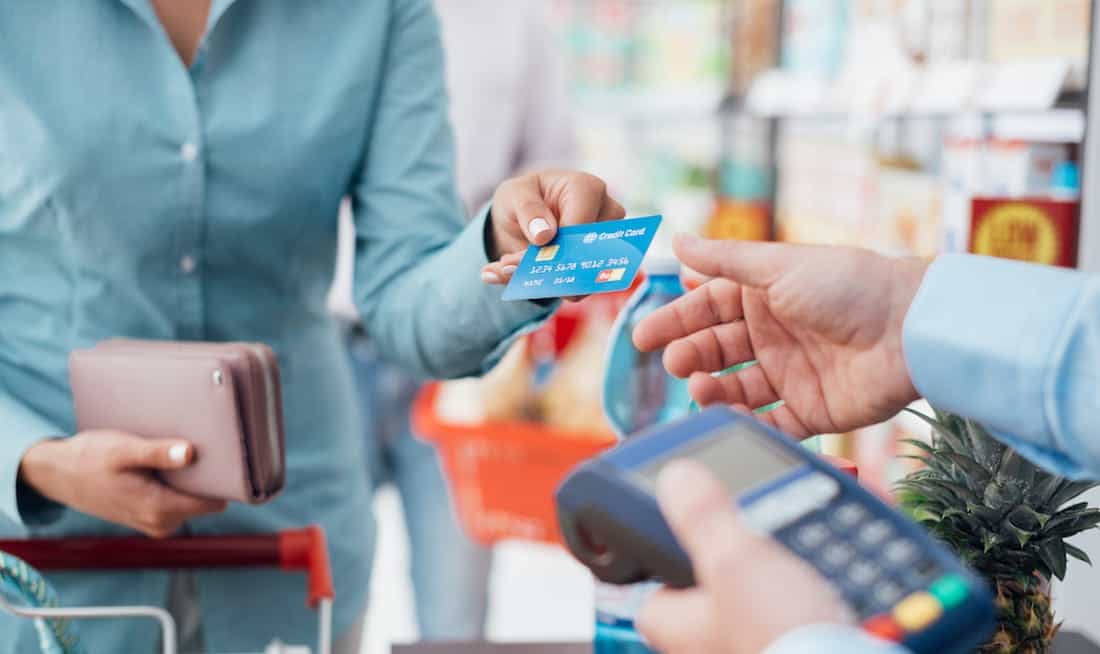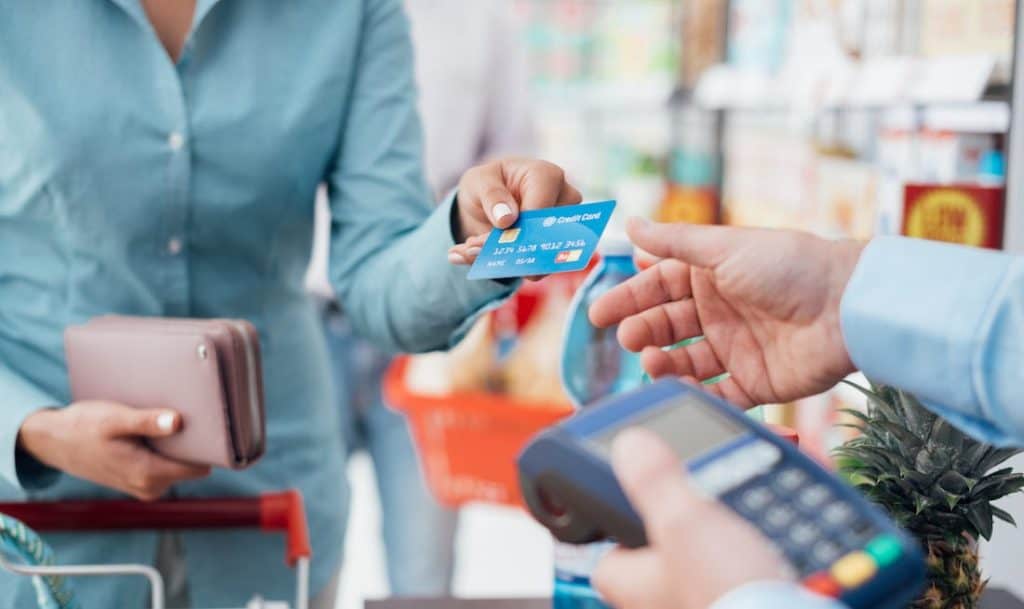 An EBT payment is a digital method of using government assistance to purchase food items. Often referred to as "food stamps," EBT payments don't involve actual stamps. Today those who qualify for the federal Supplemental Nutrition Assistance Program (SNAP)—the body that issues EBT credit—pay digitally with an EBT card.
Grocery stores need the ability to accept these payments for the sake of those who use them, but also to broaden their customer base. If you like selling your store's food items, look for a system that accepts EBT payments.
PRO TIP: To accept EBT cards, grocery stores must apply for eligibility. They must meet a few guidelines, which revolve around individual or family income. Learn more about SNAP eligibility and benefits.
Inventory management
Larger grocery stores carry thousands of items and need the ability to keep track of all that stock. Inventory management features are among the most essential capabilities to look for in a grocery store POS system.
Inventory Tracking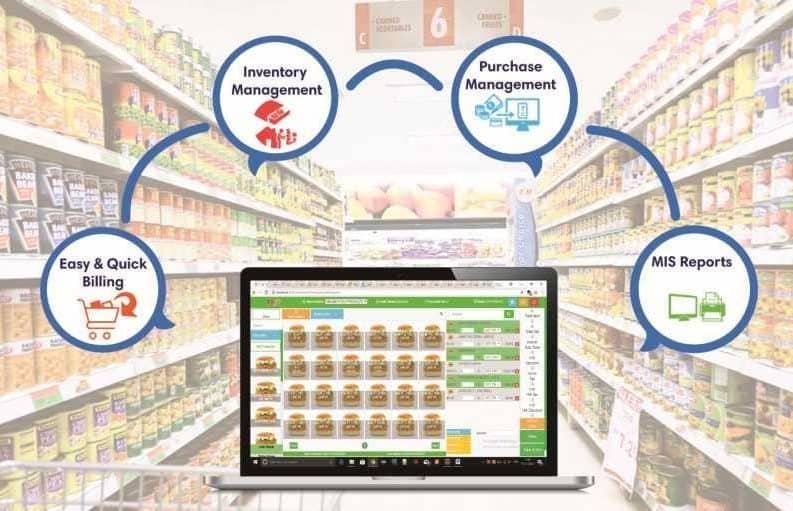 Your system should let you scan inventory and watch it auto-populate your POS database. Also, look for systems that automatically adjust stock levels in the system each time a sale is made.
Inventory Alerts
It's helpful when your system can send you a low stock alert when inventory levels are running low. The best systems can be configured to automatically send a purchase order for more stock when an item's inventory count drops below a specified level.
Expiration Date Tracking
Finally, a nice-to-have inventory management feature is expiration date tracking. It lets you know when a shipment of food has been sitting in the stock room too long so you can either run a massive discount to move the stock or toss it.
Customer Relationship Management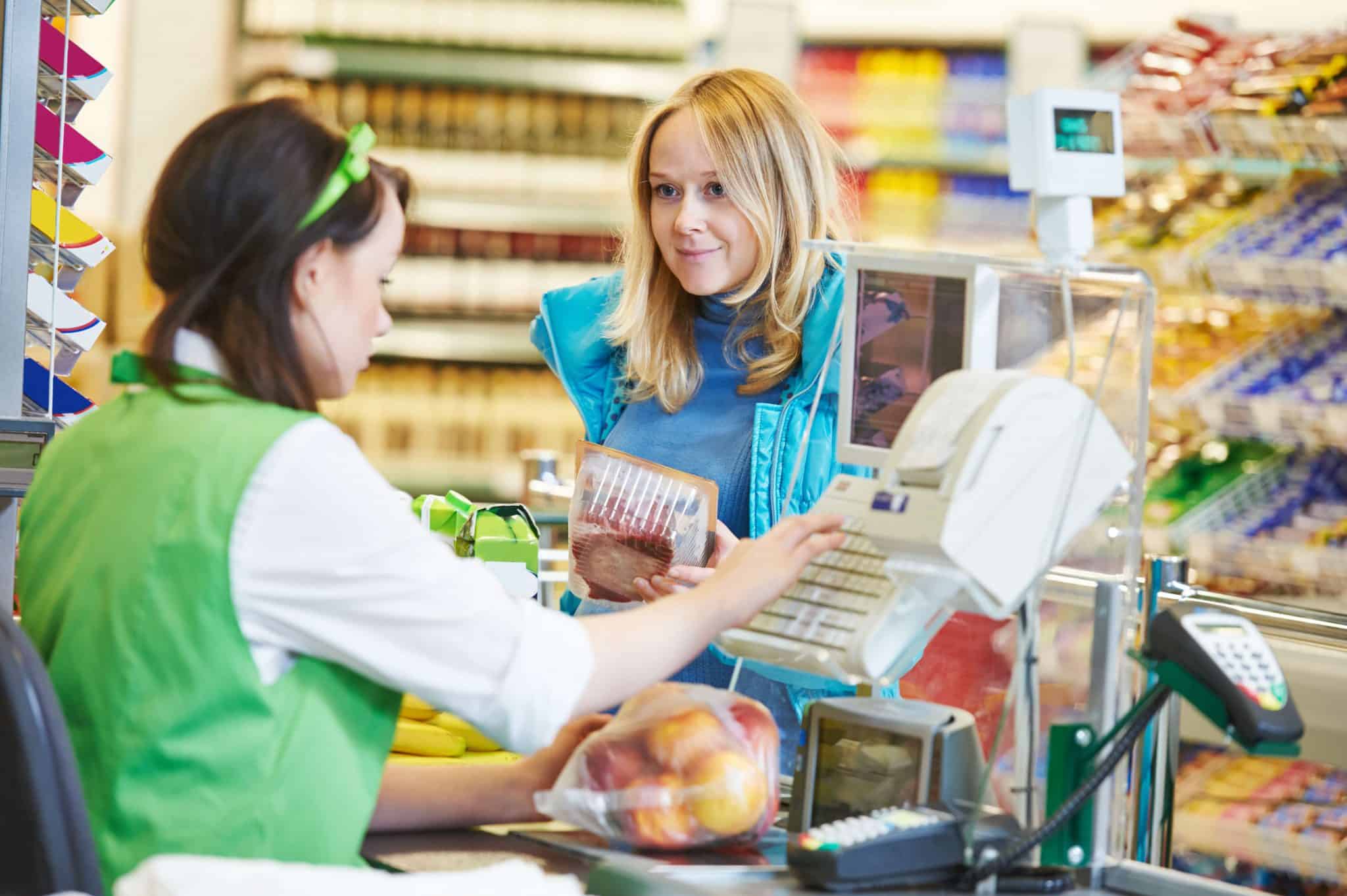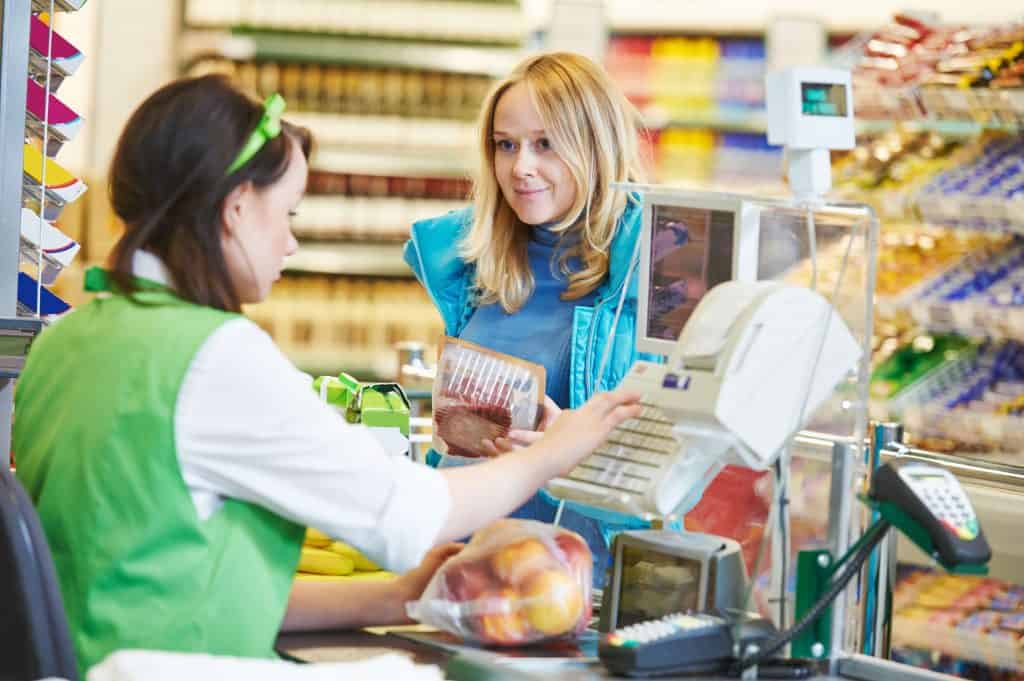 Customer relationship management capabilities enable grocery stores to develop stronger, more trusting customer relationships. Your POS system should simplify forming those relationships and getting to know your customers.
Look for CRM capabilities like purchase history tracking by customer, individual customer profile records, and customer categorization based on shared demographics or purchasing habits. Your POS should also be able to track the lifetime value of each customer.
Customer Loyalty and Rewards Programs
Generating loyal customers requires a concerted team effort but it's exponentially easier with the right POS system loyalty features. A solution with powerful loyalty and rewards programs should allow you to create profiles in your database for individual customers. Ideally, your CRM features organize and house that data so it's accessible to everyone.
Your system should quickly recognize them as repeat customers based on the personal information they've provided along the way. Once it recognizes them, it should automatically reward new customer loyalty points to their profile based on their purchase, allow the customer to use accumulated rewards towards their purchase, and apply its customer loyalty features to increase that customer's devotion to your store.
Granular Reporting and Analysis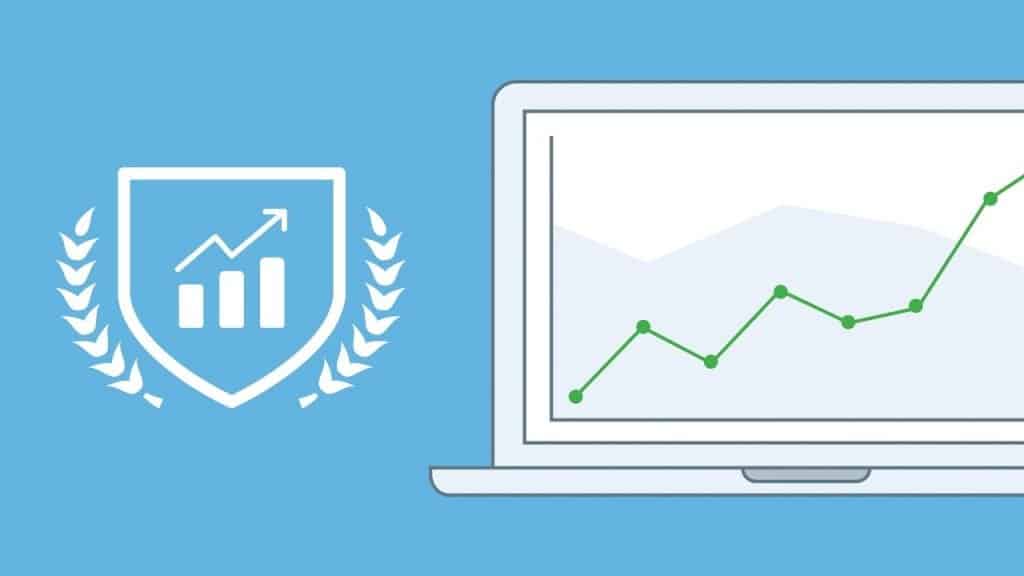 To survive in today's increasingly competitive business landscape, it's essential to leverage data to drive decision-making. You can only do that if your data is reliable and easily available. You want a system that collects and re0orts on the metrics that matter most to your unique business.
Look for flexible reporting. Strive to find customized reporting in which you select the metrics and calculations that go into the reporting. Ding this will allow you to report on the numbers that most impact the health of your business. More businesses use data for this purpose today than ever before. If you don't do the same, you'll quickly fall behind in the competition.
Ease of Use
A slow POS system that's difficult to navigate and unintuitive ends up wasting time and money rather than saving it. A good grocery store POS system should be easy to learn and use to its fullest capacity. That's why it's important to find a POS system that is intuitive, easy to use, and requires minimal training.
How many screen taps are required to complete a task? Does the system provide prompts that lead users from one screen to the next? Or does the system's navigation feel like walking through a maze?
Ease of use is essential to any retail POS system. It's particularly important for grocery stores. They are often remarkably busy during certain times of the day and employees need to be able to move through each customer's checkout process as quickly as possible to keep the lines moving.
Grocery Store POS Hardware
Grocery store POS hardware is the aspect of your system that can make or break your productivity and performance results. The POS hardware components below do lots of heavy lifting to ensure grocery stores streamline operations and remain competitive.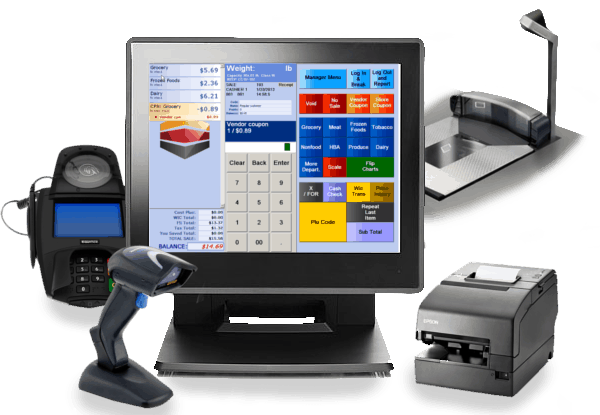 NTEP Certified Scales
Top grocery store POS software should allow for integration with a National Type Evaluation Program (NTEP) certified scale. The NETP is a nonprofit organization that collaborates with the federal government to ensure federal standards for selling weighed items are adhered to.
Scales not certified by the NETP can produce inaccurate readings and pose a risk to your business. They can let you charge someone double for a specific item due to inaccurate weighing. They can also let you sell inadvertently sell someone twice as much weight as they pay for, as weight miscalculations go both ways. Learn why you must have an NEPT certified scale. If you sell items by weight, NTEP certified scales are a must.
POS Receipt Printer
Every transaction you process requires a receipt of purchase. Enter the POS receipt printer. Receipt printers integrate with your POS software so when you execute a transaction it automatically produces a receipt for the customer.

POS Cash Drawers
When customers pay you with cash, you need somewhere to store that cash. That's why you need POS cash drawers integrated into your grocery store POS system.
Handheld Inventory Scanners
Inventory scanners are vital for increasing efficiency and inventory data accuracy. Employees can carry the scanner to your stockroom and scan barcodes on stocked items. The data they collect is automatically synced to your POS system and your inventory count is updated in real-time.
Card and Chip Readers
Today, consumers increasingly pay digitally. Most credit cards now use encrypted chips rather than magnetic strips as identifiers.
Card readers are a must if you want to accept card payments. Because more cards use chips, it's worth investing in a card reader that can process cards with chips.
Barcode Printers and Scanners
If you want to streamline grocery store operations, you need to place a barcode sticker on items that don't come with one already on the package.
Once you print a barcode, you must scan it at the point of sale to sell it.
Most scanners must be plugged into a power source to function. However, now there are Bluetooth scanners that allow for wireless scanning.
PIN Pads
POS PIN pads allow those paying with a debit card to enter their PIN and complete the transaction. The best PIN pads double as credit card readers, reducing your hardware stack and streamlining the checkout process.
Pole Displays
These are horizontal screens that display the balance due to the customer while they check out. This lets customers see the transaction amount, leaving no doubt that you've run up their order correctly and accurately.
Which POS System is Best for Your Grocery Store?
If you have the working capital to afford a higher-end system, IT Retail is your best bet, regardless of how large or small your grocery store is. If you're looking for an entire solution that can be implemented without much configuration or work on your end, POS Nation's turnkey solution could be a great fit.
Grocery stores focused on delivering a stellar customer experience should look closely at Clover, while grocers wishing to expedite business growth should take a closer look at eHopper. Square Retail is a solid system that works well for bootstrapped businesses due to its free version that still includes powerful features to lift grocers out of that bootstrapped stage.
Finally, Epos Now delivers great features to small local grocers who need a robust system but don't have the extra capital to spare. Its free version is unusually robust considering the "price."
Continue to research individual systems. Make a needs and requirements checklist that outlines what you're looking for in a POS system. Do that, consider your available budget, and you'll find the system that's perfect for your grocery store.