(Last Updated On: January 10, 2023)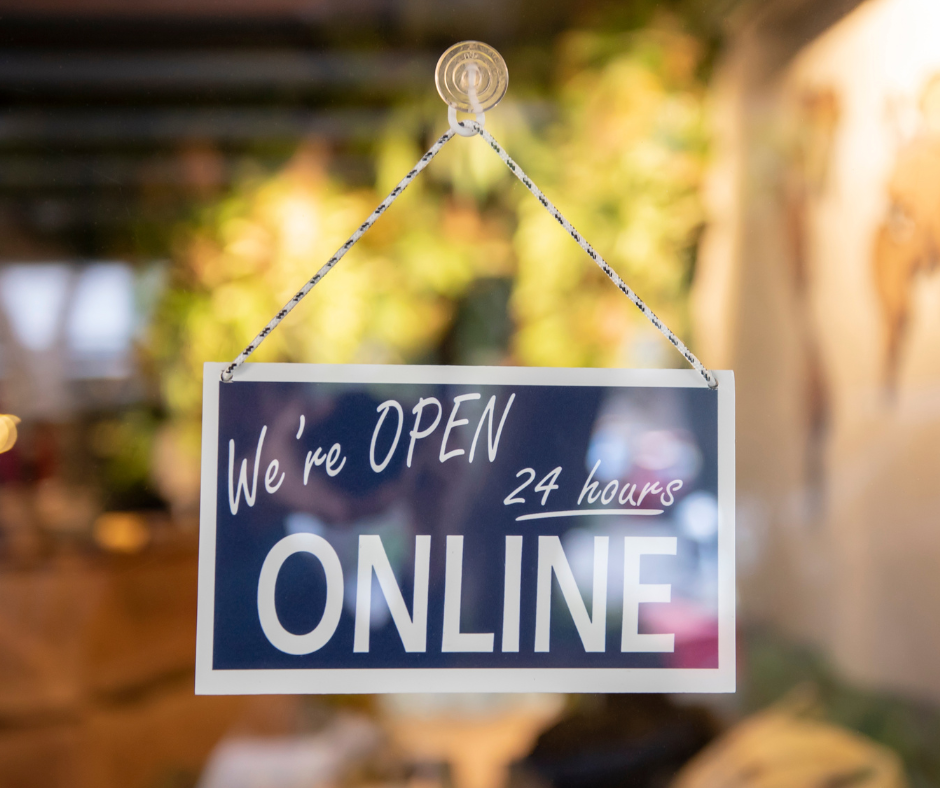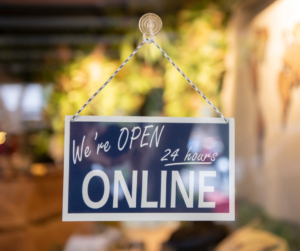 Almost every industry in today's world has faced new challenges in recent years. This trend will inevitably continue, as the way we live and consume goods is constantly changing. We've all learned to shop online for everything we need: food, clothes, services, and even vehicles. Given all the above, there's no wonder that websites have become crucial for any business' success. But having an online presence is not enough for most businesses to keep up with the competition. They need well-structured and fully functional online stores to survive. This brings us to the subject of POS for webshops. Some online stores do not need a point-of-sale system at all, but most of them do, especially if they're somehow connected to a brick-and-mortar operation. 
To underline the importance of having an online shop, we need to share an important statistic: the e-Commerce sales worldwide are expected to reach $6 trillion by the end of 2023. This is enough to explain why you should have a piece of the action. To do that, you'll need a specific POS for webshops. Such a system will give you the tools to provide your clients with the best customer experience from start to finish, including a seamless and easy checkout process. As a retail business owner or manager, you understand that this is the way to retain clients and make them want to come back to your store to spend more money.
Before we dive into the world of POS for webshops, there's another note to make. Online shoppers who prefer a multichannel experience are known to still spend more at brick-and-mortar locations. This means that providing them with a quality experience and well-targeted offers will equal higher profits for your online retail operation, which is another reason to think about investing in a well-structured POS for webshops.

How Does a POS System Work?
Point-of-sale systems work their magic by navigating clients through several steps, including the checkout. This is usually a straightforward process and it goes like this:
Product/service selection

: The client chooses services or products they want to purchase and adds them to their physical or virtual cart. After they've made their choice, the next step is proceeding to checkout.

Price calculation

: Next, the system calculates the final price of the selected items, including tax, tips, discounts, vouchers, promo codes, coupons, etc. 

Payment

: When the final calculation is done the system can accept the client's payment. There are several types of payment and they mostly depend on the type of operation you're running. When it comes to POS for webshops, the most popular types of payment include credit or debit cards, digital wallets, or payment platforms, such as PayPal.

Transaction completion

: This step is confirmed by a special confirmation (most often via email) stating that both order and transaction are complete. There are additional automated messages available sometimes, which will update the client with details about the purchase, shipping, and more.
Depending on your current setup, you will need to either update your existing POS solution or replace it with a new one, preferably POS for webshops. When the time to run your new or updated system comes, you will need to have such a multichannel solution if you want to have centralized control over both your operations. Having an old-school POS system with a cash register is not enough to manage an online extension of your business. With a compatible POS for webshops, you'll be able to run both operations using the same system with the help of several peripherals, add-ons, and plug-ins.
What's the Benefit of Running a Multichannel E-Commerce Business?
Given the nature of many industries, a brick-and-mortar and an online store can be combined and synced in perfect harmony, resulting in a broader clientele. More and more business owners have shifted toward multichannel business. If you are thinking of the same, then you'd be happy to learn that this is the trend to follow. Of course, running such a combination of operations requires a proper POS for webshops. Utilizing this type of point-of-sale system will allow you to manage and monitor both operations using the same platform. It will even allow you to add and remove checkouts with ease, not to mention the mobility and flexibility you will gain for your physical business thanks to the POS system's cloud-based structure.
Multichannel retail businesses seem to be the future of sales. Such a business model allows you to welcome clients with different preferences when it comes to shopping habits and ease of use. The more clients, the higher the profits, meaning that a solution such as POS for webshops would always be needed to guarantee your business' growth. An additional advantage of investing in such a system is the ability to organize your participation in events such as markets, fairs, and conventions where you intend to sell products or services. This is an important sales channel for many businesses. Of course, many businesses only exist online and thrive. It all depends on your purposes and the niche you're developing your business in.
The essence of multichannel sales is having the same or a similar product range listed and offered in two or more different ways (physical and online stores, for example). But things can be expanded further using other channels, such as social media platforms, marketplaces, etc.
Considering the above, it's now apparent that a proper POS for webshops is vital for the competitive position of the majority of retailers. If you're planning on starting a new online business by running a standalone webshop or using an e-Commerce platform, you would need a specific point-of-sale solution, especially if you want to manage it just as easily as you deal with your existing physical store.
A solution such as POS for webshops will help you sync your inventory, which is the pinnacle of running a retail operation with ease. It also allows for easy accounting, not to mention other features, such as customer behavior tracking, sales history storage and analysis, loyalty program management, and more.
POS for Webshops: The Integration Basics
Integrating an existing POS system with a webshop is possible, but it depends on the system's functionalities and abilities to integrate with various add-ons. You may not be able to sync it with some e-Commerce platforms, for example. The initial situation you were in matters the most. We'll take a look at some of the most probable scenarios.
If you've been running your business without any online retail activities whatsoever and you start a webshop, then you're likely to try to sync your existing POS system with your new project. If the system is capable of integrating with webshops, marketplaces, and e-Commerce platforms, then it's likely going to work as it should. All it would take is a couple of integrations to get it up and running. Of course, you'll need to set up additional aspects of your new online endeavor, such as data importation, payment processing, shipping, etc. If you decide to use some of the popular e-Commerce platforms out there, you should check the payment processing fees, as they could be too steep sometimes. 
In case you already own a retail website and you want to integrate it with another existing physical store, then you'd be in the market for POS systems. There are more than a few POS vendors who could supply you with a system that's compatible with most, if not all, e-Commerce platforms. This should be enough for you to be good to go, as long as the system can integrate with your preferred payment processor and other third-party hardware and software add-ons (such as accounting software). 
If you have yet to set up your new online business and don't have a POS system yet, then you'll need to look for a suitable POS for webshops. This would be the time to set your priorities straight and recognize all your future needs. Next, you'll need to compare all the options you could choose from, as several vendors could offer the POS solution you seek. Again, it all comes down to having a feature-rich system. What matters the most is the list of possible integrations with e-Commerce platforms and additional software and hardware.
Benefits of Integrating POS for Webshops
If you have been busy growing your physical retail business and you have yet to dive into the world of webshops, you'd be happy to learn that you could manage your inventory across both channels using the same POS system, as long as it's a fitting solution for your exact purposes. Connecting your existing point-of-sale system to an e-Commerce platform is not only going to make things a lot easier for you, but it also has additional benefits. 
First and foremost, utilizing a modern POS for webshops would result in seamless cross-channel communication, meaning that you'll have easy access and control when it comes to business aspects such as customer data harvesting and processing, inventory management and updates, sales, and more. 
Not being able to connect your online and offline sales channels would result in a growing managerial burden for you, but it would also create difficulties for your clients, as they would not be provided with the smooth customer experience they likely expect to enjoy. Enabling seamless communication between your brick-and-mortar locations and your online store using a fitting POS for webshops will allow you to have a complete overview of your business and monitor all processes related to running it the right way. Being able to sync data flows, orders, lists, and inventory is crucial for the performance of your operation. It will also allow you to reduce your error rate and make sure the loyalty programs you support result in more retainer clients.
When it comes to additional advantages of integrating a state-of-the-art POS for webshops, you could expect the following benefits and advantages:
1. More sales with almost no additional effort
When you decide to go multichannel, then you'd already be on the path of reaching more clients. If you're able to provide a smooth transition between your physical and online store using a POS for webshops, then you're likely to use all the integrations you need to be where your potential customers are. This will not cost you additional effort and is comparable to opening a new physical store in a different location, resulting in better competitiveness, less expenses, and higher profits.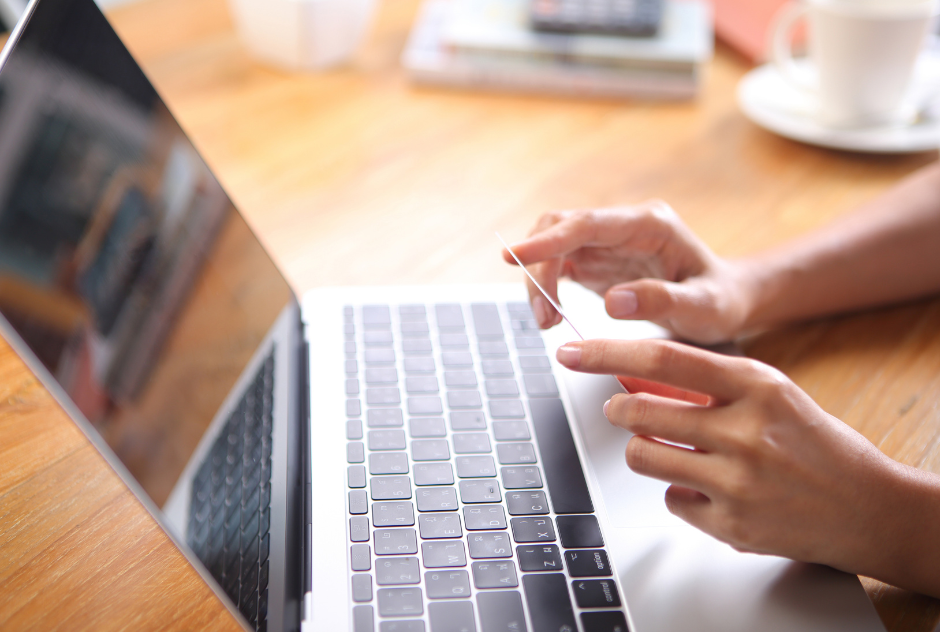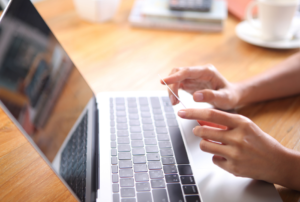 2. Real-time reporting and control
A suitable POS for webshops will enable you to monitor and update your inventory thanks to the system's functionality to update stock quantities after each sale. As a result, you'll avoid the type of situation you don't want to be in: low stock, inability to process orders, and more. As a result, you will never miss making a sale and the satisfaction of your clientele will be guaranteed.
3. Reduced error rate
Since your new POS for webshops will sync all data shared between both channels, there will be little to no need for manual data input. This always results in fewer errors. As a result, you will save time, resources, and effort. 
4. Cross-channel campaigns
By connecting your offline and online operations, you will be able to organize promotional campaigns and offer equal discounts to a broader customer group, all thanks to the integrations your POS for webshops would be capable of.
5. Client data management across both channels
Retailers know that getting to know clients' expectations, preferences, and habits is the foundation of success. This is why utilizing a POS for webshops is a must. The system will allow you to collect, store, and process data related to sales. This includes personal information, purchase history, and more. The analysis of this collected data will help you profile your clients and learn more about their behavior. As a result, you will be able to create personalized offers, campaigns, and other activities that are known to increase revenue.
6. Improved customer experience
A proper POS for webshops will provide you with the toolset you need to guarantee the best customer experience to all your clients. Being to accept various types of payment and to make ordering an effortless procedure is how you achieve that. Plus, your marketing activities would be greatly enhanced by a cross-channel POS system.
How to Choose the Right POS for Webshops
It's already become clear that a suitable POS for webshops would easily help you grow your business and manage it with ease. It's the right tool to organize and sync all operations and data flows between different sales channels, making it the perfect solution for businesses combining brick-and-mortar and online operations.
When the time comes for you to find a fitting POS for webshops that would meet every last expectation you have, there would be several things to consider. You should set a budget and stick to it, especially when it comes to software fees and transaction costs.
We'll take a look at popular point-of-sale system vendors. This is how you can easily compare them and possibly find the POS for webshops you've been looking to invest in.
| | | | |
| --- | --- | --- | --- |
| Software | Clover | Shopify | Epos Now |
| Pricing | $4.95/month for software, payment processing starts at 2.3% plus .10 | $29/month for software, processing fees start at 2.4% | Software cost starts at $39/month, payment is through third-party processors, reach out for a quote |
| Best Feature | Great for businesses who have both brick-and-mortar and e-commerce and want to merge the two seamlessly | Most popular choice among e-commerce stores, robust analytics and customer loyalty tools | Easy to set up and use, great for inventory tracking and real-time updates |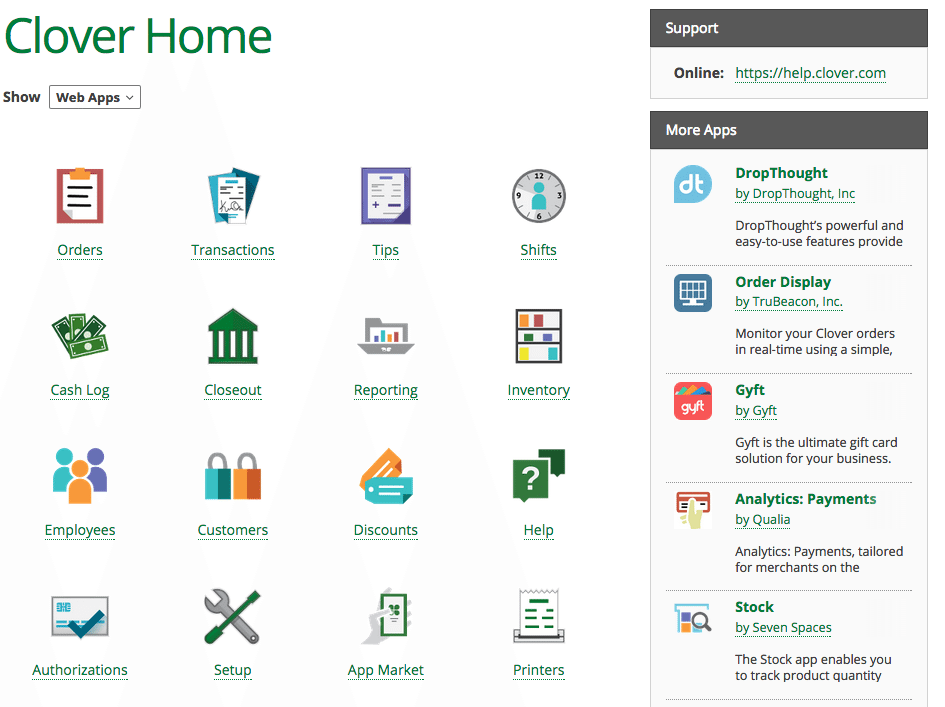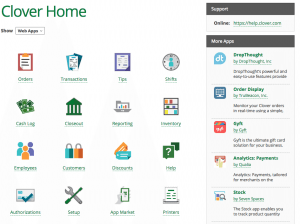 Clover is one of the top-rated POS vendors today. The vendor offers POS for webshops that's a perfect fit for most businesses who intend to start selling online and who have a brick-and-mortar location. The system's functionalities will allow you to organize an ordering panel easily and integrate it with the software you're using with your physical store.
Clover's mobile app and interface are both easy to work with and boast an intuitive interface. When it comes to features, it seems that Clover has everything you would ever need. The system accepts all types of credit and debit cards, as well as digital wallets and gift cards. You will be able to offer your clients digital receipts and even tipping as a service, which matters to some specific businesses.
The important features of Clover include reporting, inventory tracking, and customer loyalty program support. This toolset is complemented by employee management features, including shift and payroll functionalities. All the features listed will help you keep a close eye on your overall performance and sales across all channels. 

Pricing
You can opt for Clover's proprietary hardware for your brick-and-mortar location. The basic cloud-based software plan will cost you as little as $4.95 per month, with payment processing fees starting at 2.3% plus $0.10 per transaction. You can take advantage of the free trial and see if this POS for webshops will be a good fit for your business. Keep in mind that the possible integrations with software and hardware are not the same with every monthly plan, so you might experience limitations if you choose a cheaper plan.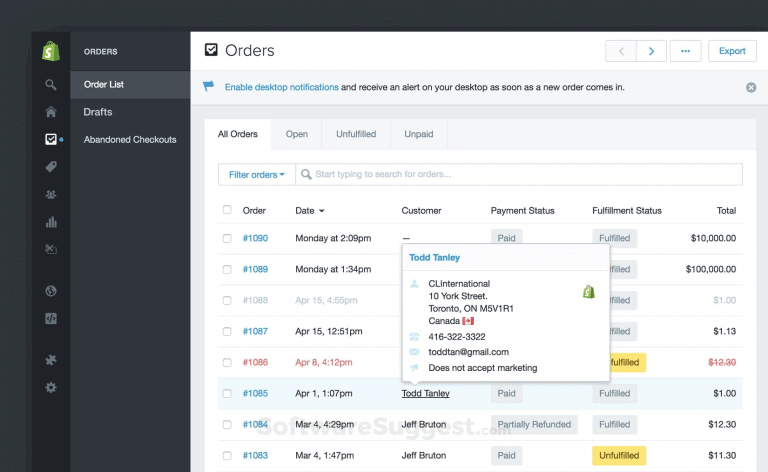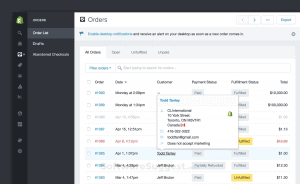 As the name suggests, Shopify is a logical choice for POS for webshops. The popular e-Commerce platform is not the company's only product. Shopify POS has long been recognized as a great fit for both e-Commerce projects and cross-channel businesses. 
Shopify POS is not your average point-of-sale system. It has an extended set of features that covers everything, from sales monitoring to employee management. The system has a plethora of possible online shop integrations and great analytical functions. It also supports discounts, promotions, and a variety of customer loyalty tools. All of those features could be at your fingertips thanks to the Shopify mobile app. 
If you're planning on running a multichannel operation, then you'll find Shopify's POS for webshops to be a possible solution. The system guarantees 24/7 support, including live chat. This means that you will always be able to solve potential problems and your operation will not stall for long.
Pricing
Starting at $29 per month, Shopify offers built-in payment processing thanks to the Shopify Payments tool. The basic plan will allow you to set up custom checkouts, offer specific discounts, manage refunds and inventory, calculate tax, and, best of all, sync all data with an existing physical store. Processing fees start at 2.4% per transaction.
If you opt for a higher plan such as Shopify POS Pro, you will benefit from additional features such as click-and-collect functionality and automated discounts. Overall, this POS for webshops has a competitive price/value ratio.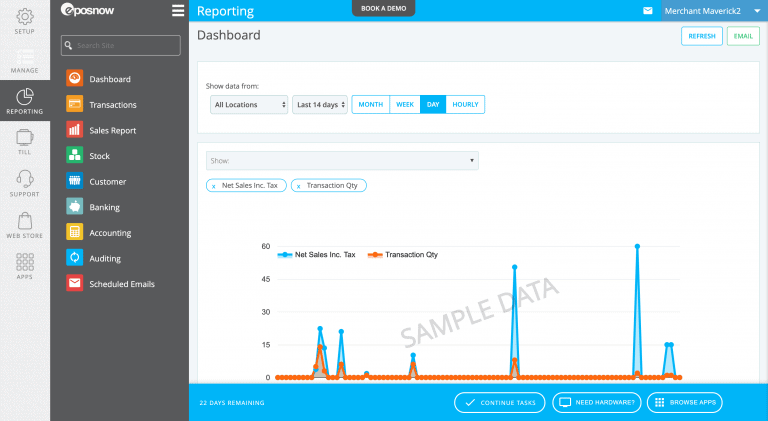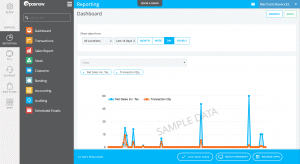 Epos Now offers a POS for webshops that just might be the solution for you. The system's easy setup is also very fast and can be completed within minutes. All the basic functionalities you will look for are present: staff management and inventory tracking and updates. The system also boasts automations and integrations with various third-party add-ons, such as e-Commerce platforms and marketing software. 
Other features of Epos Now include loyalty program management, accounting software integrations, sales monitoring, and real-time reporting. Prices start at $39 per month, but it does not include payment processing.

Pricing
This POS for webshops uses third-party payment processors, meaning that you'd need to check the additional transaction fees and compare them with your budget. 


The Conclusion
We're already in a new era of retail business, and managers across the globe have already steered toward the new trend: having a strong online presence. With more people actively shopping online, your retail business would thrive if you have the ability to start an online store. We've already covered all the reasons why you'd need a proper POS for webshops to make it work. Such a system would allow you to sync your online and physical stores and help you track your inventory, employees, cash flows, and overall performance, among other aspects of your operation.
Not all point-of-sale systems could integrate with e-Commerce platforms or other websites, but the right POS for webshops will. Such a solution will become part of the foundation for growing your business and achieving higher profits with less effort.
Finding the best POS for webshops is an achievable goal. All you need to do is compare the possible options to your budget and other specifics. Once you are certain that the system would integrate with the platforms and third-party software you need it to be compatible with, then you would be good to go.
Author: Written by Martin Nikolaev. Martin has 5+ years of experience in reviewing various tech gadgets, FinTech solutions, crypto markets and products, and all IoT-related products. 
FAQ
What's the main purpose of POS systems?
POS systems are combinations of software and hardware meant to help businesses with fast and secure checkout processes and enable them to up their sales and achieve higher profits.
How much does a POS system cost?
Some POS vendors offer their basic plans for free, but most of them offer a variety of paid subscriptions. They vary in terms of integration capabilities, features, and transaction costs.
Is it hard to transfer data from an existing POS system to a new one?
You could transfer data between the two in case the old one needs updating. This is how you usually integrate your existing setup with the new modern POS system you've set up for your online shop. 
What are the key benefits of utilizing a POS for webshops?
The key benefits of using such a system include real-time reporting, increased sales, higher profits, reduced error rate, and less managerial effort.