(Last Updated On: January 10, 2023)


Retail and hospitality businesses across the globe have long recognized their need for a quality POS system. If you are one of them, you surely know that not just any point-of-sale solution would suit your needs. There is plenty to consider before choosing one.
Apart from a suitable POS system, you would need all the support you can get to manage and develop it. This is where software products like QuickBooks come in handy.
QuickBooks is the most widely used accounting software that helps businesses with income and expenses systematization and processing. If you run a small or medium-sized operation, then you either already use QuickBooks or you've heard about its existence. Let's take a quick look at the product.
With millions of subscribers, QuickBooks has proven its value. The software offers multiple solutions that make your life easier. It can handle multiple aspects of your business' management, from accounting to tax finances. The automated processes QuickBooks supports include invoicing, payment processing, and more. 
The product lives up to its name in more ways than one. Apart from securing the management of your accounting and financing needs, the software is capable of integrating with numerous other types of software, including POS systems. As a result, you can enjoy a selection of tools that will help you control and monitor multiple aspects of your business with ease, taking a load off your shoulders. 
In this article, we'll focus on the essence of QuickBooks, POS systems, and the ways they can be combined. Plus, we'll throw in details about QuickBooks' very own point-of-sale system and the POS for QuickBooks alternatives you might find suitable for your operations in 2022.
While there are many options available on the market today, our team of researchers has narrowed it down to the top 3 contenders.
What Does a POS System Include?
POS systems are either software-only products or combine software and hardware to turn the checkout process into a seamless, easy, and effective experience for both businesses and clients. We've all seen and used different versions of POS interface, as most cash terminals feature one. 
The world of point-of-sale systems is constantly changing. As POS technology evolves, the list of modern features grows. Today, a POS system can handle more than just payment processing. The software is capable of employee and inventory management, loyalty programs and customer history monitoring, planning, and more. Using such a vast array of tools results in increased efficiency and higher profit. This is where POS for QuickBooks enters the scene.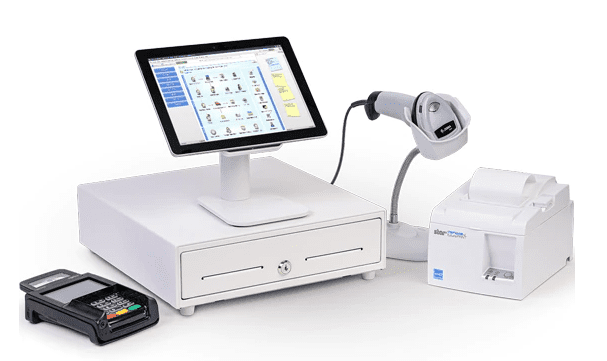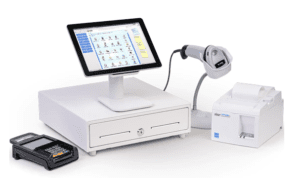 Many retailers, restauranteurs, and service providers need additional hardware to run their businesses. These are the most widely used ones:
Interface device

: This is a must-have POS peripheral. It can be either a touchscreen gadget provided by the POS vendor you chose or a third-party supplied tablet. The choice depends on the functionalities needed and the compatibility of the software you chose to invest in.

Card reader

: Some touchscreen interface units have a built-in payment processing device, but if you don't have one and you need to accept credit and debit card payments, then you'll need a card reader.

Printer

: The majority of diners and stores need a receipt printer. Emailing receipts to customers is a trend that's picking up speed. However, printing them on the spot is still a must for many businesses.

Scanner

: Retail store owners, among others, know the importance of having a barcode scanner at the checkout point. 

Cash drawer

: If your business requires cash payments, then a cash drawer is a must-have for you for obvious reasons.
Typical Features of POS Systems
Most POS systems available today integrate with QuickBooks, but not all of them are the same in terms of features, but most of these systems share several similarities, including:
#1. Client Management
A good POS system will always feature the proper set of tools you need to manage your clientele, such as client history data processing, loyalty program management, and more.
#2 Inventory Management
Your POS system will likely have the means to help you monitor your stock and update the information after each sale, allowing you to plan ahead. This is how you will never be low on stock.
#3 Employee Management
Choosing a modern POS solution will let you manage schedules and time clocks, but it will also help you monitor your staff members' performance.
#4 Integration
Being able to combine your operation with third-party software and hardware is key (which brings us to the POS for QuickBooks matter). Omnichannel integration matters as well, as it will help you combine your online and offline operations (in case you have both to manage). 
While there are many options available on the market today, our team of researchers has narrowed it down to the top 3 contenders.
Types of QuickBooks Software
As a popular choice for business owners, QuickBooks has a reputation as a nifty tool for managing expenses and income, as well as keeping track of the operation's vitals. The software comes in handy when it's time to pay utility bills, fill in reports, declarations, tax documents, and more. 
If you've already adopted this accounting software, you should think about implementing POS for QuickBooks as well. Such a decision will optimize most processes related to managing your business and will enhance both QuickBooks' productivity and the capabilities of the point-of-sale system you've selected. 
If you have yet to choose the best QuickBooks version for your business, you need to consider several things, such as the type of device you will run the software on, the set of features you need, the currencies you work with, and the type of your business.
| Product | Description |
| --- | --- |
| QuickBooks Desktop | Windows-compatible software that supports most of the basic QuickBooks features |
| Quickbooks Mac | Specific iOS-compatible software designed to be installed on Mac only due to several optimized features |
| Quickbooks Online | Unlike the previous versions which both require installation, this is a cloud-based version that's accessible from everywhere |
What Should You Know Before Choosing Your POS for QuickBooks?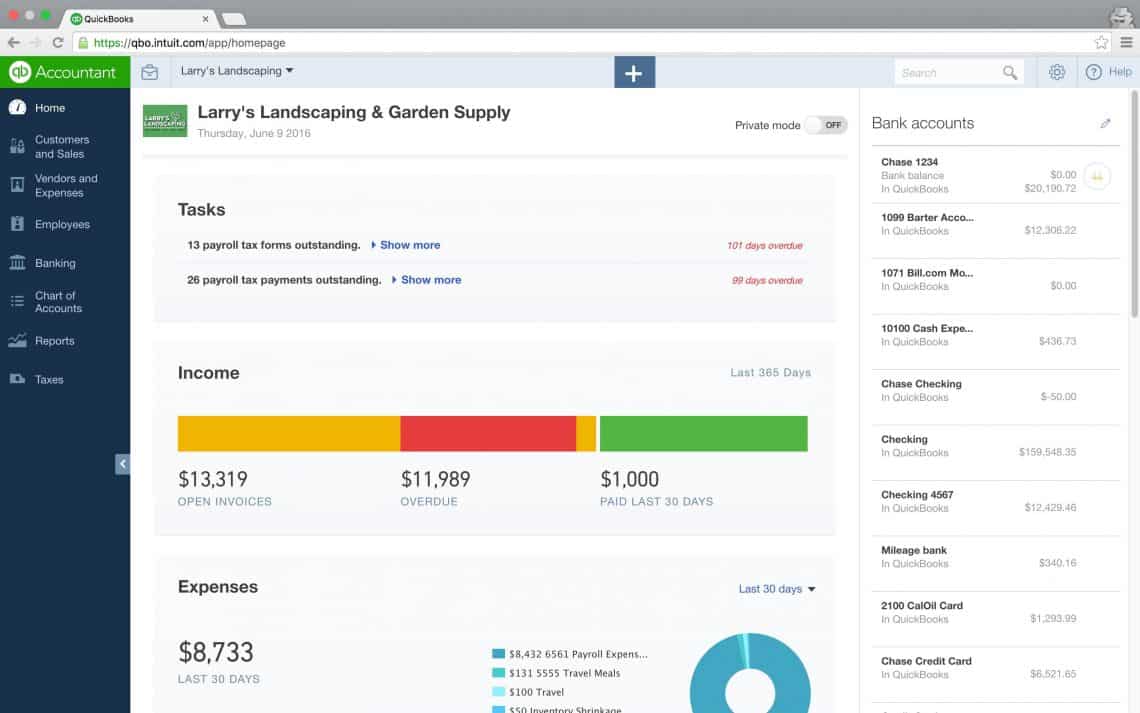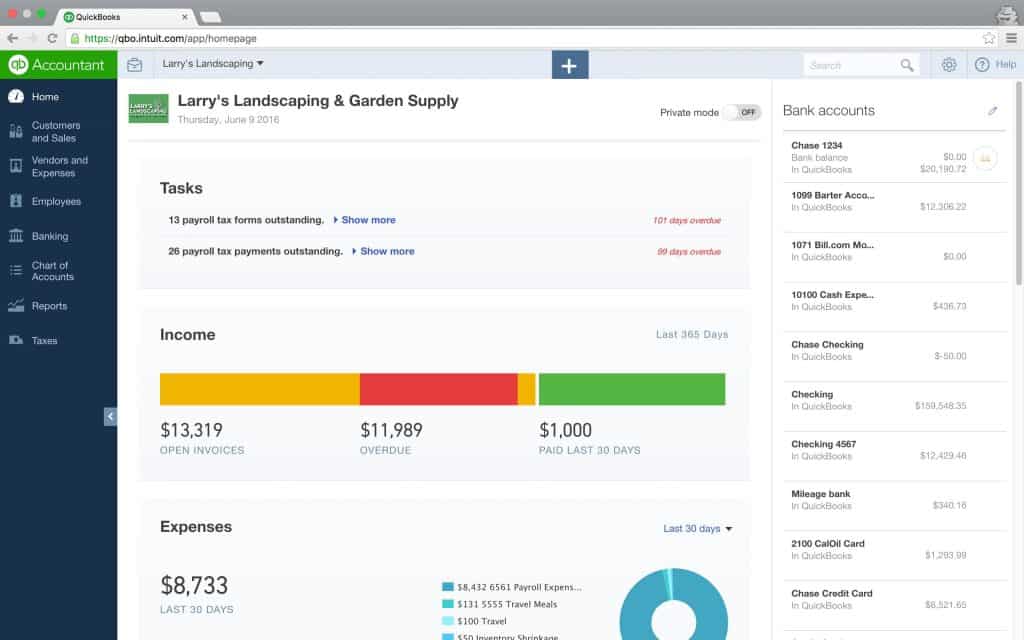 Choosing to integrate your point-of-sale system with the QuickBooks software is a step in the right direction, especially considering the 2022 trends. Still, there are several things to consider before going for a certain POS for QuickBooks. It all comes down to the niche you're developing your business in, your budget, and other specific requirements you may have. 
One of the key things to have in mind when choosing your POS for QuickBooks is the array of peripherals you will need. Your existing hardware should also determine your choice. 
Another important thing to consider is the QuickBooks version you are about to opt for. Not all versions would integrate with your existing software or hardware. Of course, if you need a specific version of the accounting software, you can end up having to switch to another POS vendor as well to make the integration happen. For example, if you intend to use a cloud-based POS system, you'd need to opt for QuickBooks online for the ultimate experience.
As for the integration process, there are several ways to do that. To make the most of your POS for QuickBooks, you will need to choose one of the two basic integration routes:
You can choose to export data and reenter it manually, allowing you to sync data in the process. This is a painstaking process, obviously. 

To make the most of the integration, you can choose to set up both systems to share information while in operational mode, meaning that they will join forces in real time, automating the otherwise manual operations.
The second approach is far more direct and efficient, allowing you to make the most of your POS for QuickBooks setup. This is how you will harness the reporting and analytical features of both systems.
What Are the Benefits of Integrating POS for QuickBooks?
The biggest advantage of using a POS for QuickBooks is obvious: all the data processed by the POS system will also be transferred to the accounting software, creating a unique advantage for your business. Taking advantage of such functionality will allow you to monitor all aspects of your operation, such as sales, inventory, expenses, and more. It will also give you access to reports and data analysis. 
Since this integration is automated, you will save your employees' time and effort, meaning that the efficiency of your operation will be improved in more ways than one. It will also reduce your error rate. Other benefits of choosing a POS for QuickBooks include automated tax calculations and payroll, as long as the point-of-sale software features employee management functions. 
QuickBooks POS 
The company behind QuickBooks, Intuit, offers a POS solution that fits most types of small and medium-sized businesses in the retail and service industries, but it's not the best option for hospitality operations and restaurants. It's a usual addition to the QuickBooks Desktop software. Its biggest drawback is the lack of flexibility when compared to POS alternatives. The system has its limitations. The system can be integrated with an e-Commerce platform, but that will cost you an additional monthly fee. When you choose QuickBooks POS, you can opt for Intuit's payment processing system called QuickBooks Payments as well, as the two systems are designed to be matched.
Apart from the easy integrations with other types of QuickBooks software and the great variety of inventory management tools it boasts, there aren't any other advantages of this POS system, compared to the alternatives we'll take a look at below. 
When you choose a POS system, you would want it to integrate with different third-party software and hardware, which is not an option for QuickBooks POS – the system can be directly integrated only with QuickBooks Desktop and does not have an omnichannel integration capability, meaning that you will need a separate POS checkout for every location you manage. Plus, the expert customer support you will likely need requires additional payment as well. 
POS for QuickBooks: The Alternatives 
QuickBooks for POS is a possible solution for some businesses, but there are plenty of alternatives to choose from, no matter what type of business you're running. Some of these POS for QuickBooks solutions are far cheaper and easy to use. 
Having a fully functional POS system that is also easy-to-integrate with QuickBooks is possible when you study all the possibilities the market has to offer. Finding the best solution is possible only after you compare the specifics of your business with the features provided by the POS vendors. Once you are certain you found the right solution, you will be able to take full advantage of a seamless accounting set of tools working alongside your POS system.
Let's take a look at some of the most popular choices for POS for QuickBooks. Some of them are universal, while others are oriented toward specific industries, such as retail or restaurants.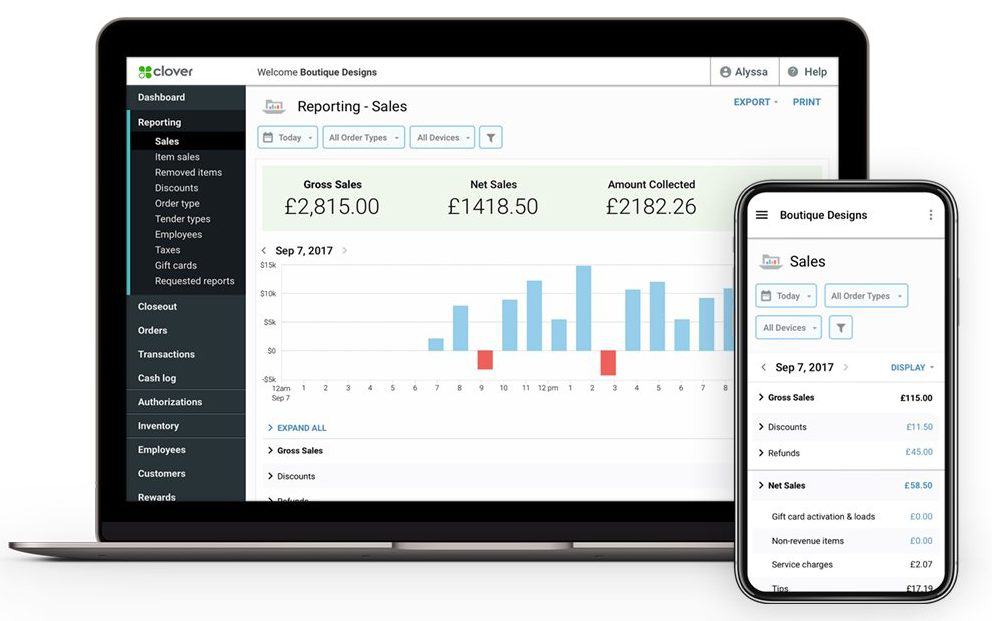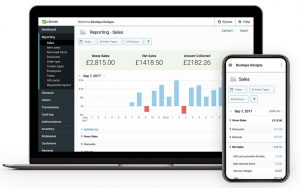 Clover is a popular payment processor offering a POS system with an exceptional client management system that keeps track of multiple aspects, including order history, feedback, rewards, prior communication, and other customer-related data, making the point-of-sale software your ally in creating a better connection with your clients.
Some of the other features of Clover POS include all the employee management tools you would need, as well as a sales monitoring mechanism. 
You can opt for the software alone or choose to buy Clover's own hardware. The combined price for the two starts at $749. Using Clover's POS software comes with a monthly fee of $14 for the basic subscription plan. There's also a processing fee of 2.7% plus $0.10 for every transaction. 
When it comes to setting up this POS for QuickBooks, you'll need to choose a higher plan, meaning that it would cost you more to have that option. This is a must, as only the two highest plans offered by Clover are compatible with the Commerce Sync app, which you'll need to integrate the point-of-sale software with QuickBooks. 
Setting up the integration between Clover POS and QuickBooks is fairly easy. With a few clicks following the system's interface, you will be able to complete the integration in no time.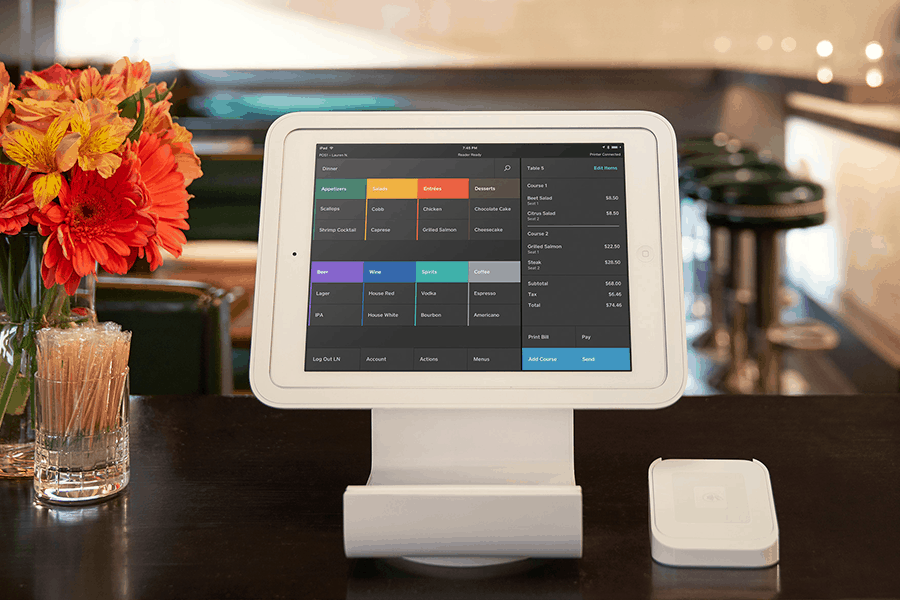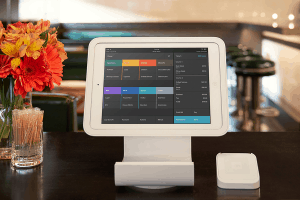 Square is a well-known POS vendor, and it happens to be many small business owners' choice. There is hardly any surprise in this fact, as the system boasts a plethora of important features, including payment processing, inventory monitoring, employee management, reporting and analysis, and more. 
As a payment processor, Square will only let you use the free Square POS system if you combine it with the company's processing services. You'll need to pay 2.6% plus $0.10 for every transaction as well. 
Since you'll likely need additional hardware to create the POS setup you need, we better share the prices for the peripherals offered by Square. A terminal will cost you at least $299 and a cash register can be yours for $799. Square will cost you $10 per month for every extra checkout location you need to set up. 
The integration between Square POS and QuickBooks is well worth the effort. It will allow you to import sales and other financial information between the point-of-sale software and the accounting platform. It will also result in a complete payroll reports synchronization, product reporting, multiple location transaction monitoring and reporting, and more. Once you create the POS for QuickBooks setup using Square POS and QuickBooks Desktop, you will enjoy an automated data sync.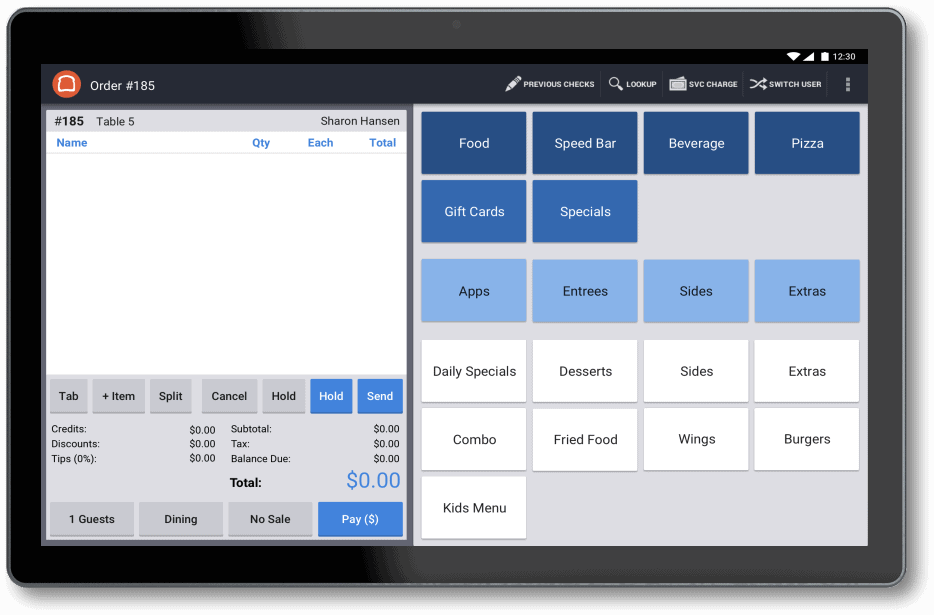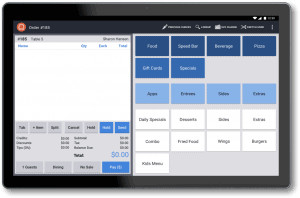 If you are a restauranteur, then you've probably heard about Toast before. This is one of the most suitable point-of-sale systems for every restaurant. It's also a perfect POS for QuickBooks solution due to the flawless integration with the accounting software. The reasons for that include the system's multiple specific features: menu management, shipping tracking, order management and history, employee scheduling, performance monitoring, and more. 
Toast is not free. The system would cost you $79 per month per checkout, but every other terminal would be $50 per month. There is a wide array of peripherals as well, starting from $450 for a tablet.
Of course, there are payment processing fees as well, but they are exclusive to every client. The rate must be negotiated between you and the POS provider.
The QuickBooks integration requires an additional service (xtraCHEF) that allows a flawless synchronization between Toast and the accounting software.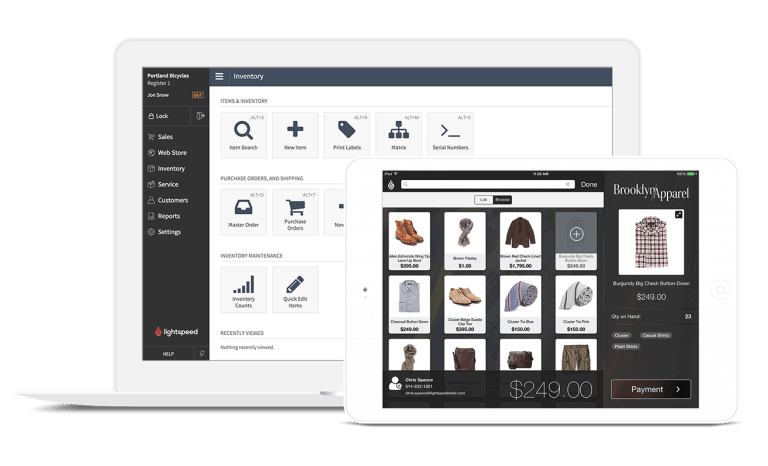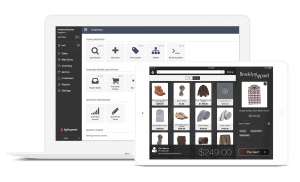 Lightspeed Retail is a feature-rich POS for QuickBooks solution that's suitable for both brick-and-mortar and online stores. The system boasts plenty of essential functionalities, including shipment management, appointment scheduling, personalized shopping and offers, numerous integrations with third-party software, loyalty program management, and more.
You can benefit from this point-of-sale solution for as low as $69 per month. There are higher plans to choose from, of course: the top-tier choice is the $199 Advanced subscription. Every additional register will cost you $29. The peripherals offered by Lightspeed will be offered to you at a special price as soon as you choose a plan.
One of the system's modules, Lightspeed Accounting, can be easily integrated with QuickBooks. All it takes to complete the synchronization is to follow a few simple steps in the software's menu.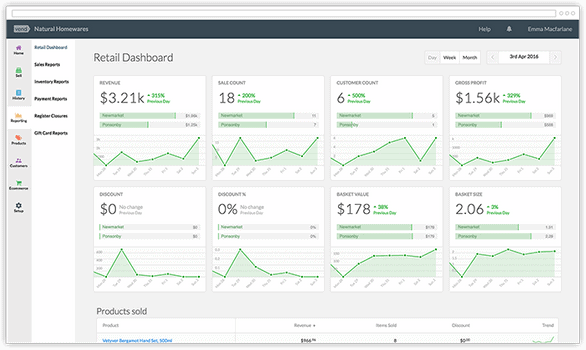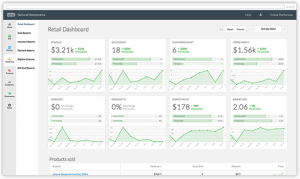 Vend is a POS product delivered by Lightspeed (after a merger between the two companies). This is a great point-of-sale solution for small and medium-sized retail operations. The versatility of Vend is unquestionable: the system allows for omnichannel management, flawless inventory management functionalities, and a plethora of possible third-party integrations. 
Some of the other features typical for Vend include real-time reporting and client database management. This POS for QuickBooks solutions also boasts gift card processing and loyalty program management, but its reporting capabilities are rather basic when compared to the alternatives. As for prices, Vend starts at $69 per month. You can choose one of the system's hardware package deals or opt for a single peripheral, depending on your preferences. The good news is that you are free to integrate the system with a variety of payment processors. 
Vend has an intuitive interface and is scalable enough to be a fitting solution for your growing business. If you are running an e-Commerce operation, then you'll likely find Vend to be a fitting solution for your needs, especially if you plan to add more online or offline locations that will need a checkout point.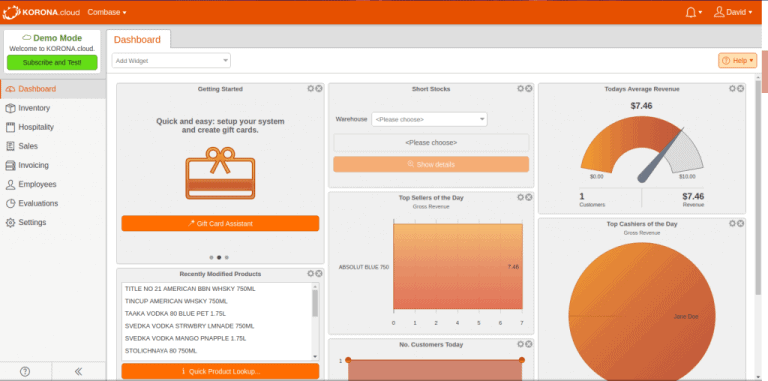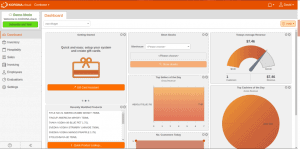 KORONA is a versatile cloud-based POS system you could integrate with QuickBooks Online directly, allowing you to import valuable sales and payment data, as well as information about inventory, taxes, and more.
KORONA is a universal solution suitable for retailers' and restauranteurs' needs. It's also one of the highly customizable POS systems you can opt for today. Some of the system's key features include employee management, advanced inventory monitoring, a great array of reporting means, and more.
This POS solution integrates with QuickBooks with ease. All it takes is to have an active QuickBooks Online account and follow a few simple steps. 
While there are many options available on the market today, our team of researchers has narrowed it down to the top 3 contenders.
The Conclusion
QuickBooks is probably the most popular accounting software, but it is best combined with an equally good point-of-sale system. Choosing a suitable POS for QuickBooks is nothing but beneficial for your retail, hospitality, or e-Commerce business.
When choosing the right solution, you need to study every aspect of the software you are about to invest in. You can opt for Intuit's own QuickBooks POS, but you may find it to be too pricey or limiting when it comes to third-party integrations and flexibility. 
Having a flexible POS for QuickBooks solution will result in a reduced error rate, improved reporting, higher efficiency, and reduced effort. Plus, you will surely save money as a result of combining your point-of-sale system with the QuickBooks accounting system.
The good news is that there are plenty of alternative POS for QuickBooks solutions to choose from. When you compare everything the point-of-sale vendors have to offer, you will surely find the most suitable solution for your business. Starting at $49 per month, it is also an affordable one.
Author: Written by Martin Nikolaev. Martin has 5+ years of experience in reviewing various tech gadgets, FinTech solutions, crypto markets and products, and all IoT-related products. This article was published on Tuesday, 31 May 2022.
FAQ
Why do you need a proper POS for QuickBooks solution?
Having a POS system that easily integrates with QuickBooks will always result in fewer errors, better reporting, and reduced costs.
Should you prefer QuickBooks POS over its alternatives?
QuickBooks POS is a great solution, but it can be limiting. The system is only compatible with QuickBooks Desktop and does not integrate with third-party products.
Which POS systems integrate with QuickBooks?
Not all POS vendors allow for QuickBooks integration. Still, most point-of-sale systems today can be synchronized with the accounting software.
How difficult is it to import data from your POS system to QuickBooks?
You choose a POS system that integrates with QuickBooks, you need to set up data import with a few simple clicks in the accounting software's menu.