(Last Updated On: January 10, 2023)

Microworks POS, or Microworks Prism POS as it is better known, is a web-based point of sale system designed to make the task of running restaurants seamless and easy. 
It is an ideal point of sale system for all restaurant types. It helps manage and automate inventory management, food and labour cost analysis, staff scheduling, delivery management, and loyalty programs via an easy-to-use, intuitive touch screen dashboard.
Its line-up of features includes credit card processing, fingerprint ID, self-ordering kiosk, video surveillance, and reporting.
One particular feature that stands out is the Prism Notification Service, which lets restaurants communicate with customers and drivers via SMS. The Notification Service function is flexible and, as such, can be used in single and/or multi-location restaurant services.
Through its Microworks Prism WebOrder, users can facilitate a number of activities such as customer registration, credit card payments, order creation, and more by connecting to third-party solutions. 
Furthermore, the Microworks Prism POS has a dining and table service module with which custom table layouts can be prepared to track status on guests, tables, and servers easily.
Via add-ons, online ordering and multiple payment options for takeout, curbside, and delivery, including contactless delivery, is made possible. 
Microworks boasts more than three decades in the retail POS business and, as such, shows that it is a POS system to beat. It also has a notable customer base using its products, including Little Ceasers, Pilots Pizza, Dominos Pizza, Sarpinos Pizzeria, Double Dave's Pizzaworks, and many more.
Meanwhile, you can check out our review of other POS solutions here.
While there are many options available on the market today, our team of researchers has narrowed it down to the top 3 contenders.
Microworks Prism POS: What Features Make It Stand Out?
Let's take a dig into some of the features of the Microworks Prism POS:
Guest Order Management
With the Microworks Prism Pos guest order management system, you can easily add modifiers and side items, eliminate pricing inconsistency, and automatically track food costs and know when you are running low by taking a look at your inventory levels.
Prism SMS Notification Service
As noted above, this service is one that sets this particular POS apart. Its SMS notification function helps you to keep customers and workers like drivers informed by alerting them via the Prism SMS notification service. This can be especially handy for multi-store restaurants that want to keep the information flow consistent across all fronts.
Online Ordering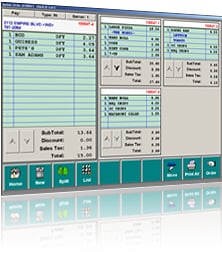 With the Microworks Prism POS, you can take customers' orders online via the WebOrder solution. The WebOrder solution uses the in-house menu order set up and lets customers order and pre-pay using their internet-connected computer with the option of either delivery or pickup of their orders. 
This can also be done via the WebOrder Mobile app on Android or Apple devices. 
This gives your customers more options and eliminates the need for physical dine-in.
The orders placed are automatically transferred to your in-house system where they are picked up, much like the same process for orders made in-store.
Gift and Loyalty Card Management
Microworks POS supports gift card programs and allows businesses to maximise and deploy the advantages of gift card and loyalty programs to increase customer loyalty.
Gift cards can be set up to be redeemed at any store location.
Employee Management
The Microworks Prism POS features an employee management module that allows you to carry out a number of tasks like employee scheduling, monitor time and attendance, and calculate labour cost controls.
You can view available employees, calculate hourly sales forecasts, and see shift breakdowns all at a glance.
With a finger-print reader added, employees can easily clock-in, thereby increasing staff efficiency.
Self Service Kiosk And QR Ordering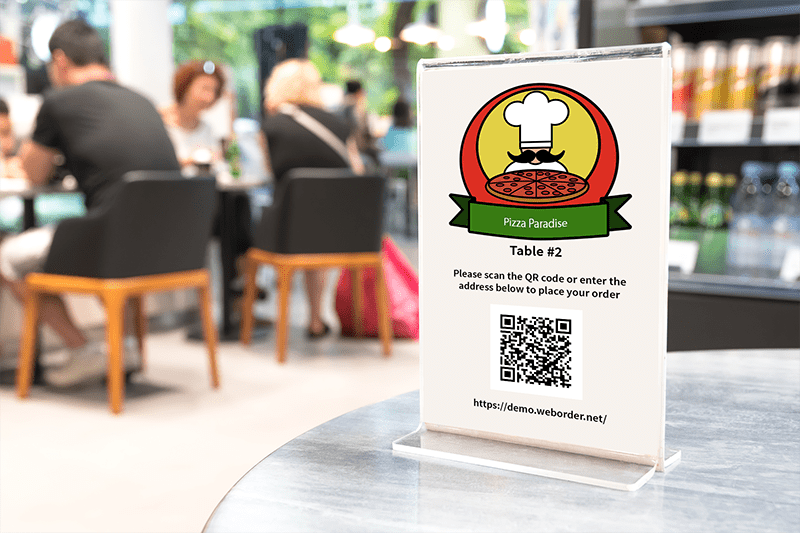 With its self-service kiosk ordering and QR ordering options, you can save time and increase demand. The self-service options provide a convenient way for your customers to place their orders and make payments without the need for staff. This goes a long way toward increasing front-of-the-house operations while bolstering customer satisfaction.
Integrate Easily With Third Party Accounting Solutions
You can easily connect your central office accounting system to third party accounting solutions such as QuickBooks Pro, and with this, easily share sales, customer, and vendor account activities between individual stores.
Easily Predict and Analyze Sales Reports
You can easily collect and analyze your sales data. The POS tools provide you tons of customizable forecast indicators, calculate hourly sales by menu group or service type, and forecast based on a number of sales indicators.
In Depth Reporting
The Microworks POS features a rich reporting capability that provides daily reporting by service type and product code, by driver, server and till, by menu item, or product mix. It can also give detailed daily, weekly, monthly, and yearly profit and loss statements.
With this, you are kept up to speed and can see whether you are making a profit or loss. You will also see payroll, food and labor cost analysis, and many others.
Another important factor to note here is that all sales data is stored in a centralized database, making it safe and can be retrieved at any time.
Easily Take And Fulfil Orders 
With its handheld tablets, contactless ordering is made possible, and this gives customers the freedom to order from any point or section in the restaurant. This enhances service delivery and gives your employees the ability to seamlessly take and fulfil orders.
Hardware And Accessories
Microworks POS offers a wide range of hardware and accessories that will make your ordering and payment process easy. This includes POS stations, hand-held devices, and kitchen display monitors. Others are card swipers, kitchen printers, and many others.
Since it is designed for the Windows operating system, it can easily work with many different devices. Its 7″ tablet option for tableside ordering also comes in handy. 
The system supports optional accessories that allow you to tailor it to your specific needs. 
While there are many options available on the market today, our team of researchers has narrowed it down to the top 3 contenders.
Microworks Prism POS Features At A Glance
Integrated Online Ordering
Cloud-Based Enterprise Management
Advanced Delivery Management
Gift cards and customer loyalty tracking
Integrated Digital Mapping
Real-Time Driver Tracking
Mobile Driver Assist and Payment App
Real-Time Multi-Location Reporting
Track Food Cost and Inventory Levels
While there are many options available on the market today, our team of researchers has narrowed it down to the top 3 contenders.
Integrations
Microworks Prism POS easily integrates with Network DVR Surveillance, Integrated Web Ordering and Advanced Delivery Automation solutions.
What Type of Businesses Is Microworks Prism POS Ideal For?
Microworks Prism POS is essentially ideal for restaurants of all sizes. Other business types, such as pizza shops, takeout, and delivery management. It particularly helps to manage and organise table services, delivery orders, payment processing, and more.
So, whether your business is a single store or a multi-store /multi-location franchise, you will find this POS particularly handy.
Components
Software Type
Windows
Typical customers
Small businesses
Mid size businesses
Large enterprises
Platforms supported
Web
Android
Support options
Chat
Training options
Documentation
How Do Users Rate Microworks Prism POS?
Microworks POS is a highly recommended POS solution among users. It scores a 5 star rating on Google review as well as a 4.8 rating on Capterra. So yes, customers rate it highly and recommend it.
Pros and Cons Of Microworks Prism POS
Pros
Easy to navigate
A friendly and interactive menu
Great web ordering 
Tons of features
Con
Users have complained about tablets not being too responsive to touch
How Does Microworks Prism POS Compare With Others?
Other brands that easily compare with Microworks Prism POS are Square POS, CAKE POS, SmartSwipe, Epos Now, Spot On, OpenTable, GoFrugal, Sapaad and Yodeck.
GoFrugal and Sapaad are major brands that stand toe-to-toe with Microworks Prism POS based on similarity, popularity, and reviews from users.
Square Point scores the highest in ratings, with OpenTable coming in as runner-up, while Microworks Prism POS ranks 41 on a list of top 50 in its category.
Let's take a look at how Mircroworks squares up with the first five on the list.
Square POS compares nicely but appears to be customers favourite even above Microworks Prism POS. The reason for this isn't far-fetched. Square POS is free to use and there are no setup or monthly fees. You only pay when you take a payment.
G2 provides custom packages for businesses that process more than $250k in card sales and have an average ticket size of over $15.
Microworks POS VS CAKE POS
Microworks POS squares up nicely with CAKE POS as both have a whopping 36 similar features. On the other hand, CAKE POS has about four unique features that Microworks Prism POS does not have. They are Clock In /Out, receipt management, real time monitoring and activity dashboard. 
Conversely, Microworks POS has these unique features that stands it apart from CAKE POS. They are debit/Credit card processing, eCommerce management, POS integration, and mobile payments.
Microworks POS VS SmartSwipe
Microworks POS and SmartSwipe both have 26 similar features. As per unique features, SmartSwipe stands out with these features: retail POS, real time data, returns management, and receipt management. 
On the other hand, Microworks has reporting and statistics, ordering automation, POS integration, and real time analytics as unique features that SmartSwipe does not have.
Microworks POS VS Epos Now
These two have 33 features in common, but Epos has the following as unique features: receipt management, clock in/out, purchasing and receiving, and transaction management.
Meanwhile, Microworks POS, for its part, boasts debit and credit card processing, customizable branding, alerts/Notifications and notifications, and mobile payments as unique features.
Microworks VS SpotOn POS
Both systems have an amazing 40 features in common, with SpotOn having order tracking, transaction history, performance metrics, and multiple payment options as unique features.
Microworks on the other hand,  has inventory management, customer accounts, ordering automation, and inventory tracking as its own unique features.
These similarities in features hopefully gives you a good overview of how Microworks Prism POS compares to others and thus will help you better decide what set of features you need the most and make an informed buying decision.
Microworks Prism POS: How Much Does It Cost?
One major plus Microworks Prism POS has is that it supports a free trial and demo. Exact pricing is not clearly stated, although we know that it operates on a monthly pricing strategy. You can reach out directly to get a quote or request for a demo/free trial.
Here's Our Take On The Microworks Prism POS Solution
Investing in good restaurant technology pays off. Point-of-sale being at the forefront of improving restaurant operations.
While there are many options available on the market today, our team of researchers has narrowed it down to the top contenders.
With its long line of features and hardware devices from tablets, handheld to kiosk and QR code ordering, the Microworks Prism POS is a good option for small to medium and even multi-site restaurants.
Investing in the solution will most likely be a good investment for your business, and with the breakdown given here, we hopefully have been able to place the spotlight on this particular point of sale system and show you all that it has to offer.
This article was written by Wale Ameen and published on Friday, 6 May 2022.