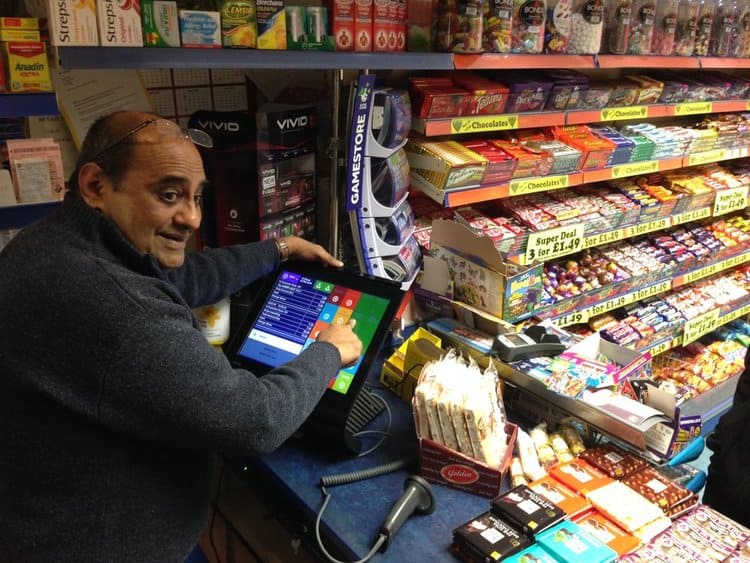 When it comes to successfully operating a c-store, you need the very best convenience store POS system. To be successful, the system should include the right hardware, like printers, barcode scanners, cash drawers, touchscreen monitors, and more.
If you offer fresh produce as a product, your convenience store needs special scales to calculate item pricing. In some stores, you may need a scanner and scale combination that ensures faster checkouts, without sacrificing accuracy.
In addition to standard hardware, look for an operating platform geared toward your convenience store's business model. You'll need both reliable software and the hardware components to process sales quickly and efficiently.
As a c-store owner, you probably want features like employee management and scheduling, inventory management, and custom reporting. But do you need extra features like lottery sales and bottle deposit refunds?
Depending on your business needs, you may need features that other convenience stores don't. Your first step before buying any POS system is to map out everything you plan to accomplish in your convenience store.
The Best Convenience Store POS System: NetSuite

When you need a convenience store management system that combines POS, order management, and e-commerce, look to NetSuite. The multi-channel, cloud-based POS system gives you everything needed for effective retail management.
NetSuite POS offers a back-office management system that lets owners take advantage of multiple channel product sales. The intuitive software understands retail complexities and hardware and software requirements. This allows the retailer to maintain customer focus.
With multi-channel, retailers can add channels according to brands, geographies, and business models. NetSuite POS delivers real-time understanding of sales, inventory, financials, and customer behavior.
Top 5 Convenience Store POS Systems
Overall

4.5/5

4/5

4/5

4/5

4/5

Ease of Use

4.5/5

4/5

4/5

4/5

4/5

Starting Price

Not provided

Not provided by vendor

Not provided by vendor

Not provided by vendor

No up-front costs

Deployment

Cloud, SaaS, Web

Cloud, SaaS, Web

Installed – Windows
Mobile – Android Native

Installed – Windows
Mobile – Android Native

Cloud-based reporting
POS management (LighthouseTM)

Support

24/7 (Live Rep)

Online, business hours

Online
24/7 (Live Rep)

Online
24/7 (Live Rep)

Online
24/7 (Live Rep)

Inventory Management

Yes

Yes

Yes

Yes

Yes

Lottery Management

No

No

No

No

Yes

Loyalty Program

Yes

No

Yes

Yes

No

Multi-Store

Yes

No

Yes

Yes

No
Get Free POS Systems Quotes
1. The Most Feature-Packed POS for Convenience Stores: NetSuite

NetSuite, lets the owner manage their convenience store retail business with a single, integrated POS system. The full-featured software allows owners to add new channels and geographies, brands, and business models. With real-time insights into financial information, sales, inventory, and customer behavior, managers stay on top of business.
An in-depth order management system with an activity dashboard gives a comprehensive store overview through weekly and monthly sales reports. Easily add or modify the POS system capabilities for store growth and expansion.
NetSuite POS Features
Customer Management
Employee & Inventory Management
Individual Employee Dashboards
Multiple Payment Forms and Currency
Receipt Printing
Discounts, Layaway, Quotes, and Gift Cards
Consignment and Sales Commissions
Returns & Rentals
Invoicing and Customizable Reporting
Reminders and Alerts
Taking A Closer Look at the software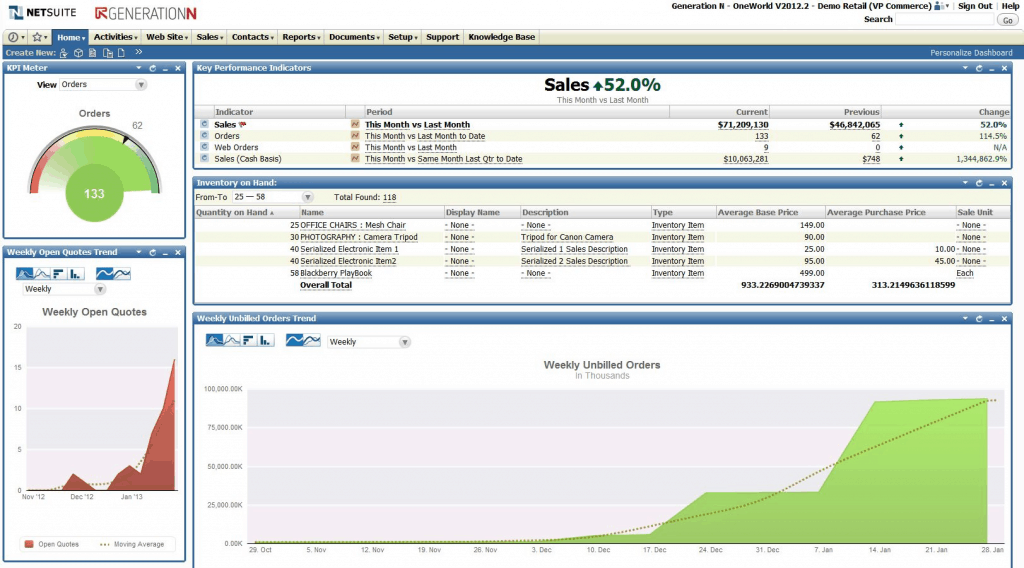 NetSuite works as a cloud-based or locally-installed POS software system. According to customer reviews, the biggest downside to this POS is the implementation process. Getting your system fully setup, depending on which NetSuite solution you choose, can take from two weeks to six months.
Once the system is up and running, access your NetSuite system at any time from anywhere through an internet connection. The software offers an iPhone/iPad app iOS9+ or Android app 5.0+ for compatibility with most devices. NetSuite works well for convenience store businesses that need full management solutions, not accounting software.
With NetSuite ERP optimized for multiple location inventory and department or location tracking, the software grows with your business. NetSuite ERP adapts to larger convenience stores and businesses needing project management, billing, or time management. In addition, both NetSuite editions expand to handle companies looking to expand internationally.
Integrations and Add-Ons
NetSuite offers a convenience store POS solution that gives owners and managers business insights. With regions, channels, brands, and business models, you can increase your earnings and build your business.
You also have access to 350 integrations to help you get the most from the software. Not all the software integrations are in direct partnership. NetSuite offers many of the add-ons through their open API.
Some of the most popular integrations:
WooCommerce: eCommerce platform
Shopify: eCommerce platform
Magento: internet retailer platform
PayU: payment gateway for online payments through NetSuite
Salesforce: marketing solution and CRM including customer service
Avalara: automatic sales tax calculation by customer address
Expensify: expense management and reporting with auto expense reimbursement
Adobe Sign: online electronic signatures
Ease of Use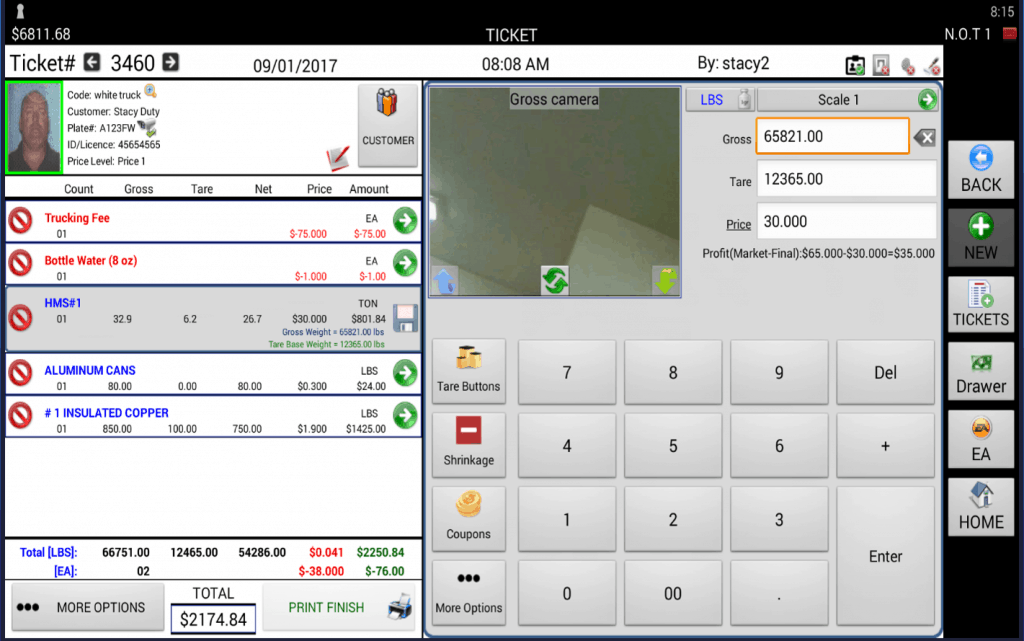 One of the areas users like most about NetSuite is the software's aesthetic appeal. The dashboard is easy to use and well organized with customizations and in-depth features based on the company's individual needs.
NetSuite designs the dashboards specifically for the company's various employee roles. Being developed for each employee role makes the software easier to use with less unused buttons cluttering the dashboard.
The POS organization varies depending on the company roles assigned and the software package chosen. Because of the individualization, software setup takes a little longer. Depending on your convenience store needs, setup can take from two weeks to several months.
Top Benefits
Robust system with all the customizable features you need
Easy to use compared to other POS systems
Perfect for business planning to expand or go global
Consistent twice-yearly upgrades
Possible Drawbacks
Not suited for small operations
Expensive yearly cost
Third-party integration bugs can cause downtime
Not intuitive for some users, but easy to learn
Our Verdict
While NetSuite has a few issues, it's still one of the best cloud-based convenience store POS platforms available. Even though it's based on larger businesses or those with expansion plans, NetSuite has everything most business owners need.
With a modular base, this software is a financial platform easily expanded for other business needs. You can expand the platform to meet your needs by buying additional functions through the cloud.
2. Most Robust POS Software for Convenience Stores: POS Nation


The robust features and inventory control brings POS Nation as second on our list of convenience store POS systems. While there are many features, the well thought out inventory control is perhaps the most important for any convenience store.
In addition to the inventory control module, POS Nation offers:
Sales Reports
Customer Sales History
Customizable Loyalty Program
Accounts Receivable Tracking
QuickBooks Integration
Employee Tracking
Inventory Control
Custom Barcode Printing
Inventory Scanner
Create, Track, and Send Purchase Orders
Taking A Closer Look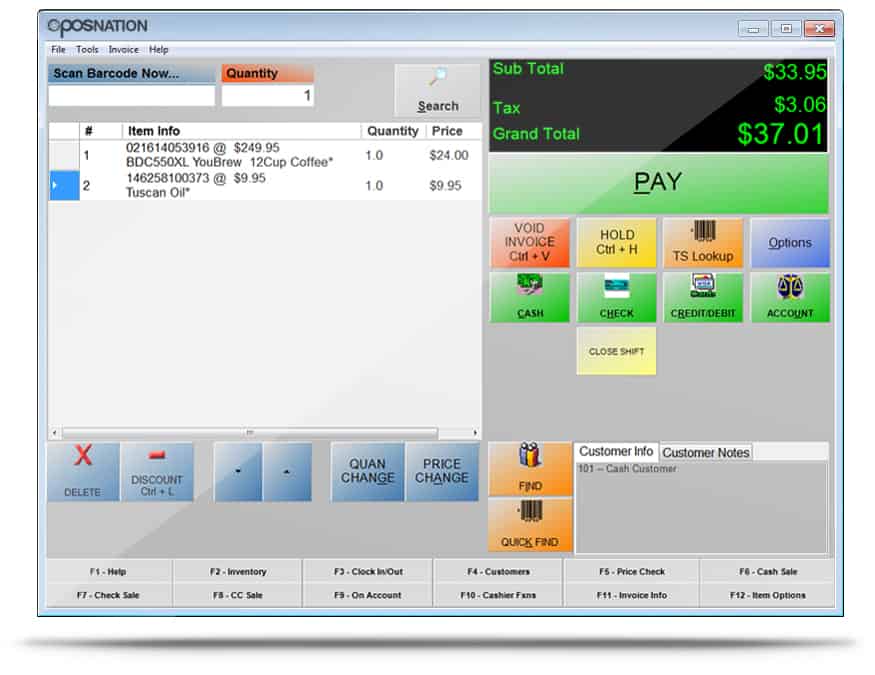 For a system for small businesses, POS Nation offers some robust features. With sales reports, employee tracking, inventory control, and barcode printing, you have complete control over your convenience store finances.
A customer sales history function tracks your customer's buying habits. Keep detailed sales history records and build marketing campaigns targeted toward existing and new customers.
Control your store's inventory management through POS Nation with barcode scanning which improves efficiency and eliminates errors. When the stock gets low, POS Nation sends out reorder notifications. The inventory control lets managers not only track stock amounts, but automatically create, send, and track purchase orders.
The cloud-based POS Nation core system includes a cash drawer, a barcode scanner, a touchscreen computer, a receipt printer, and a credit card reader. If you need more portable options, POS Nation lets you add Windows 8 HP ElitePads.
Top Features from POS Nation
Good inventory tracking
Handheld inventory scanner
Custom barcode printing
Sales tracking and reports by day, week, or year
Customer sales history and A/R tracking
Employee tracking
Expense tracking
Supports multiple payment processors
Third-party integration support
PO generate and receive function
Possible Drawbacks
Inventory function hard to learn
Reported problems after software updates
Cheap included keyboards
Can't adjust POs after creating
Menus aren't intuitive
Not a comprehensive reporting system
Only compatible with their hardware
Technical support needs improvement
Our Verdict
The POS Nation software package helps you easily and efficiently run your convenience store. You get inventory, sales, and employee data needed for operational decision making.
While the software does have some issues, once you learn how to use it, this POS system helps you with day-to-day operations. Whether you need an inventory update or a new marketing campaign, POS Nation gets the job done.
3. Most Affordable Convenience Store POS System: AccuPOS


AccuPOS offers a mobile integration for Android devices and is available in web-based and on-site formats. The AccuPOS application integrates with different accounting systems and serves various sizes and types of retail businesses including unique hybrids.
In addition to convenience stores. AccuPOS works in supermarkets, retail stores, liquor stores, and garden stores. The POS software adapts to any number of users and employees.
Some of the features of AccuPOS:
Multi-system integration
Mobile POS compatibility
Barcode scanning
Print receipts
Credit card processing
Refunds/returns
Coupons
Customer loyalty and gift cards
Customer history and sales commissions
Customizable GUI
EMV compliant
Taking a Closer Look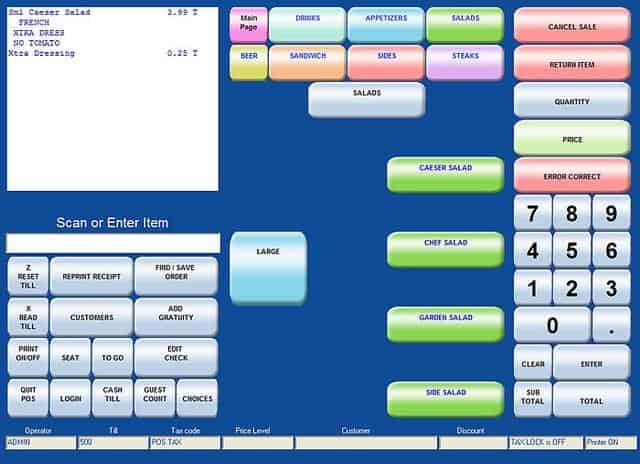 When integrated with Sage 50, Sage 100 ERP or QuickBooks, AccuPOS ends double-entries, eliminating additional user man-hours. The complete AccuPOS suite delivers inventory management, customer relations, and employee tracking modules. By using these applications, users can adjust inventory, enter customer data, and access online reporting.
The platform runs smoothly with an easy-to-use interface that's fully customizable. Easily organize hotkeys and buttons into user-friendly tabbed menus, color-coded to the user's specifications.
Customizable reporting lets you review the numbers most important to your business operations. Generate online sales reports by the day, month, and year or any time period of your choosing. With the ability to generate regular reports, you get a good picture of what sells and when it sells best.
AccuPOS also offers effective mobile scanning and credit card processing. Handle deliveries wirelessly while managing pricing and inventory amount amendments through the inventory module and the cloud.
Custom accounting integration allows store owners to organize their transactions in one place. Seamless connectivity means no by hand data entry. Even log transactions using third-party plugins or remote software.
Popular integrations for AccuPOS:
QuickBooks
Sage 50
Sage 100
Peachtree
Simply Accounting
Wasp Labeler Guides
Managing Employees
Convenience store managers need a fast and simple way of training and managing staff. AccuPOS customized their POS system to help managers quickly train new employees in a high-volume store environment.
The POS has an intuitive interface letting employees learn the dashboard actions in a matter of seconds. With quick action screens, it doesn't take new employees long to become comfortable with the operating system.
Adding the AccuSHIFT add-on module makes staff management easier by letting employees clock in and out. The clock-in and clock-out time automatically get sent to the employee's timesheet. In addition to time tracking, AccuSHIFT lets managers add and remove employees, use customized swipe cards, and make record corrections.
Our Verdict
This POS system isn't made for large, high volume convenience stores. However, it's a great addition to smaller establishments. AccuPOS has everything you need to manage your convenience store.
You get state-of-the-art software with all-in-one touchscreens, magnetic card readers, and more. Whether you operate a convenience store or other retail business, AccuPOS helps you keep your business running smoothly and efficiently.
4. Solid Inventory Management Software for C-Stores: IT Retail


When it comes to solid inventory management, IT Retail comes out on top with several inventory management integrations working together. The IT Retail POS system offers a Cipherlab powered mobile app. This specialized app lets you track metrics, use ad batches, purchase orders, order receiving, shelf tag requests, and inventory counts.
Besides the app features, back-office tools control inventory features like low stock reporting, shrinkage, and purchase orders converted to PDFs.
Popular features of the IT Retail POS:
Cloud-based
Includes scanner, EMV PIN pads, printer, cash drawer, and display
Inventory management
Employee management
Cash management
Full back-office reporting
Customer loyalty, discount programs, and gift cards
PCI compliant
Taking A Closer Look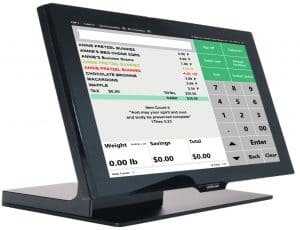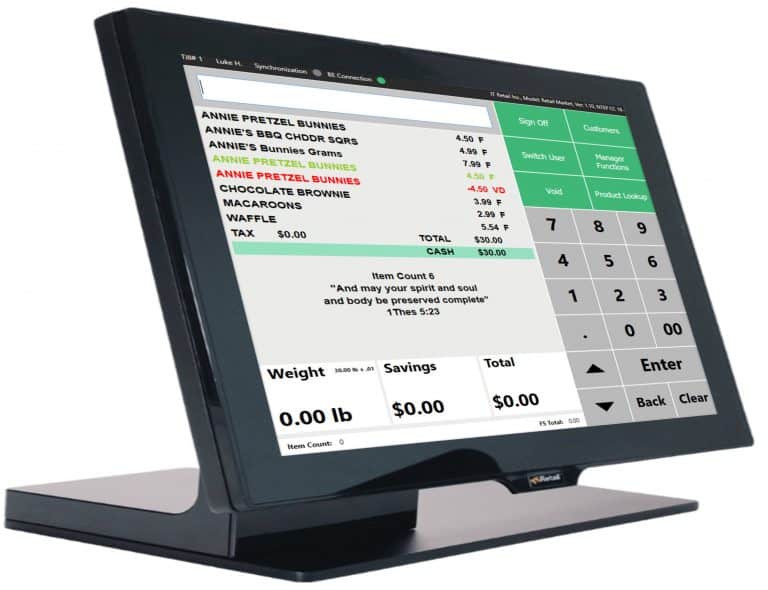 The do-it-all POS system lets you track your convenience store operations from anywhere on PC, Android or Apple devices. You can access your cloud-stored sales, inventory, and employee performance even when away from your store.
IT Retail POS supports the latest payment technologies for fast and smooth customer checkout. You can accept EMV, EBT, Google Pay and Apple Pay, and swiped payments.
For added security, IT Retail tracks employees through store scanning that combines scheduling information with each transaction. The scanning feature lets you account for every sale and payments through daily revenue and inventory reporting.
Top Benefits
Easy to use
Cloud-based
Flexible and scalable
Powerful reporting
PCI compliant
Possible Drawbacks
Takes a while to work out the glitches
Cheap pin pads
Cost is high when adding hardware
[/su_list] [/su_box] [/su_column] [/su_row]
Our Verdict
IT Retail developed its system on the Microsoft platform that also interfaces with the suite of Microsoft products. They offer an open software solution made for convenience store food retailers and the grocery store market.
You get a comprehensive, easy-to-use POS and back office system that's combinable with corporate host systems. IT Retail POS is a reliable system that's flexible and scalable.
5. Windows-Based Convenience Store POS: Harbortouch POS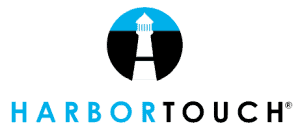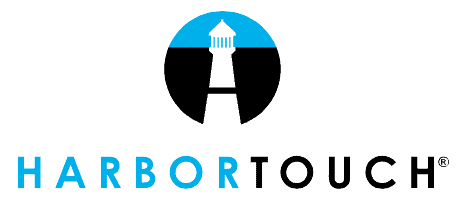 Harbortouch POS software delivers a high-end system for no cost when applying for a qualifying merchant account. Choose from three POS solutions; the Echo, the Elite, and the Harbortouch Checkout.
Their top-of-the-line system, the Elite combines the best available options. This full-function POS system is the perfect top performance solution for any retailer, bar, or restaurant. The table-based Echo system uses proprietary software with the integrated hardware design for taking your business on the go.
Both the Elite and Echo system works with Harbortouch hardware, leased and added to the subscription rate.
Popular features of the Harbortouch POS system:
Inventory tracking
Customer database
Employee management
Commissions
Wide range of reports
Vendor management
Purchase order creation
Integrated payments
Rentals
Apple Pay, NFC, and EMV
Taking A Closer Look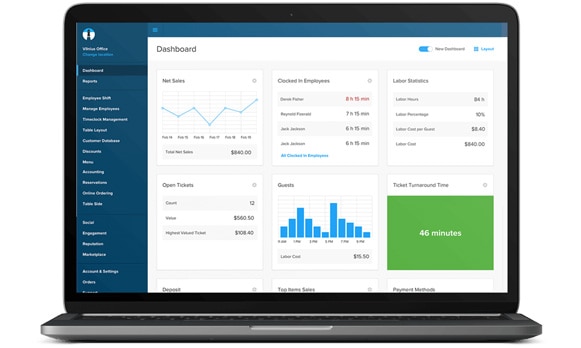 Harbortouch offers three high-level POS systems, the Elite, the Echo, and Harbortouch Checkout. Depending on what you expect from the software and the type of business determines which system you need.
The company recommends the Elite for restaurants, nightclubs, bars, fast food service, delivery, and salons, and spas.
For other outlets, like convenience stores, food trucks, and counter service restaurants, Harbortouch recommends the Echo system.
Available hardware:
Bar Code Scanners
Card Readers
Cash Drawers
Receipt Printers
iPad Based System
Android Based System
Customer Displays
Checkout Scales
Portable Receipt Printers
The Different Harbortouch Systems
The newest Harbortouch product, Checkout, deserves mentioning for its specialized features geared toward retail operations, like convenience stores. Checkout has a retail design with inventory management, payment functions, and retail reporting and uses the Elite 3 POS system.
All Harbortouch systems have easy-to-use, yet advanced features. With the cloud-based system, you get 24/7 reporting and the ability to keep all employees connected.
Each system has a monthly price of between $29-69 per month, including standard equipment. There are no upfront costs or installation costs, but additional fees apply to add-on accessories and software.
To use any of the Harbortouch systems, you need compatible hardware and a merchant account through Harbortouch. If you need additional and specific business options, you may need to add additional accessories.
Top Benefits
30-day free trial
No upfront costs
Free installation and menu programming
Free training
Cloud-based POS reporting and management
Lifetime hardware warranty
Affordable merchant services
Supports all major credit and debit cards
24/7 customer support
Possible Drawbacks
The system occasionally goes offline or freezes
Needs more sales reporting options
Added fees
Requires a contract
Needs better tech support
Our Verdict
Harbortouch offers a comprehensive POS system that does almost everything small to mid-size convenience stores need. Their industry-specific systems are customizable to meet all your needs. The equipment is free, but you must sign up for a lengthy merchant contract.
Why Buy a Convenience Store POS System?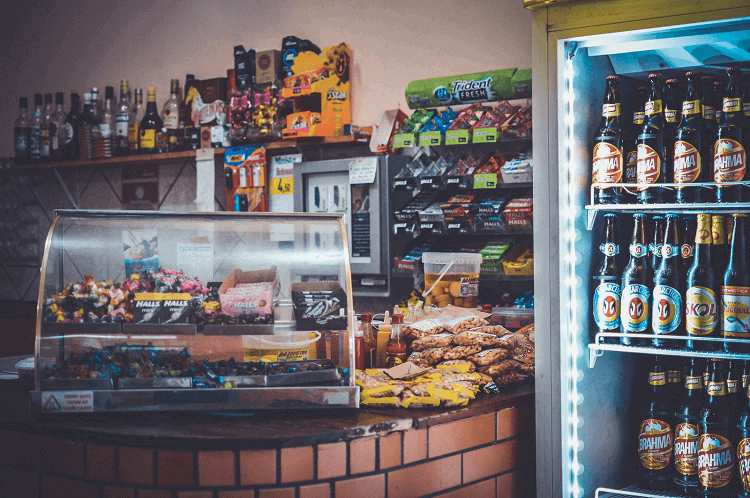 Point-of-sale (POS) systems offer a convenience store many benefits and advantages, especially compared to operating with traditional cash registers.
POS systems not only benefit the checkout process, but they benefit all areas of your convenience store business. The advantages over the outdated Electronic Cash Register (ECR) and credit card terminal are numerous.
Here are ten advantages of switching to a POS system in your convenience store:
Easier to use
Increased efficiency
Better accuracy
Expands payment options
Detailed receipts
Employee management including timeclock options
Inventory management
Expanded automated reporting
Simplifies accounting
Speeds up service
While this list is impressive, there are even more reasons to use a POS system in your c-store. Choosing a point-of-sale system, customized to your convenience store, can lower business costs, increases productivity, and improve the bottom line.
Important Features For Your Convenience Store POS System
Streamlined inventory management, personalized customer interactions, and increased profit margins.  These are the necessary features of a POS system. However, convenience stores and gas stations need more custom options than most retail POS software.
Depending on your provider, such additional features may come at an extra cost. The gas station features include specialty functions for gasoline sales including fuel price and pool margin calculations and compliance reporting.
Hardware
Hardware is another consideration when looking for a POS system. With self-service gas, you need additional options for connecting the POS system to each gas pump along with card scanners.
If your convenience store offers fresh produce, weighing scales at the checkout counters become necessary. High-quality scanners, card processing terminals, receipt printers, and cash dispensers are other equipment considerations.
UPC Code Cataloging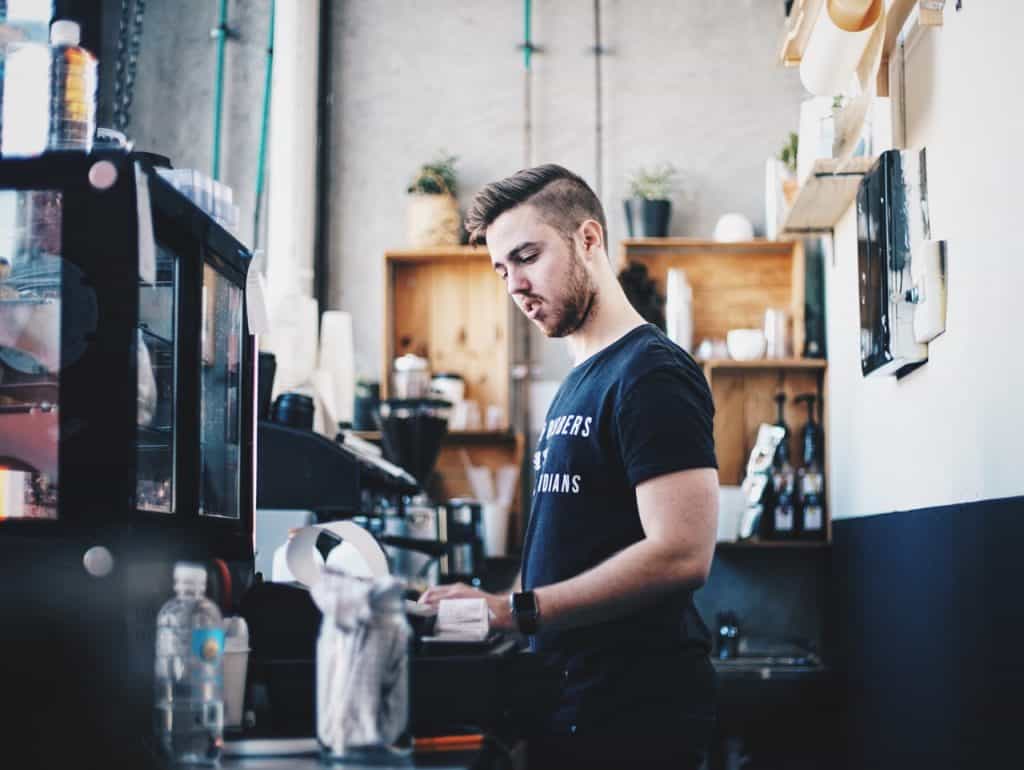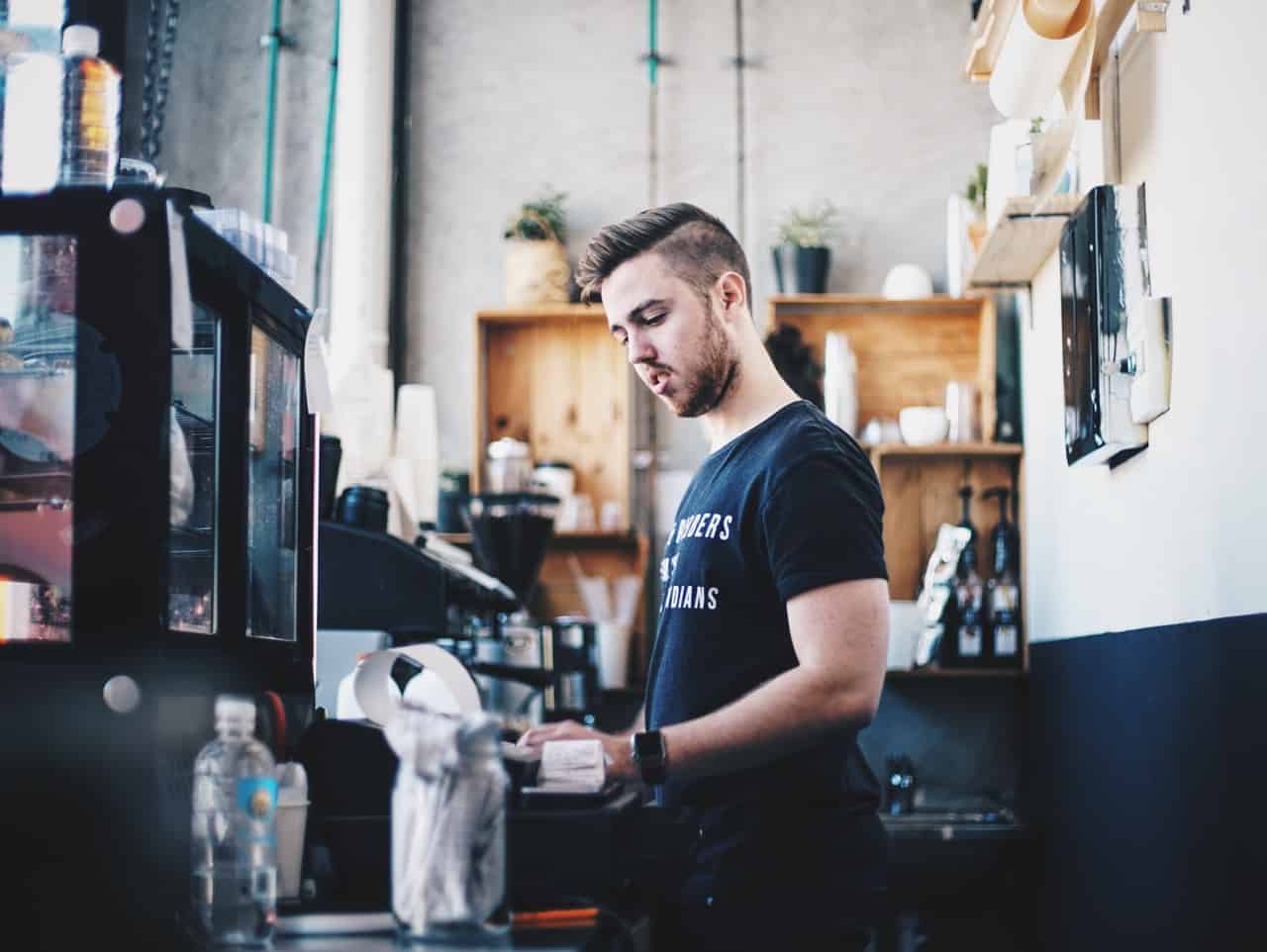 All convenience stores deal with a large variety of items, making correctly calculating profit and loss margins challenging. If you need better control over maintaining your inventory levels, consider comprehensive inventory management and reporting function.
The best solution for convenience stores is a system featuring a UPC catalog. The catalog should have the ability to enter descriptions for common convenience or grocery store items. A UPC catalog saves considerable time when first compiling the inventory database.
Cash Drawer Drops
Cash drop capabilities and reporting are important security features for any retail establishment. The best convenience store POS systems offer register functions that track all money drops. Also, cash-in-drawer amounts per employee. You need all tracking available in real-time, with reporting based on cash drawer threshold amounts.
Look for a system that sends automatic alerts to responsible staff, whenever a cash drop is needed.
Spoilage Reports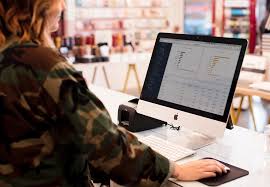 Convenience stores have a considerable amount of perishable items. When left unmonitored, these items can go bad, causing large business losses due to spoilage. The POS system you choose for your convenience store should track and report, preferably in real-time, product spoilage.
Spoilage tracking and reporting work by monitoring the 'sell by' dates stamped on your store product inventory. This software feature helps staff monitor perishable items and identify and remove bad items from the inventory. When you mark the items as spoiled, the software documents the item then reports the product cost as a loss.
A high-level POS analytical tool helps staff buy the correct amount of each product, based on the sales demand. Sales analysis helps prevent spoilage and loss of product, saving the convenience store money.
Final Considerations
Once you finish your research on the POS systems available for convenience stores, it's time to ask yourself some questions. You should always consider pricing, ease of use, durability, and system security.
Start by asking yourself these five questions:
Do the features and functions fit my convenience store business?
Can I choose my own hardware or do I have to buy from the POS company?
Do I have to sign a contract?
What is the total cost of everything added?
Are there annual or monthly fees hidden in the price?
After you answer these questions it's time to take your POS search a step further.
Look at the most popular POS systems first.
Read customer recommendations and reviews.
Try the free demos of any products you like.
If possible, talk to business owners with similar businesses.
Ready to Use a POS System In Your Convenience Store?
A POS system holds many advantages for a convenience store. Point-of-sale solutions can lower business costs and increase productivity while giving your bottom line an improvement boost. Using a POS system in your store will save you time and money in the long run.
Look for a POS solution that has the features you need to manage your business more efficiently. Features like fast transactions, payment processing, analytical sales reports, and good inventory control and reporting are necessary for efficiency.
The key point of any POS system is helping you find targeted data about your inventory, sales, and customers. Hardware is another important consideration and should include cash drawers, pole displays, credit card readers, and scanners.
When it comes to using such software, the goal is to simplify operations and increase revenue. You want a POS that won't limit your business operation and expand with you as the business grows.