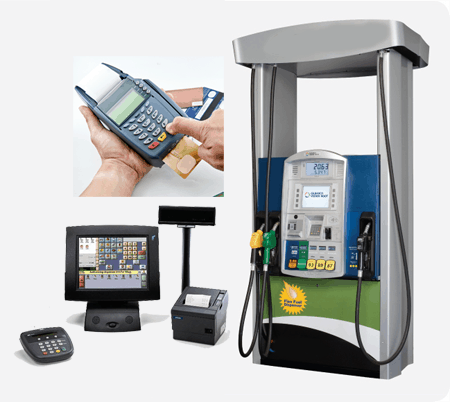 Gas stations process a high volume of transactions daily, so running one can be complicated. Ideally, you want a gas station POS system that can sync with all your locations, increase revenue, and offer time saving features.
From basic functions like fuel pump controller integration, to cash management, to secure transactions, the system you choose should offer solutions to help you run your operation efficiently, even at peak times.
Additional requirements for safety controls, role-based access, and integration with back-office solutions should be considered. Also, instant lottery management and modules for restaurant operations, if you offer those services. In this guide, we'll review three top gas station POS systems. These systems are also ideal for truck stops, where loyalty programs and solid reporting is a must.

Our Best Station POS System: AccuPos


AccuPos' greatest advantage is that it allows you to manage your gas station business from anywhere and at any time. If you choose AccuPOS, you won't have to be chained to your station every second of the day. With one password, you can manage staff schedules, access sales data, and plan promotions.
Stock management is seamless. The one of a kind integration with Quickbooks & Sage lets you fully manage your inventory via your accounting software. You can scan deliveries and manage inventory from a handheld device using the AccCOUNT software.
Top 3 Gas Station POS Systems 2019
Overall

4 / 5

3/5

4 / 5

Ease of Use

4 / 5

4 / 5

4 / 5

Customer Service

3.5 / 5

3/5

4 / 5

Starting Price

Not provided by vendor

$39.00 a month

Not provided by vendor

Deployment

Installed – Windows
Mobile – Android Native

Cloud, SaaS, Web

Cloud, SaaS, Web

Training

Documentation
Webinars

Live Online

Live Online

Live Online

Support

Online
24/7 (Live Rep)

Online and by phone, business hours

Online, business hours

Deli / Restaurant Management

Yes

No

No

Employee Management

Yes

Yes

No

Fuel Management

No

Yes

No

Fuel POS

No

No

No

Grocery POS

Yes

No

No

Inventory Management

Yes

Yes

Yes

Lottery Management

No

Yes

No

Loyalty Program

Yes

No

No

Multi-Store

Yes

No

No

Price Book

No

Yes

No

Retail Management

Yes

No

Yes

Single Store

Yes

No

No
Get FREE POS System Quotes


AccuPOS is accessible on all devices, including PC & Android, so you can browse an extensive collection of durable, reasonably priced hardware and choose what suits you, your gas station, and your staff best.
AccuPOS is a very powerful accounting tool, especially when synced with Quickbooks or Sage. Having all the financial data synced and ready saves you and your clients a lot of time when it comes to taxes.
If you choose with AccuPOS, you'll save hours of work on books. Accounting is completed in a matter of seconds. The retail POS connects seamlessly with the accounting software, so all the data is transmitted wirelessly. You don't have to waste valuable hours reentering data by hand any more. In fact, Quickbooks marketplace has ranked AccuPOS number one 7 years in a row.
Quick And Easy Training
When you hire a new staff member, you need him or her to start using your retail POS system accurately and as soon as possible. You just don't have enough time to train them in the software. Gas stations depend on getting staff up to speed immediately.
For this reason, the AccuPOS POS software interface is developed to perform simple, intuitive actions that people can master in a very brief period of time. New employees will be perfectly comfortable using this company's Point of Sale in just a few minutes.
Fast Clock-In Integration
The company's AccuSHIFT software is an add-on that allows you to manage staff quicker than ever before. Your employees can clock in and out right on the sales screen, and the data is sent automatically to your timesheets. You can add and remove employees, make corrections, and use customized swipe cards for ease of use and security. There will be no need to do manual timesheets anymore.
Finally, AccuPOS' software will generate online sales reports on a regular basis, be they from the last day of last month's sale or Christmas two years ago. You'll know what sells and when it sells best, being better informed moving forward. That's how gas stations thrive, and retail businesses in general for that matter!
Disadvantages
It can be a little bit confusing to configure the database. On occasion, you'll have to wait 10 minutes to speak to first level tech support, but that doesn't happen that often. They're usually available immediately.
Bottom Line
This POS system offers great quality at a relatively low price. It enjoys the trust of a vast number of customers thanks to its efficiency.
Our #2 Pick For Best Gas Station POS System: CStorePro

CStorePro features top of the line, cloud-based technology letting you control your gas station or stations from anywhere. It is easy to set up. The company offers flexible training – you can do a demo or watch their training videos for free.
Other advantages include low-cost plans and powerful design and engineering. The combination of business acumen and technology expertise has generated efficient, intuitive inventory control software that's simple to use and brings value to gas station managers, employees and owners.
The First Cloud-Based Back Office
CStorePro had not only the first cloud-based back office in the industry, but also the first mobile price book. Their technology and products are designed to scale and adapt. As the retail sector evolves, you always stay one step ahead.
The company takes data security very seriously – data is protected with full safeguards according to the best practices used by banks and financial institutions and in line with all relevant industry standards. All data is stored and backed up on data centers, professionally managed by Amazon Web Services, the world's leading cloud infrastructure and computing provider.
Customized Support
Support is just a click away. It is also available via phone or remote screen sharing. The best way, however, is live chat. Whatever method you choose, you will get instant and personal answers to your questions.
The company's experienced support team is fully trained to deal with questions and help clients make the most of the tools and software. We recommend reading their detailed training articles, available from the Help Center on their website. There are also videos and a FAQ section to tell you everything you need to know about the software.
Simple, Automated Day Reports
It is quick and easy to create accurate day reports to indicate your exact daily short/over, and automatically download credit cards, sales, pay-ins and pay-outs from your POS register to limit the necessity of manual data entry.
Customizable For Your Station Setup
CStorePro's day reports can be customized to adapt to your business' unique setup so your reports are always accurate and not made complicated by unnecessary fields. You can also customize your categories and departments, configure your printable and data-entry day report layouts.
Also, set up mappings between your POS register departments and day reports and monitor key control points. This can be done by scheduling a demo session with a CStorePro staff member for a guided tour of store inventory and gas station management products.
If you already have an account with CStorePro, just open a customer support ticket on their website.
Finally, this software will let you keep an eye on your fuel SIR reports, merchandise inventory, vendor balances and other important factors with configurable views that can be printed with your day report using online inventory management.
Disadvantages
When the company first started out, customers would have a hard time getting help due to understaffing of the support team. This has changed, but there is still a response time during peak hours of up to an hour.
Bottom Line
This software makes managing your business easier than ever, because everything is at your fingertips. The program is very well designed. The features and functionality are outstanding. The mobile app is really great. We really appreciate the fact that you can change prices from anywhere and see your business sales in real time regardless of your location.
Our #3 Pick For Best Gas Station POS System: POS Nation

Our number three pick won us over thanks to their amazingly efficient inventory control. Simply put, you can serve your customers better if you know what you have in stock!
Apart from this, POS Nation generates sales reports, tracks employees, and offers custom barcode printing. It helps you get a better handle on the financial status of your operations, manage productivity, and make better staffing decisions. It is easy to create labels on the spot to track inventory.
Automatic Generation Of POS
You can create, track and send purchase orders automatically. You will also receive notifications when you need to reorder. Accounting processes are tailored to fit your unique needs, keeping customers paying on time and revenues flowing. We definitely recommend the software's Customer Sales History feature, because it lets you track customers' purchasing habits and create targeted marketing campaigns to retain current clients and win new ones.
Handheld Inventory Device
Inventory is managed more effectively using this device, which performs a quick scan. This in turn decreases inventory data errors and improves efficiency. Moreover, gas station managers can make better business decisions.
This company has an impressive client base – more than 70,000 businesses use its software. They work with a variety of retailers, ranging from independent gas station owners-operators to multi-location chains. Regardless of your individual needs, their adjustable, scalable retail POS system is capable of developing with your business.
Typically, their POS system includes a cash drawer, touchscreen computer, barcode scanner, receipt printer, and MSR (credit card swipe). From there, you have many additional options. The company offers a variety of add-on POS hardware including tablets, customer displays, scales, label printers, pin pads, and more.
The company is able to easily incorporate tablets into their retail POS system using Windows 8 HP ElitePads. They are ready to offer personalized consultations to learn more about the client's business in order to offer the best POS system for his needs. If their POS software won't meet the needs of your retail business, they will make it clear.  
Disadvantages
The website is a little slow.
Bottom line
POS Nation's software will help you run your business easily and efficiently. It gives you the information you need to make decisions. You will know how well your goods sell, as well as your margins by department. You can offer promotions to win clients back.
Our Final Review
When buying a gas POS system, the first thing that you need to make sure is that the system complies with many different industry specific requirements. Of these, ATEX regulations are the most important by far. These set of regulations govern POS system design standards so as to make its operation safe in a potentially explosive environment.
Gas Station POS Systems Should Enable Short Transaction Times
As gas stations receive lots of customers around the clock, managers cannot afford to spend too much time processing a transaction, with the line of cars getting longer and longer and customers honking their discontent to inform everyone in the vicinity that they are getting late. Your POS system should enable faster transaction times with quick-to-process system functionality and easy to access sales information.
A User-Friendly Interface
The best gas station POS systems are designed for intuitive operations. Their user interface is easy to operate and navigate. The easier the system is to use, the more time it will save—otherwise wasted on needlessly lengthy staff training—and the fewer human errors while processing a payment.