(Last Updated On: July 15, 2021)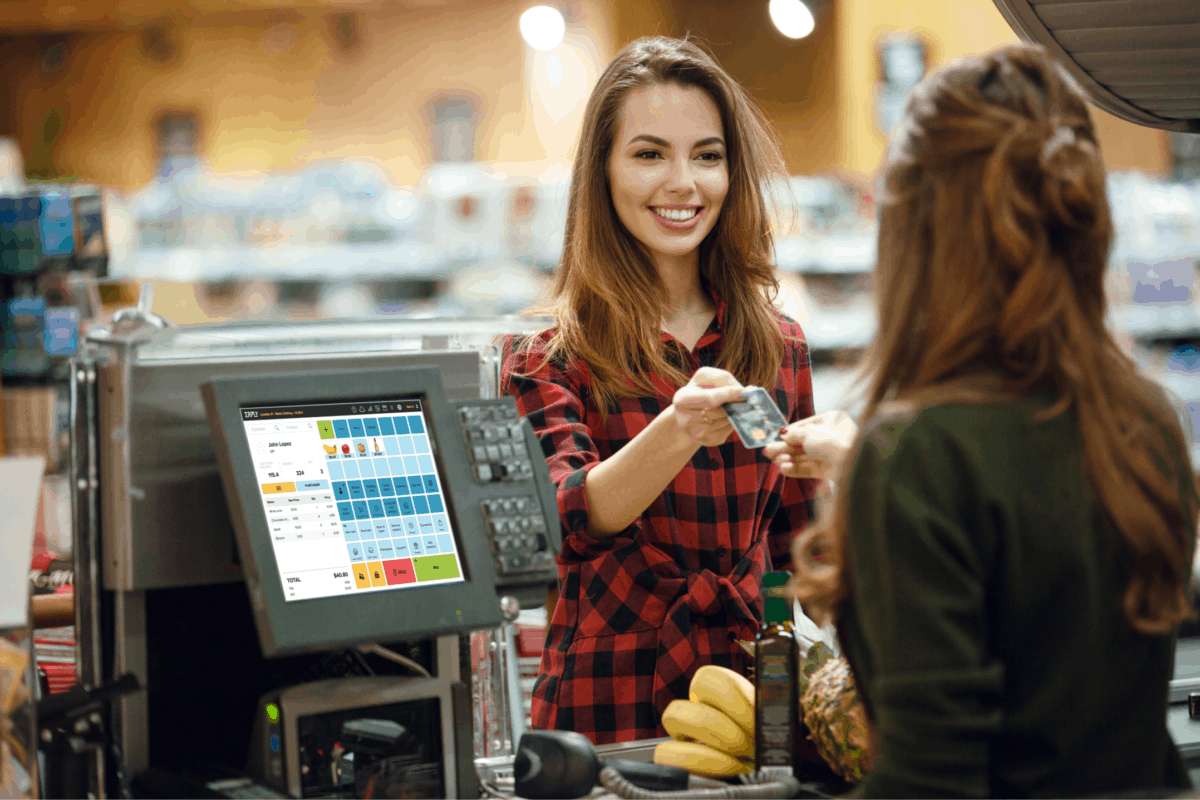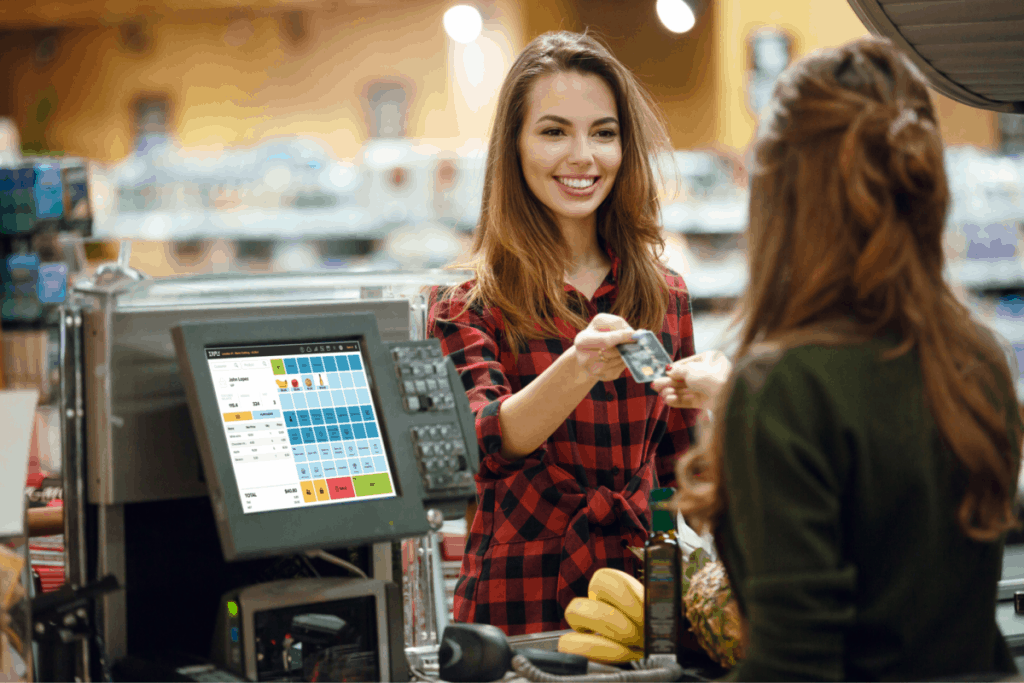 Modern supermarket management means more than a network-connected register and checkout software. Especially as the online sales and delivery markets drive consumers away from an in-store experience. An intelligent supermarket POS system will help a business stay competitive and generate revenue.
There are 38,000+ supermarkets in the United States alone, with the average store carrying more than 33,000 items. This proves there's a need for technology that enables cross-channel management.
The supermarket business model faces many exclusive challenges that other retail brands do not. The system must have the means to weigh a variety of items in a quick manner and integrate the prices seamlessly. Transactions must be fast and inventory should always be available. Empty shelves deter customer returns.
The best supermarket POS system will provide in-depth inventory controls with integrated scale technology to facilitate checkouts. A universal dashboard with employee management, focused reporting, and fair payment processing rates should also be a part of your POS platform.
To help get your search started, we've compiled a list of the best supermarket POS systems you should take a look at before making a decision.
The Top Five Supermarket POS Systems Now
CashierLive – The POS Platform for Efficient Transactions
Clover – The Best POS for Enhanced Security
Polar POS – The POS System for Scale Integration
Square – The POS Platform for Shopper Feedback
POS Nation – The Best POS for Custom Configuration
Best Supermarket POS Systems – Comparing The Top Three Providers
POS System

Software Costs

Other Costs

Key Feature

$75/month per store

Additional cost for Pharmacy plan

Park transactions, split payments, process simple returns, and accept all forms of payment.

$1,399 (or three payments of $466)

$69 for payment processing and
$749 for the POS compact package

Multi-layered security with fingerprint login and end-to-end encryption

$24.99/month per register

$54.99/month for two registers and $99.99/month for three registers

Supports high-accuracy scales that utilize dual-range weighing technology

The basic program is free

$59 for the Square Reader,
$299 for the Square Stand,
and $439 for the Square Terminal

Square Feedback gives shoppers a platform for private feedback via email or text.

Flex Monthly starts at $99/month

Freedom package is $999 as an all-inclusive,
one-time fee

Quickly navigate to appropriate products using custom keys and dashboard configuration

1. CashierLive – The POS Platform for Efficient Transactions

CashierLive is a supermarket POS system that gets the job done with one simple tool. Increase sales, cut costs, and save time with all the features you need to hit the ground running. The easy and intuitive point of sale system allows a business to run transactions faster than ever, on any device, and boasts key features like:
Payment Processing
Accept any form of payment the guest has with very low, flat rates starting at 2.7% per transaction. The system also supports EMV chip cards and contactless payments. CashierLive offers a wide variety of standard point of sale hardware and peripherals to ensure your payments are processed quickly and efficiently.
Customer Engagement
A key to retail success is building your customer base and nurturing loyalty. If everyone that walks in the door receives great service, people will be returning time and again. CashierLive helps bridge the gap and elevate your service level by tracking important customer metrics for greater insight.
Additionally, both the CashierLive platform and mobile app enable a store to email receipts. Not only does this save on time and paper costs, it gives you an "in" with the shopper and customizes your offerings.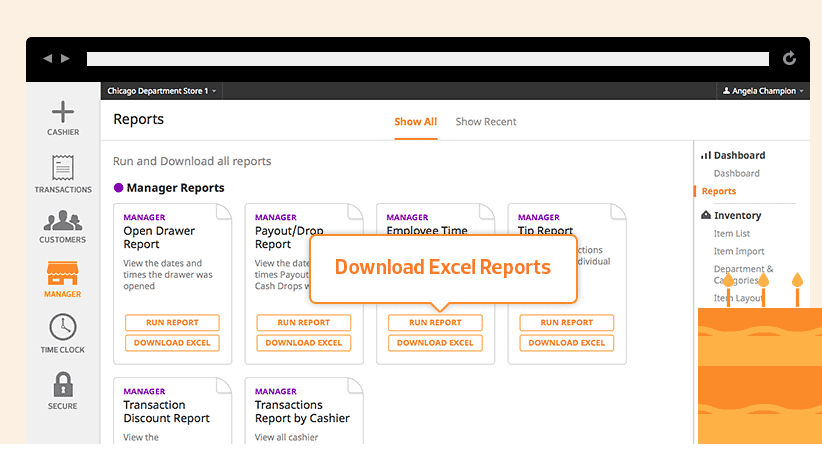 Smooth Transactions
Run more efficient transactions with the CashierLive platform. Hold transactions whenever someone needs to run to their car or split them up to accept multiple forms of payment. You also have the option of providing a house account and letting people pay at the end of the month. The more ways you make it easy for people to purchase, the more sales you'll see.
Additional Features:
Easily accept tips with a space on all printed receipts
Discount specific items or entire transactions
Search inventory and filter items by UPC, supplier, and reorder number
Barcode scanning with attached scanner that connects with USB
Great hardware design with extensive usability testing
2. Clover – The Best POS for Enhanced Security


The Clover program is a supermarket POS system that was designed to work out-of-the-box. Unlike other brands, this system comes with everything you need to get started, including a cash drawer and receipt printer with no extra or hidden costs. The equipment is affordable with options for an interest-free installment plan and prime features like:
Multi-layered Security
The Clover Station gives a store the option to set up logins with fingerprint technology. The program has enhanced employee security and end-to-end encryption with every transaction so your data is always protected. You can access information anywhere you need to run the business efficiently.
Speed and Reliability
Execute business faster with a high-level of processing power, a quicker CPU, and extra RAM. Manage your staff, update inventory, run reports, and take orders, all within the same system. The large, 14" high-definition screen makes operations easier to manage, from employee controls to inventory, payments, and reporting.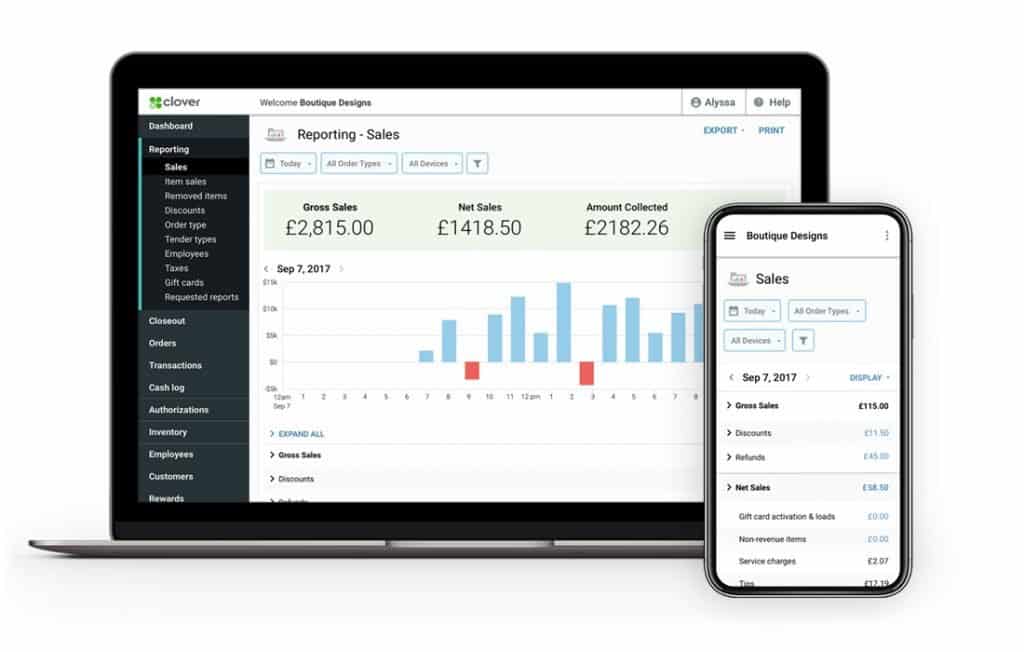 Customer Management
The Clover system allows a supermarket to get to know their biggest fans. Collect and manage customer information and marketing preferences so you can engage with people on their terms. Use cross-promotional tools to build lasting relationships in real-time and create intuitive loyalty programs within minutes—no strings attached.
Always engage with consumers one-on-one before negative feedback ever hits social media. Send out tailored and custom messages via email and SMS to further marketing efforts.
Additional Features:
Accept swipe, dip, and tap payments from your phone
Consistent rates for all cards including AMEX and rewards
Exceptional live help for setup, troubleshooting, and training
Free, overnight shipping arriving in one business day
Full refund within 60 days, minus shipping
3. Polar POS – The POS System for Scale Integration

Polar POS is an advanced and low-cost point of sale system that was designed with retail in mind. The product includes basic grocery features like employee management, inventory controls, and customer relationship programs. Whether you run a small register or a multi-state operation, Polar POS offers key benefits like:
Retail Scale Integration
Polar is a supermarket POS system that integrates and supports a number of different retail scales that include brands like:
Hobart
Toro
CAS
Ishida
Digi
Bizerba Meat Department
The Polar POS system is certified by the National Conference on Weights and Measures to accurately report on the measured weight of any scaled grocery item. The platform supports scales with high accuracy that utilizes dual range weighing technology.
Sales and Marketing
The Polar brand fully integrates with the free ecommerce platform WooCommerce. A supermarket can easily set up an online store that will fully integrate with the point of sale platform for seamless sales and marketing operations.
Manage multiple locations from one computer in real-time whether you are running sales reports or reports on consumer behavior. Create various types of sales through the Promotion Manager program whether it is BOGO or a percentage. A store can even create different promotions for various customer loyalty programs.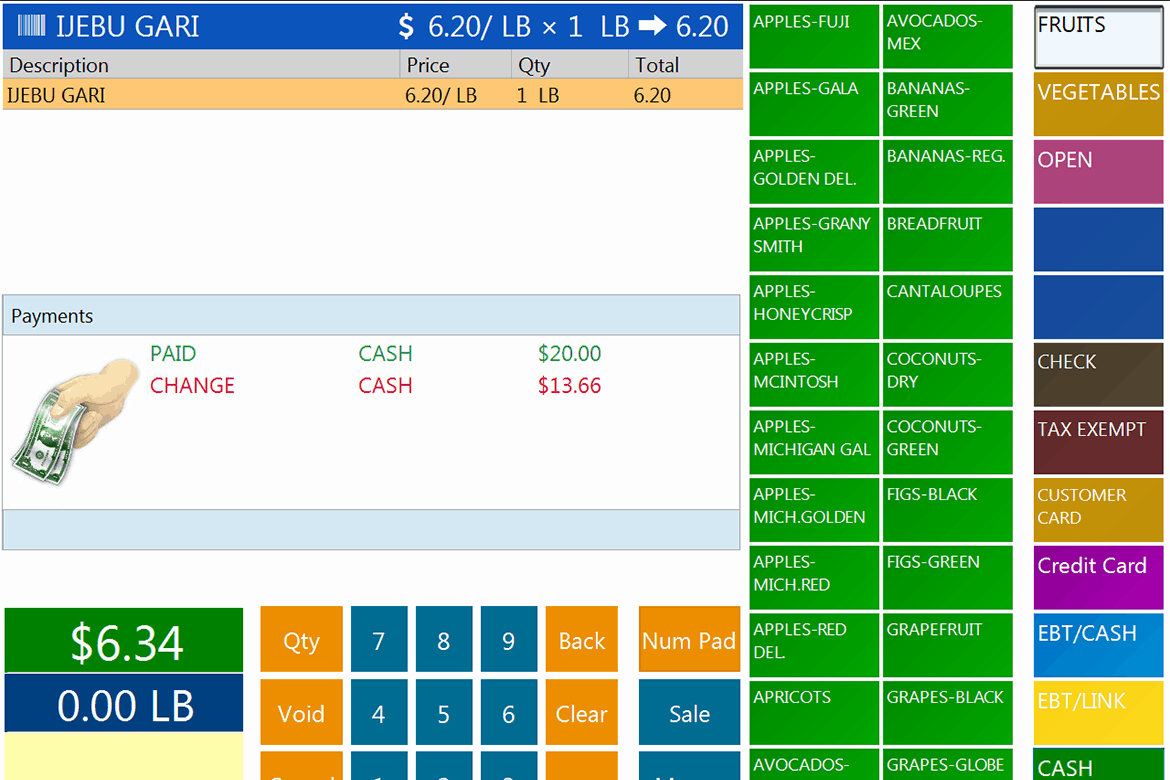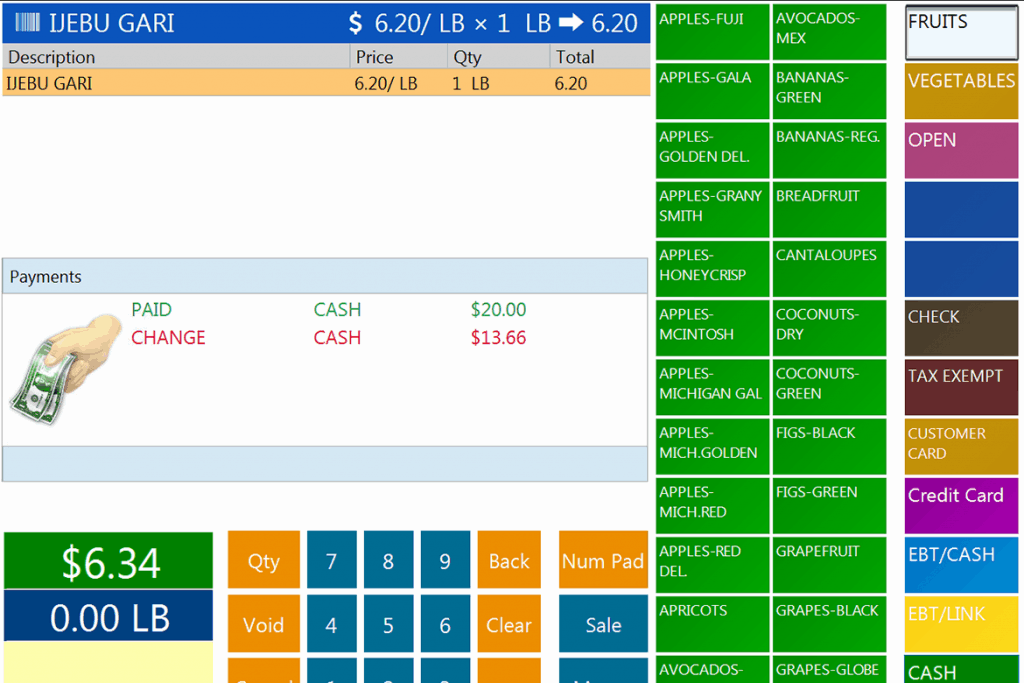 Employee Management
The Polar supermarket POS software has integrated time attendance and a payroll program to optimize staff management. The system can be used by all store employees and role-based permissions set for an added layer of security. Employees can clock-in and out directly in the system and business owners can run reports based on staff performance.
Additional Features:
Hospitality features for stores that have cafes and eateries
Database engine with encryption and easy replication
Big data and analytics reporting for deeper insight
Gift card processing without the need for merchant services
Support for tablets including Android and iOS
4. Square – The POS Platform for Shopper Feedback


Square is a POS platform you can use for the entire store. From mobile payment processing to inventory management and analytics, everything you need to run an efficient supermarket is at your fingertips. Whether opening another location or expanding offerings, the brand has key features like:
Detailed Dashboard
The Square Dashboard has everything a supermarket POS needs to manage operations in one place. Square Analytics is housed here. It identifies new versus returning customers including your average customer spend and other useful consumer data.
Review complete sales history and check any scheduled bank transfers. You can easily issue refunds to customers straight through the Square Dashboard as well. The system will tell you what items are selling so you always have what's needed in stock.
Square Feedback
The Square POS system is unique because it's one of the only platforms to create an entire program just for customer feedback. The system facilitates communication between consumers and your store to eliminate poor reviews and increase customer satisfaction.
The Square Feedback program gives shoppers an easy way to give you their feedback in private. Build better business with consumers and solve problems quickly when people can simply text or email their problems in real-time.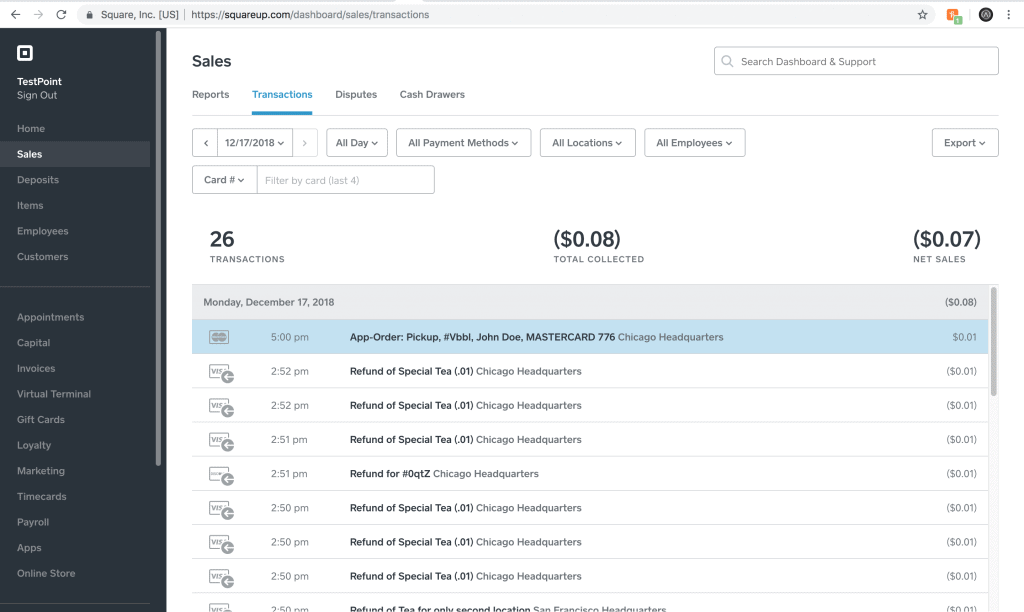 App Store
Square facilitates third-party integration and offers an extensive app store to choose from. If Square does not have it as a feature, you can guarantee they will connect with an app that does. Expect these integrations to support solutions for things like:
Accounting and tax
eCommerce and web design
Items and inventory management
Loyalty and rewards programs
Marketing and analytics
Whether you're looking to reach new customers or run deeper reports, Square pairs up with top partners.
Additional Features:
Accept all cash and card payments on the go with the Square Reader
Pay 1.9% per tap, insert, or swipe from all major credit and debit cards
See transfers in your account within 1-2 business days
Print or email customer receipts and sales reports
Contactless ecommerce solutions and online ordering
5. POS Nation – The Best POS for Custom Configuration

Improve checkout and create happy customers with the POS Nation supermarket point of sale system. The all-in-one retail software was designed to grow your business and expand operations. Trusted by over 10,000 stores, they offer 24/7, US-based customer support, and key features that include:
Trackable Inventory
POS Nation offers robust inventory controls that can track every item down to ingredients. This type of setup allows a supermarket to increase sales and move inventory quicker, with less waste. A store can bundle and package items into enticing deals and promotions, then add a quick button to the system for fast transactions.
Don't waste time memorizing PLUs and codes for produce. POS Nation enables a business to create hot keys with photos for quick navigation. Clerks no longer need to get caught up searching for codes in the system. This POS program attaches an image to every item for simple lookup and search.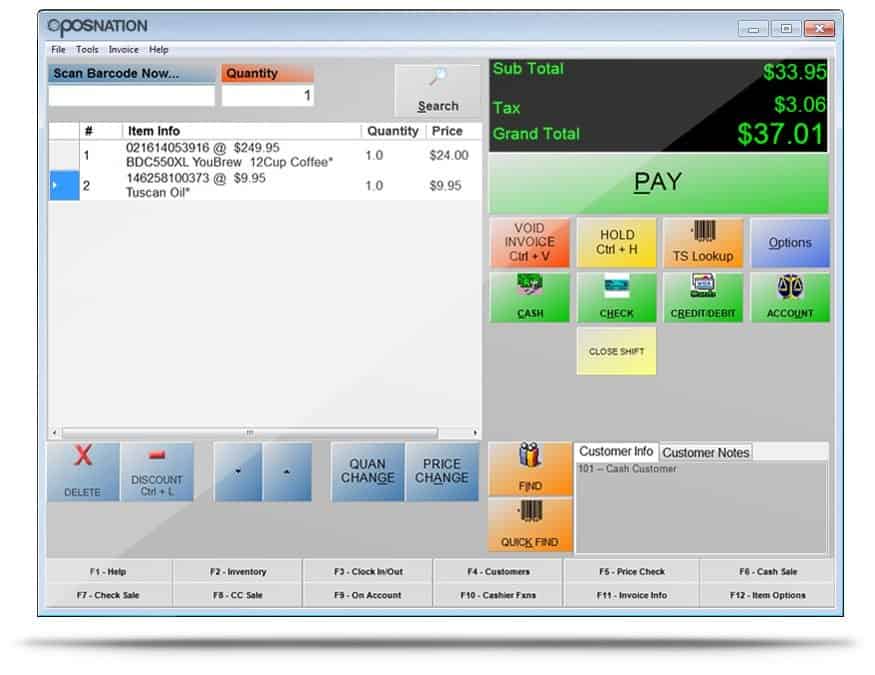 Scale Integration
Every grocery store needs a means of processing weighted items. POS Nation offers integrated scanner scales, standalone scales, and deli scales for everything a store needs to process weighted items. The program is designed to accelerate checkout by automatically ringing in all products that have been weighed with the proper pricing.
Coupons
POS Nation is a unique program because it enables a store to create their own branded coupons directly in the system. This is a great way to optimize promotions and bring more people into the store. The platform will also make it easier for cashiers to accept manufacturer's coupons and keep the lines moving fast.
Additional Features:
Accept all forms of payment including EBT and debit
24/7 support with hardware and software training
No long-term contracts with hidden fees
Choose your own payment processing platform (not locked in)
30-day money-back guarantee with different warranty levels
What to Look for in a Supermarket POS System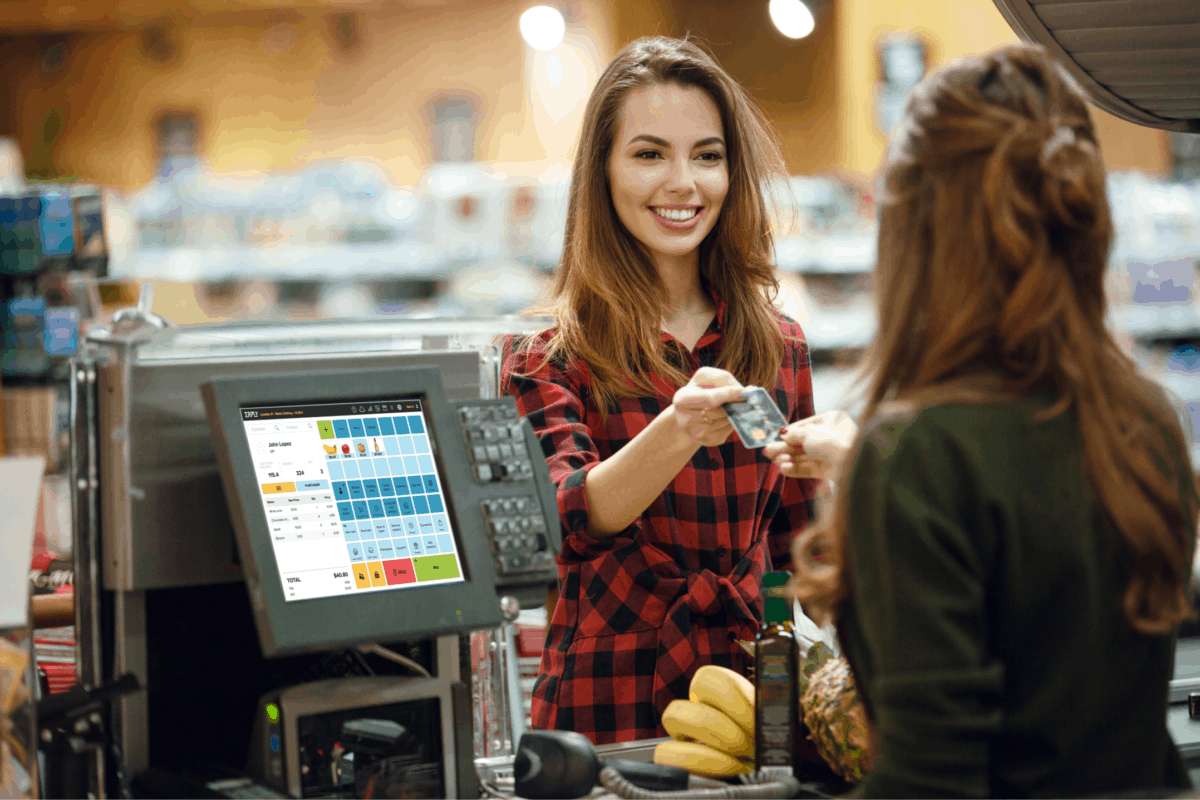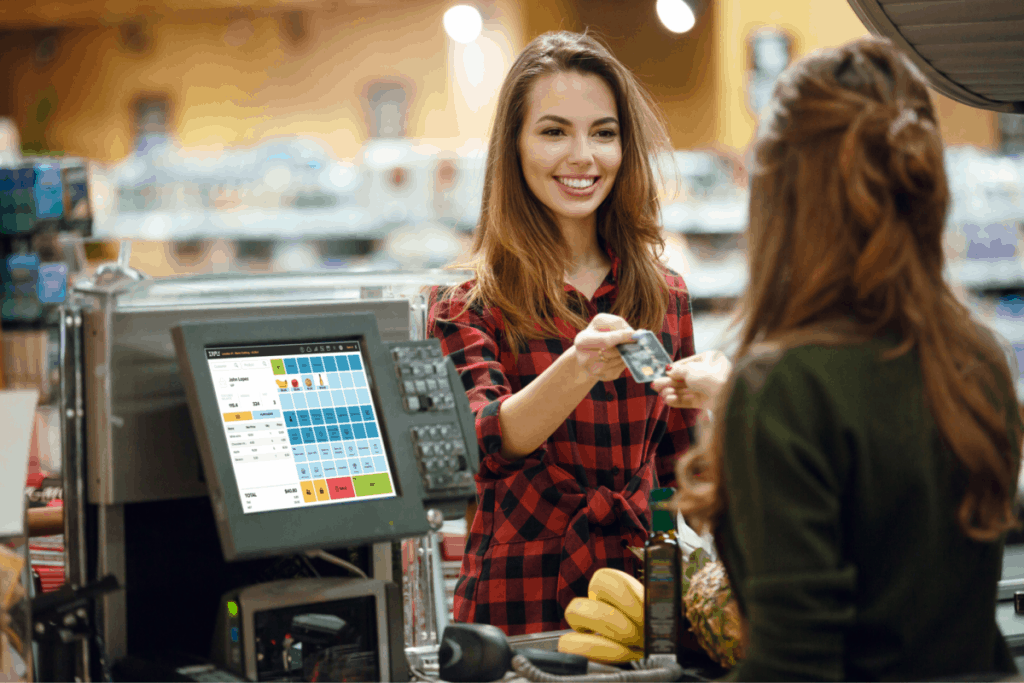 Once you are ready to purchase a point of sale system designed with a supermarket in mind, there should be some specific aspects to consider. Every feature must address pain points in your store and work to streamline operations. When looking for the perfect platform, consider these key features:
Inventory Controls
A supermarket has thousands of items for sale and thus you need an automated inventory management program to save time, avoid errors, and grow your margins. Record and adjust items every time you receive stock and get consistent real-time alerts on low levels. The best programs can even be set to automatically reorder your most popular items so a store never runs out.
Look for a POS with an inventory matrix that will account for every shape, size, weight, and color of a product. You should be able to manage multiple variations of an item and monitor everything as it sells. The most successful programs even allow a store to group products with mix and match pricing.
Employee Management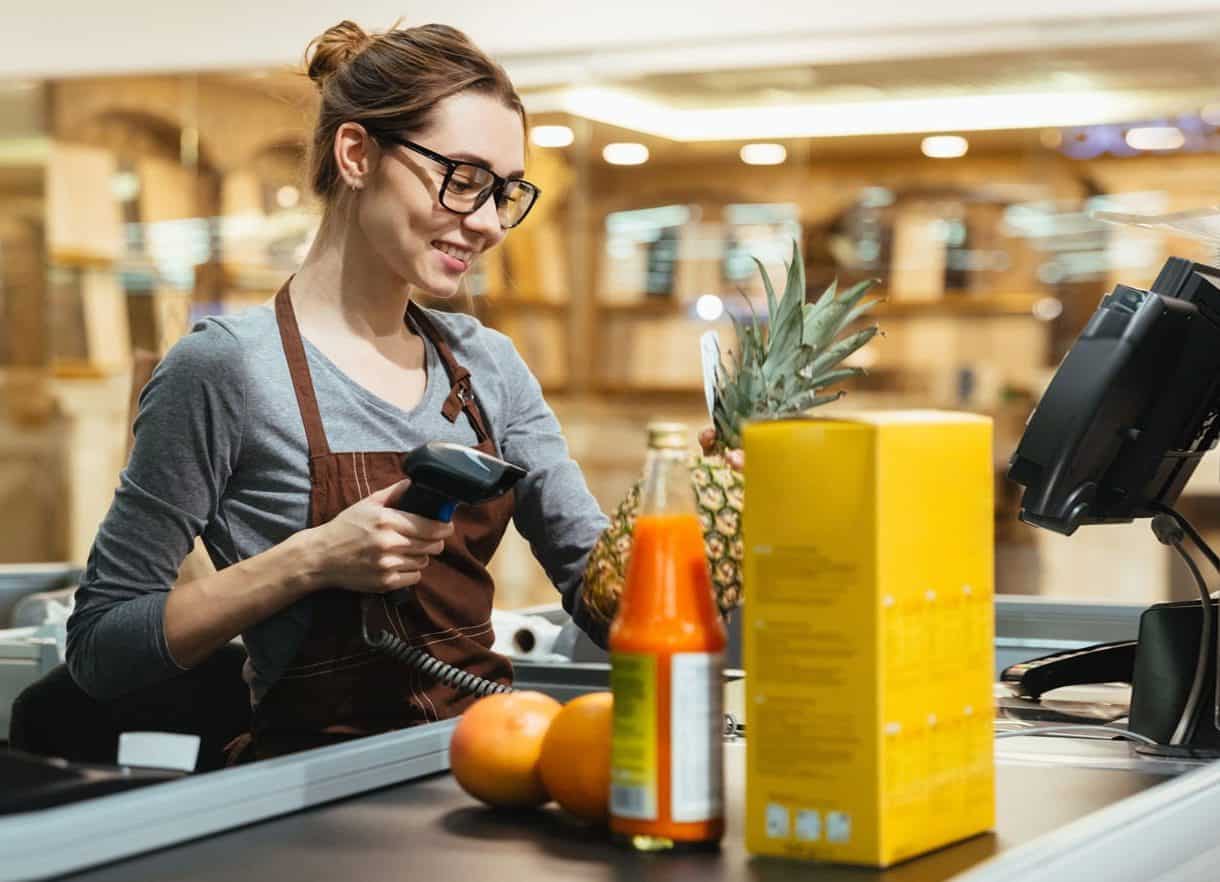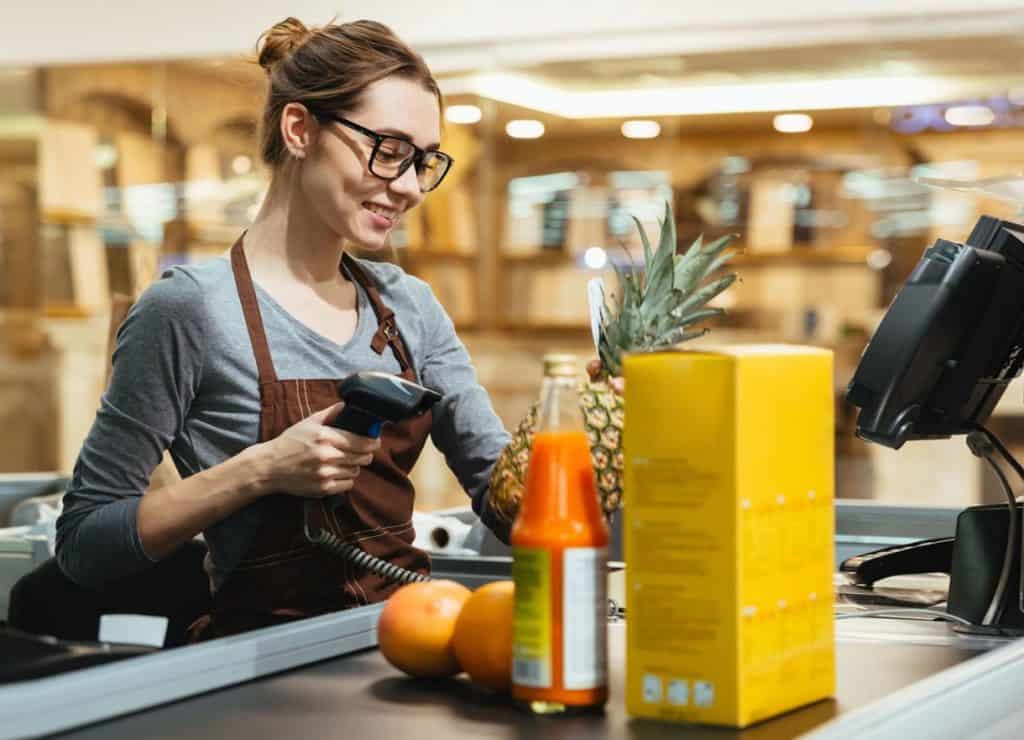 A supermarket has many moving parts and people. Your grocery store point of sale system should provide features for managing staff. Employees can clock in and out using the POS terminal and role-based permissions can be set for security. Run performance reports to determine your most successful staff and who may need more training.
A good program will also integrate with payroll and enable management to run a schedule that employees can access. Any changes can be posted and improved within the system.
Scale Integration
It's important that a supermarket POS system provides the technology to manage all weighted products. The more scales the platform integrates with, the better. That's because each store can employ a variety of types, from the deli to the bakery and the front cash registers. The system should support a number of popular retail scale brands with a high level of accuracy.
Security and Compliance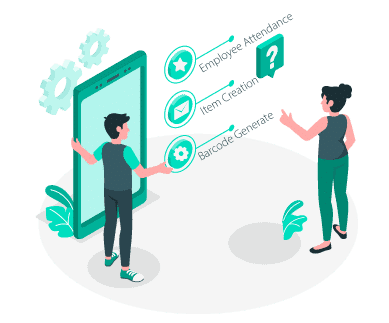 Look for a supermarket POS platform that has opportunities for multi-layered security. Since there are a lot of people moving in and out of the store at all times, having a system with robust security features is important. The level of security depends on your preference.
Some point of sale systems will even provide fingerprint technology. At the very least, the product should have end-to-end encryption and PCI-DSS compliance to protect your business.
Third-Party Integration
A supermarket already has a ton of legacy systems in place. There is no point in looking for a POS that will disrupt operations. That's why it is critical to look for a platform that supports as many third-party integrations as possible. That way if they don't offer a feature you need, you can already align it with the POS you choose.
The best supermarket POS systems will offer a variety of apps that can facilitate operations. Look for a program that includes integrations for tasks like:
Reporting and analytics
Accounting and taxes
Inventory and stock controls
Loyalty and customer rewards
Web design and ecommerce management
Additional Features:
Competitive payment processing rates to tap, insert, and swipe payments
eCommerce solutions with a mobile app for real-time monitoring
Create or accept manufacturer's coupons to draw in more customers
Self-service and customer-facing kiosks to empower shoppers
Free demos and trials to test drive the software
Making the Right Choice
If you run a grocery store then you know it's a fast-paced environment with a surprise around every corner. Consumer expectations are high and online reviews and feedback can affect a brand's reputation. That means you need a supermarket POS system with strong customer engagement controls and optimized inventory management.
Lines need to keep moving so your POS should have streamlined scale integration with flexible payment processing. The system must be moving customers in and out of the line with proficiency while also collecting important consumer data for marketing down the road.
It's always important to consider your main needs before making a large purchase and disrupting operations. Many POS brands are in high competition and tend to offer more features than a store needs. Don't get lost in extra bells and whistles that could complicate or bottleneck your operations.
Make a shortlist of your top pain points and start looking for a program that will focus on addressing those. If you still have some questions about choosing the best supermarket POS system for your store, take a few minutes to watch these demos from top providers in the industry.