(Last Updated On: June 4, 2021)
POS, or Point-of-Sale, is a computerized operating system popular throughout the retail and restaurant industry.  An Ipad POS system helps the restaurant owner or manager keep track of all aspects of their foodservice business. Owners and managers can track food inventory, sales, cash flow, and employee production for simplifying all accounting and operational functions.
With a continuously changing restaurant industry, owners should always look for new ways to improve their business. The latest restaurant operation innovation with the most efficiency is the addition of the iPad to the POS system. iPads bring convenience, efficiency, and quicker table to kitchen times.
Running the right iPad restaurant POS system makes a difference in the success of your business. Before buying, read the customer reviews, try out the demos, and talk to other restaurant owners.
The choice of either cloud-based storage or locally located systems depends on the size and type of food service. However, the best systems are cloud-based and have simple interfaces that streamline employee training and restaurant operations. An iPad POS system keeps data available for review and helps simplify the accounting process. Larger systems offer tableside ordering and direct send to the kitchen for efficiency and high-volume restaurants.

Best iPad POS Systems for Restaurants
1. TouchBistro – Best Restaurant iPad POS System:

When looking for a POS system look at features built for smooth and efficient restaurant operations. While the first inclination is finding the cheapest POS it's not always the best choice. You need a system with features necessary for running back-office procedures while providing for business growth.
What makes TouchBistro unique over other Takeaway POS systems is its dedicated food service industry features. Unlike many systems with a focus across a multitude of niches, this system is much different. TouchBistro has an exclusive build suited to the food and beverage service industry with its industry-specific functions.
Types of food and hospitality service businesses served by TouchBistro are:
Restaurant
Fast Food Service
Bar
Cafe
Stadium Services
The cloud-based iPad POS system provides access to any device which makes TouchBistro a versatile workplace system. The comprehensive features list that's accessible from anywhere at any time, makes daily operations a breeze.

Some key features of the TouchBistro POS system:
Full Menu Management
Tableside Ordering
Floor Plan and Table Management
Tabs and Order Management
Integrated Multi-Payment Processors
Print or Email Receipt Configuration
Loyalty Program
Customer Relationship Management Tools
Employee Scheduling and Management
Inventory Management
Complete Reporting System
24/7 Customer-Technical Support
This is just a fraction of the features that come with the TouchBistro POS system. With over 200 different components, you can manage the whole restaurant from a single device.
Taking a Closer Look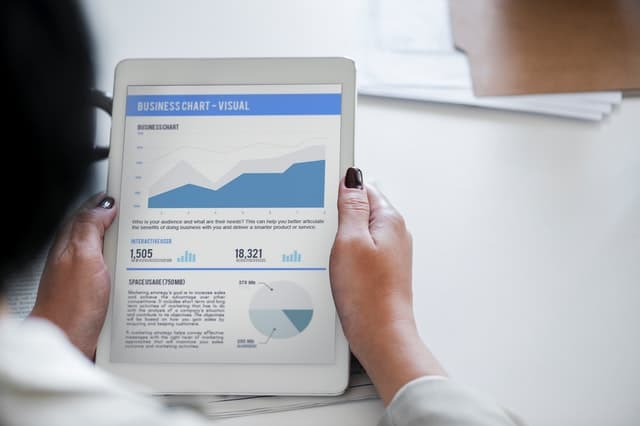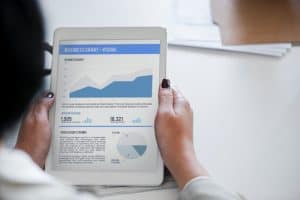 Most POS options are cloud-based which means the system exclusively runs off the cloud through an internet connection. TouchBistro is a uniquely different hybrid that uses the cloud but doesn't exclusively run off an internet connection.
You get a more stable operating system that has features which continue working seamlessly without an internet connection. There's no switching to offline mode because TouchBistro doesn't need it.
Not only is TouchBistro easy to use, but it has a modern interface that's intuitive with easy navigation. The easy to adapt to system seamlessly runs on Apple iPad which is a mPOS or mobile point-of-sale. While Apple is the preferred hardware for many business owners, TouchBistro does have the downside of no Android device compatibility.
You also have the capability of integrating your TouchBistro system with different cash registers and printers. Being an Apple partner, TouchBistro gives you access to all the hardware you might need.
POS Integrations and Add-Ons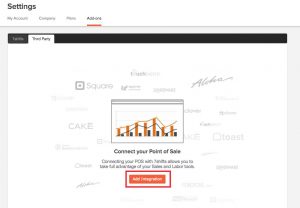 TouchBistro has several integration possibilities and recently partnered with U.K.-based JUST Eat, the online restaurant ordering service. A recent software update allows using the app in Spanish or French for building their European presence.
Other TouchBistro restaurant POS service integrations and add-ons are:
7Shifts: employee scheduling solution
Xero: cloud-based accounting platform
Shogo: books sales data from POS to accounting software
Quickbooks: accounting software
Compatible credit card processing applications:
TouchBistro Payments (in house processing)
TSYS
Worldpay
PayPal
Square
In addition to the above integrations and add-ons, TouchBistro offers its own loyalty program for creating customer loyalty campaigns.
If you prefer different processing options, TouchBistro has a gateway option for connecting to any processing solution you choose. However, the gateway carries additional costs through third-party fees associated with alternate payment processing options.
Ease of Use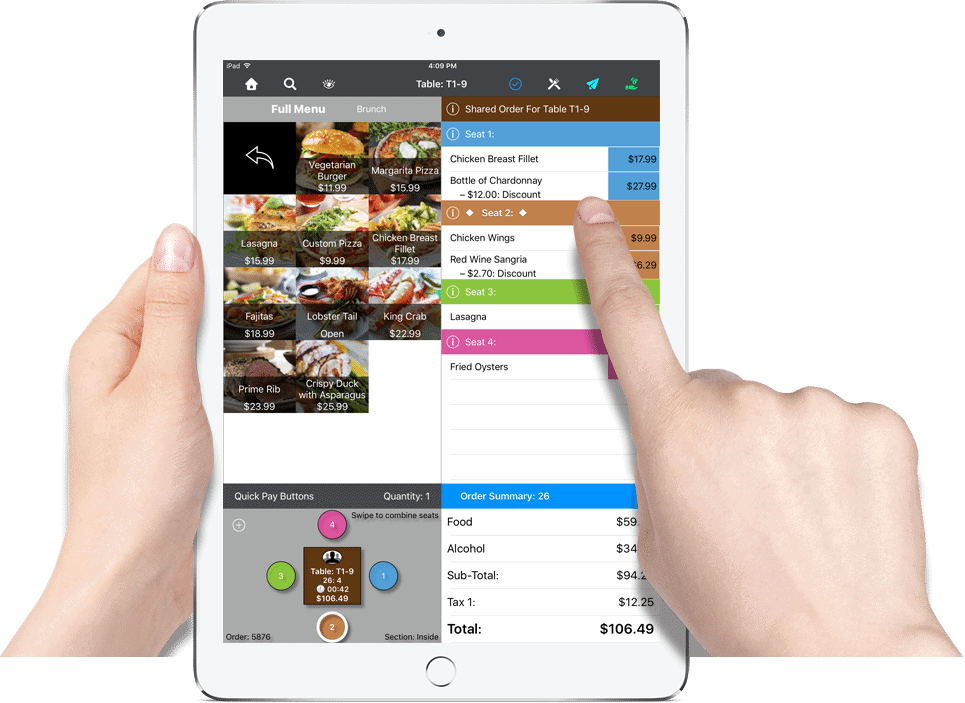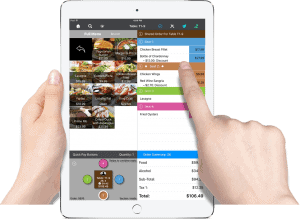 The intuitive, modern designed interface makes TouchBistro one of the easier to use restaurant POS interfaces. Created with servers in mind, the simple check split feature lets you sort items by individuals or groups.
Customizable menus make ordering easy for the server and the customer. The well-done iPad interface acts as a digital menu and POS. Each menu item has a high-resolution and full-color photo, making menu items attractive to the customer.
This easy-to-use POS means employees learn the system in a matter of hours, saving you training time and money.
Top Benefits
Subscription-based with no long-term contracts
Affordable pricing options
Prices based on business size
Intuitive and easy-to-use
iPad based POS system
Tableside ordering capabilities
Comprehensive menu building functions
Staff and inventory management modules
Detailed reporting
Selection of available hardware add-ons
Customer support available 24/7
Possible Drawbacks
Limited integrations
No offline credit card processing
May take 2-3 weeks for installation scheduling
Long customer service wait times
Bottom Line
When it comes to restaurant POS systems, TouchBistro is one of the most popular on the market. The impressive features and credit card processing options let you customize the system for your business needs and size. With a dedicated focus on restaurants, TouchBistro gives you the solutions needed for streamlining operations.
The subscription-based service bills annually, making it more cost-effective than other top iPad POS Systems for restaurants.
Choosing a dedicated hardware bundle through TouchBistro saves even more money while ensuring system compatibility. Depending on how many terminals you need, the upfront costs go up. However, overall, it's less expensive than traditional systems because with TouchBistro you don't need additional software licensing.
Even though there are some integration and add-on limitations, TouchBistro comes out as a winner for new and established businesses alike. If you need more information on how it can work for your restaurant, TouchBistro offers a free demo. It's a great way to see what this iPad POS system can do for your restaurant.
2. Upserve – Most Feature-Packed System

The iPad-based Upserve POS is another point-of-sale system with the food service worker in mind. Built by a designer team comprised of servers, bartenders, and managers, Breadcrumb reduces many headaches faced by the restaurant industry. Breadcrumb works with the Apple iPad and comes with a lot of added features and tools for any foodservice business.
Upserve covers over thirteen food service businesses including:
Full Service and Fine Dining
Small Restaurant and Cafe
Fast Food and Drive-Thru
Bars and Clubs
Brewery and Winery
Bakery
Upserve has a long list of features specific to the restaurant business. With features like restaurant management, table management, and customer management, you have the necessary tools for running most restaurants.
Some key features of the Breadcrumb iPad POS system for restaurants:
Tableside Service
Online Ordering
Menu Management and Customization
Table Mapping
Check Management
Split Checks, Split Items, and Item Notes
Discounts and Voids
You also get to use the signature on-screen, tip adjustment, tip pooling, employee management, live reporting, offline mode, and training mode features.
Taking a Closer Look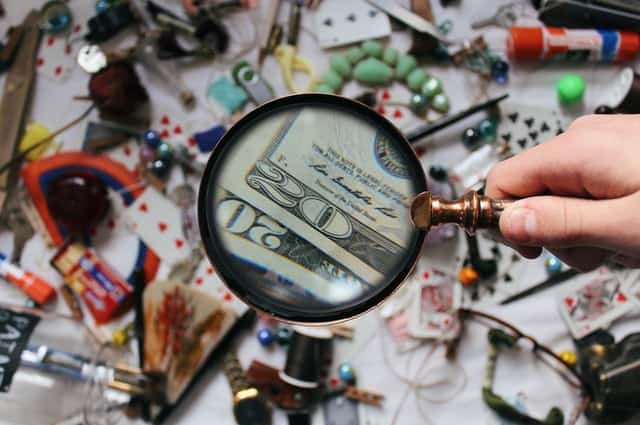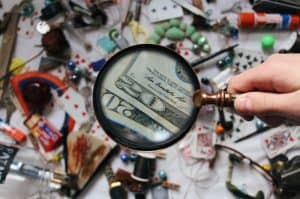 Breadcrumb is only cloud-based and mobile and runs exclusively on Apple iPhones and iPads. Additionally, you need a wireless network and broadband internet connection. However, Breadcrumb does offer an offline mode in the event of internet outages.
Breadcrumb Live provides access to sales and other reports in real-time 24/7. Owners get a food service solution for managing critical business aspects from anywhere using an Apple device.
The feature-rich POS interface makes restaurant operations smooth and easy. You get searchable menu items, menu changes within the interface, and automated item countdown. The menu customization feature lets you build custom menus suited to client business needs.
Not only is Breadcrumb customizable, but it's also extendable. The system flexibility lets users tailor the POS software to how they operate their business. For example, a café operating a bakery inside can customize the system to combine specific needs from both businesses.
Breadcrumb offers three separate plans:
The Core Plan
Aimed for a single location with a small staff, the Core plan with one terminal. There's an additional fee for each extra terminal.
The Core plan includes:
Breadcrumb POS Software
Payment Processing + EMV
Sales and Labor Reporting
Marketing
Workforce
Mobile App
The Pro Plan
Designed for multi-location restaurants the Pro Plan comes with one terminal. There's an additional fee for each extra terminal.
The Pro plan includes:
Breadcrumb POS Software
Server Performance
Payment Processing + EMV
Menu Optimization
Online Ordering
Inventory
Sales and Labor Reporting
Loyalty Programs
Marketing
Workforce
Mobile App
The Pro Plus Plan
Designed for large multi-location restaurants with 50 to 500 locations the Pro Plus Plan with one terminal. There's an additional fee for each extra terminal.
The Pro Plus Plan includes:
Breadcrumb POS Software
Server Performance
Payment Processing + EMV
Menu Optimization
Online Ordering
Inventory
Sales and Labor Reporting
Custom Reporting
Loyalty Programs
Marketing
Workforce
Dedicated Success Manager
Data API Access
Mobile App
POS Integrations and Add-Ons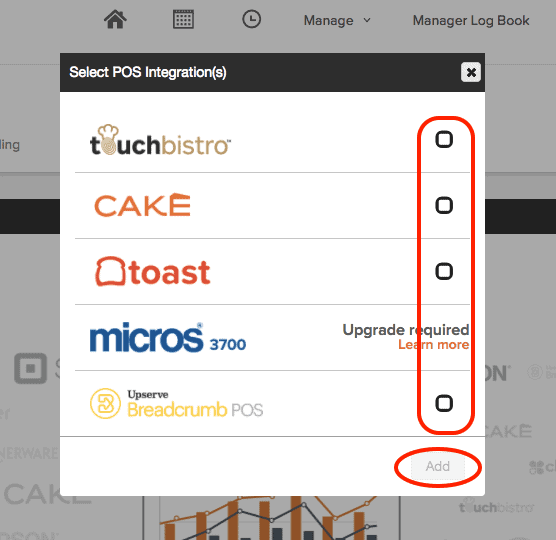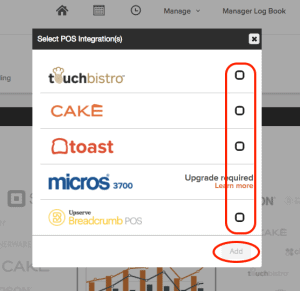 Breadcrumb offers some great basic features. But to get what you need out of this iPad POS for your business may mean adding a few integrations.
Upserve partnered with some restaurant industry experts to bring additional services to their Breadcrumb POS for accelerating sales and profitability.
Some popular Breadcrumb integrations:
Resy: reservations and waitlist system
Upserve Workforce: employee time clock and scheduling
Upserve Inventory: restaurant inventory management
Chowly: Third-party online ordering integration
Gusto: HR management
Plate IQ: Accounts Payable platform
GrubHub: Online ordering platform
Open Dining Network: Online ordering platform
Synergy Suite: Critical business operations platform
BarVision: Liquor and beer monitoring system
Upserve Loyalty: Customer loyalty program platform
Swipe It: Gift and Ecard program platform
Trustwave: Credit card processor
Upserve Payments: Credit card processing
No two businesses are the same and some need specialized solutions adjusted to their restaurant type, size, and business offerings. You won't find the ideal software but having good features and integrations lets you adapt it to your needs.
Training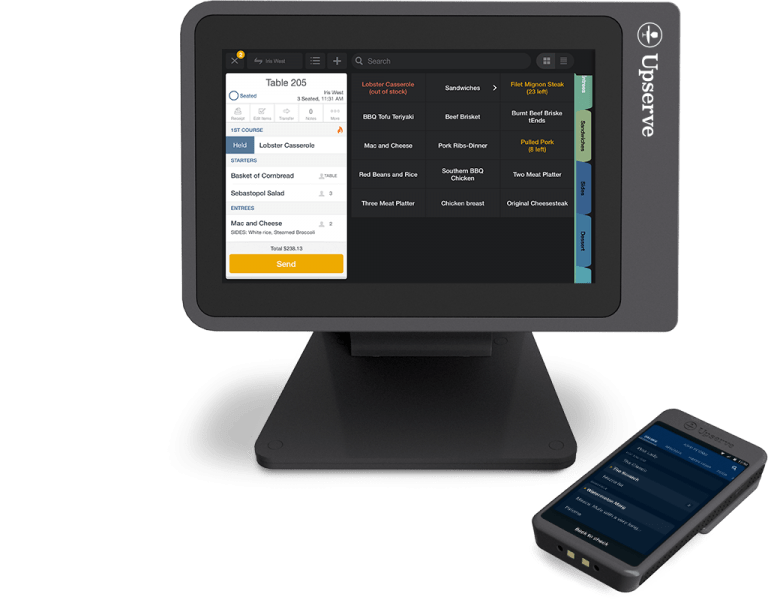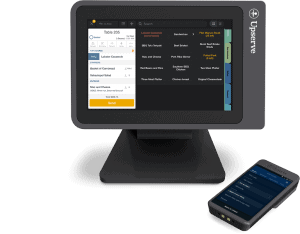 This intuitive restaurant POS and its iPad platform let most employees quickly learn how to use the system. The app offers internal training to give your staff the confidence needed to quickly maneuver within the system. However, if you prefer live training from professionals, Breadcrumb offers in-house staff training or training in your store.
In addition, Breadcrumb has representatives that walk you through using the program for the first time. The initial walk-thru helps you with learning the POS setup and explains the available extra features of your system.
For continued system training, Breadcrumb has a substantial library of how-to videos for new and ongoing training. For more complex issues, a live representative is available through their technical support line.
Top Benefits
Intuitive layout
Easy to learn and use
Good analytics and reporting
Good selection of third-party integrations
Customizable to most restaurants
Possible Drawbacks
Frequent outages and downtime
Limited customer support
Higher cost than other systems
Bottom Line
Now an Upserve product, Breadcrumb is an improved service with new tools needed for making it a competitor in the POS industry. An intuitive design and customizable interface offer a feature like menu creation, floor plan arrangements, and streamlined order taking. View your business through real-time from anywhere 24/7. Manage your back office by monitoring your sales or reading reports from any place that has an internet connection.
While there are a lot of great things about Breadcrumb, it's not without a few downsides. Breadcrumb has a substantial number of integrations, but it still runs behind comparable services when it comes to variety. Larger food establishments may need a more comprehensive management integration with more options. Another major complaint is the number of crashes and downtime experienced with the software.
If you're looking for a restaurant POS system, check out the Breadcrumb demo. Even though the system needs a few improvements, it's still a well-designed platform that delivers what most restaurants need.
3. Shopkeep POS – Easiest to Customize Menus

Shopkeep is not a restaurant-specific platform. Even though the popular platform isn't exclusive to the foodservice, it's a good starter platform for small restaurants needing affordability. However, ShopKeep continues growing and now services a broader range of foodservice establishments.
Types of foodservice companies using Shopkeep:
Full Service
Quick Service
Coffee Shop and Juice Bar
Ice Cream Shop
Bakery
Deli
Specialty Food
Food Truck
Attractions and Concessions
Kiosk
The hybrid set-up means Shopkeep runs locally from an iPad, syncing through the cloud, from anywhere with an internet connection. If there's an internet outage, Shopkeep continues running with all features except credit card transactions. Using a backup hotspot router or cellphone data plan through your iPad keeps your card transactions functioning.
The Shopkeep restaurant capabilities continue to expand, helping users manage operations from inventory to marketing.
Some key features of the Shopkeep restaurant POS system:
Easy to Use
Payment and Credit Card Processing
Gift Cards
Employee Management
Employee Time Clock and Attendance Tracking
Inventory Management and Tracking
Barcode Scanning
Customer Database
Marketing
Discounts
Reporting and Analytics
Integrations and Add-Ons
Access Control
This is a sampling of the large variety of features found in the Shopkeep POS system. If your plans include adding retail, the platform offers everything you need.
Taking a Closer Look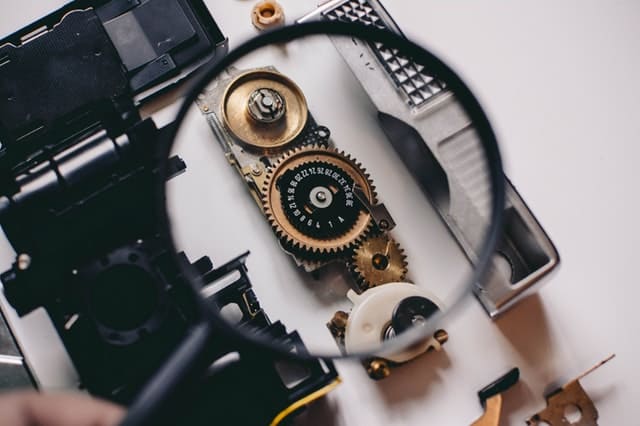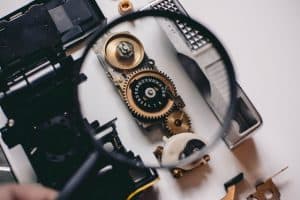 This POS system is simple and comprehensive, geared toward small businesses. However, it continues expanding its services, delivering features aimed at food and beverage services.
The best feature of Shopkeep is the price. The POS platform remains as one of the best values available to small business owners.
Previously a by-the-month plan, Shopkeep changed their flat-rate pricing to sales by a quote system. By talking to a sales representative, they know what you need the software to do before giving you the price. The complete POS package includes unlimited users, the register, employee management, inventory with unlimited items, analytics, and free support.
ShopKeep and its long list of features and integrations are an excellent choice for small specialty vendors. The system has a design made for food service applications like food trucks and mall kiosks. Their newest addition is server-less syncing and open check letting servers open checks on one device and close on another.
The ShopKeep point-of-sale system makes an ideal platform for small to medium-sized restaurants. While you can use it for multiple locations, it's not built for large companies. The POS offers tableside ordering but has yet to offer table mapping.
Even though larger businesses may find it lacking, small businesses get the advantage of the company's feature expansions. ShopKeep POS now has more back-office functions like unlimited users and unlimited inventory items but scaled for small restaurants.
POS Integrations and Add-Ons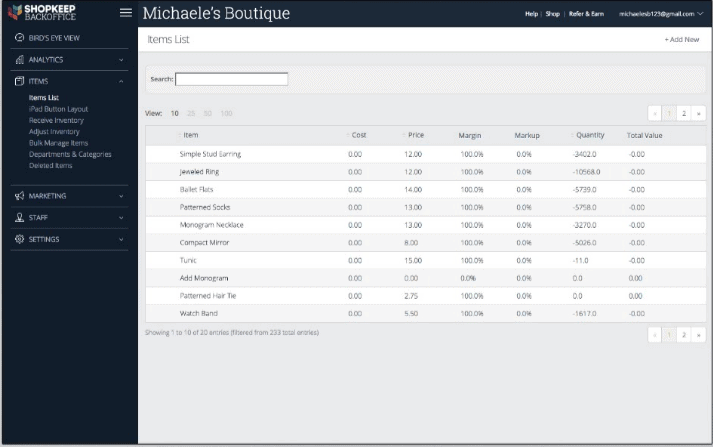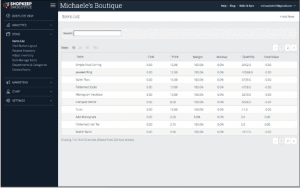 ShopKeep believes in growing with the user and integrates with several third-party services. With the ability to add integrations at any time, you grow your business when you want.
Some small business Shopkeep integrations:
MailChimp: Email marketing service
QuickBooks Online: Accounting and finance integration
AppCard: Personalized loyalty program
BigCommerce: Online storefront
Gift Cards: Design and offer company gift cards
In addition to their own credit card processing add-on, Shopkeep also offers several third-party processor options. If you prefer to keep your current merchant account, check with Shopkeep to see if they support the processor.
Customer Support and Service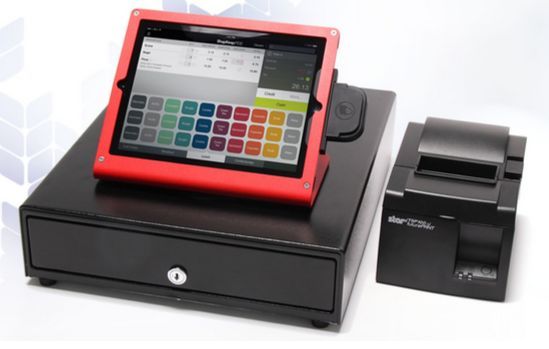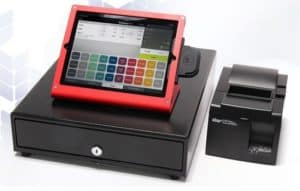 ShopKeep prides itself on its success in their customer-focused operations. The company has several Stevie Awards for customer service and sales.
Unlimited customer support 24/7 comes included in the price. Contact their support team through web inquiry, live chat, text, and email. This feature is a bonus compared to other low-cost restaurant POS companies.
For ongoing training and support, Shopkeep maintains a comprehensive library of support video tutorials and articles. The support library covers every feature and aspect of their point-of-sale system. In addition, Shopkeep offers support and information through Facebook, Twitter, Instagram, and YouTube.
Their social media channels deliver relevant information and news, with links back to their Shopkeep blog. The blog connects to their Small Business section where they post advice and tips for the small business owner. There's a large compilation of information for everything from zoning, permits, and licensing to social media use.
Top Benefits
Easy to use
Easy web management
Offsite data backup and storage
Multiple menu items on each screen
Easy to manage inventory
Unlimited inventory items
Barcode scanning
Great sales analytics reporting
Support 24/7
Entry-level pricing
Possible Drawbacks
Only compatible with iPad
Requires merchant account and credit card processor
Bugs with inventory management
Customer support not knowledgeable with more complex problems
Bottom Line
Shopkeep continues improving its features and functions geared toward the small foodservice industry. Recent feature and integration additions include an updated reporting suite, matrix inventory, EMV transactions, and BigCommerce integration. Currently, Shopkeep doesn't support table mapping but has plans to add it to a future update.
With a new partnership with First Data, Shopkeep plans to add the Clover terminal to their list of compatible hardware. This new hardware partnership will make Shopkeep available on Android and iPad devices.
Shopkeep remains a top choice for small restaurant and iPad based point-of-sale solutions. This POS system is so user-friendly that you can have your staff up and running straight from the box. You get a flexible, hard-working system with the features you need at a reasonable price.
4. CAKE POS – Best Cloud-Based Solution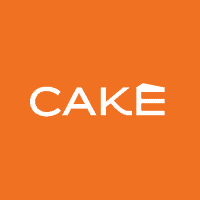 CAKE POS system offers guest management for full and quick service restaurants with cloud-based software and an offline function. The CAKE solution streamlines your business by offering functions and features that cover all restaurant operations. With customizable solutions, your restaurant profits increase, and your business growth expands.
Offline operations mean your restaurant continues working and payments process even with an internet interruption. A special feature called Guest Manager delivers faster seating while reducing walk-away and no-show with more accurate wait times. Customers can check-in before arriving and receive notification texts when a table is ready.
CAKE is a specialized POS system serving the foodservice and restaurant industry for several decades. Their restaurant experience and technical know-how deliver a simple and robust system for most food service types, including:
Fine Dining
Full Service
Quick Service
Food Trucks
Bars and Clubs
CAKE has a comprehensive feature list for all areas of restaurant management. With the CAKE point-of-sale system, efficient management and growth become a reality.
Features like intuitive and easy to use and learn interface, orders take less time with more accuracy. A customizable workflow lets you make quick adjustments to your menu and table setup.
Some key features of the CAKE iPad POS for restaurants system:
Intuitive and Easy-to-Use
Offline Mode
Employee Management
Guest Manager and Waitlist Management
Menu Admin and Immediate Menu Adjustment
Item Modifiers and Stock Item Counts
Customizable Real-Time Floor Management
Tableside Service
Kitchen Display
Payment Processing
Accounting Integration
Dynamic Reporting
Optional hardware bundles mean you have a full-service system for all your restaurant needs.
Taking a Closer Look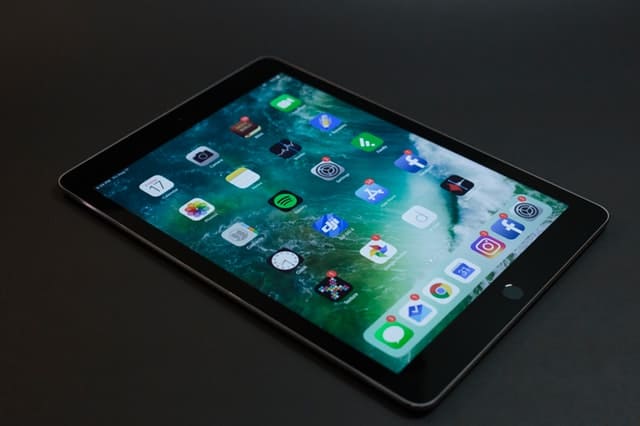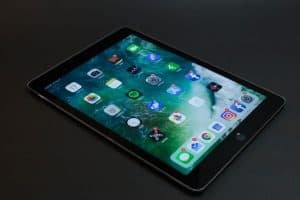 CAKE is a complete point-of-sale platform with everything you need for any size restaurant. In addition, you have options for an all-inclusive hardware bundle including the POS terminal, printer, and thermal printer. The software and services, accessible with cloud capabilities and 24/7 customer support, round out the CAKE POS system.
Besides the amazing features, CAKE offers integrations with the most popular small business and retail software options including PayPal payments.
Reporting tools give the user dynamic real-time tracking and reporting from anywhere at any time across different devices. Streamline operations and take control of your business with weekly sales reports by category and employee performance and management.
Full-service restaurant managers consider the Guest Manager system one of the top features of the CAKE POS system. Guest Manager helps manage waitlists while improving your reservations process. Text alerts inform guests when you have a table for them, reducing the no-shows and walk-outs from missed table calls. The guest database and visitor tracking let staff greet your guests personally by name, setting the stage for repeat customers.
POS Integrations and Add-Ons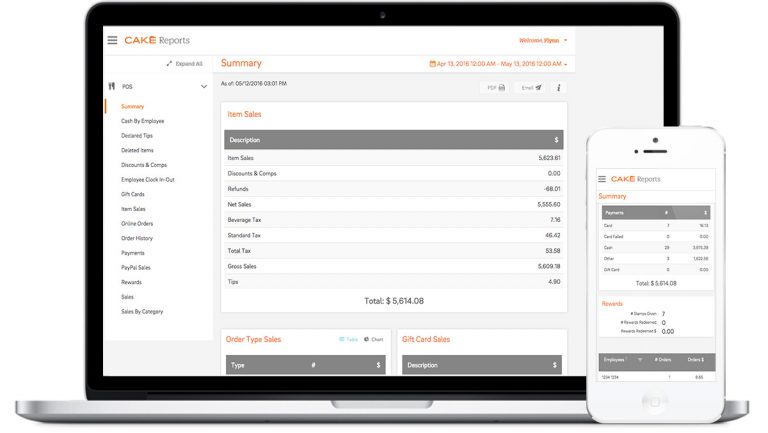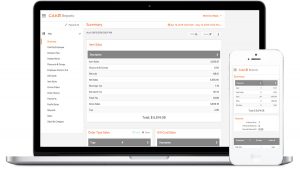 CAKE grows with your restaurant and offers a wide variety of integrations to choose from. Everything you need from accounting to marketing.
Popular integrations for CAKE iPad POS for restaurants:
QuickBooks: Accounting and finance integration
Xero: Accounting and finance integration
Orca: Inventory and ordering system
Guest Manager: Guest management system
Swipe Cards: Employee timecard and management
Gift Cards: For offering gift cards
PayPal: Payment option
ChefTab: Kitchen display system and software
OrderTab: Ordering system
This is just a sampling of the Cake integrations. Contact Cake for more information on the various integrations and features offered.
Top Benefits
Easy-to-use and intuitive
Easy training for anyone
Easy to add and change menu items
Good reporting functions
Real-time reporting
Guest management option
Great price
Possible Drawbacks
No price adjustments after order sent
Occasional screen freezes
Can't customize reports
Small lag time in touch screen
Bottom Line
Cake is a comprehensive and all-inclusive iPad POS system for restaurants. You get everything you need to operate a restaurant or other food service business. The company also offers a variety of integrations including merchant accounts through CAKE or use your own credit card processor.  User satisfaction with CAKE point-of-sale system remains high and Sysco consistently makes changes according to user reviews.
Finding the right POS system with features needed for your food service is a key to success. You also need an easy to use interface for streamlined employee training.
Some key features to look for in an iPad POS for restaurants:
Ease and Speed of Use with intuitive layout and fast software and hardware
Inventory Management with easy to input control and reporting
Reporting System with actional numeric insight to all business aspects
Marketing Module for an internet presence with social media
Technical Support with 24/7 support access
Before You Get a Restaurant iPad POS System
Here are what we consider the most important options to look for in your iPad POS for restaurants.
Restaurant Menu Management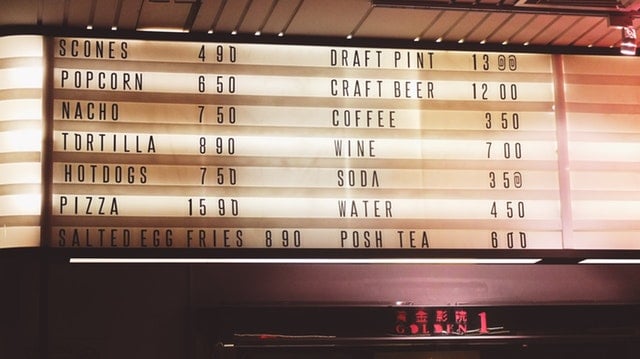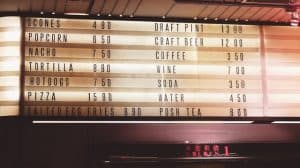 Most owners can tell you the menu is the most consistently changing item in any restaurant. When you have a solid iPad POS system for restaurants, keeping up with menu changes become smoother and easier. If you have numerous menu items and make frequent changes, you need an effortless menu feature in your POS. The ideal menu feature makes menu item changes as easy as pressing a few buttons and waiting for device sync.
The automated menu system streamlines the ordering process and some POS menu features support tableside ordering. Some restaurants even place ordering stations on the tables, putting order control in the customer's hands, better ensuring correct orders.
Inventory Management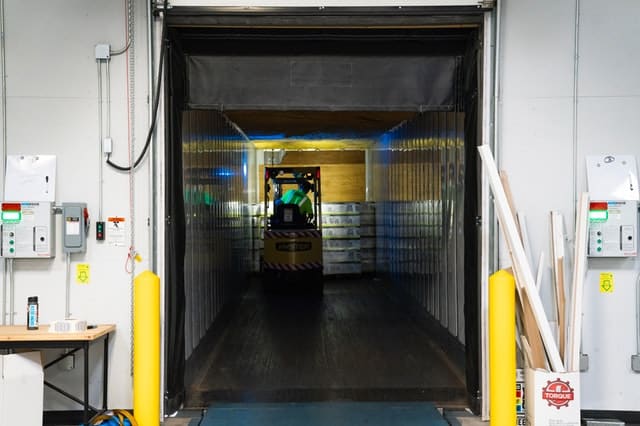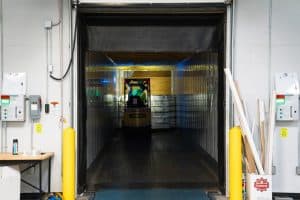 Inventory is possibly the most dreaded aspect of any business. It's not easy and logging and calculating by hand causes errors. With an iPad restaurant POS system, inventory management makes inventory more manageable and less stressful. A good inventory management feature lets you see low stock items directly from the POS system. The inventory management feature sends notifications when it's time to restock.
In addition to keeping informed on stock levels, inventory management features can quickly create purchase orders for restocking. Also, get a food cost analysis informing you of the cost of preparation for each menu item. With this handy function, you can set menu prices according to the best profit margin.
Cloud Reporting
Working through the cloud is a must for any business regardless of the industry. Storing valuable data in the cloud is something that certain POS systems excel in. TouchBistro is one POS that exceeds expectations when it comes to using the cloud. The TouchBistro syncing process occurs across all devices regardless of the WiFi connection.
With the cloud, you get to see all transactions and data. The cloud makes it easy to monitor what's selling and what isn't. Check restaurant peak times for the work shift preparation or keep your books in order with the accounting feature.
Guest Management
While this feature isn't necessary for all restaurants, it is for establishments offering reservations and waiting lists. With guest management, you can make, and track reservations made months in advance. No more writing down dates and guest numbers on paper calendars. The guest management tool lets you efficiently manage your reservations.
In addition to reservations, guest management should manage waitlists and send text alerts when the guest's table becomes available. This system avoids skipped list names leading to walkouts.
Front and Back of House Communications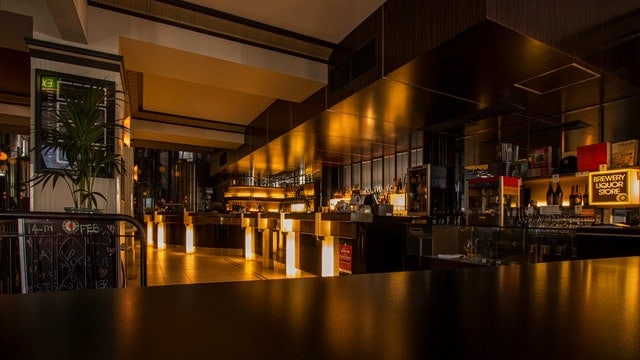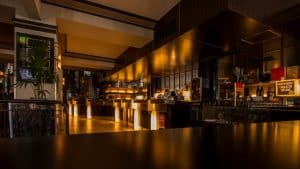 A reliable POS system ensures restaurant customers get their orders promptly and get what they order. The software helps with communications between the front of house and the kitchen. When the server takes the order, the chef has the ticket before the server leaves the table. Effective communication between the dining area and the kitchen means short wait times, fewer mistakes, and happier customers.
Our Final Verdict
Restaurant owners need a dependable and efficient restaurant iPad POS system. A point-of-sale system not only adds a professional look, but also provides a memorable experience to your customer.
The right iPad restaurant POS system for your business should help you manage the day-to-day functions of the establishment. After reading the reviews and looking at the features and functions, we believe the most comprehensive POS system is TouchBistro. This iPad POS is less expensive but has a large variety of features the other systems don't have.
TouchBistro's starter plan has a price like ShopKeep's making it an affordable solution for new restaurant owners. With the services you get for the price, TouchBistro comes out ahead.
While we recommend TouchBistro it doesn't mean the other POS systems aren't a good choice. It all depends on what you need; if you are planning any expansions, and how much you want to pay. TouchBistro, however, offers more features for the cost. Finally, an honorable mention is UNION POS.