(Last Updated On: May 11, 2022)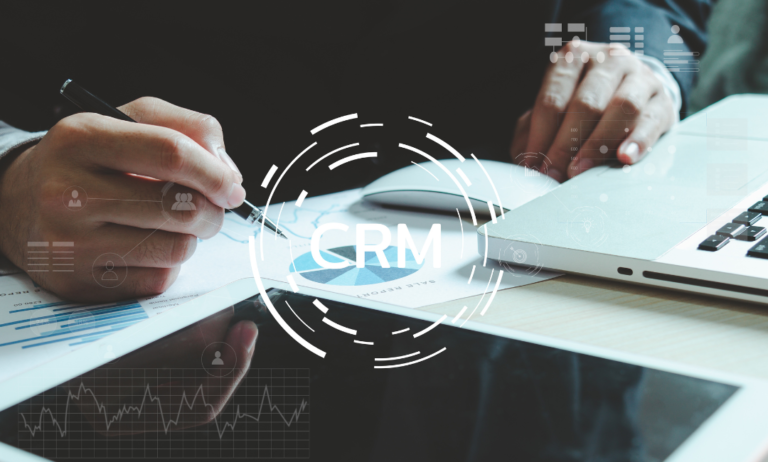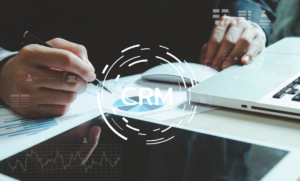 Point of sale systems are continually evolving, with the world of traditional or legacy point of sale systems almost gone for good.
What we have now is a continuous fine-tuning and increase in features and what point of sale systems are capable of achieving. 
In fact, gone are the days when point-of-sale systems were simply for the collection and processing of orders and payments. Now, with third-party integrations and accessories, much more can be achieved. Indeed, the possibility of what can be achieved with point-of-sale systems continues to increase at an astonishing rate.
One of these is customer relationship management (CRM) tools that help find new efficiencies, save money, and ultimately achieve more.
Before we go further, two questions we need to get out of the way are: what is a POS system, and what is a CRM?
What is a POS System?
A POS, shortened for point of sale, is a system that enables a business to process payments for goods and services. This includes hardware and software devices set up to enable a business process payments from customers.
The hardware includes physical components such as monitors, barcode scanners, credit card readers, etc., used to house the software components and conduct the sales transactions.
The software, on the other hand, is the program used in processing the transactions. This is either hosted on-site or in the cloud.
What is a CRM?
A customer relationship management system is exactly what the name implies; it is used to handle customer relationships. So basically, CRM handles the customer relationship part of a business and not transactions. 
A customer relationship management system helps you answer some questions about your customers; who they are, what they like, why they are interested in your company, what products they have bought, other companies they have interacted with in the past, and so on. CRMs are especially important at the customer care end, where you want to know the very basics about your customers.
In the past, a separate database setup was required where customer details were inputted manually and stored. Today, technological advancements mean that many point of sale systems now come with customer relationship management tools, making them an all-in-one solution. Transactions are effected, and customer details are extracted and stored for future reference.
Back then, when separate systems were still being used to store customer details, setting up was very expensive and was restricted to only large corporations with deep pockets. Small retailers hesitated to license separate systems for relationship management in addition to the point-of-sale (POS). CRM was then seen as a luxury but not anymore.
Now, point of sale systems come integrated with customer management tools.
What A CRM Tool Is And Is Not…
A customer relationship management tool helps to:
CRM tools help to collect customer data such as personal information, contact details, purchase history, birthdays, and other valuable information for relationship building.
CRM tools help to build and segment customers according to specific parameters such as spending patterns, frequency, etc.
It helps build loyalty programs and tailor them according to customer profiling.
A CRM tool is not a replacement for any of these:
It can not replace human effort in customer management.
It will not maintain itself.
Automation of customer relationship management will not take the place of missing processes.
What Are The Benefits Of CRMs For Businesses?
It helps to know and understand your customers better
CRM can help you sieve through your customers and properly segment them. You get to know the big spenders and the casual ones. This helps you to properly tailor your services, build loyalty programs, and set pricing levels accordingly.
Record keeping
CRMs are a great way to maintain proper records about the customers of a business. It also helps with proper planning.
Help to maintain continuity
When management of a business experiences a change of hands, a CRM database will help your new official adjust and come to speed in record time with the customer base. You do not need to fret about a change of hand in your business. CRMs tell your employees all they need to know about a customer.
It helps with proper customer targeting
With the records of your customers intact, properly targeting customers per their demography and purchasing capacity with appropriate messaging, offers, and updates is easy. 
POS With CRMs
Since technology has advanced, many POS systems now come with CRM features, making them an all-in-one tool.
Point of sale systems with CRM features serve as a one-stop tool that captures a company's sales, keeps track of inventory, and executes customer management services. 
With CRM incorporated, data is easily made available for use at the point of sale system. A CRM-enabled POS system therefore incorporates a wide array of functions and capabilities.
How CRM Enabled POS Systems Help Businesses
It helps you easily capture and store customer data as you process transactions.
You increase sales with insights gathered from customer data.
With CRM-enabled POS systems, businesses can easily tap into information available to understand customer preferences and thereby better tailor appropriate products to them.
What Are The Top POS Systems With CRM Capability?
Below we highlight 6 top POS systems that come with CRM capabilities you can choose from:
Lightspeed POS

ShopKeep

Square for Retail

WooPOS

Cashier Live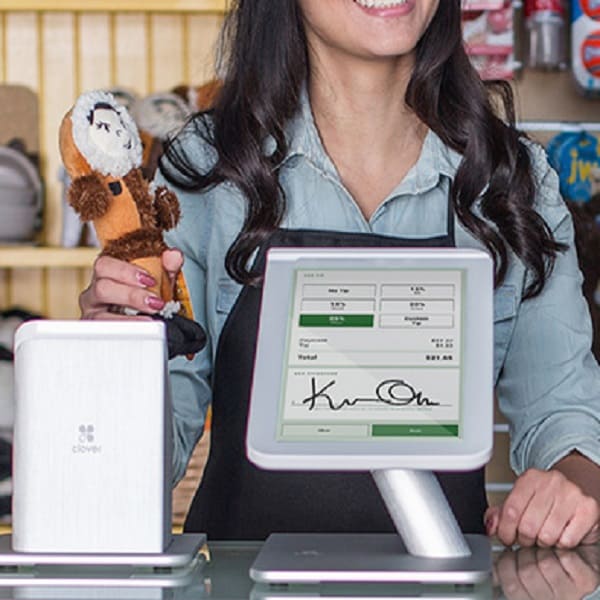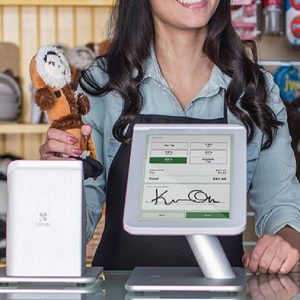 Clover is a friendly and easy-to-use point of sale system ideal for small and mid-sized businesses with built-in CRM functions. It also comes with a wide range of software and hardware options to choose from.
Clover supports a range of business types like retail, e-commerce, table service restaurants, and counter service restaurants.
Some of the capabilities of its customer relationship management tool are:
It helps create automatic customer profiles with details such as personal information, contact details, purchase history and more. You can also identify your most loyal customers, what they like to buy, and when.
It helps you create promotions and communicate the same with your customers.
It helps you segment your customers and tailor appropriate and specific promotional campaigns for each group.
You can set up reward programs..
Its feedback tool helps you maintain a one on one communication with your customers. Customers can respond to you either via SMS or directly in the app.
Pros

 
Full suite of CRM features 
It is easy to set up
Perfect for companies already online
24/7 phone and email support
Offers fraud protection up to $100k
Cons
It cannot be used with other payment processors.
It is sold through a number of partner merchants so cost and agreements may vary.
Online application for the POS is not available; this must be done through a sales rep.
Pricing details are not transparent.
How Much Does Clover Cost?
Clover is free for the first 30 days of usage, and fees vary depending on business type. The monthly fee comes with a credit card processing fee, which includes a transaction fee and a flat fee per transaction. 
For credit card processing rates, in-person fees apply where the card is presented at the POS card reader, and a slightly higher transaction fee where the card is not present, such as instances like on an online sale or phone order.
Clover is offered by a number of the company's partner merchants, and as such, you need to check through and do an adequate comparison to ensure you are not paying more.
Some trusted partner merchants offering Clover include Citi, PNC, SunTrust, and Wells Fargo. Others are Restaurant Depot and Sam's Club.
Get our detailed review of Clover POS here or click here for a free quote. 
Lightspeed POS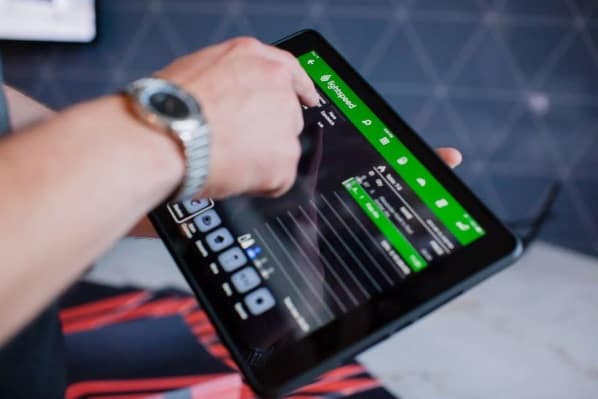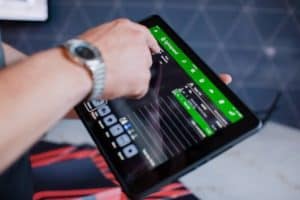 Lightspeed is a cloud-based point of sale system with a good CRM capability embedded in its functions. It boasts of features like contactless payment, omnichannel loyalty & advanced eCommerce solution. 
It is feature-rich to power customer loyalty programs, CRM, merchant services, and eCommerce functions.
The Lightspeed POS features a rich in-built revenue report that helps you track your sales and profits as well as trends. You can easily track costs and margins with its inventory reports and even increase the number of data by integrating Lightspeed Analytics.
Its iPad and android app helps you to manage all angles of your business: inventory, customers, employees and sales on the go from your laptop, iPad or mobile phone. 
It is a good POS system for established businesses such as multi-store outfits such as clothing chain stores and others.
Features of Lightspeed POS CRM:
It gives you a detailed view of the history of each customer, such as their last transaction, products purchased, and frequency of purchase. Regardless of where they are shopping, you can easily track customer spending and send targeted offers right from your dashboard.
With the Lightspeed CRM function, you can easily add notes to customer names.
Discount provisioning can be automated based on customer category.

Its mobile app helps you stay updated on the go.

With

ComentSold

, you can integrate directly and sell on social media platforms like Facebook and Instagram.

You can easily design emails with its in-built templates and drag-and-drop builder.

Send exclusive deals to customers on their birthdays.

You can easily manage memberships and subscriptions with automated recurring payments that are secure.
Pros and Cons Of Lightspeed POS
Pros
Robust inventory management
Robust customer relationship management tools
Integrations
Cons
Price
Annual contract 
How Much Is Lightspeed POS?
Lightspeed offers a bespoke model pricing where you can select add-ons based on your needs but offers three plans: Lean, Standard and Advanced.
Its Lean plan starts at $59/month or $69/month if billed annually.
Read our detailed review of the Lightspeed POS here.
ShopKeep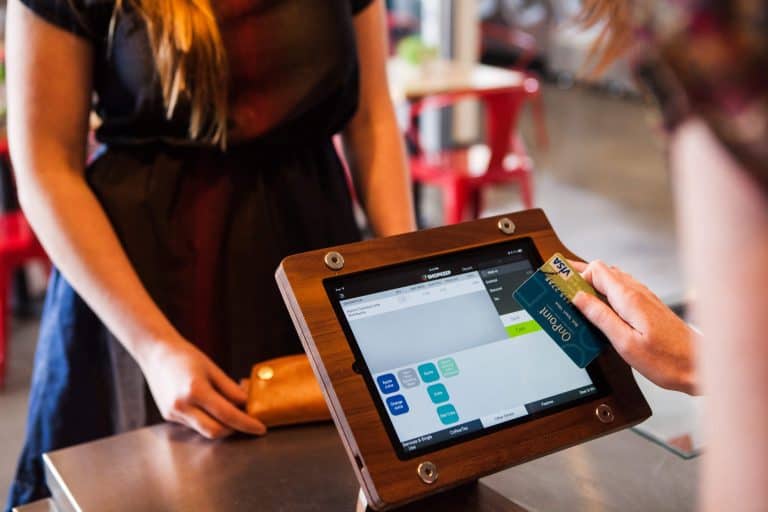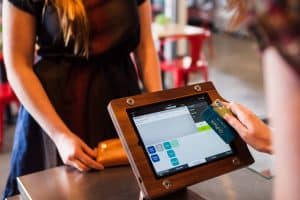 ShopKeep is a cloud-based PCI DSS compliant POS tool for iPads. Launched in 2008, it was acquired by Lightspeed in 2020 and since then has been known as ShopKeep by Lightspeed. It offers some basic CRM functionalities and is suitable for businesses such as boutiques, convenience stores, food trucks, and restaurants.
Shopkeep's CRM capabilities include:
Real-time inventory reporting and sales data functionalities is accessible from anywhere.

Its loyalty program management capability helps you set up loyalty programs for frequent customers.

You can sell online by integrating with Lightspeed eCom.

By integrating with ShopKeep Spotlight, you can manage your local online business listing.

You can manage and set up email as a marketing tool by integrating MailChimp.

With its mobile app, you have access to sales and operation information wherever you may be.
Pros and Cons Of ShopKeep POS
Pros
Easy to setup and use
Back office easily manages bulk imports and exports
Now backed by Lightspeed and as such boasts of good customer care service.
Cons
When compared to other options, its inventory capabilities can be limited.
It has limited financial reporting.
It has been reported that pictures cannot be added to inventory buttons
Occasionally hit by bugs.
How Much Does ShopKeep by Lightspeed Cost?
While it does not make its cost known publicly, it offers a free trial and quote for Retail, restaurant and eCommerce. You can request a quote on its website.
Square for Retail
Square for Retail is a PCI DSS point of sale system with CRM capabilities. Its functions include inventory management, employee management, payments, customer support and payroll.
Square point of sale is a solution for both Android and iOS devices.
With Square for Retails, there is no contract, no fine print. You can make the switch in minutes and get all setup and ready to receive payments from your customers.
Pros and Cons of Square for Retail
Pros
No contract
Offers free trial
Works in offline mode
Payments can be received from a plethora of cards such as Mastercard, Visa, Discover, and American Express cards.
Great customer support
Cons
Adding inventory via terminal is reported to be slow.
Connection is occasionally not stable.
Square for Retail's CRM capabilities include: 
It automatically creates customer profiles with every card transaction carried out.

It goes further by tracking customer information, you can track items they have purchased and their unique preferences.

You get feedback every time a sale is made.

Payment details of regular customers are stored. This reduces checkout time and enhances customer experience.

Helps to send email marketing campaigns to your customers.

Its digital receipts help customers leave feedback. This can be viewed on your dashboard and you can send back a timely response.

It can sort and categorize customers based on some set parameters such as loyal, casual, lapsed or custom built groups. Users can go ahead to add notes, comments and preferences to these customers' profiles.

Store owners can set employee accessibility levels through passcodes. This helps to restrict what data is accessible by each employee. It helps to keep track of who is responsible for each sale.
How Much Does Square for Retail Cost?
Square features a straightforward pricing plan. It offers a free trial and there's no commitment of a contract.
You only pay a per transaction fee. You pay 2.6% + 10¢ per swipe or 3.5% + 15¢ per manually entered transaction.
WooPOS
WooPOS is both a POS and an inventory management/store management tool that offers CRM functionalities.
It is a PCI DSS compliant system that is ideal for small to large retailers looking to set up multiple stores or eCommerce operations.
With WooPOS, you can manage store inventory, customer details, employees, and storefronts across multiple locations.
Data import/export, payment processing, general ledger, barcoding, invoicing, alerts/notifications, and purchase order management are among the features available.
WooPOS analytics gives you access to over 500 reports and gives you detailed insight  that will help you improve your business.
The retail POS supports barcode scanning, touch screen input, service transactions, tax management and more.
Pros and Cons of WooPOS 
Pros
Highly customizable.
No contract tie down.
Can accommodate tons of product input without lagging.
Integrates easily with WooCommerce.
Cons
Users report that inventory reports could be confusing and difficult to export to other programmes.
WooPOS integrated CRM capabilities include:
Track and analyze customer data helping you deliver appropriate customer service.

You can offer loyalty programs.

Segment customers into tiers.

Manage correspondence with email subscription.
How Much Does WooPOS Cost?
WooPOS pricing is based on the number of users a business has. Its basic plan starts at $99/month.
Its Enterprise and Growth plan goes for $289/10 users and $175/month for five users respectively. Additional users on this plan cost $35.8 per additional user.
All plans come with a free trial.
You can reach out and get additional details here.
Cashier Live
Cashier Live is a cloud and web-based POS system with CRM capabilities ideally suited for small and medium-sized businesses, independent pharmacies, and a variety of retail stores like clothing, gifts, specialty groceries, jewelry, liquor, and sporting goods, among others.
It is a POS software by TransNational Payments.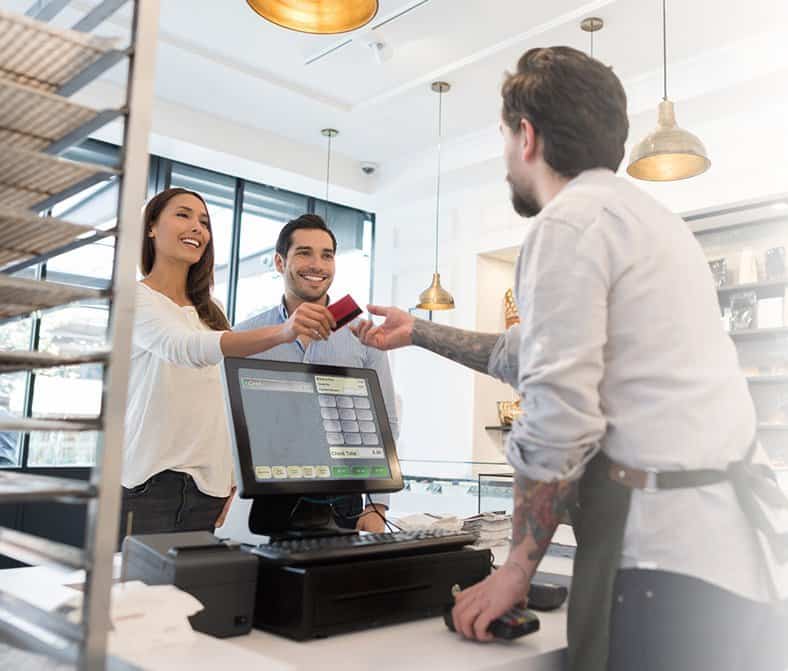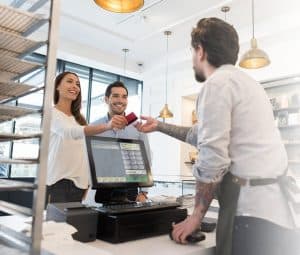 Access your dashboard and reports to see a real-time snapshot of your store's performance at any time, anywhere. You can accept any form of payment with its integrated credit card processing that offers very low rates and supports EMV chip cards.
Accessibility is easy as it can be accessed via its iPhone and iPad app and on PCs. It also syncs data seamlessly, so you never have to worry as you can access your store from anywhere.
With its full featured inventory management capabilities, you can easily add and edit products, create purchase orders and many more. It also supports a wide range of hardware devices like receipt printers, cash drawers, and other equipment.
CashierLive also makes it easy to seamlessly split checks, provide gift receipts, collect tips, and scan barcodes with your device's built-in camera or a scanner connected by USB.
The Cashier Live team has an offer very few can match. For businesses with a lot of inventory, they offer to import the same for you into the database at no cost.
Pros and Cons of Cashier Live POS 
Pros
Great customer care
Quick connection speeds up authorizations
Easily email customers receipt
Training, setup and equipment hook-up is provided by Cashier Live where it is needed.
Offers a 14-day free trial.
Cons
Glitches reported from time to time.
Users have complained about price increases.
Pricing is a little bit on the high side when compared to others.
Does not integrate with any third party payment processor.
Hardware must be purchased from the company.
Requires strong internet connection.
Cashier Live CRM functionality helps you to:
Build customer profiles.

See who your best customers are and specific details about them like what they are buying.

It has email functionality to help keep the interaction open with your customers.
How Much Does a Cashier Live Cost?
Cashier Live's pricing plan isn't too clear. It offers a Standard plan which starts at $75/month per store. You however will have to get in touch to get a quote for its Pharmacy and Hardware Store plan. 
All plans are PC, iPad & iPhone compatible and offers a 14 day free trial
5 Things You Should Consider When Choosing A CRM-Enabled POS System
When considering a point of sale system that comes with CRM, there are certain things you should consider. Here are some features you should be on the lookout for:
1. Contact Management
It's a no-brainer that a CRM-enabled POS system will not have contact management. This is almost a given and must be available in such a system.
2. Tracking top customers, or customer details and visits
A CRM-enabled POS system must be able to track and give a detailed report or breakdown of your customers using certain parameters that are either set automatically or determined by you, the user.
This is also critical to establishing two-way communication with your customers.
4. Reporting
Such a system should have an array of reporting features. The more, the merrier.
5. Refund and return management
This is another feature that you should look out for. Does the system have a good refund and return management system?
FAQS
Q: Is CRM and POS the same?
A: While both topics do have common grounds (CRM means customer relationship management while POS means point of sale) the former is more about information on customers and potential customers while the latter is more about cash registers and payment systems.
Q: What are the three types of CRMs?
A: The three main types of CRM systems are: collaborative, analytical, and operational.
Q:  What are the 5 steps in the CRM process?
A:  The CRM process is a collaborative effort between three departments, marketing, sales and support departments. The 5 steps in the CRM process   are:
Brand awareness
Leads acquisition
Conversion of leads into customers
Provision of customer service
Drive upsell
Q: What are the four C's of the CRM process?
A: The four C's of the CRM process are: Customer experience, Conversation, Content and Collaboration.
Q: What are CRM processes?
A: The CRM process is a business strategy that helps companies better identify and understand their customers. The goal of the CRM process essentially is to improve the company's marketing efforts, product development, customer service, and sales.
Q: How do I start a CRM?
A: Here's a 6-step process that will teach you how to set up a CRM system:
Map your customer journey.
Define your business and sales processes.
Create custom fields, stages, and pipelines.
Migrate your customer information.
Integrate your tools and automate manual processes.
Add users and set permissions.
This article was written by Wale Ameen and published on Monday, 9 May 2022.