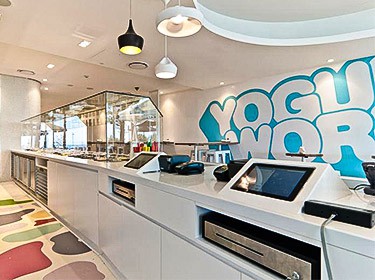 Frozen yogurt POS software should allow for accurate, and faster order taking as well as improve customer service in your business. In addition to processing payments, you will need a system that keeps business and customer information secure and well organized.
You'll also need scale integration to measure frozen yogurt orders by weight. Orders can be modified for size and add-ons. Use sales data and customer insights to make better business decisions. Send our promotions, right from the POS, to keep customers back.
After comparing various systems, we found that Shopkeep is the best-frozen yogurt POS system. The software from Shopkeep offers a preloaded yogurt inventory database, employee training, and various management features. Along with scale integration, the system also offers reporting features that help you sell more. 
Let's dive into the top-rated systems and why they deserve a spot on our list.

Comparing The Top Frozen Yogurt POS Systems
| POS System | Software Costs | Hardware Costs | Our Rating |
| --- | --- | --- | --- |
| | Starting at $69/month | $809 for the Basic Hardware Kit (not including scale) | 4.8 / 5 |
| | Starting at $69/month | $1,200 for Basic Hardware Package | 4.8 / 5 |
| | Starting at $99/month | Quote-Based | 4.5 / 5 |
1. ShopKeep POS – Best Frozen Yogurt POS System
ShopKeep is simple and user-friendly. It is an elegant piece of software that allows small and medium-sized businesses to run effectively and smarter. It boasts all-around increased efficiency and has dynamic and incredible features. Its level of functionality is one of the things that make it worth the buy.  With this frozen yogurt POS system, most businesses will feel at home.

ShopKeep has been around since 2010. It is simple and helps ring up customers accurately and faster, especially when there are lots of customers (peak times). This frozen yogurt POS system offers a POS system with style to match the existing atmosphere of your business. Not to mention that it can capture the email addresses of customers and track the hours used by employees.
Business-Specific Features
There are lots of features the ShopKeep offers. In this section, we will discuss the standout features.
The Back Office
The wealth of features included in the ShopKeep POS system is one of the things that are impressive about its back office. Large businesses might not find this appealing, but a small business that operates a single register will appreciate it.
A small business would be able to enjoy some relatively advanced tools by paying just $69 per month. This also works for a business with more than one register.
You can get access to a system that manages your customers, the time of your employees, your inventory, and keep all your transaction records. Different reporting options are provided for analyzing all your data. Also, email and live chat offer unlimited technical support.
The Register
The capabilities of the register are all-encompassing; splitting tenders, adding modifiers, fast discounting, ringing up items, taking payments, refunds, and easy returns. These features allow your employees to take care of customers more efficiently.
Detailed Reporting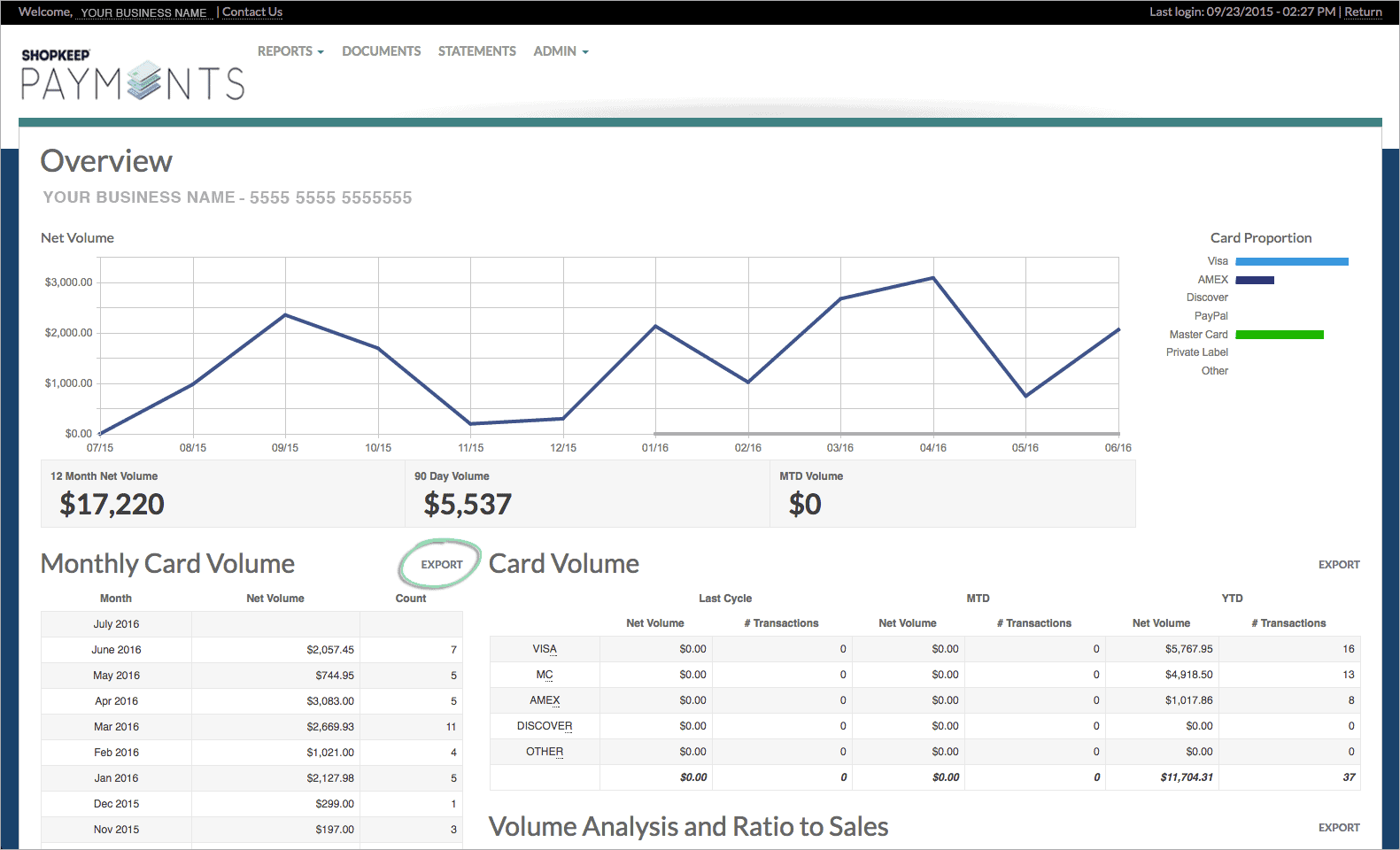 ShopKeep offers an extensive reporting suite. Recently, sales by customer reporting, average cost reporting, and sales by discount reporting were added to the mix. These reports are incredibly important for your store. They help you see the highest selling items and then allow you to decide which items should receive a discount.
Multi-Store
Presently ShopKeep has a multi-location capability which could be expanded in the future. You have the opportunity to view all your stores on a single parent website.
Also, with a dashboard overview, you can get an all-encompassing view of your separate locations. You can set sales, price points, etc., for all of your stores or only specific stores. This is an incredible feature for any owner with multiple locations.
Inventory Management
The inventory management tools offered by ShopKeep are powerful. Some of the amazing inventory management features are raw goods tracking, customizable register buttons, low inventory alerts and reorder reports, and bulk product management and uploading.  
Pocket App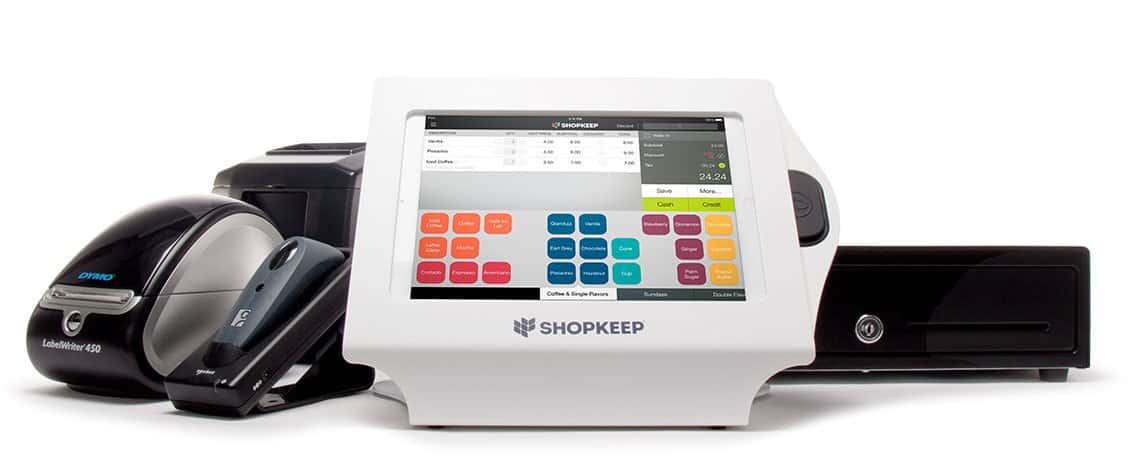 The pocket app of ShopKeep is available on both Android and iOS. With this amazing feature, you will be able to follow up your business no matter your location. 
Tax Rate
This was one of the most visible problems ShopKeep had. ShopKeep originally had one set tax rate. As many ShopKeep users live in different states, their tax rates vary. This feature has finally been fixed, and now you can set the different tax rate.
Customer Service And Support
ShopKeep offers unlimited support; 24 hours a day and 7 days a week. They offer Email, web inquiry, text, and live chat.
It has a supporting microsite that provides comprehensive and clear video tutorials and articles on all areas of the software. The presence of this POS system on social media platforms such as Instagram, Facebook, Twitter, LinkedIn, and YouTube helps in providing engaging and relevant information.
Positive Reviews from Shopkeep Users
It is easy to use and train your employees. Because ShopKeep is inexpensive,  the pricing reasonable. This makes it excellent for smaller stores or chains. Finally, ShopKeep offers 24/7 customer service, which is incredibly satisfying.
Possible Drawbacks
When it comes to inventory management, lots of customers have complained about issues with the system or bugs. Some users have had issues with unreliable hardware. Additionally, some users complained about rude customer service representatives who were never like that when they purchased the system.
Conclusion  
With the recent addition of some features and integration with EMV transactions, BigCommerce, and matrix inventory, ShopKeep never stops impressing users. Additionally, lots of updates are available for the reporting suite. However, there are still some features that are lacking such are the ability to add modifiers and so on.
The lacking features are worked on by ShopKeeper, and they should be available in the feature updates. ShopKeep deserves a look if you want a new POS system that is flexible, has a reasonable price and with full features.
Get A Quote from Shopkeep
2.TouchBistro – Feature-Heavy Frozen Yogurt Software

TouchBistro built by professionals in the restaurant industry. With various features and integrations for food-based businesses, the software is able to automate vital quick-service tasks that save you time and money.
TouchBistro's interface is user-friendly and easy to use. Easily train your staff to run transactions, print receipts, and provide a seamless checkout experience.
TouchBistro Frozen Yogurt POS System Features
Bill Splitting
It might be a real pain for servers to split the bill among parties that are large. TouchBistro allows you to split the entire bills by combine or seat. Also, you can split different parts of the bill. With a few taps, you will be able to split orders.
Bar and Table Management
With this feature, you can color-code seats and tables making it easier to distribute and also take orders. Also, TouchBistro lets you know the server that is associated with a particular table. Additionally, you can open tabs with ease, for example, by storing the credit card information of customers based on their name. 
Mobility
Servers can take the TouchBistro POS system to any location in your frozen yogurt shop since it runs on iPad. This means that you are not going to be restricted to the checkout counter. You will be able to take orders and payment from each tableside. Also, you will be able to attend to the customers in time and avoid the long line and waste of time.
With this feature, you would be able to offer an excellent service. Adding to the great efficiency is the ability to remotely access back-office features using any available device having a browser.  This is owing to the cloud-based reporting it offers. Whether you are on the road or at home, you would be able to monitor your restaurant.
Kiosk and Menu-only Mode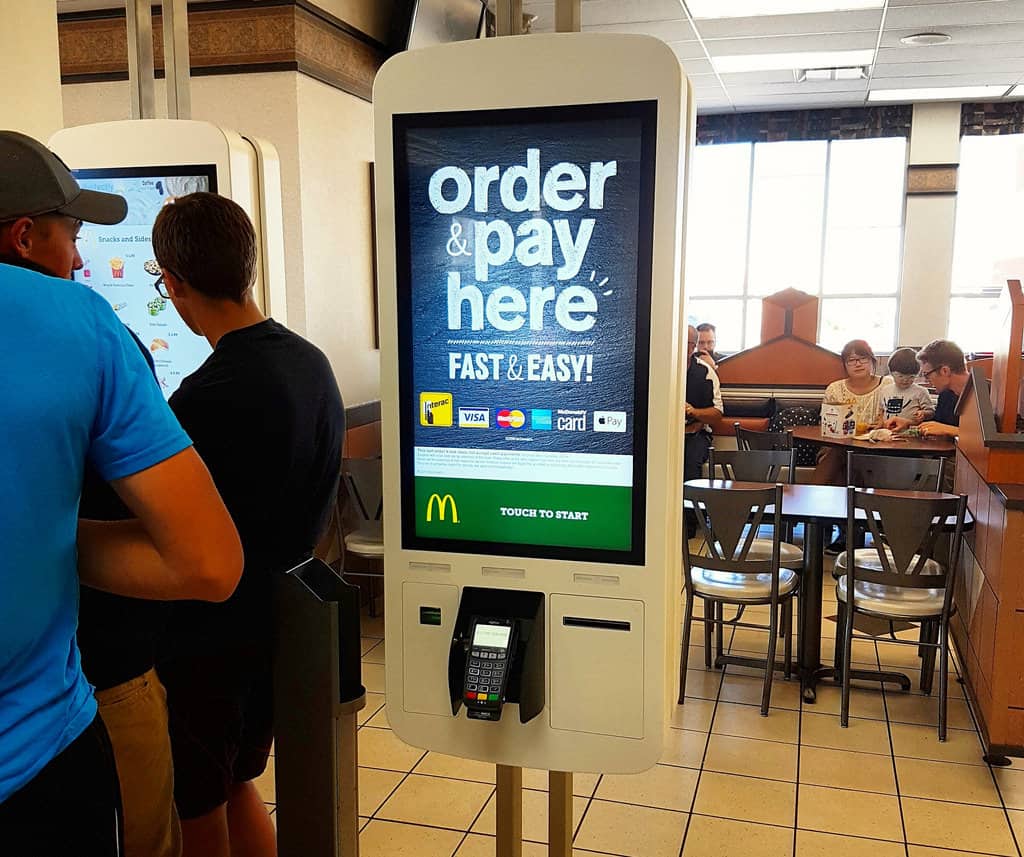 This feature would allow your customers to place their orders on their own and still use the same device to pay. This can be done by using TouchBistro's kiosk app, especially if you have a restaurant with quick service.
Automatic discounting
TouchBistro provides an automatic discount for events. You can set up the system to preset discounts based on day, time and more instead of servers inputting discount manually. Once the event is over, items will return to their normal price automatically. 
Customize and Modify Orders
The intuitive interface of TouchBistro makes it easy for you to include optional and forced modifiers to the system. For you to identify the options that are popular, the record of the custom orders is kept by the Modifier Report.
Additionally, another great feature included is the reporting tools TouchBistro offers. This helps you grow your business and also manage it well. You would get detailed and comprehensive updates on the performance of your business.
Customer Service And Support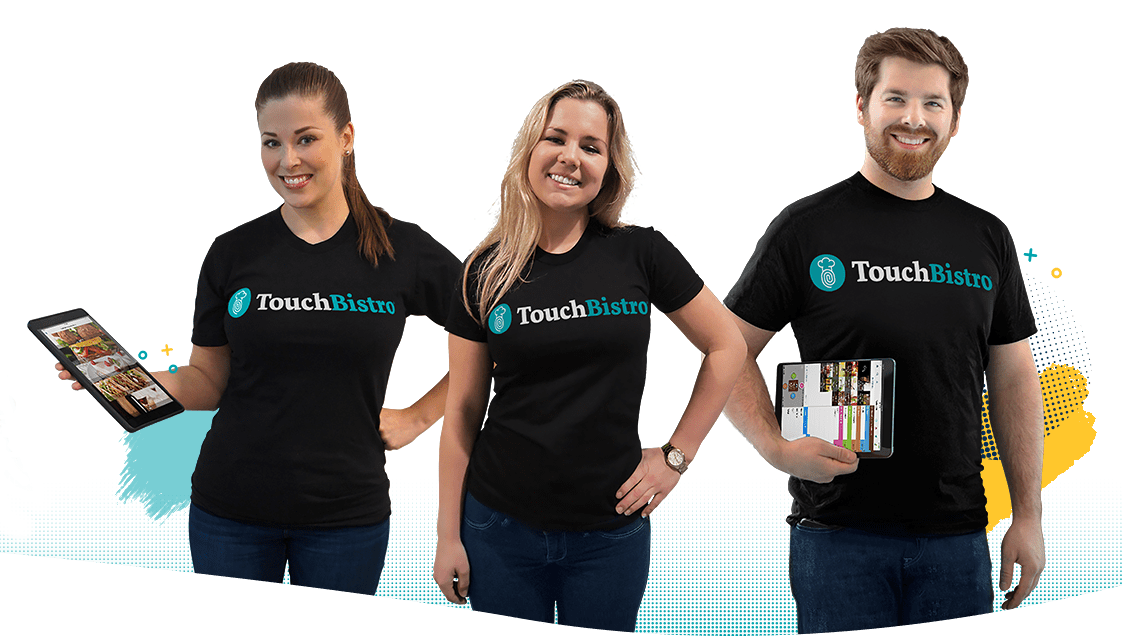 Whether you are a pro or standard subscriber, you would be able to enjoy the 24/7 customer service TouchBistro offers. They are present on social media platforms like Facebook, Twitter, and others. You can watch some YouTube videos and also make use of their comprehensive support section.
Possible Drawbacks
Many users have complained about the reports having issues or not generating correctly. Additionally, this is not an all-in-one POS system. There are add-ons you can purchase, but it may not meet all your needs.
Get A Quote from Touchbistro
3.Vend POS – Robust Inventory Management 

Vend was created by Vaughan Roswell and his team in 2010. Out of all the web-based retail POS in the world; Vend is the first to use the HTML5 offline cache capabilities. This makes it efficient for businesses to continue managing their businesses on and offline. Even though it is fully cloud-based, during an internal outage, it can continue to ring up sales.
With the inventory tools, Vend offers you have the opportunity to automate all forms of tasks such as low stock alerts and product count.
Also, in a situation where your stock reaches a preset threshold, it will help in reordering. With this great feature, you don't need to check inventory manually all the time. At each of your location, you can check the levels of your inventory and transfer items between stores if you subscribe to a Multi-Outlet plan.
Loyalty program and customer database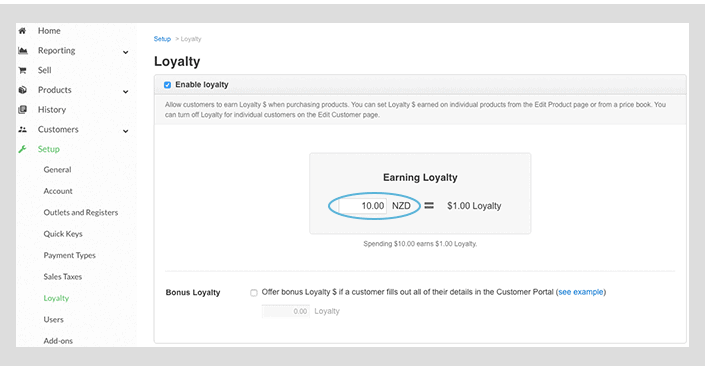 As you are ringing up a sale, you can capture the contact information of your customer. You can use a CSV file to upload the customer database to Vend if you already have it. Additionally, you can see who your best customers are with the help of Vend reporting tools.
You would be able to organize list of customers, where you would have the purchase histories, contact information, account balances, and payment history. These will ensure you have marketing campaigns that are more effective. Vend has a built-in loyalty program owing to the multi-outlet and advanced plans.
This great feature ensures your sales are boosted. It converts first-time customers to your all-time customers. You can email your customers an invitation to sign up or add them up at checkout. Also, you can assign loyalty to every product by customizing the program.
eCommerce functionality
This feature is limited to the Multi-outlet and Advanced plans. It offers design help by choosing a responsive theme, an integrated website builder, and hosting. Also, it offers the ability to tie in your domain name and live synchronization with your in-store inventory.
Price books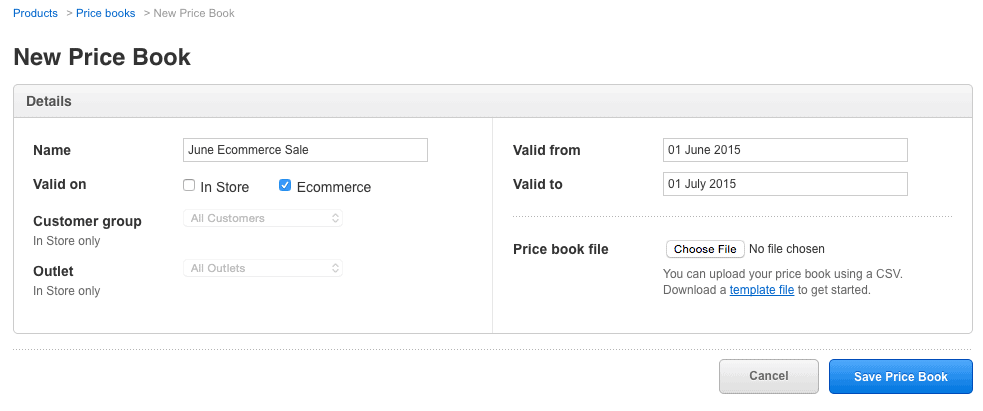 Vend can maintain more than one price book. You can use the price books in many ways. Base on certain groups of customers or store locations, separate price books can be maintained. Also, you can make the price books time sensitive. 
Tracking of Employees
This amazing feature will help reduce the theft, discrepancy, and errors of employees. This will be done by tracking the cash management of your employees. Tracking employees can also help you identify which employees are the most reliable. This can be encouraging to see and can help you streamline your business.
Gift Cards
This is a recently added feature that ensures you create your own branded gift cards, prevent issuing of refunds by providing store credit instead, and develop your payment options.
Additionally, some other features it offers are third-party integrations and real-time reporting. Remember, sometimes you must pay for third-party integrations.
Technical Support And Customer Service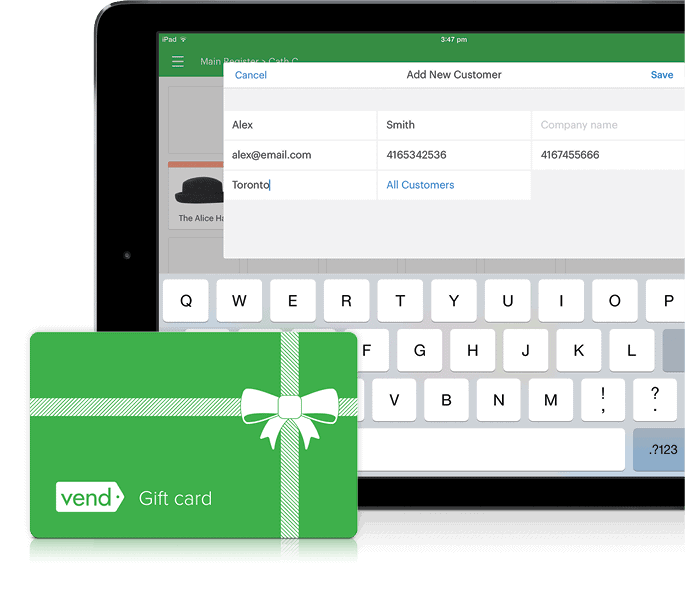 For premium support, Vend provides yearly contracts on the paid plans. With just a phone call 24 hours in 7 days of the week, you can get the technical help you wish for.
There is a searchable and thorough database of answers to questions that are common, adding to live chat, email, and phone. Vend is active on Facebook, Twitter, and LinkedIn. It also has a YouTube channel where you can get quick tips, tutorials, and promotional bits.
Vend also provides a VendU account to every user. VendU stands for Vend UniversityThis is an online option to watch videos, not just relating to Vend, but relating to varying business practices. VendU is a top of the line tool provided by a POS system.
Vend also gives you access to a full forum where you can discuss Vend or business strategies with other business owners. Again, this is an excellent addition to an already phenomenal service. Vend focuses on helping you grow, not on making a profit.
Positivity Of Vend From Reviews And  Testimonials 
First, every function of Vend is self-explanatory, so it is easy to use. This means many employees can learn it quickly. Additionally, the program displays well on varying screen sizes.
This can be helpful if you expect your employees to provide their own device. Vend also is much more affordable in terms of Cloud-based POS systems. Finally, Vend provides top of the line customer support, including VendU.
Downside Of Vend
However, many users complained about minor problems in the system which is unusual and unexpected. For example, some users complain about slow servers, meaning a lag in accessing your data. Additionally, Vend charges users for their support. While they still have 24/7 customer service, Vend is also known for long wait times in terms of service.
Conclusion
With Vend you can enjoy all the benefits the cloud has to offer. The easy to learn characteristic make it one of the best POS system the frozen yogurt shop should use. Even though it might not have what some other cloud-based POS offers, it has a clearer focus on retail and extended reach geographically. Vend as a low cost of entry and still satisfy the great needs of retailers.
Get A Quote from Vend
What Should You Look For In A Frozen Yogurt POS System?
To get the perfect POS system for your frozen yogurt shop, here are some things you should look for.
The flexibility in adding new products – to be a successful yogurt shop, you should be able to keep up with trends of flavor and add new updates with ease. With a perfect POS system, you should be able to create new products or edit the previous one in the system and also make updates in real-time.
A cloud-based system – if your frozen yogurt POS system has a cloud-based system, you would be able to effectively run your business even if you are not around your shop or premises. In real time, you would be able to monitor your inventory, track sales, and schedule employees.
Mobile Point of Sale system – If your POS solution can work on terminals and tablets, you can enhance the customer experience and increase productivity. You can avoid long checkout lines greater mobility can help.
Training Mode – Though not required, a frozen yogurt POS with a training mode would be great. It would help develop the speed of new hires.
Integration of Scales – Definitely take this into consideration! After all, the best-frozen yogurt POS system should be integrated with scales.
Affordability – As you already know, there are many types of frozen yogurt POS systems out in the market! While some such as TouchBistro can cost up to $69 a month (for solo businesses who only want to buy the software), some such as ShopKeep offer a free plan. Choose the one that's right for you and your business!
Ease of use – This is especially important if you need to train more than one person at a time.
Reliability –  After all, not everyone is a tech genius.
The Bottom Line
To summarize, if you want a POS system that covers a wide range and gives a clearer focus on retail, Vend is the way forward. If you have a shop with lots of customers, TouchBistro is the most ideal solution for you. It will help you take orders and distribute faster and with ease.
If you are on a budget and need a POS system at a reasonable price and still have great features, ShopKeep can be the best option for you. Even though all the 3 POS systems reviewed put the icing on the cake, each of these systems has what makes them different from one and another.
Regarding features, efficiency, design, and much more, you know what you want. Even though there are lots of POS systems in the market; we believe you would not be making a mistake by picking any of the ones we have reviewed.