(Last Updated On: January 10, 2023)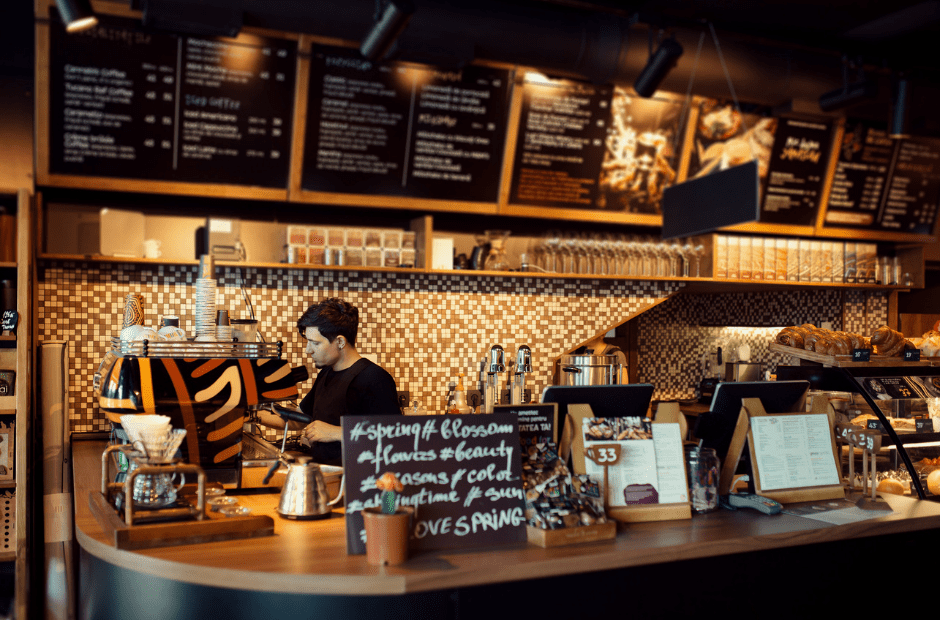 A frequently asked question in the coffee industry is: are coffee shops profitable? The short answer is yes. The industry average income for coffee shop owners is $60,000 to $160,000 (1). Startup costs can be high with coffee shops, but the return on investment is one of the best that you will find in the food and beverage industry.
Starting a coffee shop is not only a business endeavor, it can be a meaningful experience to add to your life. It will allow you to make great coffee and help hundreds of friends start wonderful conversations. It will make mornings brighter and afternoons less stressful. Successful cafes have far more of an impact on society than most people realize. There are many things to consider when opening a coffee shop.
Opening any type of business that is in the food or beverage service industry can be challenging and complex. We have narrowed the process to opening your very own coffee shop down to 10 easy steps. This how-to guide will help you get started on the right foot. Read on to learn how to open your very own successful coffee shop.
10 Steps to Open Your Own Coffee Shop
Step 1: Research, Research, and then…. Research Even More
The first and maybe the most important step to diving into your coffee shop journey is to research. There are many areas of interest that should be considered in your research. For example, the competition – how many coffee shops already exist in your area? The best way to learn is to examine what your competitors are doing. Is there a coffee shop nearby that is thriving? Study what they are doing and how they operate. Finding out as much about the industry as you possibly can will only be beneficial to you in the long run.
It may even be worth considering chatting with other local coffee shop owners that would be willing to have a meeting with you. These owners may be able to give you advice and insight into the ins and outs of operating a coffee shop from firsthand experience. People who have gone through the process already will be able to provide valuable and helpful insight, and may can even help you with the second step.
Step 2: Write a Killer Business Plan
Not only may a business plan be necessary to get approved for financing – this step is crucial in attracting customers. It will outline what goods and services you will offer, where you will be located, and how much you will charge. There are many important aspects to a solid business plan when it comes to the coffee industry.
Budget – First, decide how much money you have available to invest. You can self-fund the business using your savings, or you can recruit friends or family to put up a certain amount of money. If you cannot come up with this much cash, you can also get a business loan from a bank or through the Small Business Association. If you are going to be applying for financing from a bank or other financial institution, ensure you have a solid financial layout in your business plan, because they may require a personal guarantee before giving out funds.
Location – The location is critical for a coffee shop. It should be located in a popular area where people spend a lot of time. A successful coffee shop will be in a prime location with lots of traffic. The location should also have a well laid out floor plan that is cohesive with the vision of your business. Also keep in mind when choosing a location whether or not you want to have a drive thru or you will only operate on foot traffic.
A good location will provide many advantages to your customers. If the location is convenient for your customers, they will be more likely to return to your business. In addition, consider your comfortability with the potential location and the surrounding neighborhoods. Coffee shop owners typically work well before the sun comes up, so considering your own personal safety is important.
Business Name – You need to choose a name that embodies your ideals and goals. When choosing your business name, consider what your target customer values as well. Your name should be unique and something that consumers will easily remember.
Business Offerings – When it comes to the business offerings portion of your business plan, the more detail that you can include, the better. It's good to think in-depth about what your business is going to offer well before your business is up and running. Some questions that you can ask yourself for this section include.
What is your differentiator – what sets you apart from the competition?
What is your niche?
Are you going to serve a completely new beverage?
Will you have any gluten-free or vegan offerings?
Are you going to create your own beverage recipes?
Where do you plan to source your goods from?
Where will you purchase your equipment from?
Are you going to be a high-end coffee shop with more luxurious product, or budget-friendly?
Marketing – Your marketing plan will either make or break your business. Opening a coffee shop from the ground up is no easy task. Not only do your products and beverages have to be solid, but you also need to be able to communicate with marketing and advertising to your local community. It needs to be clear what your business offers to consumers, and why they should visit your coffee shop vs. others in the area. During your initial marketing analysis, this is a good time to nail down your target audience.
Once you have decided on your target audience, you can plan which marketing and advertising strategies will be most effective in reaching those consumers. Will your business see more success in doing local physical advertising, such as flyers, newspapers, and billboards? Or, should you focus your efforts more toward creating an online presence with social media ads and website development? These are all important thoughts that should be taken into consideration when writing the marketing portion of your business plan.
Step 3: Finding the Right Sourcing Partners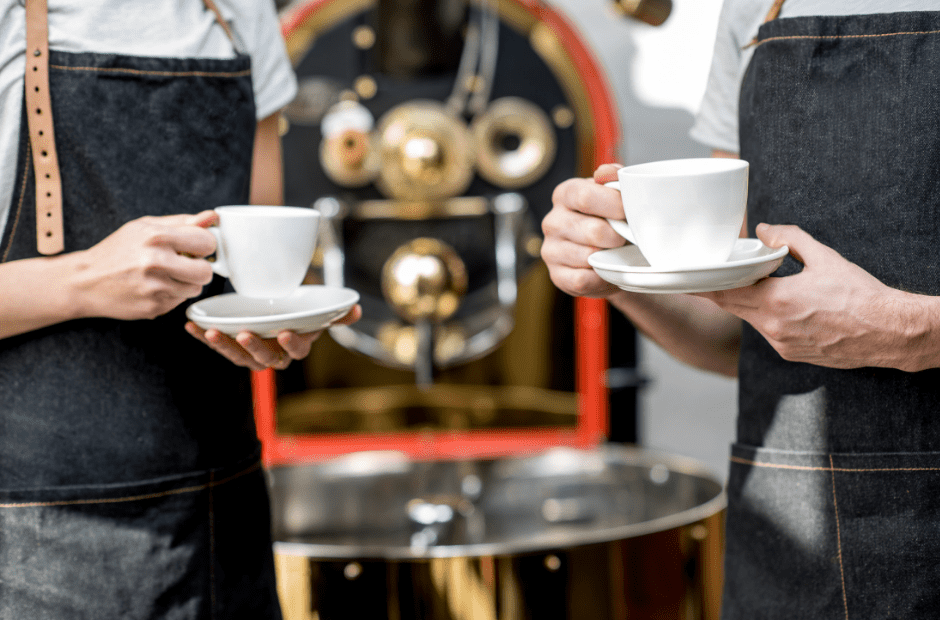 Although this aspect of your business should be considered in writing your business plan, this is a crucial component to nail down before you open your coffee shop. Most coffee shop owners choose to purchase their beans wholesale from a coffee roaster. Finding a partner to source your coffee beans from is not as easy as you may think. It's shouldn't be as simple as just finding a roaster and going with your first option. Instead, you should be sure that you have tested their beans (maybe get some friends and family to test, too) and you really enjoy their coffee. If you don't like the coffee, chances are your customers won't like it either.
You should also take into consideration whether or not the roaster promotes fair-trade practices, and the location of the roaster. The shop local movement is booming, and fair-trade is becoming more and more popular, particularly in younger consumers. Consumers are often willing to pay more if they know the coffee is sourced with fair-trade practices and if they are supporting the local community.
Step 4: Apply for Financing
Your business plan has to come before your financing process, because most lenders will require your business plan before they approve you for any type of financing. Most people do not have the capital to self-fund their coffee shop, but there are few different avenues you can pursue when it comes to getting financing from an outside source.
How Much Does It Cost to Open a Coffee Shop?
For the average brick and mortar coffee shop, it can cost anywhere between $25,000-$300,000 in startup costs (2). The major expenses that you will encounter during startup are primarily your equipment, and your location. The start up cost varies greatly because location and equipment costs can be very different depending on the market in your area. Also, whether or not you are purchasing your coffee shop as is, renovating an older location, or simply renting a commercial space will change your startup cost amount. The location will likely depend on how the commercial market is in your area and what options that are available to you.
What Equipment Do You Need to Open a Coffee Shop?
It can be overwhelming trying to find what equipment is actually needed to open your coffee shop. Some of the equipment and goods are a necessity, while some equipment may not be applicable to your business in particular. As a ballpark estimate, you can plan to spend anywhere from $3,500-$5,000 on initial equipment cost. Remember, some of the equipment will be recurring costs and need to be restocked. Some of the most common equipment that you will find in coffee shops include:
Coffee (bulk)
Milk (and milk alternatives – in bulk)
Filtered Water System
Disposable Serving Items (cups, lids, straws, drink sleeves, stir sticks, etc.)
Pastries (pastry cost will vary greatly depending on whether you are making your own, or sourcing from a local chef)
Syrups (bulk)
Refrigerator(s)
Espresso Machine
Espresso Grinder
Espresso Equipment (pitcher, scales, tamper, cleaner)
Drip Coffee Setup (maker, pots, grinder, and filters – only if you plan on serving drip coffee)
If it's not possible for you to self-fund your startup expenses, you'll more than likely want to consider applying for financing. As an industry average, it will typically take a coffee shop anywhere from 6-12 months to become profitable. So, it's important that whichever method of funding that you choose can cover your expenses and overhead costs until your business is able to fund itself.
You can choose to apply for a business line of credit, a small business loan through the SBA, or a traditional commercial loan. It's a good idea to visit your local bank and discuss with a loan expert to find which type of financing is the right fit for you. The financing method will likely depend on your credit score, your business plan, and the amount of money that you need to finance.
Step 5: Obtain Permits and Licenses
Once you have received financing and secured your commercial location, it's time to work on filing for any required permits and licenses. The permits and licensing requirements will differ depending on your city and your state. The best way to ensure that you have the correct legal filings is to check with your local government and find out their requirements. An important reminder is that permit and licensing grants normally take time, so be sure to not push this step off until the last minute. You need these permits and licenses approved before you are able to open your coffee shop and serve the public.
Step 6: Set Up Your Business Legally
Decide on a legal business structure. The most common type of business entity in the coffee industry is a Limited Liability Company (LLC). Setting up your coffee shop as an LLC will protect you and your assets. LLCs are very popular because they are simple and flexible business structures that offer pass-through taxation and personal asset protection to business owners.
Setting up your coffee shop as an LLC is fairly easy once you have decided on a business name. This structure has limited paperwork compared to other entities. In most states, you can apply for an LLC formation online and pay the online fee plus your state required fees.
Step 7: Design Your Space
Woo-hoo! You've gotten your financing, secured your location, purchased your needed equipment and product, gotten your permits/licenses, and setup your business as a legal entity. Now, the fun really begins!
When designing your coffee shop, you'll really want to decide what type of atmosphere that you want to create for your customers. Remember that visiting your coffee shop should be an experience that appeals to your customers senses, and makes them want to keep coming back. The front-of-the-house area where you will serve and seat customers should be solely focused on the customer experience. All the details including color scheme, furniture patterns and texture, lighting, décor, and seating arrangements should appeal to the customer. Make sure that the design, furnishings, and layout are all cohesive with the vibe and vision of your product and business as a whole.
The back-of-the-house area is all about you and your staff. If the back-of-the-house doesn't flow well, your whole business will feel the negative effects. Ensure that the behind the counter area will be well-organized. This area should make the ordering, preparing, and serving process move easily for your employees to guarantee prompt and efficient service at all times.
Step 8: Install a POS System
In order to process orders and get paid, you'll need to install a point-of-sale (POS) system. A robust POS system can really be the backbone of all of your business operations. A POS system does so much more than simply process card payments and print or email receipts.
These systems are created to optimize all of the processes going on in your coffee shop – from front-of-the-house to back-of-the-house operations. While there are many systems to choose from, there are a few options out there that are specifically designed with coffee shop owners in mind.
For more in depth reviews on these systems and discover more POS systems for coffee shops, you can check out this full blog on the Best Coffee Shop POS Systems.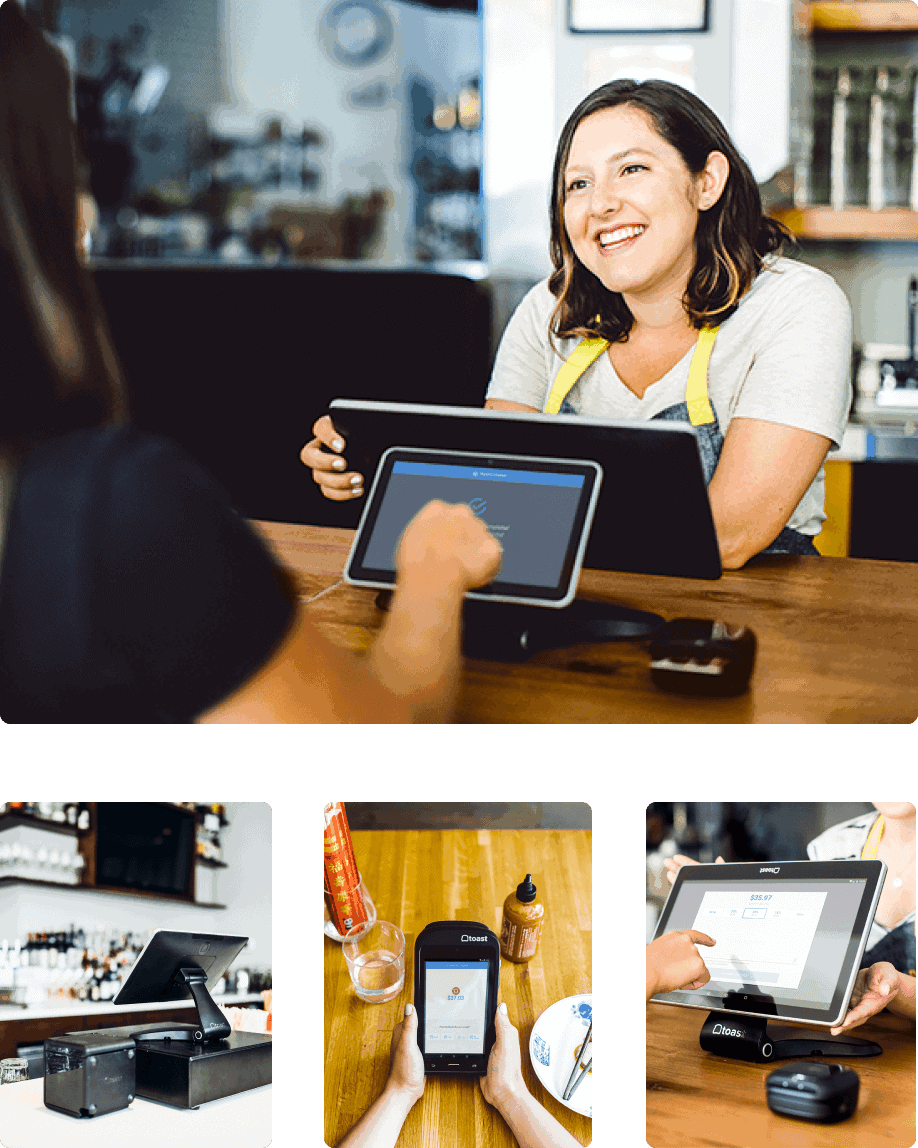 Toast
– Toast is the most widely used point-of-sale system in the food and beverage service industry. Their system is built to assist with every aspect of your business. Toast is easy to use and intuitive to learn with your coffee shop as you grow. Some of the top features from Toast include:
Real-Time Sales and Product Reporting
Simple Menu Edits
Rewards & Loyalty Programs
Customizable and Automated Customer Relationship Management
Gift Cards
Employee Management and Training Tools
No Contact Payment with Toast Tap
Online Ordering Capabilities
There are many bundled plans available through Toast. Recently, Toast launched their pay-as-you-go plan for their starter kit. The starter kit includes a POS terminal, Toast Tap payment device, router, and a monthly subscription to their point-of-sale software. The cost for the starter kit is $799, but it's $0 up front. You don't have to pay until you start making transactions after your coffee shop opens. You make payments on the $799 with platform fees taken out of your transactions.
Korona – Korona's POS system is widely known for how easy to use their system is. This platform is designed to help you speed up order time and increase your overall sales. Some of the top features from Korona include:
Remote POS Access
QuickBooks Compatible
Discounted and Promotional Pricing
Loyalty Integrations
Email Marketing and CRM Tools
Low Stock Notifications
In-Depth and Actionable Reporting
The software cost for Korona starts around $50/month. To purchase the tablet-only hardware solution you can expect to spend around $100 additionally for hardware. For desktop hardware with customer facing touchscreens, it will be closer to $2,000.
Step 9: Interview, Train, and Hire Staff
Have you ever gone to a coffee shop looking for a pick me up and encountered a disgruntled or rude employee? Something that was meant to brighten your day can easily be ruined with a bad experience from an employee.
Finding the right staff is very important when it comes to the success of your coffee shop. The staff at your shop should have great attitudes and make the customer have a positive and interactive experience at your shop. You'll want to make sure in the interview process that you find employees who mesh well with the goals and values that you have at your coffee shop. In addition, consider your management and personality style and ensure that potential employees will make your life easier, not more difficult.
Remember, it's okay to turn down a job applicant simply because you don't feel that they align well with your personality. At the end of the day, it's your business to run and you want to make sure that your staff is a well-orchestrated team.
Based on their experience, it's likely that many of your employees will require training from you. This is particularly true if you are offering specialty beverages and unique recipes. You'll need to make sure that your employees are well-trained and versed in your products. This will guarantee that they are able to answer any customer questions about coffee selection, flavor profiles, and make suggestions as needed.
Step 10: Open Your Coffee Shop
You're finally ready to open your own coffee shop! All of your hard work and preparation has paid off. Before you open, be sure to boost your marketing and advertising efforts to encourage community interest for your shops opening day. You may also want to consider some type of fun opening day event, such as getting a small band to play at the shop. In addition, offering some opening discounts and specials will inspire more people to drop in and try out your new shop. Keep in mind, it's likely that your opening day will have a few hiccups as you're working out the kinks of your business. Don't be discouraged, this is normal.
Now is a better time than ever to open your own coffee shop. The most important thing to remember your goals, values, and visions. Stick to your gut and listen to your customers. With the right staff, great quality coffee and bakery products, and a friendly atmosphere – your coffee shop business is sure to be successful.