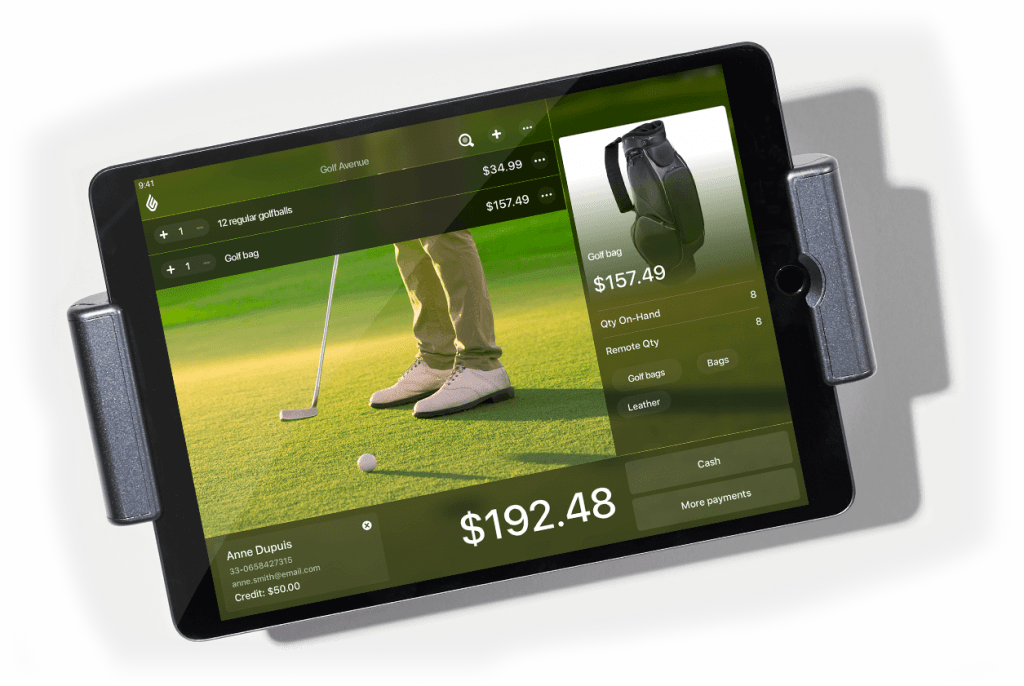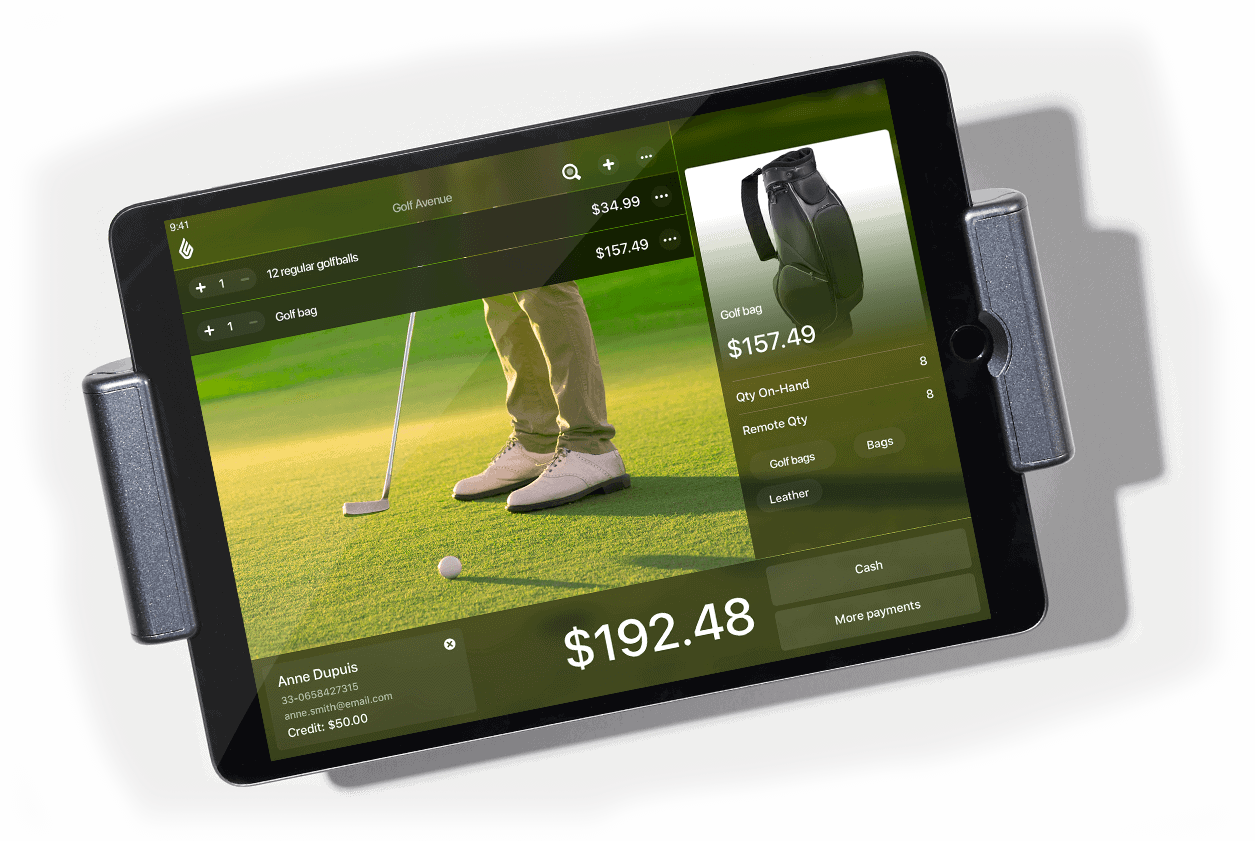 To truly manage a golf course and offer the best guest experience, a manager needs the right golf course management software. By using such software, you can manage tee sheets, memberships, online books, events, and more.
By using a golf course POS system, you can improve your customer's experience, tailor special promotions, and track the effectiveness of each marketing campaign. More than that, you'll be able to manage your restaurant and bar operation (if you have one) and improve mobility around your business. 
After watching several demos and testing a number of POS systems, I personally believe Teesnap is the best golf course POS system. Teesnap's software lets you to control expenses, manage inventory at your pro shop, and keep your bar fully stocked, all while providing a single, seamless solution for your club members. 
Need to understand key aspects of your business? Generate real-time sales reports to see how the facility is doing at any given time. Best of all, the right point of sale provider can help you Integrate RFID technology. This will enhance your club by offering cashless wallet wristbands, membership or reward points, and credits to apply to future visits.
In this guide, we'll review top-rated golf course POS systems that help you manage various aspects of your business. These cloud-based systems will save you time and money, allowing you to focus on what really matters.

The Four Best Golf Course POS Systems
Teesnap

: Best Overall Golf Course POS System

ForeUP

: All-In-One Club Management Software

Lightpeed golf

: Pro Shop POS with Powerful CRM Features

Korona POS: Easiest to Use Golf Course Software
Comparing the Top 4 Golf Course POS Systems
| POS System | Software Costs | Hardware Costs | Our Score |
| --- | --- | --- | --- |
| | $900/month (includes setup fee and hardware) | Included in the Yearly Plan | 4.8 / 5 |
| | Starting at $200/month | Quote-Based | 4.8 / 5 |
| | Starting at $200/month | Quote-Based | 4.6 / 5 |
| | Starting at $49/month | Quote-Based | 4.6 / 5 |
1. Teesnap

: Best Overall Golf Course POS System

Teesnap, a cloud-based golf course POS system, provides club management solutions that include a PCI-compliant point of sale system, CRM, integrated tee sheet, online booking for tee time, and various membership management options. With customized reports and an advanced food and drink management within the POS, Teesnap is everything you need to manage your business.
A Seamless, Completely Mobile Solution
Complete any tasks, from anywhere. Teesnap was created with mobility in mind since its inception as a point of sale solution. Improve your customer experience by allowing your members or guests book their tee time from anywhere. You also have the ability to check guests in at the bag drop. Want to serve food at the course? You can do so by providing your staff with Wi-Fi enabled iPads for better mobility and signal throughout your facility. 
Generate Reports For Actionable Insights
Want to track what packages and drinks your guests are buying? Use that sort of transactional data and tie it back to your marketing initiatives. Instead of importing and exporting spreadsheets continuously, avoid all that manual and use the software to create customized reports you can analyze.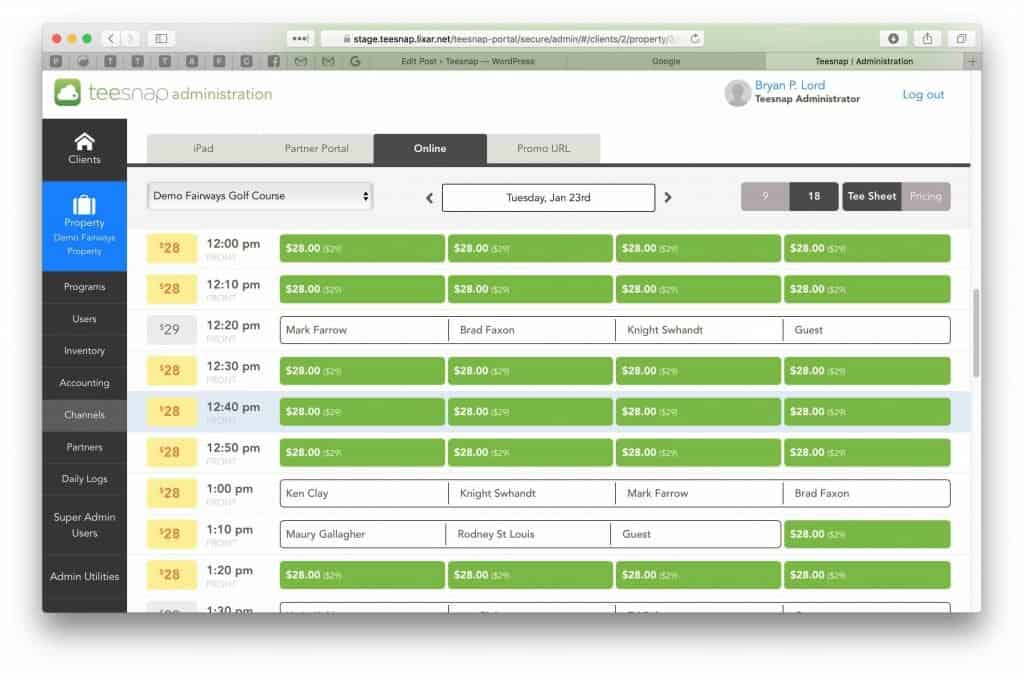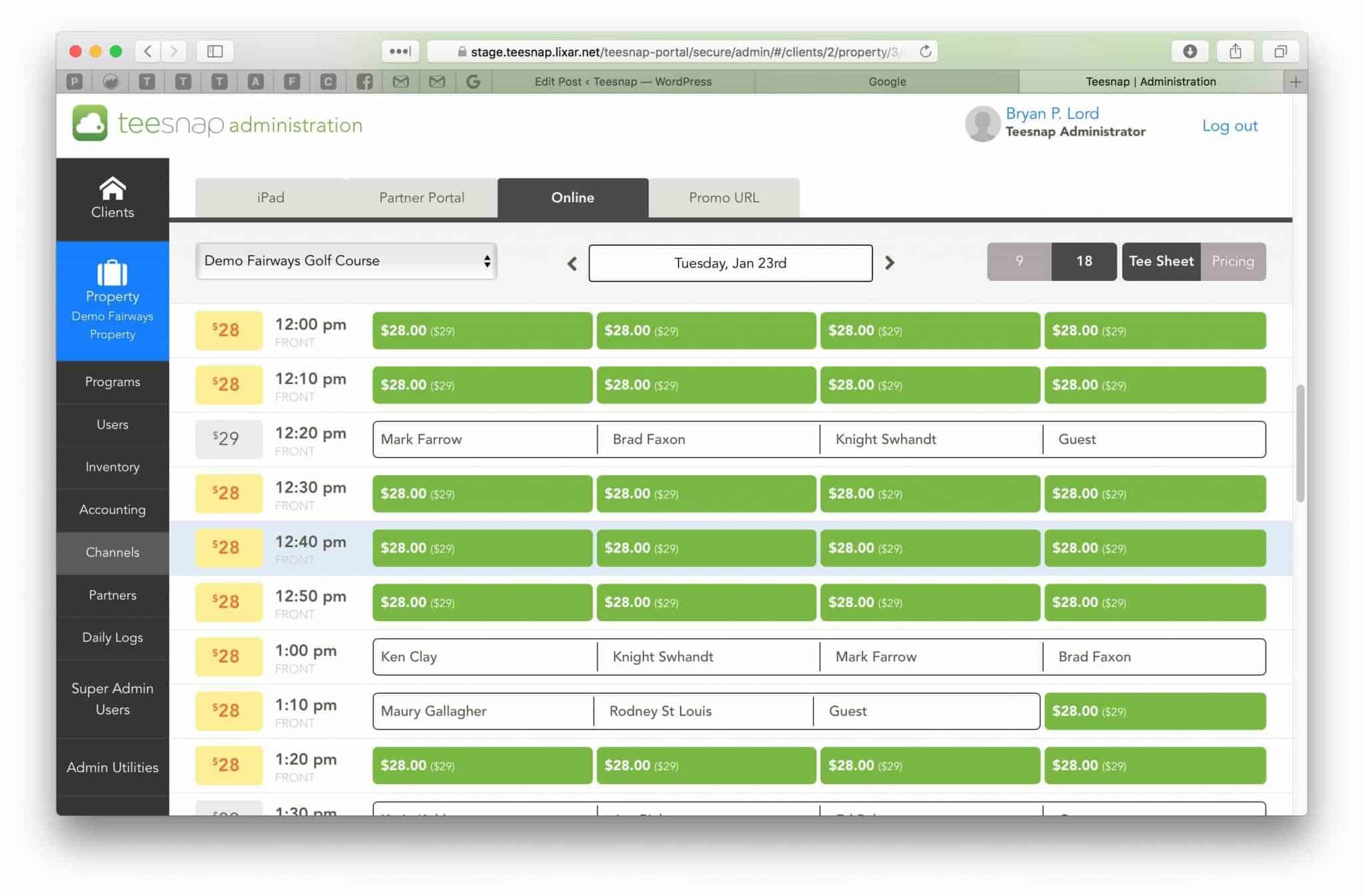 Manage Food & Beverage Sales
If you serve food and process lots of orders, you'll need to get your kitchen in order. Teesnap's sophisticated food management module makes it easy to manage these orders. Create food order tickets, manage tabs, speed up your ordering process, and customize your menu. You also have the ability to create food promotions, split checks, send drink orders to the bar, all in this one seamless mobile user-interface.
Train Your Staff In One Day
Too good to be true? Try again. Teesnap put thousands of hours into developing a state-of-the-art training program. Additionally, the POS system is designed in the most user-friendly way that allows your staff to learn how to use the software easily and quickly. Even if your staff is young and new to using a POS system, they'll catch on quickly with this system.
2. ForeUP

: POS System for All-In-One Club Management

Foreup provides a server-based software as consider themselves as cloud-based software experts. What's great about Foreup's point of sale system is that you don't need a variety of standalone integrations and add-ons. With this fully integrated solution, you're able to employ all the features you need to run your course or pro shop.
Quick & Easy Setup
With foreUP's software, you can access the system from anywhere, at any time. Using a PC, laptop, iPad, or even a mobile device, the staff can provide quick and efficient service to customers. No need for clunky servers on-site or an IT department. And, since the system does automatic backups, you don't have to worry about doing it yourself.
Top Point of Sale Features

Tee Time Software
Manage bookings seamlessly. With an easy to use, drag and drop solution, you can maximize the rounds and decrease the number of late arrivals or no shows in your golf course.



Point of Sale
Easily integrate your tee time software with the point of sale. This will provide a seamless experience and allow you to process transactions efficiently. Keep track of your busiest hours and days, best-selling memberships and food items. This way, you'll know how to price and customize your membership plans and adjust your marketing plans.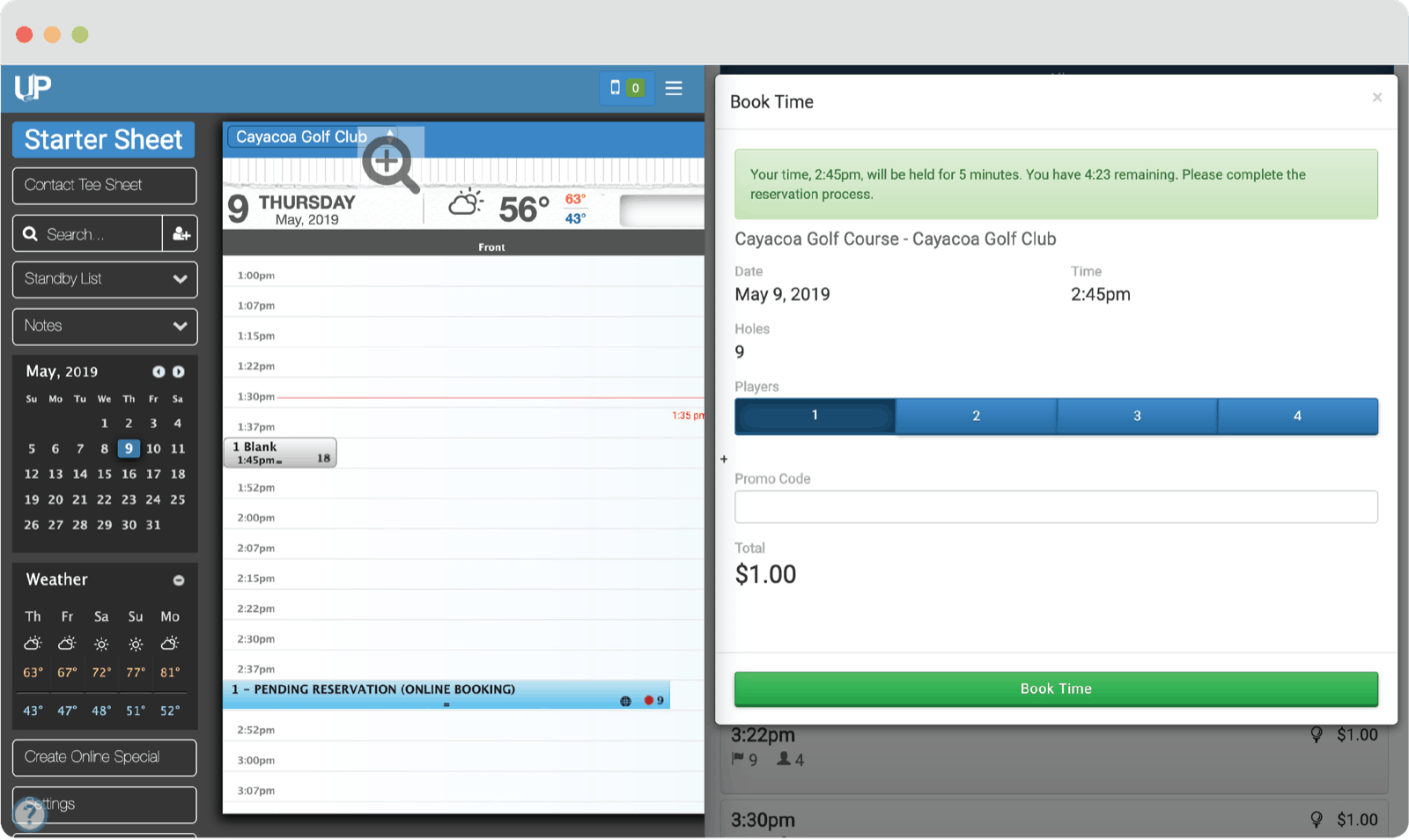 CRM (Customer Relationship Management)
Keep track of every single person that walks in and learn what they like most about your golf course. With this information, you'll be able to provide much better customer service and send out promotions that are tailored to the audience you cater to. Remind future guests of upcoming league games, tournaments, or special events, and keep them coming back to your course.
Manage Online Booking
With a powerful online booking feature, your customers can check for availability online and book tee times for available times. By using this online booking system, you'll receive far fewer calls, increase the number of reservations, and decrease your cost of keeping staff on the phone. 
Marketing Features
Text marketing is one of the most powerful ways to communicate with your customers. Use SMS marketing to send promotions and get customers to come back sooner. Create a solid event that will really allow you to knock revenue numbers 'out of the park'. Such promotions or event notifications can also be sent via e-mail. Finally, integrate your website with the point of sale system for easy bookings. 
3. Lightspeedgolf

: Pro Shop POS with Powerful CRM Features

Lightspeed golf provides a point of sale solution that's customized to your facility. With no long-term contracts and more features than you'll probably need, Lightspeed golf is the perfect software solution for any golf course. 
Some of the features we love include tee-sheet management, a visual player's database with data, customized reports, online booking, SMS marketing, and event management. Additionally, the software provides a heavy emphasis on various other marketing features and business intelligence reports. 
Reliable Point of Sale Solution
As Lightspeedgolf is iPad-based, you'll be able to manage tableside ordering with ease. With the most advanced reporting features in the industry, this software offers an all-in-one restaurant and course technology solution. Need to re-stock on items? This web-based POS system has an advanced purchase order system. Finally, it can produce more than 100 different high-level and detailed reports.  
Powerful Member Management
Just how detailed do you want to get with member management? Lightspeedgolf lets you manage member tee-sheets, profile pictures, monthly dues or subscriptions, and accept online payments. Also, produce online statements, set automatic pricing, generate prepaid game packs, and automate your receivables.
Easy Bookings
Custom tailor the booking process with your company's message. Allow your customers to book online or through a mobile device, where they can book their tee-time and even enter a promo code. Set push notifications to go out or sell advertising on your booking page (where many of your customers will see a branded message). 
Other Notable Features
Internal & External Notes
Set daily tee-sheet notes you can leave your staff. Also, leave a note for golfers for a specific day, letting them know about a promotion, temporary green due to heavy rain, or any other message you want to send out.

Social Media
In this day and age, its important to remain active on social media and keep in touch with people who know about your business. From the software, your can share a Facebook status with today's schedule and tee time. This visual aspect will keep your business in front of people who like your page and allow them to book through the link that comes along with it. A truly powerful marketing feature. 
Data Snapshots
Right on the main dashboard of the POS system, you'll be able to view the current weather for the next 24 hours. You'll also have a legend that shows how many reservations you can expect, how many individual people, and how many golf carts are booked.
More importantly, if there's something you don't know how to do within the software, you'll be able to look it up in the educational library. You'll be able to view training articles on setting up a new tournament, print cart signs, or anything else you may need help with. Finally, you can start a live chat with the Lightspeedgolf support team if you still can't figure something out.
4. Korona POS

: Easiest to Use Golf Course POS System


Whether you need to simply allow your customers to book tee times online or need a powerful solution for your clubhouse, Korona POS prides itself on its many features, specifically the membership solutions. Need to dig deeper into your sales and the data that drives these sales? Korona does that well, but also doesn't lack when it comes to inventory management and other important features. 
Online Reservations for Tee Times
Do your golfers want a specific course membership? Offer several packages and options at the checkout phase. Also, let your customers book tee time and purchase retail products in your pro shop, all through the eCommerce integration for your site. 
Club Integrations
Want to track statistics for your golfers or stay in touch with them? Korona POS can help you stay in touch by using third-party integrations like bLoyal, a CRM addition that helps you create and deliver loyalty experience like no other. Add points to a golfer's profile every time they come to the course. Use instant rewards and a point system to keep them coming back again and again.
A Single POS Platform for Everything You Need
By signing up for one of Korona's point-of-sale plans (starting at $50/month) you can manage your entire golf course business with just one system. The software from Korona can handle events, employees, inventory, and various customer loyalty initiatives and memberships.

Set special discounts of pricing for larger groups. Provide incentives for longer bookings so your customers can feel they are getting a great deal. Use restaurant management features, including tableside service, sending orders to the kitchen, and other QSR services. Mange your pro shop easily and seamlessly. 
With Korona's cloud-based software, your system will be automatically updated when new features come out. No additional costs or hassles with updates, as these will take place overnight (when your course is closed). The support from Korona POS is also unmatched to its rivals, as they have a growing in-house support team, here in the US.
Ready to Increase Your Sales with a Golf Point of Sale System?
Don't make the mistake of getting a POS system based on cost alone. While it may seem affordable at first, basic POS systems that don't offer golf-course specific features just won't cut it.
Between managing reservations, inventory, employees, and catering to restaurant and bar features, chances are your business needs a solution that's all-encompassing. Without the right software, your business will not reach higher sales and you won't be able to provide the desired customer experience. 
To really grow your business, you'll want to focus on all the marketing features a point of sale system offers. This means discounts for larger groups, creating special events, and starting a ranked league in your course. You may want to check out our country club POS.