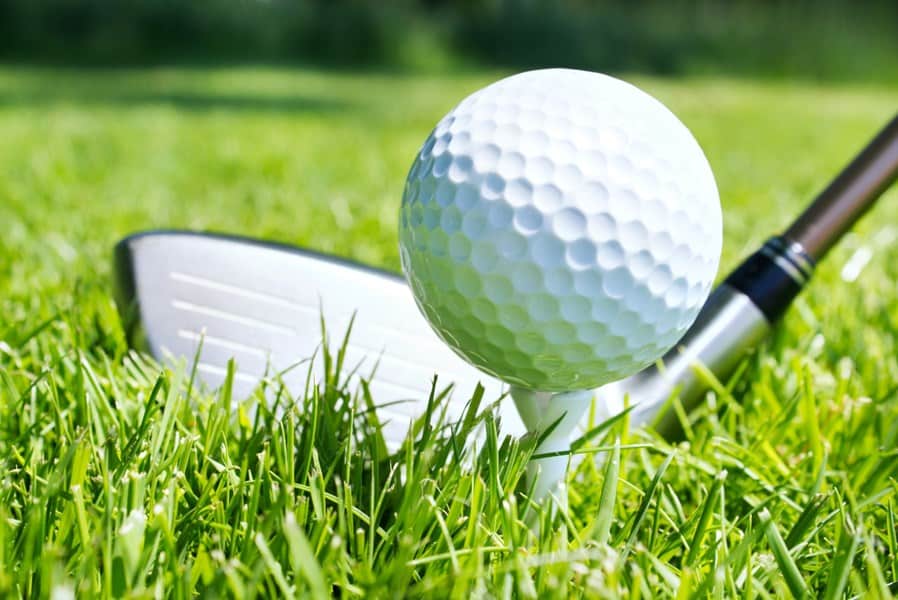 Golf is a game of strategy, persistence, and class. An exceptional course demands an exceptional club, and members expect excellence. The best golf POS software will help you maintain a top of the line pro shop, a fully stocked tavern, as well as your bar and restaurant.
Point of sale systems for golf courses streamline all the operations and maintain control over expenses. All the aspects of the course and club can be easily accessed and managed from a single point, using a POS system designed for a golf course.
Golf POS systems manage invoices and book fee times. They seamlessly blend both the goods side of the business with the services offered. Between course fees, restaurant features, and efficient transactions, the right system will improve your business.
Below we review the top POS systems for a golf course. We break down the features and pricing of each system.
Using a reliable golf club POS system will help you manage your memberships, bill members for charges incurred in the future and track purchases. It will streamline all points of sale, managing everything from facility use to greens fees.
Best Golf Course POS System: Lightspeed

Lightspeed's POS system is integrated with Chronogolf, simplifying tee sheet management and giving you the ability to create unlimited categories in a very short period of time. You can also book and reorganize tee times in seconds.
You always know what's happening and can make immediate decisions when you can log into a cloud-based management system from the clubhouse, your home or the golf course. Clients can browse items online and book games ahead of time. They can either pay at check-in or online. Since everything is in a single system, your inventory and reporting are always updated.
Top 3 Golf Course POS Systems
Overall

4/5

4/5

4.5/5

Ease of Use

4/5

4/5

3.5/5

Customer Service

4/5

3/5

4/5

Starting Price

$99/month

$69.00/month

$995.00/one-time

Deployment

Cloud, SaaS, Web

Cloud, SaaS, Web
Installed – Windows

Installed – Windows

Training

Webinars
Live Online
In Person

Documentation
Webinars
Live Online
In Person

Documentation
Webinars
Live Online
In Person

Support

Online

Business Hours
24/7 (Live Rep)

Business hours

Free Trial

Yes

Yes

Yes

Barcode Scanning

No

No

Yes

Commission Management

No

No

Yes

Customer Account Profiles

Yes

Yes

Yes

Discount Management

Yes

Yes

Yes

eCommerce

Yes

Yes

Yes

Gift Card Management

No

Yes

Yes

Inventory Management

Yes

No

Yes

Layaway Management

Yes

Yes

Yes
Get FREE POS System Quotes
Why We Love Lightspeed for Golf POS

Knowing what and how much of it your customers buy is precisely the kind of data that will alter the way you run your golf course. From managing no-shows to gathering clients' playing history, Lightspeed's built in CRM tools will prove indispensable.
Optimal Provision Of Goods And Services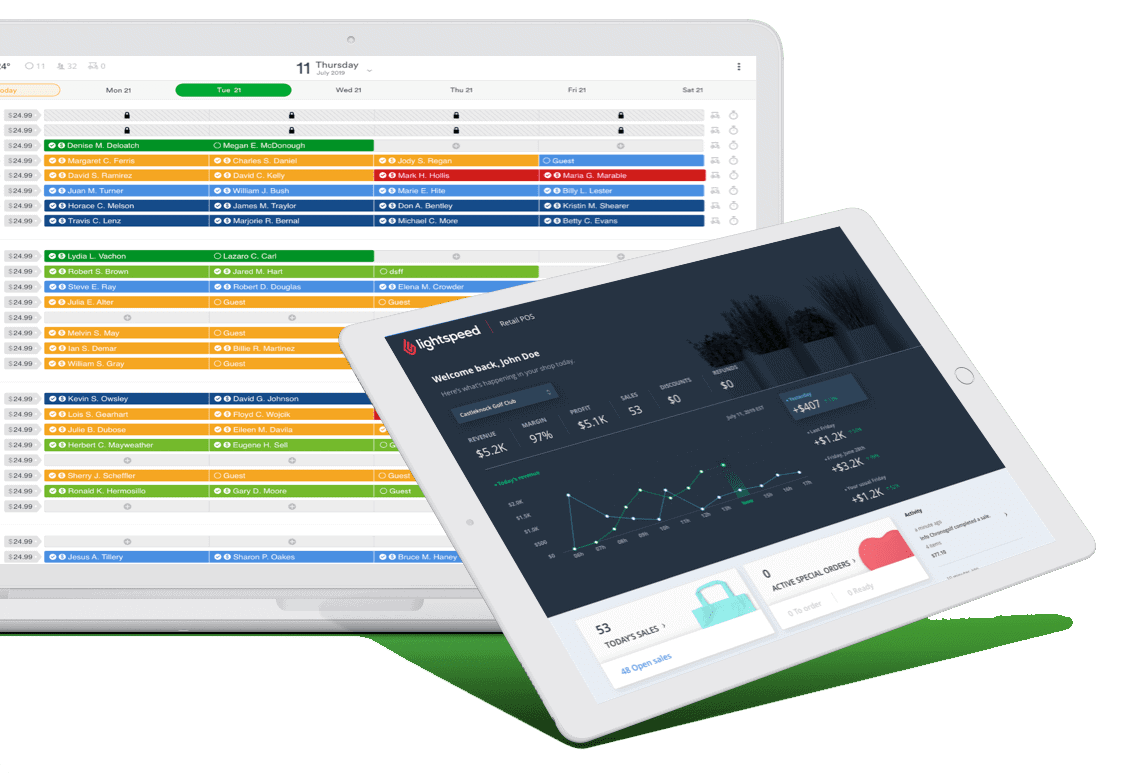 Lightspeed makes it possible for customers to pay however they want on the front end, including by means of store credit. It is also easy to place items on hold or layaway and apply discounts. On the back end, the POS system has a myriad of features such as managing inventory, purchase orders and staff. Among their latest features is merchandise return management, which is very convenient when you have damaged goods or shipment errors.
This retail POS system easily tracks shipping fees and unit costs, ensuring good budgeting. You'll enjoy complex inventory functionality if you have more than one location. You can transfer golf merchandise between sites, and you can see all the items in your stores and warehouses at all times. You can also set varying prices for the same SKU on a location basis, helping you maximize returns.
As you offer both services and goods, Lightspeed can help you establish labor costs and create quotes, estimates, repair and service orders.
Disadvantages
Lightspeed's cheapest plan is $99 a month. This is charged for a single register and offers up to 5 people access. The medium plan offers up to two registers and access to ten employees and costs $169 a month.
Bottom Line
Lightspeed is an effective, ultramodern POS system for golf courses that is well-worth its cost. It enables you to switch from a design to another without losing information about products. Clients can test templates to see what they like best. The menus, submenus and product categories are clear and match the style of your establishment, helping customers find what they need to increase your sales.
Golf Course POS Software with Various Integrations: Bepoz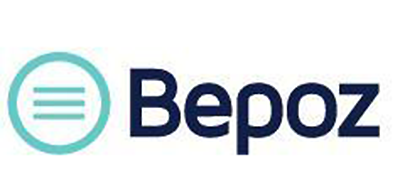 Bepoz is well aware that your members are vital to your golf club's success. This company integrates features seamlessly, equipping you to deliver more for your members. A golf club manager needs to sell more than retail items, green fees, and cart fees. This POS system combines usability, intelligence and mobility with features like bonus point redemption and automatic pricing for members.
Track Everything
With this POS system, you can keep track of food and beverage expenses of members carefully. It is then possible to target them directly based on this data and SMS or email them notifications. The event tracking function lets you see how much sales were generated in food and beverage based on members who attended an event from each of your sales locations.
Bepoz offers a customer facing display screen that scrolls through graphical ad and video media even as the invoice is tallied up. This is great for promoting different events for each sales location. You can choose to have specific ads displayed when specific customers swipe their cards or selling specific products. You can also schedule twilight rates and promotional pricing for happy hour. Surcharge pricing can be pre-set to take place on specific days or at specific times.
Restaurant And Bistro Features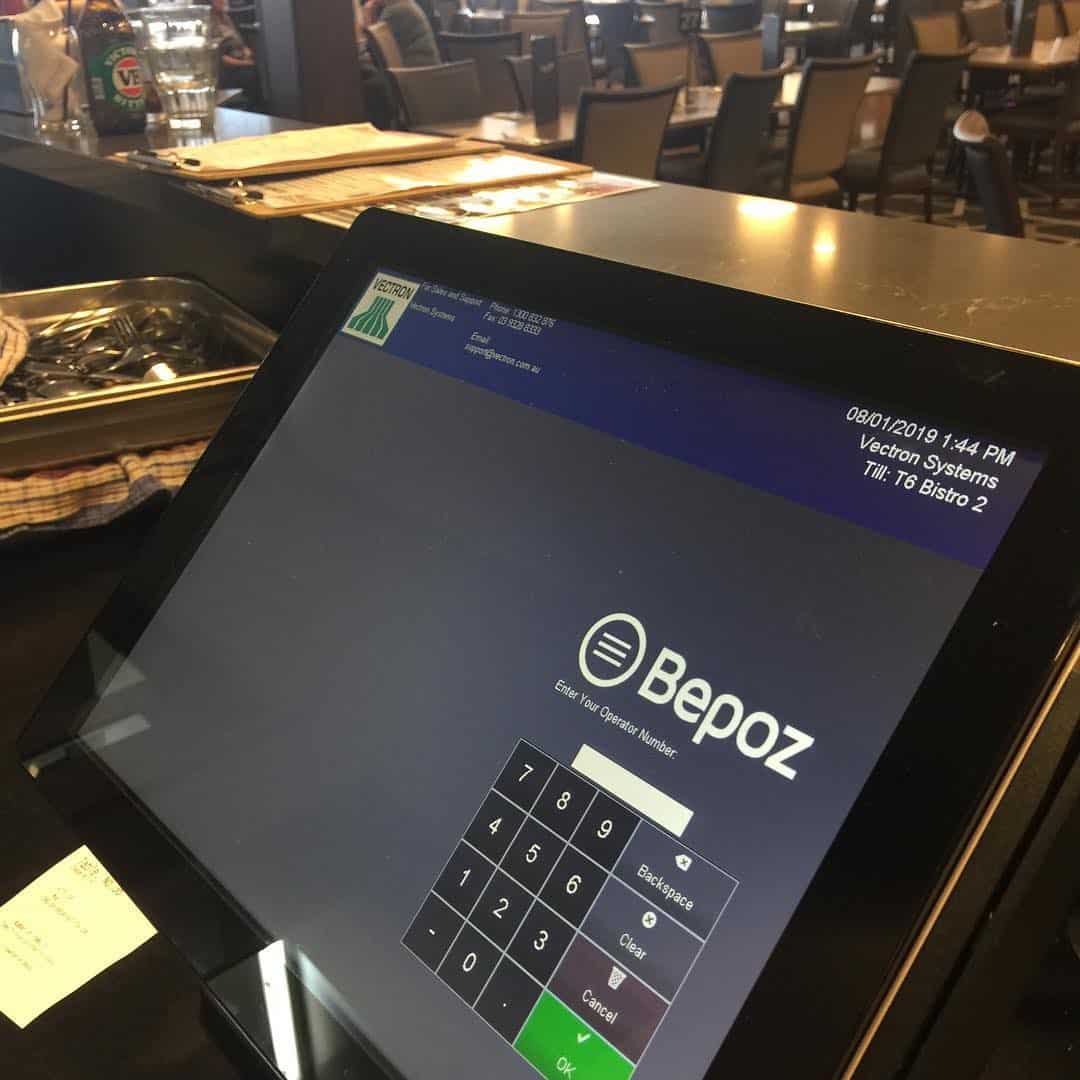 A restaurant or bistro is part and parcel of a successful golf course. With this in mind, the full-featured restaurant functionality offered by Bepoz is a definite plus. Multiple members and customers can pay separately with only one ticket being sent to the kitchen. You can set it up so orders that haven't been paid for aren't sent to the kitchen. Each member can earn and redeem points separately. It is possible to reduce wait times in the line as the flexible system adapts to different situations. All this can be done from a tablet, a handheld device, a stationary device or all three.
Other welcome features include membership promotion, creating in-house accounts, creating invoices with ease and tracking spending.
Improve Sales
Bepoz's POS software offers customers the opportunity to improve sales and obtain higher earnings through the option to trace all expenses. You can see where money is flowing in and out of the business quickly and easily and where expenses can be reduced to save money. Golf course operators and their staff have the option to make informed, educated decisions, because all the information they need is at their fingertips.
Low Monthly Payment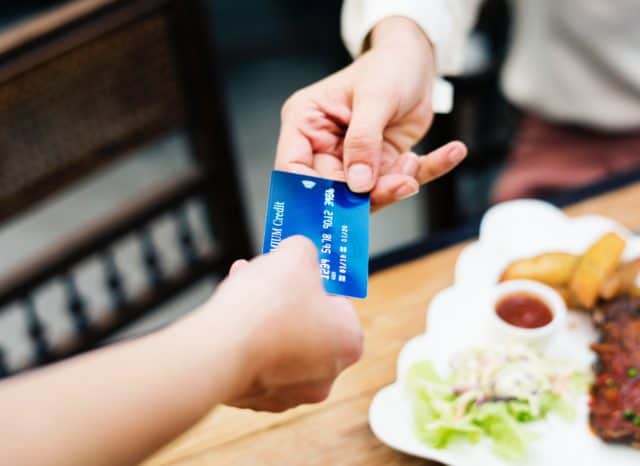 You are not pulled into a long-term contract with Bepoz. The modern, full-featured POS software is reasonably priced with free support and maintenance. This is a major benefit given ongoing issues like constantly changing payment card industry compliance and data security standards for credit and debit card processing, as well as taxation changes. All updates are free with your subscription.
Disadvantages
The training period is relatively short at the present time, but the company's team is working on extending it. The back office can be a challenge.
Bottom Line
This point of sale system and software has great capabilities, alleviating your task of operating a golf course and club a great deal.

Tri-Technical Systems have a golf course POS system called AIMsi, which can help you expand your web presence with an e-commerce product offering online tee-time scheduling and a secure shopping cart. Moreover, golf course operators can track membership levels and pro shop items, schedule lessons, track food and drink sales, reserve banquet rooms and more.
AIMsi features two distinct POS screen options: a classic POS with keyboard and mouse and a fully customizable touchscreen POS. Both options feature inventory management and automated inventory optimization features aimed at reducing inventory cost and increasing returns.
Barcode Labeling And Customer Management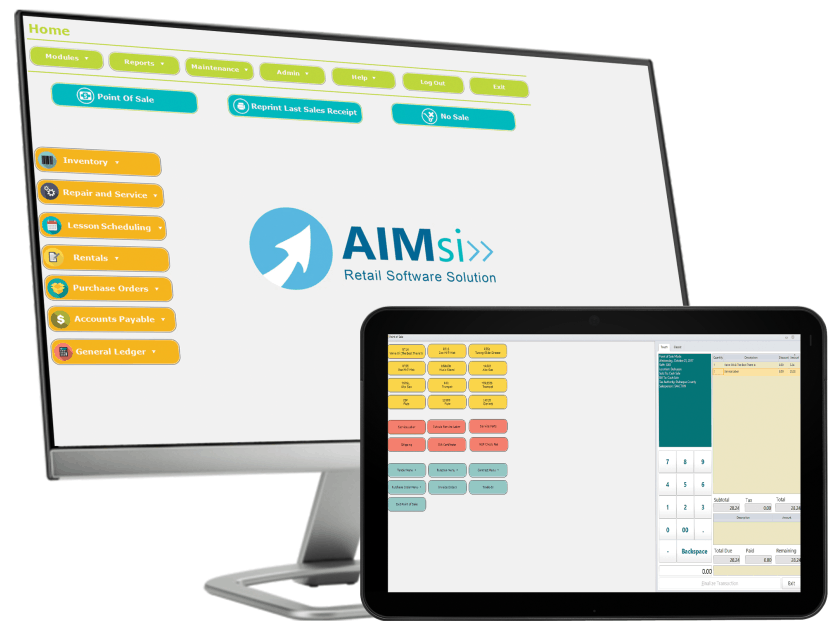 With AIMsi, you can print customized barcode labels and inventory hang tags for easy access at point of sale and when viewing or updating inventory. The Customer Management feature maintains a full history of customers and allows for customer loyalty programs, targeted marketing, customer accounts receivable tracking and more.
The report catalog offers a variety of reports that can be generated fast and easily, with a myriad of filters and output format types. With T-Scheduler, you can manage event bookings, scheduled reservations, activities and resources (stations, courses, etc.) with a single touch of the screen.
Employee Management And Gift Cards
Golf course operators can track the hours worked by employees and their vacations, leaves of absence or sick days. They can set up employee user groups and security permissions as they wish. And why not attract more players with gift cards? The system offers renewal money cards and secured tracking of electronic gift cards. You can track merchandise return credit and other store credits on the cards.
AIMsi includes licensing for one store location and one workstation. You can buy and add an unlimited number as needed.
Top Software Features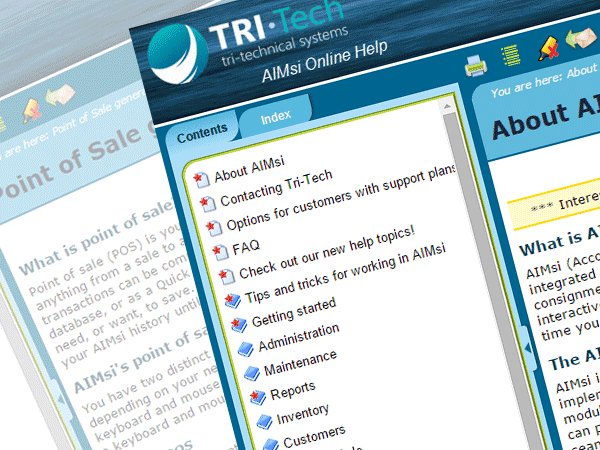 AIMsi can run across WAN. Groups are set up to grant permissions to modules, actions such as viewing cost and reports. You can block specific employees or groups of employees from utilizing certain menu options. The software can be installed and run on Windows Server 2008, 2008r2, 2012, 2012r2 / Windows 7, 8, 8.1, 10.  It will not run on Linux, but this can be used as a server. AIMsi is installed only on the server and is accessed by other machines through the network.
Disadvantages
As very complex software, it is a little heavy to run, and relatively expensive.
Bottom Line
AIMsi offers golf courses a way to manage inventory, sales and customers, but also fully integrated add-on modules such as Purchase Orders, Accounts Payable & General Ledger, Lesson/Appointment Scheduling & Billing, Repair & Service, Short Term Rentals, Contact Management, Rent & Sales Contracts, and emailing capabilities. You can add on what you need to build your own custom retail software solution. AIMsi partners with the e-commerce provider Active-e to ensure a fully integrated retail and e-tail solution.
Our Final Review
On a final note, I'd like to discuss some common mistakes golf course operators make when choosing a POS system. The main ones involve failure to determine the actual cost of the software and support and psychological resistance to change. There's no free lunch, and that goes for software too. Some golf courses choose to barter instead of paying cash on the principle of "barter tee times for a free system".
Statistics show the average barter cost is $15,000 a year, and that doesn't even include onsite training. Make sure maintenance and support are included in the package. If not, find out how much they will cost you. Keep in mind that older operating systems may need to be upgraded to be compatible with your golf POS system.
Newer scanners, printers, and peripheral equipment only have drivers available for the latest operating systems. Likewise, the newer operating systems and software you are acquiring might not be supported by older hardware. Also, consider WiFi and Local Area Network (LAN) requirements.
Don't Forget the Hardware
The majority of software solutions utilize industry-standard hardware and peripherals. Do not go for a POS system that requires you to buy hardware that works with it exclusively. If you decide to replace the system one day, you may get stuck with a lot of useless hardware.
Last but not least, be flexible. It might be tempting to draw parallels to how things were done with the old system, but it's time to move on. You have a new system now and you'll learn the ropes sooner or later. People can be very resistant to change, even if they spent years complaining about the old system.