(Last Updated On: June 4, 2021)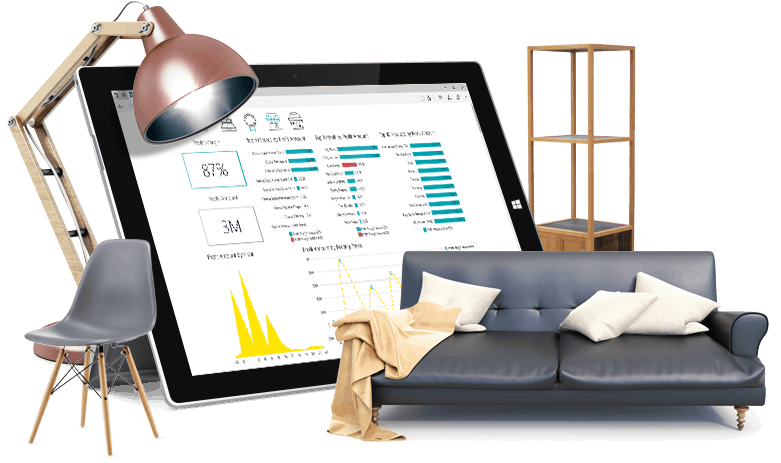 Furniture stores depend more than most retail businesses on the efficiency of supply chain management. Timely order fulfillment is key. Without a furniture store software system that streamlines these processes, you'll quickly fall behind the competition.
The best furniture POS systems monitor inventory movement at a granular level. They empower users to manage operations at their showrooms and distribution warehouses from the same solution. Plus, these systems automatically send purchase orders, transfer stock between locations, and show you all that data updated in real-time. Other retail systems don't provide that level of inventory management quality.
With the furniture industry growing at such a rapid pace, there's never been a better time to invest in a POS system. Estimates indicate the global furniture market is valued at $509 billion in 2020 and is forecast to rise to $625bilion by 2027 (Source). With such growth, it's vital to select the right system.

Luckily, we've done the research and determined that STORIS is the best furniture store POS system available. It's a cloud-based solution with powerful inventory control and distribution and delivery management. It gives you robust warehouse management features; reporting and analysis; and even built-in accounting features. It's a progressive system that even delivers a suite of tools to build your online presence with a custom website, eCommerce store, and SEO optimization services.
However, STORIS isn't as far ahead of the competition as Usain Bolt. The other systems on our list hold their own and are worth checking out. Depending on your unique business type and model, STORIS may not be the best fit for you. Let's take a look at where each respective system excels and why they made it onto our list.
Top 4 Furniture Store POS Systems
POS System

Starting Software Cost

Customer Support Availability

Mobile Access

Our Rating

Custom pricing

During business hours

4.3/5

4.9/5

$125/month

During business hours

4.4/5

4.7/5

Quote-based

During business hours

Not provided

4.6/5

Quote-based

During business hours

cloud, SaaS, Web
Installed – Windows

4.5/5

1. STORIS: Best Online Presence for Furniture Stores

STORIS has been on the furniture POS scene for over three decades and is a well-known brand name in the industry. The system is designed specifically for furniture stores. The solution excels at many things, but it shins when it comes to increasing your store's online visibility.
Cloud-Based System
STORIS is a software-as-a-service (SaaS) platform that you access through an internet browser. You can do so on your desktop, laptop, tablet, or smartphone, from anywhere you have an internet connection.
Plus, your employees can use tablets to walk around your showroom floor, access inventory and pricing data, and answer customer questions on the spot. No more having to run back to the stockroom or the counter to consult a paperbound inventory book when someone asks about the availability of a particular piece.
Website Design and Customization
As we'll discuss in further detail below, it's important to have an online presence when running a furniture store. Although not included in STORIS's base plan, this add-on feature gives you the online presence you need to compete.
If you (and you should) decide to develop an integrated website with STORIS, its team of experienced web designers do the heavy lifting. They create your site to your desired specifications. You can include your branding, determine how visitors navigate your website, and more.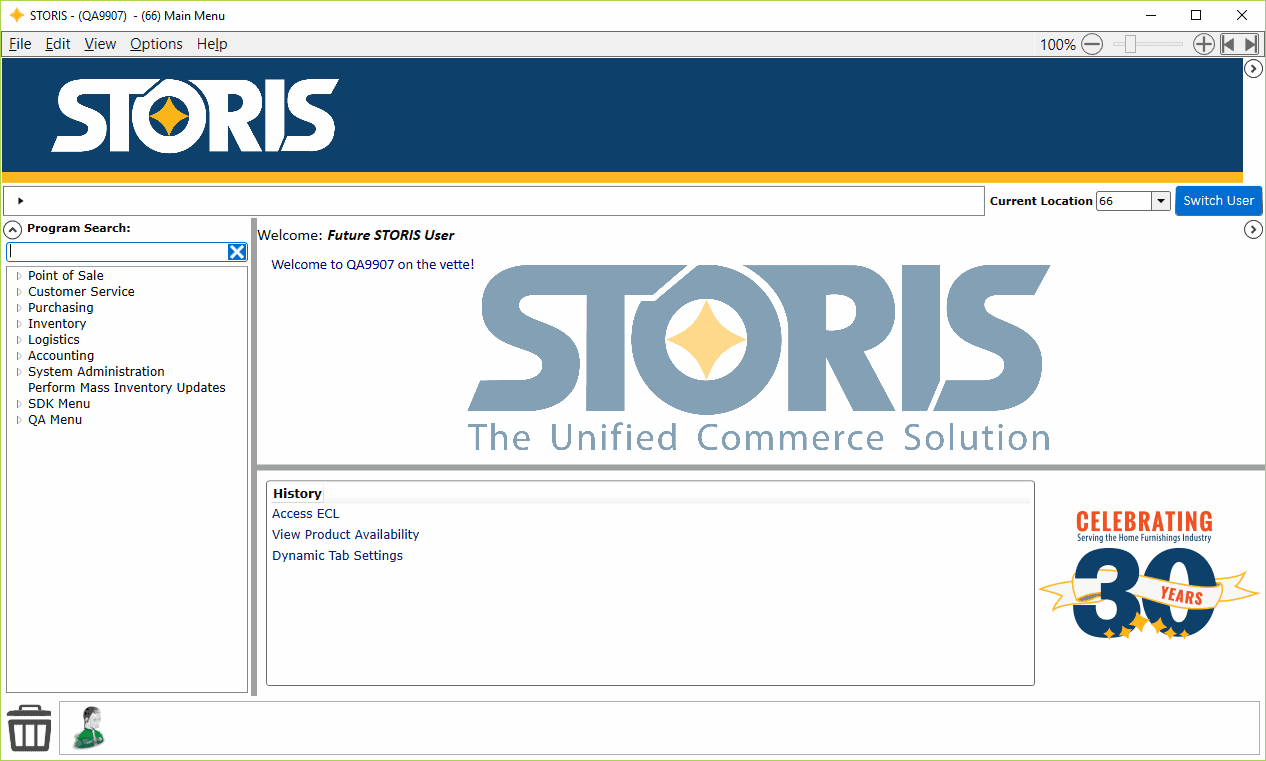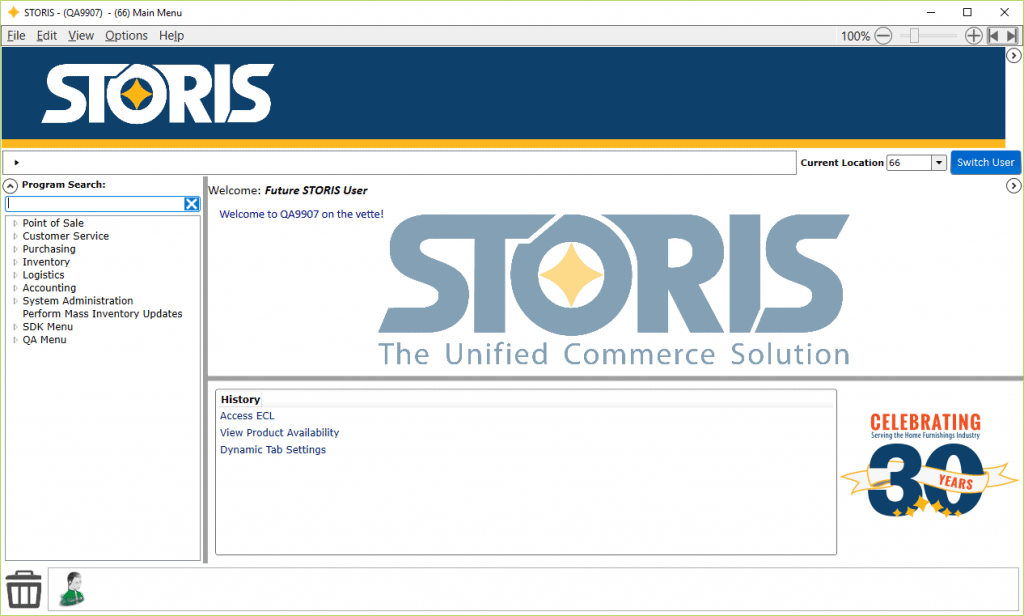 Integrated eCommerce Store
You want potential customers to be able to view your offerings and prices online. It's also helpful to your bottom line when they can purchase items online and have them delivered.
In short, you need an eCommerce site with secure payment processing built into your central website. The good news is that all you need to do is ask the STORIS team of web developers to include an eCommerce site while they're building your main site and you'll be selling online in no time.
SEO Optimization
Yet another value-added service that STORIS offers is optimizing your website for search engine results. A website is no good unless people can find it and if your site is buried on the 15th page of Google's search results, you'll see very little traffic.
But when your site is optimized to please Google's algorithm it ranks higher and therefore displays higher in search results. If you can get your site on the first page of results for the search terms associated with your furniture store, you'll be a rockstar.
2. Cumulus Retail: Most Scalable Furniture Store POS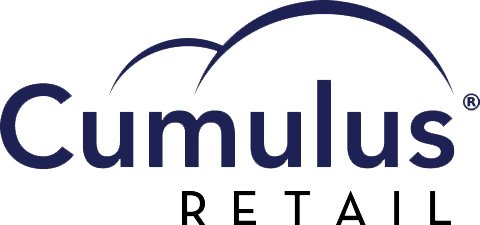 Cumulus Retail is produced by Celerant, a household name in the POS space. It produces two retail systems: Cumulus Retail and Stratus Enterprise. We'll discuss Cumulus Retail here since we expect many smaller businesses are reading this. But we'll also touch on Stratus Enterprise.
Modern Mobile System
All of the systems listed here are accessible off-site via browsers, mobile apps, or native apps. However, one advantage Cumulus has over the rest is that the system will never go down when, or if, your internet drops.
Cumulus Retail features an "Always On" setting that continues to power the system, collect data, and even accept credit card payments when the internet drops. You can continue to look up inventory item availability, prices, customer profiles, and much more.
Commission Management
Many furniture stores hire store salespeople to roam around, help people on the showroom floor, and casually chat with potential customers. What they're doing is selling—their help is appreciated but that's now why they're there. They're there to sell and each sale they make earns a commission.
Cumulus' commission management features automatically track who sold which item, on which day, and for how much. You set the system to produce a commission report every week, month, day, or however often you want. The system tallies each individual's commission for every sale they complete and pays them out at the end of the pay period.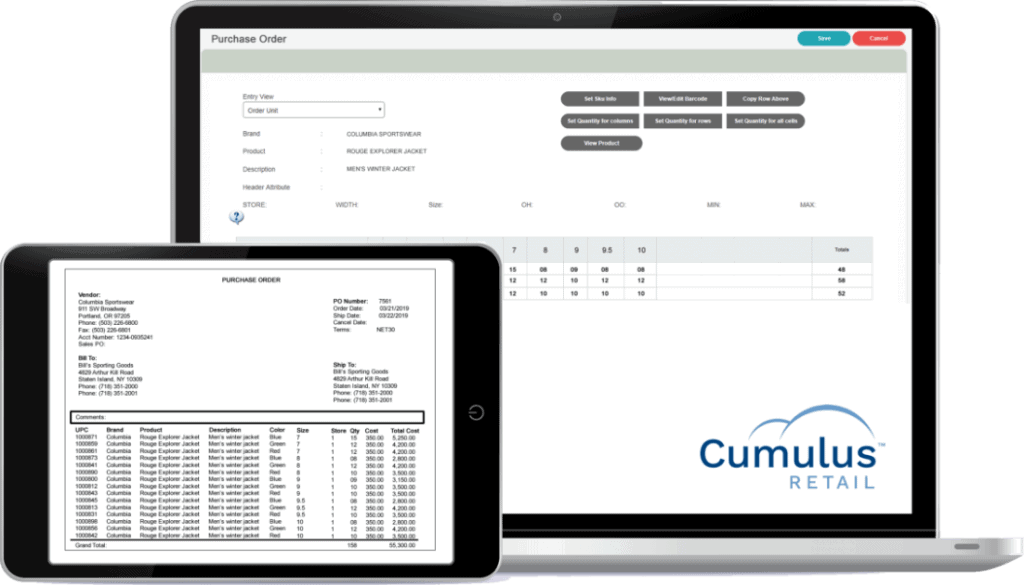 Custom Ordering
Does a customer want a one-of-a-kind item? Do they want to personally select the frame design, fabric, wood type, fabric type, and color, etc.? Cumulus allows you to accommodate custom orders. Simply note the customer's desired specs in the system and the software handles the rest—find a customer furniture seller, send a purchase order, etc.
Scalability for Growth-Minded Businesses
If you have aspirations of turning your furniture store into a tri-state empire, Cumulus will facilitate your growth. More accurately, Celerant facilitates that. Not only can you purchase add-on features and services as you grow, using Cumulus Retail. But when you outgrow it, you can easily upgrade to Stratus Retail, Cumulus' older cousin.
Because they're both produced by Celerant, the transition is seamless. The same features you were using in Cumulus will be available in Stratus Retail. Plus, both systems have the same user interface. It doesn't get much easier than that.
Get A Quote from Cumulus Retail
3. LS Retail: Best Furniture Store POS for Automated Workflows

LS Retail is a widely known brand in the POS space and it produces a POS system made specifically for furniture stores. Features like employee management, multiple store location management, user role-based system access make LS Retail a powerful system. It shines when we dig into its features designed for furniture stores.
Special Order Management
LS retail helps you deliver a stellar customer experience with robust special order management features. After all, no one wants to tell a customer, "Sorry, we don't carry that piece and can't get it for you."
You don't have to experience that with LS Retail because it delivers a built-in special order feature to accommodate one-off requests. All you need is the item requested and if it exists anywhere in your distribution chain, you can order it and the system automatically routes the piece to your location.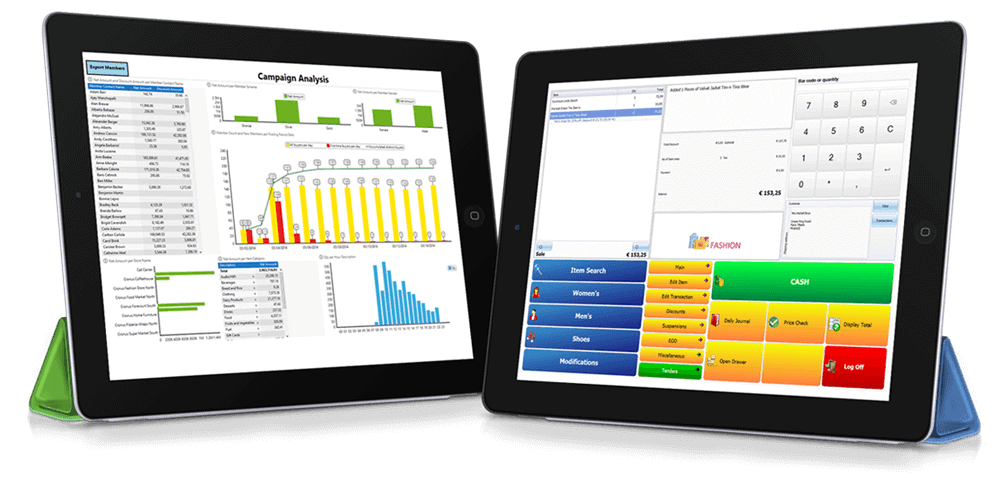 Powerful, Accurate Inventory Management
The system offers standard inventory features like item volume tracking and the ability to check inventory levels at any time. Plus, inventory is automatically adjusted in real-time when a piece leaves or arrives in your stock room.
Automated Stock Replenishment Recommendations
LS Retail includes automated calculations of ideal stock replenishment amounts. When your stock runs low, the system calculates how much of each item you should order. Past sales trends per item and aging inventory in your stock room provide the information for your system to do this.
Eliminating Human Error Caused by Manual Data Entry
Moreover, LS Retail lets you upload inventory items from vendor catalogs making it easy to browse pieces and order what you need. This eliminates the risk of human error during data entry and ensures you're always working with accurate, real-time inventory data.
4. Ordorite: Furniture Store Software with the Best Feature Set


Ordorite is likely the least known brand on our list but that doesn't mean much in terms of the quality of the product. It's a cloud-based system with a vast feature set that was developed specifically for furniture businesses.
Unfortunately, they don't post pricing on their website. However, other sources claim the system is relatively affordable when compared to its competitors. It's likely the system on our list that provides the most value for the money. Below are a few of the features that make it stand out.
Ease of Use
Ordorite features a remarkably intuitive, user-friendly interface that enables new users to come up to speed in no time. The interface is streamlined to be very fast and requires fewer taps to complete processes than other systems. At the same time, the backend can be accessed, and complex system changes can be made, providing customers with the best of both worlds.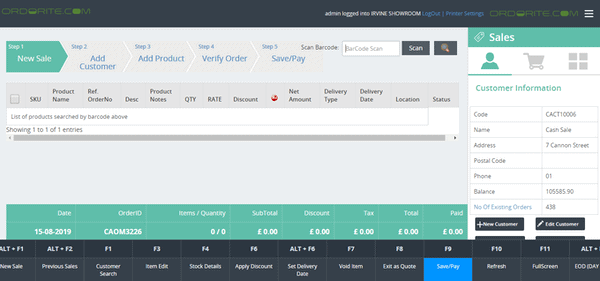 Advanced Marketing Features
Generating repeat business is easy with Ordorite's powerful marketing features. They are included in the base package and are significantly more expansive than those in other systems. You can capture extensive customer information like their interests and preferences. Then, use that information to develop highly-targeted marketing campaigns that speak to those interests.
Plus, the system uses RMF (recency, frequency, monetary) analysis and customer purchase histories to segment customers into groups for highly-accurate marketing campaign segmentation.
Warehouse Management
Manage operations at your warehouses from your POS system to keep a finger on the pulse of productivity. While in your brick-and-mortar store you can monitor stock movements, create warehouse pick lists and loading lists for stock transfers. You can also monitor how long items have been sitting in the warehouse and run special offers and discounts when items reach a certain shelf life. This ensures your inventory is always stocked with the right number of items.
Key Features You'll Want in a Furniture Software System
Furniture stores need industry-specific software with features that help them streamline operations and grow their businesses. Some of the key features you can't do without include inventory management capabilities, delivery management, and the ability to access your system from anywhere.
Below, we cover core functionality that generates the bulk of the ROI when purchasing a furniture store POS system.
Cloud-Based Mobile Access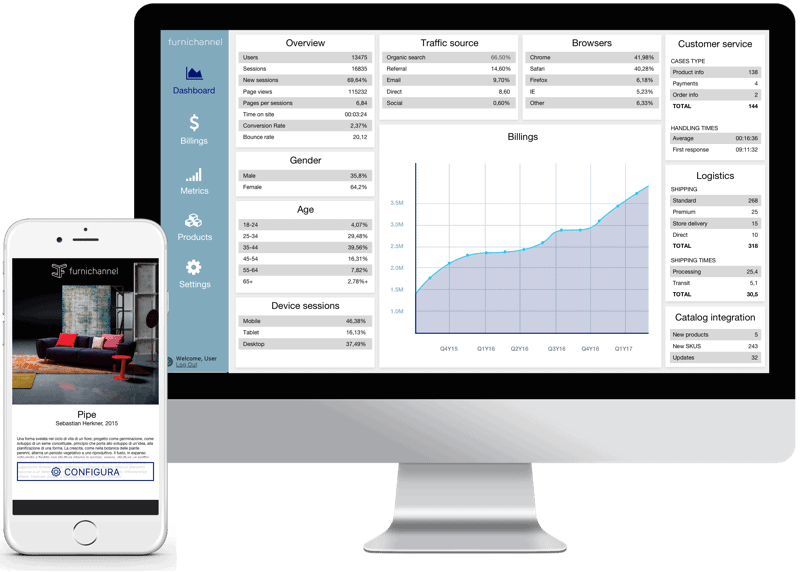 Over the last decade, we've seen the emergence of tablet-based, mobile POS systems and they continue to dominate the POS market in most industries. Having a tablet-based system is particularly important for furniture stores because of the size of the space they occupy.
Furniture store showroom floors can measure thousands of square feet. A tablet-based system lets your employees carry the system around the floor as they help patrons. When a customer asks a question about an item's specifications, warranty, or whether the item is available in a certain color, they get the answer immediately. Employees simply enter the system on the tablet and can find the answer immediately, improving the customer experience.
Multiple Location Administration
Many furniture stores have multiple locations and warehouse distribution centers where they store and route stock.
The best systems sync the data entered from each location or warehouse into the system. This lets you maintain a view into your entire operation from a single screen. If an item is sold at Store B, that data gets added to the sales data from Store A, giving you a bird's eye view of overall sales performance. Look for POS software that lets you manage the data and operations of all your storefronts and warehouses from a single system.
Inventory Management
Furniture stores need powerful inventory management capabilities more than the vast majority of retail stores. Primarily because each piece of inventory is expensive—they're not stocking socks or bubble gum.
Inventory management isn't a single feature but rather a collection of capabilities performing a variety of functions. Of those, the most important for furniture stores are outlined below.
Real-Time Inventory Tracking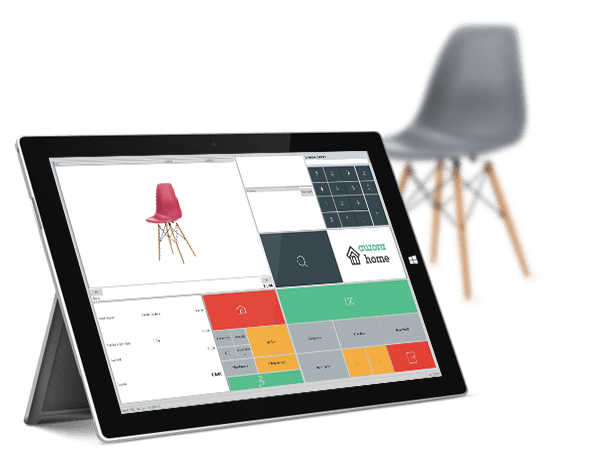 Your system must update inventory data instantly when an item is sold, or a new shipment arrives. Customers will undoubtedly inquire about a couch or bed frame in a different color or fabric. If you tell them yes, but the last one sold 20 minutes ago in another location, you'll end up with dissatisfied ex-customers.
Real-time tracking also comes in handy when you order stock from a distributor that's not close by. While your customer is waiting for their purchase to arrive, you should be able to see where it is on its journey to your store or furniture warehouse.
Automatic Stock Transferring
Your brick-and-mortar locations typically act as display rooms where shoppers can see your stock, try it out, etc. If they purchase a piece, they're normally not going to take the display model home. However, sometimes, you'll decide to bring overstocked items into your store and sell them directly from the showroom.
Alternatively, a customer may want to pick the item up themselves rather than have it delivered (see more on delivery below). In cases like these, you should be able to enter the order in the system and select a transfer option. When that box is checked, the item should be automatically routed to your store.
Inventory Metrics and Data Capture
With all your inventory administration automated, data is collected on each order, transfer, change in stock levels, etc. That data should be available to you whenever you need it for reference. Look for a system that lets you easily view and run reports on metrics like:
Item origin
The distributor you purchased it from
Order date
Item quantity
Shipping date
Arrival date
Detailed stock transfer information
In-transit status
Items sold per specified time
Returns
Best and least-selling items
And more
Delivery, Distribution, and Scheduling
Most customers don't drive vehicles with the capacity to transport a couch or a king-size bed. The only way to get around that obstacle and still make the sale is to offer delivery services. You can charge extra for delivery.
You need a way to track each piece of inventory, and a couch in your possession is still inventory. It becomes a sold item when it's in the possession of the customer.
The best systems automate drop shipping, can track where items are en route to their destination, and even provide mobile apps with GPS for delivery drivers. Plus, you should be able to schedule a delivery for a specific day and have an automated notification sent to the driver or the distribution center where he's based.
eCommerce and Omnichannel Capabilities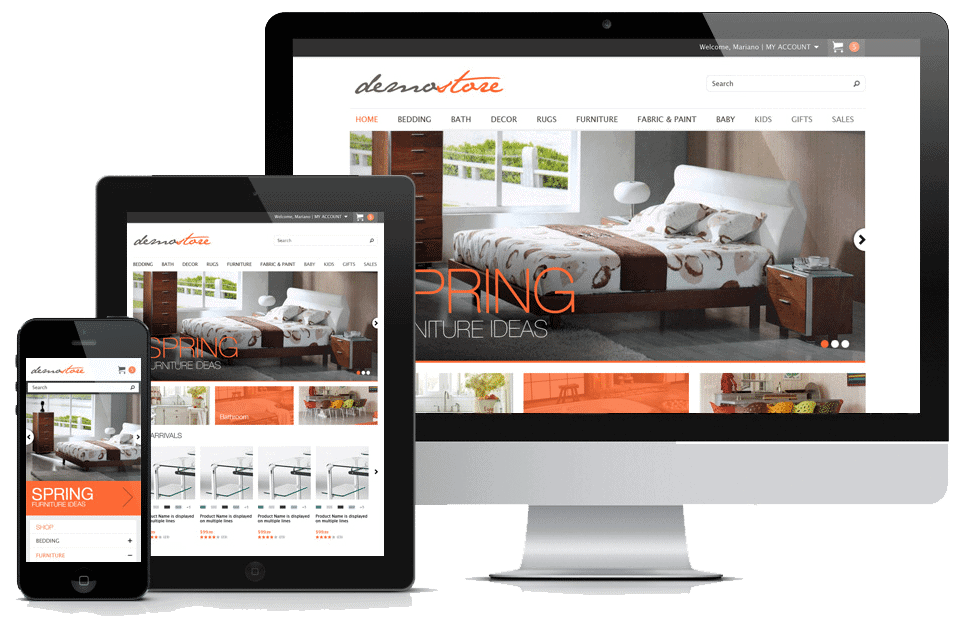 Let's face it, we're well into the digital era. Most people carry a smartphone and use it for a variety of things. This includes browsing the web for furniture when you're in the market for a new dining room table or love seat.
You need an online presence to remain competitive today. In other words, you need an eCommerce website that allows customers to purchase things online or at least view what's available.
Millennials, in particular, do a lot of online shopping, which underscores the importance of having an eCommerce presence. Why? Consider these statistics (Source):
In 2020, millennials became the largest consumer demographic in the US and represent the largest segment of the population.
Millennials—more than any other age segment—conduct online research and read user reviews online before deciding to make a purchase.
In short, without an eCommerce store, you're leaving a lot of revenue on the table for a competitor to snatch up. Ideally, look for a system that allows you to build your own eCommerce store. If not, be sure the system you select has an API that integrates with popular eCommerce apps like Shopify, WooCommerce, and Magento.
Either way, you need an eCommerce site that syncs data back and forth between the site and your POS system. When someone purchases something online, your system should automatically adjust inventory numbers for that item.
You should be able to upload your inventory, in batches, from your POS system to your eCommerce site. When a purchase is made online, the resulting revenue and sales data should also be added to the overall company sales metrics in your software system. People shop differently so it's important to offer a complete omnichannel shopping experience.
Additional Features to Look For
Aside from the key features listed above, the following features will help you operate more efficiently and boost revenue:
Warehouse and distribution center management for a 365-degree view of your business
Customer relationship management (CRM) to maintain deep insight into your customers
Marketing automation to engage and attract new customers, while growing your customer base
Reporting and analytics that provide the insight needed to make data-driven growth decisions
An intuitive user interface that's easy to use and makes training new employees a breeze
Various integration options to expand the functionality of your system with third-party apps
Scalability that allows you to upgrade plans or purchase system add-ons as you grow
Special order processing for those who want an item you don't normally carry
Multiple payment method options to accommodate purchases made with debit cards, credit cards, cash, contactless payments, gift cards, etc.
How Do You Find the Right System for Your Needs?
Only you can answer this question because it ultimately depends on the nature of your business and your business model. If you're targeting online shoppers and want a flashy online presence to reel them in, STORIS is probably a great fit.
Are you looking to scale your business, open new locations, and expand into new territories? If so, the scalability of Celerant's Cumulus Retail is worth a closer look. It may be the system you need to drive that growth.
Alternatively, if you run a busy store and need all hands on deck, you'll want a time-saving system. LS Retail automates so many manual processes and saves so much time that it's woth investigating.
Finally, if you want a user-friendly, feature-rich system that virtually anyone can learn in a flash, you should dig deeper into Ordorite.
Just determine your budget and make a list of requirements. Then look for the system that fits within your budget and checks the most boxes on your list. Do that, have some patience, and you'll find the perfect system for your unique requirements. Again, be patient—this is a major decision that will have reverberating impacts on your business's success.