(Last Updated On: October 19, 2021)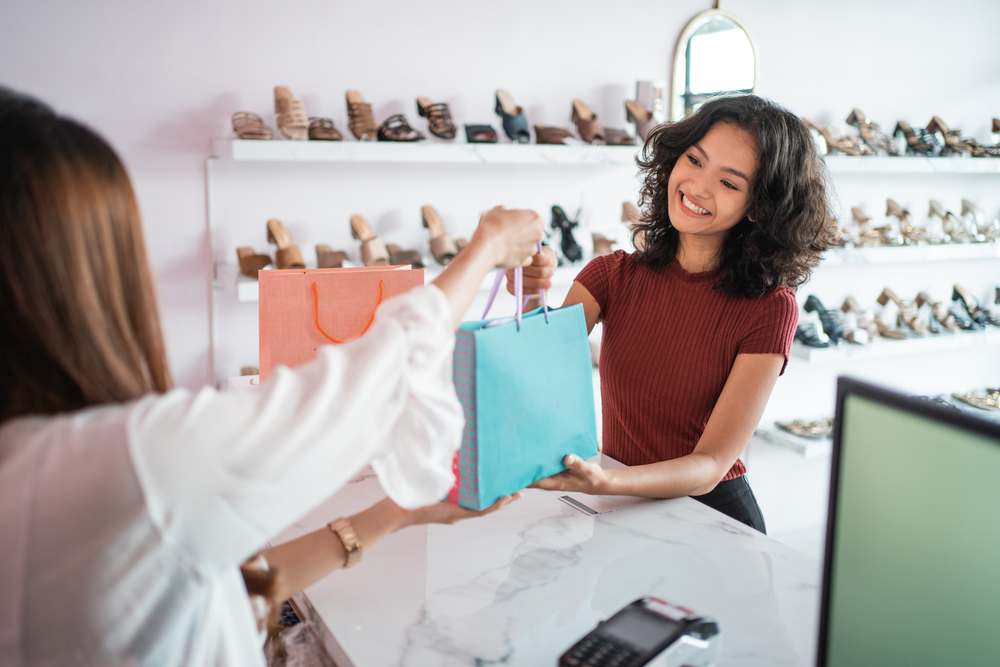 To truly manage a shoe store the right way, you have to pay attention to stock control, managing your vendors, your transactions, and of course, your customers. All of this can be done with a shoe-store specific POS system.
With literally hundreds of different shoe sizes and colors, you're probably dealing with thousands of SKUs on a weekly basis. To simplify the process of inventory management, get shoe store software that can import all of these items from your vendors. By using the software, you'll also be able to quickly lookup an item for a customer and see if you have it in stock.
After watching several demos and comparing their features, we found that is Rain POS is the best POS system for shoe stores and footwear retailers. Rain's software offers the most comprehensive inventory management system and customer loyalty tracking. Furthermore, the simple but powerful reporting is detailed but not complicated like other retail POS systems.
For a shoe store, the ability to add, edit, or delete stock with just a few clicks in vital. But while inventory management is a huge part of the business, selling your footwear is just as important. By using tablets, you can sell right on the floor and convert more sales. This is especially true for high-end shoe stores.
Worried about e-commerce? Get a POS system that can integrate with your online store. By offering various payment options from providers like PayPal and Zazzle, you'll make more sales and keep customers coming back. A great option is teaming up with a buy now, pay later merchant.
To discover all-in-one retail solutions that will help you make smarter business decisions, let's review the top shoe store POS systems together.

The Top Four Shoe Store POS Systems
Rain POS: Best Overall Shoe Store POS
Lightspeed Retail: Best Inventory Management for Shoe Stores
Vend: Software with the Most Retail Specific Features
Hike POS: Best Shoe Store POS for Improved Efficiency
Comparing The Best Shoe Store POS Systems
| POS System | Software Costs | Hardware Costs | Our Score |
| --- | --- | --- | --- |
| | Starting at $99 per user/month | Quote-Based | 4.9 / 5 |
| | Starting at $69/month for Basic Plan | Quote-Based | 4.8 / 5 |
| | Starting at $99/month for the Lite Plan | Quote-Based | 4.8 / 5 |
| | Starting at $59/month for the Start-up plan | Quote-Based | 4.6 / 5 |

1. Rain POS: Best Overall Shoe Store POS System

Rain offers a cloud-based point of sale system that integrates with your shoe store's website. The all-in-one platform is designed for small and medium sized retailers that sell footwear, accessories, and other apparel.
Unlike other POS systems, Rain is truly a retail-based POS system, which means it has the features and integrations required to run a successful shoe store. Given that the software from Rain is PCI and DSS security compliant, you can rest assured you won't experience data leaks. With secure cloud backups, all your data is stored in the event you'll need it retrieved.
Ringing Up Sales Fast
When checking a customer out, easily add them to the register by searching their name, email, or phone number. If they are not in the system, you can easily add them from the main user interface. This way, you can track their reward points and purchase history.
Scan your product or type in a keyword to finalize the checkout process. You can also process a return, start a special order, process a layaway, or balance a payment, all in the same transaction. Adjust the price or quantity for the order as needed. Also, you have the option of selling a gift card with just a few clicks.
Create Multiple Products
Adding various products to your database takes just a few minutes. Simply add a new product title and choose if you want to add it only to your POS system, your website, or both. With Rain, you have the ability to set an Unlimited Web Inventory for selling items that have zero inventory count.
Within the system, you can organize your products by department for better grouping. The level of product detail within Rain is endless, allowing you to add 'endless' UPC and SKU numbers. With so many color and size variations for footwear, this feature is critical to keep a tab on inventory.
Set desired stock levels, enter your cost pricing, set retail pricing, and enter inventory on hand, among other product details. Tracking inventory and profit margins are especially important to retail operations like shoe stores. Finally, you can add all your vendors into the point of sale.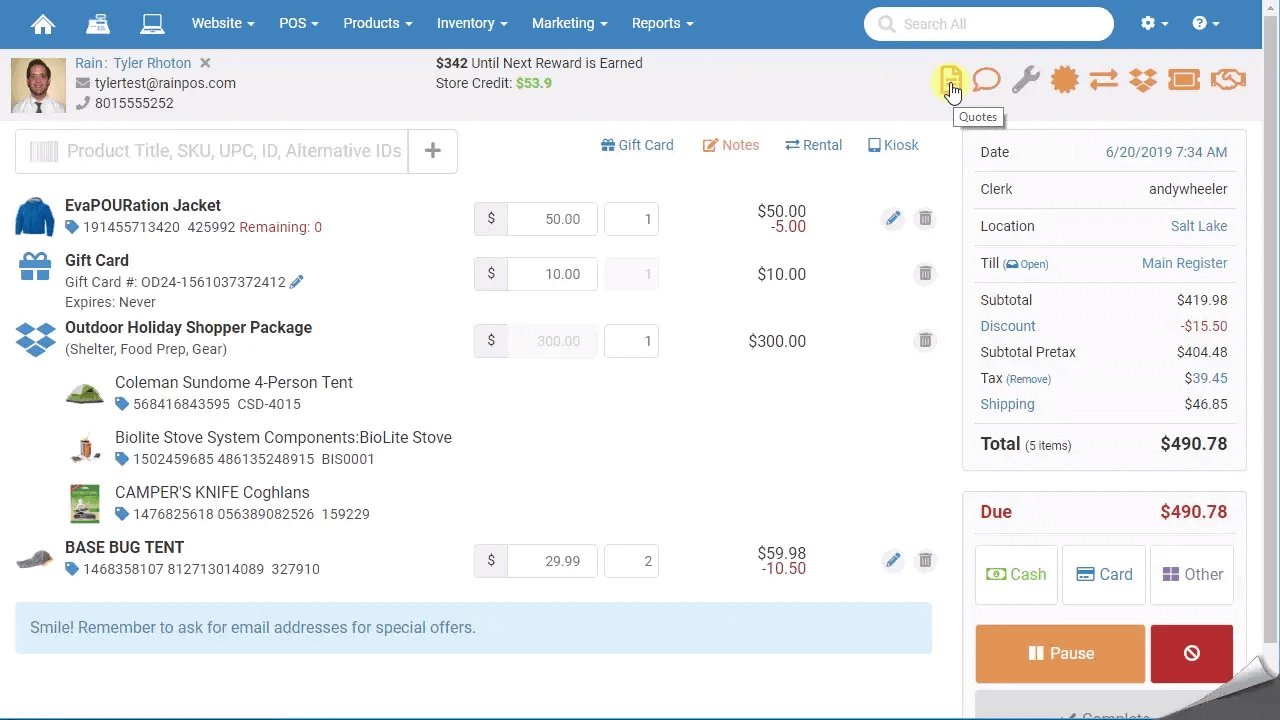 Customer Loyalty & Gift Cards
Rain believes gift cards are a great way to get your customers and their friends to come back to your store. Sell gift cards through your POS system or through your website (through a special module). With Rain, you the ability to edit gift card settings; expiration dates, limit amounts, and even set certain promotions without the need for a sale.
Other Notable Features
What we love about Rain POS is the ability to use third-party integrations for accounting and other customizations you may need for your business.
Key features for Rain POS
Some of our favorite features from Rain include barcode scanning, eCommerce integration, inventory management, and payment processing. The cloud-based platform lets customers know when a promotion is available for your shoe store via email. Your customers can shop on your website and get a notification when their item is ready to be picked up in store. Generate reports for the daily, week, or month to monitor your sales and best-selling items.
2. Lightspeed Retail: Best Inventory Management for Shoe Stores

Lightspeed Retail offers the perfect solution for ecommerce operations and brick-and-mortar shoe stores. Lightspeed's POS system allows you to stock, import, track, and organize your inventory faster than other software.
Strong Omnichannel Inventory Management Software
Organize your shoe store's inventory across various channels with Lightspeed's point of sale system. Got a few locations? Not a problem. Lightspeed can manage one inventory database and sync the data to all your stores and online store.
The point of sale system has the ability to display how many units you have on hand and display it on your website in real-time. Got hundreds or thousands of SKUs? Lightspeed Retail can import several products with one click, using the Item Import tool.
Assign a special tag or category for each item, so when a customer asks about a specific pair of shoes or other accessories, you can find it by brand, color, size, or other identifying function.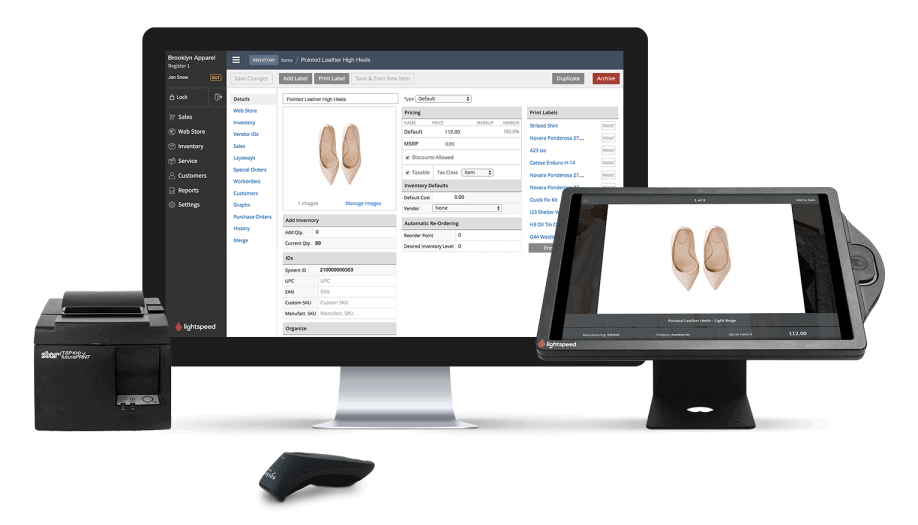 Easy Purchasing
Buying inventory is an important aspect of your business. Probably just as important as getting it sold. With Lightspeed, you can setup a process where your POS system reorders automatically, so you need run of the footwear your customers love.
You can also transfer items between your store locations with just one click. Don't want to order from each vendor separately? You have the ability to order from multiple vendors by using flexible purchase orders. Also, master orders will help you organize your inventory at several locations at once.
Retail Data & Analytics
If you want to track your profit margins, you have to take a look at your overall sales. How many pairs of shoes are you selling per week? What's your best-selling item and how profitable is it? Lightspeed Retail lets you stay on top of all of that with more than 40 reports, built into the POS system.
Track your daily or seasonal sales, and run reports to monitor your returns, costs, and negative quantities so you can restock faster. Run a report to gauge how certain categories are selling. Finally, our favorite analytics feature is the ability to gather eCommerce sales data right from your POS system.
Get A Quote from Lightspeed Retail
3. Vend HQ: Most Retail-Specific POS Features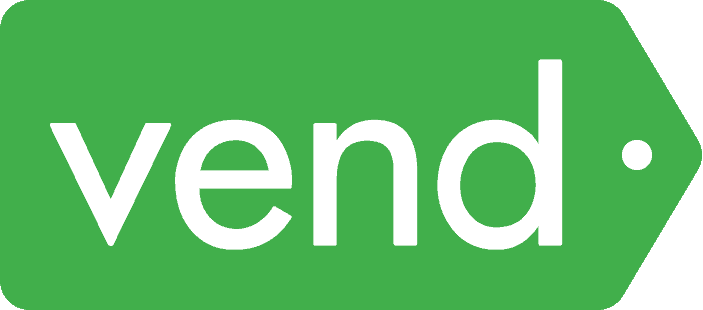 Similar to Rain and Lightspeed Retail, Vend's POS system was created largely for the Retail industry. Vend helps you make smarter business decisions. One thing we love about this cloud-based POS system is its striking beautiful user interface and how easily you can navigate through various functions of the system.
Vend POS Works on Any Device
It doesn't matter if you're behind the counter and using your touchscreen POS system, or the sales floor helping customers try shoes on and using your tablet device. Vend works on any device, giving you the level of flexibility that your staff needs. Also, the ability to provide excellent customer service.
Customized Inventory App
We like to look at Vend as more than just a simple POS system. Vend's point of sale solution offers among the most robust stock management features we've seen. You have the ability to use various inventory management features such as bulk product uploads, stock level reporting, inventory counts, and more.
Easy Payments
Accept nearly any payment type your customers prefer — from cash payments to credit cards and redeeming gift cards. If your store sells high-end footwear, you the ability to let your customers purchase and pay for it later, including layaway services.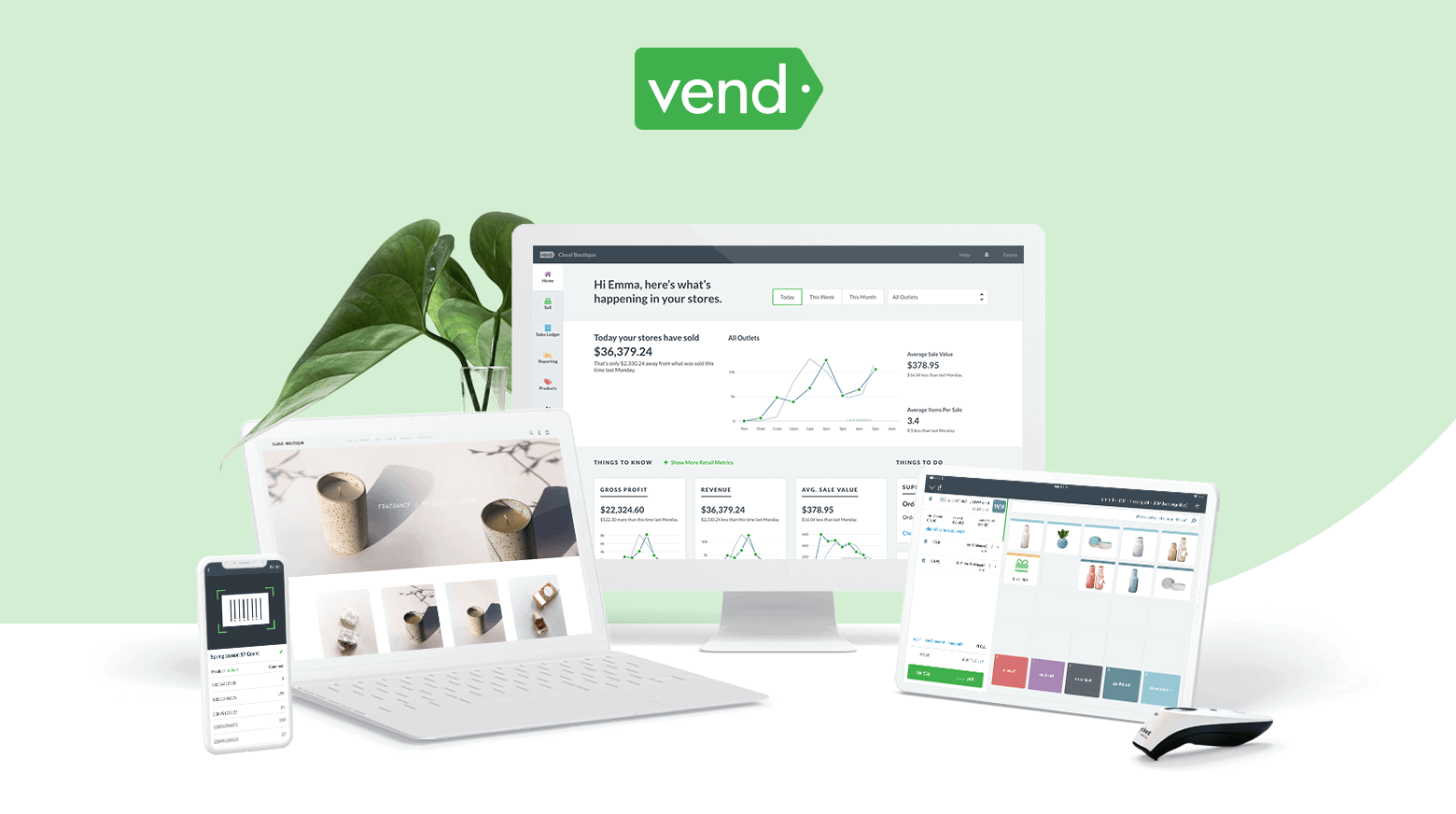 Add Best-Selling Products
With Vend, it's quite easy to add, edit or completely remove products in the system. You also have the ability to add high-end images, set prices, and set variations by footwear size, color, or other variation. With proper stock management, you're able to sell more of the products that perform well and avoid restocking products that don't make you money.
Manage Multiple Locations and Users
Vend is one of the only POS systems that grows with your business. Easily train your staff to use the system, and let your managers add users with a lower access level. As your business does well and you expand, Vend can be easily implemented in your new location, with more registers and all the hardware you need. Setup for additional locations will take less time, since your software is customized for your store.
4. Hike POS: Best Shoe Store POS for Efficiency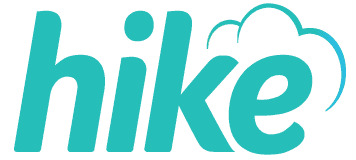 Hike POS is taking the retail market by storm. The user interface from Hike was designed specifically for retailers, keeping in mind all the features offer and bringing it all together. For example, Hike's software presents a special and very visual prompt for each item, showing you how many units are left in each one of your stores.
For example, if you have three locations, there will be one box showing you the total units across all stores, and under it, three boxes that display how many units you have at each location. That visual aspect, coupled with an unlimited number of SKUs, shows that Hike is stepping their game up and improving on design features other POS providers didn't focus on.
True Retail Experience
Selling in your shoe store doesn't mean you have to stand behind the counter. Hike works with any device that connects to the Internet. Being it is a cloud-based system, you'll be able to use a tablet to cater to your customers on the floor. What we love about Hike is that they optimized the POS to be specifically compatible with tablets and provide a fast and secure experience.
Sell More Online
Accept payments from all the major credit card providers, but also offer flexible payments from processors like PayPal. Create custom payment types that your customers will appreciate. In addition to all this, Hike gives you the ability to integrate with your current merchant processor.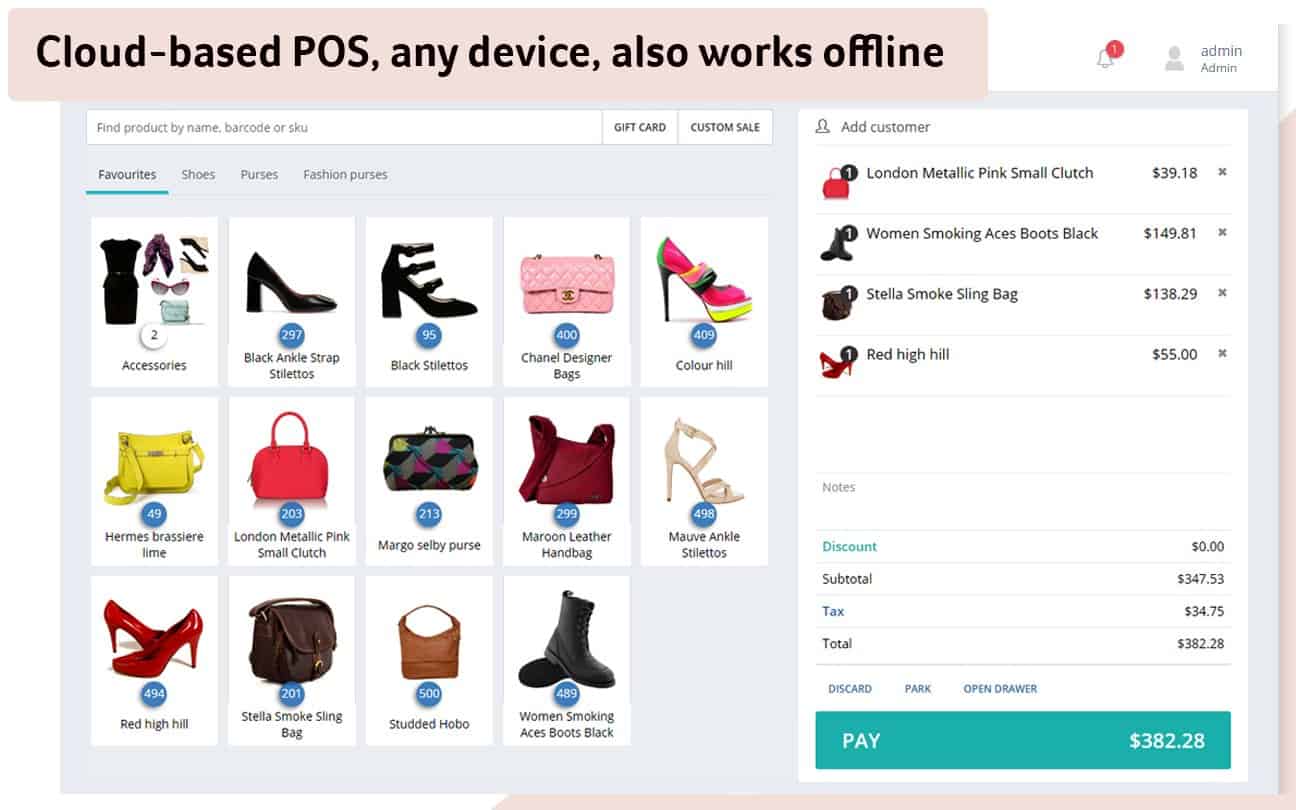 Analytics-Driven Business Decisions
Hike cares about analytics just as much as they care about creating a solid POS system. The POS has built-in reports with visual charts, inventory reports, and other data you need to make smart business decisions. Access real-time sales information for your store for any given timeframe with just a few taps.
Customer Loyalty
As you can already guess, Hike doesn't cut corners on any important functions of the POS system. With Hike, your customers will get loyalty points for purchase made online or in-store. As they collect enough points, they'll be able to redeem them for future purchases. Also, Hike has the ability to sell gift cards – a more than ideal way to bring new customers to your store.
Buyer's Guide: Features to Look for in A Shoe Store POS System
Managing a shoe store can be as difficult as running any other retail business. Without the proper system, features, and tools, you're likely to fall behind and not keep up with the competition. Here are some features you should consider before getting POS software for your business.
Product Addition & Sorting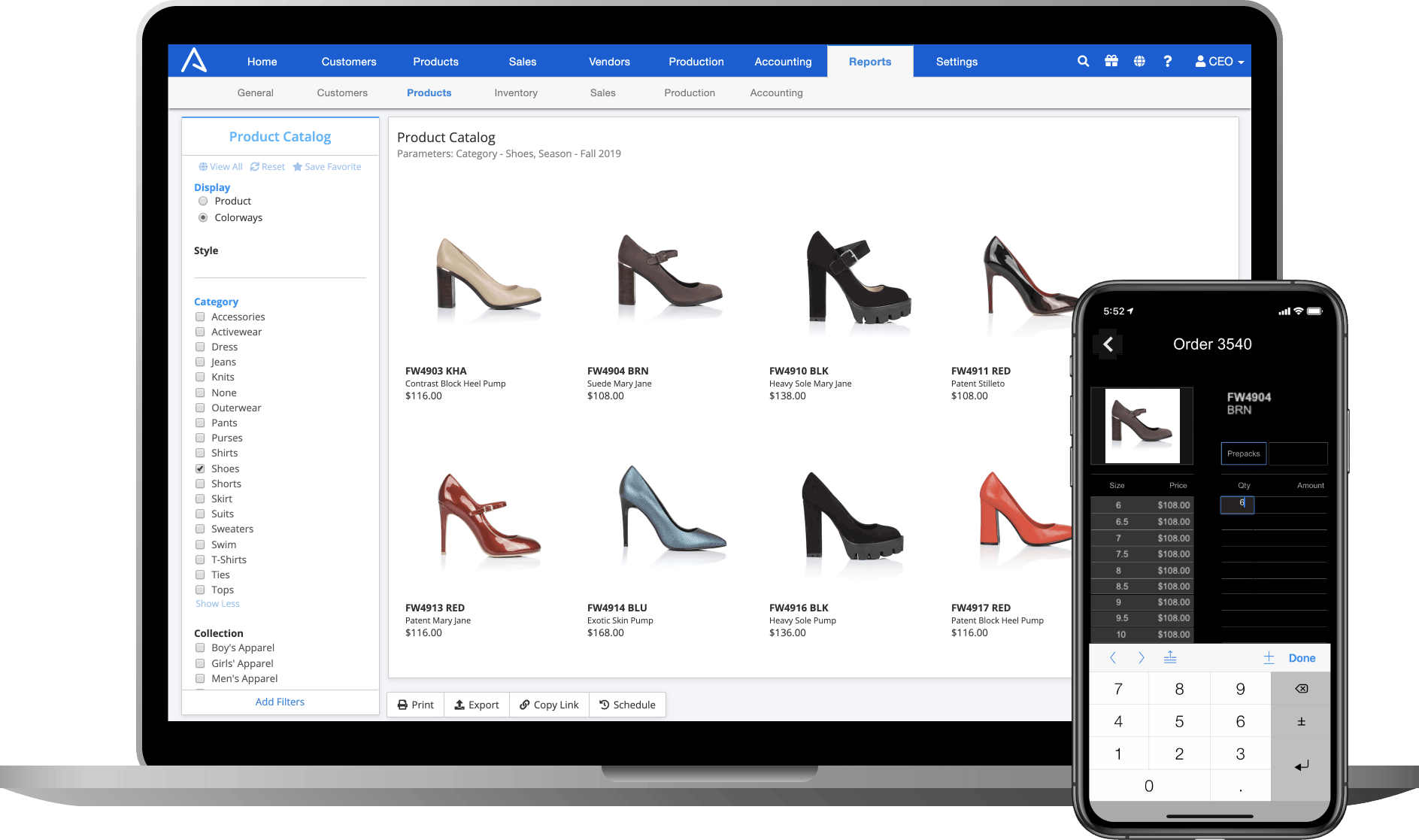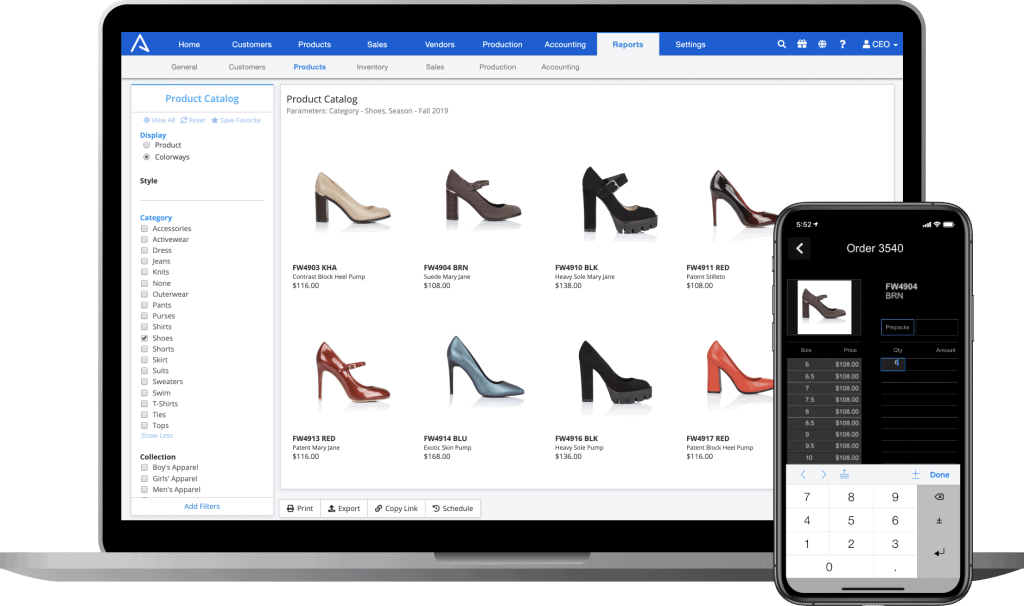 The POS system you choose must offer a user-friendly interface that lets your staff add new products to your database. At a minimum, it should let you add the product's title, description, price, and image. A neat addition is if the system lets you add your cost, so you can later track your profit margin. Also, you should have the ability to sort an item by name, size, color, or category.
Bulk SKU/UPC Product Addition
Since your store can have hundreds of thousands of variations of shoes or other accessories from multiple vendors, the POS system must be able to easily add products, SKUs, and UPCs. Ideally, your POS system will offer bulk import from your vendors. This function must be able to sync with your online store (if you have one).
CRM Management
Online competition is fierce. If you're a store with a warehouse operation of your own, you'll need the right CRM software to manage it all. In addition, the right POS system will help you stay in touch with your customers by sending them offers and keep them coming back. The right system should also help manage size, color, and size variations. Finally, features like layaway and a point system are vital to your success.
Reporting & Management Features
Before making the final sale, preparation is key. This is especially true in the competitive nature of retail. To avoid running out of your best-selling items, the system should offer customized reports and inventory management options.
Here are some features we deem most important:
The ability to automate purchase orders from your suppliers
Being able to analyze key sales data and pick up on trends
Track customer information and cater to customer loyalty programs
Ability to apply discounts, process returns, and view inventory in real-time
Manage Your Shoe Store Business with POS Software
Bottom line? You need a POS system that does everything a retail business demands – product addition, inventory management, CRM features, split payments, integrations, detailed reporting, and more.
While Hike POS offers a solid product, we found that Rain POS and Lightspeed Retail offer more integrations and the ability to customize the system to your business' needs. Vend is also a close third, helping you take full control of your footwear business with their customized inventory app.
Remember that each customer is different. Most won't walk up right to your counter. That's why the use of hardware like iPads/tablets on the floor is incredibly important. Keeping a visual contact with your customer and assisting them in the purchase process is the best way to secure a sale.
Ready to start building a better business? Get a free demo from a POS provider today.