(Last Updated On: October 6, 2021)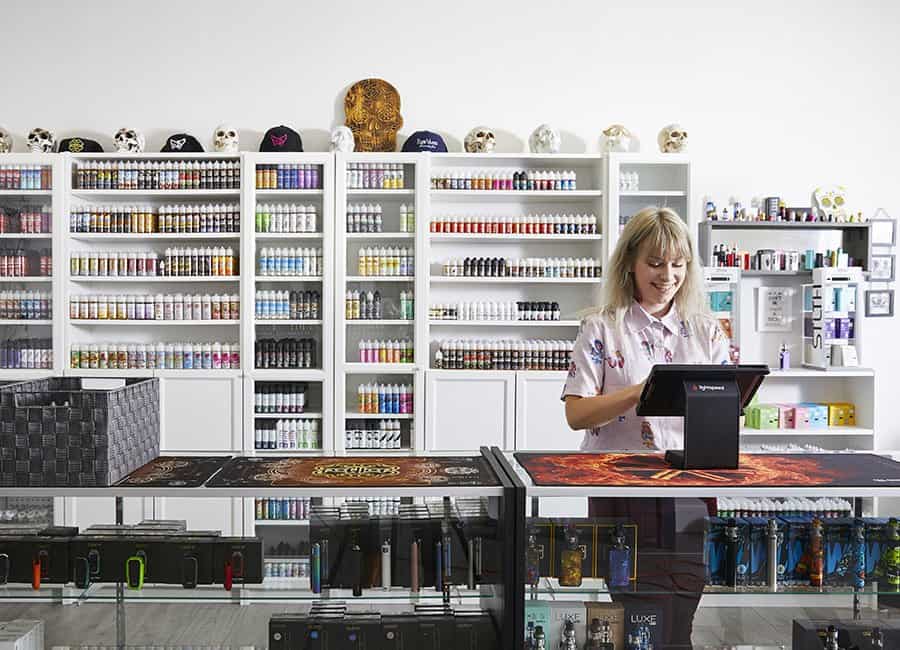 To truly take control of your vape store and enhance your operation, you need the right software for your vape store. From managing inventory and suppliers, to selling across your multiple store locations and online, using a POS system can seriously enhance your business.
In a business that requires labeling literally hundreds of juices and vapes, you can't afford to do it without software. And, in order to thrive, you'll want to generate sales reports to see how your store is doing in real-time.
After comparing a number of options, I believe Lightspeed Retail is the best POS system for vape shops. This is because Lightspeed is one of the only POS systems that has built-in RACS compliance for age and quantity restriction. Additionally, the software has the most advanced customer profiles and marketing tools we've seen.
Need to shift inventory? Most systems should be able to shift stock from your physical location to your eCommerce shop. By using a point-of-sale solution, you can view shipments from your suppliers and make sure you never run out of your best-sellers.
Don't want to enter items individually? Use an import tool from your POS to bring in all your SKUs. For example, Lightspeed can import up to 10,000 products in no time. But inventory is not everything – don't forget your marketing. Establish a rewards program, you'll be able to keep customers back to your store.
To access data about your business and improve your profit margins, let's take a look at which cloud-based vape POS systems can help you thrive.

Overview of the Four Best Vape Shop POS Systems
Lightspeed Retail – Best Overall Vape Shop POS     
Square

– Most Affordable POS System

NCR Counterpoint

– Best POS for Inventory Management

Vend

– Most User-Friendly POS Software
POS SYSTEM

SOFTWARE COST

OTHER COST

KEY FEATURES

Starts at $69/month.

The Starter package is $99/month, the Standard package is $119/month, the Advanced is $169/month, and the Pro is $229/month.

Built-in compliance and regulation (like age and quantity) alerts.

$1,190 for perpetual license.

Annual NCR Counterpoint software maintenance fee is 12% of the total software price.

Three-dimensional inventory grid to better manage product variants and single SKUs.

The basic software plan is free.

Square Plus is $60/month per location and $40/month for each additional POS device.

Hardware packages range from $600-$1,300.


Low cost of entry with zero monthly or start-up fees. Comes with free equipment.

Starts at $99/month.

Hardware bundles start at $600.

Customer engagement programs with focus on loyalty and retention.


Lightspeed provides a vape shop POS that manages your entire business. They help a store optimize sales while maintaining compliance. The brand gives you the freedom to personalize your service as needed. Stay organized with inventory tools designed to handle growth and key features like:
Compliance and Regulations
A vape shop has many local and federal regulations it must adhere to. This includes age and quantity restriction regulations with programmable register rules. The staff has access to everything they need to tailor service to each customer thanks to the cloud-based POS system.
Sell your vape and e-cig products with confidence using built-in RACS compliance, personalized customer profiles, and detailed purchase histories. Take special orders for e-juice flavors you might not normally stock, so you never miss a sale. 
Seamlessly Sell Online
Expand your vape business with e-commerce software designed to help your store grow. Sync all inventory and locations to your online store in real-time and import stock whenever needed. 
Select your store theme from a range of customizable and mobile-responsive templates. View, organize, and edit shipments from your eCom back office and link them to your physical store. A vape store can even make use of built-in SEO tools to further drive traffic to the online store. This helps bridge the gap for customers from a digital to a real-life experience.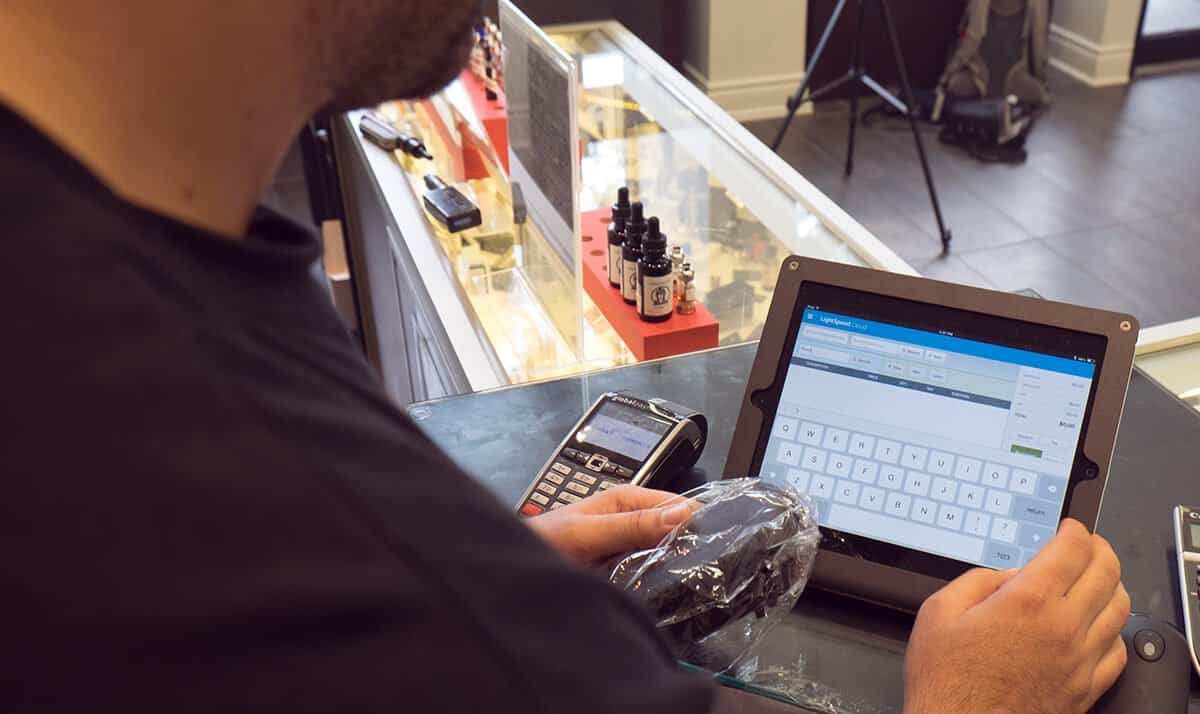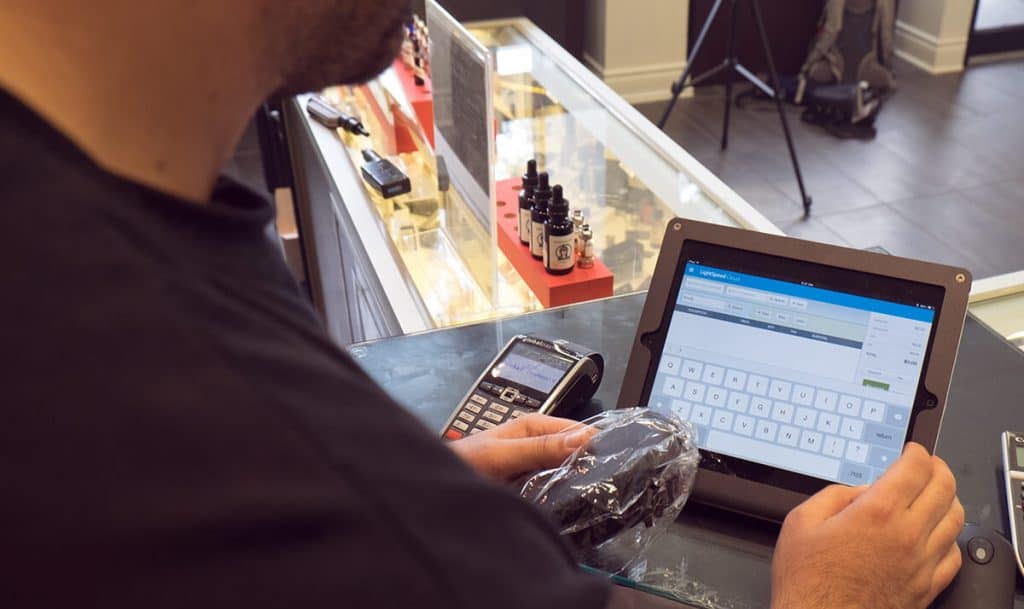 Intelligent Inventory
Staying organized is critical for running a successful vape shop. Lightspeed allows you to categorize similar items quickly and organize e-juice according to potency, volume, and flavor. Oversee purchasing directly within the point of sale system so everything can get done without the need to log out.
A vape shop can manage restocking with purchase orders built into the system and organize inventory with custom tags and categories. Use product matrices to group multiple product variants like nicotine content, flavor, and size. Quickly import up to 10,000 SKUs with an easy-to-use item import tool. 
Reporting and Analytics
Take a deeper dive into your numbers with sales data gathered by Lightspeed POS. From employee performance to inventory costing, the company provides over 40 built-in reports for visibility across your entire operation. Since it's cloud-based, you can run any report at any time, from anywhere in the world.
Real-time data is always available for one or more locations. Keep an eye on your business' performance with 360-degree views of every channel. You can also access the dashboard from anywhere on the go with cloud-based insights and custom reporting.
Additional Features:
Customer rewards program with easy-to-use marketing tools

One-on-one onboarding, demos, webinars, and videos

Unlimited 24/7 support

HTML and CSS template editor for custom web design

International shipping with currency conversions
2. Square – Most Affordable Vape Shop POS System


Square is a less expensive vape shop POS system for stores that are still new or running a small operation. In other words, you are only processing a few transactions per month. One of the greatest appeals of the system is that the initial hardware (magnetic card reader) is free. Square never charges any membership fees. Features that would benefit a vape store include:
Mobile Payments
Square revolutionized how small retailers operate by allowing you to easily take your register on the road. All you need is a mobile phone or iPad, the Square app, and the magnetic card reader. This allows a business running a pop-up shop or selling at concerts, the opportunity to take more payments from customers on-the-go. 
Low Cost of Entry
At 2.75% + 15 cents for standard transactions and 3.5% + 15 cents for manual transactions, Square is a highly affordable point of sale option. Not to mention, they are the only brand that offers hardware and software for free. Since everyone owns a phone, that means getting your vape shop started can literally cost nothing except for a transaction fee.
Square also charges zero in membership fees. If you want a card reader that works with a chip, it's only an additional $49. However, if you want a traditional setup, you'll still need to buy a printer, iPad stand, and cash drawer.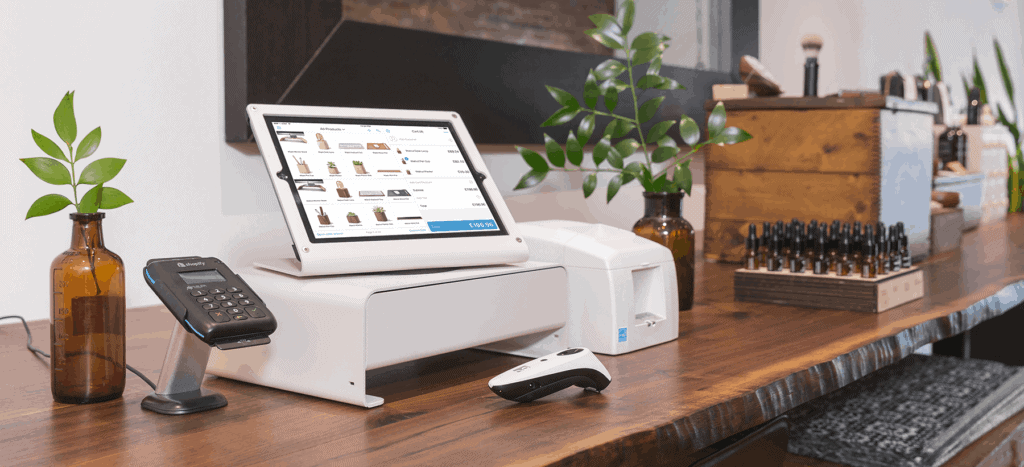 Ease of Use
Unlike other POS brands, Square only uses an internal payment processing system. That means the entire solution is basically built to be used out-of-the-box. There's no need to go price comparison shopping for a third-party payment service provider. 
Square builds that into the offering. This means that not only is set up extremely easy, Square is able to keep processing fees relatively low since you are utilizing other products.
Third-party Integration
Square understands that it has built a simple platform and thus offers a robust selection of third-party integrations. If they do not provide the tools to do it, you can bet Square offers the plug-in to do so. This includes every business task, like:
Accounting

Employee scheduling and payroll

Invoicing and bookkeeping

Inventory management

Taxes

And more…
If you don't see it, don't worry. They also offer an open API so developers can create whatever tools they need within the Square framework. 
Additional Features:
Online vape shop with e-commerce and online payments 

Inventory management by product name, quantity, and pricing

Quickly process refunds and discounts

Customizable reporting and analytics in real-time

Team management with scheduling and payroll integrations
3. NCR CounterPoint – Best POS System for Inventory Management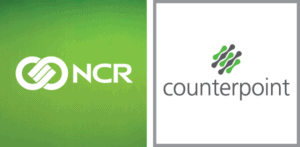 NCR Counterpoint is one of the best cloud-based POS providers for vape shops on the market. The brand is a complete payments, marketing, and management solution for entrepreneurs and helps to simplify business decisions. Connect with customers and sell anywhere with features that include:
Robust Inventory Management
NCR Counterpoint makes this list because of their extensive inventory management tools. They offer a three-dimensional grid, which makes it easier for a vape shop to manage its product variants and sizes. This includes factors like:
Flavor

Style

E-Juice bottle size

Nicotine levels
Easily track inventory by bulk, pallet, bottle, or custom shipment size. Bundle products and create kits for upselling and cross-selling. Multi-location capabilities also enable a business to easily transfer stock between stores and inventories.
Streamline receiving, ordering, and audits with wireless barcode scanners and an open-source database where you can export bulk items from Excel. You can also manage returns, sales, special orders, backorders, and layaways all on the same ticket. Automate purchasing and manage vendors, all with minimal effort.
Advanced Pricing
For some vape shops, operating across multiple channels and stores means you need to have the ability to manage multiple pricing strategies. This includes things like promotional prices, contract prices, multiple price levels by store, and BOGO prices.
NCR Counterpoint also features margin-driven pricing to dynamically control selling prices and meet your profit goals. Managing and pricing inventory correctly makes for a more profitable and efficient company. You can assign up to six prices for each item and price by store or color/size with SKU-specific and location-specific pricing.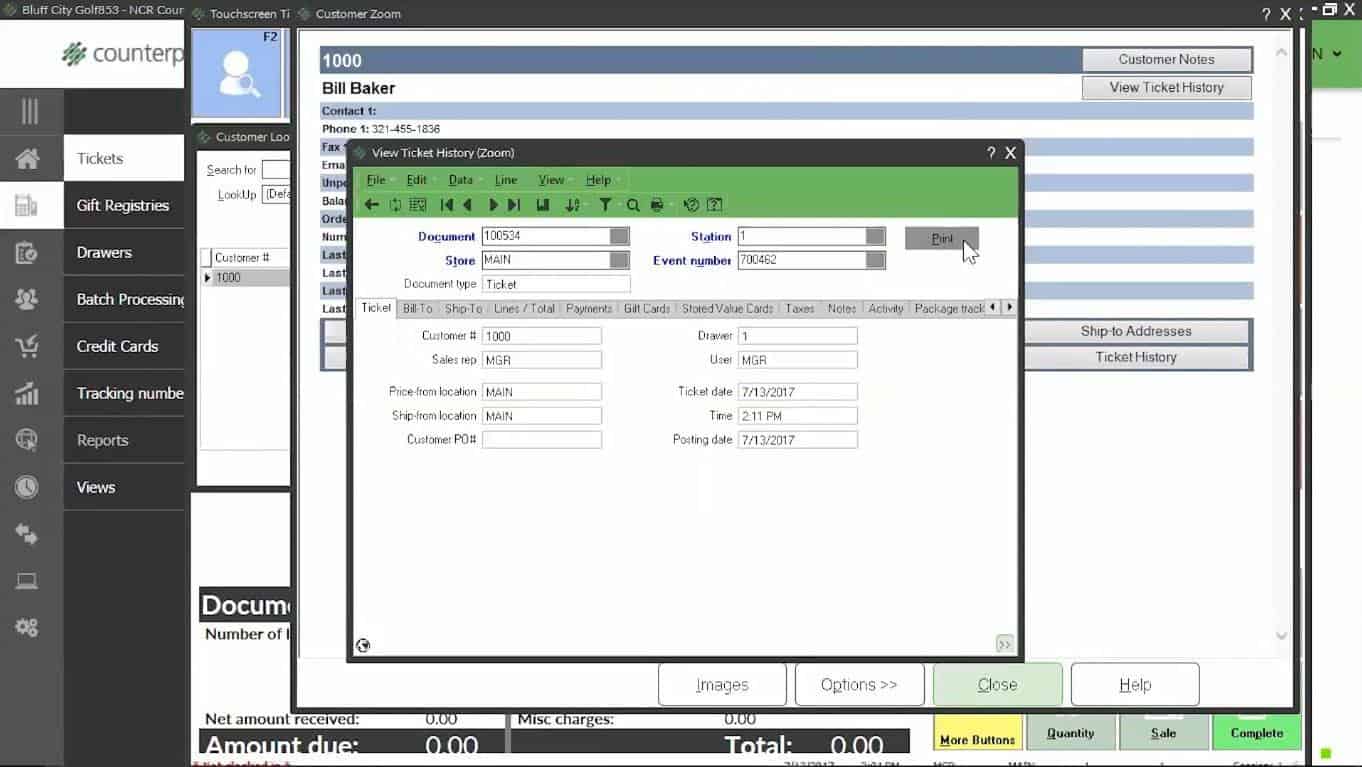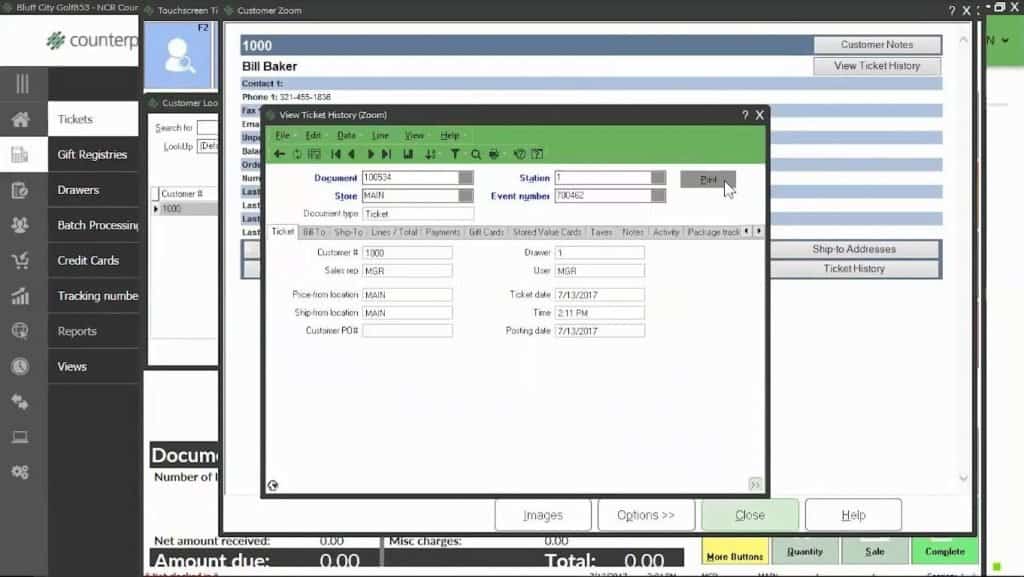 Analysis and Reporting
NCR Counterpoint features more than 40 built-in reports that provide current and historical data about your purchasing and stock trends. The inventory management module assists with merchandising, pricing, and purchasing decisions in order to increase your turnover rate and maximize your gross margin ROI.
Powerful replenishment and restocking functions allow you to quickly transfer products from the warehouse to different locations based on customer demand and business needs. Advanced reporting leads to unified purchasing where the system will intelligently predict where stock needs replenishing. 
Labels and Tags
Speed up the sales process during checkout and accurately scan product prices with the right labels and tags. Assign each item an unlimited number of barcodes that include in-house, vendor, and manufacturer labels. 
The system comes with a variety of pre-defined format labels including one-up, butterfly, and hang tab, all of which are compatible with popular label printers. 
Additional Features:
eCommerce store with popular third-party integrations

Online customer portal to manage billing and shipping

Easily export catalog data directly from inventory

Customer loyalty and rewards program

Targeted digital and email marketing tools
Get A Quote from NCR Counterpoint
4. ShopKeep – Best POS System for Customer Loyalty


ShopKeep is a full feature vape shop point of sale system that uses your iPad to provide processing power and saves a business a ton of money on costly equipment. The company automizes time-consuming daily tasks and gives you the tools needed to maximize daily profits. Consider these features when making a purchasing decision:
Customer Data
ShopKeep has one of the strongest customer data collection tools out of any vape shop POS system. The program is set up to offer receipts by email which opens up the door to a variety of data collection opportunities. Build a mailing list with your email addresses and integrate with Mailchimp to facilitate focused and segmented email marketing. 
Additionally, ShopKeep can link your vape shop's social media profiles to email receipts using the back-office application. See who your most important customers and who is buying the most of which products. Measure who is engaging with social media profiles and use the channels to collect even more customer data.
Employee Management
Cashiers and other staff can use the ShopKeep system to clock in and out for their shifts. Not only does this help to track employee performance, but it also facilitates payroll and scheduling. 
Create specific reports that demonstrate which employees are selling the most, with average transaction value and quantity of items sold. This can help management schedule staff more appropriately and hire when needed.
You can also set role-based permissions. This will establish access levels to certain employees based on seniority. It helps to keep your system and customer data more secure and reduces the chances of theft.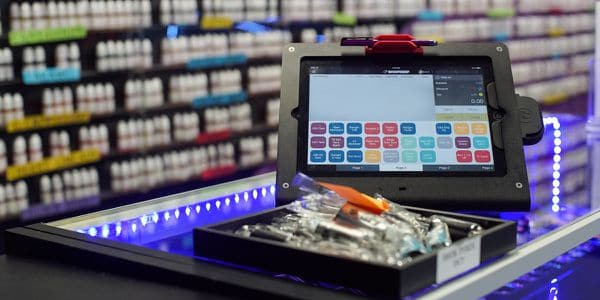 Online Business
Take your vape shop online by creating a fully functional website within minutes. Reach customers wherever they are and create more channels for e-commerce opportunities. Easily sync all inventory from the ShopKeep system to your website in minutes. 
The program comes with beautifully designed templates to quickly set up a page focused on sales. Online orders can then be synced with the rest of your ShopKeep software. 
Additional Features:
Detailed sales and transaction reports to spot top-selling items and employees

ShopKeep Pocket is the mobile app for management on-the-go

Push notifications to alert you when store actions take place

Set sales restrictions based on age and quantity

ShopKeep Spotlight to ensure customers find your business online
5. Vend – Most User-Friendly POS Software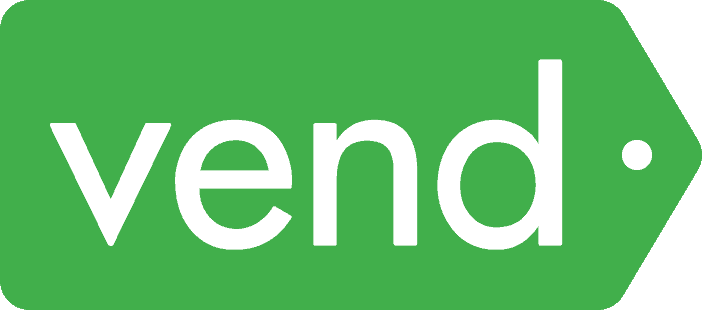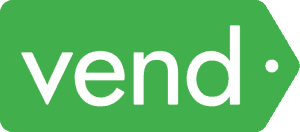 Vend helps a vape store maintain control of stock and keep customers coming back for more. The system was created for inventory-based retailers and helps manage every part of your business. Vend can be run on any browser, with a laptop or iPad, so there's no need to go out and purchase expensive equipment. Look out for other helpful features like:
Customer Engagement
Vend is known for the variety of support features offered that allow a vape shop to build a customer database and grow repeat business. Save customer information seamlessly during checkout and capture customer details with the option to email receipts. 
Customer data is automatically stored under an individual profile where staff can view purchase history, demographics, loyalty programs, and account balances. This is the type of enriched information that can be utilized for deep segmented marketing programs. If you already have a customer database, Vend enables a vape shop to upload the information in bulk using a simple CSV file. 
Simple Onboarding
Vend is built to quickly set up and function on an iPad app and is easy to learn and use. Customize the sell screen so the most popular items and sizes are just one click away. Vend helps to prevent handling errors, manual mistakes, and lost revenue with promotions that are automatically applied to sales. 
Even if you do not have a mobile device, the system can be downloaded, and used on any stationary computer. As long as you have a web browser, Vend will function fine and staff should pick it up quickly.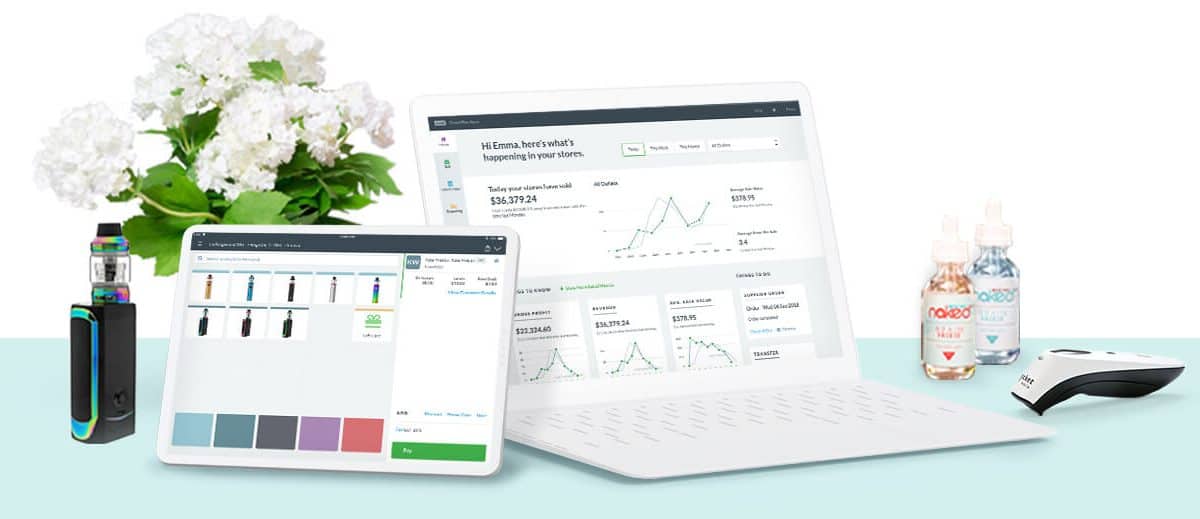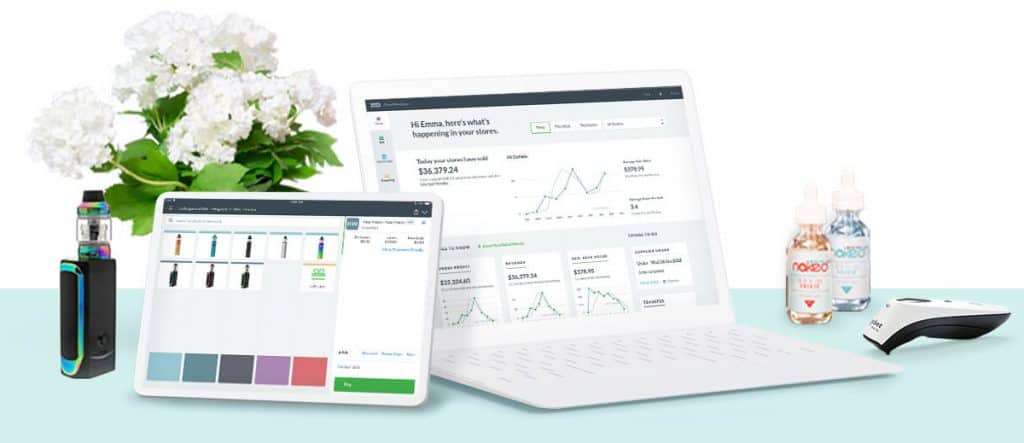 Fast Checkout
Vend offers a fully flexible point of sale system that's built for a fast checkout. Use quick keys to create custom buttons for your most popular products. Then you can save the templates for use in any of your stores. 
Quickly add products to the sale by typing in the keywords or using a barcode scanner. Easily locate customers by name, phone number, and email address. Add notes that will appear on customer receipts for things like special discounts, care instructions, and targeted offers. Discounts can be applied to all items in a customer's basket or specific ones only.
Additional Features:
Gift card and loyalty program 

E-commerce support to accept payments both online and offline

Powerful reporting system to see sales at a glance

Employee management program with scheduling and payroll

Layaways and on-account sales
Vape Shop POS Buyer's Guide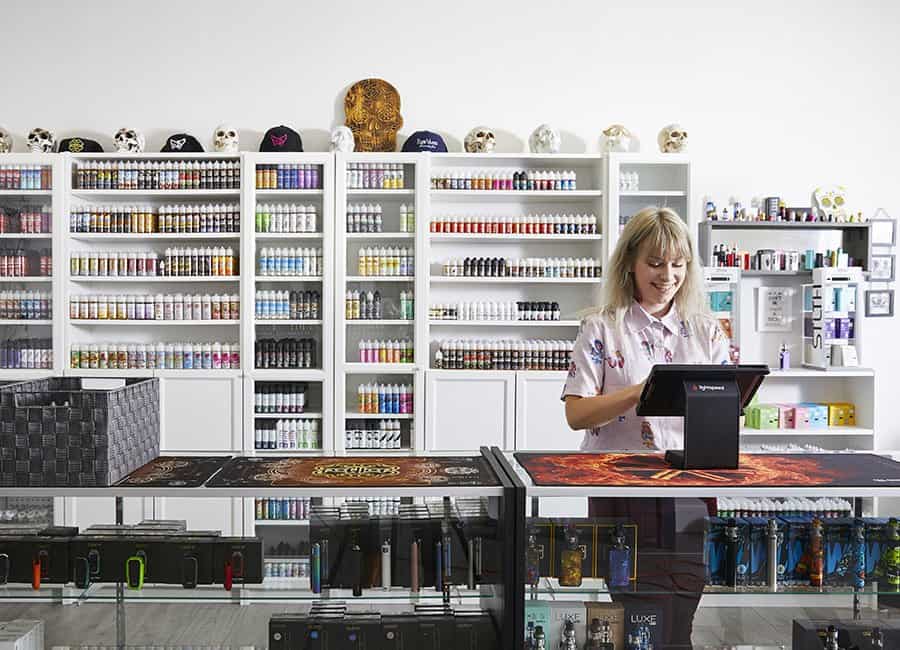 A vape shop requires certain POS features that differ from other retail establishments. Before you let your budget go up in smoke, make sure you know exactly what to look for. Here are a few quick pointers for the best vape shop POS systems to start:
Cloud-Based Technology
A vape shop is an operation that is easy to take on the road because a lot of your inventory is small. Choosing a point of sale system with cloud-based technology means you can make your business mobile and run transactions without the need for wi-fi. 
In fact, the system you choose should even help you build a customer database without an internet connection. The technology is set to sync later down the road when you connect again.
Remote access to your system at any time means you can also manage a store while on-the-go. You don't have to be physically standing there to have a pulse on operations. Cloud-based systems are ideal for small shops and fast-paced businesses that have outsourced accounting and modern marketing integrations.
Inventory Management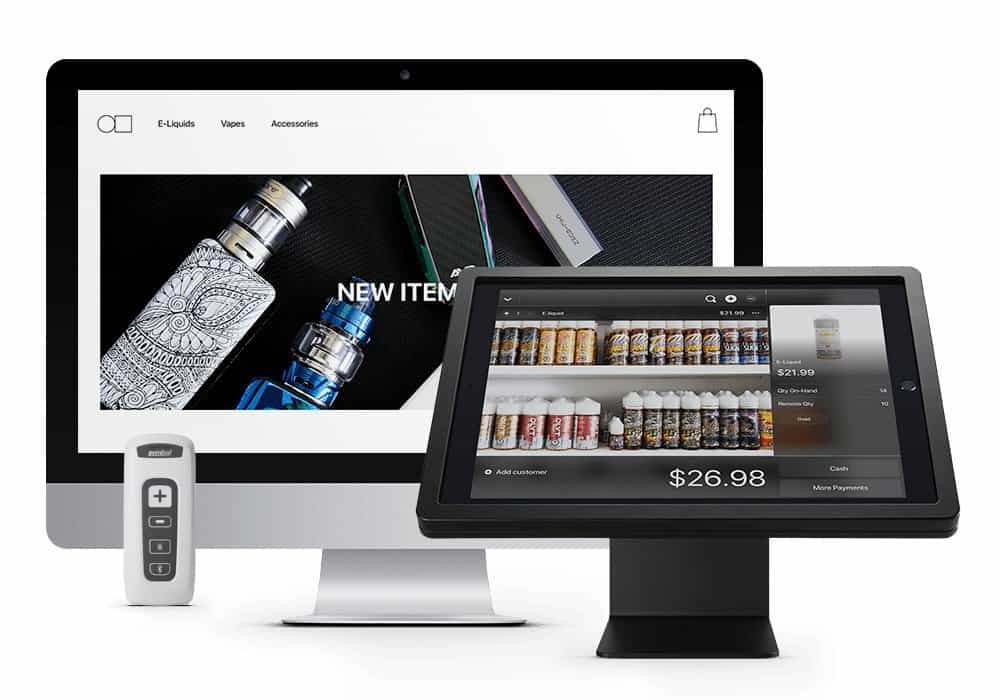 Look for a vape shop POS that can handle all of the product variants your type of business needs to stay on track. As the vaping industry continues to grow, owners are seeing the need for a robust inventory management system rise.  
Save time by automating your reordering and running inventory discrepancy reports. The platform you choose should have a 3-dimensional inventory grid with product variance that can manage items in bulk. A good system will also alert you when stock is running low, will monitor costs, and organize products by category.
It should help a business run a tight ship with product matrices that group multiple variants like nicotine content, flavor, and size.
Ease of Use
A vape shop has a lot of inventory and items to track, so it's important the POS you purchase doesn't have a super sharp learning curve. It should be fairly easy to onboard and train staff while your business operates and functions fluidly. It should boast enough features to suit what you need but not too many it confuses simple tasks.
Payment Processing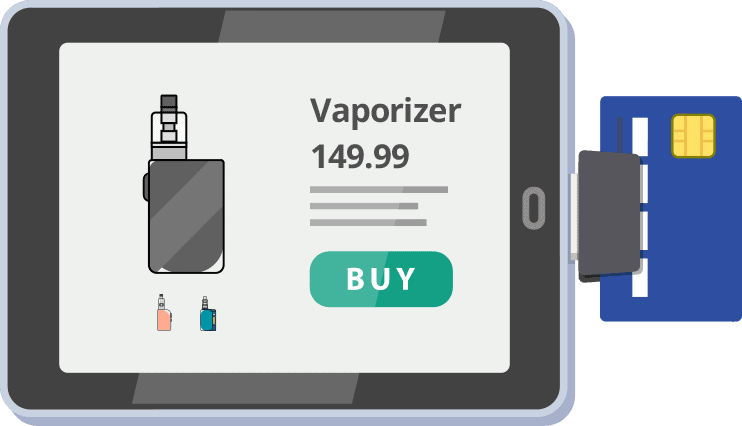 Look for a smoke shop POS system with multiple payment methods for processing. Not only does it improve the customer experience, it increases sales, and makes it easier for patrons to purchase items. 
While the POS helps accept payments at the register, the payment processing is what happens afterwards. It verifies the card info with the customer's bank account to ensure your vape shop gets paid.
In most cases, the POS and payment processing companies are not one and the same. If a POS system offers its own payment processor, be very aware of who that partner is and how they stand on vaping. 
There are some financial institutions that will not process payments from the vape industry as it is considered "high risk." Therefore, it's critical you ask any POS brand prior to purchasing how the payment processing works.
Many vape shop POS systems offer the ability to integrate with third-party merchant processors. This is especially important for shops that already have a payment processor and contract in place.
Once you have looked at payment processing, it's important to understand pricing as well. There are a few types of ways a POS brand will charge for credit card processing. This includes:
Tiered pricing

Interchange-plus pricing

Flat-rate processing
Another factor to consider is the price per transaction. All of this will go into the total cost of the system.
Hardware Integration
While some systems will function on the equipment you already have, like a PC or iPad, other vape shop POS platforms will require that you purchase additional hardware. As you scale, it's important to ensure that all moving parts work together. 
There's no point in purchasing a new point of sale system that's not compatible with equipment you already have. Therefore, if you have hardware set up in your shop, make a quick list of the brands and models to make sure they will integrate with your POS.
Reporting and Analytics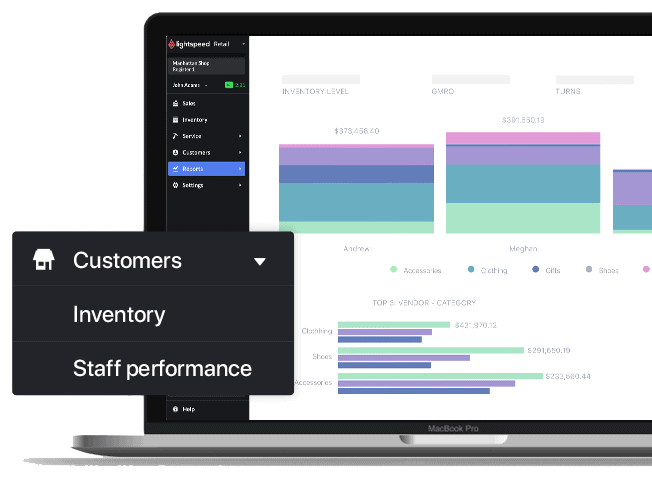 An effective vape shop POS will have robust reporting and analytics features that will give a business deeper insight into sales trends and performance. You should be able to set up push notification with real-time alerts to keep a consistent finger on the pulse of your business. If inventory or stock levels are low, the right system can be set up for automated purchasing and replenishment.
Running reports on employee performance and labor costs is also critical to success. A vape shop should be able to gain a quick snapshot of their top-performing staff, products, and shifts to streamline operations and make more informed decisions.
Customer Relationship Management
Look for a POS system that will help you develop deeper relationships with customers. One of the primary benefits is that they store customer and prospect data that can later be used to personalize the customer experience (CX). This is important given that CX has risen above price and product to be the deciding factor in purchase decisions. 
A good experience always generates customer satisfaction. This leads to word-of-mouth advertising, return customers, and a better reputation. 
You should also consider a vape shop POS that has a strong customer loyalty and rewards program. This can include anything from point systems to discounts, coupons, and gift cards.
Many POS systems will include tools for integrated customer marketing. This is a fancy word for saying relationship management. A built-in CRM will automatically collect customer data, send receipts via email, record purchase history, and calculate the lifetime value of a single customer.  
Staff Tools
A vape store POS will eliminate the need to manually track hours, payroll, etc., by automating all of these processes. Employees should be able to create a profile and clock in/out for their shifts while you assign levels of access for each person.
Some more advanced systems can show which employees are top-performing and which shifts are the most successful. Run staff-based reports that will demonstrate your busiest shifts and who to schedule, when. 
Customization
Even if you run a simple vape shop operation, it's nice to have the ability to customize tools. The best vape shop POS systems will enable a business to slap their brand on as much as possible. This includes everything from your logo on emailed receipts to brand colors and fonts on your website. You don't want to be promoting the point of sale brand all the time. That will bury your messaging.
A good POS will also offer an open API for another level of customization. This is great if you have a developer on hand who knows what they are doing. Just remember, POS solutions that offer this form of tailoring are typically much less feature-rich. That's because they expect a lot of their clients to build the majority of the infrastructure themselves. 
So, if you run a smaller operation, an open API might not matter if you don't have a developer on hand.
Additional Features
eCommerce capabilities with an online store and payment system

24/7 customer support with live chat, email, and phone

Free software updates to consistently improve the system

Open API with HTML and CSS templates

Third-party integrations for the back office like accounting and payroll
Making the Right Choice
While vape shops exist in one of the fastest-growing industries, that level of growth doesn't come without challenges. From competition, to dealing with employees and inventory management, using a feature-rich vape shop POS system is a must. 
Getting the right software will ensure you remain compliant with state and federal regulations. Additionally, the point of sale system can help you manage purchase orders for suppliers and accounting for each item when it arrives at your shop.
More importantly, using a POS system can help you track which items sell best, so you can restock fast and avoid running out of your customer's favorite vapes and liquid juices. To ensure you get repeat clients, focus on building a solid customer loyalty program by rewarding each customer for every purchase they make. 
Ultimately, the POS system you choose will depend on a number of factors, including the size of your business, inventory levels, number of employees, and the demographics of your customers. If you already have a system in place, consider the level of training it'll take for your staff to adapt to the new system. 
Do your due diligence. Evaluate your options and see which system works best for your business. Still not sure which software is right for you? Consider watching a few demos from the top providers.