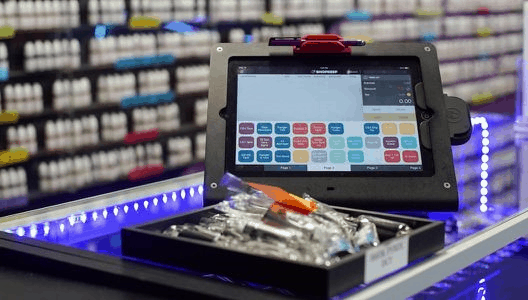 A good vape shop POS can be decisive for the success of your business. Point of Sale Systems are in a new epoch of never-seen-before features and technology. There are tablet-based table units, cloud-based back end management and a variety of other, very advanced features.
If you want to have a successful vape shop or smoke shop, you can't do without a POS system. When someone comes in and buys a wire, mod or e-liquid, it's going to be a big purchase. Your customer will want to pay by credit or debit card.
The good news is that for small business owners, accepting credit cards is easier today than it ever was before. You can purchase a vape shop POS system that works with hardware you already own — and you can even accept credit card payments without having to set up a merchant account, which can be a complicated and painstaking process.
In this article, we'll compare and contrast three popular vape shop POS solutions. Although these are far from the only ones on the market, they are arguably among the best available. By improving your understanding of what you can expect in a given price range, you can make it easier to choose the best POS system and find one that meets your vape shop's unique needs.
Our Top Vape Shop POS System: Shopventory

Shopventory is the best detailed sales, inventory management and profitability reporting solution for Square, PayPal, Clover, and Shopify POS systems. Shopventory features Purchase Order and Vendor Management, Auto Restock capabilities and Low Stock Alerts. You can take advantage of its User Access Controls, SKU Creation, and free Barcode Scanning App. Multi-location with reporting and warehouse support is also available, as well as a 30-day free trial.
3 Best Vape Shop POS Systems 2019
Overall

5/5

4.5/5

4.4/5

Ease of Use

5/5

4.5/5

5/5

Customer Service

5/5

4/5

3/5

Starting Price

$29.00 a month

Not provided

$29.00 a month

Deployment

Cloud, SaaS, Web

Mobile – Android Native

Cloud, SaaS, Web
Mobile – iOS Native

Training

Documentation
Webinars
Live Online

Documentation
Webinars
Live Online

Documentation
Webinars
Live Online

Support

Online
Business Hours

Online
Business Hours

Business hours

Free Trial

Yes

Yes

Yes

Barcoding / RFID

Yes

Yes

Yes

Cost Tracking

Yes

Yes

No

Custom Pricing Models

Yes

Yes

Yes

Inventory Forecasting

Yes

No

Yes

Inventory Optimization

Yes

No

Yes

Inventory Overview

Yes

No

Yes

Kitting

Yes

No

No

Multi-Location

Yes

Yes

Yes
Get FREE POS System Quotes

It's easy to end up stocked with low-profit products and slow-moving items. This is where real time reporting comes in real handy – you can identify and fix inventory problems before they become exacerbated. Real time reporting highlights potential issues.
Alerts
This smoke shop POS system alerts you when you are running out of a certain item or items, so you don't lose customers to the competition. The bundles feature lets you create new items out of existing inventory. It becomes simple to manage ingredients, have alternate versions of your existing inventory and combine inventory components. No more complicated actions - just bundle your items and let the POS system do the hard work.
Reports
Get an accurate grasp of what your true profitability is by viewing a full valuation of your inventory. Track discounts, find out what's not selling, and take advantage of the information you need to make the best decisions.
Vendor Management
This feature enables vape shop operators to simplify their supply chain. Shopventory's Vendor Management lets you easily assign items to your vendors to enable easy re-ordering. It also keeps contact info and internal notes for easy access, so there's no need to hold onto business cards.
User Access Control
Work in collaboration with your team, get detailed, user-specific logging, and manage permissions. The user access control feature of this POS system allows you to create roles for your managers, clerks, accountants, and all other staff without sacrificing accountability.
Purchase Orders
The purchase orders make receiving easy. You create purchase orders with your business logo and get them in just a few clicks. The barcode scanner mobile app, compatible with iOS and Android, is aimed at receiving and reconciling inventory quantities using the camera fast and easily. No extra equipment or downloading is required.
Daily Syncing
The system connects QuickBooks Online and automatically syncs daily sales overviews from your POS/E-Commerce integration. You also receive detailed inventory information.
Disadvantages
Shopventory isn't compatible with Squarespace yet, but the company is working on resolving this issue.
Bottom Line
Shopventory saves a lot of time reordering inventory, makes margins clearer, and alerts you to thefts in addition to the above-named pros. Overall, it is a great product.
Our #2 Pick For Best Vape Shop POS System: Ehopper

Ehopper POS is a smoke shop POS system with everything you need to operate your small business. It is compatible with Android tablets, the Poynt terminal, iPad, PCs and more. It's fast, efficient and intuitive to use. Accept payments in minutes and serve your clients just as fast! We think it's really great that you can add and scan items directly into the cart, add up taxes, ring in sales, and calculate discounts. It's very simple for all of your staff to learn.
Order Management
This function lets you select order types such as delivery, quick sale, drive thru and take out, and you can store customer information as you take their order. You can also track order statuses, store and build your customer information to know precisely what they buy and when, personalize your service and receipts, and build a loyal client base via email marketing. It's simple to add, edit, and search for customers with this system.
Process And Split Payments
You can process all payments via cash or credit card quickly and easily. This system supports cash, Apple Pay, EMV credit and debit cards, Samsung Pay, and EBT. Users are able to split a tab according to a customer's request via cash or credit card.
Inventory Management
Ehopper lets you process, check, and manage your inventory down to the smallest detail. You will always know what stock you have and where it is, manage departments, prices, categories, and quantities. You can manage your store operations in real time, track returns, store assets, exchanges, and more.
Receipts
You can issue your customers printed or emailed receipts.
Employee And Ingredients Management
You have full control over staff access to features and data for store safety and reliable operations and manage roles, employee data and permissions for effective staff and time budgeting. The ingredients you create can be assigned to a product or modifier's recipe. You can receive and transfer ingredients, track ingredients' stock by small and larger units, and view ingredient reporting to become better informed about your inventory, make better business decisions, and prevent revenue loss.
Tax And Tip Management
Your employees will have access to enter their tip amounts, and you can view and perform shift close outs as manager. The system makes it very easy to create separate or multi-line taxes, add taxes to items, and choose to exclude or include them from orders to automate your tax maintenance and minimize the likelihood of human error.
Surcharge Program
The company's POS Surcharge Program ensures you will stop losing money on credit card processing fees. All you need to do is create, name, and add a surcharge rate, and then set it up for your vape shop. The system then adds the surcharge fee to orders where credit cards are used automatically.
POS For QuickBooks
Ehopper's QuickBooks App will save you hours on finance management. It synchronizes sales transactions, inventory, taxes, and payments automatically.
Exchange Transactions
This feature speeds up operations by processing an exchange of a client's product seamlessly and in a single transaction regardless of the method of payment. You can review details of the transaction afterwards from your Orders list.
Cash Discount Program
Increase your yield by providing clients with an incentive to pay in cash instead of by credit card. Your shop will save money by paying less in credit card fees. Your clients will be saving money too.
POS Reporting
Fast access to important information makes for quicker and better decision-making. The reporting function gives you full visibility and makes accurate analysis of all areas of your business possible. The system's apps and integrations help your business grow by generating more profits.
Localization
You can choose different languages, time and date formats and currencies for each store or register and set up your inventory in multiple languages using the localization settings. Moreover, you have full control of features and access to data if you have more than one shop.
POS Equipment
This POS system supports thermal printers, scanners, cash drawers and EMV compliant payment terminals. It is also compatible with all Windows PC and tablets.
Disadvantages
The system lacks loyalty programs, and is not compatible with all cash registers. It does not calculate inventory either.
Bottom Line
Ehopper is a very user-friendly system, and the company offers great customer service.
Our #3 Pick For Best Vape Shop POS System: Banq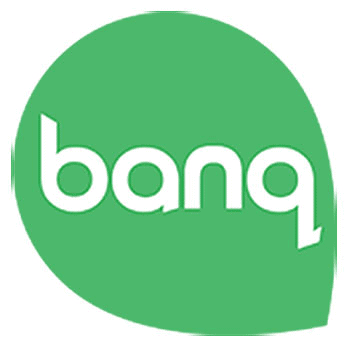 Banq POS is a mobile friendly smoke shop POS solution offering built-in CRM, inventory management, comprehensive reporting, appointment booking, and marketing tools. It also features additional functions such as Quickbooks sync for online and offline versions, online booking, recurring billing, and loyalty programs.
This system is easy to implement and enables you to accept any form of payment, customize employee access permission, add unlimited customers, products and services, carry out email and text message marketing, receive reports on customer retention and staff performance in real time, create purchase orders, track gift card balances, and purchase ordering and stock transfer. The iPad app lets you accept payments and power your business. Connections with hardware including drawers, receipt printers, and scanners are possible.
Internet POS
The web-based compatibility will improve your vape shop and smoke shop operation by enhancing administrative features, management capabilities and reporting. It is possible to upgrade to Banq POS if you are an existing client of the company, but you don't have to be to use the system. Banq POS has assisted many vape shop owners in their operations, helping them save a lot of time and money. This is achieved in part by easily migrating your products, services, customers, and staff, quickly training staff, customizing access permissions, and managing staff schedules.
You can connect with your clients using innovative features such as email and text message marketing and loyalty programs. The system is compatible with pin and chip (EMV) technology for optimal security. The customer support is great - a dedicated POS consultant will be available to help you should you need any further assistance.
Bottom Line
Banq offers a great price to feature ratio. You can use the gift card and loyalty program to retain existing customers and win new ones. The system uses MailChimp to email specials and discounts to customers more effectively.
Our Final Review
When shopping around for a vape or smoke shop POS system, make sure to look for flexible integration, optimal access, inventory and staff management features and social media integration.
A good vape shop POS system can integrate with a barcode scanner, coin dispenser, cash drawer, caller ID device, keyboard, digital menu board, and more. Ideally, it will have an app to improve usability for handicapped persons. It will track hours worked and manage payroll, scheduling and staff performance.
The inventory management feature tracks remaining stock. When inventory runs low, it will generate purchase orders automatically. A good vape shop POS system can manage a loyalty program, in which the shop rewards customers upon making a repeat purchase. Finally, a good vape shop POS system will manage customer relationships by following what people buy to give you a better understanding of your clients' preferences.
Social media integration is not to be underestimated. Arguably, the systems reviewed here don't have all of these features, but they do offer great value and an impressive number of functions. You'll be satisfied regardless of which one of these three you decide to buy.