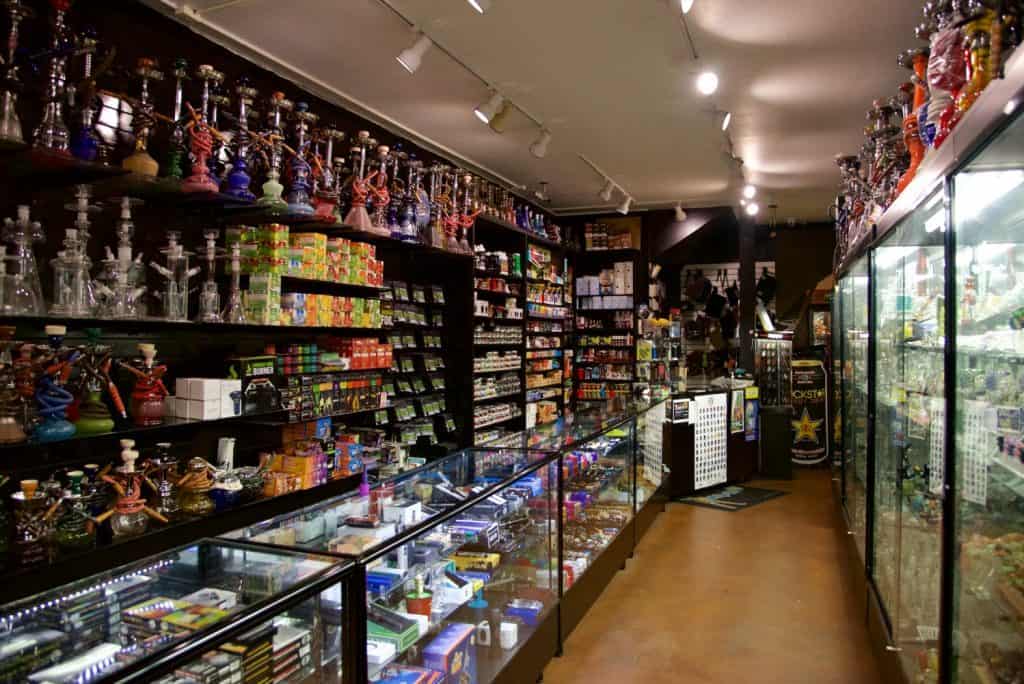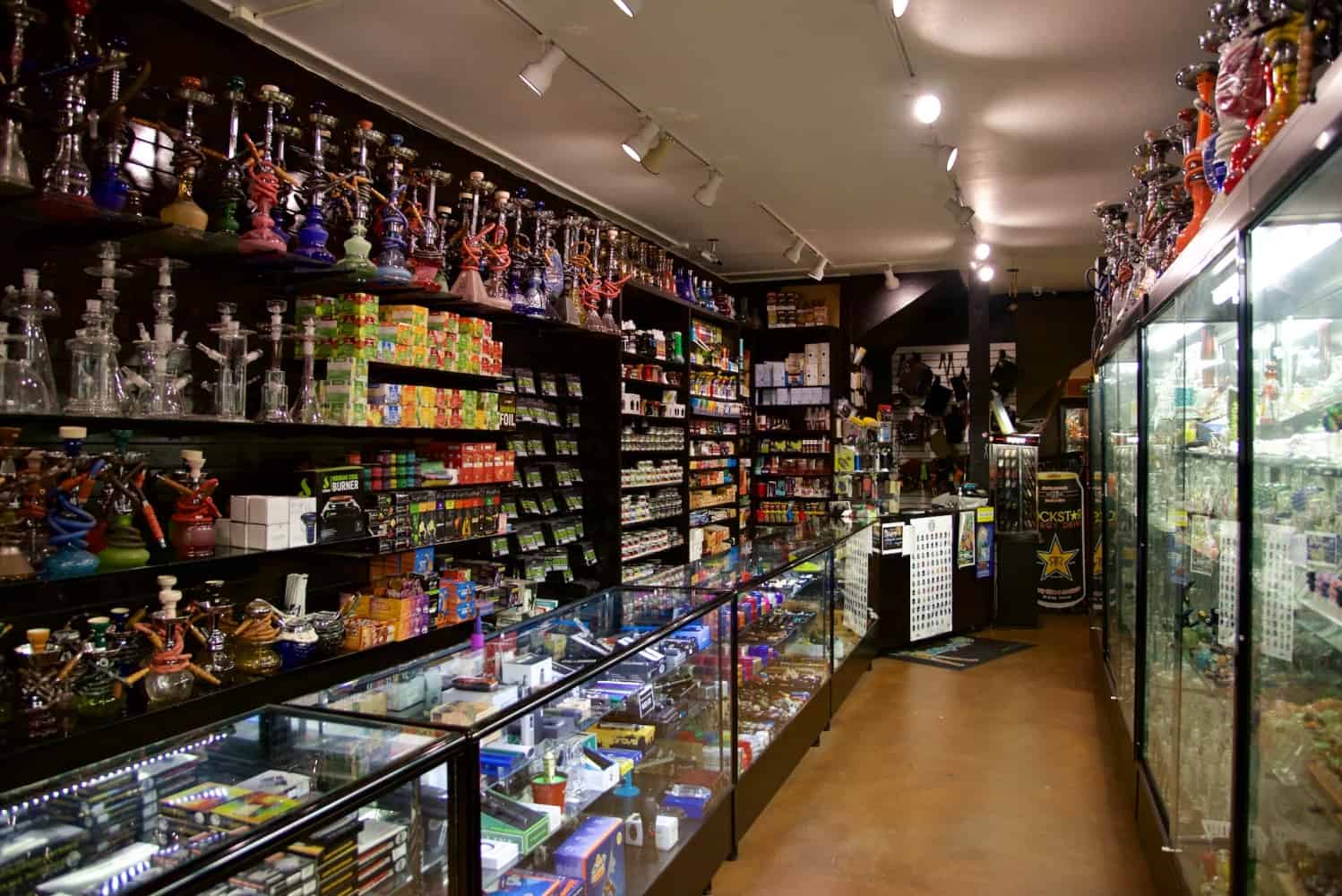 Running a smoke shop is a very niche business. It requires skilled staff, organized inventory, and strong customer service. Depending on where you're located, there can be a lot of competition, which means it's vital to stay ahead of the game. That starts with the right equipment to get the job done quickly and efficiently.
This is where a powerful point of sale system comes in. It's not just something that transacts but can help you run the whole show. Here are five of the best smoke shop POS systems you can find on the market today and how they can help your business.
The Benefits of a Smoke Shop POS System
Competitive payment processing rates with software that supports multiple methods.
Built-in scale integration for easy product weighing and ringing up.
Stock alerts to replenish inventory when low (before it runs out).
Automated supply chain management to minimize shrinkage and decrease costs.
Key reporting and analytics to gain critical business insights.
Top 3 Smoke Shop POS Systems
POS Name

Cost

Credit Card Processing

Unique Feature

National Retail Solutions (NRS)

Total price $1,199

2.49% per dip, swipe, or tap

Attach ID tracker to certain
items to prompt clerk to ask





Bindo POS

$89 per month
plus $49 per extra
register for 50 to 1,000 SKUS,
or $149, plus $49 extra
register for 1,000 to 10,000 SKUS.




2.49% + 15 cents per swipe.
Third party processors have a
gateway fee of $15-$20/month




Bindo Storefront with open
source code for easy ecommerce

InfoTouch

Quote-based

Quote-based

Automated gross profit on items
that change when prices go up

NCR Silver

All-inclusive $149/month
and $99 for additional

2.49% + 15 cents per swipe
through NCR Payments

Employee portal where staff
is accountable for availability

POS Nation

$99/month or upfront for $999

Uses Mercury Payments – rates vary

Create barcode labels that
fit directly onto smoking items
Get Free POS Systems Quotes
1. National Retail Solutions – The Point of Sale Program for Integrated Scales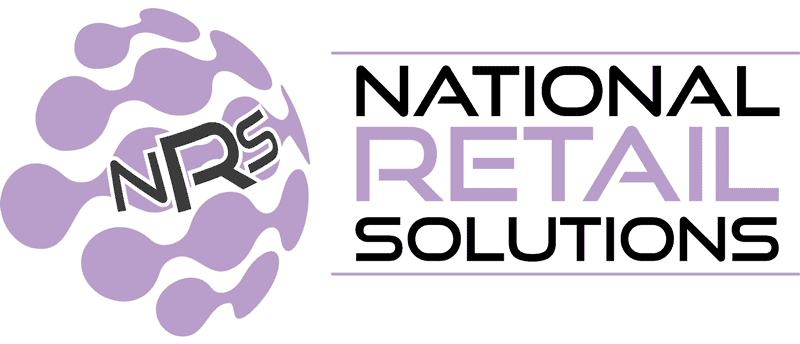 NRS is an industry-leading POS solution for smoke shops and fully understands the business model. They give a company everything needed in today's retail to grow and excel in a highly competitive environment. NRS accepts all forms of payments including:
Credit card
Debit card
Contactless payment
EBT
eWic with NRS Pay
Additional features include:
Loyalty Programs
NRS has created a one-of-a-kind loyalty software program that turns a smoke shop POS system into an effective marketing tool. A store can reward customers with unique promotions and offers in a few ways:
POS+ Promotions feature (create in-store promotions with any item)
Free Marketing Materials icon
New Coupons icon
The BR Club is a nationwide discount program exclusively for POS+ stores
Training Center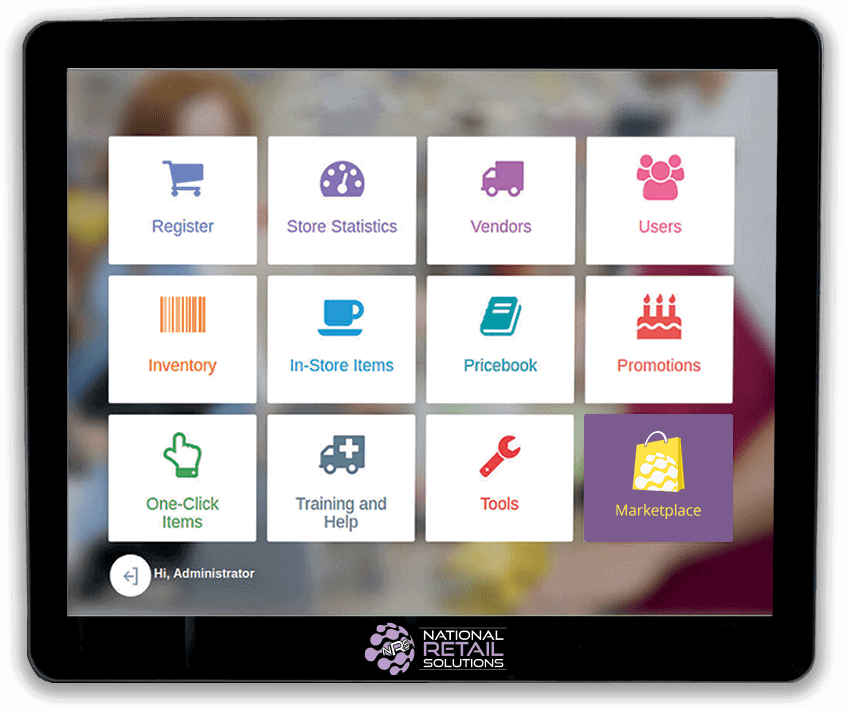 National Retail Solutions offers a comprehensive training center with reliable customer support. They also have an online training and help center. It features in-depth troubleshooting videos and guides to help you and your staff better understand the program.
The help center also has a lot of material on all of the features NRS has to offer (which is extensive). This is a great place to go if you're not sure yet about purchasing the product.
NRS Management App
NRS offers a store management app via the NRS Portal or the "My NRS Store" mobile app. It's available in both the Apple Store and Google Play. The app has many of the features from the point of sale system and allows you to manage your store anywhere on the planet.
Scale Integration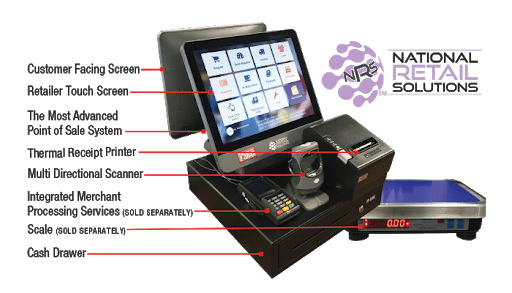 POS+ integrates with a variety of scales to easily weigh out product. The system will then calculate the item's price based on weight. You enter the price per pound and the smoke shop POS system does the rest. This saves from the clerk having to manually weigh items and punch in an amount.
Additional Features:
Track products that require an ID and notify the clerk.
More than 400,000 UPC barcodes for popular items.
Stock alerts for specific products to replenish inventory.
Quantity-based promotions and automated discounts.
Up to 15 cents/carton with the NRS Tobacco Sales Rewards program.
2. Bindo POS – The Point of Sale System for Custom E-commerce
Bindo POS is an iPad-based point of sale system that is feature-rich with an intuitive and custom experience. Reward top spenders with an integrated customer relationship management process while you consult, sell, and close simultaneously. When it comes to smoke shops, Bindo POS understands that it's all about the customer. Key features include:
Inventory Management
Bindo's inventory management is accurate, automatic, and painless. With the Simple Scan Technology (SST), staff can scan a barcode and the title, description, and photo of the product will be retrieved from a database of over 10 million products.
There is no longer a need for manual inventory input (perhaps only on super-special items). The SST technology will auto-fill the data for you. This decreases the time it takes to stock and reduces labor costs.
When you're done, you can also produce custom inventory reports to identify trending. This can help you see the bigger picture of where the smoke shop is going. When entering items, the product matrix allows you to add, delete, and search inventory with ease.
Bindo Storefront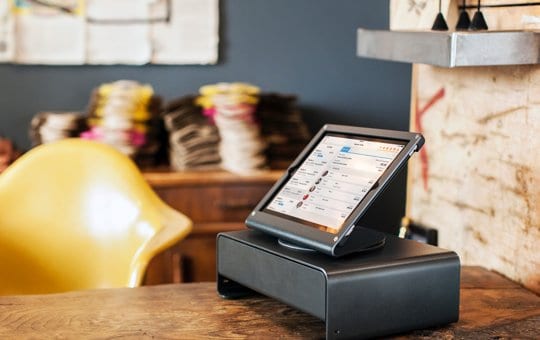 There's no need to throw money on an expensive website for online ordering. The Bindo Storefront is part of the POS system that enables a business to customize an online store for ecommerce. They allow a company to use its own brand aesthetic with access to its own source code (to change design). A smoke shop has the complete freedom to find a third-party developer if they want.
There is also no cumbersome uploading of inventory or setup. With Bindo, it's full POS e-commerce integration and completely hassle-free. All of the product information is already there and ready for people to purchase. All back-end processing is taken care of.
Analytics and Reporting
Gain key business insights and retail data analytics with comprehensive and easy-to-understand reporting. A smoke shop can view detailed breakdowns of cost, revenue, margin, and more. This can help a business learn what works and what doesn't, so you don't bleed funds.
Run an Income Statement Analysis to optimize your bottom line. This helps to maximize operating income and cut down on costs. Side-by-side comparison reporting will also help you scrutinize your best and worst selling products. Spotting these trends is essential to making more informed decisions.
Additional Features:
Highly customizable register with integrated payment support.
Seamless supplier organization with purchase order management.
Customized gift card and loyalty program featuring your logo.
Timeclock to track and manage staff with a pin-based staff system.
An online dashboard to manage the store across multiple devices.
3. InfoTouch – The Point of Sale Program for Automated Processes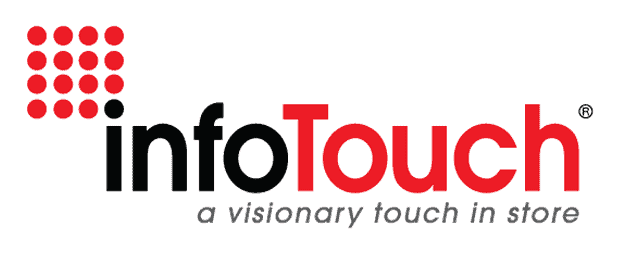 InfoTouch offers a free consultation and demo for any smoke shop considering their product. They offer a vape and smoke shop point of sale system that combines effortless management tools to fuel growth. InfoTouch can help a business work to maximize inventory through streamlining supply chain management. Some key features include:
Automated Process
If you want to truly organize operations, InfoTouch allows a business to set a gross profit on any item or department to a fixed percentage over cost. If the cost goes up and the item is set to a gross profit, then your prices will automatically change to reflect that. This form of automation will always help to maintain the correct margins and work to increase profits.
The register also automates suggestive selling. It can instantly offer suggestions to add onto a sale once an item is scanned. Whether it's spare coils or pipe cleaners, there's always a chance to increase the sales by adding on an accessory.
Supply Chain Management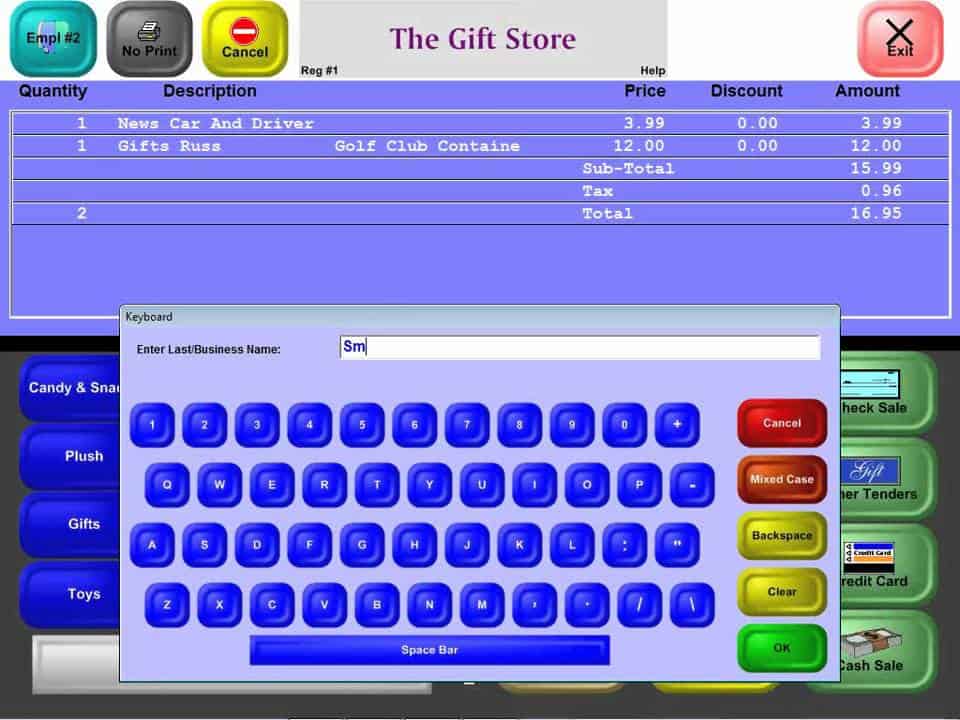 Minimize shrinkage with integrated register activity and till count. The system will recognize when product has gone unaccounted for and then troubleshoot when and where shrinkage is occurring. Broken and damaged products can be found, removed from inventory, and reported.
Integrated inventory and supply chain management will report where the shrinkage is occurring, eliminate errors, and add checkpoints. Additionally, the system will scan data rebate submittals to take advantage of manufacturers' rebate processes. This provides accurate info to gain profit-building rebates faster.
Employee Management
Whether staff is reporting for work or changing the till, InfoTouch allows a smoke shop to manage the scheduling process. Simplicity at the register means speed and facilitates the staff's work. A clean touchscreen with a custom and intuitive layout helps employees do their job. All functions are built into the core system.
Additional Features:
Provide quantity-based discounts to market goods and increase profits.
The operating system and databases are all local. That means a constant connection.
All scanners and scales are integrated to eliminate human error.
Only pay for what you need with customer offerings.
Complex tax management with accurate reporting.
4. NCR Silver – The Point of Sale System for Customer Relationship Management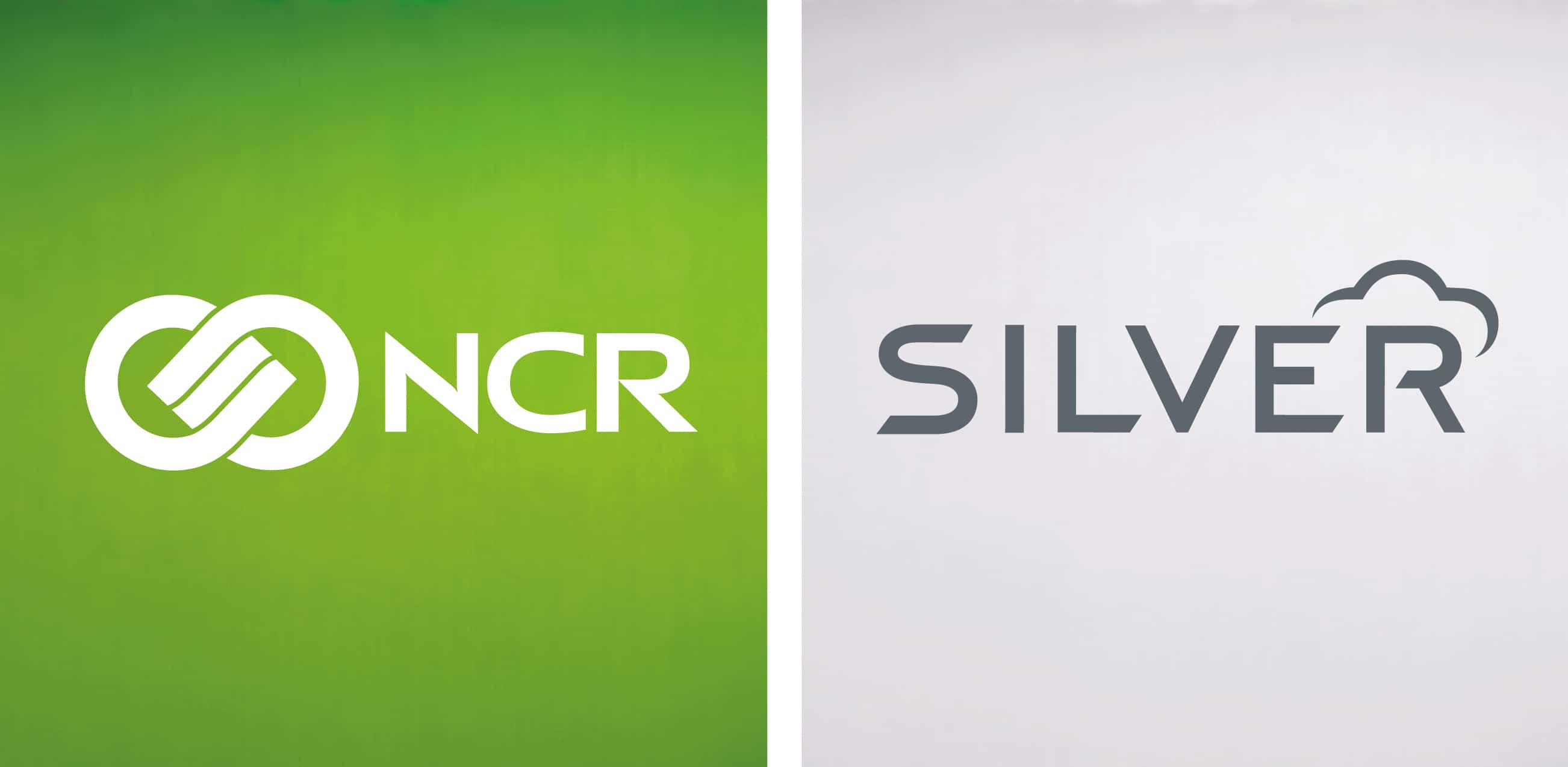 No matter your business size or type of customer, NCR Silver was built to help a smoke shop have better interactions with customers. They are #1 in global POS software and hardware.
Everything is an experience and this POS can assist with everything from tracking sales to marketing and managing inventory. The platform is built to help a business grow. Some of the key features to consider are:
Employee Portal
Managing staff is easy through the NCR employee portal. Put the responsibility of submitting schedule availability in the hands of your people. The same goes for shift requests. NCR removes the noise and frees up the office from pesky paperwork. It also saves from scheduling people who aren't available and will simply switch the shift out anyways.
NCR Silver will make scheduling easier by making automatic suggestions of available people. Now you no longer have to make guesses about the life of your staff outside. They should be held accountable for that. When everything is done, schedules can be pushed directly into the POS system for universal management.
Built-in Loyalty Tools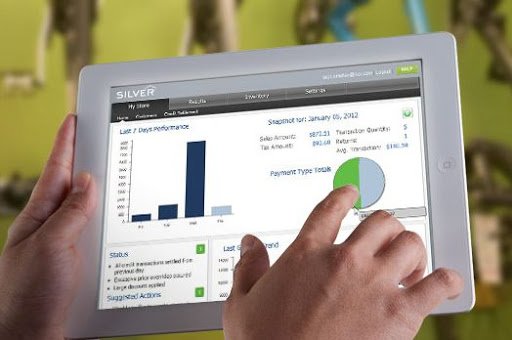 NCR offers several ways to build your customer retention. The programs will help a smoke shop accomplish tasks like:
Grow the customer base
Increase the average check amount
Drive return visits
You can easily set up automated marketing campaigns through the NCR Silver POS system to turn your best customers into brand advocates. It's a POS program that has a heavy focus on customer relationship management.
Ease of Use
From the time NCR Silver is shipped to your business, it's a fairly easy process. Other POS systems charge hundreds of dollars for installation, but this program is a one-box setup. The program is designed to save a smoke shop time and money. Everything is relatively painless from setting up custom reports to leveraging the tablet technology. Even the staff takes minimal time to train.
Additional Features:
24/7/365 live customer support.
Multi-site management tools.
Business-building tools that big brands use.
Subscription is all-inclusive and has everything a business needs.
No hidden fees or surprises.
5. POS Nation – The Point of Sale Platform for Unique Labeling

POS Nation is the king of bundling. They are one of the best brands for a smoke shop just starting out because they give you everything needed to hit the ground running. Each standard package includes:
POS software
Touch PC
Receipt printer
Scanner
Cash drawer
Chip card reader
All businesses can either pay a monthly fee of $99 to lease the POS hardware and software, or they can buy it outright for $999. Key features of the program include:
Age Verification Prompts
When you're running a smoke shop it is critical to check everyone's ID. However, even with cameras, management can't be there 24/7 to ensure it happens. Luckily with today's technology, the system will make sure it does. The sale won't occur otherwise.
A business can verify the age of customers in record time and avoid cashier error through age verification prompts. The employee must then card the patron and enter the data into the system to unlock the cash drawer.
Cigar Labels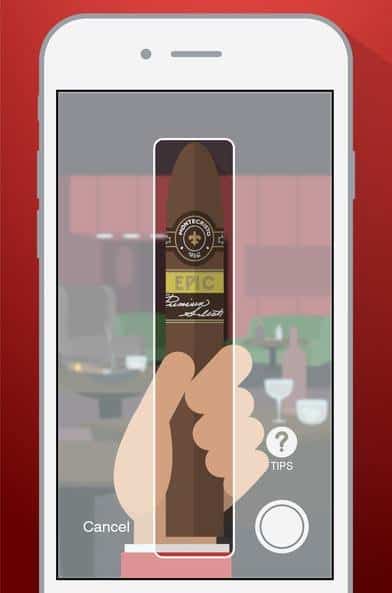 An incredibly unique feature of the POS Nation platform is the ability to print barcode labels that are designed for smokable items like cigars. Clearly, these are smaller products that general receipt printers won't accommodate.
Additionally, with the "case break" functionality, a business will always know how many boxes and individual brands you have in stock. This type of automation always means more sales.
Carton-Pack Inventory
Another incredibly unique feature that POS Nation offers is carton-pack inventory. It automatically tracks cigarette stock levels even when cartons are broken down into individual packs. The same feature can also be used on cigars. This lets a smoke shop know their exact inventory levels at all times. You'll never have to tell a customer "sorry, we're out."
Additional Features:
2-year or lifetime warranty.
24/7 support and unlimited training (for monthly payees).
Standalone scale directly integrated with the POS system.
Custom label printing.
Financial reporting and tracking.
Before Purchasing Your POS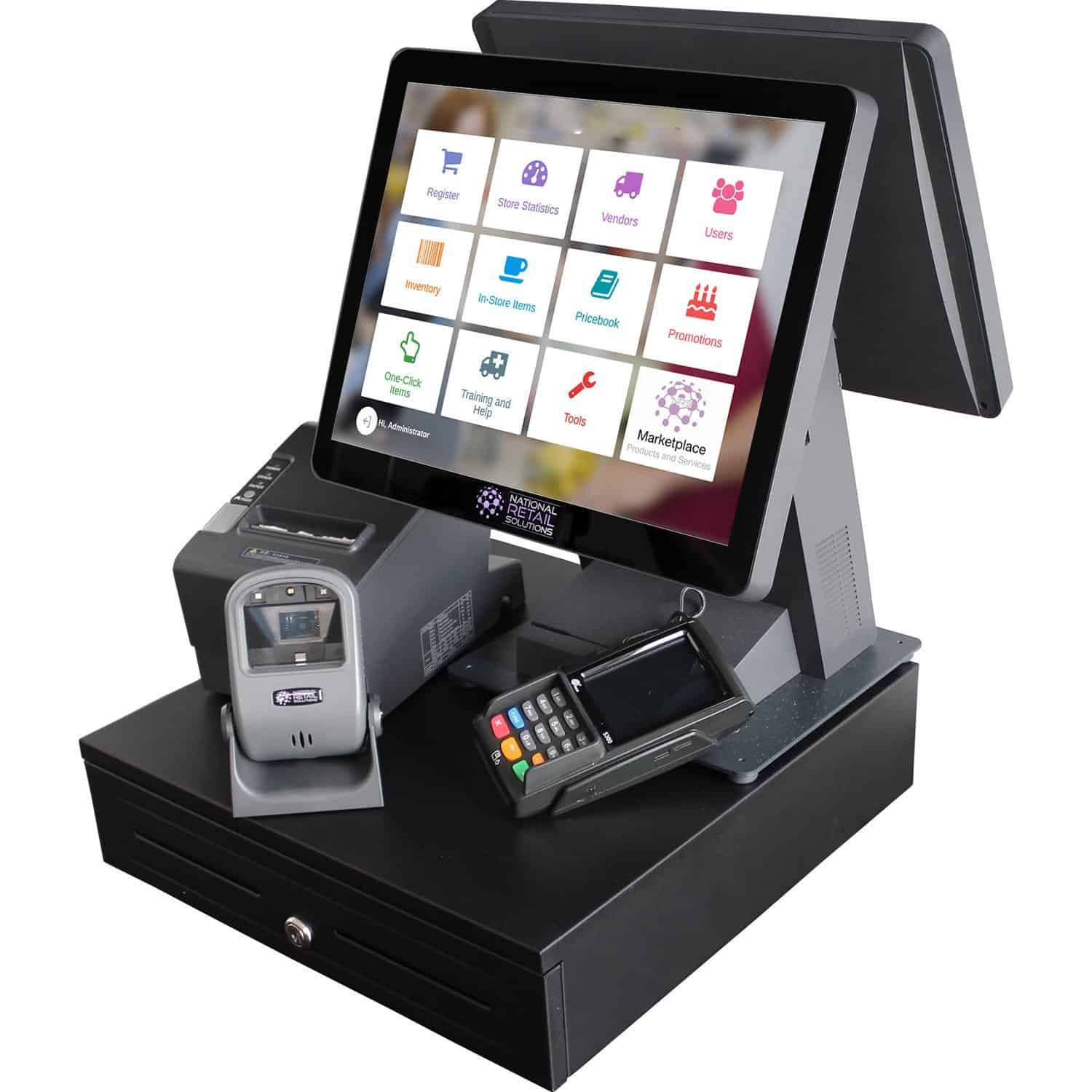 A POS is a big purchase not just because of the cost, but because it marks a permanent instrument in your workspace. The more you utilize the system and take advantage of features, the easier it becomes to streamline operations and supply chain management. Here are a few points to consider when purchasing:
Cost
Do you want to pay monthly or upfront? There are some benefits to paying monthly, but you are also tied into a contract. It would also depend on budget. You may not be able to start with all the features you need and will have to add them later on.
Hardware
Do you need a bundled package deal, or do you already have some equipment in place? Remember, not all products are compatible. It's critical to call and ask if you already have things like a printer and card reader in place. Don't buy a POS system only to realize you need to go out and buy all new hardware too.
Staff Management
Your POS system should always help to manage staff. After all, it's the tool your employees will be using most of the day. Where else would they be clocking in? A punch system that's separate from the register?
When everything is connected, you can also track employee performance and overall sales. This type of reporting can help to identify issues and manage employees more efficiently.
Smart Inventory
A smoke shop needs smart inventory management. There could be hundreds or thousands of SKUs. Look for a system that has put a lot of work into an inventory management feature. Or, you can choose one that offers a lot of integrations. This allows you to employ a third party that works.
Final Thoughts
Automation and accommodation are what keep business in a smoke shop flowing. On the front end, the main focus should be on educating and seeing to customer needs. On the back end, it's automating as many processes as possible. Both of these efforts help to drive sales, increase revenue, and spur growth. And that's the ultimate goal, isn't it?