(Last Updated On: June 4, 2021)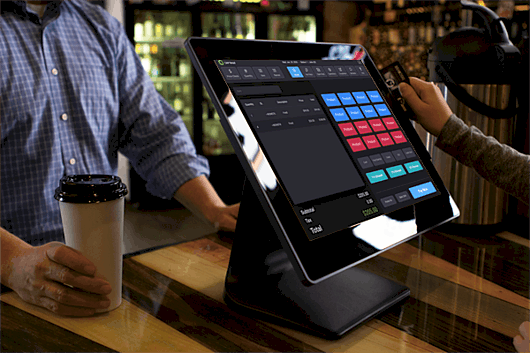 Running a deli involves highly-perishable items with varied menus and fast-moving lines. Low stock of popular items means unhappy customers. Everything is expected to be fresh, fast, and friendly. You need competitive technology that addresses common issues and frees up room to grow. The best deli POS systems can accomplish just that.
In the last five years, the U.S. deli department sales have totaled almost $37 billion. There's little room for error and lots of space to improve customer satisfaction. Operational issues are inevitable but can be effectively managed with the right deli software.
A deli must provide an unparalleled customer experience to ensure loyalty. Inventory levels should be consistently monitored and items swapped out. Ordering too much of one product can cause spoilage. Over-portioning also becomes an issue without the proper equipment and staff training.
Transactions are expected to happen fast, with multiple payment options, in-store or online. Outdated pricing, long lines, and sold-out product can all affect the quality of service your deli provides.
The best deli POS systems will facilitate quick transactions with easy payment processing, calibrated scales, employee management, and customer loyalty programs. It should provide robust inventory controls with real-time stock level notifications and detailed reporting for greater insight.
The entrepreneurial path to owning a delicatessen is complex. Running a deli might seem simple enough, but it involves a lot of moving parts. To provide a better food experience and exceptional guest interactions, you need an intelligent point of sale system with universal automation.
For guidance on your buyer's journey, we've reviewed the top features and compiled a list of the best deli POS systems you can find right now.

The Top Three Deli POS Systems
Loyverse – The POS Solution to Spur Growth
Upserve – The POS Platform for Seamless Integrations
National Retail Solutions – The POS System for Small Business
Comparing the Most Effective Deli POS Software
| POS System | Software Costs | Other Costs | Key Feature |
| --- | --- | --- | --- |
| | Main POS and dashboard are free. | Add-ons are subscription-based. Employee Management is $5/month, Inventory is $25/month (free 14-day trial). | Custom dashboard with in-depth sales analytics and multilocation management. |
| | Core package is $59 and $60/terminal. | Pro package is $199 and $50/terminal. Pro Plus package is $359 and $40/terminal. | Industry-leading technology integrations for seamless back-office operations like payroll and inventory. |
| | $747 for POS system and credit card processing. | $350 for EMV terminal (comes free with bundle). | Affordable pricing with out-of-the-box solution and robust third-party integrations. |

1. Loyverse – The POS Solution to Spur Growth


Loyverse makes it possible to quickly and accurately serve your deli customers with ease. Take orders via tablet or smartphone and send them directly to the required stations (i.e. meat prep, butcher, cashier, etc.). Focus on creating a unique atmosphere for customers with essential features like:
Unified Dashboard
Customize your dashboard to facilitate ordering and ease the employee learning curve. Bring popular products to the screen first and prompt staff to suggest top-selling items. Organize goods and categories on separate pages for easier navigation.
Toppings and add-ons can be set in the system to pop-up when applicable. The platform works the same for sales modifiers. Help employees easily upsell by letting the program do it for you. Create different dining options for your deli, such as "dine-in," "take out," and "delivery." Easily make notes on items and orders and apply discounts and taxes when needed.
Manage Employees
The Loyverse deli POS system allows employees to clock in and out through the main dashboard. The system will automatically calculate hours at the end of each shift and time period. The program also helps to identify any cash discrepancies and track any employee inaccuracies.
Additionally, the Loyverse program allows a deli to monitor each employee's sales performance. This means more informed decisions on staffing. Data on the workload per hour enables a business to efficiently manage staff. You can also set role-based permissions for private and sensitive information.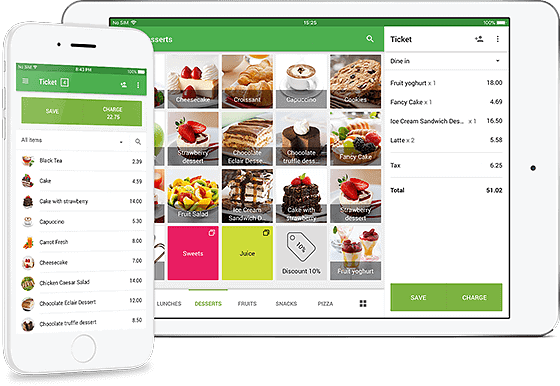 Motivate Customers
Give guests total control over the customer experience with a digital display that shows the entire sales process. Customers have full access to their orders and are motivated to visit with a feature-rich loyalty program. Guests earn bonus points for every purchase which you can turn into personalized promotions to further retention.
The system also allows you to make certain notes for each customer. That way, a deli has the ability to record personal preferences that bolster guest satisfaction.
Additional Features:
Track sales by item analytics and monitor growth over time
Live chat support and help center with video tutorials in 17 languages
Advanced inventory software with real-time stock monitoring and notifications
Kitchen display system with items, quantities, and modifiers
Smooth order management to split, merge, and move open tickets
2. Upserve – The POS Platform for Seamless Integrations

Upserve's deli POS software is reliable and easy to use. You can customize the program to suit your needs and keep a tab from anywhere using the mobile app. Place the most popular plates, side dishes, and ingredients front and center on the POS. Modify orders, prompt staff to upsell, and run quicker transactions. Key features include:
Upserve Loyalty
Speed up the line and increase guest satisfaction with the Upserve Loyalty program. It's built directly into the POS system and turns more people into regulars with no punch cards or apps required. The customer credit card serves as the loyalty card so it's less of a hassle and expense on your end. This also increases the chances of people signing up when you make it so easy.
The Upserve Loyalty program enables guests to accumulate points for every dollar spent. Once they hit specific goals, rewards will be automatically credited back to their cards. There's no extra legwork required from either party.
Monitor Reviews
Upserve is one of the only deli POS platforms that offers the ability to consolidate and monitor what people are saying about your brand. Master the guest experience by keeping tabs on guest visits, reviews, social media comments, etc. with popular platforms like TripAdvisor, Google, Yelp, and OpenTable. This also helps to quickly make things right when your reviews are sub-par or below average.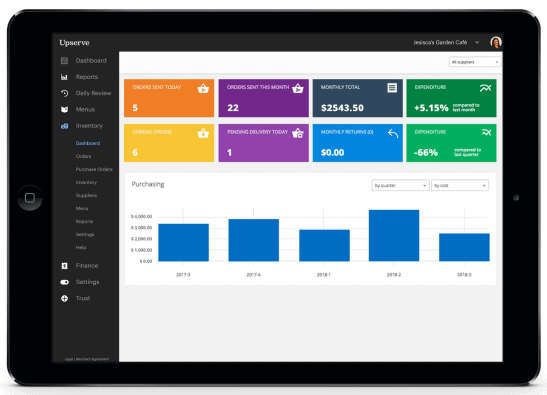 Essential Integrations
Running a successful deli means knowing when you need to ask for extra help. Upserve is unique in the sheer amount of integrations and tech partners they have. Discover how add-ons like these can improve operations:
Workforce Management
From efficient staff scheduling to fairer tip-outs, Upserve provides a deli the platform needed to oversee employees and streamline operations. The POS software integrates with leading workforce management and payroll tools to provide a seamless experience for staff.
Inventory Intel
Whether it's swiss cheese or ham, you need to know what's in stock. The Upserve deli POS platform integrates with leading restaurant profitability tools that tell you what to buy and when.
Learn when inventory is running low and replenish it automatically as needed. Explore food costs and how you can maximize profits with cheaper alternatives.
Customer Intelligence
It's one thing to know what people prefer, it's another to have advanced insights into deeper questions. Ensure food consistency and measure steps of service to see where your customer experience both lacks and excels. When you keep giving people what they want, they always come back for more.
Additional Features:
Upserve Daily Digest report to cover each day's operations
Guest Book feature to create individual profiles for all regulars
Free 24/7 POS support with US-based staff always on call
Commission-free online ordering with payment processing
Tableside mobile POS with restaurant-grade durability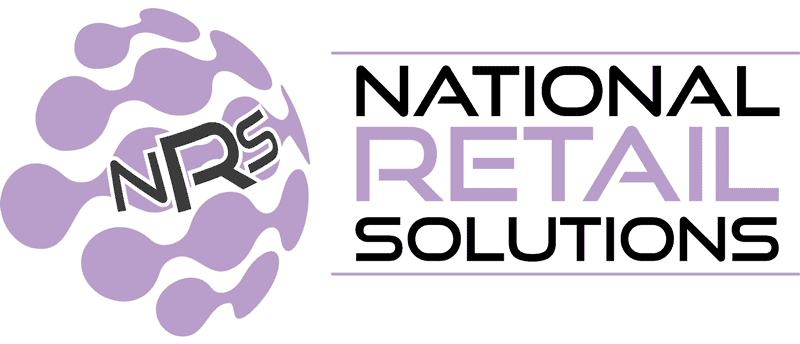 National Retail Solutions is so much more than your basic cash register. The program gives you the useful technologies needed to run your deli at an affordable price. Serve customer's unique needs with the same resources your big competitors have. NRS is a deli POS system that offers a wide range of benefits like:
Integrated Scales
Enhance your NRS system with integrated deli scales that work directly with the POS. Measure meat, cheese, produce, and other products and set a distinct price per pound on every item.
When you process each product, the weight is automatically entered and the price is calculated into the sale. You can cut out the manual input of the cashier and reduce the chances of human error.
Smart Inventory
A deli needs to monitor everything from ingredients to prepackaged foods and pre-prepped snacks. With so many things going on at one time, it's hard to keep track of them all. National Retail Systems will count all these materials and always customize the items you want to track.
Assign each a starting number and the system will automatically subtract from your inventory in real-time. When you want to read your stock levels, simply visit the inventory screen to see what needs to be reordered.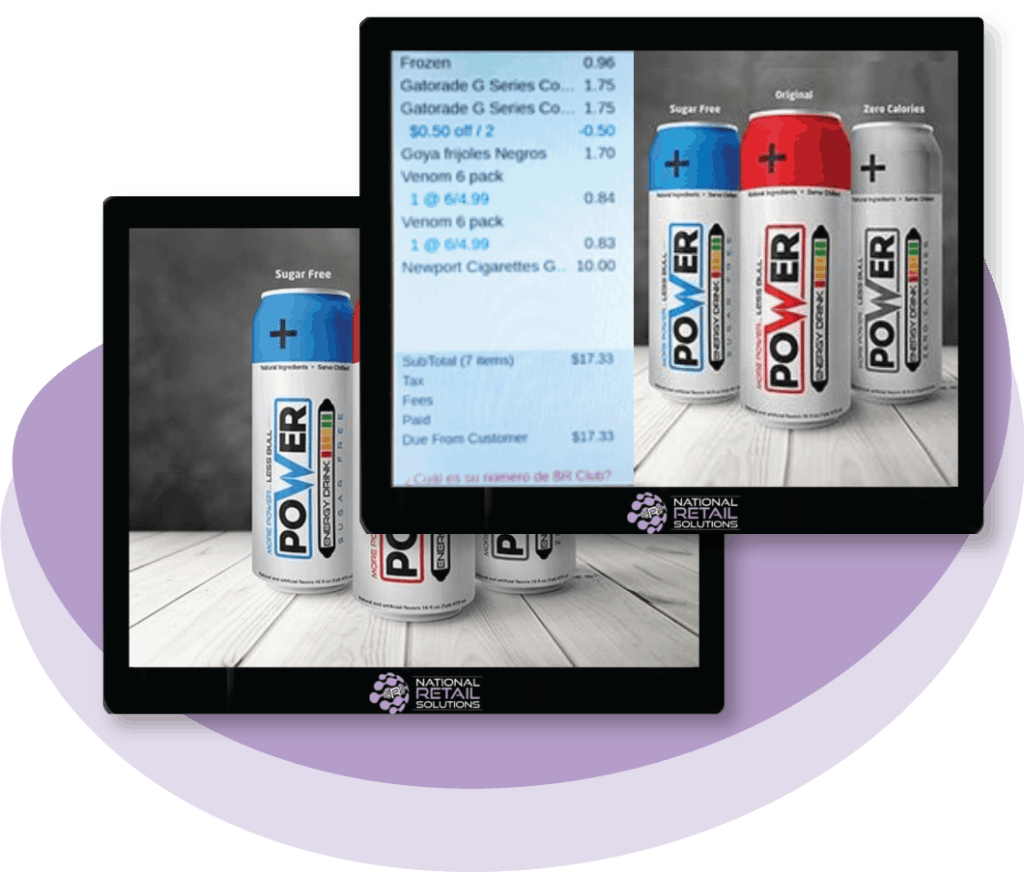 Fast Checkout
Focus on improving efficiency, accuracy, and speed. NRS comes with register features that empower clerks to ring up items with fewer buttons. A customer-facing screen shows shoppers the transaction as it happens. Scan thousands of popular items that were already added to the system and create custom, one-click buttons for popular add-ons like cheese and condiments.
Vendor Relationships
Track vendor spending and record purchases to monitor what you are buying, from whom. Use the NRS vendor management tools to check your total vendor spending and analyze transactions over time. This helps to better understand your spending trends and budget limits.
Additional Features:
Data-informed menu design to promote the top-selling items
Custom promotions and deals that play on all guest-facing displays
My NRS Store app to manage all features without an internet connection
Shift management tools with employee profiles and performance data
UPC catalog for popular brands and items to save time
Get A Quote from National Retail Solutions
Buyer's Guide for the Best Deli POS
There are hundreds of POS systems online today, each with feature-rich offerings. This makes it hard to delineate which ones will benefit your business most. When it comes to running a deli, you will need certain characteristics of a POS program to grow. Here are the key features to keep an eye out for when purchasing a solution:
Menu Engineering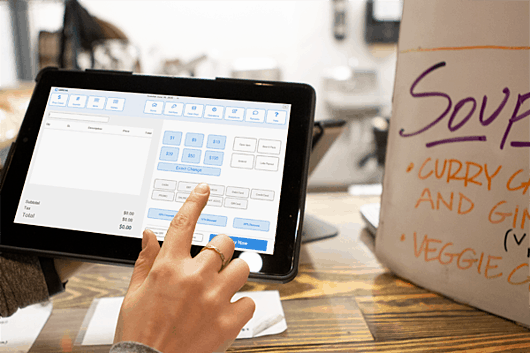 A deli menu changes by the minute so you need a strong POS platform to address this challenge. Menu engineering is the process of designing menu items so that the perceived value outweighs the raw material costs. This is done through recipe costing.
When you better understand the cost of ingredients and what goes into each item, you need a system that places those front and center on the menu. You should be able to update it and make changes that are immediately reflected in all integrations, including mobile apps and online stores.
Integrated Scales and Scanners
You need a point of sale system that integrates with top-of-the-line deli equipment. This includes precisely calibrated scales and scanners. Measure everything from meats to cheeses and produce and set a distinct price per pound on each. The program you choose should automatically calculate the cost of weighed items and move them through transactions smoothly.
Speed up sales by adding barcodes to all non-weighted items. A built-in barcode scanner means clerks aren't manually entering data, increasing the chance for costly errors.
Staff Management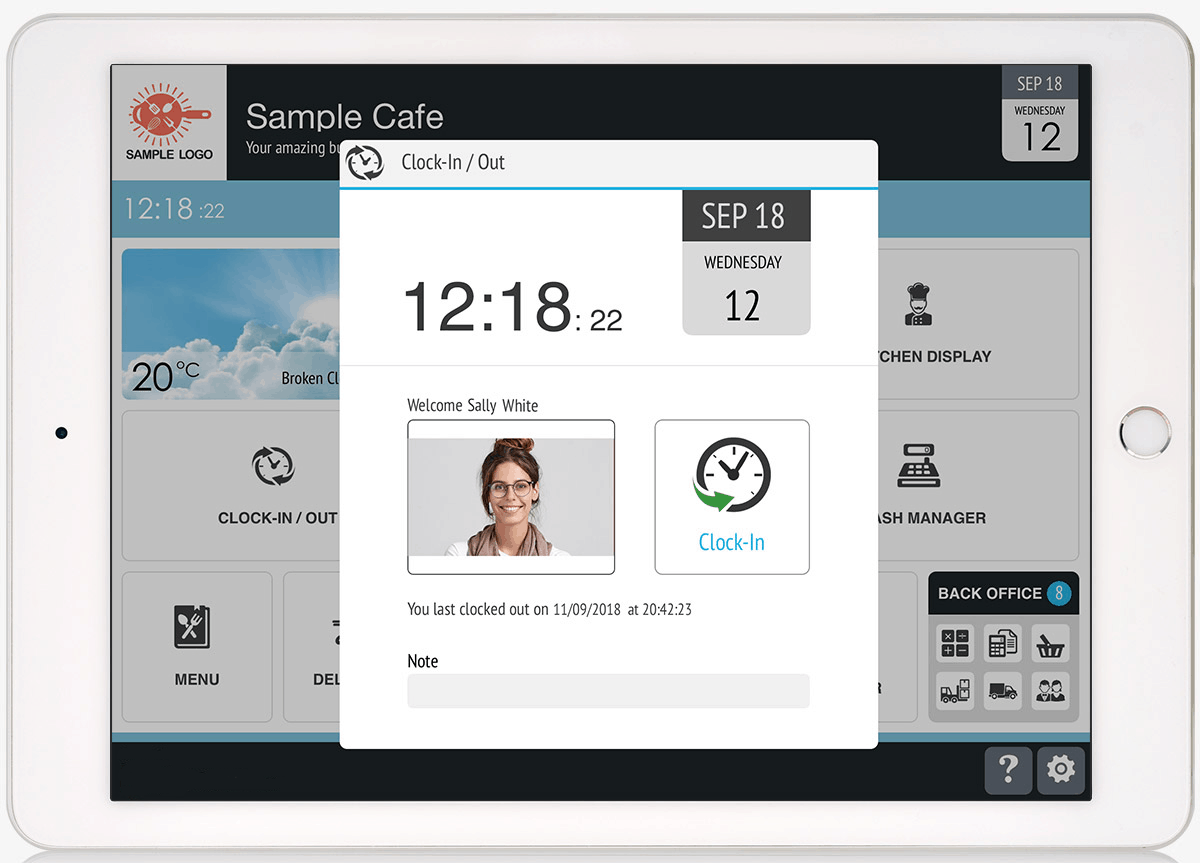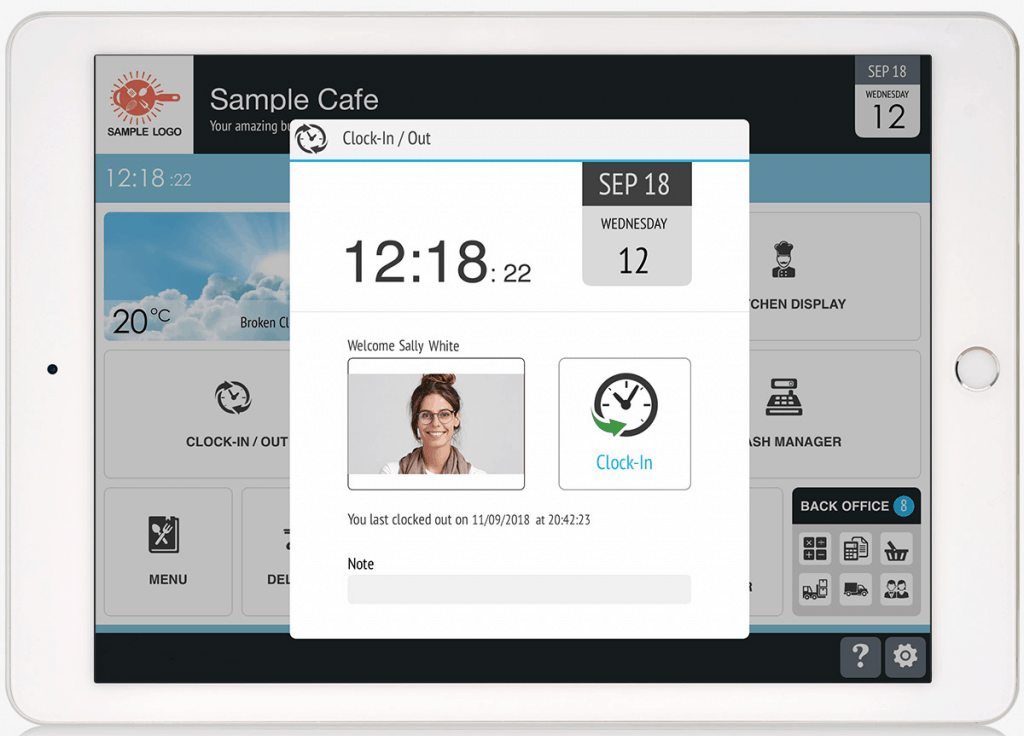 No matter the size of the deli, the POS you use should always have the means to manage staff. They should be using the program to clock-in/out and maintain a schedule. If people need to switch shifts, a universal messaging system must be in place to facilitate communication.
To ensure time-punches are valid, use a two-step security system with an individual pin assigned to each staff member. This can also include an image from a camera at the time of a punch. You should be able to calculate labor costs based on employee wages and hours in real-time. This will show you who to put on staff, when, and which individuals might need a little push.
An intuitive interface will also help new staff navigate the system and speed up training time. A touch-based display with custom buttons makes learning a new program simple. A deli should also be able to set role-based permissions to protect sensitive data.
Inventory Controls
Control over inventory is critical for a delicatessen. If staff are over-portioning, then you can't make projected margins. This is also the case when the costs go up on ingredients you need. You could be losing money every time someone makes a sandwich.
Enforce portioning and eliminate waste with a POS platform that will closely monitor inventory. That way, a deli can easily determine if they are suffering from "shrink" or if something is causing a high amount of waste.
One of the top reasons for waste is spoilage from overbuying product. A strong deli POS system that tracks sales and inventory will help a business avoid those pitfalls completely.
Fast Transactions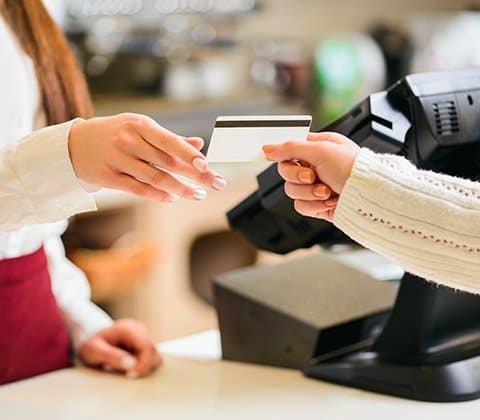 The best deli POS systems process customer payments fast and efficiently using top technology to gain quick approvals. People pay with a variety of ways these days and they expect even the smallest of operations to accommodate them. Your system should except a multitude of payment types like:
Cash
Check
Credit/debit card
EMV (chip cards)
Contactless (NFC)
Mobile wallet
The more ways you give people to pay, the easier it is to make a sale.
Bundles and Combos
One of the most enticing aspects when buying from a deli is the package deals. From cheese platters to sandwich combos, people delight buying in bundles. Not only is this a great way to leverage sales, it also speeds up the line.
Bundling multiple items together also expedites ordering. If someone can just say, "I'll have a #9," it simplifies the process. It also has a psychological effect. Customers feel less indecisive and it tends to improve the overall experience. Especially people who feel rushed on their lunch break.
Offline Functionality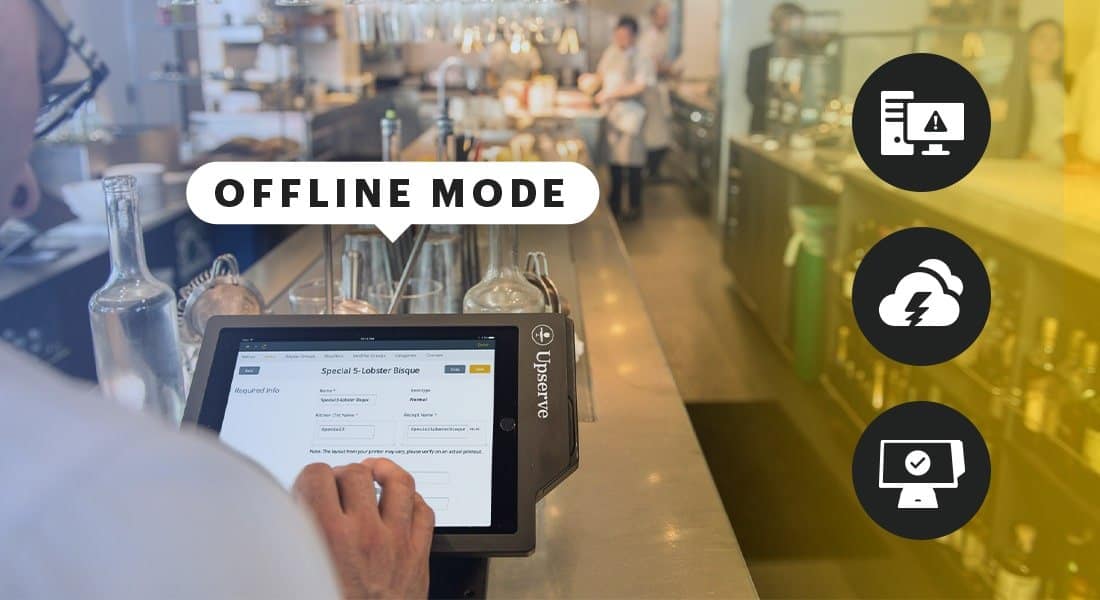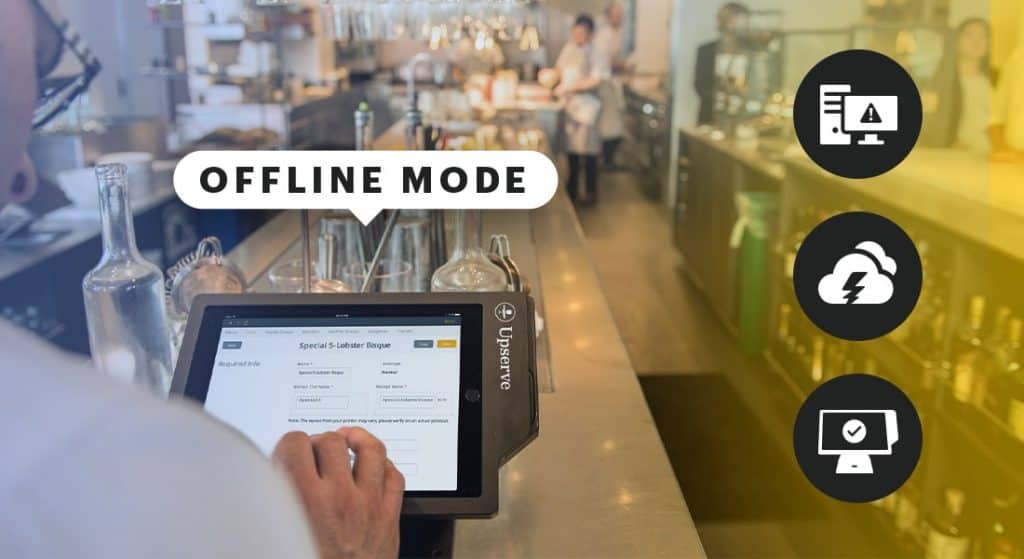 When the internet goes down, your POS system shouldn't put you out of business. It must continue to function, ring in orders, and run transactions—as if nothing happened. You shouldn't have to worry about declining a customer card unnecessarily or losing money.
Your POS must have an offline payment mode and store data in the cloud. This allows customers to continue using their preferred payment method and avoids any embarrassing situations.
When you run transactions offline, customer payment data is securely stored. When internet connectivity is restored, the transactions will process silently in the background. If there are any issues, your POS should notify you immediately.
Drawer Optimization
The drawer gets tons of legwork in a busy deli. Tracking a lot of cash can be challenging so you need a POS solution with fully-loaded cash management features. It should enable a deli to perform various tasks like:
Log all pay-ins and pay-outs
Track transactions by user
Perform periodic audits
Run an end-of-shift and end-of-day report
The system should allow a deli to view all transactions for accuracy and accountability. The best product will help you keep track of the drawer and sales, even when not on-site. In fact, the right POS platform allows you to manage the drawer from anywhere on the planet.
Additional Features:
Third-party integrations for back-office tasks like accounting, payroll, and taxes
Segmented marketing program with customized campaigns and messaging
Open API for a deeper level of system customization
Flexible tax configuration to add and alter rates according to tax laws
Multilocation management with a shared repository of data and reporting
Making the Right Choice
In a deli, it's important to keep costs under control. Especially since margins are so tight. Most delicatessens rely heavily on customer retention and high-quality products. That means you need a system where you can provide avenues for customer engagement and track everything down to the bite. Keep it fresh and keep it coming.
You don't need every feature in the book. This can complicate operations. Choose a system that best aligns with your top five needs. Smaller operations shouldn't require a POS with multilocation tools. They may want to focus more on loyalty programs to boost retention.
Contrarily, a larger deli may need critical features like reporting and mobile apps to oversee various stores and sales trends.
The important takeaway is that the more time you spend in the research phase of a POS purchase, the more likely you are to be happy with your decision.
If you still have some questions about which deli POS system is the right choice, watch these demos from top providers in the industry.